This has been SUCH a big month for Garrett, and I am well rested enough to write about it all, since he finally SLEPT THROUGH THE NIGHT last night!! First time ever, what a huge accomplishment! His usual bedtime routine has him asleep by 7 pm, but last night he stayed out later because I took him to dinner at the local Mexican restaurant with mom, dad, Julie and Riley. He did great at dinner- just hung out in his stroller and took in all the new sights, sounds and smells. That was his second trip to a restaurant in his short life. Mom and Julie took him to Longhorn last week while Dad and I were out at a business meeting. They said he did great that time as well, so maybe we will venture out into public places more often now that he is older and more predictable. Anyway, when we got home last night he ate his own dinner and then was swaddled and asleep by 8:30. I went to bed soon afterwards, anticipating another 3 am feeding. In the past two weeks he has whittled himself down to just one feeding a night, sometime between 2 and 4 am. I am certainly not complaining about getting up just once a night after those first weeks when we were up every hour. But last night I didn't hear him all night! I woke up at 5:30 and checked on him, and he was still sound asleep.
J got up to get ready for work at 6 am, and the sounds of him getting ready woke Garrett up. I really think if he had been in a quieter room he would have slept longer! But I'll take what I can get. If he makes any kind of habit of it he will be moving upstairs to his nursery quick, fast and in a hurry. But it could just be a fluke, so I'm not going to hold my breath. I've probably already jinxed myself by bragging about it.
He has been such a happy baby this past month, and I appreciate it so much. It's great to watch his personality and motor skills develop as he gets older. The worst part of the month was getting his second set of vaccinations. He got two shots and screamed for 30 minutes at the doctor's office. I was pretty traumatized over that, but we both survived them and hopefully next time won't be as bad. I plan to dope him up on Tylenol and sugar water next time.
He has been out meeting lots of new folks this month, which is good for his social life. Last week he went to J's office and met all of Daddy's coworkers. He did great until all the women got excited and started squealing in his face. I think it was a little overwhelming and he kinda freaked out for a minute. But then he calmed down and life was good again. At the beginning of this month he had his first playdate with my friend Tonya's little girl, Madelyn. I think they might have been a little bit more interested in the bouncy seat lights and the tv than they were in each other, but it was still a cute Kodak moment!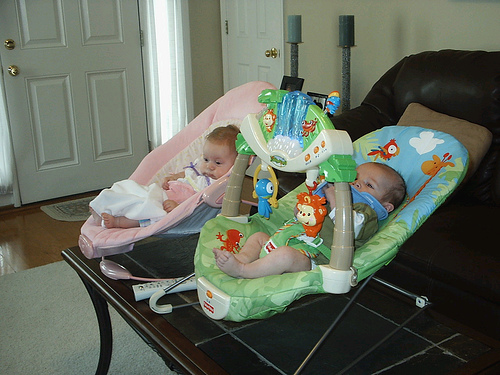 My maternity leave ended and on April 7th I went back to work. We had to do some office rearranging so I have moved upstairs temporarily to be closer to him for a while. Mom is taking care of him for me all day while I get some things done, and I truly appreciate her for providing my free daycare services. It is such a lifesaver, and Garrett is one lucky little boy to have our full attention all day every day. Thanks Grandma!!
He has started cooing and oohing and ahhing pretty regularly, and, I can't swear to it, but today I think we caught his first words on tape. Talking at just 3 months old… my child is a genius. ;o) LOL
Check out his YouTube debut here:
In addition to the ooohs and aaahs he has learned how to grab onto things now.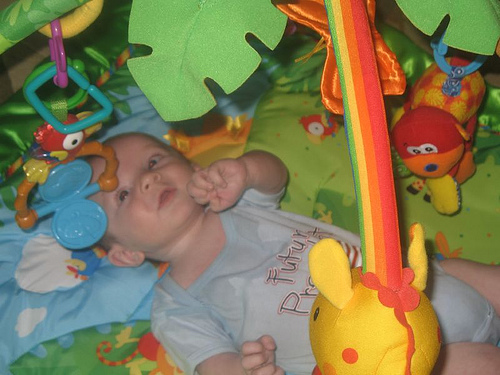 He will swat at the toys on his play gym, but he seems to prefer to grab onto my shirt and make me flash everyone whenever I try to put him down. I'm glad I don't have long hair anymore, or it would be getting ripped out as we speak. Oh, and in case you haven't seen me lately- I chopped all my hair off again, shorter than the first time I chopped it! My neck is exposed for the first time since I was Garrett's age! I've also acquired some nice forehead wrinkles to go along with my gray hairs. Lovely. Welcome to 30 and motherhood.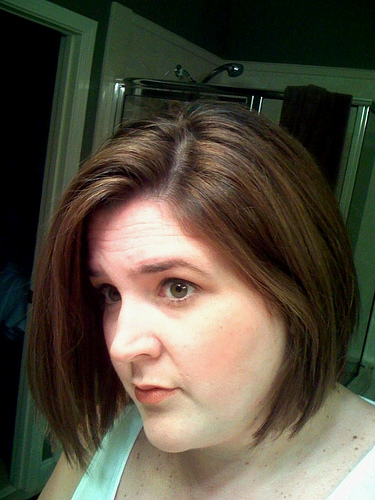 He is now smiling much more consistently than before. We can get a grin out of him with a lot of monkey maneuvers on our part. Here are some of my favorite grin pictures: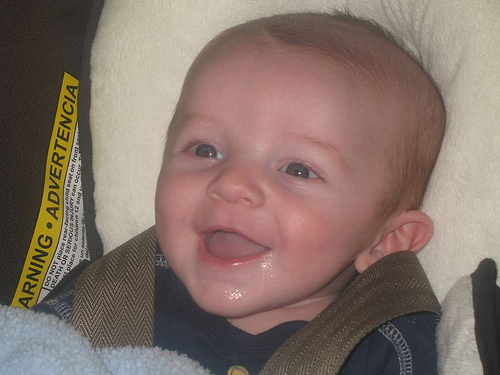 I call this one his "Matt Hall impersonation because he really looks a lot like my cousin Matt when he grins like this. That bodes well for his future as a ladies man (hehehe sorry, Beth!):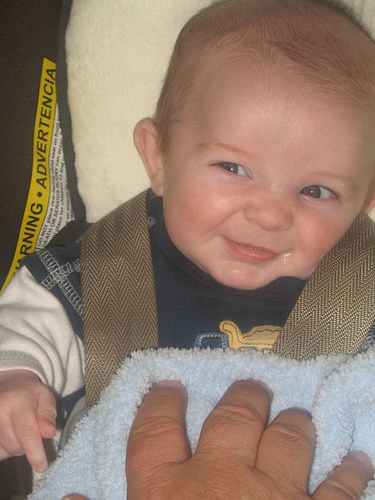 Speaking of being a ladies man, check out these photos my mom caught today. Mr. Future President is a poser!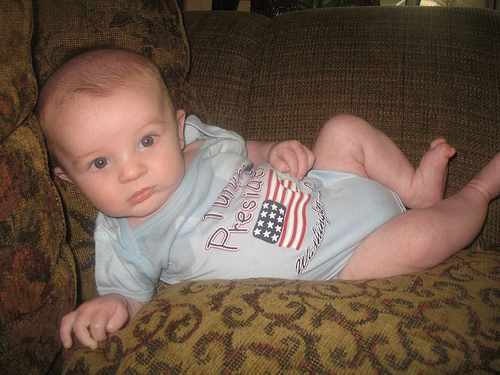 And of course there are still plenty of these pouty faces, but thankfully they are few and far between these days: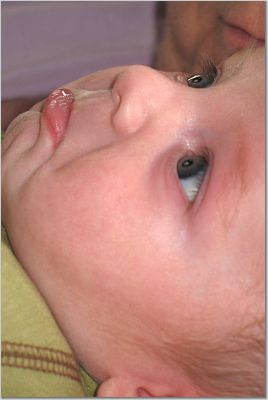 Today he sat up in his high chair at Grandma's house for the first time. He looks like such a big boy in his outfit! He's wearing size 6 months clothes for the length, but they are too loose on him. He is long and lean!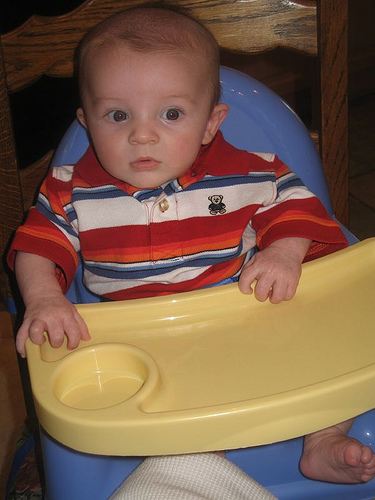 I am amazed at how quickly my sweet baby boy is changing and growing right before our very eyes. It seems like everyday he looks a little bit different than the day before. I can't believe how fast the time is flying now. Some nights as we're nursing I want to just stop and make a mental snapshot of how sweet the moment is, because I know it won't last much longer. I feel like one day I'm going to turn around and he will be 6 feet tall and leaving for college. I can't think about it too much or I will cry, so I just try to appreciate every single moment of every day that we spend together. I love you so much, my little miracle baby!