Last weekend J and I hit up Antiques in the Garden at one of my favorite nurseries, Petals from the Past.   While we were there I stumbled upon an old worn out ladder with round rungs. I've been looking for a ladder with round rungs ever since I spotted the ones in Pottery barn hanging over the tables and used as lantern hangers.
How freaking awesome is this??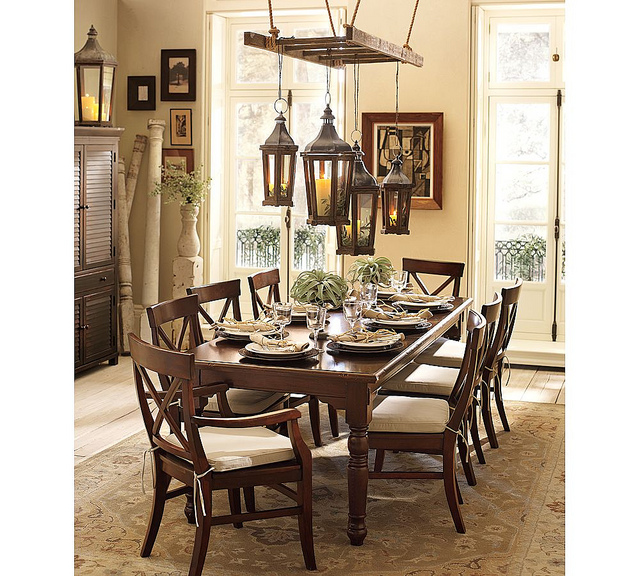 Image via Pottery Barn
Yes please.
So, I asked for the booth owner to give me a good deal on all three items, and he agreed! I love bargaining for stuff. It makes me feel like a Pawn Star. We loaded everything up along with a few other treasures and brought them all home. J got to work hanging the ladder over our patio table so we could have some lantern action of our own this summer!
I'm so happy with the way this project came together. A huge thank you to my husband for helping me with this. I can't stop oohing and aahing over it.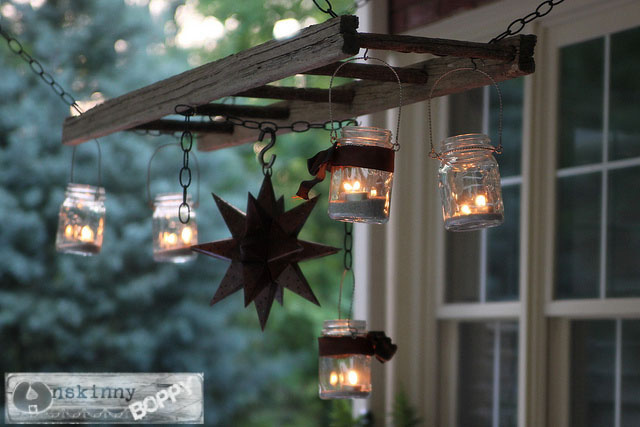 To create the centerpiece, I folded lengths of burlap and wrapped them around store-bought containers of succulents.  Polka-dot ribbon tied in a simple bow holds the burlap in place and adds a pretty feminine touch. Citronella candles in mini galvanized buckets helps to keep the mosquitoes at bay, while an Autumn Fern spills over the top of a fleur-de-lis planter.
Even my ferns seem happier peeking out behind all this awesomeness.
The hanging lanterns came from Kirkland's, although I'm sure you could DIY these pretty easily. I added the ribbon and the sand stuff at the bottom.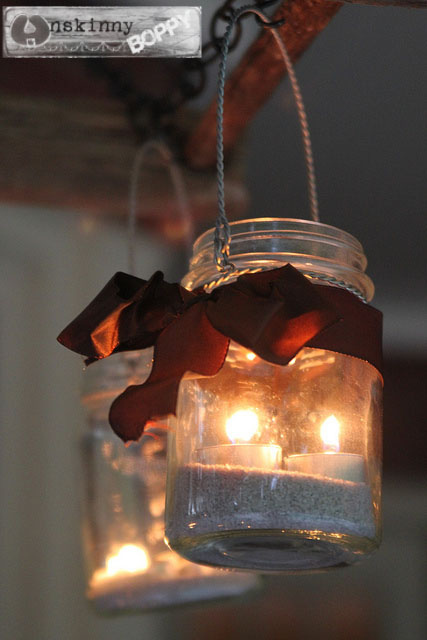 I've had that Moravian star from Pier One since our wedding back in 2004. It gets around.
Altogether between the ladder, the mason jars and the star lantern I think I might have formed a trifecta of perfection.
Now here's more about how we did it, in case you're wondering. To attach the chains without drilling into our patio roof my husband used "C" clamps. As a side note, let me say that he also put up our rope lights from our old patio so the ceiling is lit up at night. I love soft, ambient, glowy patio lighting at night.
He used "S" hooks and regular hooks with a screw at the end to attach the lanterns and the chain. It is pretty sturdy, but I have switched most of them over to these carabiner keychains for a much safer connection. will take the glass lanterns down when they are not in use in case a freak storm blows through. I don't want to risk broken glass all over our pool patio.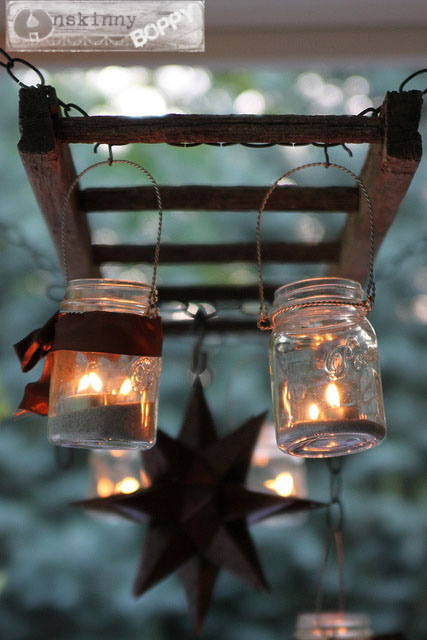 Isn't is so pretty? I just love it. It's going to get a lot of use this summer with the pool light turned on and the tree frogs and crickets chirping outside. I'm falling deeper in love with this house more and more every day.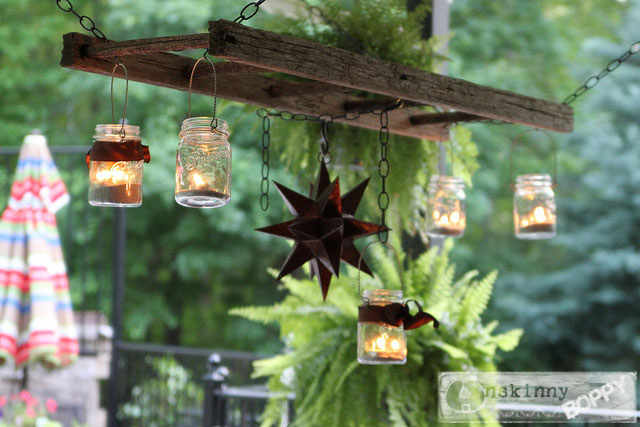 Garrett was obsessed with blowing out the candles. I think I might have a little pyro on my hands. Yikes. He also asked to pose with the new "campfire" so I happily obliged. What a rare event for him to willingly pose in front of the camera like this! Snap snap snap!
The view from my lounge chair is even more excellent than before.
Anyone want to come over and have a night time picnic with us? I'll fill up the cooler and light the grill.
BYOMR. (Bring Your Own Mosquito Repellent).