I admit that I'm probably the last blogger on earth that you'd want to come to for fashion advice.  I have clothes in my wardrobe from 2005, and wear shoes even older than that.  In college I engaged in (and won!) a Battle Royale with Dr. Phyllis Spruiell, who was like The Grand Master of Talbots*, over being the first girl in the history of the FCS department to ever wear pants to the Montevallo Internship Interview day.  Pantyhose were not included.
Seriously people. I wear Crocs.
In public.
Without shame. 
I have plenty of blog friends who are fashionable.  Like Dusty. Or Tiffany.  Or Lucy. But fashionista, I ain't.  So, I was a little bit shocked when I got invited by Rachel to attend the Fall Fashion Tailgate with the amazing Tracy James of Chic made Simple and other local Alabama Bloggers at the Shops of Grand River in Leeds last weekend.
As I was driving over to the event I realized that I was wearing a pair of my "DON'T" jeans from Rachel's Plus sized denim post.  Man, how embarrassing is that? To show up at a fashion event wearing a pair of jeans that the hostess has already declared as a "BEFORE" jean is not a great way to win friends and influence fashionable people.  But, since my dryer is broken and my "AFTER" jeans are in the dirty laundry pile, I wasn't left with much of a choice.  I breathed a huge sigh of relief when Katherine from Grass Stains stood up in front of the crowd and announced that she was wearing her maternity shorts to the event (insert loud snapping of elastic waistband here).  Thanks for taking that pressure off of me, Kat!  Also, Stephanie from Plain Chicken showed up with her rubber chicken purse, which was one of the highlights of my entire year.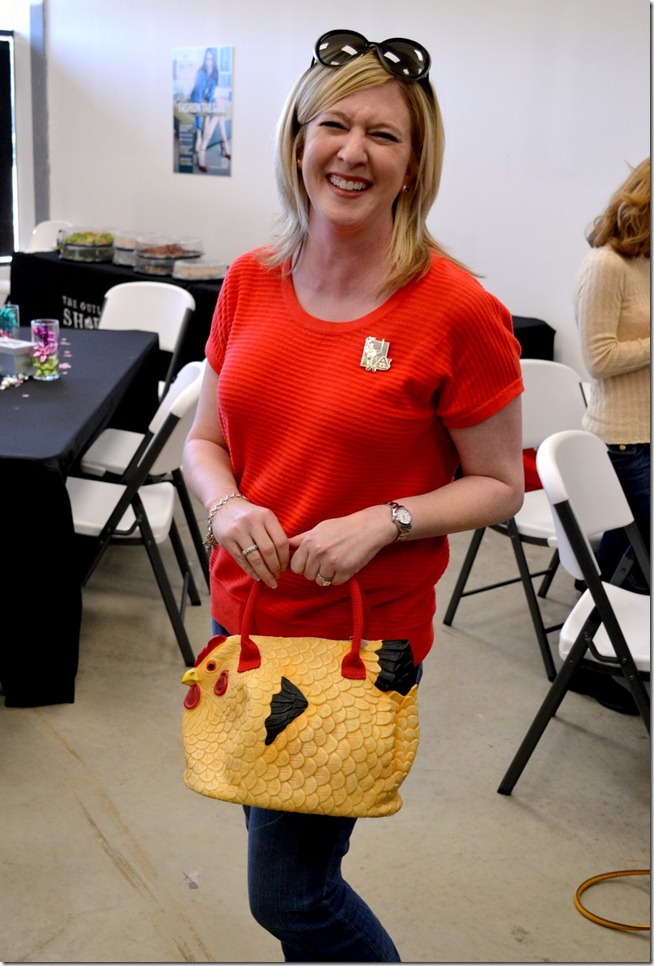 Thanks to Robin for letting me steal this photo!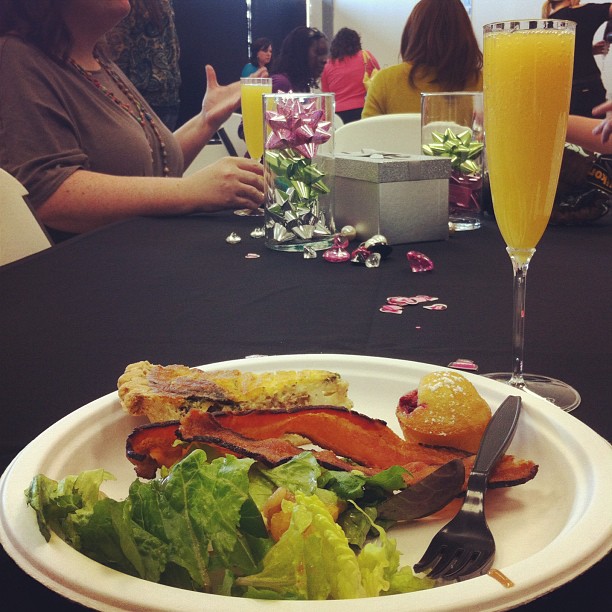 We ate our champagne brunch provided by Olexa's Catering (with quiche! and bacon!) and got a lot rowdier than the other women at the event.  I soon realized that I was sitting at a table full of some of the most hilarious women in the entire state of Alabama.  Jamie of Jamie's Rabbits, Katherine from Grass Stains, Stephanie from Plain Chicken, Robin from Alabama Slacker Mom and of Sherri from You Got Rossed made for some super enjoyable breakfast conversation.  Stephanie's chicken purse rounded out our entertaining group and earned a few sips of mimosa as a reward.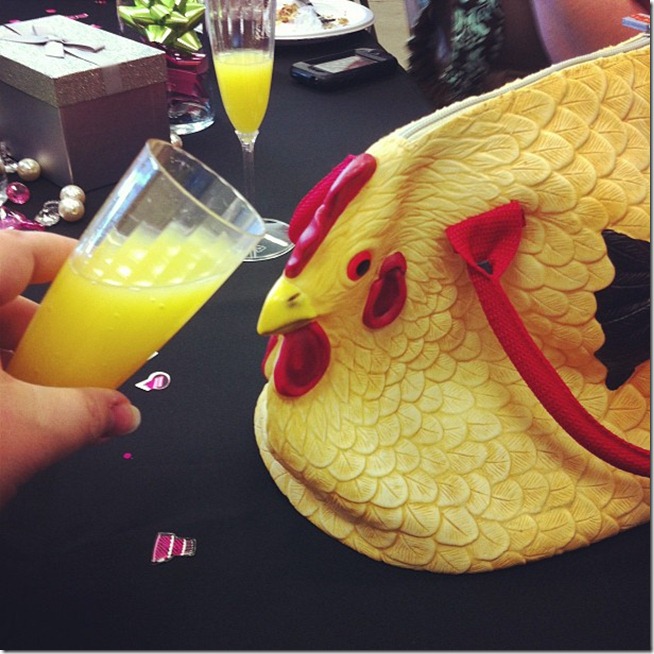 Talk about a conversation starter.  This purse… I swear.  It was AWESOME.  Maybe I should find a Boppy pillow purse and bedazzle it with Brett Michael paraphernalia.  Think anyone would get it?  Yeah, probably not.
After we settled down and stopped trying to sauce up the chicken purses we were all ears for Tracy's advice on fall fashion trends. She was great!  I felt more fashionable just being in the same room with her.  She told us all the hot colors of the season (oxblood) and sold at LEAST two pairs of khaki snakeskin leggings just by describing how great they looked on one of her clients.  And I am not even joking about that last part. That is a true passion for fashion right there!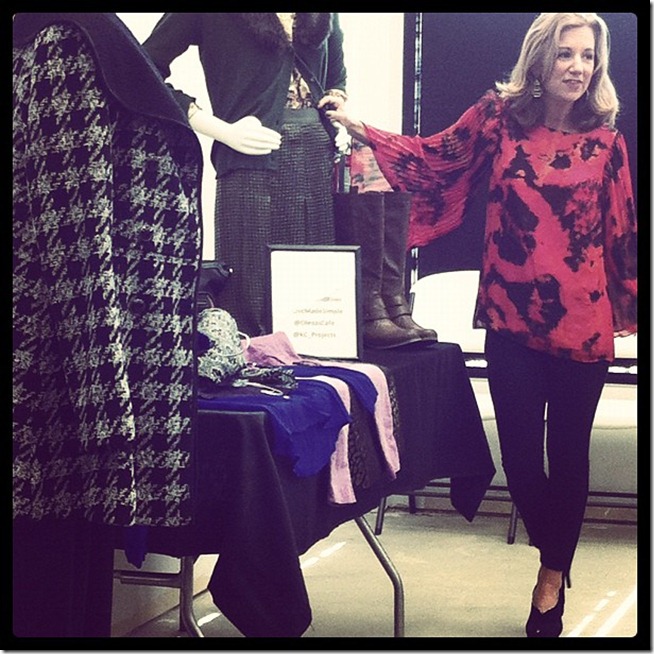 There were so many take-aways from Tracy's talk, but one of the best pieces of advice I got was to check out duoboots.com for boots in up to 21 different calf sizes!  My calves haven't seen a pair of boots since I was teasing my hair for the 1995 Garth Brooks concert, but some of y'all thicker calved girls might want to check out that site!
After Tracy's talk we had an exciting Twitter scavenger hunt around the outlet mall.  We were supposed to be in teams of four but since we had an odd number of teammate we only had three on our team. Steph, Robin and I joined together to represent Team 1-short (Get it? Since we were short one  teammate).   We were forced to split up to get the missions completed faster which resulted in my taking photos of myself with the mannequins inside the Talbots window displays. That spurred this unfortunate photo on instagram.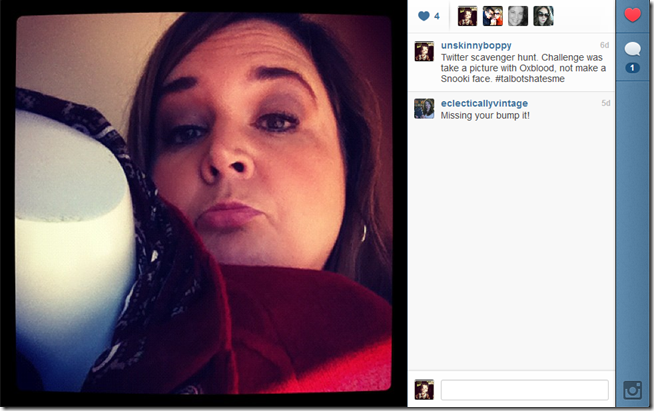 With only four hearts and a Bump-it reference the hashtag #talbotshatesme probably won't be trending anytime soon.
We came SO close to winning, but Rachel's team beat us out of our extra gift cards.  Oh well, good job Team 1-short! Here I am in my "BEFORE" jeans on the right, with Plain Chicken in the middle and Alabama Slacker Mama on the left.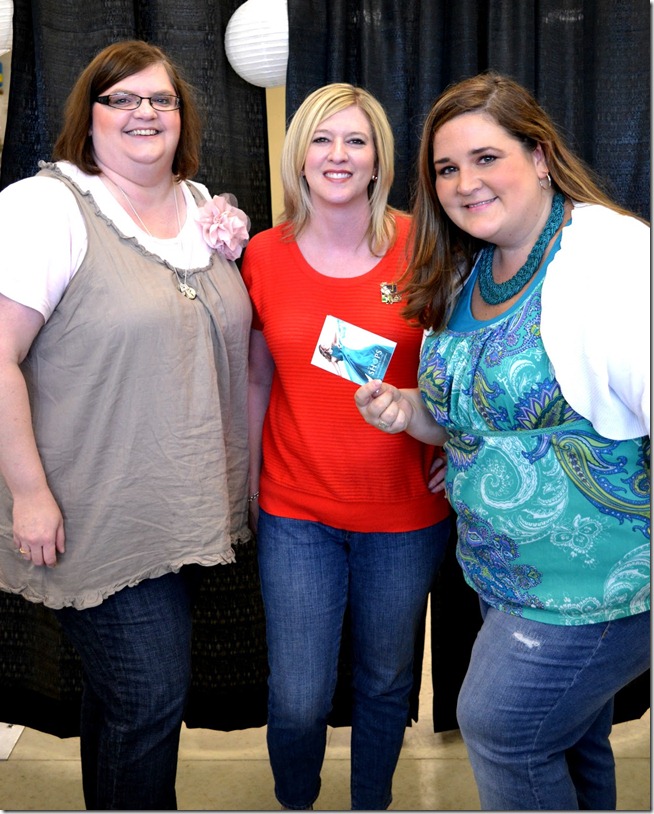 This was such a fun event, and I'm so glad I attended it even with my hole-y "BEFORE"  jeans.  Thank you, thank you to the girls at KC Projects and The Shops of Grand River for inviting all these talented Alabama Bloggers under one roof.  They gave us some fun swag bags that were packed full of coupons AND we each got $50.00 gift cards to any store in the mall.  I decided to heed Jamie's advice and splurge on my purchase by blowing it all on myself at the Coach outlet.  I have never owned a single thing from Coach, but I am now the proud owner of a cute Coach wristlet that makes me smile (and holds my cell phone!). I would have never bought this for myself, so thank you Grand River for helping this non-fashionable girl become a little more in style.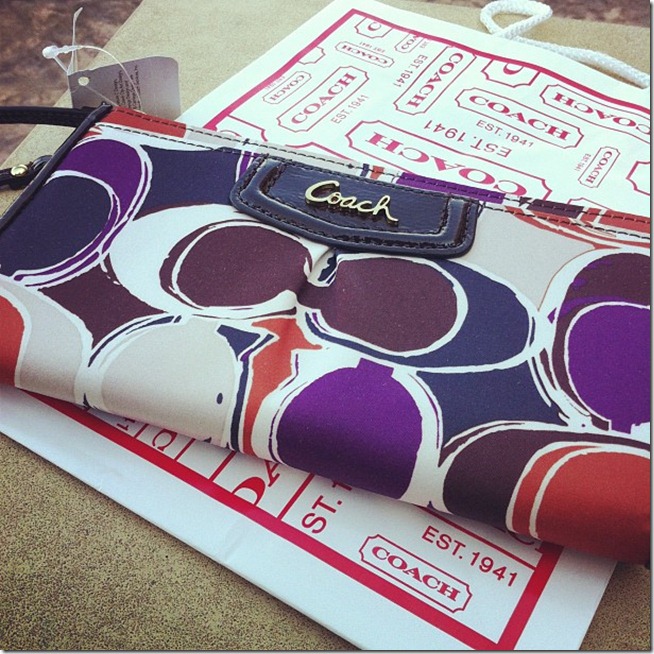 After all that excitement you must be thinking that it couldn't get any better, but you'd be wrong about that!   They were so generous to also give us all $50 gift cards to give away to one lucky reader on each of our blogs!
So, without further ado, let me tell you how you can enter to win this giveaway!  The gift card is only available to the stores located within The Shops of Grand River located in Leeds, Alabama so if you know someone in Alabama who could use an extra fifty bucks for Christmas shopping send them my way!    Simply enter the Rafflecopter below by clicking on each of the buttons and completing the task inside.  The winner will be notified by email. Check out the T&C's of the giveaway inside the Rafflecopter.
Talk about a great way to kick off the Holiday Shopping season! Good luck everyone!
---
Disclosure: I was given $50 gift card for myself and a $50 gift card for a reader giveaway while attending this event. I also got some bacon, champagne and Ghirardelli chocolates.  Yummy.  As always, all opinions are unfortunately my own. I might regret that #talbotshatesme thing later.  My apologies to Talbots.
---
*NOTE: I'm totally stealing that "Grand Master of Talbot's" line from my best friend Natalie, who is much more hilarious than I will ever be.  And Dr. Spruiell, if you are out there somewhere reading this, I'd like to say thank you for teaching me everything I know about textiles.  I loved that class where we got to burn fabrics and watch them melt.