Happy Hump Day! While I'm heading back home from a great trip to Disney World, Kelly at A View Along The Way is robbing my house guest posting for me today! Come see how Kelly has decorated her GORGEOUS house on a budget with a little bit of creativity and a whole lot of effort! PS- Kelly, you better be careful. I do have an alarm system. And two giant guard dogs that will slobber you to death. OH, and nosy in-laws who are dog-sitting them and possibly packing some heat.
---
Woot! I can't believe I'm here, on THE Unskinny Boppy, with the honor of holding down the fort for the supa-fab Beth while she's out. (Hey Beth? If your entire porch, mason jar chandelier and outdoor space go missing while I'm visiting, I don't know anything about it.)
Have we met? I'm Kelly and I blog at View Along the Way about budget-friendly DIY projects in our attempts to fix up our once-tragic foreclosure on the tiniest of budgets.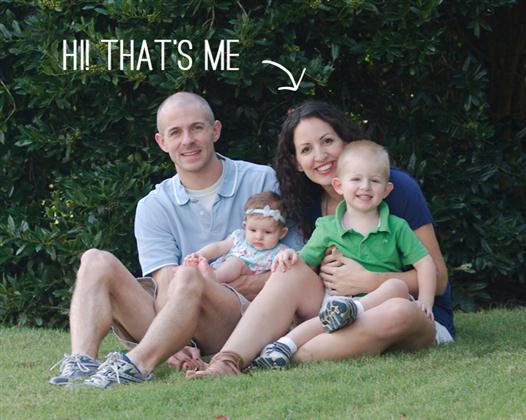 We've lived in our place about four years now. (Take a quick tour of the befores-and-afters right here!) You know that feeling of moving into a new home with wide expanses of blank walls and an unlimited decorating budget to fill them with the art of your dreams?

Me neither.
But nothing makes a house feel more like a home than hanging art that speaks to you, so friends, I am calling for us to take a stand! We'll call it
The Rage Against the Blank Walls!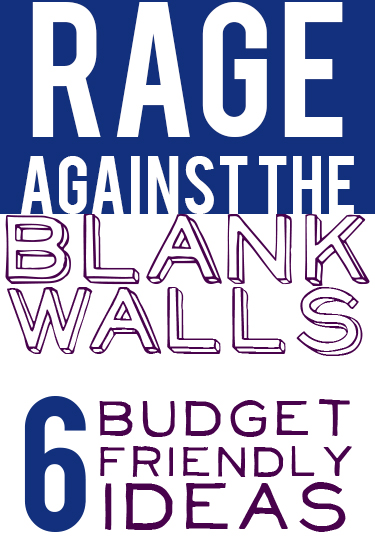 Here are a few fun and easy, budget-friendly ways to fill your walls with art that speaks to you!
Not audibly.
That's creepy.
Unless it was a giant gilded mirror which swore you are the fairest of them all, day in and day out. I still haven't figured out how to write up a good DIY tutorial for that.
1. DIY Chipboard Quote Art
If I'm being honest, things around my house are tiny bit frantic at times. There are moments when I'm sitting on the couch nursing one kid, while the other one yells from the bathroom:

"Mom, I peed standing up!" (pause.) "Mom, my socks got all wet!"
So I need
reminders
. Reminders to be still. To pause. I love the bible verse that says, "Be Still and Know that I am God." It's like: "Hey, chill the crap out and relax already. Just be still and be quiet and let God do his thang." (That's my translation.)
So I made this: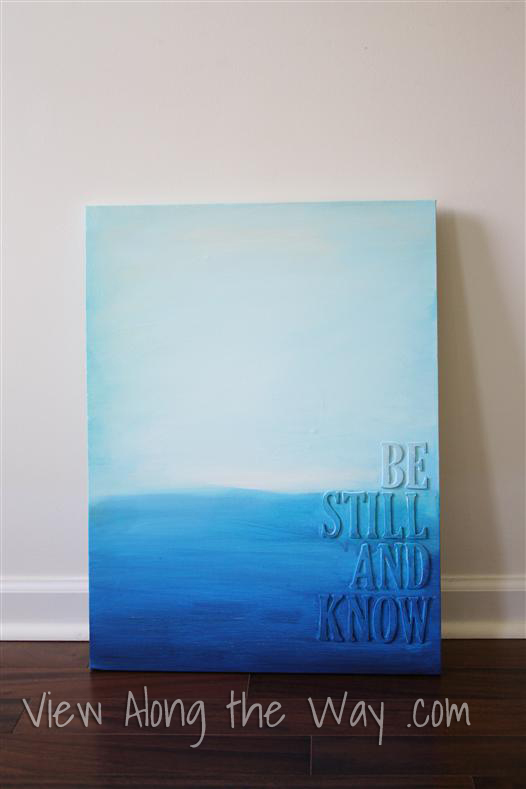 It was so easy, and you could make your own with a verse, or a quote that speaks to you, or a meaningful date. Check out the tutorial to make your own quote art.
2. DIY Herringbone Art Project
And then there are times when you just can't fight it: your kids need to get sand between their toes, dirt in their hair and paint on the bottoms of their shoes. ("Seriously, kiddo? On the BOTTOM of your shoe?" <-- true story.)
So you might as well embrace it and let them go crazy. I set my two-year-old up with some giant canvases and let him have at it!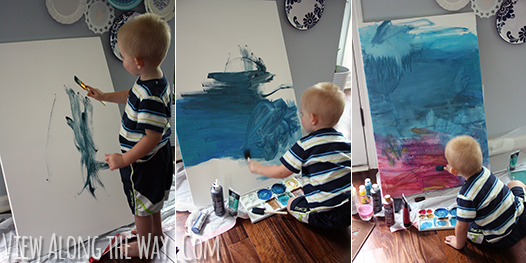 Then I used frogtape to create a design on top and ended up with my own oversized art, a dual-artist collaboration between my little one and me. (See the details on the DIY Herringbone Art piece here.)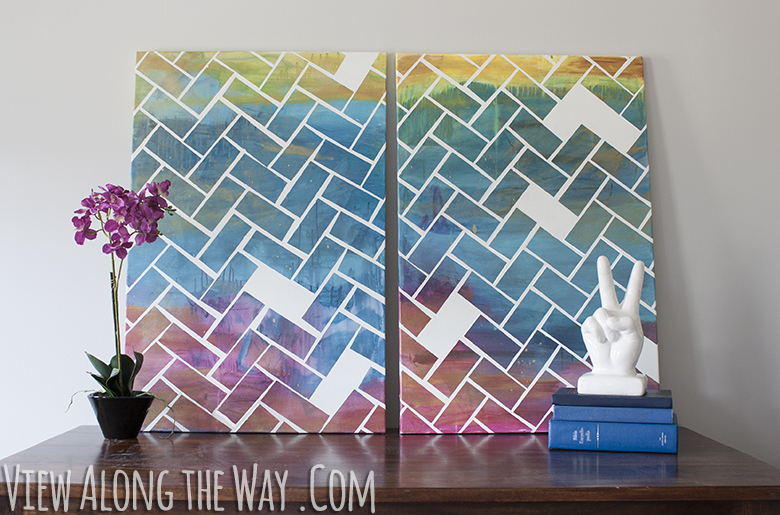 3. Throw some plates on the wall!
I get it: some people are a little intimidated by a blank canvas. If that's not your style, no prob! Maybe you like to shop. (Are ya with me?!) "Needing" a nice collection of color-coordinated plates is a great excuse to hit some yard sales and thrift shops! Almost all the plates on my plate wall were between ten cents and a dollar.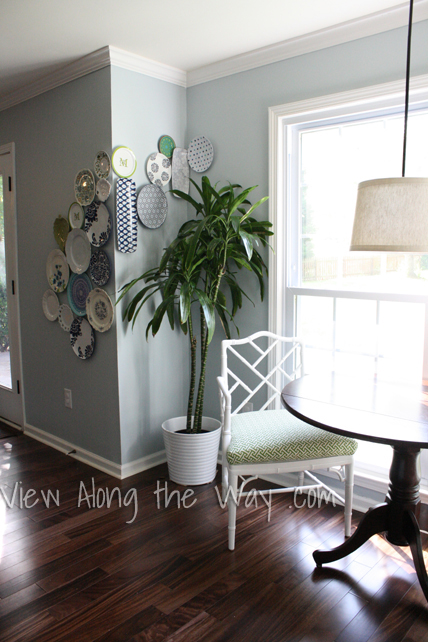 Talk about an inexpensive, high impact wall-filler! Wondering how you'd hang them? I have a great little trick for you. Click here to see how to hang plates on the wall for FREE. (That's RIGHT within my budget!)
4. Or, get creative.
I wanted something whimsical and fun to fill a giant empty wall in my baby girl's nursery. Enter pinwheels!


I made a ton of these out of scrapbook paper I already had on hand and hung them in a floating-away arrangement. Wanna know the coolest part? They actually spin!
See how to make your own pinwheel wall here, or click on over to see how we redid this whole room – furniture included! – for under $500.
I think origami stars, butterflies or paper airplanes could be amazing! Someone please take that idea and run with it! (And send me pics so I can admire it!)
5. Don't forget stencils!
I recently stenciled a wall in my laundry room – we just made over the whole room for $157! See it here! – and THAT is ONE high-impact wall decor solution.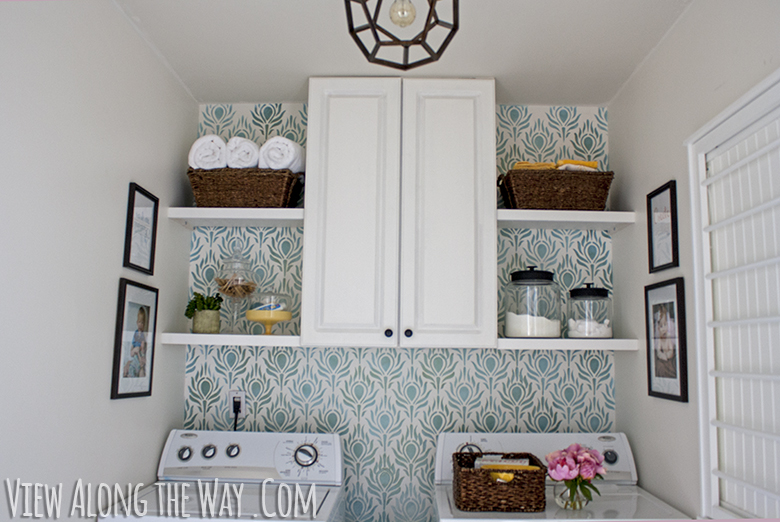 It was my first time stenciling, so I wrote up a post with a few wall stenciling tips. Let's just say: I learned a lesson or two. Lesson number one: DO NOT GO ROGUE. Follow the rules! (I'm 29 years old and this is a life lesson I'm still learning. Sighhh.)
Here's a close up of what the stencil looks like: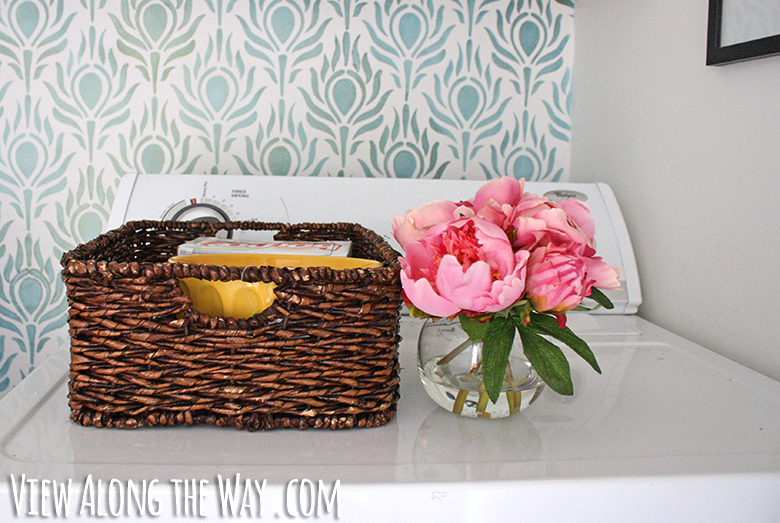 6. Shadowbox it baby!
…with an old antiqued window. *Swoon.*


Of course, that's Beth's DIY shadowbox, but isn't it amazing? Another budget-friendly way to rage against the blank walls!
Thanks for letting me hang out here with you guys today! (And Beth, thanks for the sweet new mason jar chandy. I mean… nevermind.) I hope you'll swing by my blog, subscribe to the posts or follow along on facebook, twitter or pinterest. I'd love to connect with you!