Hello, hello!
I know you guys think that I have fallen off the face of the earth because I have been frantically decorating this new house and getting it blog-ready to take you all on the Grand Tour soon.
But no.
In reality, I've been laying on my couch watching marathons of Fixer Upper and rubbing my growing belly.  I am 22 weeks pregnant today, and we are in our sixth week of getting used to waking up in this new house.  I was a hermit last time I was pregnant, and I am a hermit this time as well.  It's just how I work, apparently. I sincerely apologize for leaving everyone hanging on new house pics.  I make you a promise that I will get a full tour up eventually.  Notice I didn't say soon.
So far the only things we've done around here are change out all the toilets (y'all didn't really want to see that documented, did you?) and have the floors refinished before we moved in.  We've also been up to our eyeballs in moving boxes but those piles are slowly getting whittled down.
Then yesterday, something blog-worthy finally happened!  I got new plantation shutters installed in the kitchen window.  Woohoo!  Let me show you what this space looked like before when we first looked at the house with the previous owners stuff in it: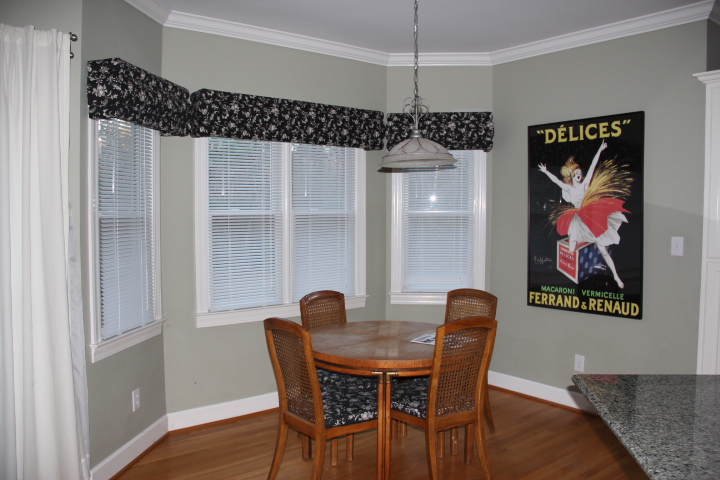 And this is how it has looked for the last six weeks since we've lived here: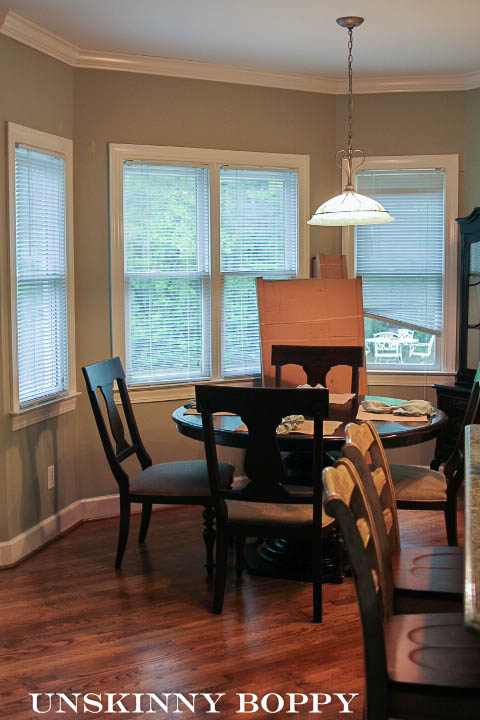 Standard issue 1/2" aluminum blinds, and that one on the right was stuck at an angle 1/3 of the way up.  As hard as we tried we could NOT get that blind to come down…
Here is the space today after they got their instant facelift with half-height plantation shutters: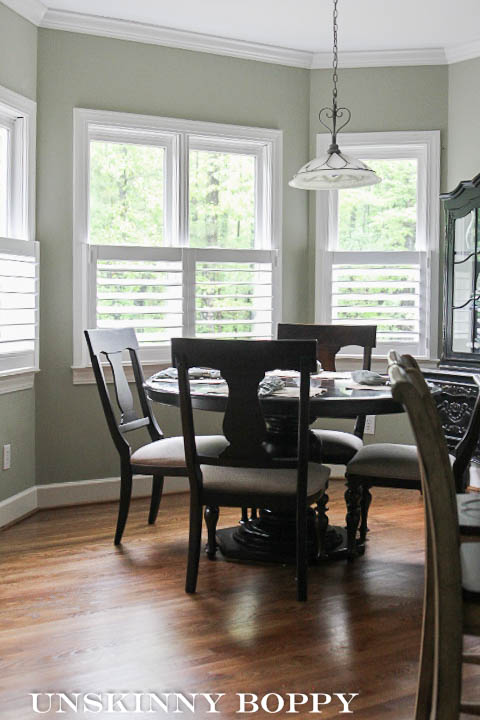 Pretty big transformation, right?  I think so!  I had Lowes come out and measure/ install the blinds for me, so this is not a DIY post OR a sponsored post, just a regular old decorating idea post.  I LOVE having the top half of the windows open so I can see the trees outside in my backyard.  They let in so much more light now, which might be an issue in the summer if we have to wear sunscreen to eat dinner at the table. Or if they start fading my placemats.  HA!  But I will deal with that as it comes.
Although I love the way these shutters transformed this space, I do have one regret.  Here is what I wish I had done differently.  See how they are just a few inches below center of the window? I wish they were about 2-4" higher so that the tops of them hit the window right at the center line. They look a little bit squatty to me.
It's not a huge deal, but looking back on my old kitchen window shutters I realize that they were centered and looked better on the window.  Here is the kitchen at the old house, which came with the house (aka I didn't order them to know any better):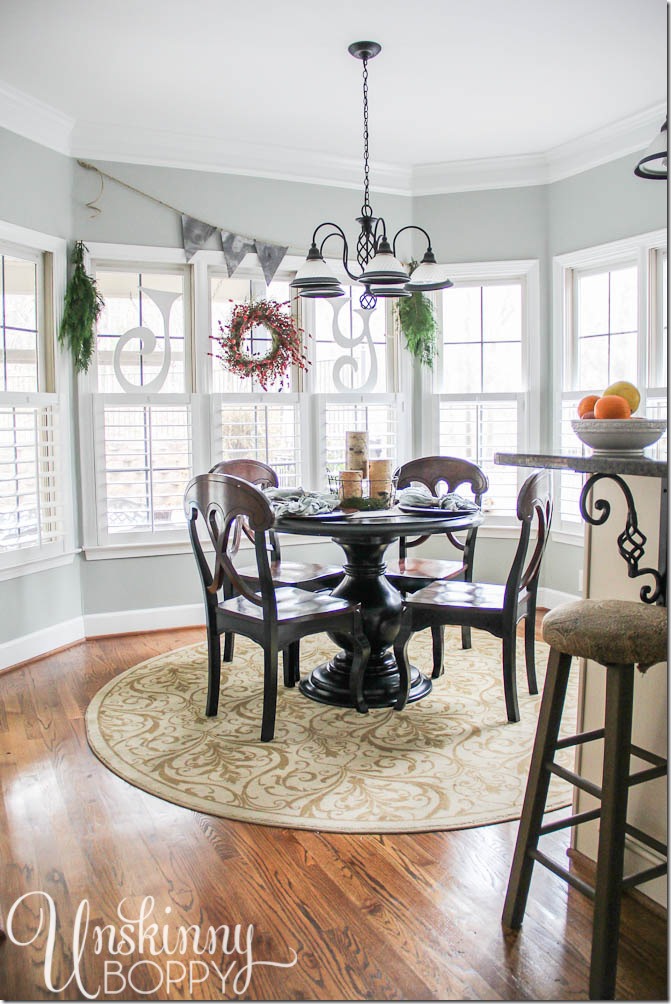 Can you see the height difference? But, it's done now, and I really do like the way they turned out!  But take notes, guys! If you ever decide to do this in your own windows be sure to think that part through better than me and get those blinds centered up so they are not lil shorties on your windows. Lesson learned! I'm definitely digging this look way more than the aluminum blind/ valance combo.  There is still lots left on my to do list but it's coming together piece by piece.
For those who asked on facebook: These are 3" Sonesta brand plantation shutters from Lowes. I liked the fact that they don't have that center bar to open and close them. They are not real wood- they are actually plastic, which cut down a little bit on the price.  Still way more expensive than most blinds, but totally worth it if you want an instant designer look in your home!
I'll try to be back with more new house pics soon.  Thanks for being patient with me while I bake this baby.