In an effort to get this here blog chugging along again, I have decided to post more updates of the behind-the-scenes parts of our lives like I did in the olden days of blogging. I'm ignoring the rules and going back to my roots.
Unskinny Boppy will turn twelve years old this year. TWELVE. That means I have been sharing our lives here for a dozen years, which seems impossible when you consider social media was barely even invented back then.
In the early days this blog was nothing but a "Dear Diary" glimpse into our personal life where I overshared everything and had no filter on my posts. These days all that has changed, and I am WAYYYY more guarded about what I share online with the world. I have walled off parts of my life that are top secret and not open to the public anymore.
I've done this partly because I want to maintain some privacy but mainly because I worry that you'll be bored to tears and never return to my blog again if I overshare my daily life.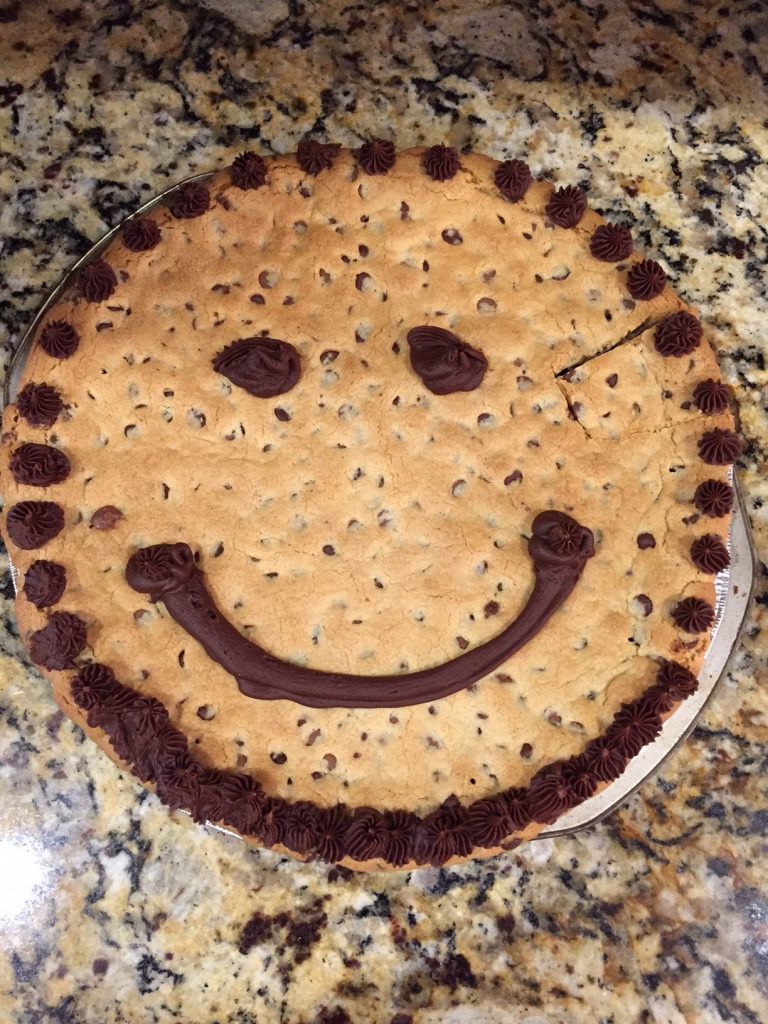 Trouble is, being guarded for so long means that my well-established, twelve year old blog is currently dying a slow, painful, silent death.
I feel like I have nothing to say anymore. I've gotten so used to not sharing the little stuff that I don't share anything at all. Weeks go by without a post and I don't do anything about it.
I have muzzled myself into oblivion because I'm scared about what you will think of my reality, or that you'll unsubscribe as a reader because you don't care what my kids' latest achievements are. That's sad.
Over the years, I watched the fun mommy-blogging world morph into this super competitive industry with nothing but magazine-worthy images and styled photo shoots allowed.
I felt like I had to stop sharing pictures of my everyday life and start pumping out perfection in order to keep up with the rest of the blogging business world. It became all about pageviews and nothing about our personal life. And that is not fun.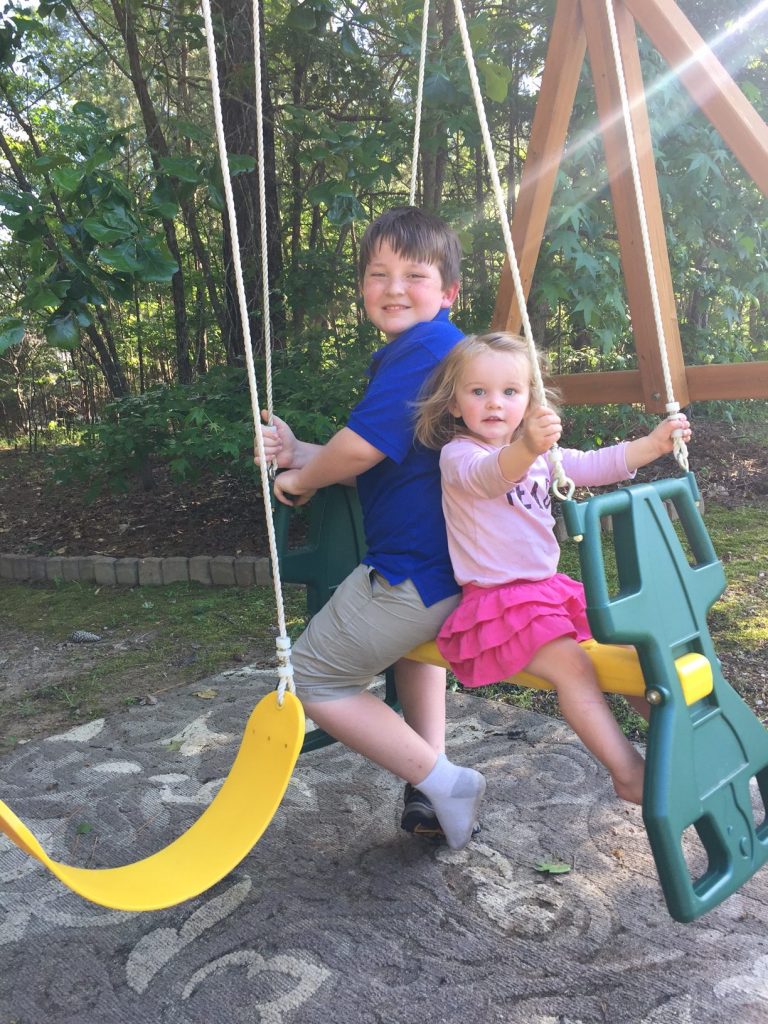 But here's the thing. I truly miss the old days of blogging. I'm tired of only blogging the perfect parts of my life and the clean corners of my house. I want to be real with you because anything else feels like I'm lying to you. Sure, there are still days when I want to dress up my house for the holidays and snap some pictures to share here, but I don't want it to JUST be that anymore.
I miss sharing the mundane, humdrum recaps of what's happening in our lives. I miss showing what my kids are up to right now, even if it means I'll be boring you to death as a reader.
There are plenty of factors that make me want to keep my guard up these days, but WOW, do I miss writing those posts where I recapped every little detail of our lives.
Can I have it both ways? Maybe.
Mainly I miss digging through my archives and seeing exactly what Garrett was doing at any stage of his baby and toddler years because I shared monthly updates of his first two years of life.
Every single milestone is recorded. He has a complete online baby book right here in the pages of this blog.
Those old posts are priceless to me and filled with memories that make me laugh and cry.
Caroline, though?
She is turning two in August and I have barely documented anything she has done in her first years.
Sure, I've shown you her pretty nursery decor and her first birthday party decorations, but I have not written about her first pigtails or her first tooth.
I didn't even post about the major milestones like her first steps or her first words. This makes me so sad. I feel like I'm cheating her out of something more valuable than gold.
For instance, I have not told you about how this finger rarely leaves her mouth.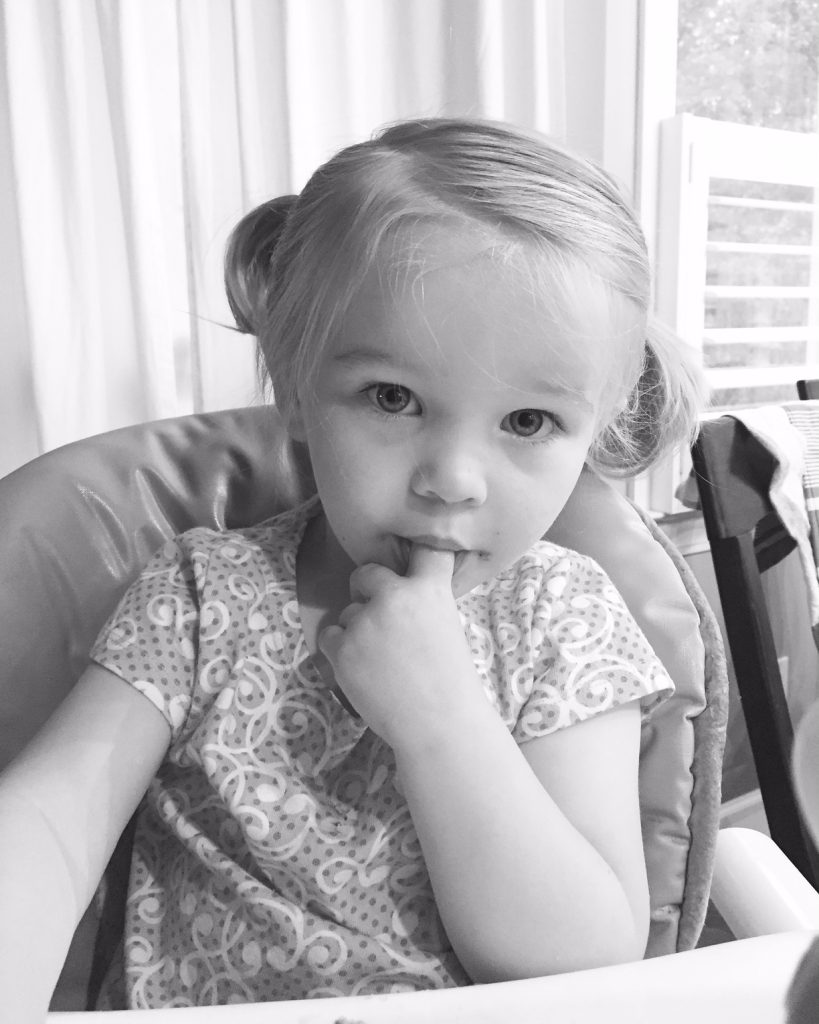 How she sucks on this left pointer finger until it's shriveled up like a raisin. I'm already saving up for the orthodontic bills.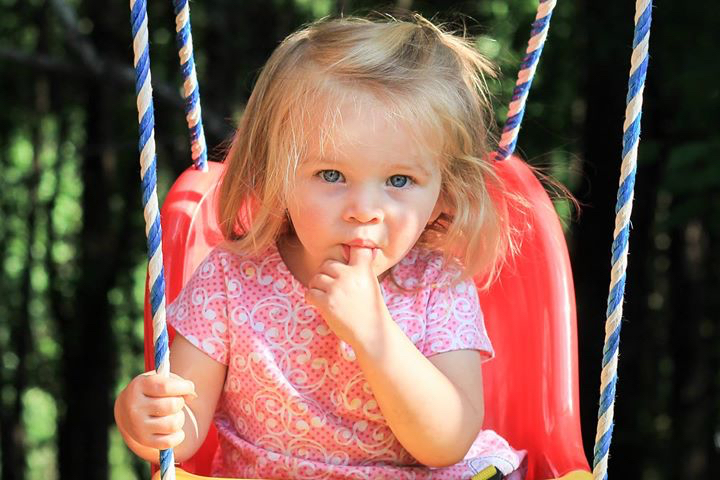 I never showed you how she would only swing on her stomach with her little legs sticking straight out behind her because she was too short to sit on the swing any other way but determined to do it by herself.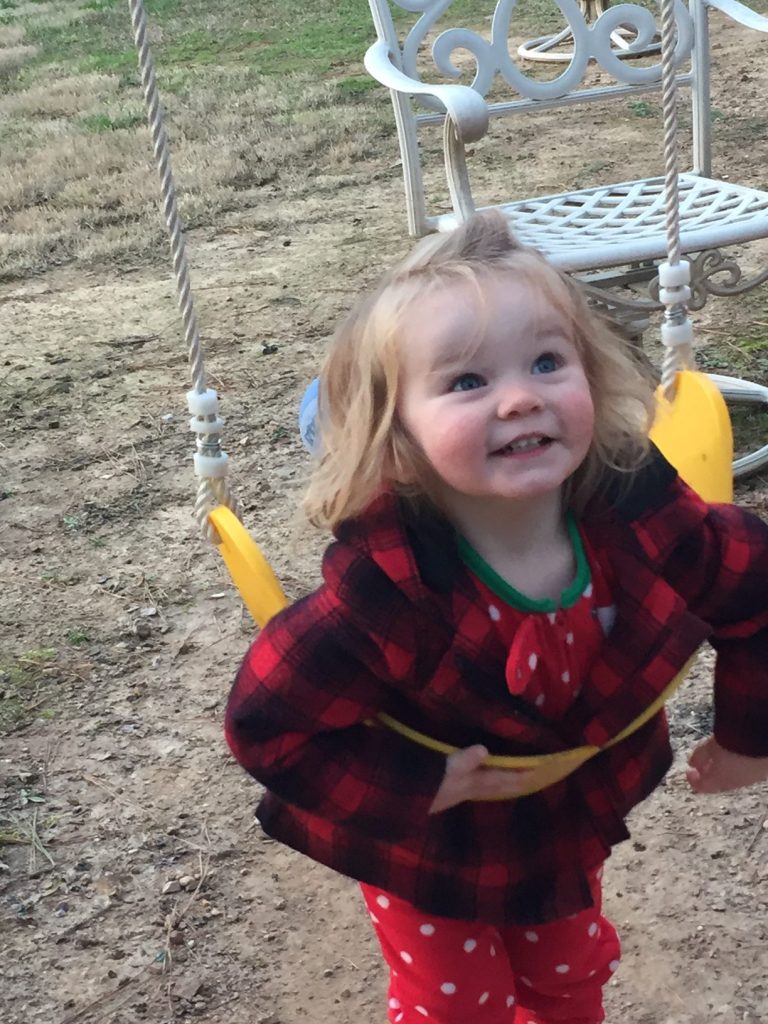 I didn't show you how, for many months, she would open her mouth wide for every single photo because she was expecting the Snapchat filter with the puppy dog ears and tongue to show up on the iPhone screen in front of her. We called this her "SNAPCHAT!" face.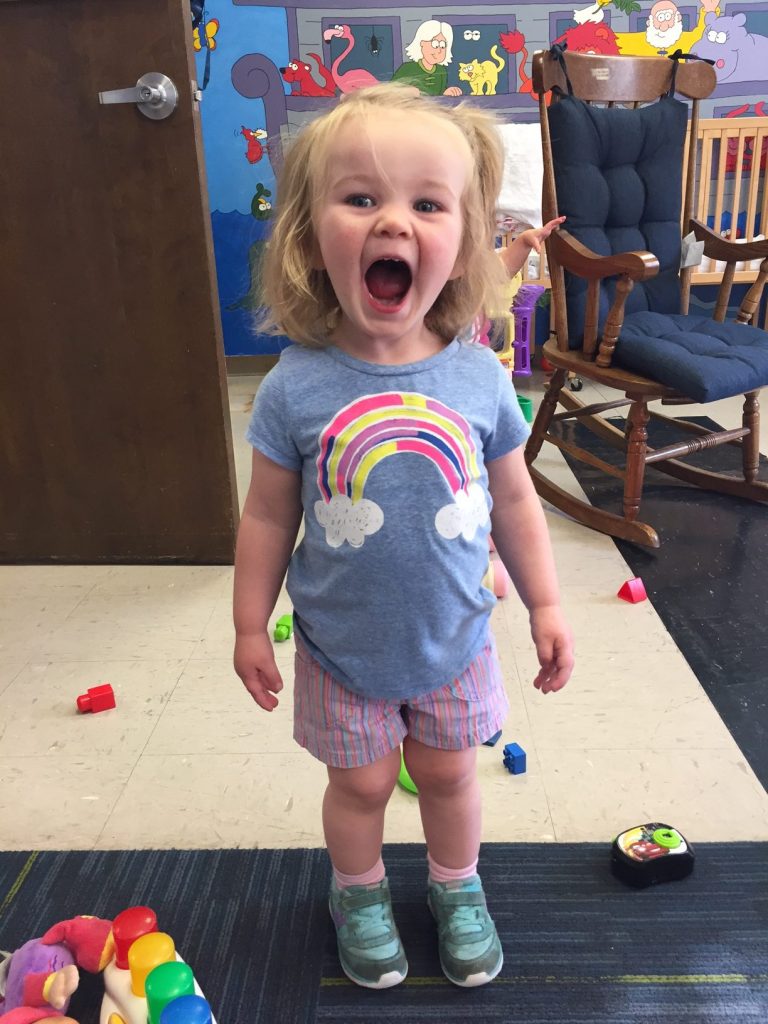 I have not recorded a video of her saying "It's yucky!" every time she gets her hands dirty and pulls me over to the sink so I will wash them with soap at the faucet.
I have not shown you how sweet she looks sleeping in her carseat.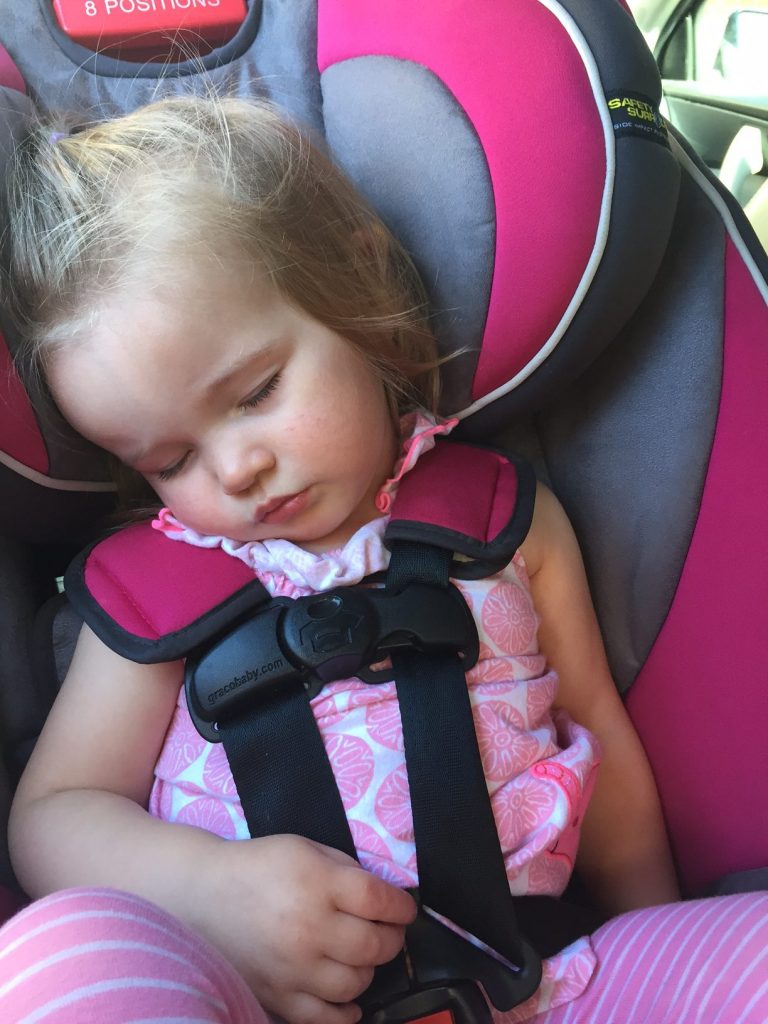 Will she resent the fact that I posted Garrett's every move on this blog and not hers?
Or, on the flip side, will Garrett be mortified as a teenager to see his diaper-clad bottom splashed across the pages of my blog and force me to delete them?
Or will he think it's awesome that his mom's blogger friend Photoshopped my hand out of this picture to make him look like tiny bait for a giant bass?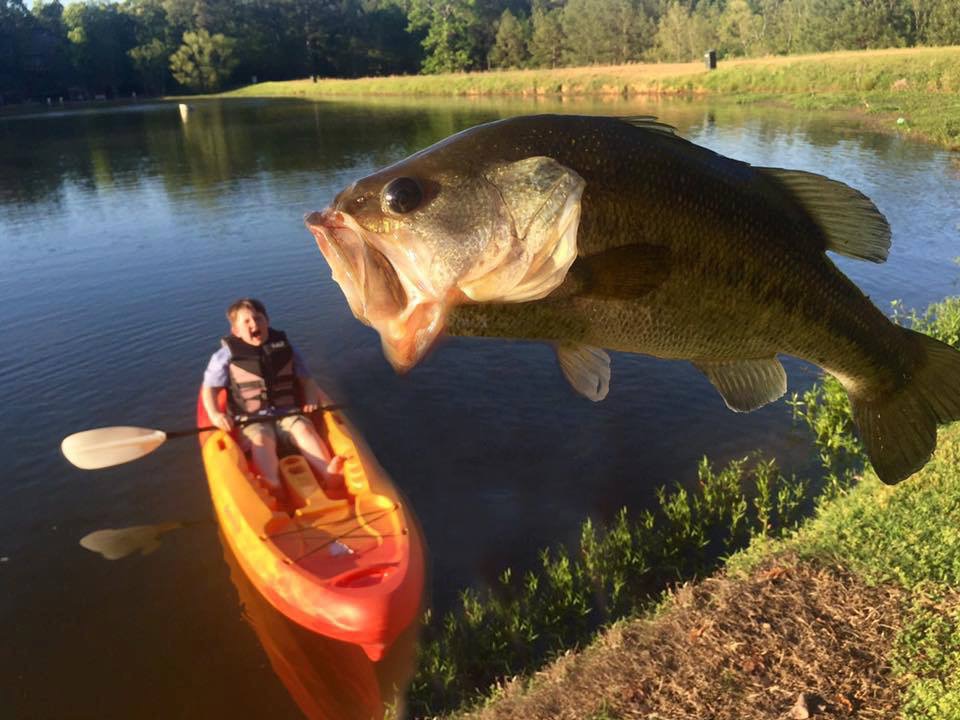 Who knows.
It's a very fine line to walk as a mother/blogger.
Garrett loves his little sister with a ferocity that I've never seen in a nine year old boy.
These two sweet babies right here are my whole world. Why would I not share moments like this on my personal blog?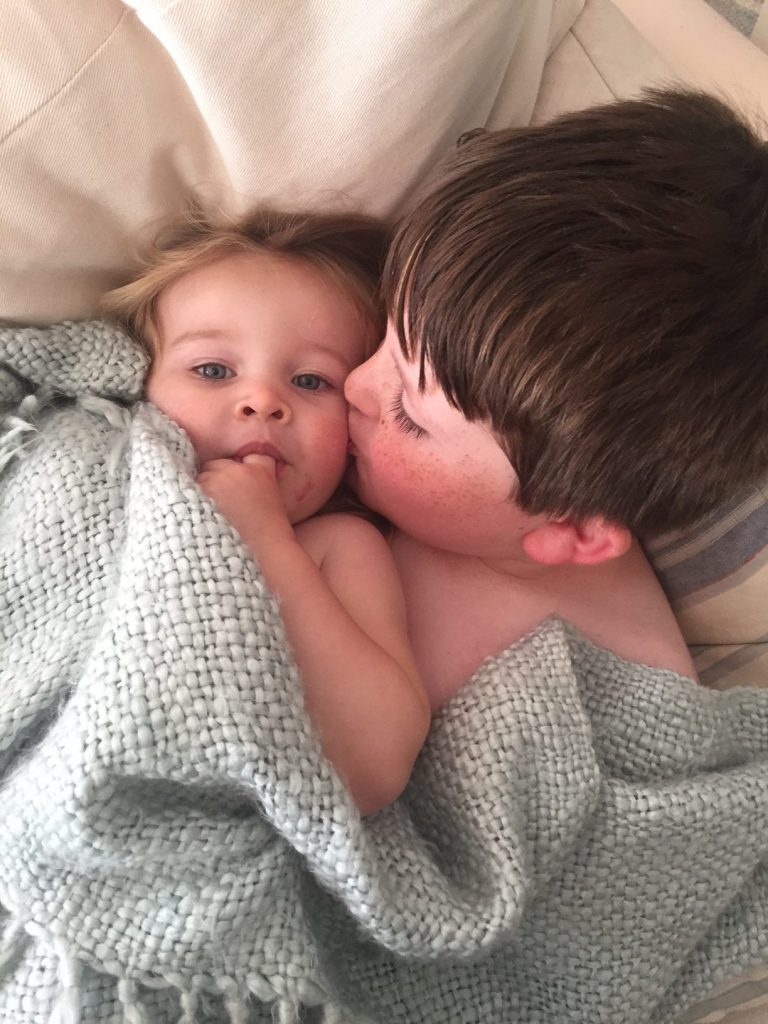 I never even shared that we lost our sweet Gus to cancer last year.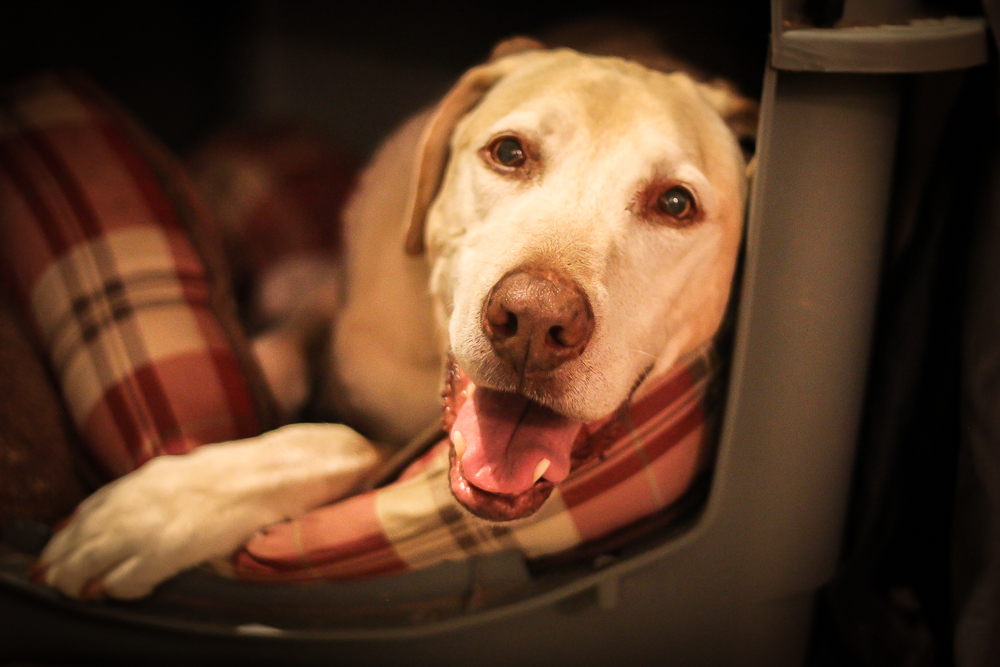 Some of my very first blog posts were about bringing these two crazy dogs into our family and all the hilarious antics that ensued.
But, I never posted about Gus's death here. We had to put him down on the day after Garrett's birthday last year and it was awful.
It was too hard to type the words when it happened and too sad of a topic to bring up after it was over. Losing his best friend has been the hardest thing that Garrett has ever gone through, and we still have late-night talks about how much he misses Gus.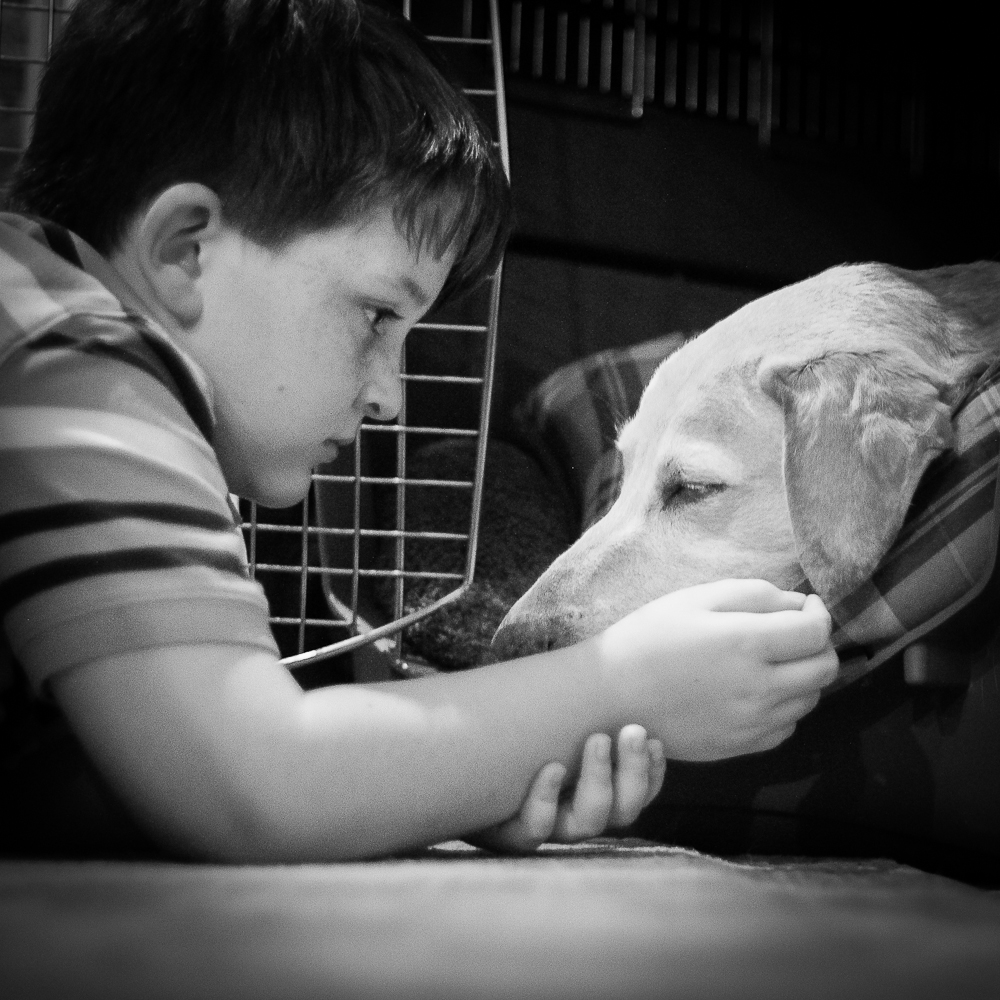 I don't think there is any right answer for how to handle the reality of life as a blogger.
Everyone has to choose their own path that feels right for their family. Many folks choose not to share a single thing about their kids and others share every potty-training play-by-play. We are all different.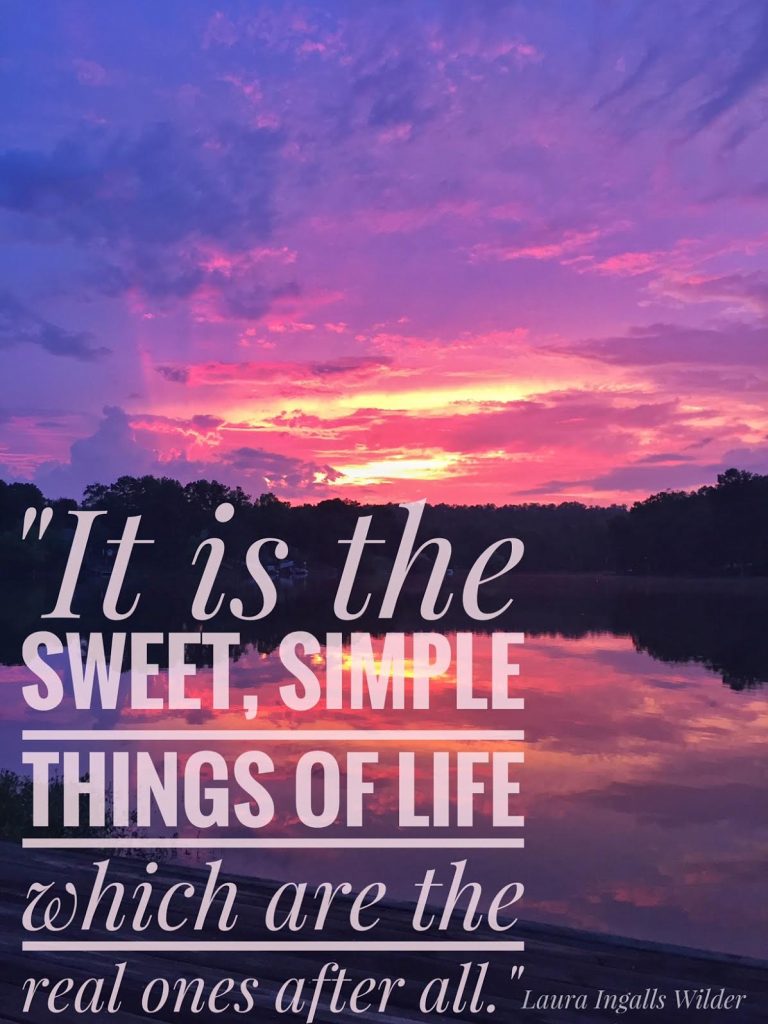 As for me?
I'm going to start sharing again. Not every single skeleton in my closet or poop in the potty, but I'm excited to share the mundane, humdrum daily parts of life right now. For better or for worse, this is us.
I'm excited to share the cupcake-covered mouths and the bunny ears, because it was the only family portrait we could manage to snap at the time.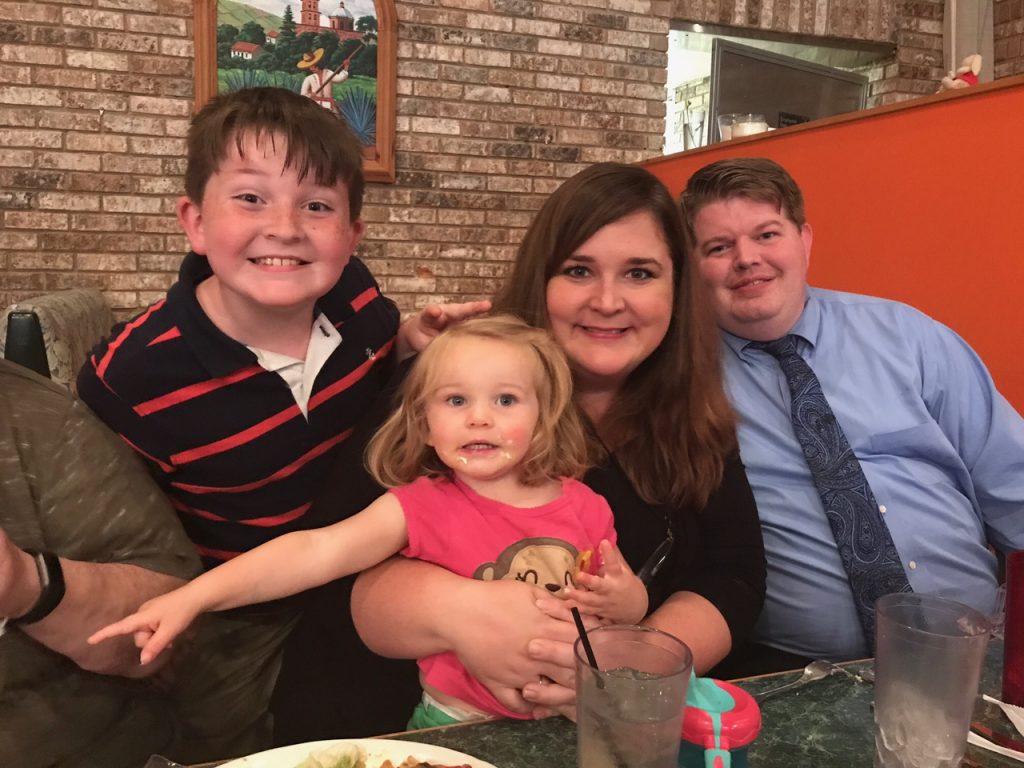 I hope you don't mind seeing my real life, and not just the highlight reel of my life. I need to document the real parts of my life.
Because the real parts ARE the most beautiful parts.
And like Ferris Bueller says…Life moves pretty fast. If you don't stop and look around once in awhile, you could miss it.
I don't want to miss a thing.