Back when I was in college I had to take a class called "History of Interior Design" (yep, I have a degree in Interior Design believe it or not…) During that class, I had to create a binder with a picture of every single style of architecture throughout the history of the world starting with like… prehistoric caves. No joke. Greek Revival and Italianate and Baroque. Corinthian and Ionic and Doric. Frank Lloyd Wright and flying buttresses… It ALL went in this binder in neat little photocopied pages with dividers for each century.
By the end of the year that binder was YUGE but even today, twenty years later, I still remember so many of those architectural design styles… and this is one of my favorites!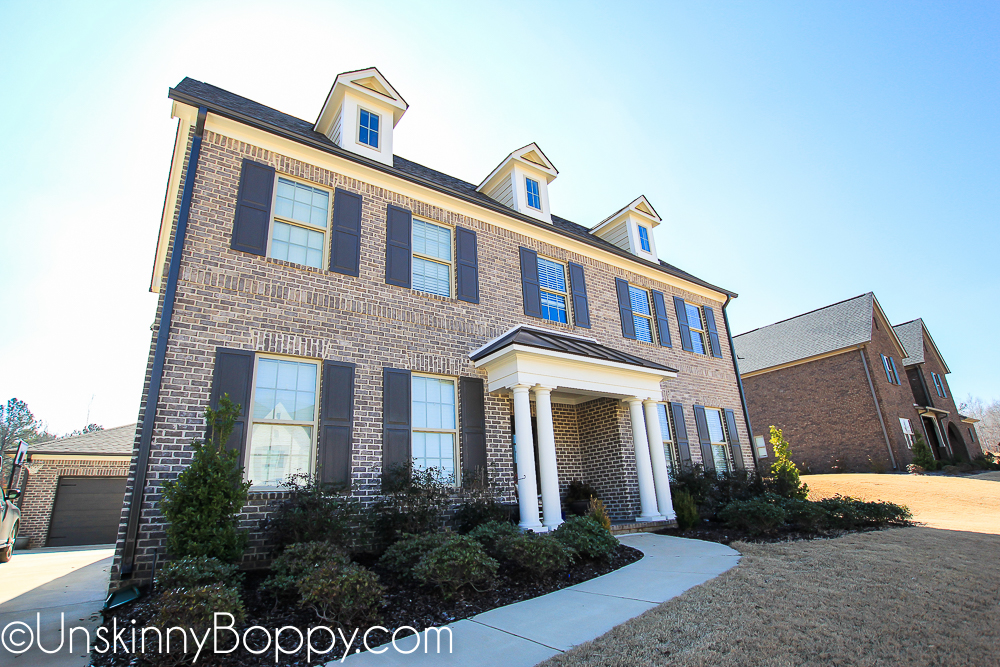 I'm such a sucker for classic construction like this. A Georgian style home that looks like an old Colonial but is brand spanking new? Yep. I'm sold. This is the "Thomas Georgian" plan from Signature Homes. The actual blueprint on the builder's website differed slightly from the one shown here, but it's similar.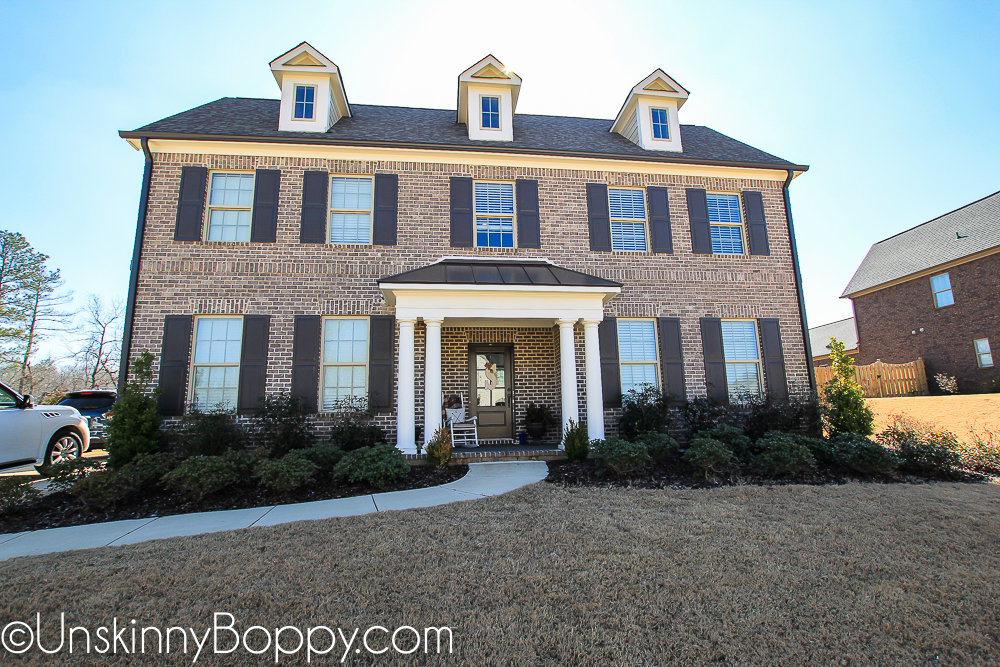 Today I've got a little treat for y'all. My friend Susan just built this beautiful home, and she agreed to open her doors and let me take you on a tour today.
Let's start the tour!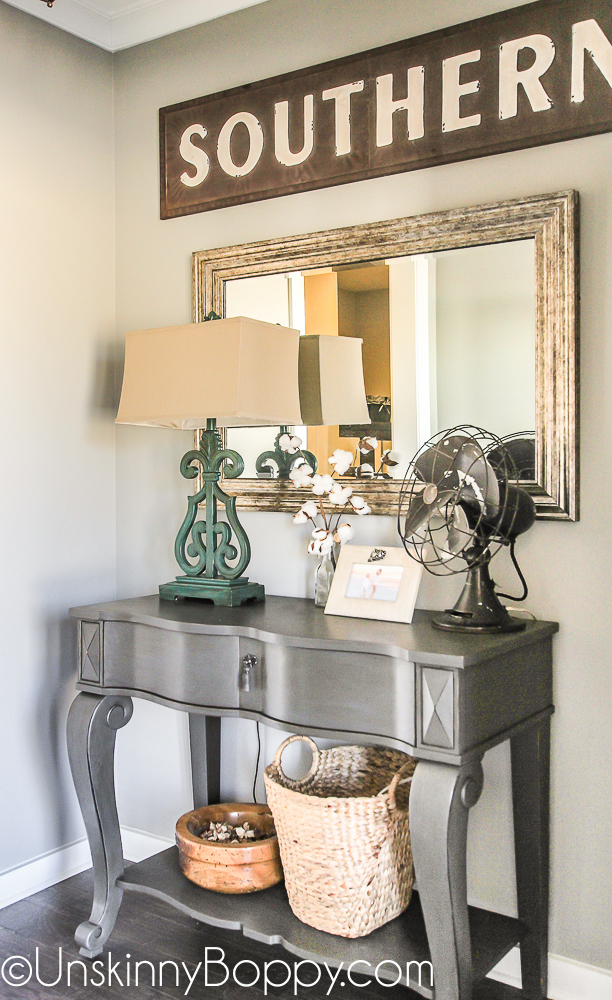 Susan is a Designer and owner of Gray and Maxwell, a design studio and home stager based out of Helena, Alabama.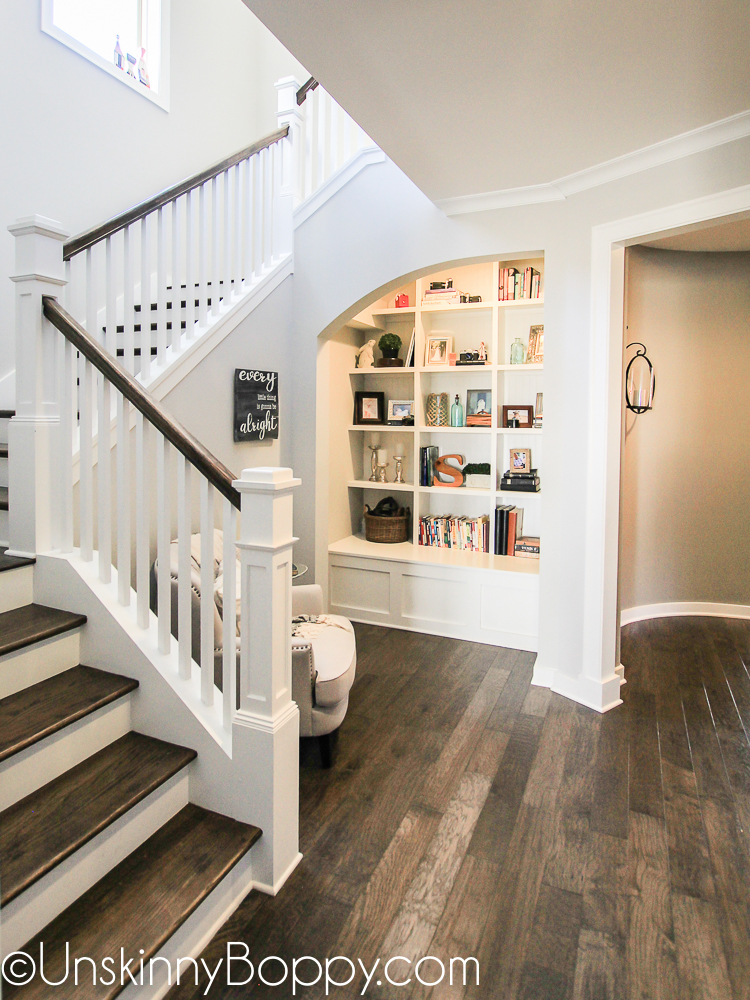 I actually met Susan through blogging, because she had a blog called Our Family Eats that featured lots of simple, "clean" recipes for kids.  She had a homemade granola bar recipe that was so yummy and all my friends passed that recipe around like a hot potato.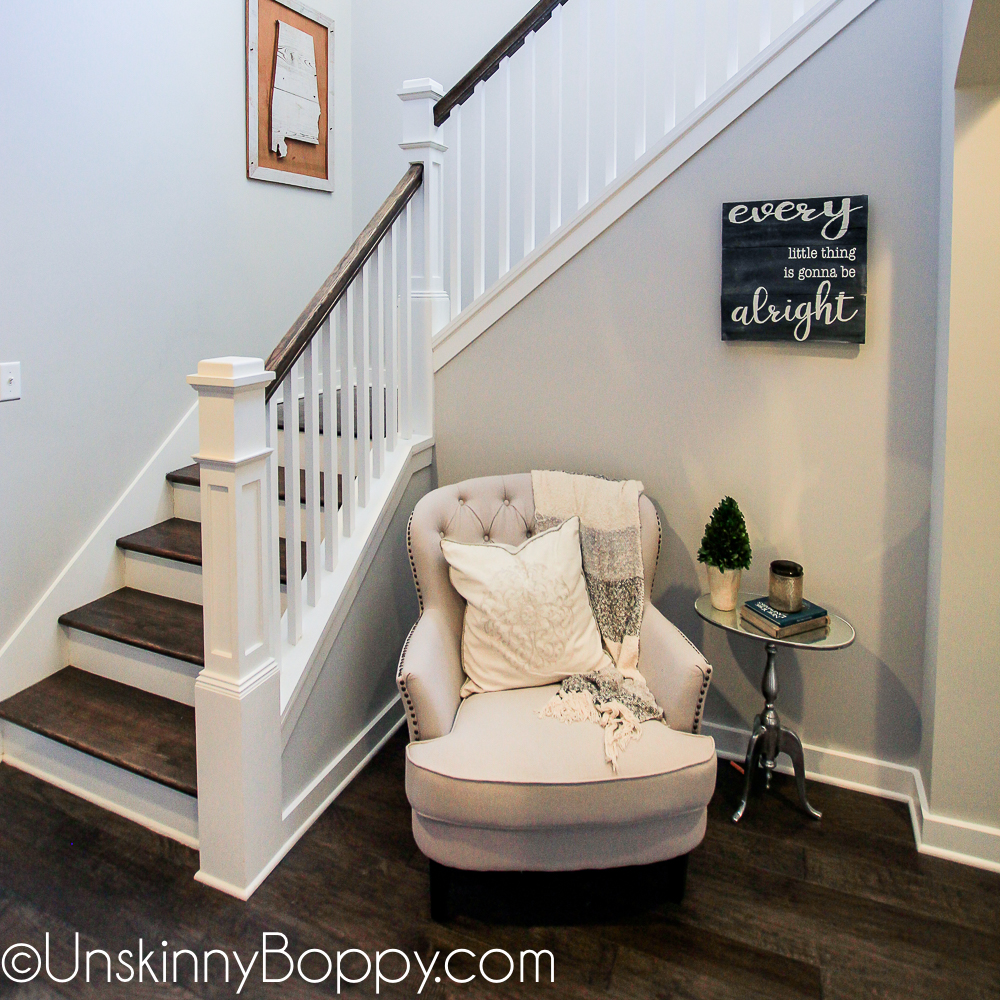 Unfortunately for us, Susan decided to stop blogging a few years ago, so the granola bar recipe has been lost in the deep space of the internet archives.  Maybe one day I'll pull it out of her and feature it here on my blog. 😉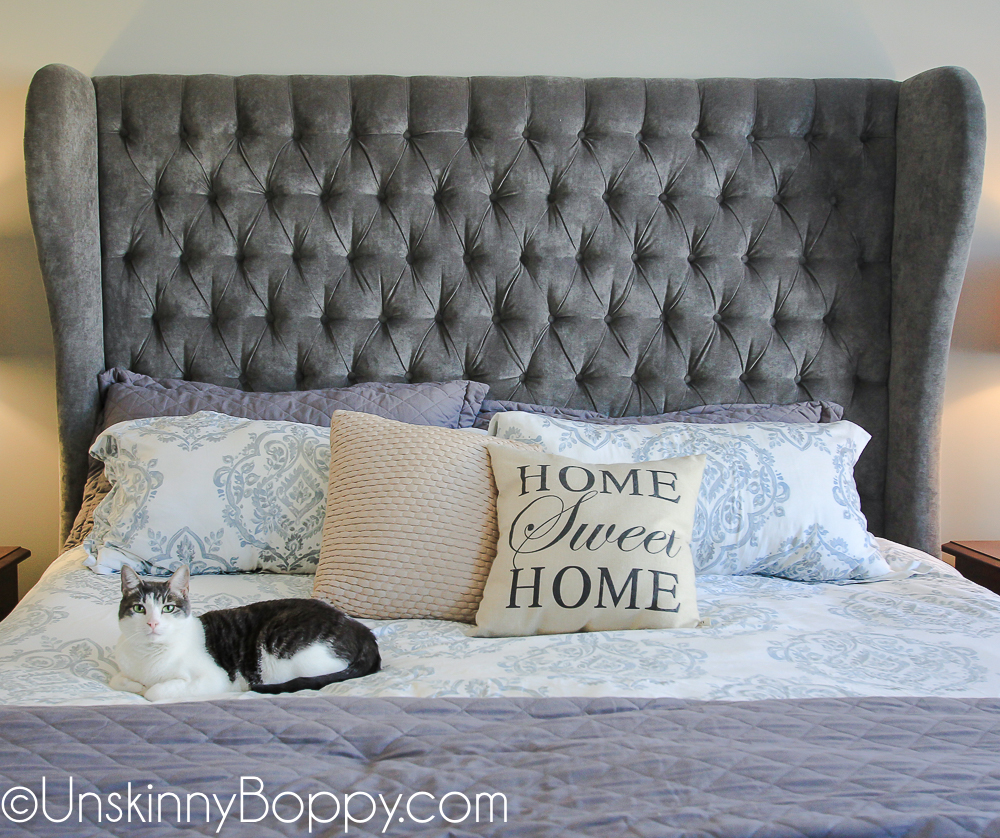 In the meantime, we get to admire her GORGEOUS HOME. Seriously, every single inch of it is perfection. And her kitty cats are beautiful!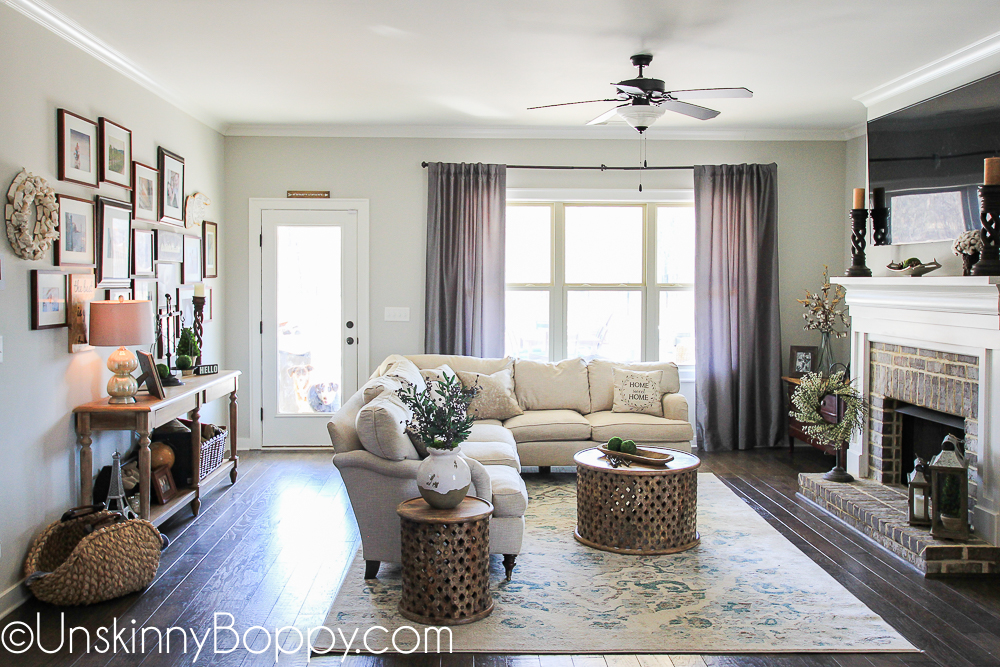 Susan lives in the same neighborhood as Lisa, the owner of the Tyler Design Haven truck that I featured on the blog last week. Lisa and Susan got together and staged some of the cutest items from the truck around Susan's house before we had this photo shoot. I just stood back and let them do their thing because they did need me telling them where to put things. It all turned out beautiful!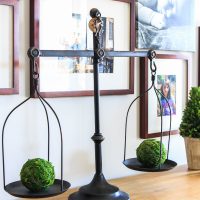 I can never quite get a collage to feel right in my house. I think it's the symmetrical perfectionist in me that won't allow me to just go buck wild and put photos all over the place haphazardly. Susan absolutely nailed her photo collage in her living room.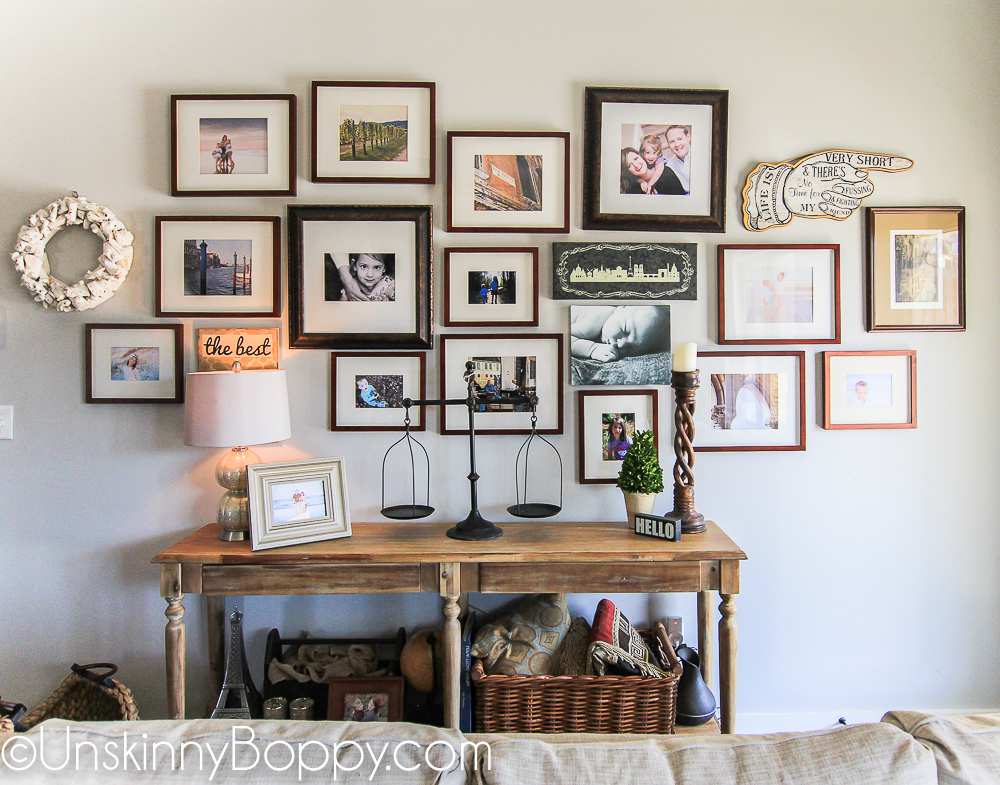 Wanna hear about a few of my favorite things that came off the mobile decor truck?
I love the dough bowl with moss balls…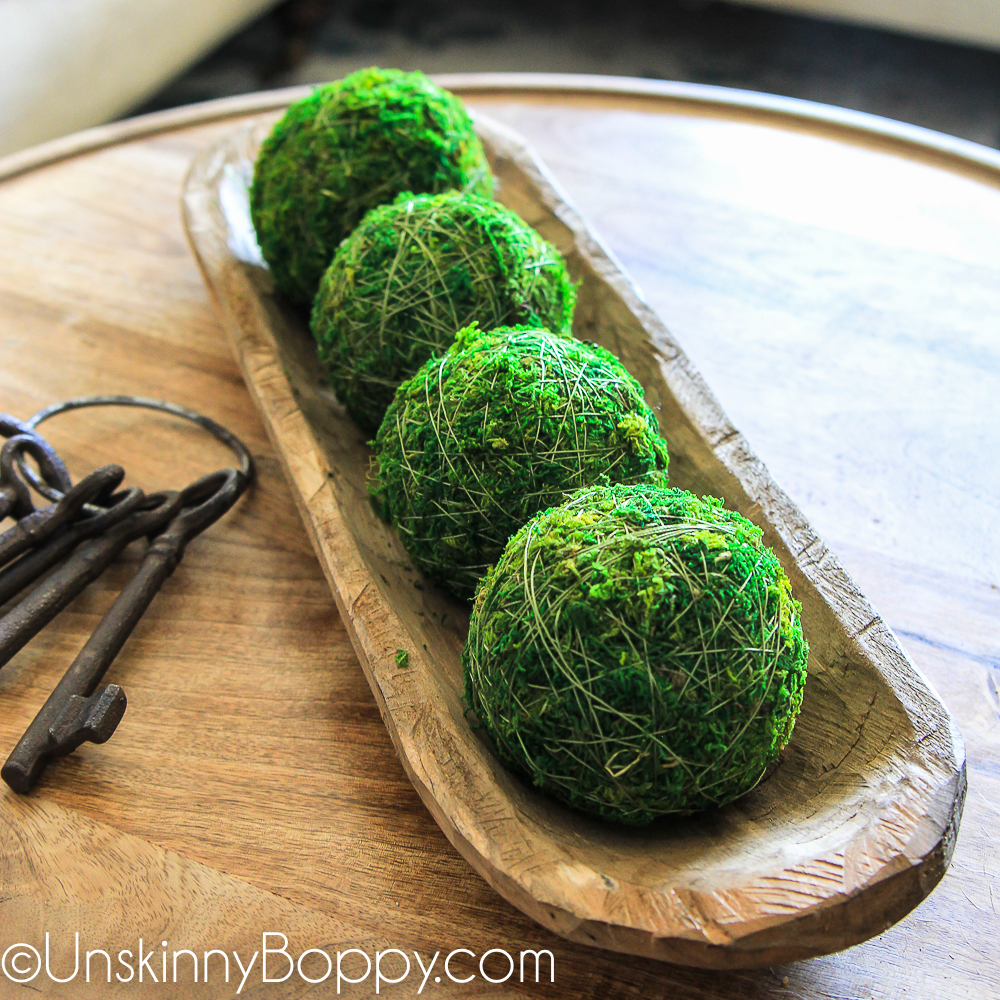 I LOVE these blueberry stems in this olive jar… (and don't they look totally real???)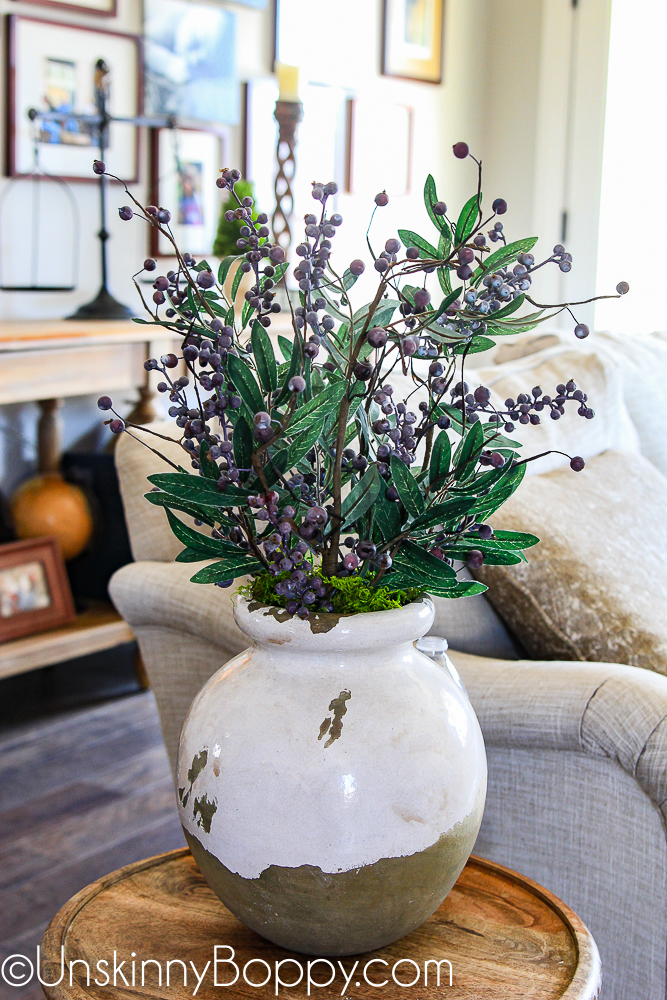 And finally, this little cast iron twine holder with vintage metal scissors.  The old mercantile-owner wannabe in me swooned over this right here.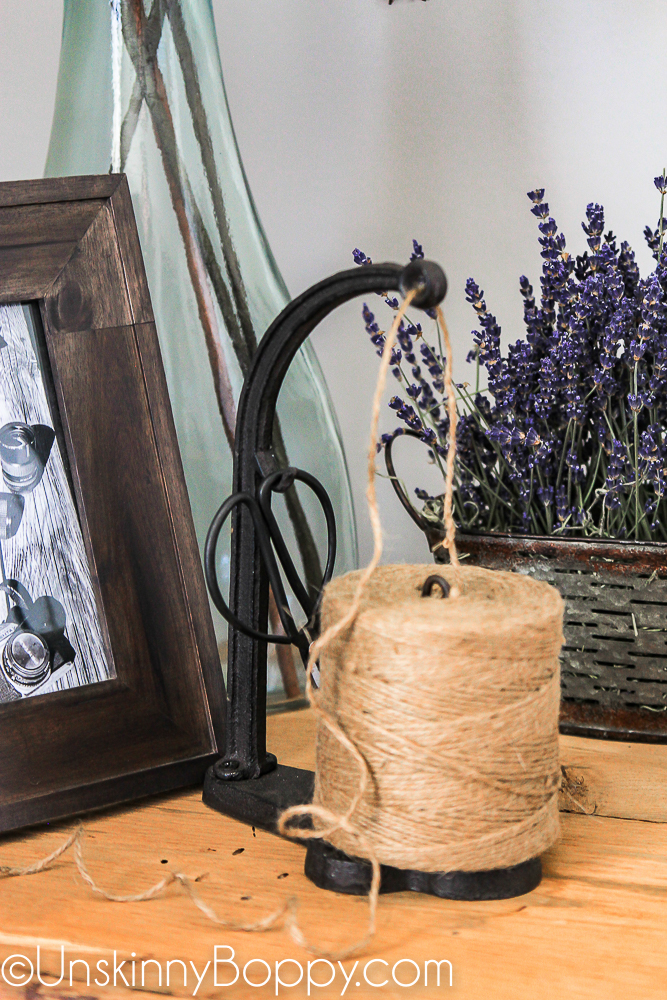 I also loved her framed photos. These cameras in this black and white picture belonged to her dad, who passed away recently. I thought this was a special way to honor him.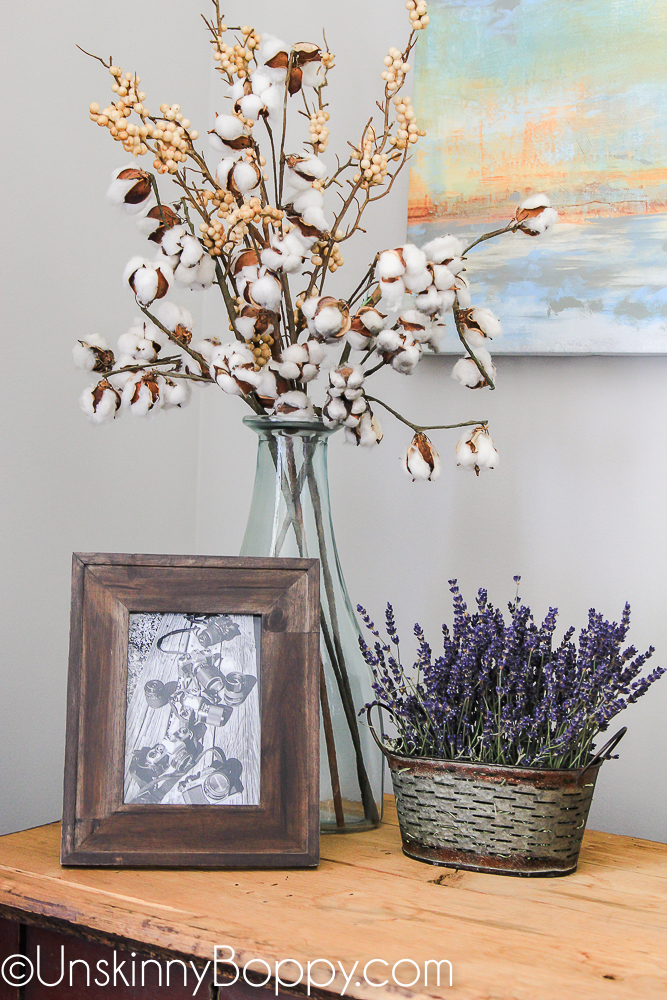 Love the wreath and lanterns on her fireplace (even more stuff from the decor truck!)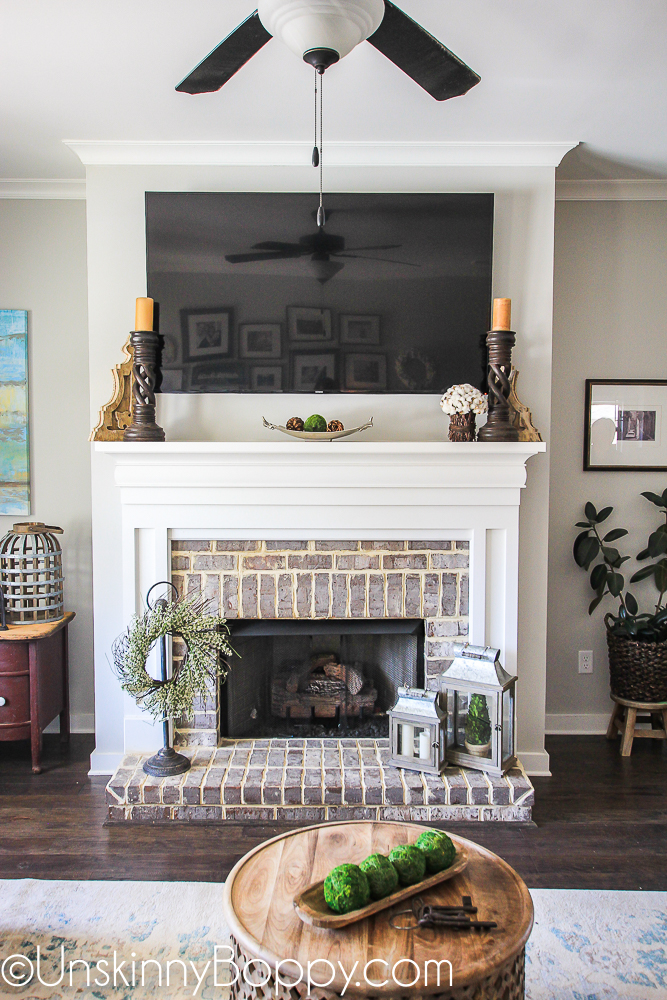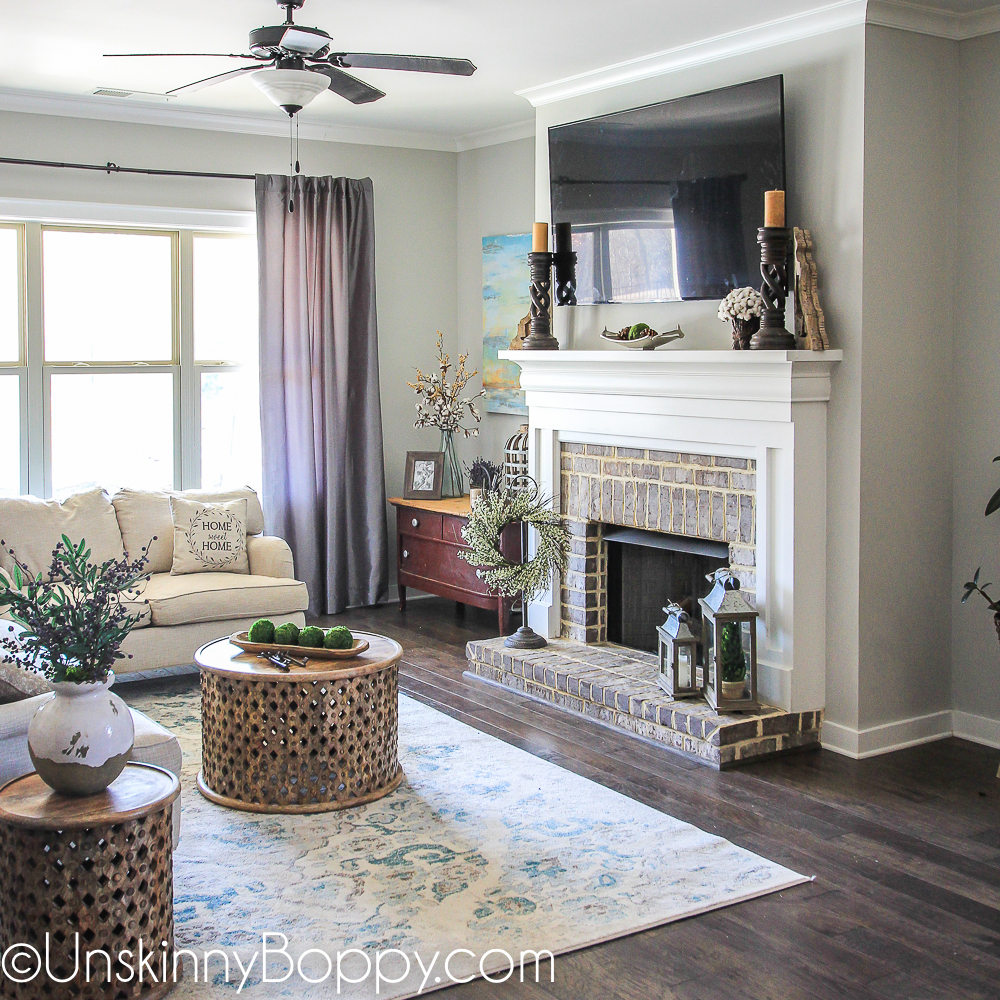 I loved the wide-open living/dining/kitchen area of this floor plan. You could throw some killer parties in this space!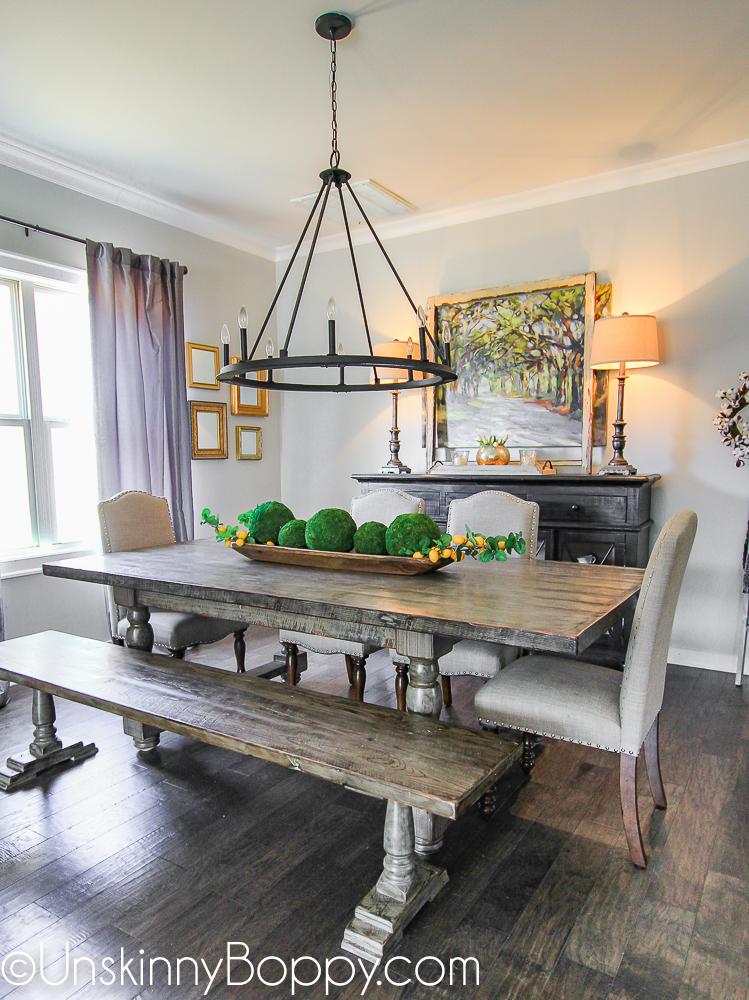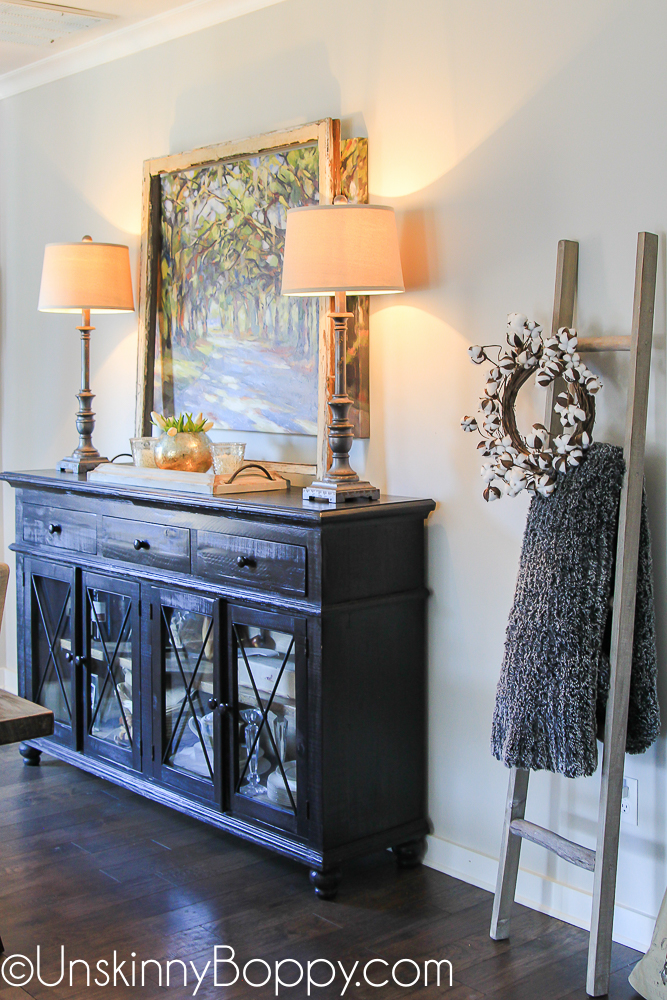 Don't have a frame to fit your artwork? No big. Just prop one up and call it a day. Love this vintage inspired look!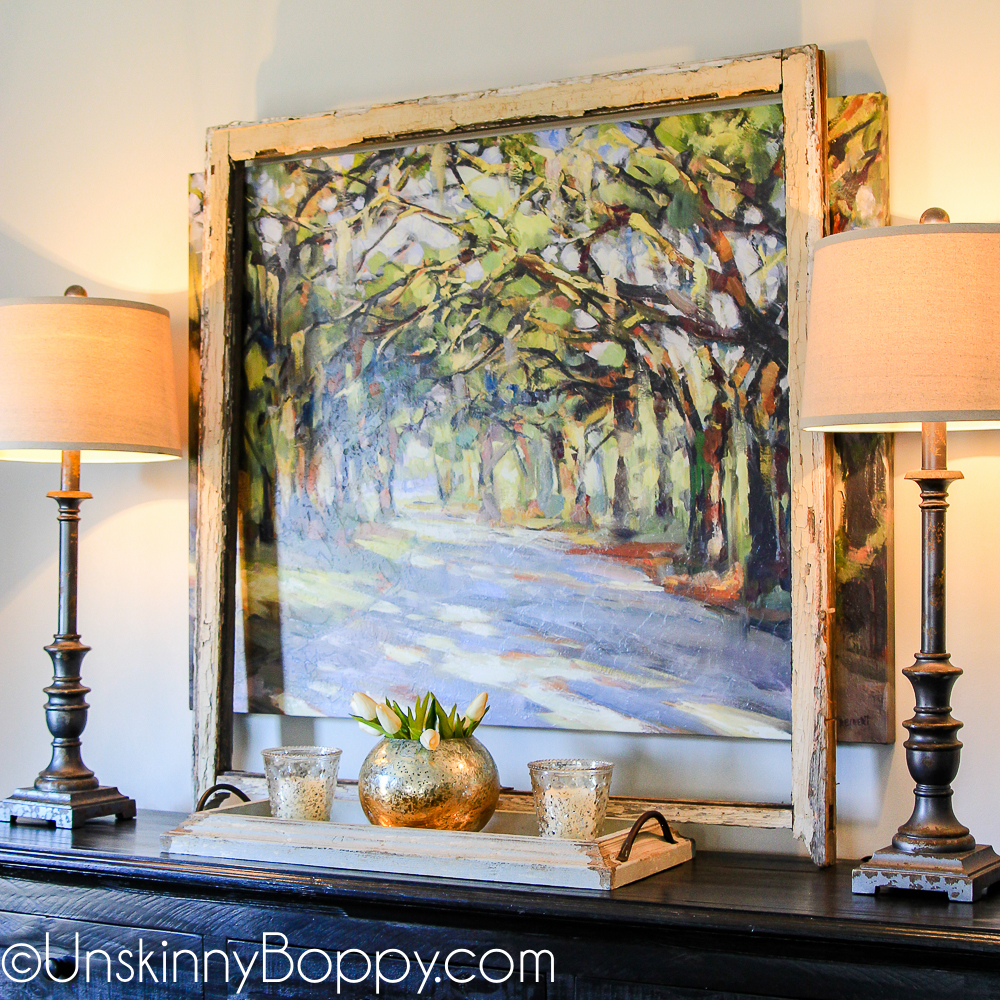 OK, who else loves a good moss ball? I had two giant ones a few years ago but I sold them in a yard sale when we moved and still am kicking myself over that.
This whole dining room table centerpiece is beautiful, dontchathink?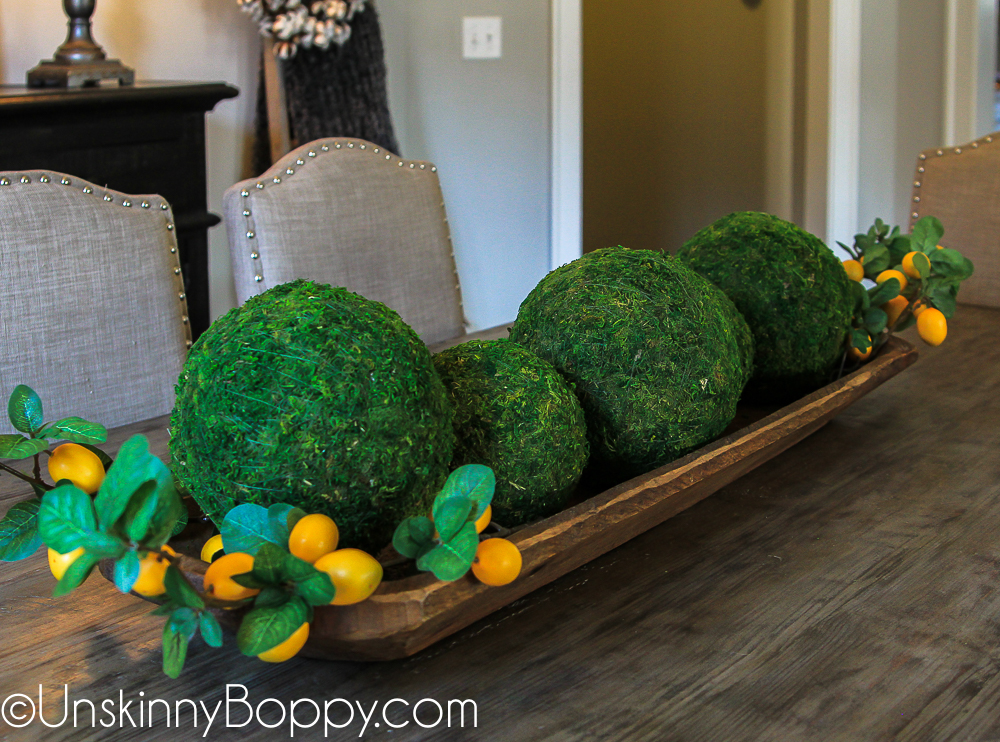 Let's head to the kitchen…
On the other side of the dining room is the kitchen, and onmygahhh this kitchen is such a dream.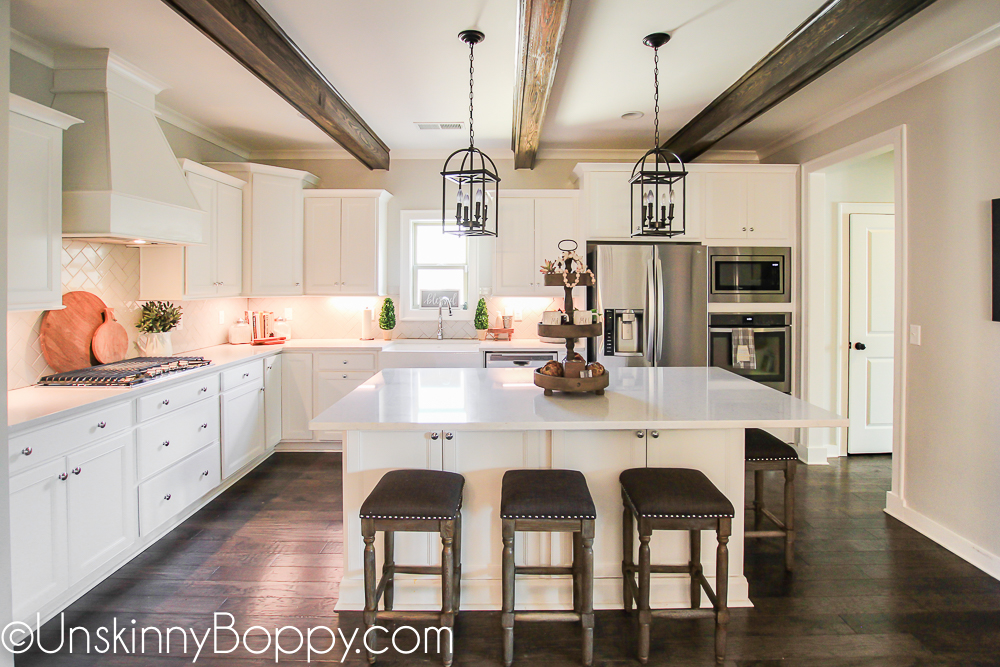 The beams, the floors, the island and tons of countertop space. I love everything about this beautiful space…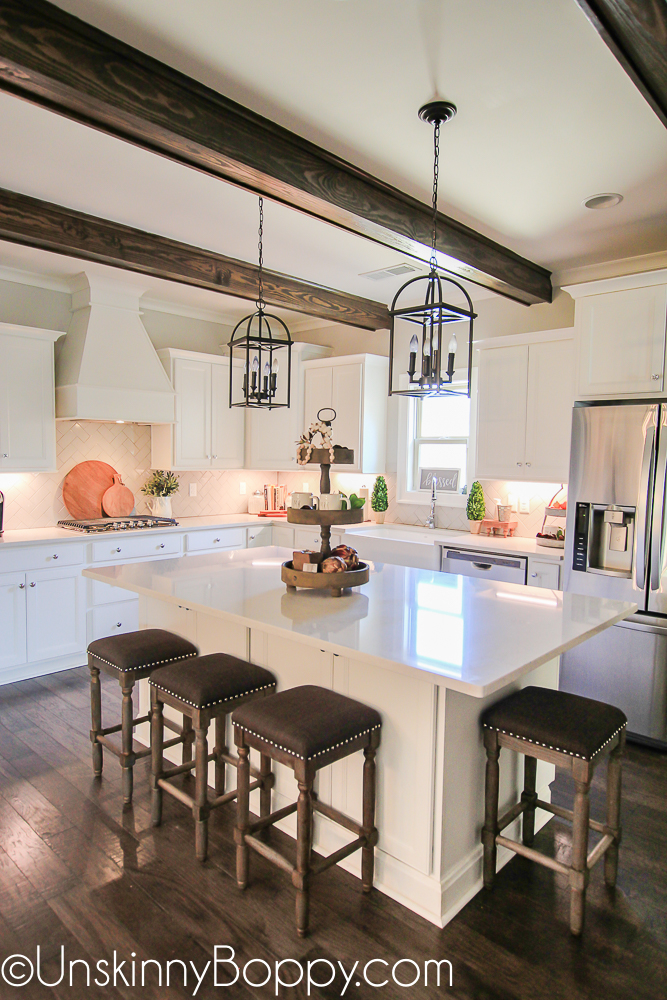 Farmhouse sinks and boxwood topiaries go together like peanut butter-n-jelly.

Just off the kitchen was the perfect spot for a mudroom bench and another bathroom.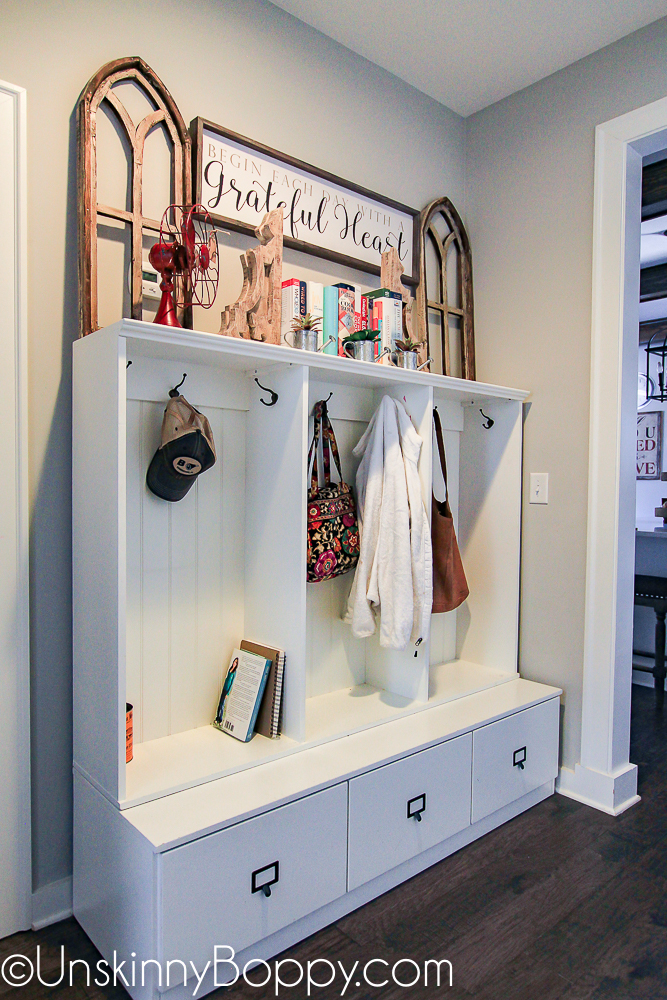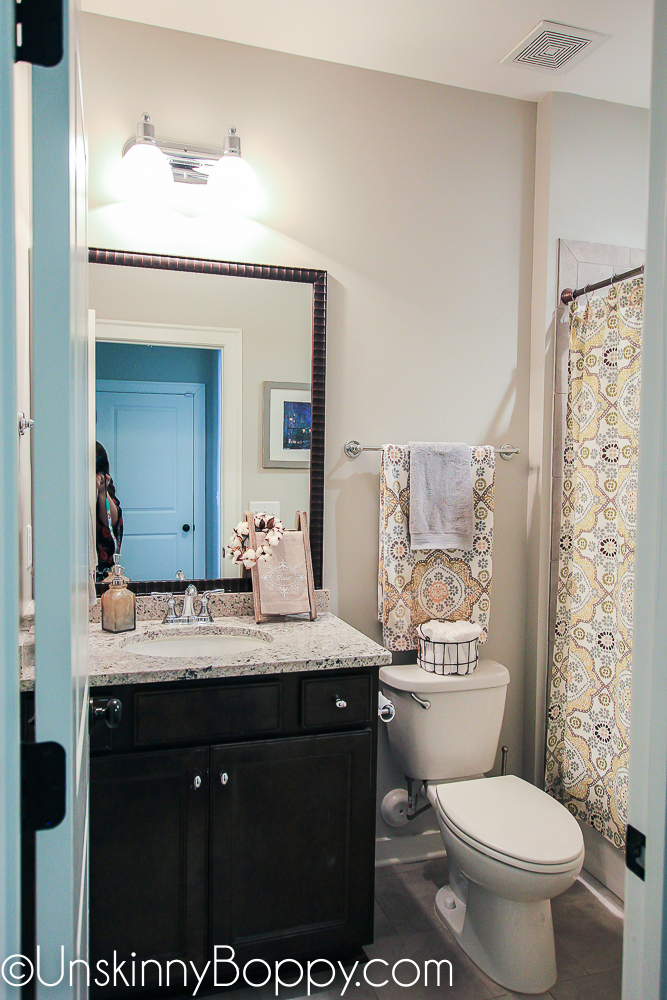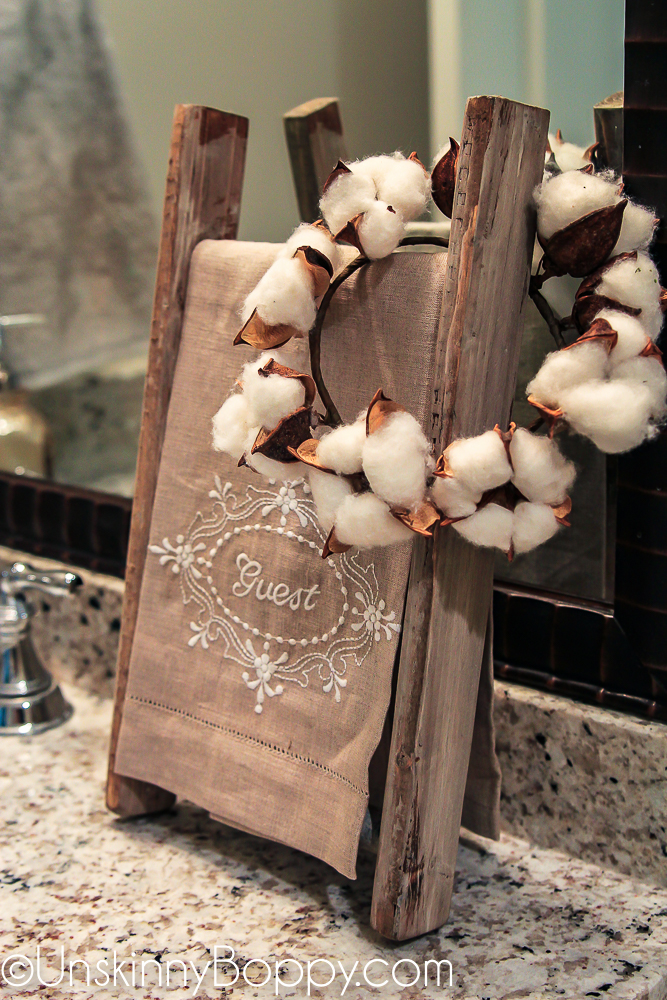 Upstairs there's a playroom and the kid's rooms.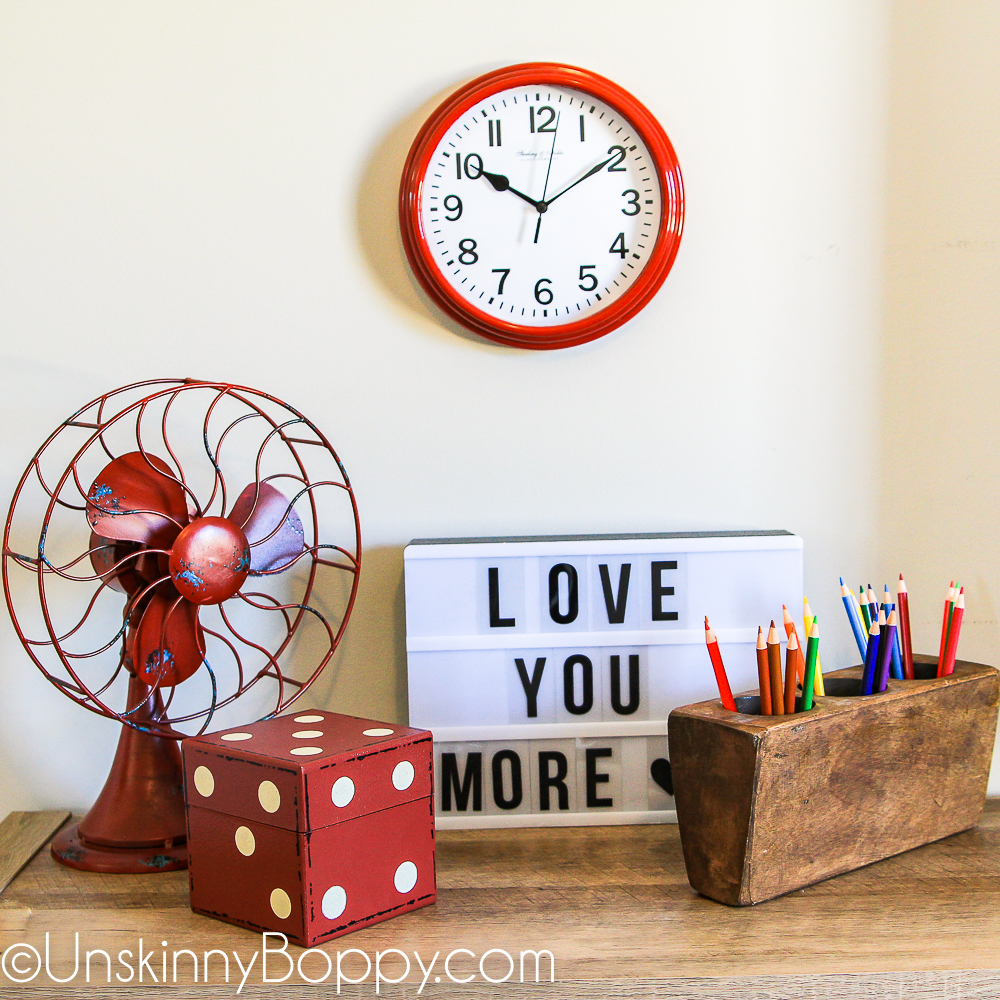 I loved these floating books stacked up on the wall, so I asked her for a little demo of how they are staying up there.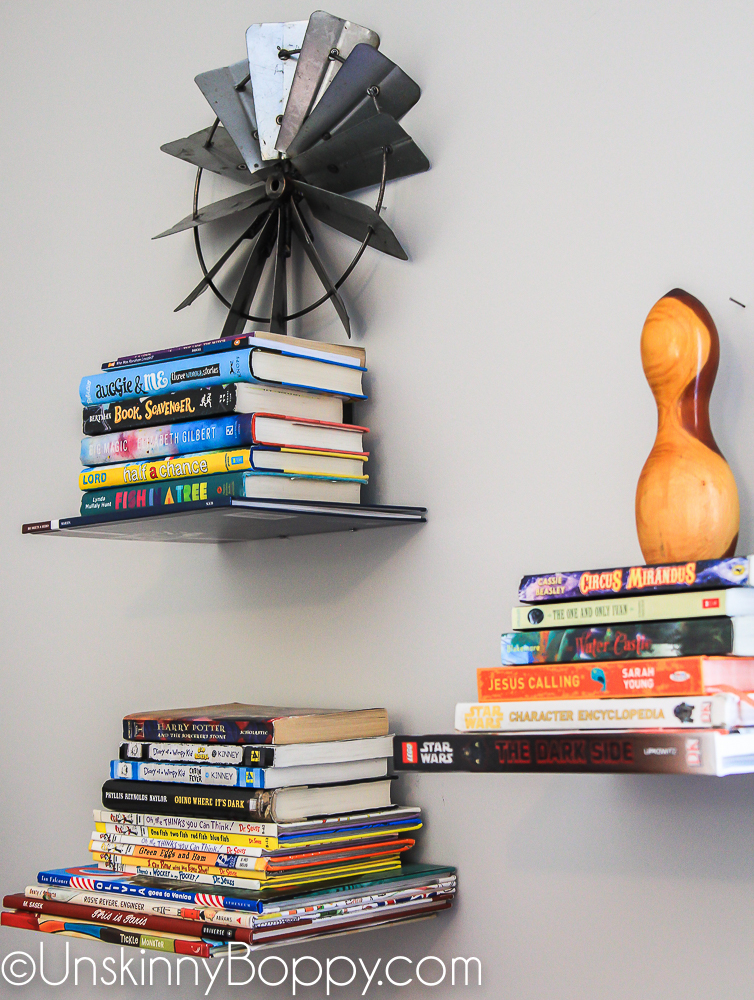 You start off by sliding a wide (but not too thick) book onto these Umbra floating book brackets. Then you stack smaller books on top and Voila! Instant floating stacks of books on the wall. I think I need some of these in my house.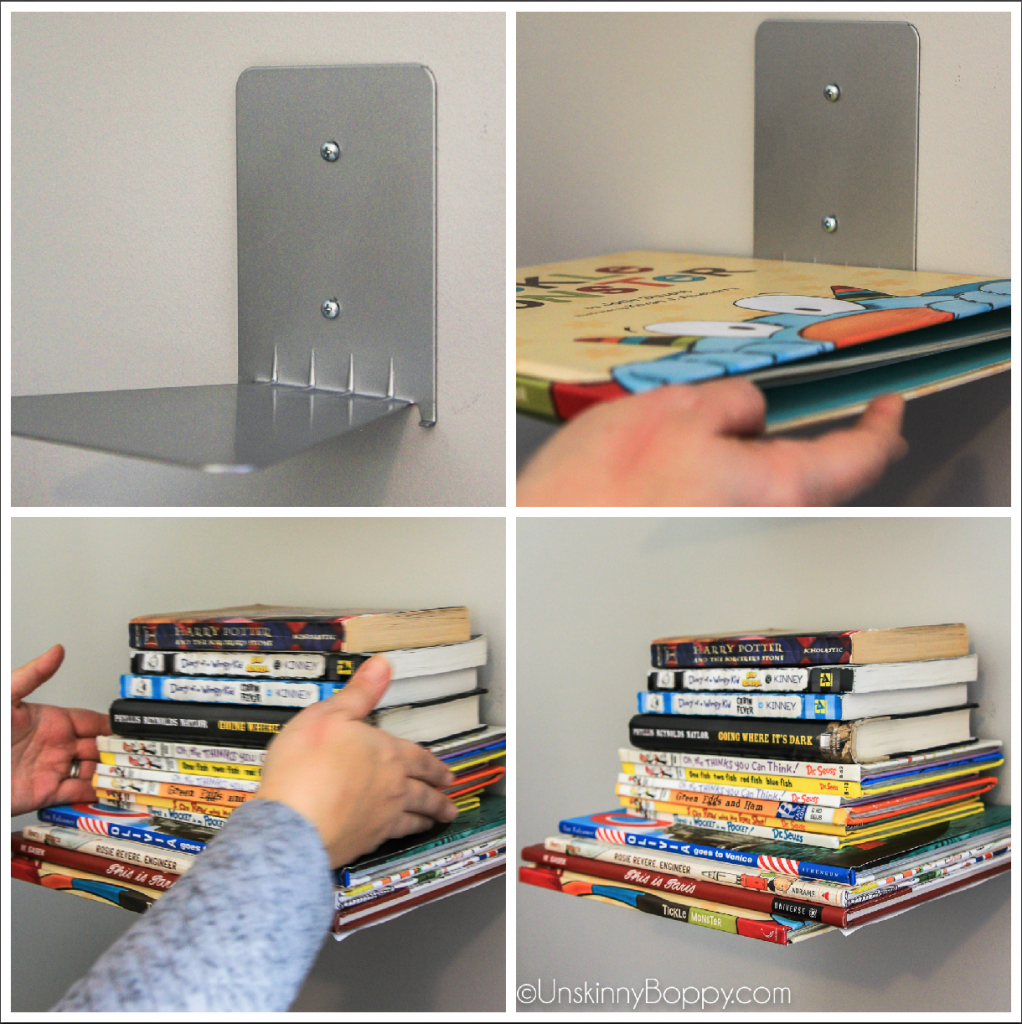 One of the most special pieces in Susan's whole house was this beautiful wooden cutout of the shape of Alabama.  Susan's dad made this for her before he passed away. I loved seeing pieces like this in her home right along with all the designer touches.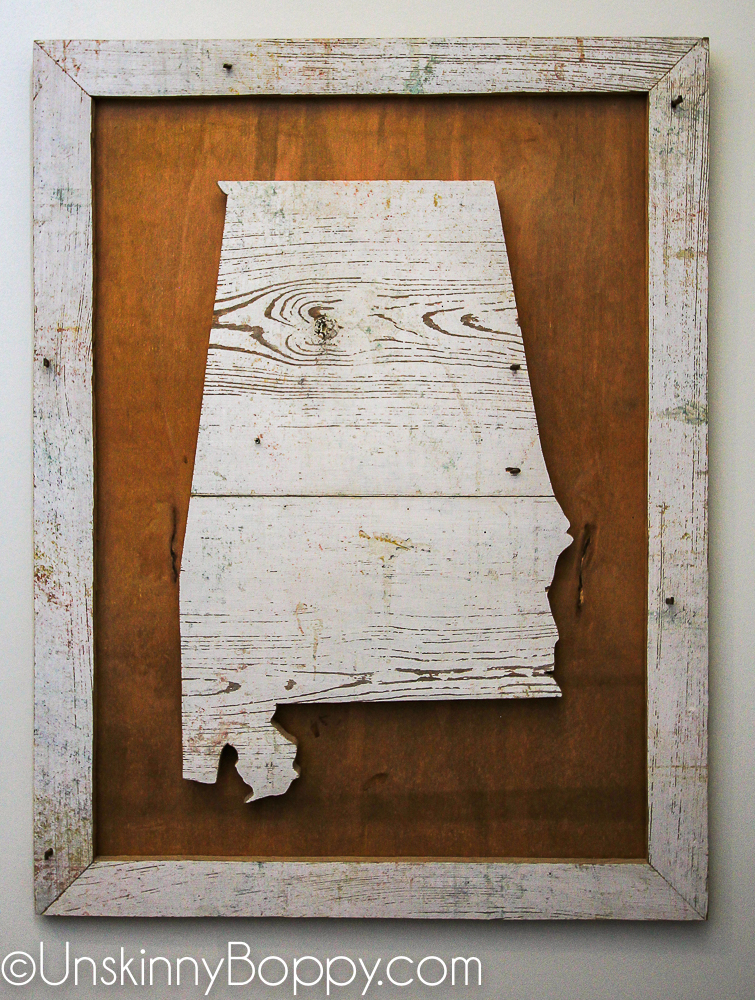 If you like her home tour, be sure to follow Susan on Facebook or Instagram! If you need a home stager in the Birmingham, Alabama area… Susan is your girl!
Lots of the decor featured in this home came straight off the Tyler Design Haven decor truck. If you missed this post about this amazing farmhouse deals-on-wheels, head over and read all about it right now!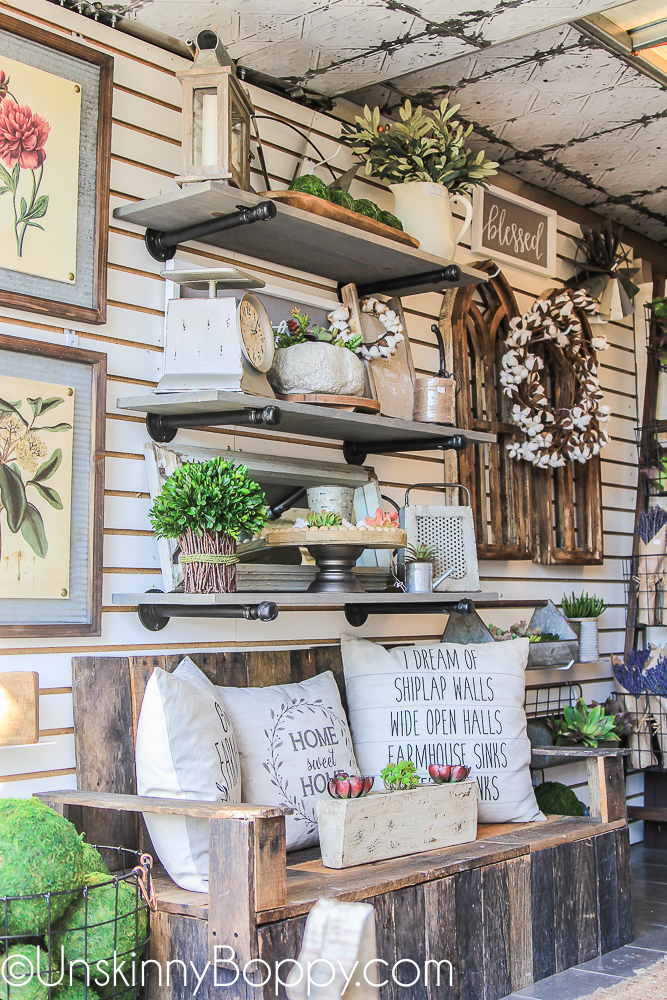 Hope y'all have a great week!