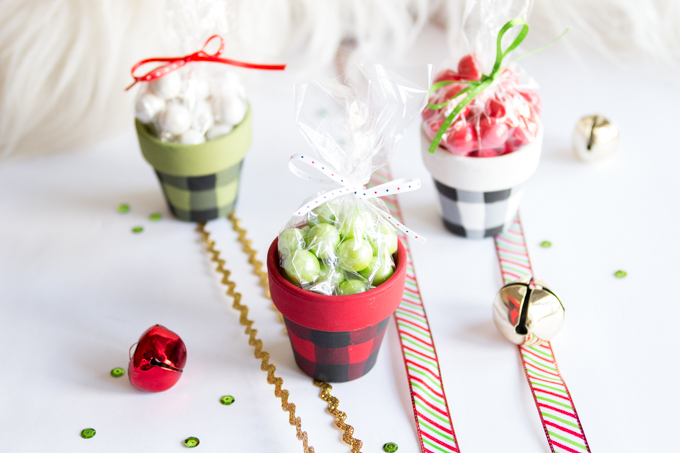 Buffalo Check Terra Cotta Pots – Simple Craft for the Holidays
I love creating. No matter what type of craft or gift idea, I'm 100% down to give it a go. I love anything unique, fun and challenging…but I'll take an easy craft any day! Especially during the crazy busy holiday season.
During the holidays, I love thinking of fun and unique gifts to give to others that I know they'll love. In my mind, I think that gift giving during the holiday is the perfect time to go above and beyond by showing your family and friends that you put time and care into their gifts.
If you saw my 2018 Christmas Home Tour, you'd see that I'm currently loving all things buffalo check. These little pots will match the decor, also.
The great thing about these mini buffalo check terra cotta pot? It's so simple that almost any age can make 'em! Gather up your kiddos and get crafting away as this would make a perfect holiday gift for teachers, friends, coaches or anyone else on your holiday gift giving list!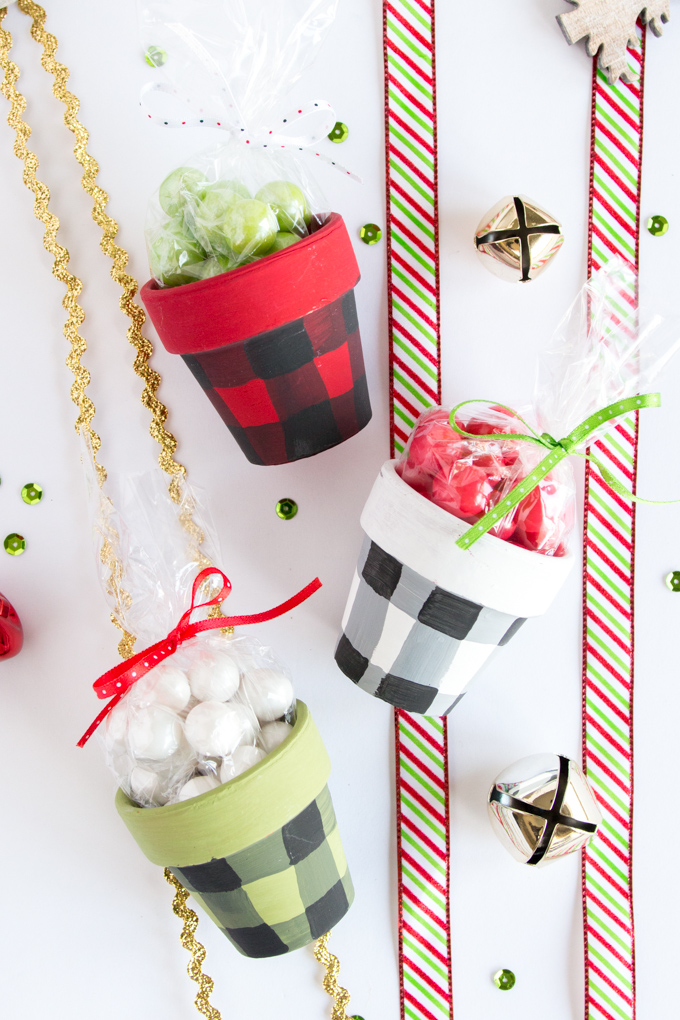 WATCH THE EASY INSTRUCTIONS HERE:
I told you that this was simple, right? Seriously…if you have an afternoon, you can totally create all your holiday gifts with ease!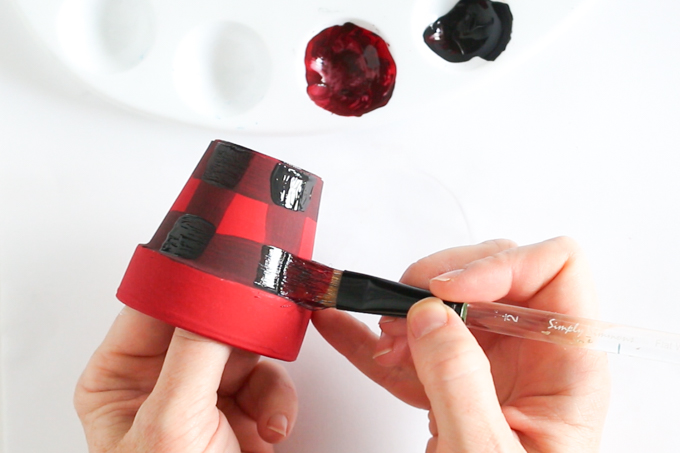 If you love painting, this is the craft for you. There are so few steps for this fun little Christmas craft, that you'll be finished in no time! And you might just start buffalo-checking everything in your house now that you know how to create that look. I wonder how it would look on my guest bedroom walls?
If you're giving these as a gift, you could…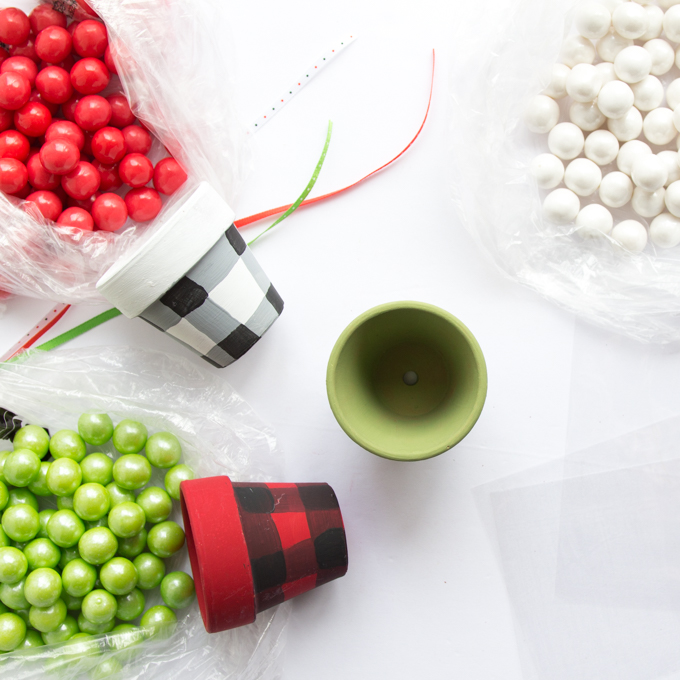 Seriously, don't delay in putting this on your crafting to-do list. It's one of those gifts that everyone will love, just as you do! If you have a few spare moments of time, you've got more than enough time to create this adorable Terra Cotta Craft!
Buffalo Check Terra Cotta Pots
Ingredients
Three small terra cotta pots

Deco Art Chalky Finish paint in Everlasting (white), Romance (red), New Life (green), Carbon (black)

Medium flat paintbrush

Cellophane wrap and an assortment of holiday treats
Instructions
To make the red buffalo check terra-cotta pot:

Paint the entire outside and inside surface of the pot red. Let dry completely.

On a mixing surface place some black paint and then blend together half and half black and red paint.

Use the blended color and flat surface of the brush to create horizontal and vertical lines on the terra-cotta pot. Try to space them apart evenly. Let dry.

Use the black paint to paint in the overlapping squares. Let dry.

Fill the mini pots with goodies of your choice such as kisses chocolates or candies.

Repeat to make white and the green pots.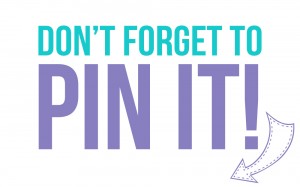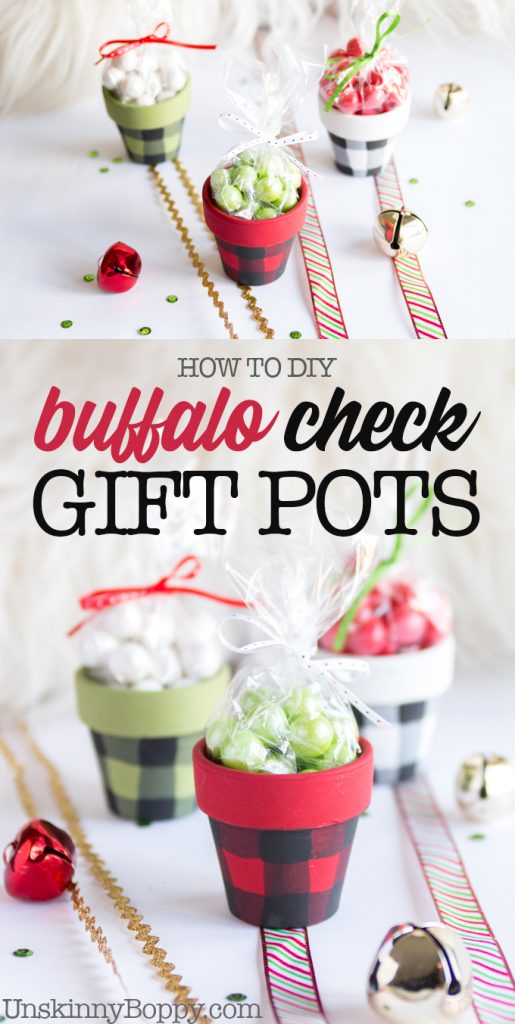 If you liked this post, you might also like these other homemade stocking stuffer ideas…