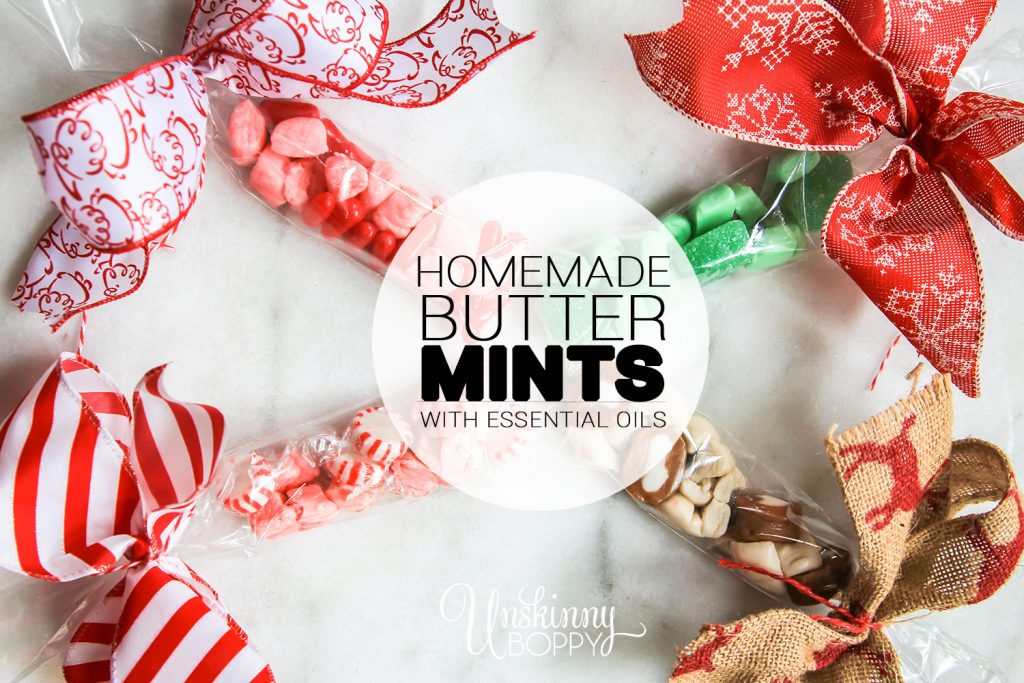 I don't know about y'all, but growing up in the South we had three essential things on the menu when we went to a wedding reception or a bridal tea: punch, peanuts and pastel butter mints.
It didn't matter what else you had to eat, those three things were DEFINITELY gonna make an appearance on the table.
Those pastel butter mints have kinda fallen out of favor over the years and they are increasingly hard to find in the stores.  I'm here today to show you how you can make these AT HOME and they taste 1,000% better than the stale store-bought kind! I promise.
Since it's Christmastime, I decided to spice things up a bit and go with four different flavors of candy- peppermint, cinnamon, spearmint and caramel.
Yes, I said caramel!  I did NOT use essential oils for that one (since unfortunately we don't have a caramel essential oil but WOW could you imagine if we did!?!?!) So, instead I used a few drops of Watkins caramel extract that I found at Walmart.
Here's a quick video if you like watching these kinda things….
Or you can just get the regular ol' recipe here:
Homemade Butter Mints
Easy recipe for homemade butter mints using peppermint, cinnamon and spearmint essential oils. You could also use caramel extract. These are better than the ones at wedding receptions and fancy restaurants!
Ingredients
1

stick

butter, softened

3.5

cups

powdered sugar

2

Tbsp

milk

3

drops

Young Living Vitality essential oil*

(*You can substitute with a few drops of your favorite extract or flavoring. I used peppermint, cinnamon & spearmint for separate batches)

1/4

tsp

Watkins caramel extract

food coloring
Instructions
Whisk together softened butter with powdered sugar, 1 cup at a time, until fully incorporated.

Add milk, 1 tablespoon at a time, until it forms a nice soft dough ball that you can easily form with your hands.

Divide dough into 4 equal sections.

Add 1-2 drops essential oil along with 1-2 drops of food coloring to each section

Roll and squeeze the dough thoroughly to incorporate the flavoring and evenly distribute colors, or leave it mottled for the "peppermint" color

Roll out into a "snake" and cut into ½" pieces to resemble a butter mint.
These make perfect stocking stuffers or little gifts for coworkers, neighbors or teachers. Enjoy!!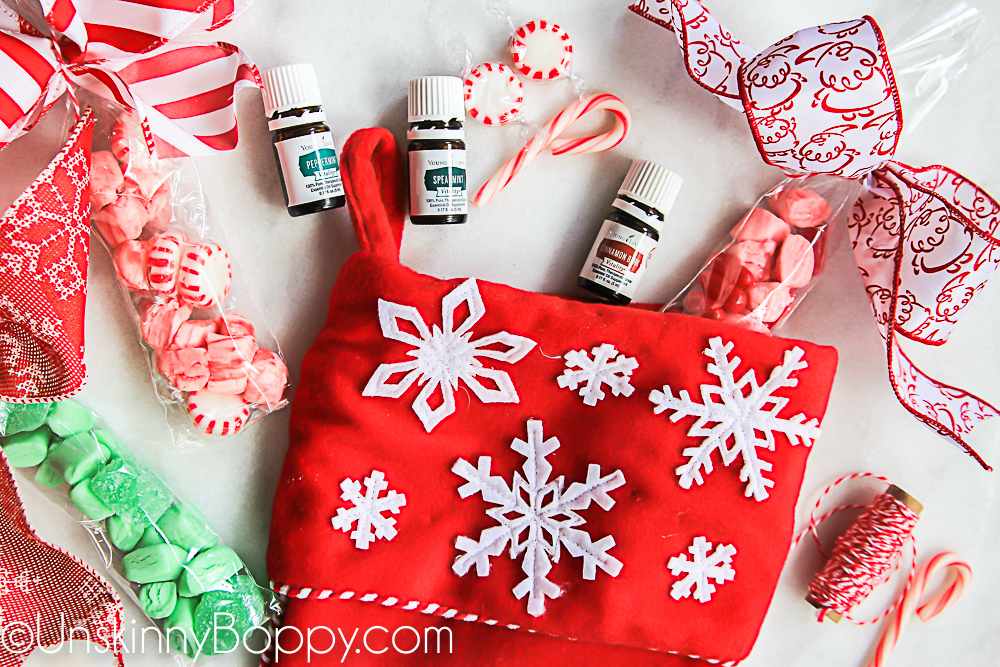 Today is also the 4th Annual Handmade Holiday Blog Hop and facebook party! For the past FOUR (whoa!) years, my blog buddies and I have hosted an online facebook party where you can win prizes and learn how to make handmade gifts with essential oils.
Get all the great DIY handmade gifts here:
Scented Gift Tag Printables by One Project Closer
Mulling Spices by Shaken Together
Melt-in-your-Mouth Butter Mints by Unskinny Boppy
Scented Sachet Ornaments by Here Comes the Sun
Gemstone Infused Roll-on by DIY Showoff
Infinity Diffuser Bracelet by Practically Functional
Leather Tassel Keychain Diffuser by Making Lemonade
Easy DIY Holiday Candles by Eat Sleep Be