You're going to love the taste of this delicious Pumpkin Pull-Apart Bread! This fall flavor is delicious and so easy to accomplish. While I love to eat this as a quick fall family breakfast, you can easily cook this up and serve it for an afternoon snack or after-dinner treat! 
Get ready to have yet another pumpkin breakfast bread that you're going to crave all year long.
Pumpkin Pull-Apart Bread
As if I need another pumpkin item added to my "must-have" list, but alas…I've found one. I'm pretty much obsessed with this pumpkin bread recipe and am super excited to share it with all of you. 
The best part? It's delicious and literally worth every single bite. Make this up for your family and friends or keep it all for yourself! A good night of pumpkin pull-apart bread and some Netflix binging sounds like the perfect way to spend a cold fall night.
Ingredients needed for Pumpkin Pull-Apart Bread
1 can flaky layers biscuit dough
1/2 Cup sugar
2 tsp pumpkin pie spice
1/2 Cup butter, melted
3/4 Cup pumpkin pie puree
How to make homemade pumpkin bread
Place your biscuits in a single layer and roll out to 1/4 inch thickness. If they are room temperature they will roll out easier.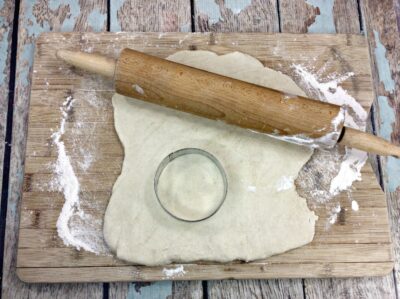 Use a 3′ circle cookie cutter and cut out circle biscuits.  You'll need about 18 circles to fill a loaf pan.
Pre-heat oven to 350′ degrees. Spray 1 loaf pan with baking spray and set aside.
Using a small bowl, melt the butter in a microwave for 10-15 seconds.
In another medium-size bowl, combine the sugar and the pumpkin pie spice.
Dip the biscuit into the butter and then dip the biscuit into the cinnamon sugar.
Using the pumpkin pie puree, spread about 1/2 tablespoon onto the center  of each piece.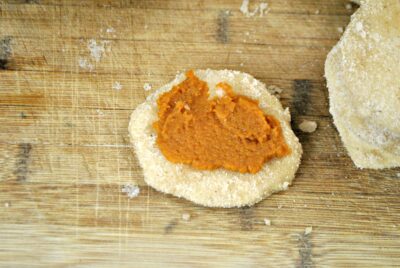 Begin stacking biscuits with puree between each layer. Place the stacked biscuit dough into a loaf pan.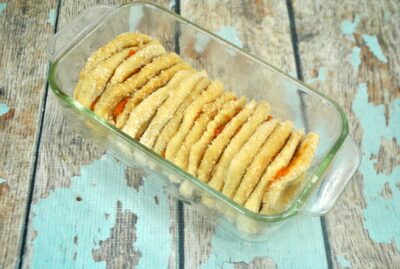 Pour any remaining sugar mixture over the entire pan if you'd like a caramel type crunch on top. 
Bake in the oven for 30-35 minutes or until a golden brown and centers are completely cooked. Allow to slightly cool before removing and enjoy.