A Christmas Miracle happened on Friday night. I've been trying to get a good shot of Garrett in front of the Christmas tree since the day after Thanksgiving when we decorated. Every time I try, he runs around and acts like a crazy man and I wind up with blurry hot messes for photos.
But then… on Friday night, you'll never believe what happened.
My son asked me to take his picture in front of the tree.
Unprompted. Without any warning. Out of the blue clear sky.
He just said, "Take my picture in front of the tree, mom!" and you've never seen a big girl scurry around gathering up camera cards and lenses so fast. Without a word my husband followed my cue and ran to turn off the all the lights in the house. And just like that, I finally was able to take some night time shots of him in front of the Christmas tree.
He did so great, and let me snap snap snap all sorts of pictures of him beside the tree. I was so happy to be getting these impromptu shots that I didn't even care that his hand was covered in blue paint from preschool. At least he was not wearing a graphic Disney t-shirt this year!
Then he tried to eat one of my Smores ornaments.
And when I yelped he gave it a kiss instead.
Silly sweet boy.
I even tried to recreate the infamous glowing Christmas tree pinterest picture from last year. Even with the exact same lens and settings from last year this year's image came out a lot different. The only difference is a newer, fancier camera. What a difference it makes. Much better, I think! Not so grainy and blown out and blurry.
For a reference, here is a side by side of 2010 and 2011 tree pictures:
Yeah.
That's a pretty significant difference, right? Like I said, exact same settings, exact same 1.8 50mm lens. Exact same number of lights on the Christmas tree. The ONLY difference is that the 2010 photo was taken with a Canon T1i and the 2011 photo was taken with a Canon 60D.
For the tutorial on how to create photos like this for yourself, CLICK HERE.
To all those professional photographers out there who get offended when people ask you what type camera you own let me say this– "PFFFFFFFFFFFFFFTTTTT."
There is no doubt that taking a good photo involves skill and practice and talent. HOWEVER. From what I've seen as my photography hobby has progressed over the past year, a nice expensive camera sure doesn't hurt matters. There is a marked difference between the amount of editing I feel that I need to do now than I did when I was using my T1i. My pictures are all SO much brighter, and nailing the exposure is not nearly as hard. I was talking with my friend Lucy of LucyInspired about this just yesterday. She downgraded cameras to save some money after her nice Nikon got stolen, and has struggled with picture quality ever since. I knew I wanted to upgrade the day I used my dad's T3i. I took the same photo with the same settings and could tell a remarkable difference in the brightness of the pictures instantly on the LCD screen playbacks!
I was even impressed by this picture that I took of Christmas lights in a basket in broad daylight.  The brightness is amazing.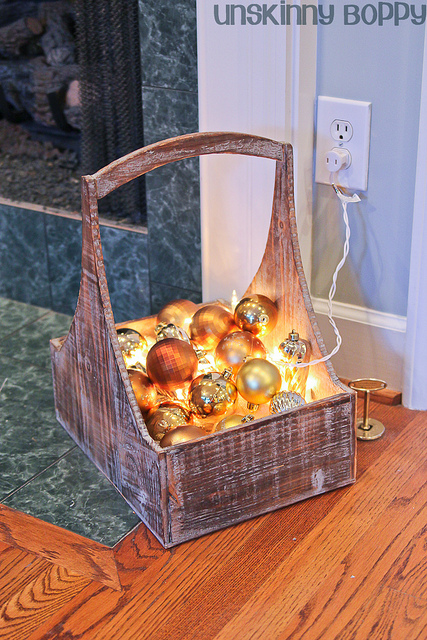 If you are struggling with dark photos from your camera and you are getting discouraged because your pictures don't turn out like professional photographer's pictures don't beat yourself up and give up on photography. Different cameras produce different images. The better the camera, the better the quality of photo. I'm not saying this to make you feel bad about your camera, either! I just feel the need to throw it out there because I feel like it needed to be said. I'm sure if I went out and bought the most expensive camera Canon makes I would tell an even bigger difference in SOOC image quality. It should also be said that investing in a good quality lens will make a huge difference in your pictures, too. I have noticed that I can't seem to get a good sharp focus on my stock lens that came with the camera. No matter how hard I try they are all a little bit fuzzy. But when I put the Tamron 2.8 28-75mm lens on my camera and hold really still, the focus is incredible. Now I just need to work on my shaky hands. I have the worst problem getting good focus on photos that I take by hand.
So, there's my camera rant tips for this holiday season. 🙂 Again, Disclaimer: I'm NOT a professional photography. Just an average mamarazzi who likes to get good pics of my kid.
And, as a mamarazzi side note… Will you LOOK at how much taller Garrett is beside the tree this year?!?? He's growing up so fast! :sob Somebody hold me.
I'm linking this post up to these fabulous parties:
Blogging Around the Christmas Tree at Five Days Five Ways
Christmas Tree Link Party at Thrifty Decor Chick
The Inspired Room Christmas Home Tours
Twitter