Let the Christmas decorating games begin! Today I am joining up with my junky-loving friends for the 2nd annual Junkers United Christmas blog hop.  <–Click here to see last year's junky little Christmas project!
Over the years, my husband has brought home all sorts of antiques and junk that he finds during his treasure hunts.  I am never at a loss for cool old things to blog about because of my junk-lovin' man. For my birthday this year, he presented me with one of THE most unique finds to date… this antique shaving stand with a built-in sink and copper soap dispensers! See the pedals at the bottom? Those control the soap dispensers that are sticking out of the shelf just under the big wooden"B". Sidenote: If you're looking for the tutorial on my DIY Reindeer moss wreath, click here!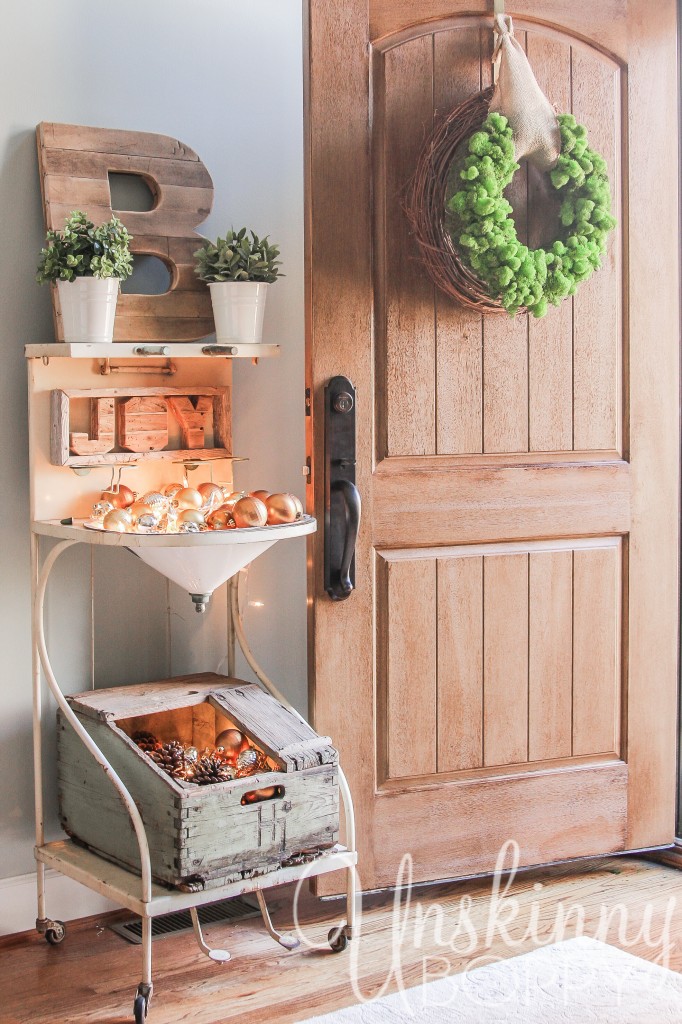 He found this jewel at the Oak Mountain Emporium where they called it a French Shaving Stand.  I have Googled all combinations of search terms from "french shaving sink" to "antique sink with pedals" but so far, nada. I cannot find anything like it online. Does anyone know what this cute little stand is actually called?  Anyone have a link to one they can share? Feel free to leave it in the comments so we can all ooooh and aaaaah over it!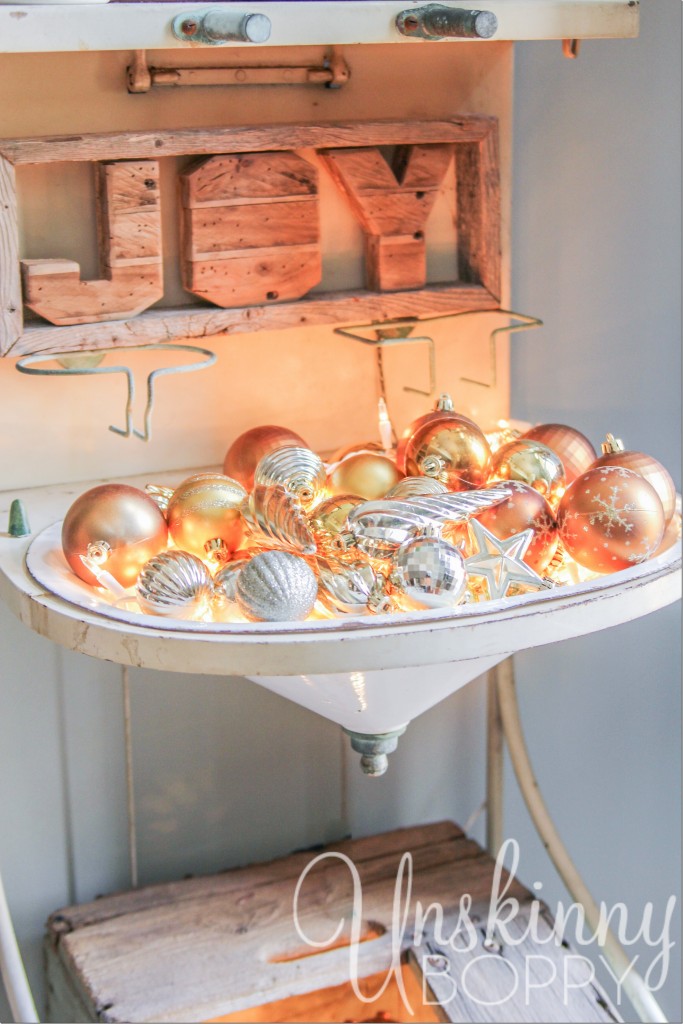 If you've been reading this old blog for any length of time, you'll know that one of my signature Christmas decorating ideas is to fill up a unique container with Christmas ornaments and a string of lights and call it a day.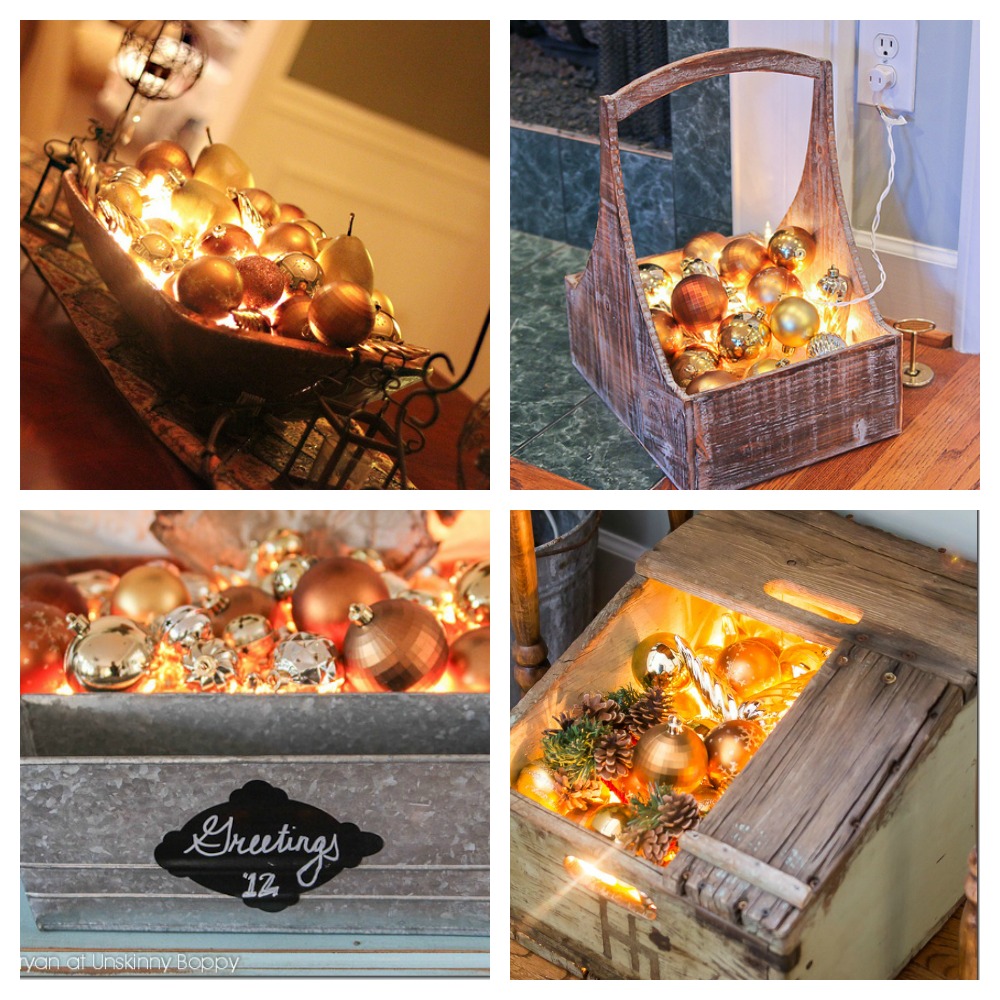 It all began in 2010 with a glowing wooden dough bowl on the dining table.  In 2011, I filled a wooden basket on the hearth, then went back to the glowing dough bowl in 2012. By 2013, the old wooden tool box o' magic arrived. This little decorating trick takes approximately 2 minutes to complete, and looks like approximately a million bucks.  It's become an annual tradition for me at this point.  Who am I to break any Christmas traditions?  (especially when they are as simple as this one!)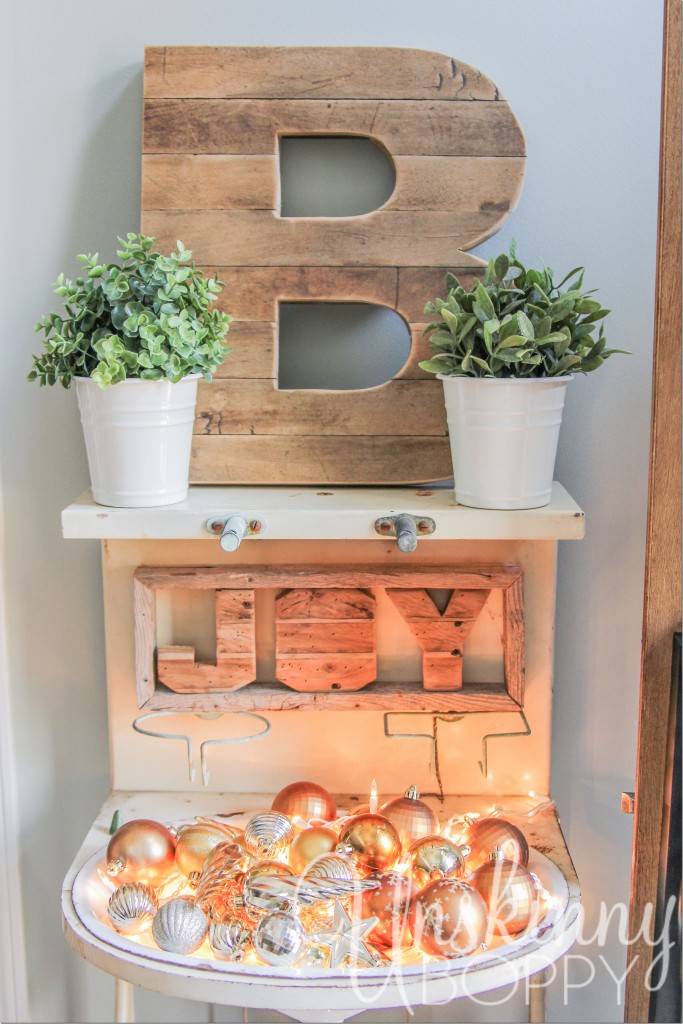 So, this year, I decided to up the ante and fill up not one but TWO unique containers with the light/ornament combo.  I moved the wooden toolbox to the bottom shelf of the shaving stand, added some ornaments and a light strand inside the sink and plugged it all up! Voila!  Double the magic!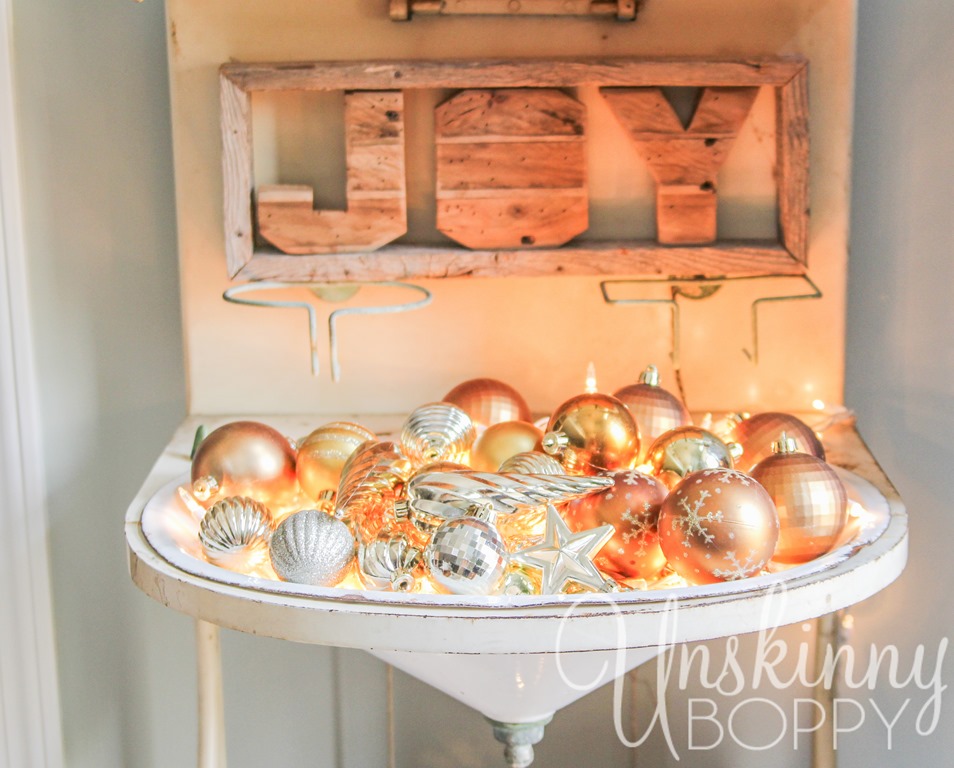 As a bonus, I now have an entire Christmas vignette decorated by my front door in just minutes. I finally replaced the old photo collage on a column that used to sit in this spot, and I love how it opened up the space in front of my front door.  It's the perfect size for the area.
Will you show your glow this year? Please share your pics with me if you do! I LOVE seeing how you decorate for Christmas!
Now, y'all please be sure to go visit all of my junker friends and see their AMAZING Christmas ideas this year!  These ladies never disappoint with their genius junk-filled ideas.  Are you ready?

Donna – Funky Junk Interiors

Susan – Homeroad
Becky – Beyond the Picket Fence
Marianne – Songbird

KariAnne – Thistlewood Farms
PS: Don't forget to enter the Showcase Showdown Giveaway where I'm giving away over $2,500 in AWESOME prizes this week!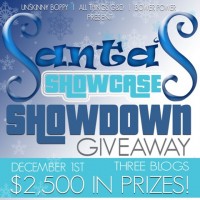 And, be sure to come back tomorrow to take my full home tour for Jen Rizzo's 4th Annual Holiday House Walk! I'll be Stop #18 on the tour! CANNOT WAIT!!