Who here is a fan of a certain little television show featuring Heidi Klum and Tim Gunn and Nina Garcia and Michael Korrs?   Can you picture the runway in your mind right now? Let's all envision that runway for a minute. Got it?  Okay.  Can you see Nina and Michael and Heidi raising one eyebrow over the top of their notepads from their director's chairs?  Yes? Good.  Now, imagine that the show is about to start, but instead of long-necked models galloping down the runway in an Austin Scarlett lettuce leaf special, I want you to picture the most beautiful chairs you've ever seen lined up all in a row, ready to be critiqued.   Now, replace Heidi and Nina and Michael with YOURSELF, because you, fair readers, are about to be the judges here in this exciting Interior Design competition, where one day you're in, and the next day you're out. 
 Are you ready?  Sitting down? Got your Manolos strapped on tight?  Big fat retractable Sharpie in hand?  Okay, let's do this.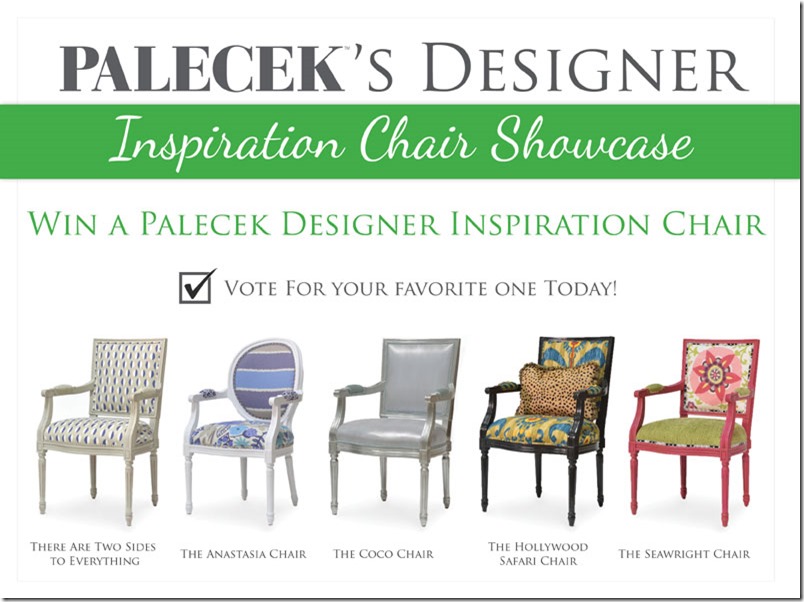 Welcome to the PALECEK Designer Inspiration Chair Showcase, where YOU get to vote for your favorite chair and enter for a chance to WIN IT!  That's right, you can enter for a chance to win one of these beauties up there that are worth more than $1,000.00 each.  How about that for all kinds of awesome?   
This year five of the PALECEK Showroom managers teamed up with five incredibly talented designers to create the chairs, which will all be featured at the Spring High Point Market in High Point, North Carolina on April 20-25.  Today I am representing Smith Hanes' "There are Two Sides to Everything" chair here on my blog.  The four other designers have already walked the runway in the past few days, so please take a minute to go see all details at these fabulous blogs where they were featured:
La Dolce Vita was our Ryan Seacrest-esque announcer, giving all the lineup details.
South Shore Decorating Blog showcased Ann Fox's Coco Chair
Makobi Scribe gave us all the details on the Anastasia by Anastasia Faiella
Sarah Sarna displayed The Hollywood Safari chair by Charmain Carr
Tobi Fairley boldly flaunted the Seawright Chair by Tara Seawright
…and finally, today, I get the honor of presenting to you "Two Sides to Everything", designed by the talented Smith Hanes along with the Atlanta, Georgia PALECEK Showroom.  Hooray for my fellow Southerners!
Isn't she beautiful!? I swoon over this chair.
Let me give you some background on the designer.  Atlanta based design consultant Smith Hanes has the sensibility of a classicist while incorporating a deep instinct for the informal. He also pays attention to the relaxed way we live today. Drawing on his experience designing for the furniture industry, his rooms are especially strong in their use of custom vintage materials such as weathered brick, hand forged metal, and reclaimed wood. Hanes leans toward neutral palettes in paint, paper, and textiles, while adding color and verve through art, accessories, and accents. He has mastered the fine art of placing, for example, an architectural fragment, or simply pinning an antique engraving to a wall, to instantly add patina, texture, and earthiness; thus, while a space may be pared down and simple, it never feels minimal or cold.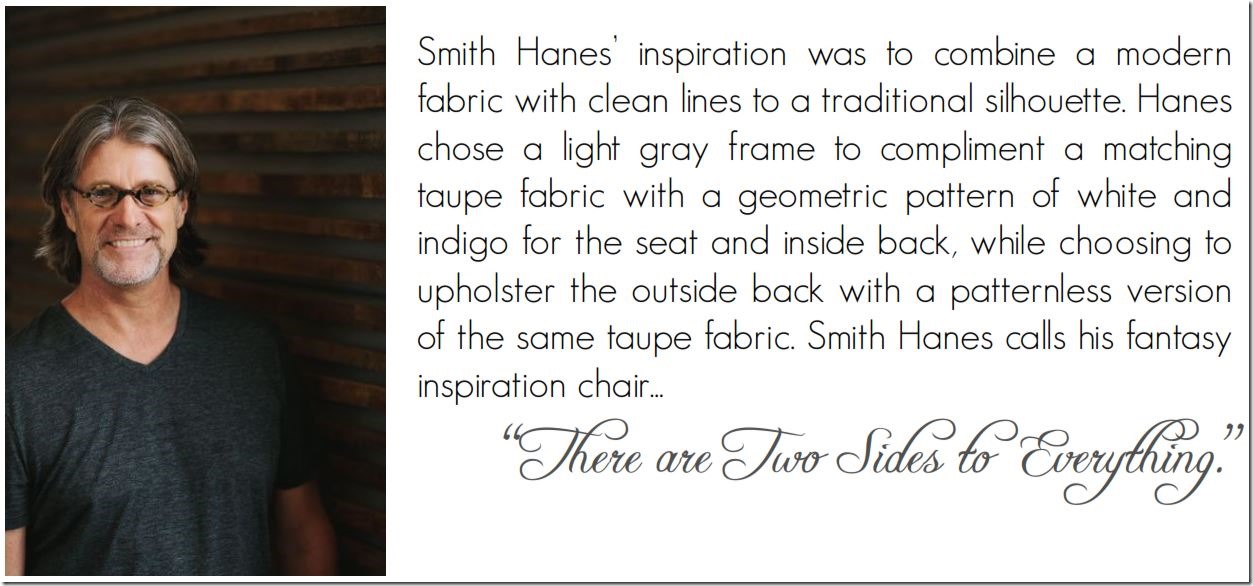 As Creative Director of the gourmet line Bella Cucina, he developed products, packaging and marketing concepts, and has designed the company's flagship Atlanta store since 2003. Smith has been actively involved in realizing the vision for Serenbe, a groundbreaking live-work community near Atlanta that successfully merges urbane sophistication with rustic naturalism. 
ANDPLUSALSO, he ain't scared to get his hands dirty with a good old fashioned DIY chair makeover.  Gotta love it when a designer gets hands-on
Sidenote: Check out that paint sprayer. Sigh. How many DIYers out there would love to get their hands on one of those?  I LOVE the finish on this chair.  Crisp and clean with just a hint of distressing around the edges.  Gorgeous.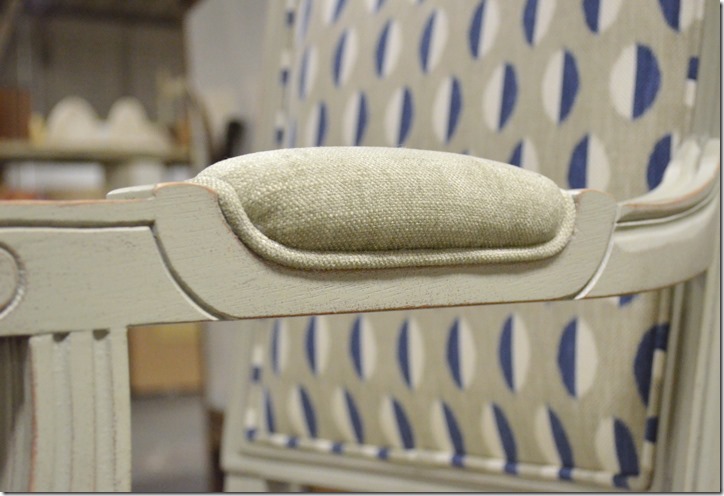 And the nailhead trim?  Perfection.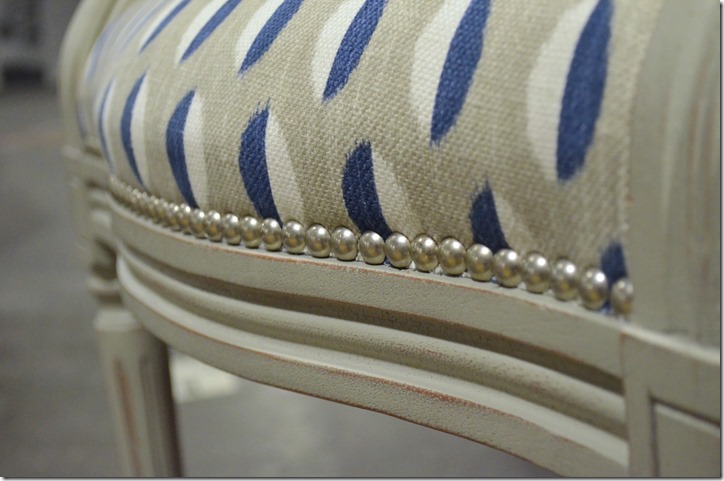 Would you like to win this chair? Or maybe you like one of the others you saw?  Now is your chance to pick your favorite chair.  Follow the instructions on the Rafflecopter below to be entered to win one of these amazing designer chairs.  I SO hope you win! 
In the meantime,
Auf Wiedersehen!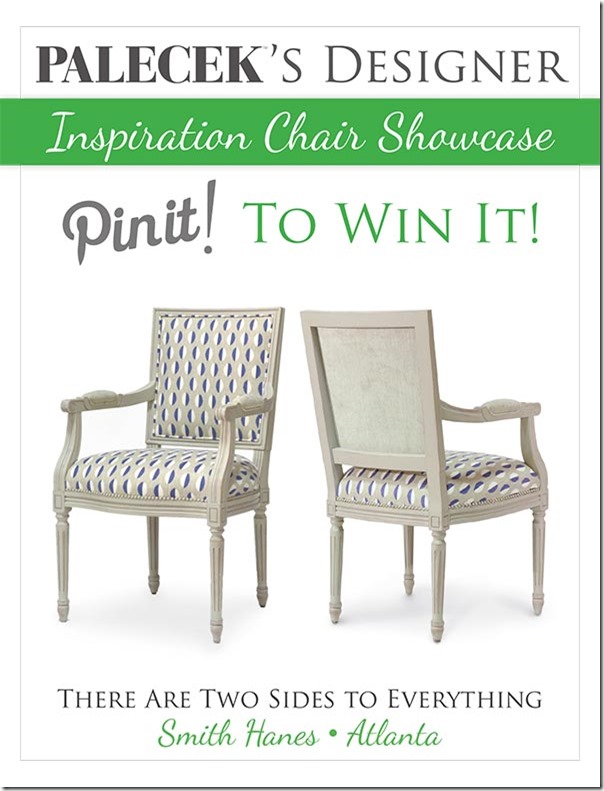 ---
This is a sponsored post to announce the PALECEK Designer Inspiration Chair Showcase. All opinions and Manolos and Sharpies and Austin Scarlet are my own. Thank you to PALECEK for allowing me to be a part of this FUN competition along with all of the other bloggers and designers. It's an honor!