Here's a confession.
My husband has a bit of a Craigslist addiction.   I never know, from one day to the next, what new and unusual item I will find sitting in my basement when I walk downstairs.  From vintage Coke machines to rusty old signs that say "Eat Steak", it's a guessing game what all treasures I might find down there.  One time it was a Ms. Pacman arcade, another time a jukebox.  Before the basement remodel was completed he bought movie theater seating from the Alabama Theatre and even an old turnstile from Bryant Denny Stadium in Tuscaloosa.   All from Craigslist. 
I'm telling y'all… there is just no telling what might turn up at my house without warning.  I have learned to roll with it. 
The most interesting thing about my husband having a Craigslist addiction is not only all of the crazy things he brings home, but the people we get to meet while he is making purchases.   Over the years we have been amazed by the unique Craigslist individuals we have encountered, like the extremely large man dressed in overalls who bought a four-wheeler that we had for sale. He said he already had a four wheeler, but this one was for his wife.  He then proceeded to lift the four wheeler all by himself and put it into the bed of his truck.  Another time there was a one-legged man who showed up at our house to trade a pressure washer for a Pepsi machine (yet another CL purchase) and then tried to lift the Pepsi machine into the back of the truck all by himself.  Apparently men like to try to lift things all by themselves, no matter their physical capabilities.  (J did provide assistance for the second guy, though). 
Once he met a professional wrestler named Butterbean who traded his PlayStation 4 game console for our jukebox. The only cd that J had in his truck to make sure the cd player worked was my mixed cd of 90's rap music, which Butterbean insisted on keeping for himself.  Another time there was a lady who lived in an seedy apartment without any furnishings–only a massage table set up in the center of the living room. J showed up alone for that one and left as quickly as he could with the enormous ice chest she was selling when he realized what else she might try to sell him while he was there.  And then there was the single mother who asked my husband to hold her baby while she went to the back of her apartment to retrieve the items he had shown up to purchase. Attention single mothers of the world—PLEASE don't hand your innocent children over to strange Craigslisting men who show up at your apartment to buy your old Playtex drop-ins.  I know my husband looks pretty trustworthy and all, but come on… Common sense here people.  
So, yeah.   We've had some amazing stories to tell about the Craigslisters that we've met throughout the years.
But this most recent one might just take the cake. 
Before we get to the part about the seller, let's see the purchases!
We have had this set of wrought iron patio furniture by the pool since we moved into the house.  It came with the house, actually.   It is not a bad set of patio furniture, but it leaves rust stains on the concrete and it's not exactly the prettiest stuff to look at.  We've been searching high and low for a few years to try to find a set that is a little more inviting than this rusty wrought iron stuff.
Enter Craigslist to the rescue!  Say hello to our newest purchase!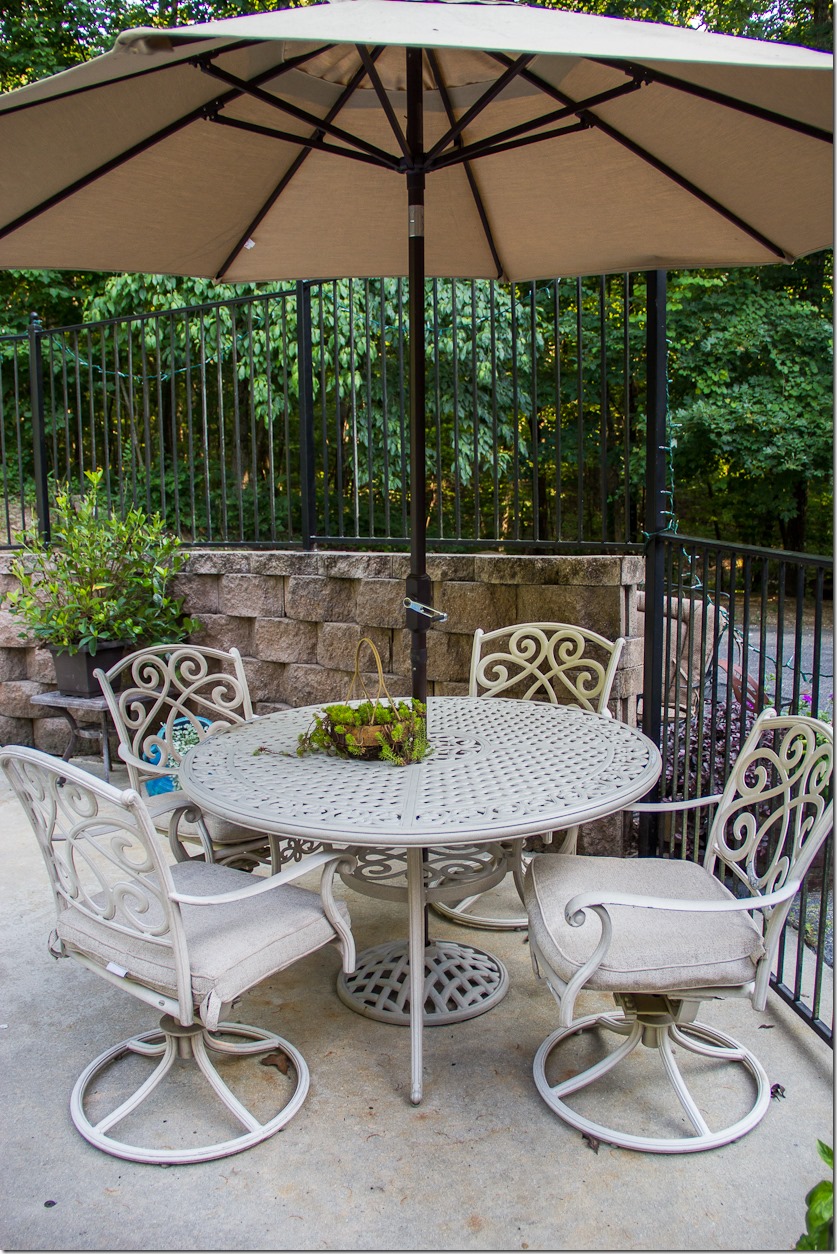 We stumbled upon an 18 piece set of patio furniture for sale for a very low price on Craigslist.  It had a 60" round table and 4 rocker chairs with an umbrella, a pub height table and two swivel chairs…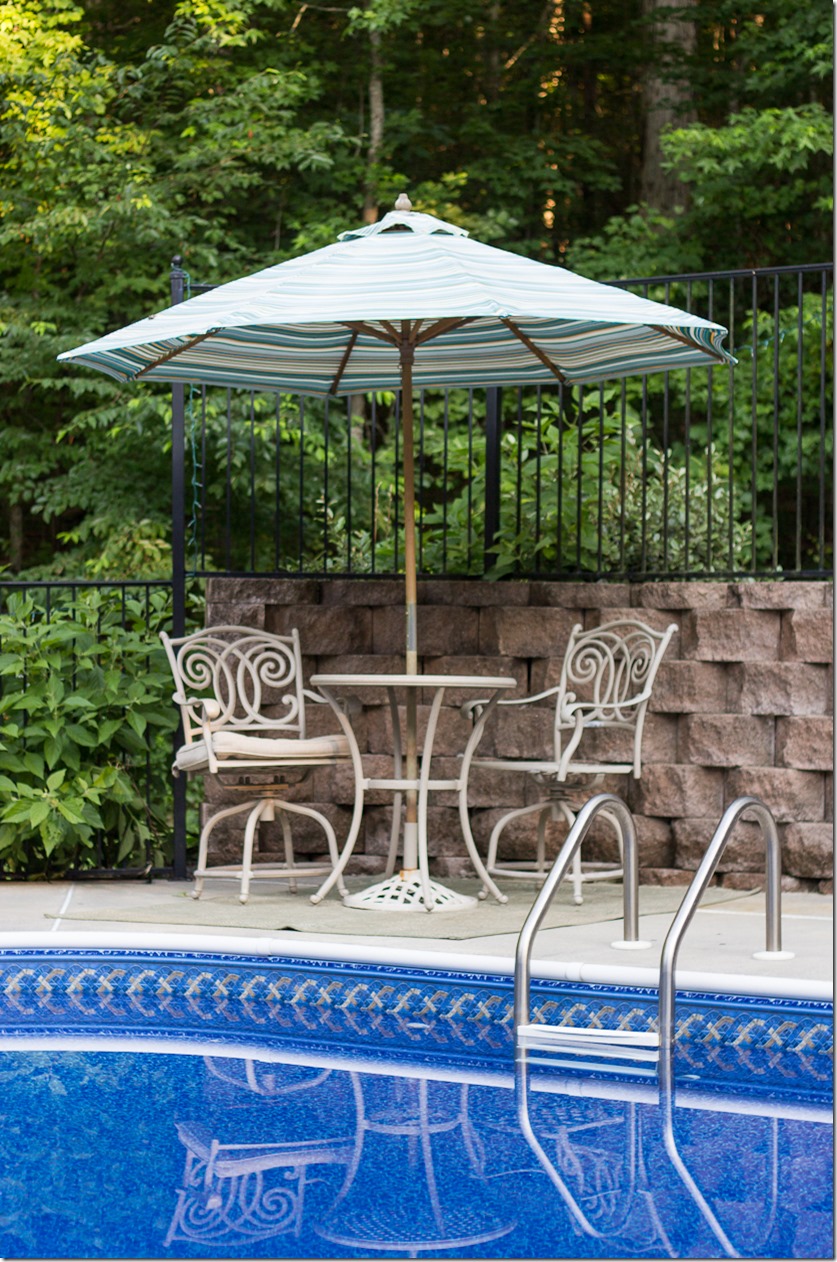 … and these two comfortable loungers with cushions.  There is even a side table with an ice bucket built into it!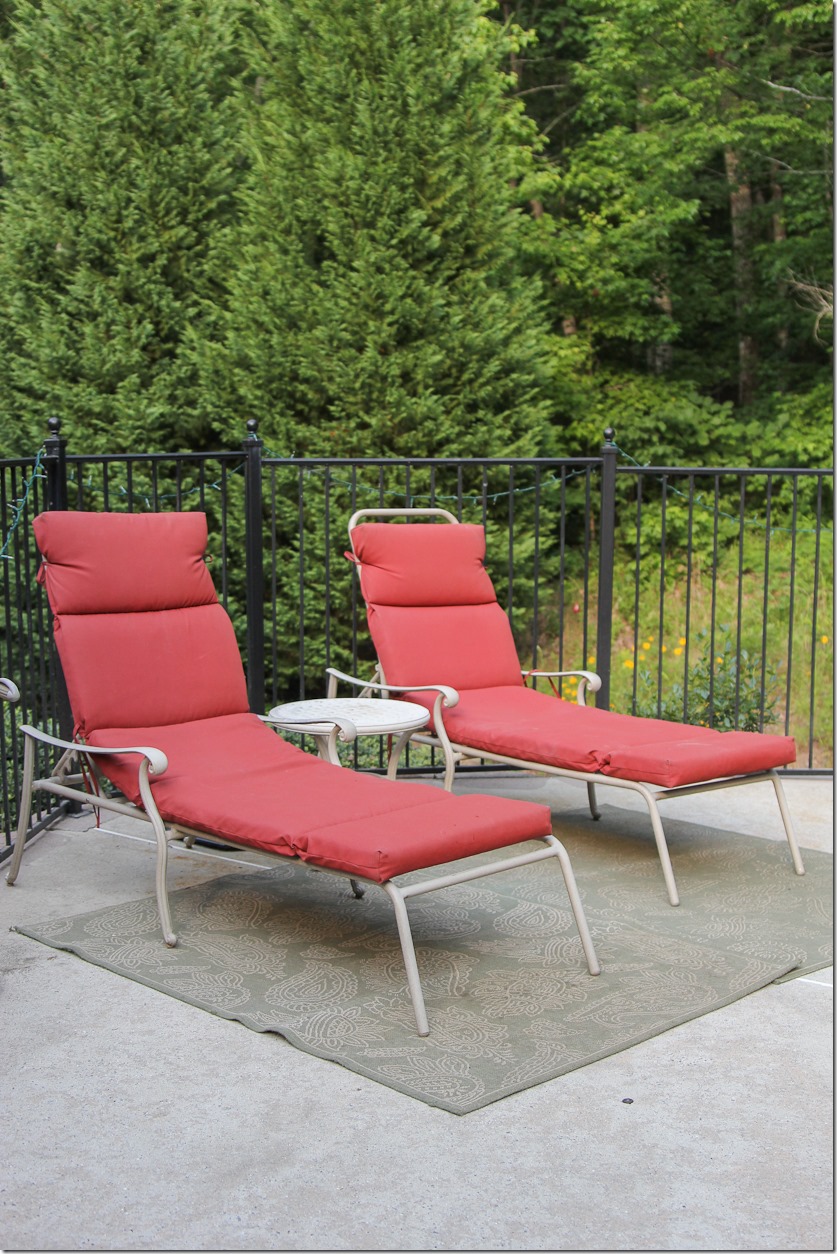 This set was NICE, so when J saw it pop up on Craigslist, we immediately called the guy to go see it. I've learned you better strike while the iron is hot or the deal will be gone fast.
The man we met arrived in a Jaguar, and after some small talk he told us he was a Union carpenter by trade.  He seemed very much like an Average Joe kind of guy.  The storage unit was jam packed with stuff– so full that he and J together couldn't even get the door open.  There was much straining and huffing and puffing to get the door past all of the obstacles that was holding it shut.   When we finally shoved everything out of the way and the sunlight flooded into the 10×10 storage unit, my eyes fell on the blue and green feathers and sequins that covered everything!  Inside the storage unit, on top of all of the patio furniture, we unearthed a full peacock themed outfit, complete with a sequined bikini and a bedazzled headdress with a long blond wig attached.   Here is J holding up the headdress, which he said was surprisingly lightweight for all of it's girth.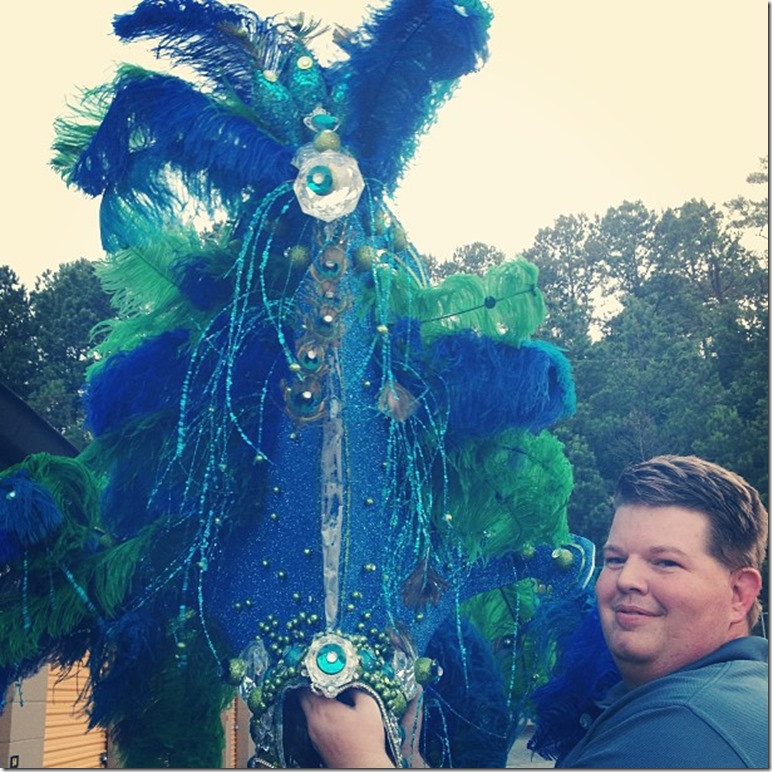 This sucker was WAY bigger than Linda's Carnaval outfit in the movie RIO.  It was HUGE. 
And it was a serious work of art.  I cannot imagine what kind of workmanship went into the construction of this outfit.  He told us that the cape part of the ensemble would flip up into a full peacock tail feather flare when you raised your arms.  I gaped at it in amazement and asked the man to tell me the story behind it.  He whipped out his cell phone and showed me photos of his significant other wearing the outfit. He said she had worn it in the Miss Apollo pageant.  And for those of you who can't read between the lines here, when he said "she" what he really meant was "he".  According to this website, the Birmingham Miss Apollo pageant is the second oldest continuously running drag queen pageant in the country.  I had NO idea Birmingham held such a prestigious honor! Tuck that tidbit away in your Jeopardy useless info file.
So that is the story of how we found our winner for the most unique Craigslister that we have ever encountered. 
Although we are about to list the wrought iron stuff on Craigslist, so you never know who we might meet next.
What about you?  Have you had any cuckoo Craigslist stories?  Do share!