Hey guys! Long time, no post. I know. Summertime is kicking my blog's behind. There is just way more fun stuff going on outside than there is behind this computer screen. I promise I'll be back in the swing of things soon, but in the mean time, I've tag-teamed with Jocie from the awesome blog One Project Closer (The Better Half) to bring you a blog post. She's going to tell you about painting on glass here on my blog, and you can find my blog post about hosting a swap party over on her blog. Stop by and say hello to her today, please! Welcome, Jocie!
---
Hi, I'm Jocie (pronounced Jah-see) from OPC's The Better Half. I live in Baltimore with my hubby, Ethan and two crazy young daughters, Izzie and Lucy. Ethan runs One Project Closer (OPC), a site dedicated to providing free guides to help you DIY like the pros, in addition to giving you the most up-to-date Home Depot discounts, so you can keep on doing the projects you love. OPC's The Better Half (since I am Ethan's better half), is all about thrifty and fabulous DIY decor and crafts!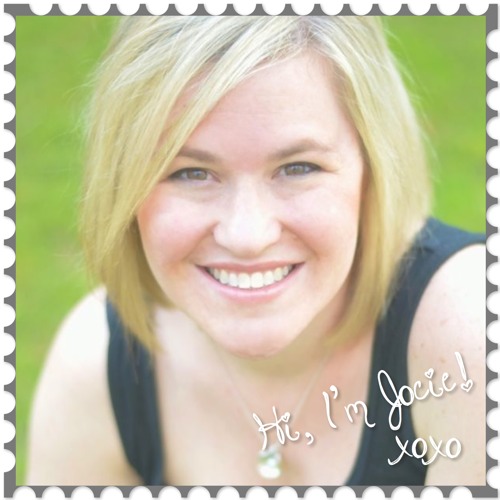 Most months I attend a Ladies Craft Night hosted by my in-real-life bloggy friend, Liz from Naptime Decorator. This past month, the theme was glass paint! Surprisingly, I have done very little with glass paint in the past, so I was super excited to give it a try. If you are a glass paint novice like me, here's the skinny. Glass paint can be bought at your local craft store and online for about $3 – $7 per bottle or paint pen. Several of the big brands sell glass paint, like Martha Stewart and DecoArt. Some paints need to cure for several weeks and others can be cooked prior to use. So, check the bottle! 🙂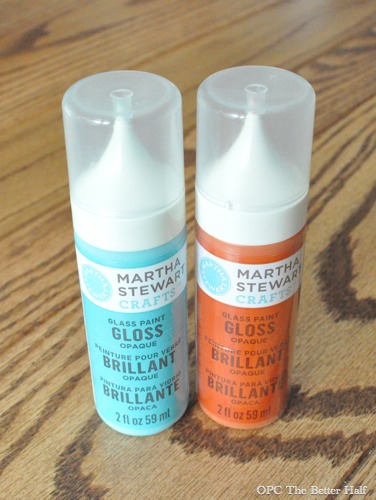 I chose to use Martha Stewart brand glass paint, some of her exclusive glass paint and a little bit of her everywhere paint which can be used on glass, fabric, wood, and plastic. Martha has a great color selection and while slightly more expensive than some other brands, the color choice won out for me! Once I picked my paint, I selected a stencil – not an easy task. There wasn't a huge selection and wanted a stencil that I could use in different ways to create a variety of looks. I ended up buying a silk screen instead, which is a stencil that has a mesh backing. I ended up LOVING it because it gave an even, thin texture to all of the paint. The silkscreen also washed well for multiple applications.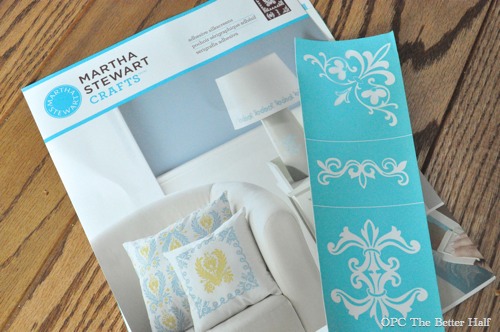 Silkscreens are meant to use a scraper for the application but it costs about $15, so I stuck with the pouncers I already had on hand. Pouncers are awesome for stencils and provide even application without getting paint under the stencil.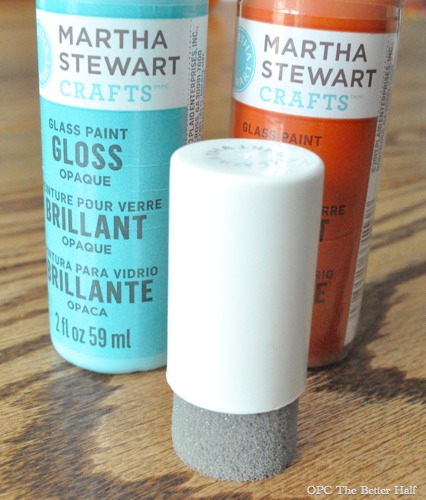 Finally, I got to work. I like to bring multiple crafts with me because I tend to work quick (even with a glass of wine in my hand, lol). First up was my Dollar Store Vase. Seriously, you can't beat the Dollar Store – only a dollar for such a pretty, basic vase! After wiping the vase with rubbing alcohol, I removed the back of the silkscreen and firmly stuck it to the vase. I used two different colors and pouncers to carefully apply the paint, then removed the silkscreen while it was still wet.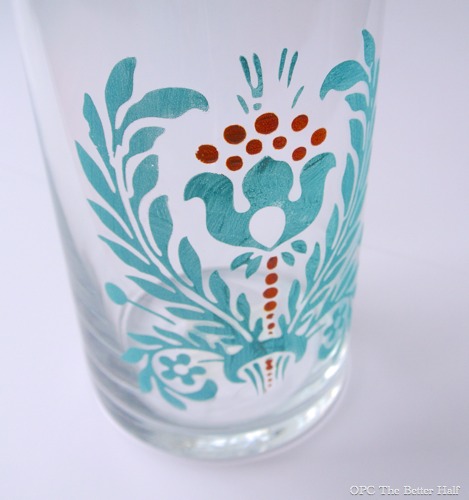 The day after Craft Night, I stopped by Walmart and bought these super pretty flowers for $6 and now they sit on my dining room table!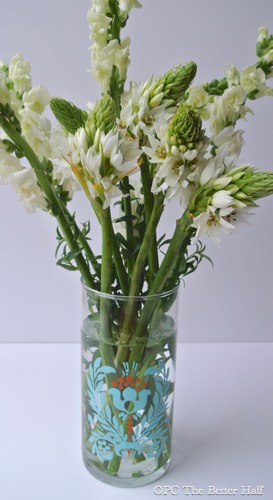 My second glass painting project of the evening was painting coasters. I found unfinished ceramic coasters at Michael's for $3.99/4! What a deal! I painted a base coat on the coasters using a light gray color (because it was on-hand) and then layered different colors using varying sections of the silkscreen. It turned out so much better than I had thought it would since I was halfway expecting a craft-fail!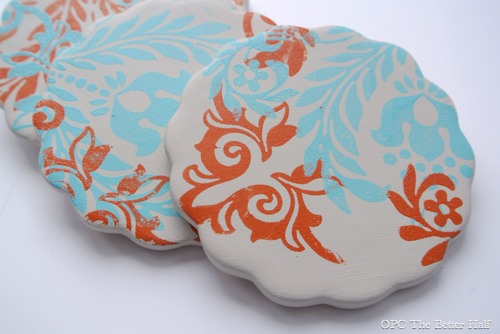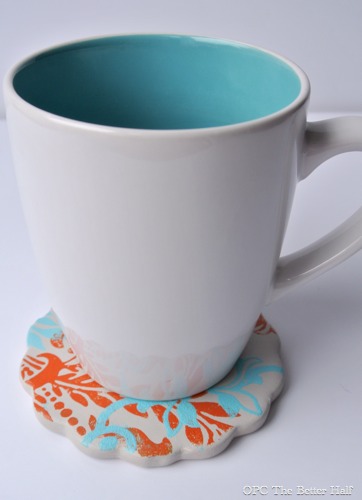 My third and most time-consuming project of the night was my Dollar Store mug. Sadly, this was the last, lonely mug at the Dollar Store, or I would have made a set. I wish I had some tips, but basically I used a little brush and free-handed the design slowly. 🙂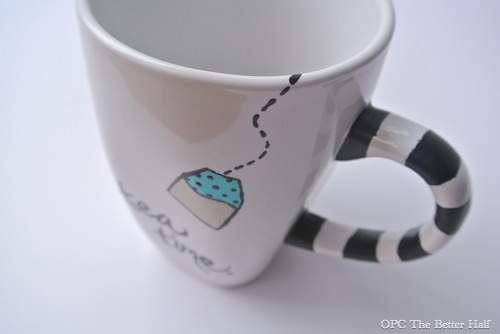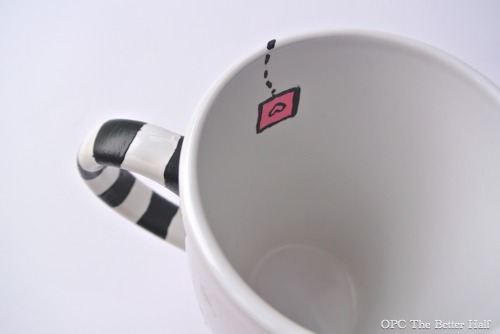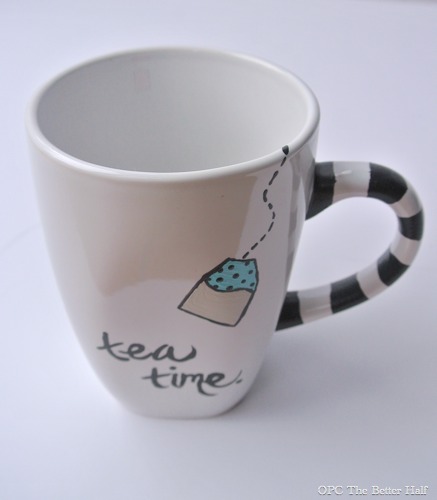 For more fun projects and crafts, visit me at The Better Half! You can also connect with me on Facebook and Pinterest. Hope to see you soon!