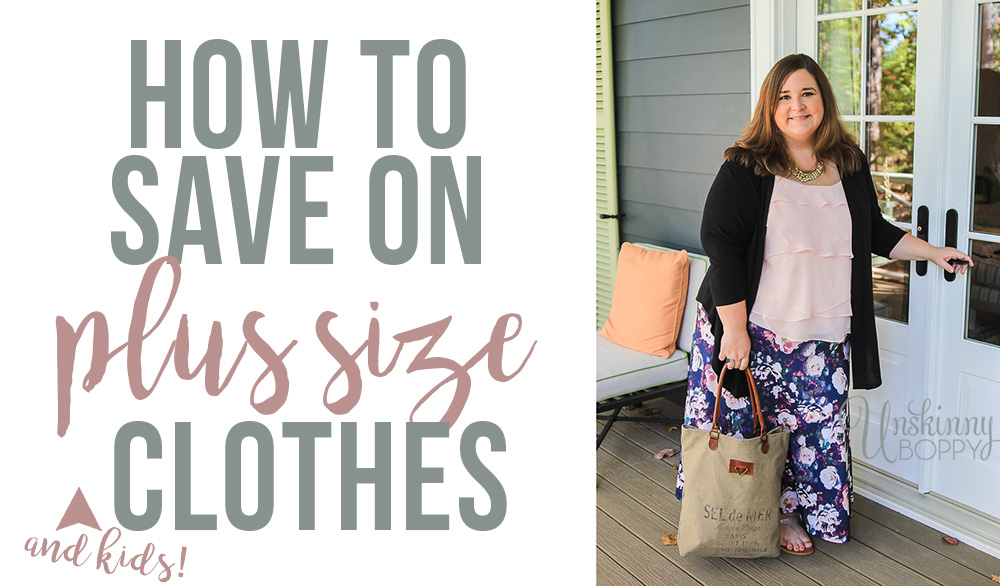 I'm not sure how it works in the rest of the country, but down South we have these MASSIVE kids consignment sales. Have you been to one?
Every spring and fall, these kids clothing sales draw crowds of thousands of mama shoppers. They line up outside the door with a competitive gleam in their eye, ready to hurdle over each other when the doors open to find the best deal on like-new clothes for their kiddos. Some of these sales are held in church gymnasiums, but the biggest one around here actually bought out an abandoned 1980's shopping mall just to hold it's twice a year sale!
Like I said, Southern mamas don't play. Birmingham kids consignment sales are no joke. Go big or go home.
I've decided that there are two types of women in this world:
Type 1. The ones who lead the pack during a Black Friday stampede
Type 2. The rest of us who would rather sit home behind the comfort of our laptop screens, tossing back some Cheetos and Moscato while lazily browsing online.
My mother-in-law is a Type 1 shopper.
I am a Type 2.
I would rather wallpaper every room in my house then remove it with a razor blade than spend any amount of time sorting, tagging and safety-pinning a stack of perfectly pressed onesies onto a wire coat hanger, but my mother-in-law has done exactly that every spring and fall since Garrett was a baby. My MIL is a BEAST of a bargain-hunter, and I am in awe of her sales-shopping stamina. I cannot thank her enough for all of the clothes she has bought my kids from consignment sales over the years– entire closets full of cute clothes that come and go with each passing season. She knows how to work those sales, but I know even she gets frustrated by all those safety pins and wire hangers that every consigner faces. The one she sells in each year recently changed their labeling system, so recently she had to reprint and re-tag all the clothes she already had ready to sell.
It's a ton of work.
So, when I discovered this amazing curated online consignment store called thredUP, it was like the heavens opened and rained down Cheetos and Moscato and SAVINGS. This site is a lifesaver for frazzled #2 shopper-mamas like me who like to get a good bargain but don't have time to consign.
The other night I sat down at my computer and within 20 minutes I bought both my kids' entire winter wardrobes for under $150, TOTAL, (including shipping!!). I had a 40% off coupon, and I racked UP. They also offer a Give $10, Get $10 program so you can earn extra clothes spending money by sharing with your facebook friends. They have a ton of great merchandise to choose from, and it's so easy to find what you want without digging–just search for your kid's size and sort by brand, price and color, fill your cart and checkout.
Within a few days, this pretty polka-dot package arrived on my door step. All the clothes I bought were hand-folded inside, complete with fancy thredUP tags, wrapped in nice tissue paper, all held together with a cute sticker.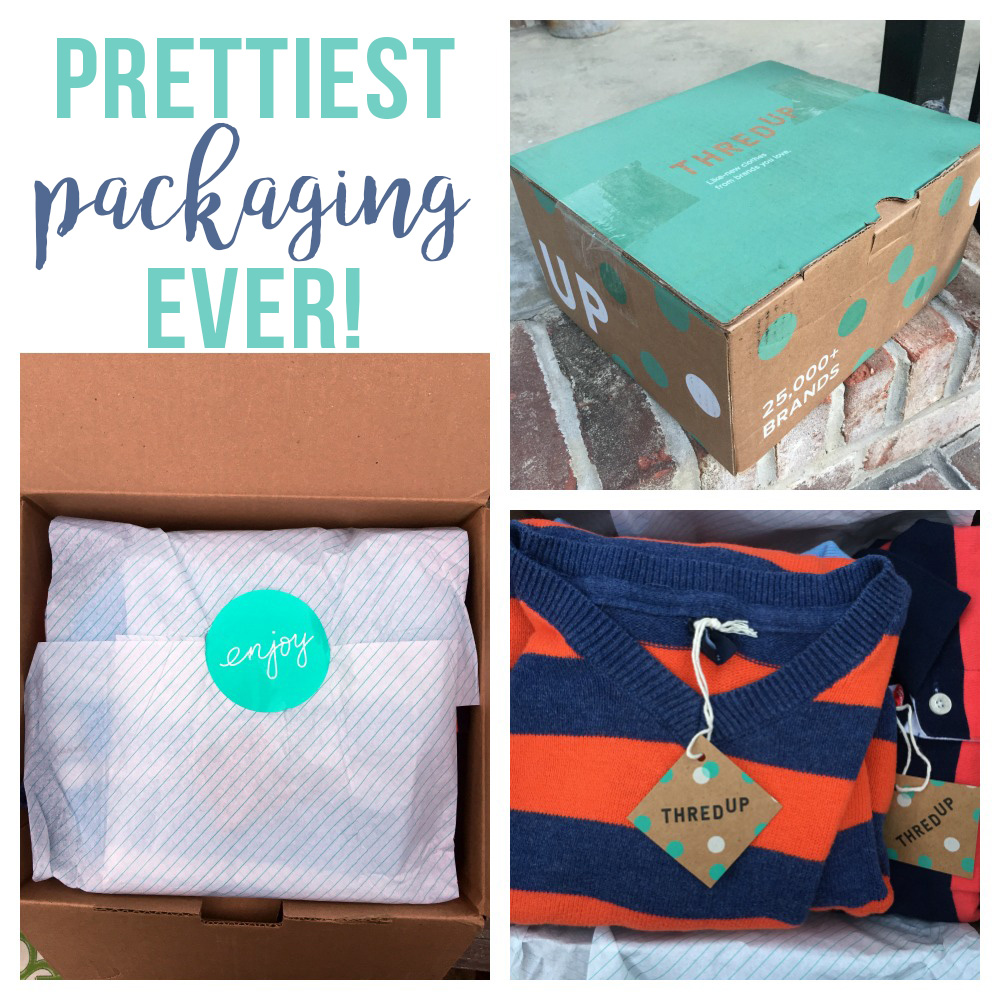 It was THE easiest shopping experience of my life. Take a look at some of the cuteness that came out of this box!
That ruffle-butt?  Adorbs.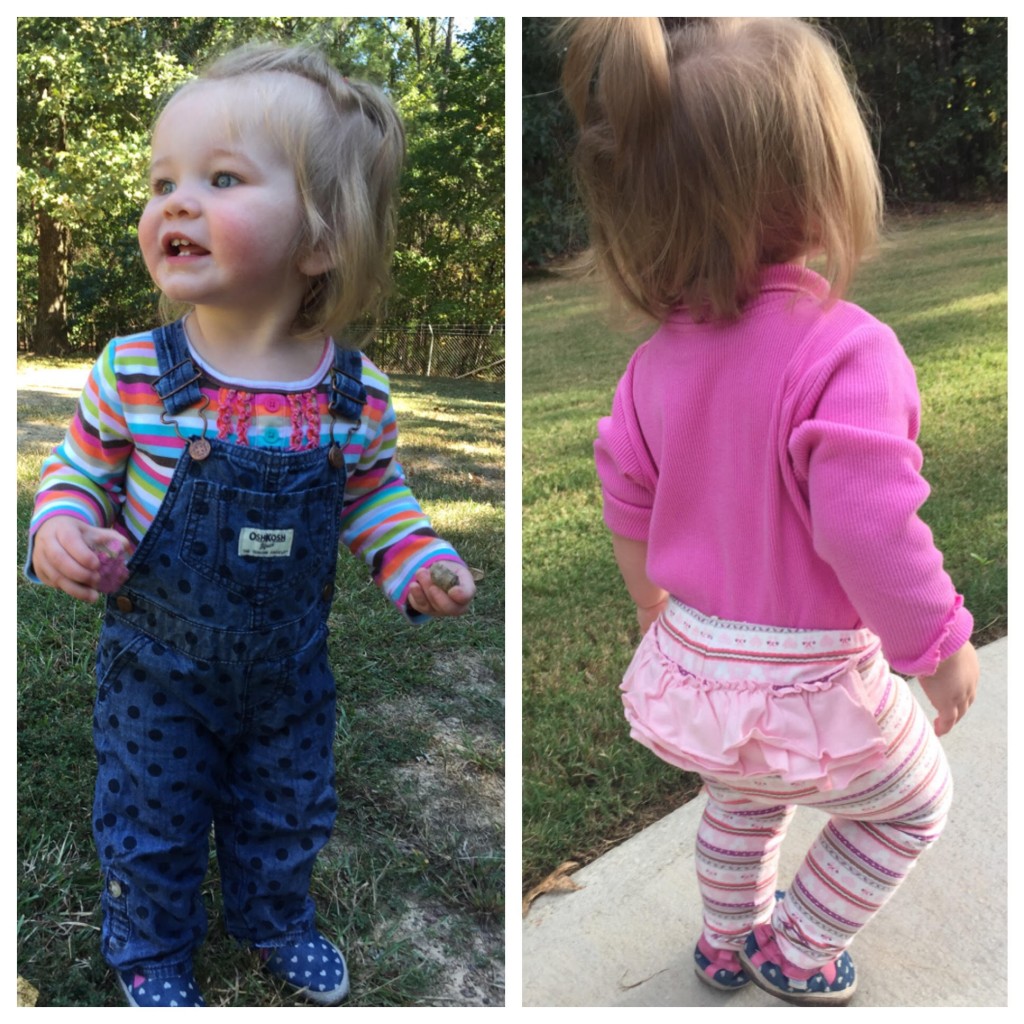 I got these Gymboree overalls for $3.99, when normally they retail for $25. That's 84% in savings!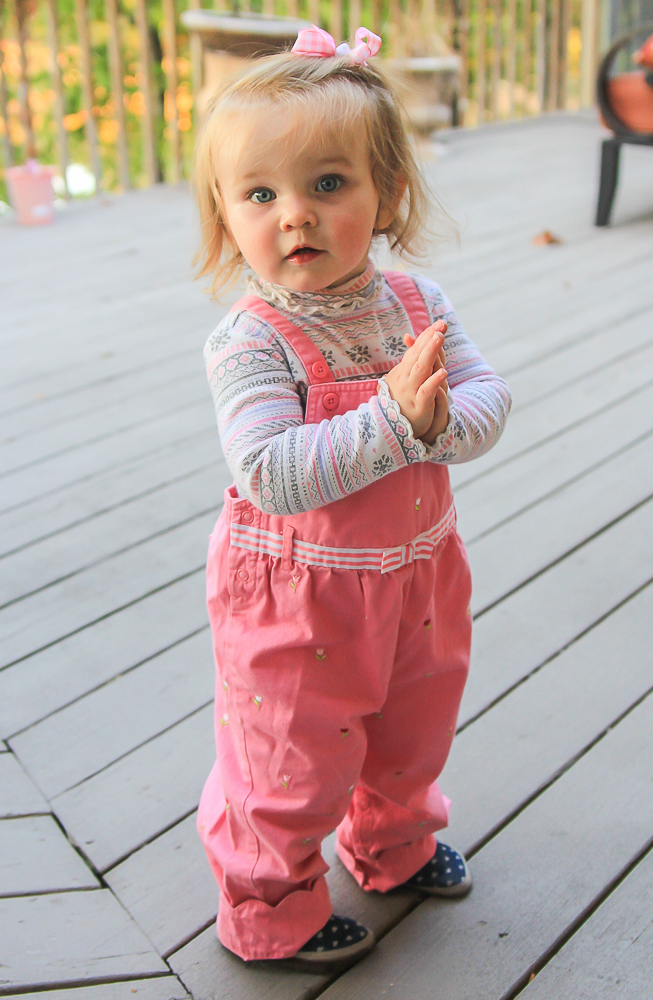 Combine those awesome overalls with a SUPER cute wintertime onesie and Caroline has an entire outfit, perfect for preschool, for under $8.00. I bought a size bigger than she is right now, and I figure by mid-winter they will fit perfectly.
Garrett got a NICE cable-knit sweater that's gonna look amazing sitting on Santa's lap in a few months! There were lots of choices in his size range (10-12) which is unheard of at most kid's consignment sales. By the time they are in 10-12s most moms give up and just donate 'em, so this was rare!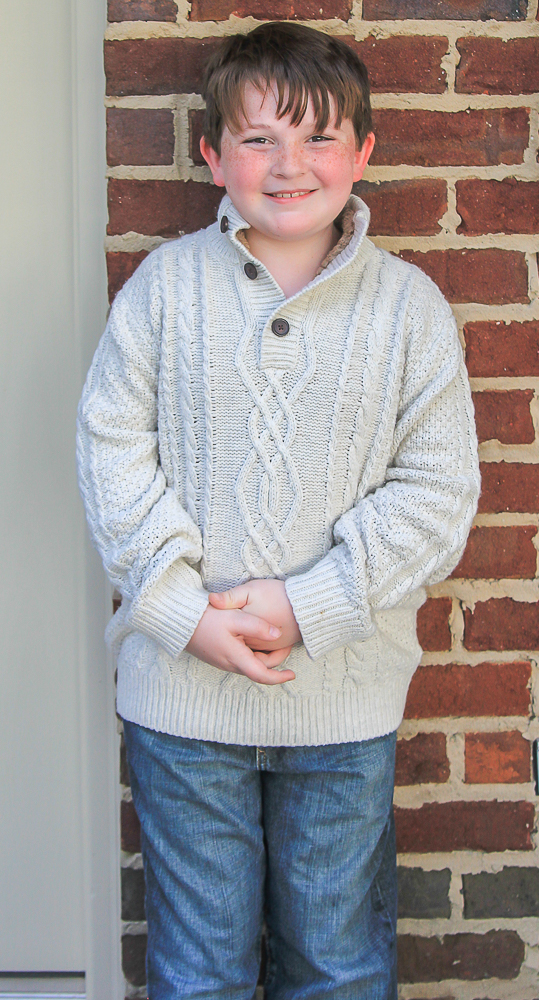 Oh, and get this…
They also have an entire plus size women's section!!
Do you know how hard it is to find plus size outfits on consignment?  If you're not an unskinny lady you might not realize this, but it's pretty darn impossible to find any sort of curvy girl clothing in a consignment boutique. So, here you go my friends… page after page of deeply discounted brand name clothing just for us! Woot! These low prices are a God-send if you have just had a baby or if you are in the transition of losing a lot of weight and need a whole new wardrobe.  This way you don't have to spend a lot of cash on clothes that you might not need much longer.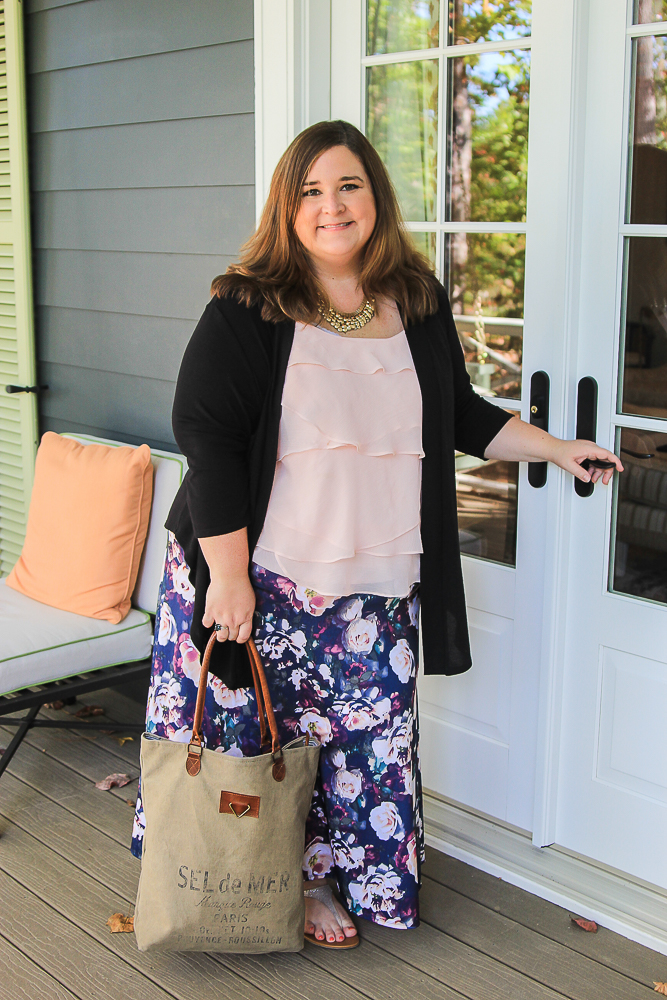 I'm all about the handkerchief hem lines these days, and I saw so many cute tops and cardigans with handkerchief hems.  I also found a comfy black tank and blue cardigan that was perfect for traveling cross-country from Utah last weekend. I paired it with a pretty black and white skirt from my closet and had a nice business casual outfit that transitioned from the Young Living conference room to the airport.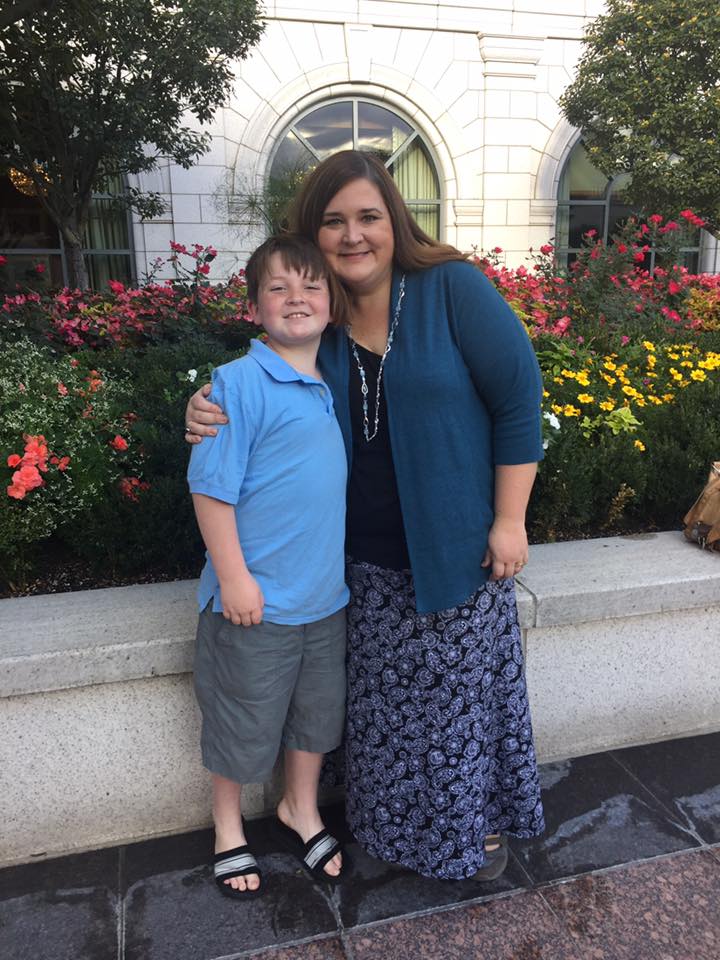 thredUP has something for everyone! You've gotta check it out!
If you're more interested in selling clothes than buying, you can order a Clean Out Kit, and earn cash for your clothes! Just ship a bag full of stuff and they handle the rest. No Black Friday frenzy at consignment sales. No uploading your pics to local facebook trading sites and meeting people in shady parking lots to sell your stuff. No hassles. Just ship it off and thredUp handles it all, then mails you a check. Easy peasy.
And the best part?
NO MORE wire hangers or safety pins required!
Who's ready to go shopping?
Click HERE and use code BOPPY40 to get 40% off your entire order!
Valid through January 24, 2017.
Valid only for first time shoppers.
Discount up to $50.00
---
Disclosure: This post was sponsored by thredUP.  All opinions about safety pins, mother-in-laws and wire coat hangers are my own. PS-I super puffy heart my mother-in-law!