Today I'm teaming up with The Home Depot to show you how you can make a pretty ornament display at their upcoming DIH Workshop this week!
If you haven't heard, Home Depot offers do-it-HERself (DIH) workshops for women of all experience levels to come in and create cool projects for their homes.
This month they are making these Holiday Ornament Displays at all their stores.
To kick-start the workshop, they asked us to build the project ourselves, then put our own creative touches on it in our homes.
Well, y'all know me. I had to junk mine up a little bit.
Here is my take on it! A very vintage advent calendar…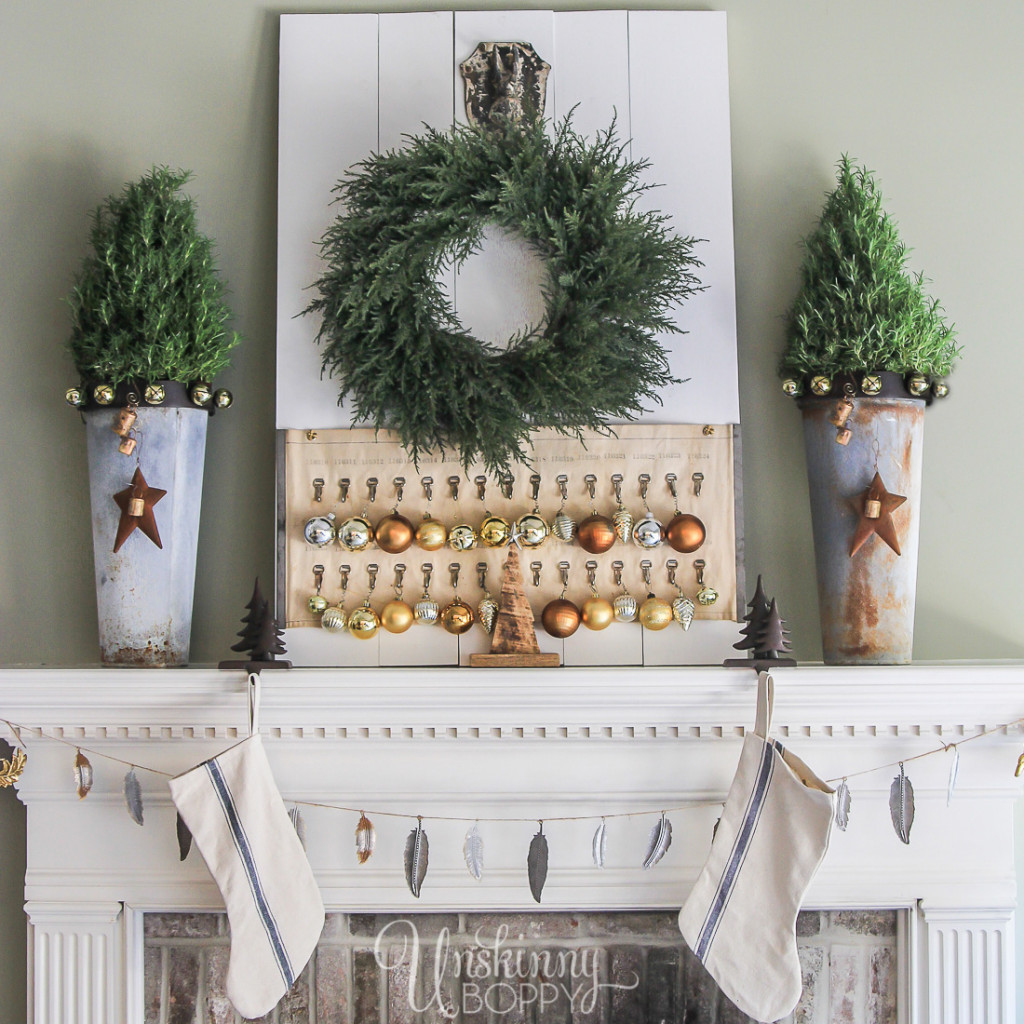 My husband found this canvas piece with metal clips and stamped numbers at a local vintage shop.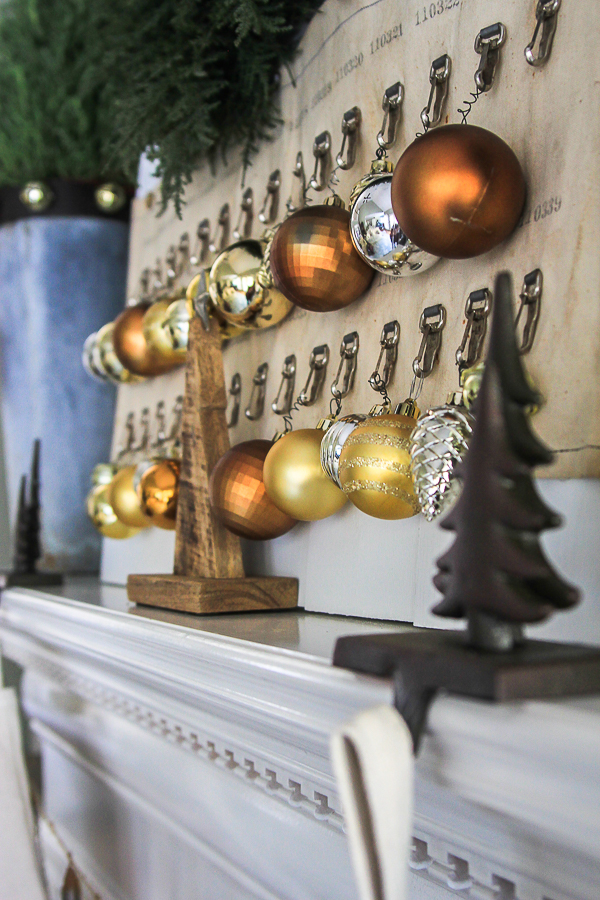 Honestly? We have no clue what it was originally used for. Has anyone seen anything like this before?
Possible scenarios for this thing include a place for shift works to grab a badge when they clocked into work. Or for coal miners to hang their badges when they went down into the mines so they would know at a glance who was underground. Maybe a hotel front desk key holder or a place for valet drivers to hang car keys? Who knows.
We are stumped, but I'm counting on someone out there to know exactly what this thing is and what it was use for. Y'all are good at that!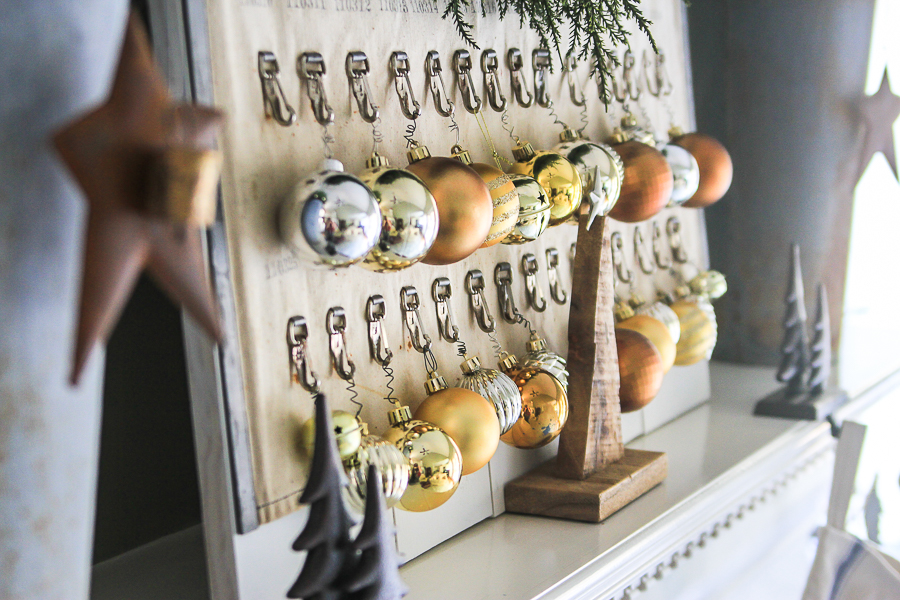 I could think of no better use for it than a holiday advent calendar, which is what I've made for this party today! Twenty-five shiny Christmas ornaments hang from these metal clips and starting December 1st we will remove them one at a time each day, and let the countdown to the big day begin!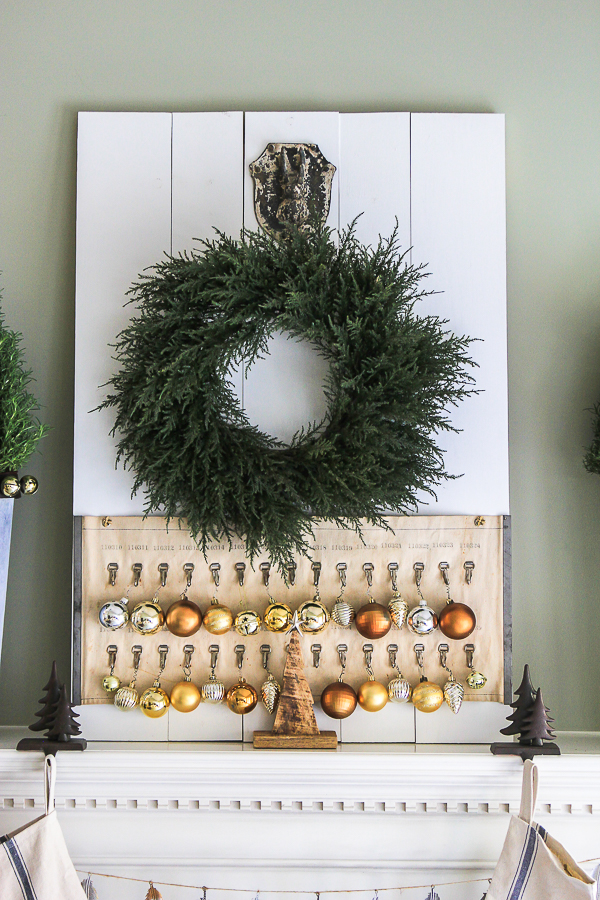 I found this chippy old deer head wreath holder and attached it to the top of the plaque to hang an evergreen wreath.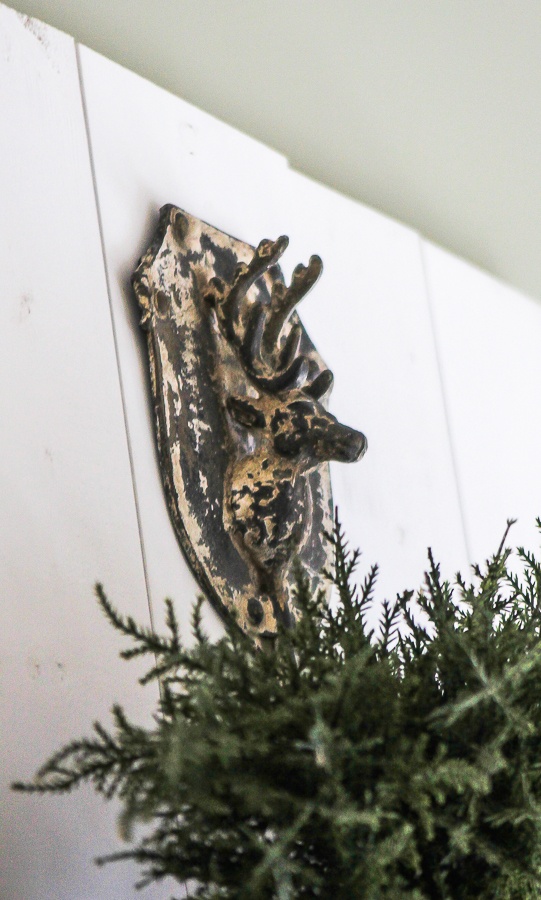 The pretty rosemary topiaries came from the garden center at Home Depot. I stuck them inside some old galvanized flower buckets that I've had for a few years and decorated them just a little bit.
The jingle bell belts are actually door hangers found in the Christmas decoration aisle at HD that I attached using an elastic hair tie and a piece of string. 😉 Here's a peek at the backside so you can see how I did it. Very simple.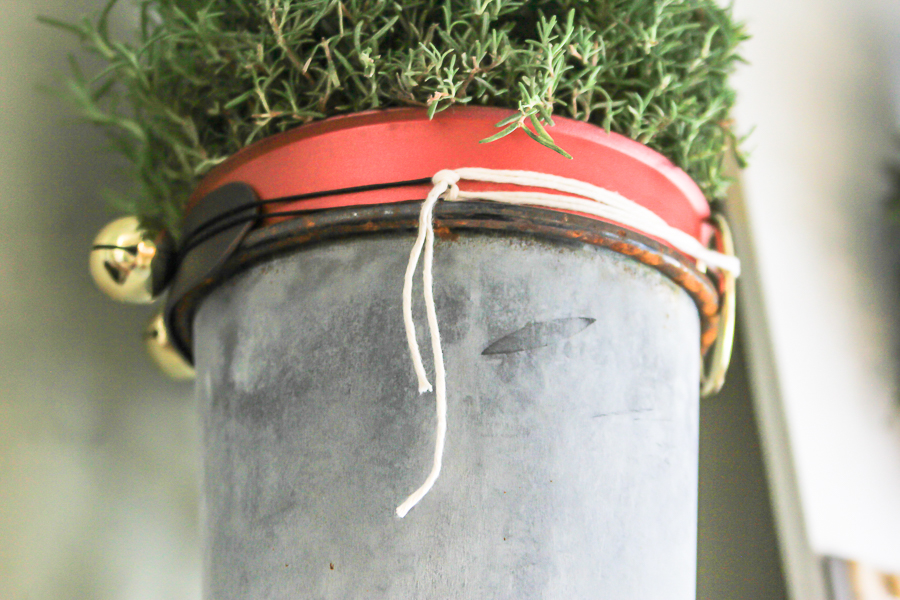 So there ya go! That's my vintage take on the Home Depot DIH Workshop project this month.
It was super, SUPER easy to make, I promise!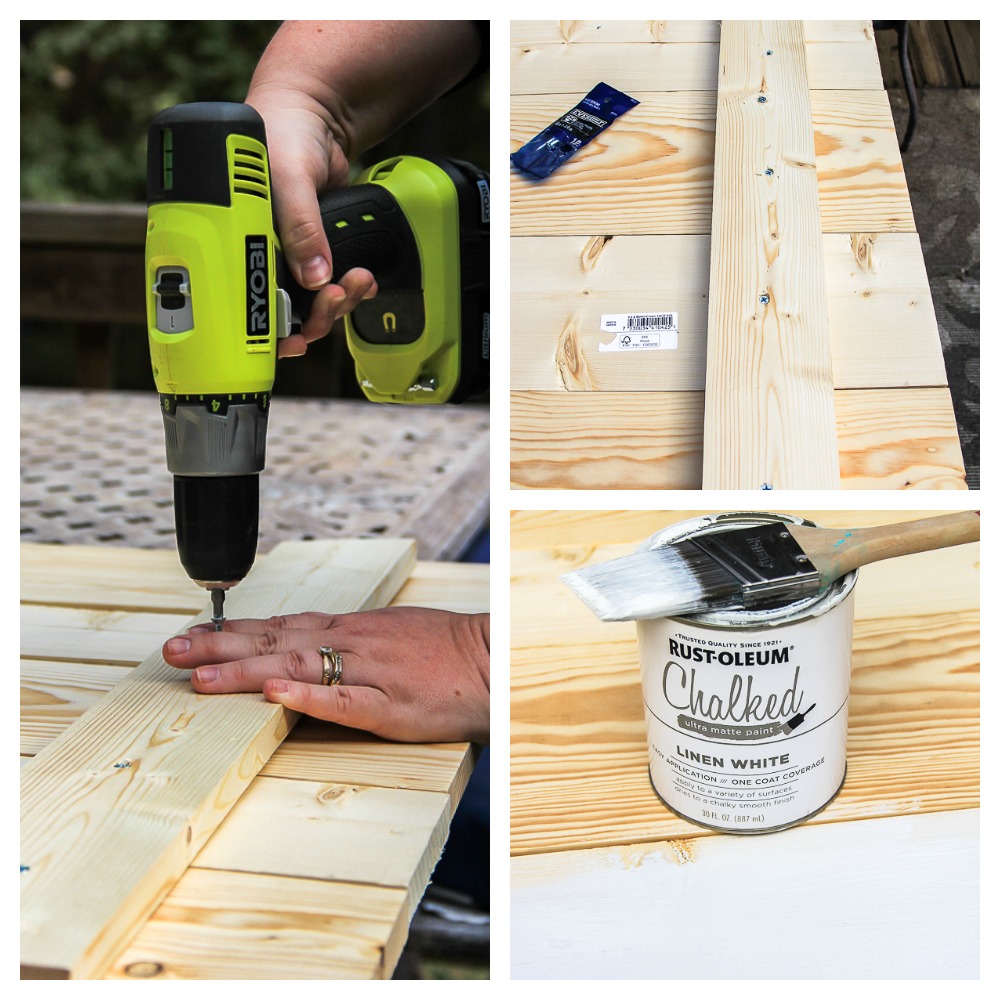 If you want to make something similar for your mantel, head on over to the Home Depot website and find out the time/date/location of the DIH Workshop near you! Mine is this Thursday, November 17th from 6:30-8pm, so check quick because they will probably fill up fast!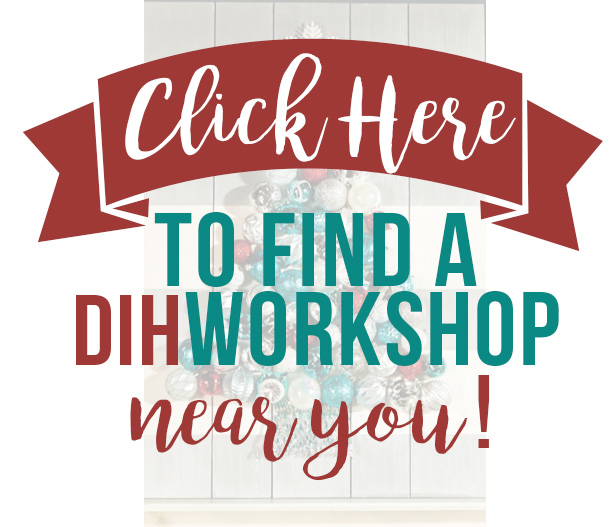 There are 25 amazing bloggers putting their unique spin on this project today, and here is a sneak peek at a few of my blog friends!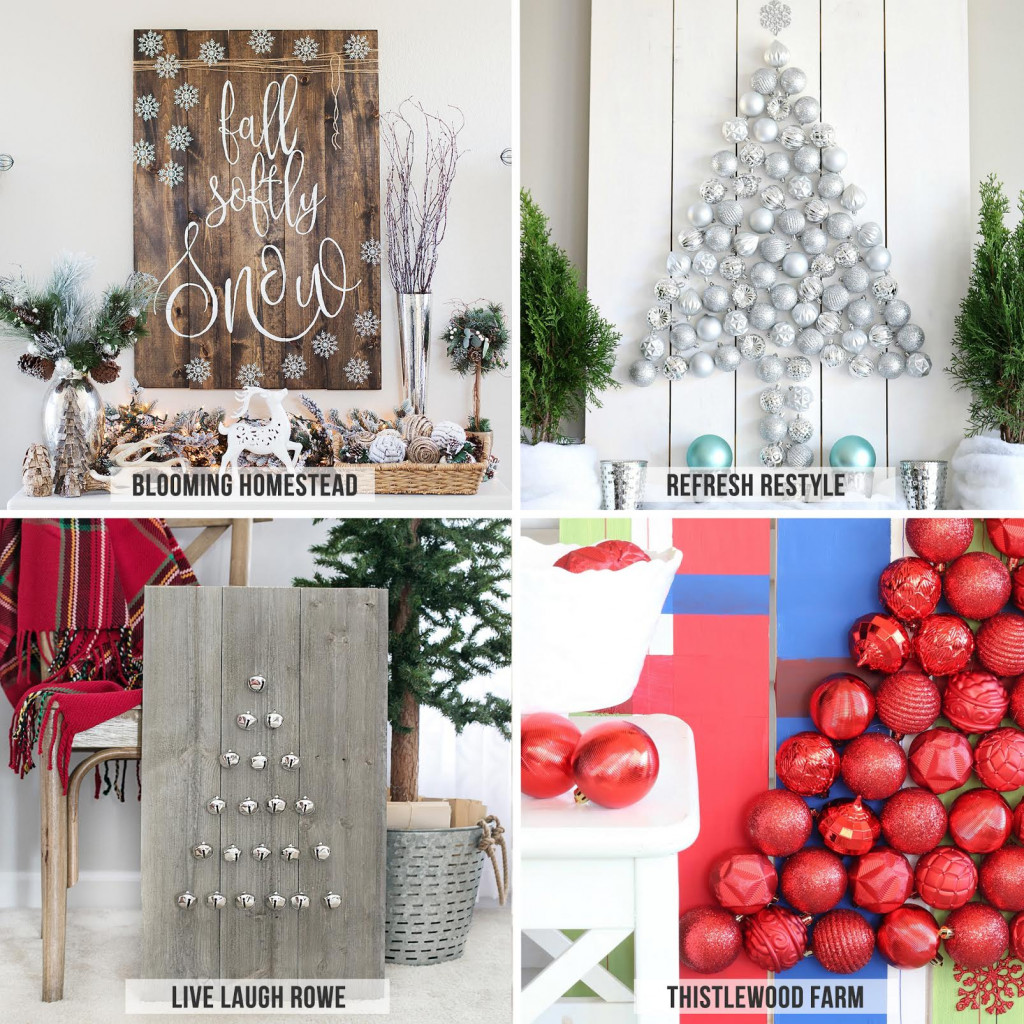 Blooming Homestead
Please keep the #DIHWorkshop virtual party rolling over at these awesome blogs, also! Go give them all a quick visit to see their #DIHWorkshop Christmas projects:
---

Disclaimer: This post was sponsored by The Home Depot. All opinions are my own.