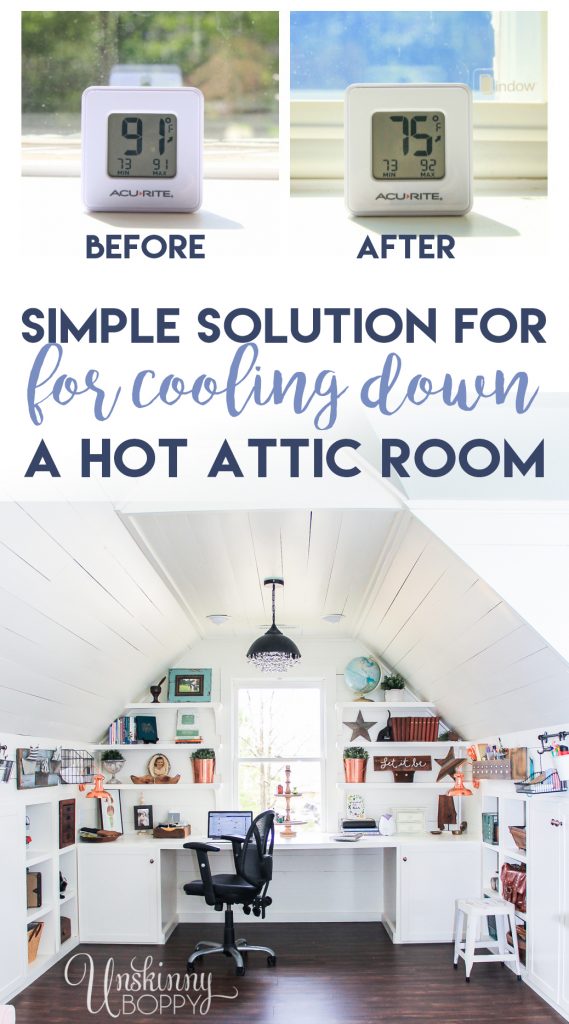 When I was a kid we lived in this drafty little house with single-pane windows that did nothing to prevent cold air in the winter and blasts of heat in the summer. We could not afford storm windows, so when the weather got cooler, my dad would head outside with a roll of opaque plastic and start cutting it into huge rectangles. Then he would take his staple gun and Ka-CHUNK, Ka-CHUNK, Ka-CHUNK a whole bunch of staples around the plastic on each window in a feeble attempt at 1980's energy efficiency.
In the spring, rather than taking the time to remove all the staples, we just ripped the plastic down and let the sun shine in. Over the years, the staples just piled up on top of each other like some sort of odd herringbone pattern on our window trim.
Classy, we were not.
Once my sister got creative and made a "Thermal Window Insulator" as a 4-H project. Basically it was a giant piece of 3″ thick styrofoam that she wrapped in purple fabric and stuck inside her window sill to keep out the drafts. I think she won a blue ribbon for that invention, even though it prevented all natural light from entering her bedroom and she lived like a vampire most of the winter.
When I started finishing out the attic space of our current home, all of these styrofoam and plastic-enshrined memories flooded my head as I considered my options for keeping the room temperature regulated. It is an attic and this is Alabama, after all. Heat was going to be more of an issue than cold for us.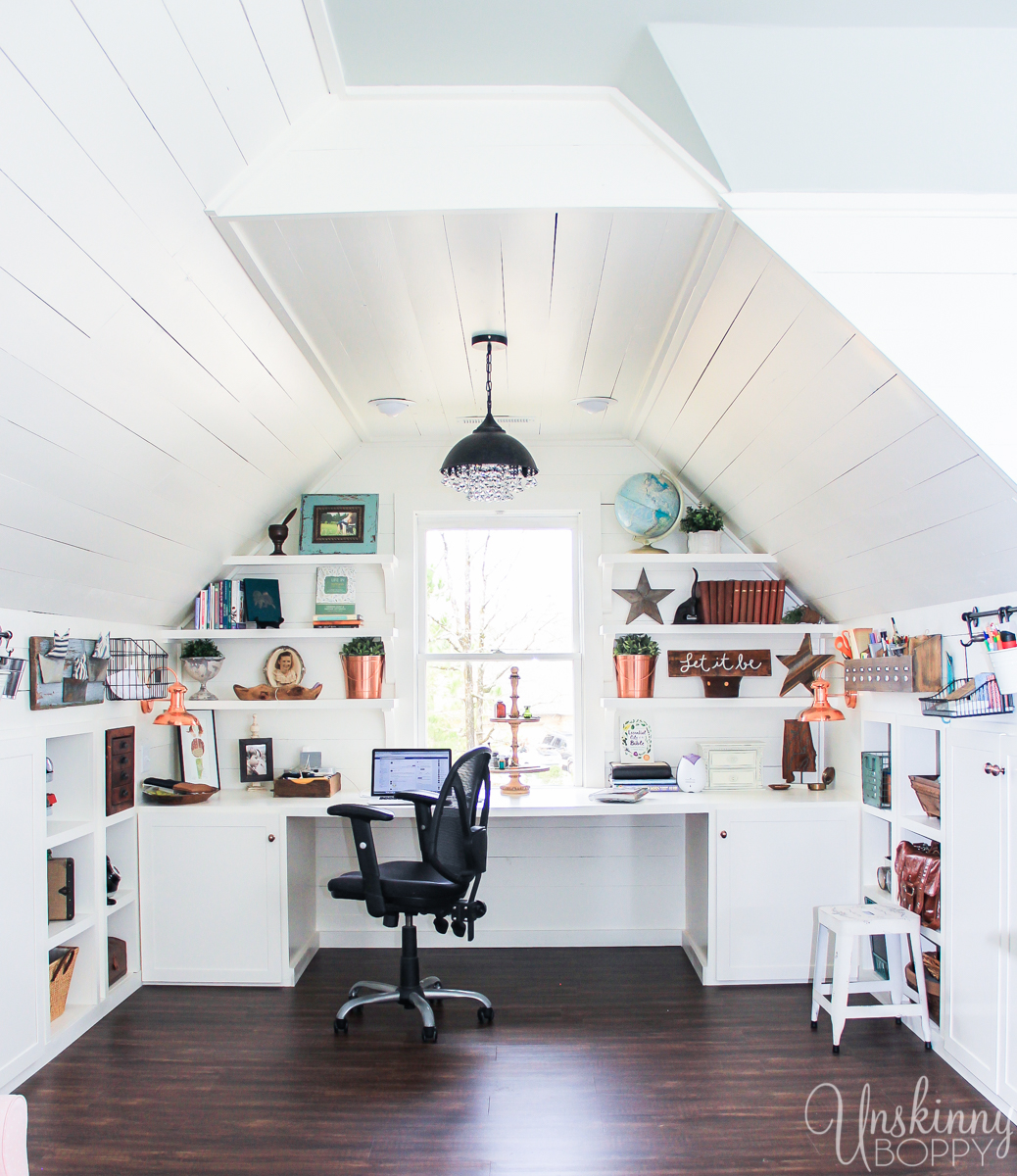 We totally encapsulated the attic room in spray-foam insulation, but the old wooden window above my desk was not top-quality by any means. We debated about upgrading the window with a newer vinyl type, but I decided to roll the dice and take my chances with the existing wooden window for a while.
After a few months of shivering at my desk this past winter and sweating it out in the late spring/early summer, I realized my dice-roll was not such a good plan. Depending on the time of day, the temperature at my desk can go from freezing cold to burning hot because this window faces due west, so the afternoon sun blazes through and warms things up really quickly.
Then, in a stroke of luck, a company called Indow Windows reached out to me and asked me to try out their insulating window inserts. I don't take every product review offer that comes to my inbox, but this one was something I really needed. When I researched Indow, I discovered that This Old House recommends their products for folks who want to keep their original windows in historic home renovations. They also mentioned them in this article for Money Saving Maintenance tips around the house. That was exactly what I needed to hear! Money saving maintenance sounded good to me. I also saw that they had a shade-grade window insert, which is exactly what I needed on my west-facing window.
The first thing Indow did was set me up with an online account where I could enter all of my measurements for the window inserts. Then they mailed me a kit that contained all the measuring tools I would need to get my window inserts on order. There were also samples of all the tubing and acrylic window types so you can see what you're getting.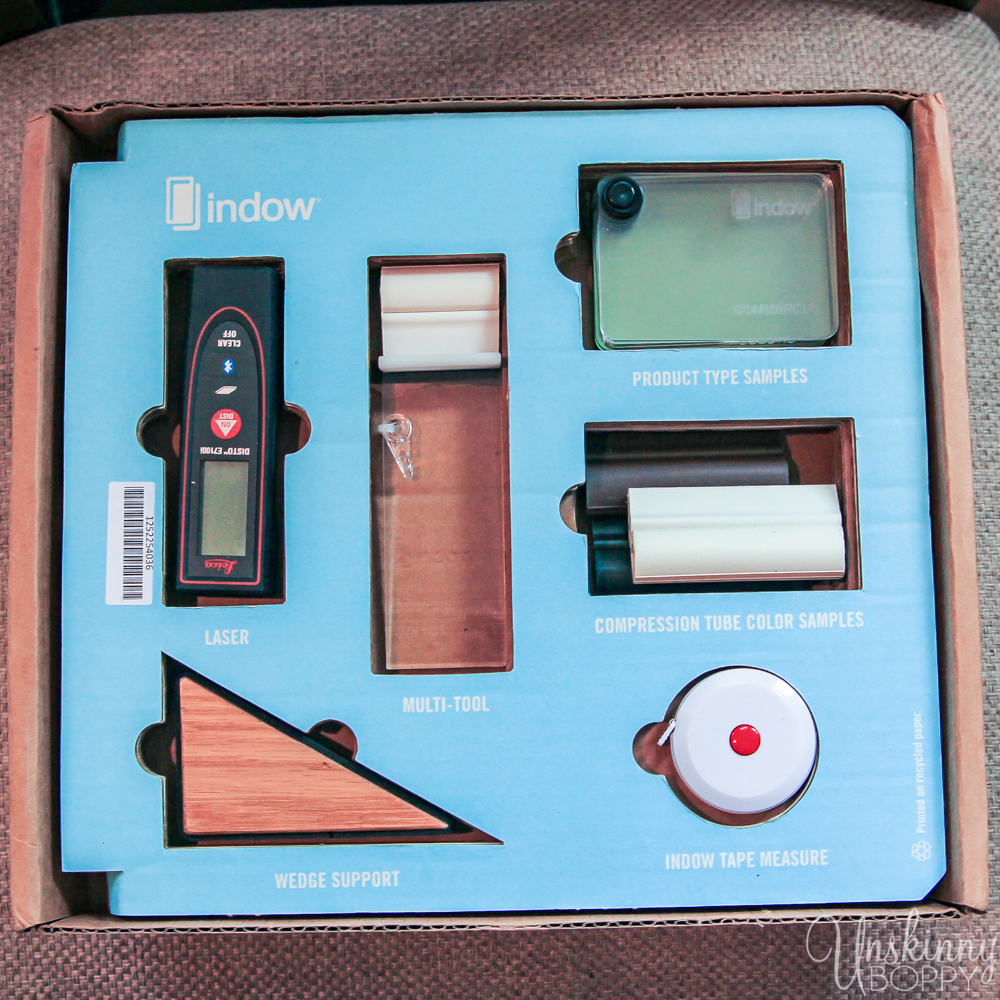 They sent this amazing little tool that measures your windows in fractional increments, so all you have to do is follow the instructions and it does all the measuring for you.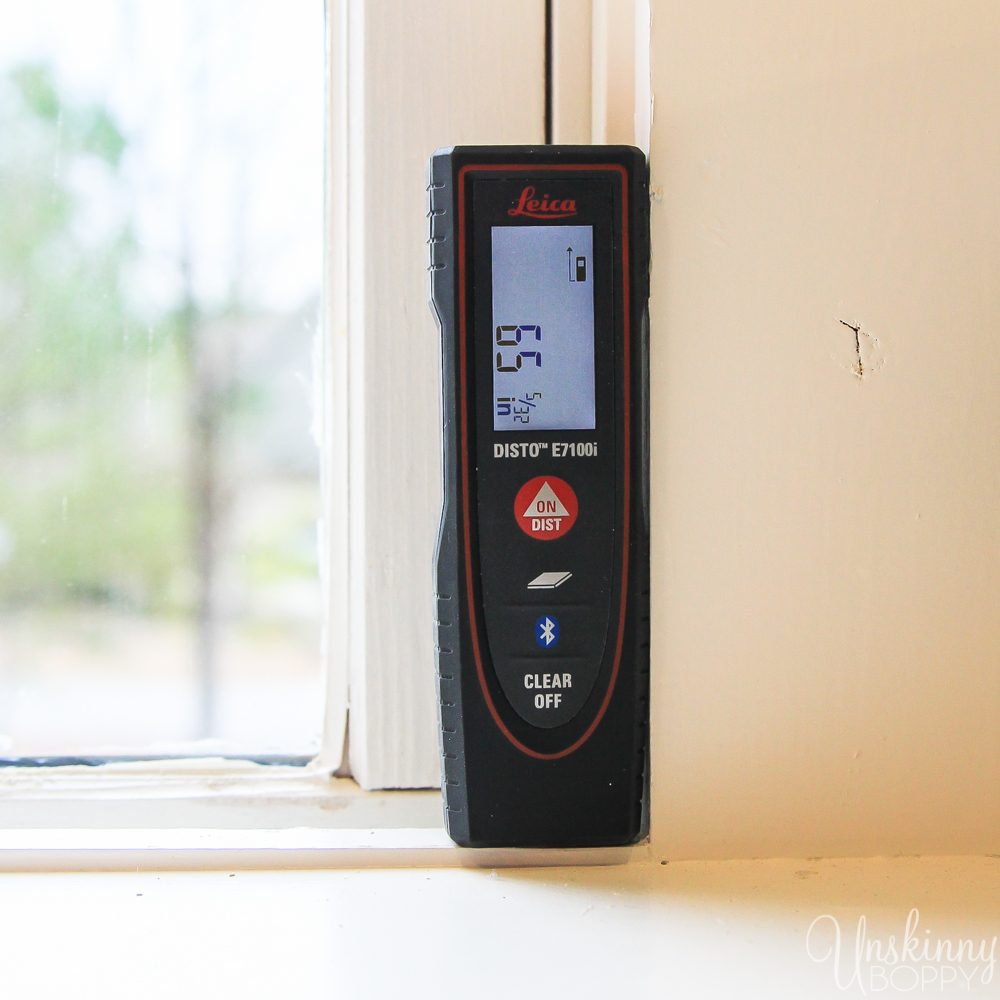 Not gonna lie, though. I made my husband help me do all these measurements because he is way taller than me. I did write down all the numbers and record them on the website to place the order, though.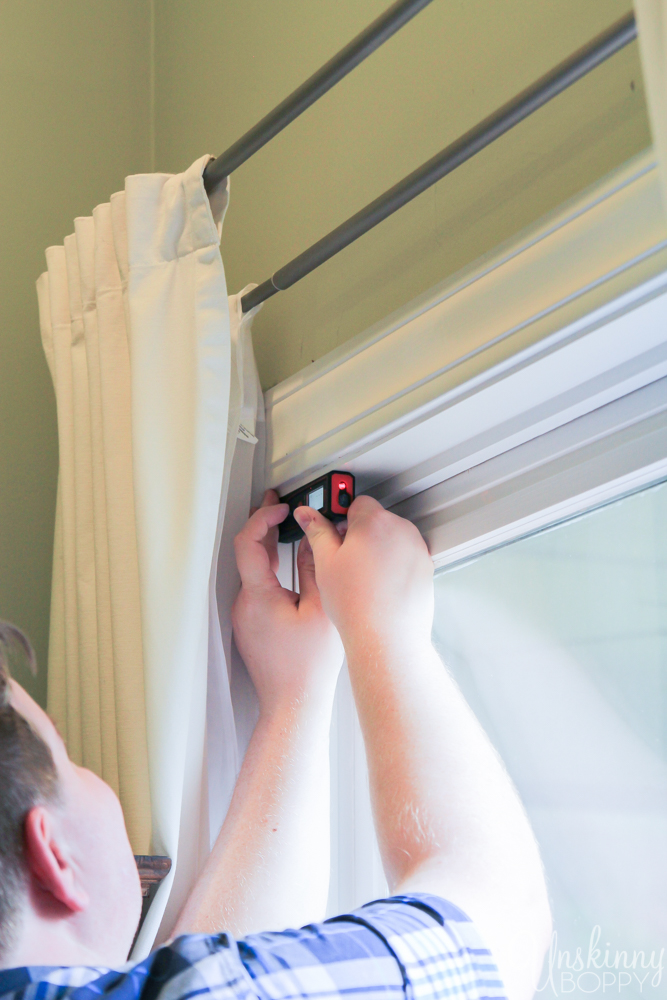 After that, we mailed the box with all the measuring tools back to Indow and sat back and waited for our window insert delivery. They shipped them out really quickly, and they were packaged so well that it took an actual freight truck to deliver them.
Once they arrived, the window inserts were super easy to install because they have a flexible rubber tubing that seals them into the window without any brackets or tools required. All we had to do was press them right into the window sills.
Seriously, so easy.
We got three window inserts total- one for my attic window that was a shade grade to block out drafts, heat and UV light. The other two are standard grade inserts that block cold drafts and hot air in the living room windows.
They are so transparent you cannot even tell they are there if you didn't know any better.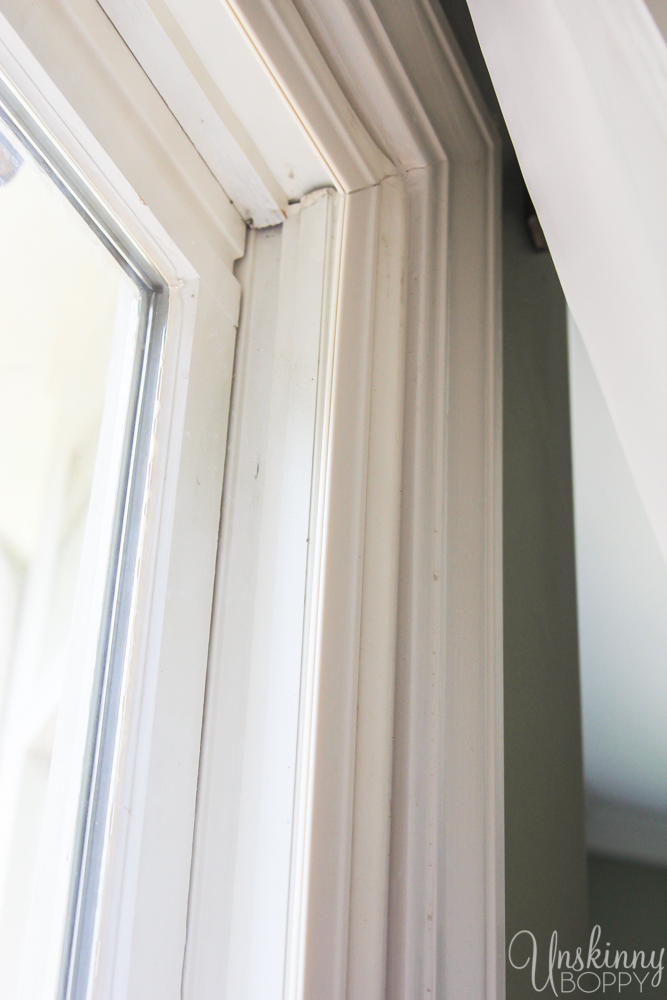 The windows are still bright and sunny, but no more cold or hot air is getting through! These living room windows have been a bit of a pain, so I'm happy to block out as much of the drafts as possible.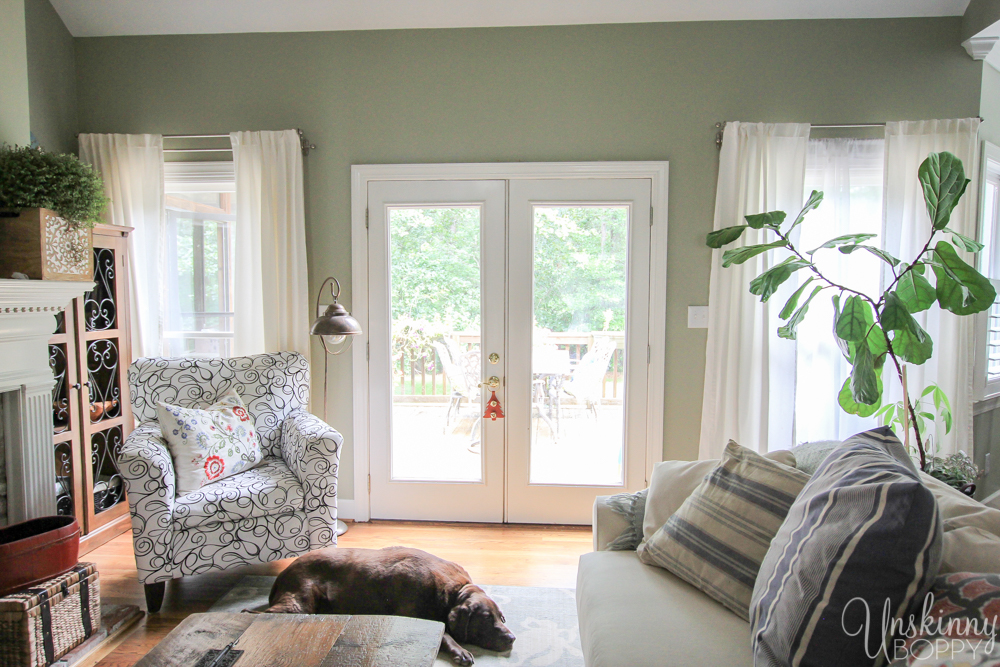 There is a little D-ring that allows you to easily pop the insert out if you want to open the windows for any reason. We don't do that very often here in central Alabama because of the heat, humidity and mosquitos, so this is more of an "in case of emergency" pull tab for us.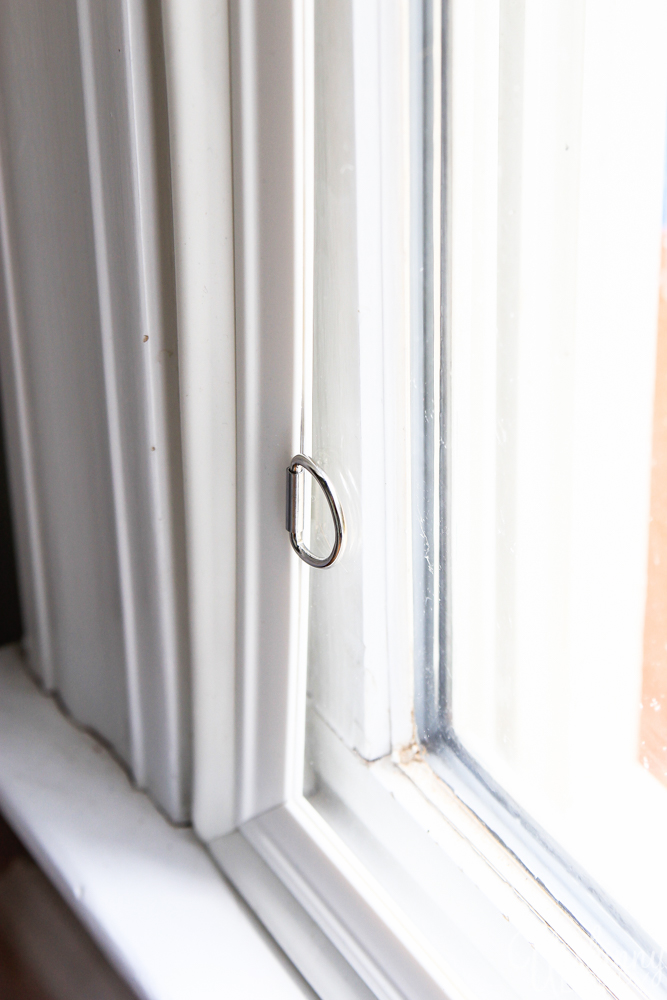 Let's take a look at the temperature difference on my desk before and after we installed the shade grade window insert. The shade grade has a UV filter on it that blocks out 90% of the UV light.
It has a bit of a blue tint to it, but wait until you see the temperature difference…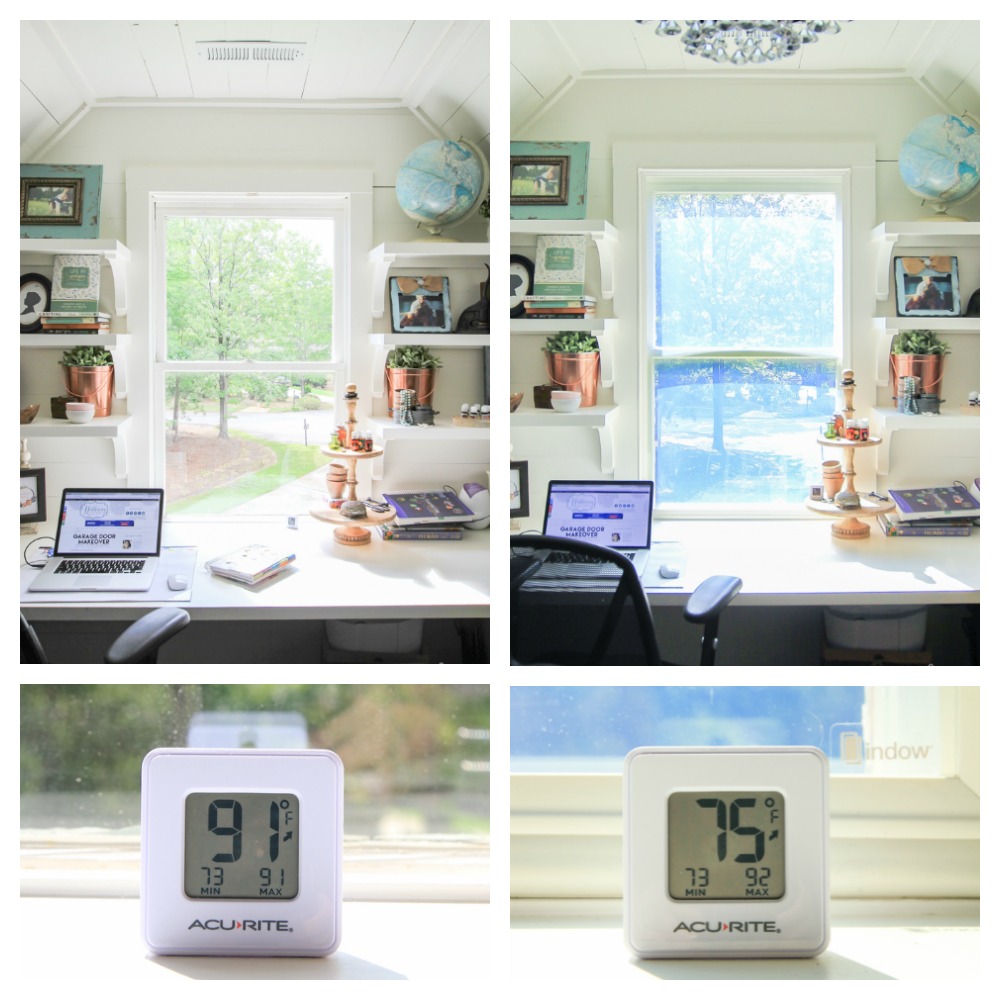 Before – 91 degrees
After – 75 degrees
That's a sixteen degree difference, y'all!
I was shocked by how much heat gain this one window insert saves me in the attic. For the record, it was 83 degrees outside when I took these photos. We just finished out this attic-turned-office in December, so this will be my first full summer working in this space.
It's currently early June in Alabama. Image how hot it will be when it's 103 degrees in mid-August?? I would probably be packing it up and moving back downstairs.
This one window insert is saving me some serious heat-stroke up in here. But it's also saving me money on my electric bills.
How much do they cost?
Indow windows have a price range of $20 to $36 per square foot.
I have a coupon code that is good until September 30th that will give you these discounts:
$200 off $2,000
$100 off $1,000
$50 off $250-$999
Use coupon code: FRIENDS&FAMILY
expires 9/30/17
Click here for a free estimate!
My next plan is to find a pretty curtain to help block the sun even further, but at least I can still have plenty of natural light with this thermal window insulator. The guys at Indow told me to make sure I get a curtain rod that allows air to circulate around the insert, so that was good info to know.
If you're in the market for some kind of window insulation to help with drafts and energy efficiency, these Indow Windows are the way to go. I'm loving mine!
This option is WAY better than a 4-H project and a staple gun. And if you're ready to remove them, you never have to worry about removing a million staples from your window trim.
Your classy, staple-free thumbs will thank you for this purchase.
(affiliate links ahead…)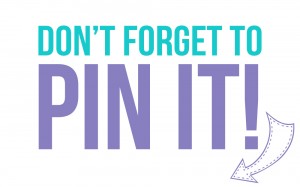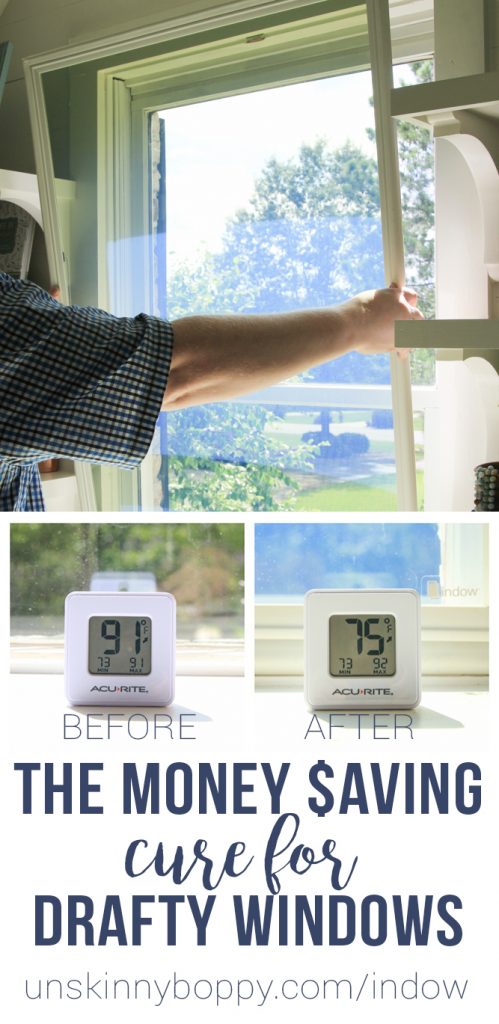 ---
Disclaimer: I was provided free Indow window inserts in exchange for my honest product review. All opinions about staple guns and 4-H projects are my own. This post may contain affiliate links that help me pay the bills. Thanks for supporting my blog!