The older I get, the more of a history geek I become.
I was always kind of a history lover, but not to the extent that I am now. Give me a re-enactment of a historical village any day over a modern day city. My love of Outlander might have something to do with it, but mainly it's just in my blood. Historical places fascinate me, especially anything to do with the 18th and 19th century.
For this reason, Colonial Williamsburg has been on my bucket list to visit for many years, and FINALLY we made it happen last year!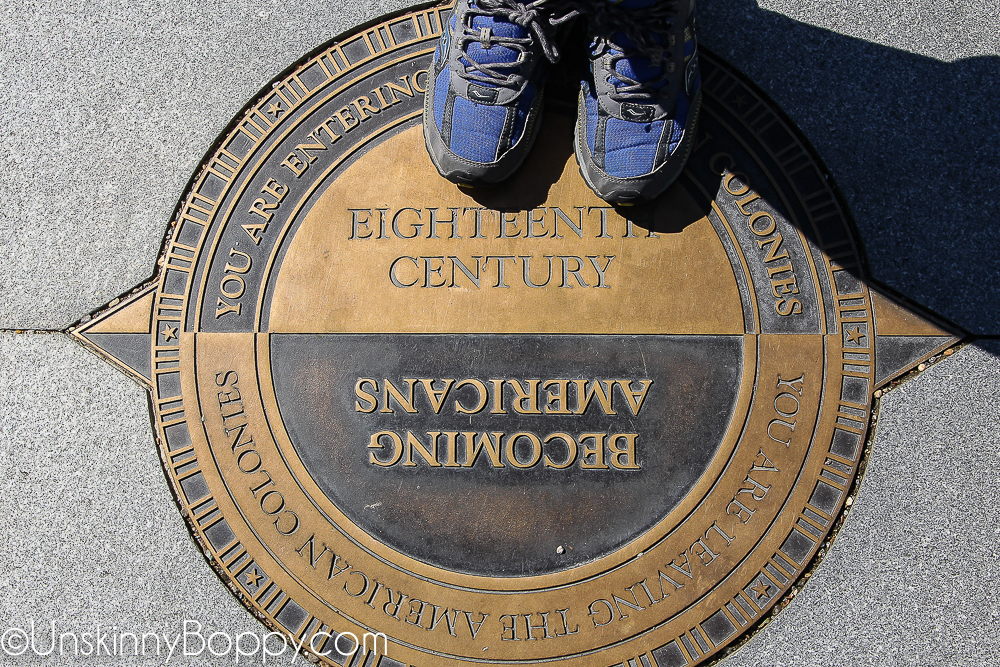 Birmingham to Baltimore is a direct flight on Southwest, so we chose to go that route since we had free miles. The bad news is that it's like a 3.5 hour drive from BWI to Williamsburg and the route takes you through the heart of Washington DC. So, we chose to arrive later in the evening and drive at night in the hopes that Caroline would sleep (she did) and we would avoid traffic (we did).
We stayed in a SUPER COOL hotel called Marriott Manor at Ford's Colony. If I didn't know any better, I would swear I was pulling up to a historic college campus. It was BEAUTIFUL. This was just one half of the hotel- it was a campus spread out around a country club's golf course.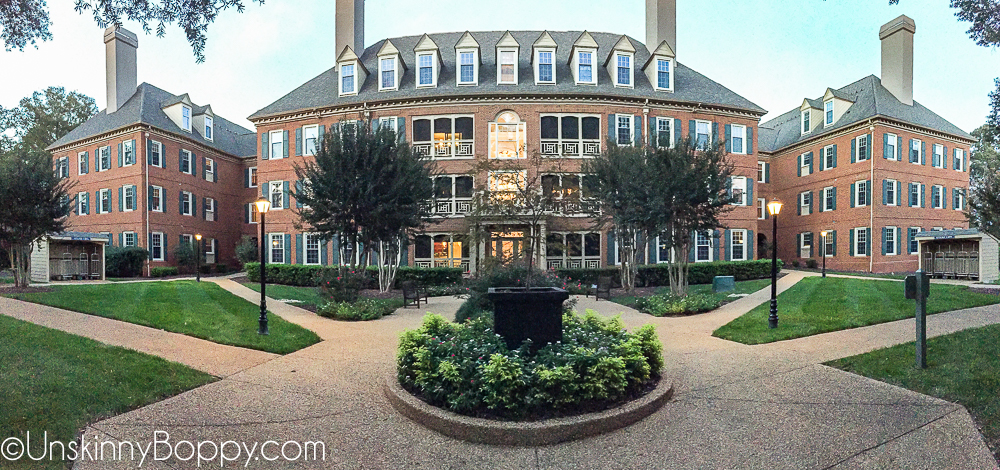 I was really blown away by how spacious our room was- it was like a legit condo with a full size kitchen, living, dining and two bedrooms/ baths. This kitchen is nicer than my own at home. I was so happy to find this spot for us to relax for a few days.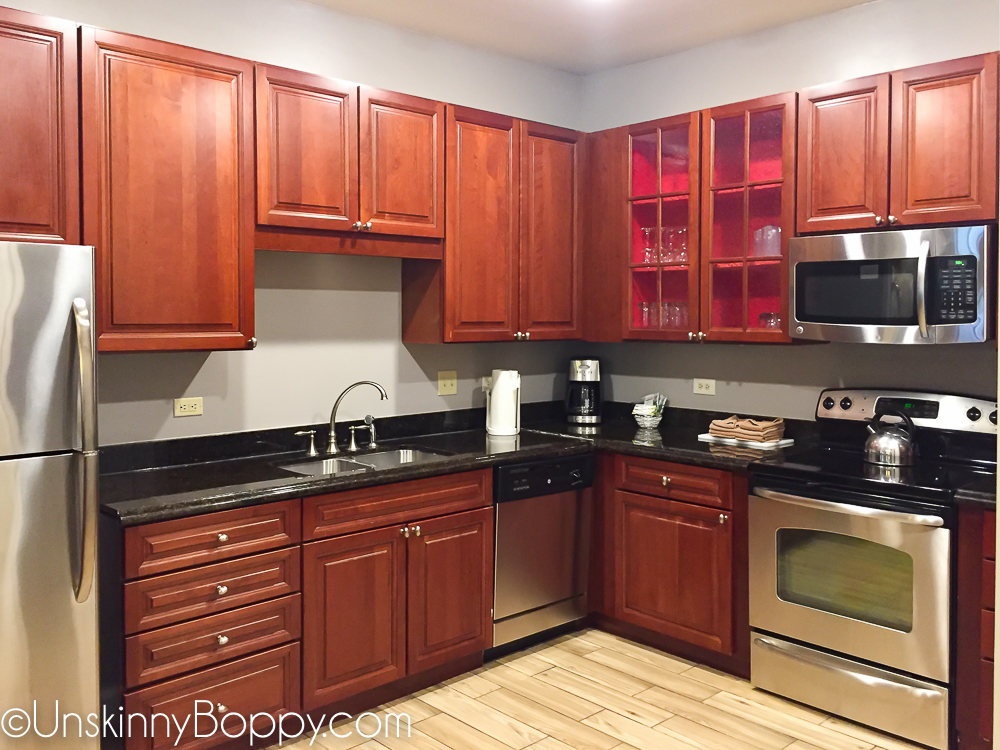 We even had a screened in porch!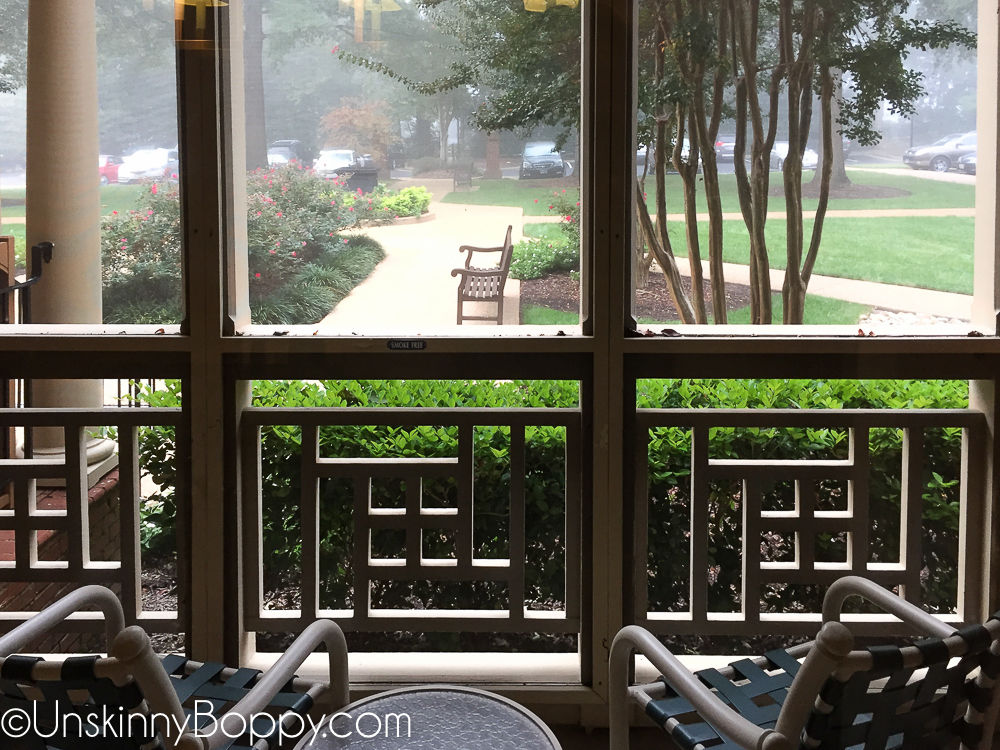 There was a big game room and a movie theater room and at night they had s'mores by a camp fire.  It was the perfect spot for kids!  We all had fun playing in the game room.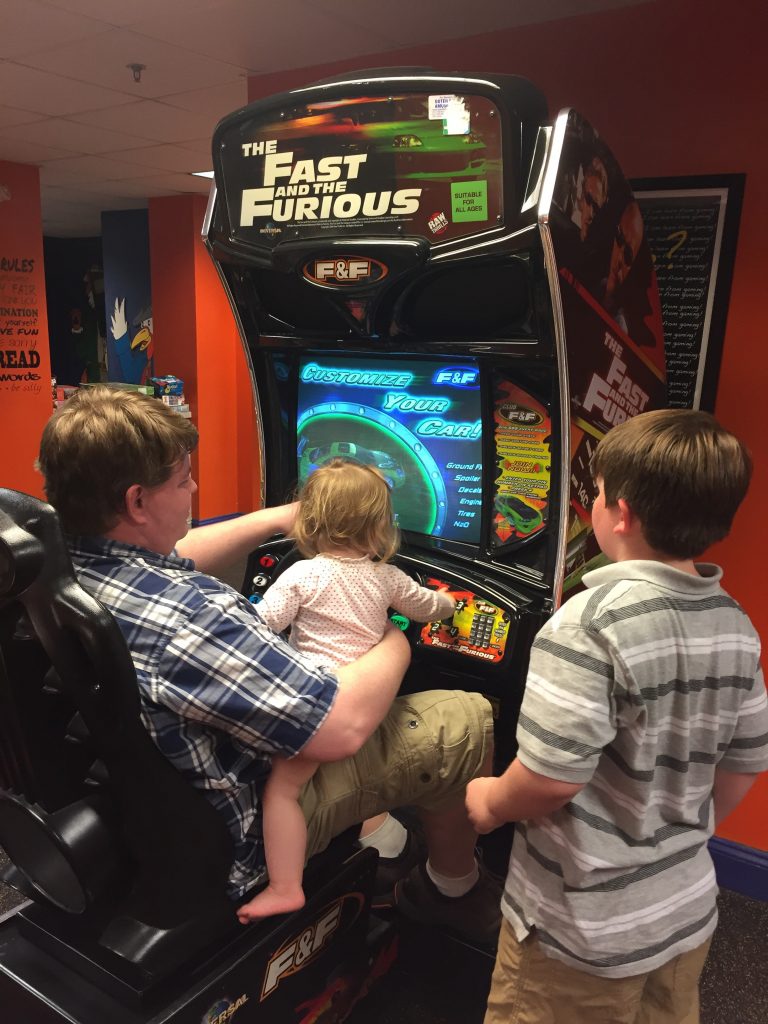 On the first full day, we drove to Colonial Williamsburg and scoped out the surroundings. It is an actual town that covers 300 acres, and is the equivalent of about 4 blocks long and maybe 8 block wide. Here is a map on their website and one I found on Google: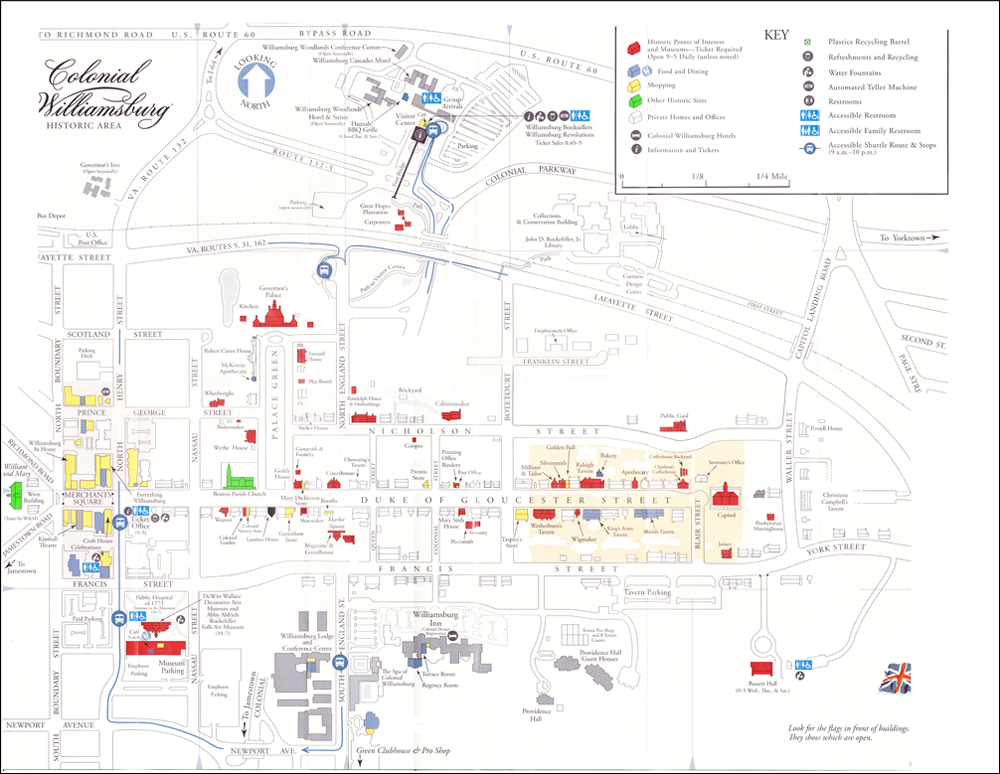 What I didn't realize before we arrived was that you can visit the town without purchasing a ticket, but you won't be able to go inside any of the specialty events, shops, or watch any of the demonstrations without a pass.  We purchased two day passes at the Visitor's Center and decided to walk the trail that leads from the Visitor's Center to the heart of town instead of taking the bus.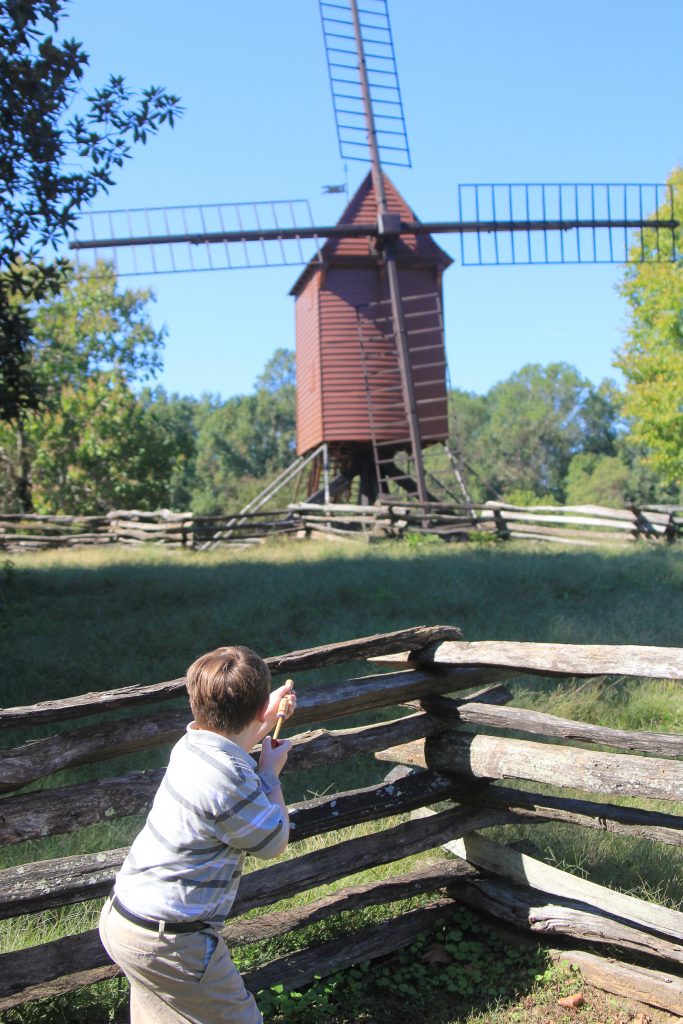 This was a nice, leisurely stroll without any steep hills to climb, but it was quite a little walk if you're not used to walking that far.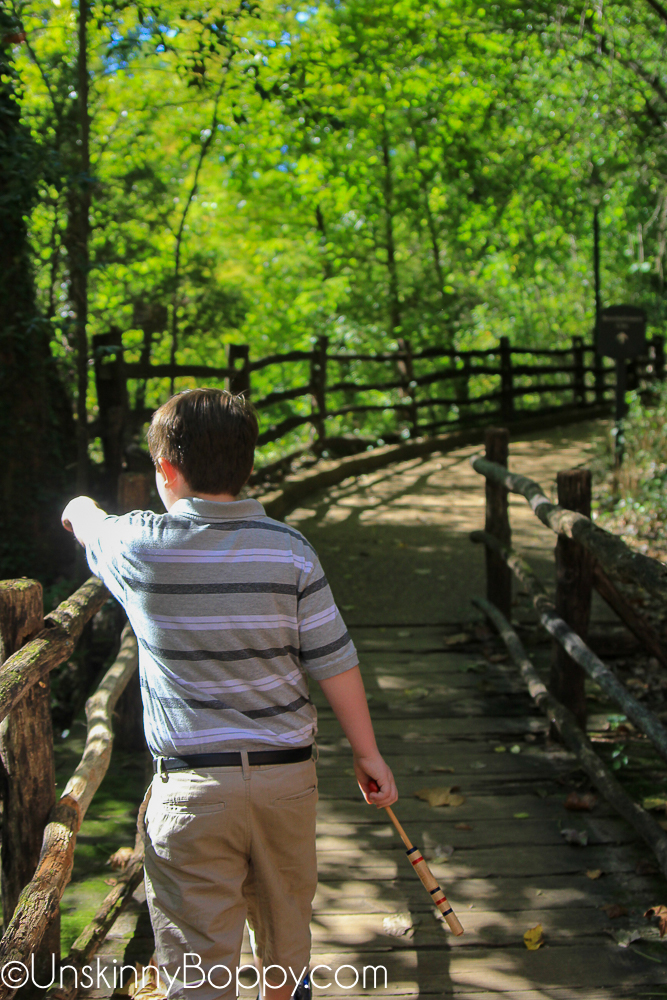 The scenery along the way was beautiful, so it was worth it, IMO.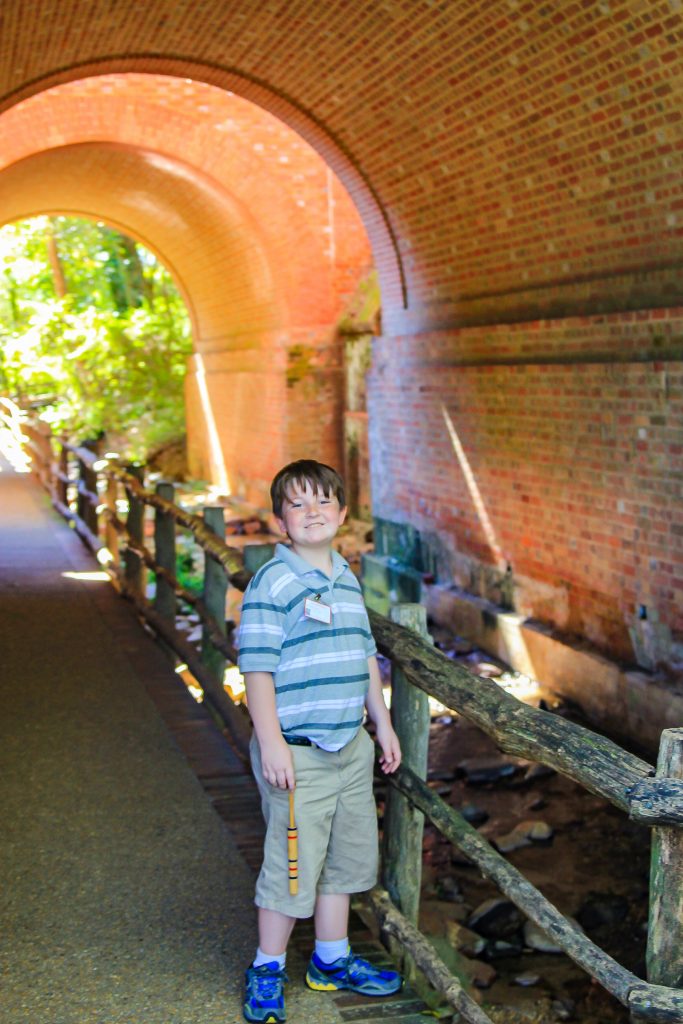 Along the way we got to take a tour of an 18th century working farm.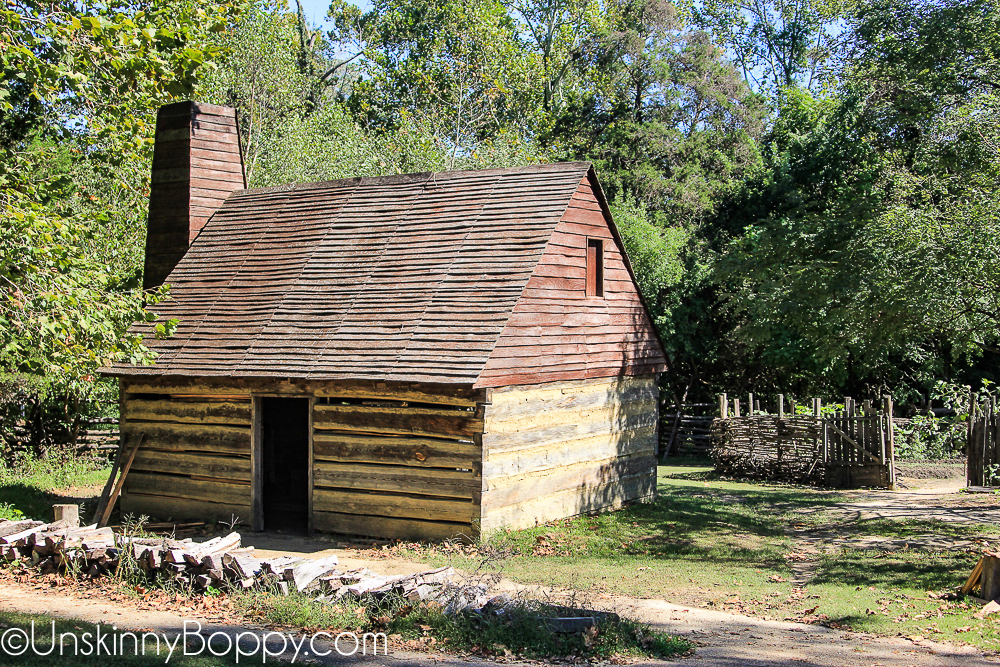 There was a kitchen house, the main house, a barn and what would have been the slave quarters as well as a huge garden.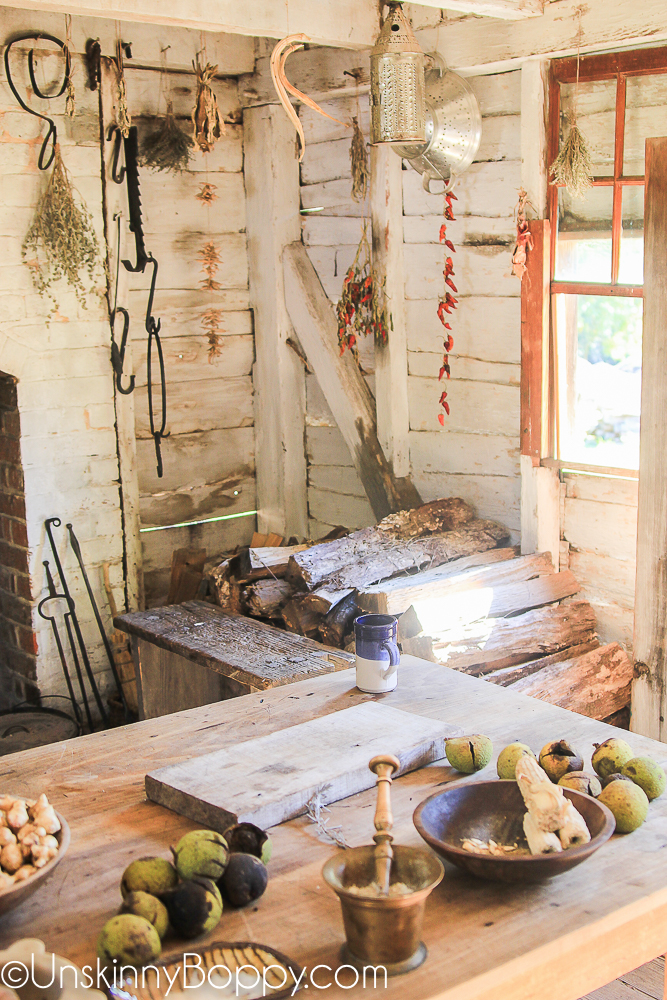 Most every building had character actors in costume who would give you the history of what they were working on and what you were seeing.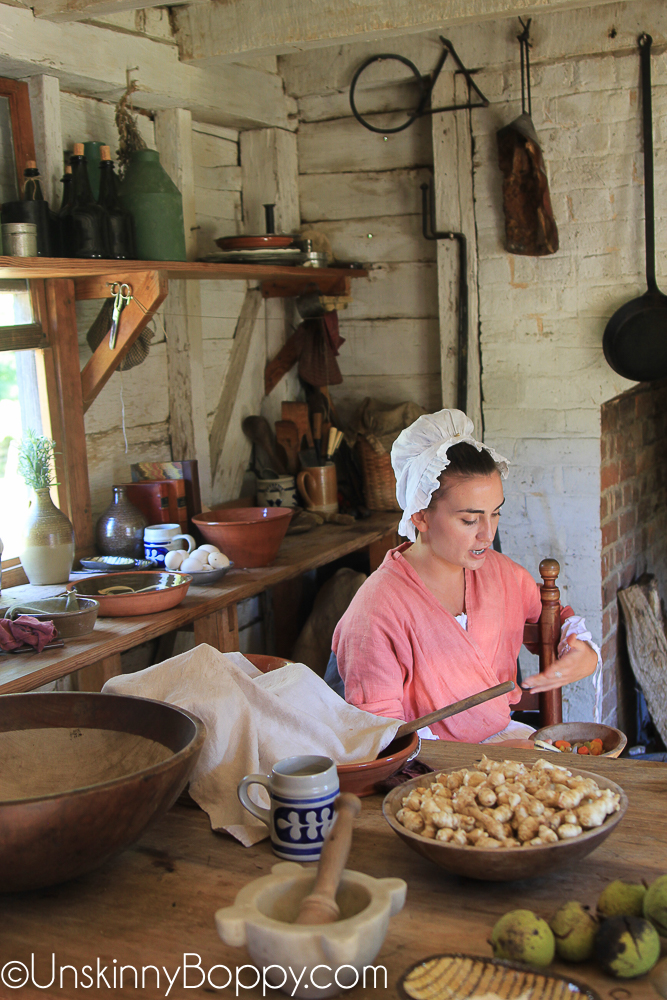 I could not get enough of this kitchen, y'all. My husband thought I was nuts but I LOVED it.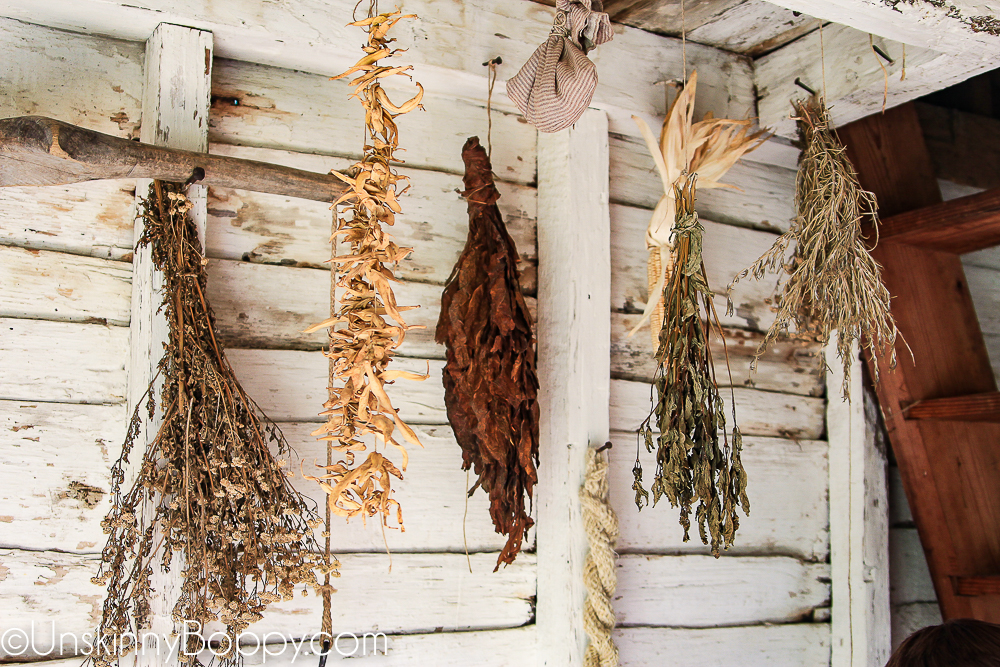 My inner Laura Ingalls/ Claire Fraser was jumping for joy at this place.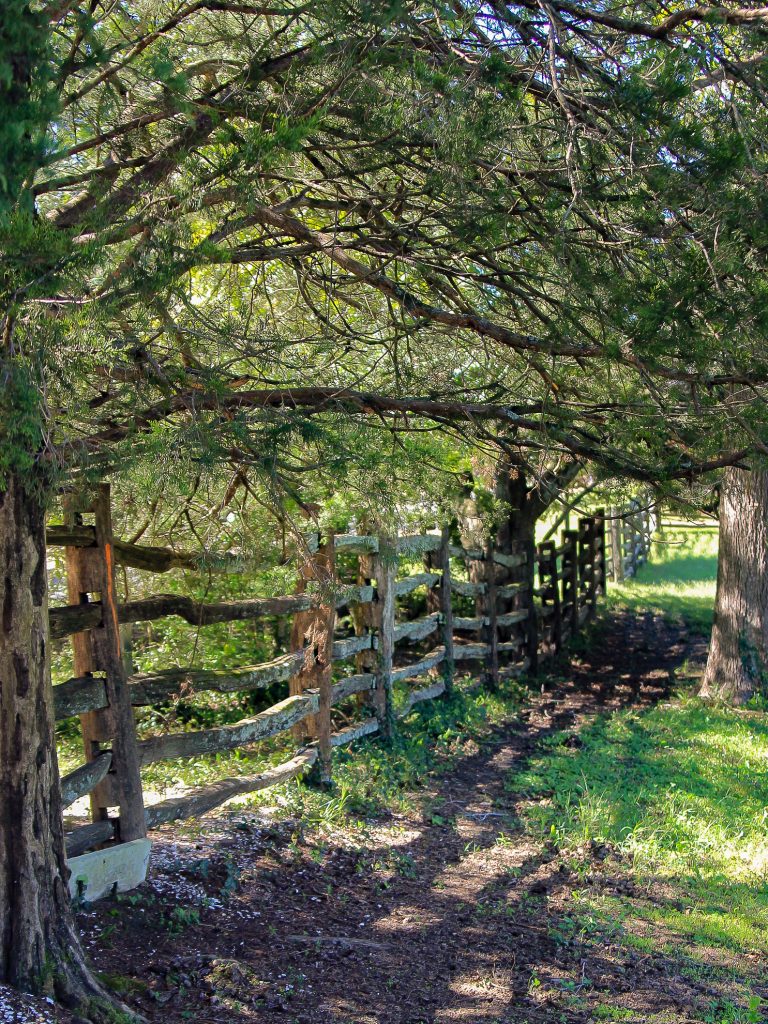 The path lead us further toward the heart of town where we finally arrived right at the Governor's Palace.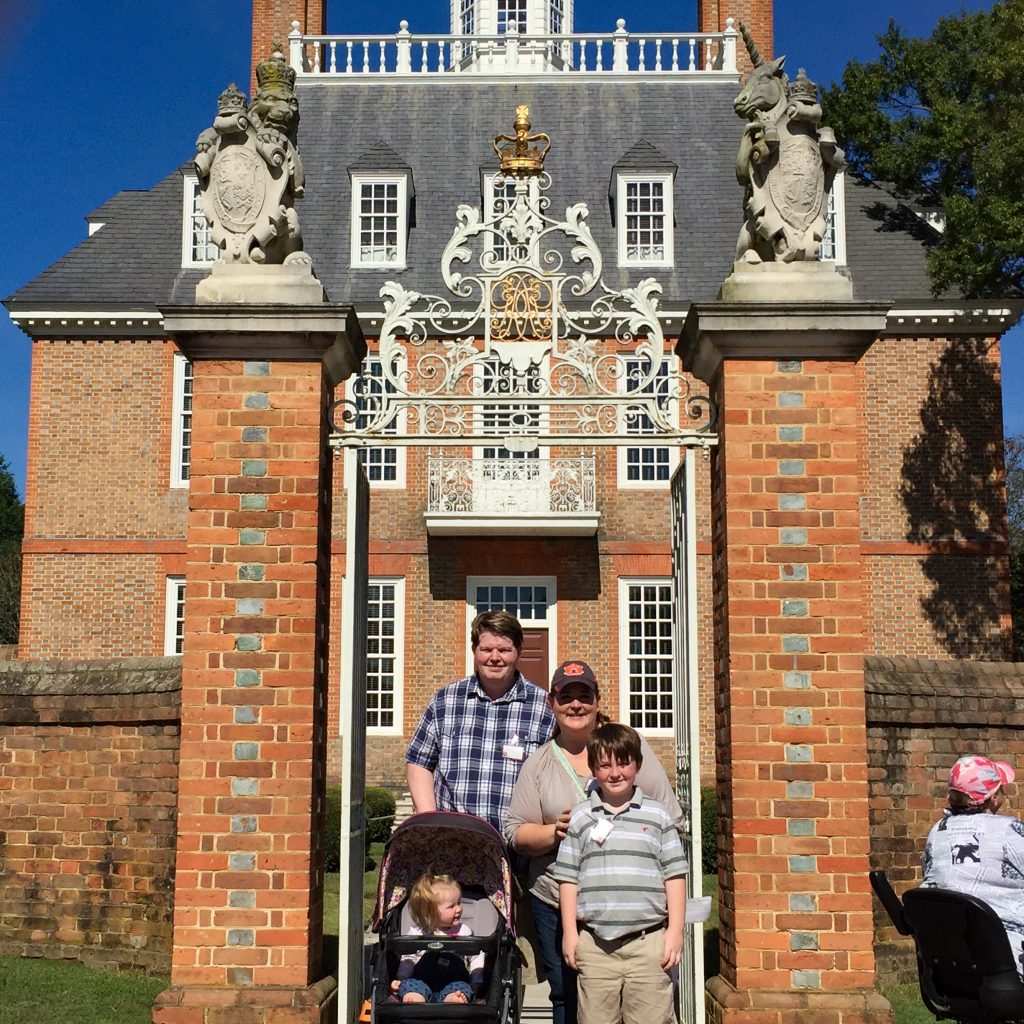 Garrett and I took the tour while J stayed outside in the courtyard with Caroline. She was way more interested in these rocks than and old rich person's house. At 18 months old, who could blame her?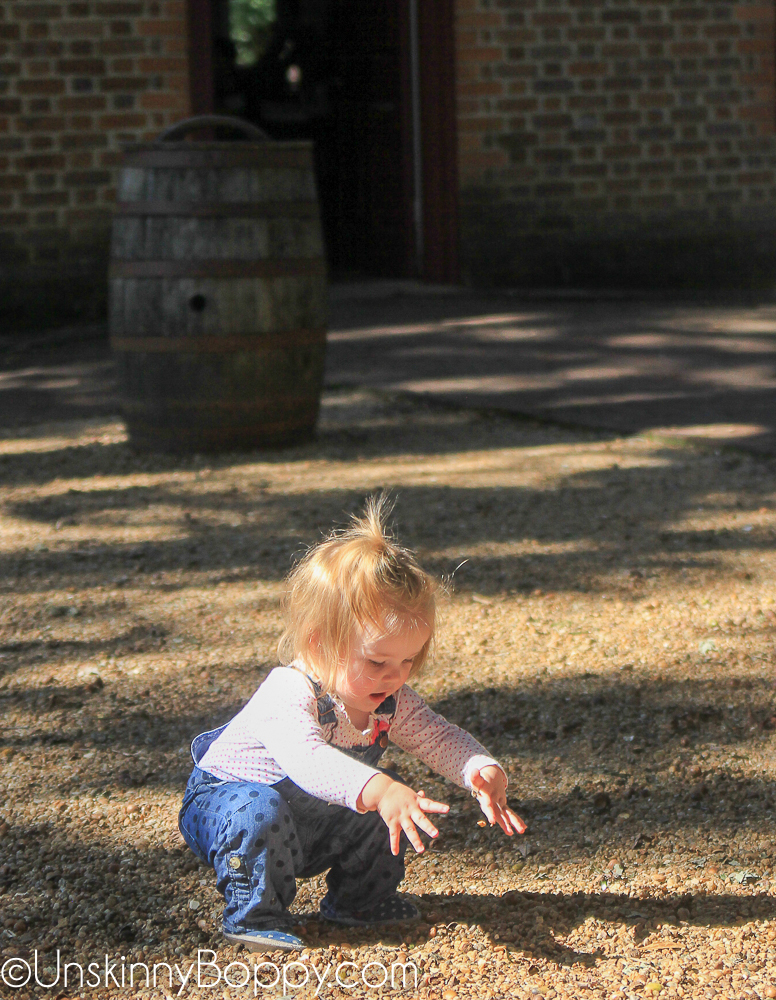 The Governor's Palace was incredible inside. Carved mahogany panels and tons of swords….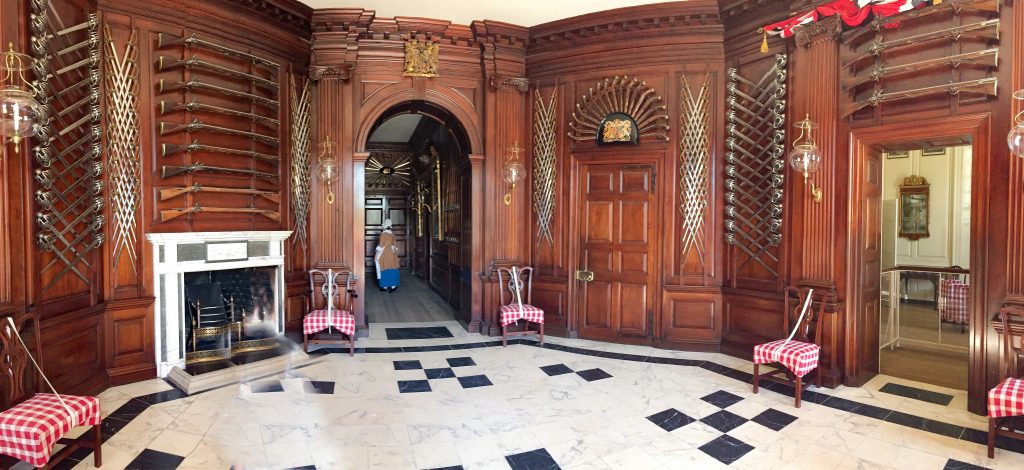 Garrett thought the swords were super cool.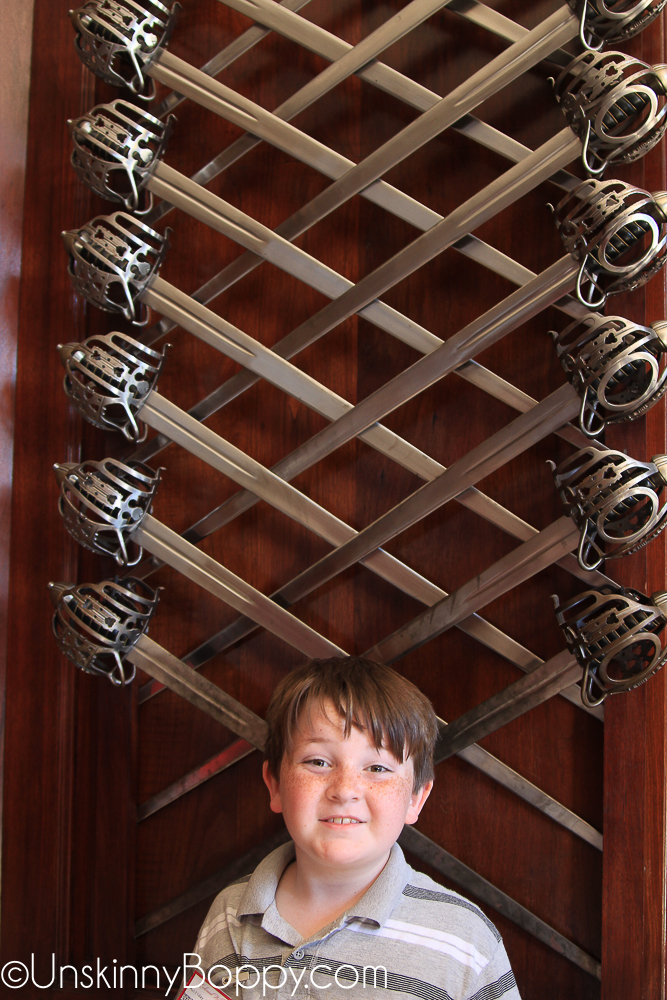 The tour took us through the entire mansion with lots of beautiful period pieces to see along the way.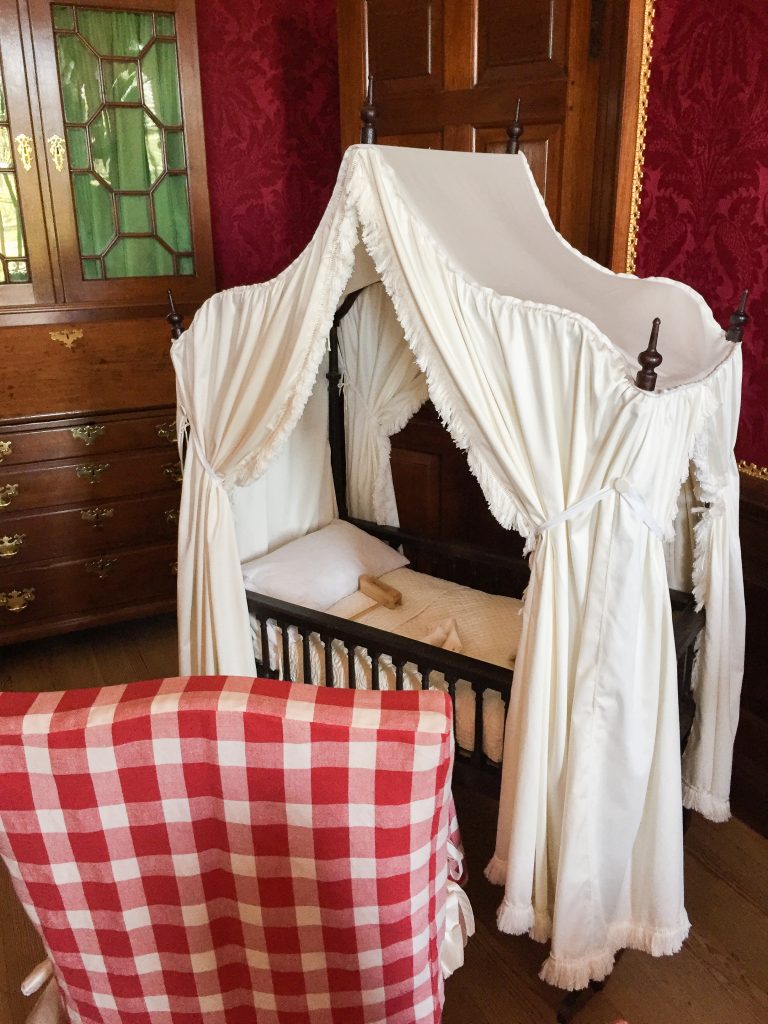 The rooms were massive, so I had to use my iPhone panorama to capture most of them.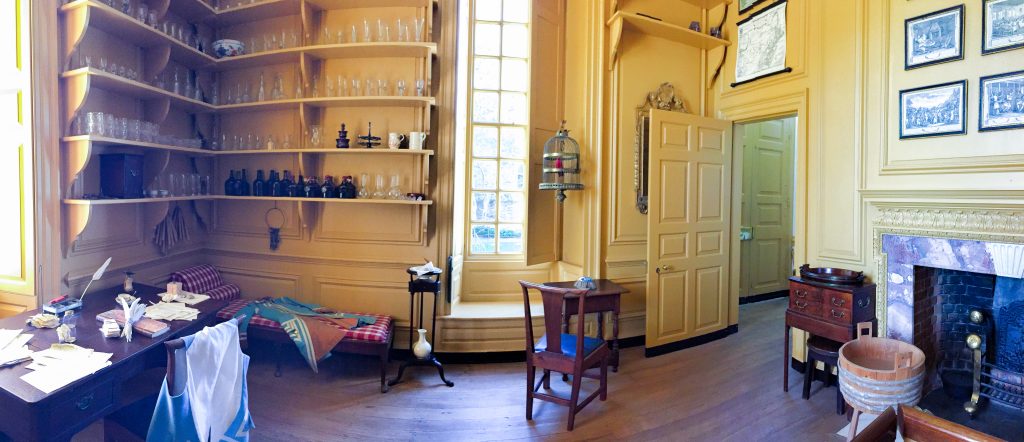 Once we made it through the big house we headed back to the side courtyard to find J and Caroline and took a tour of the kitchen.  Back in the olden days the kitchens were in a whole separate building away from the big house to keep out the heat and try to limit the fires, I guess.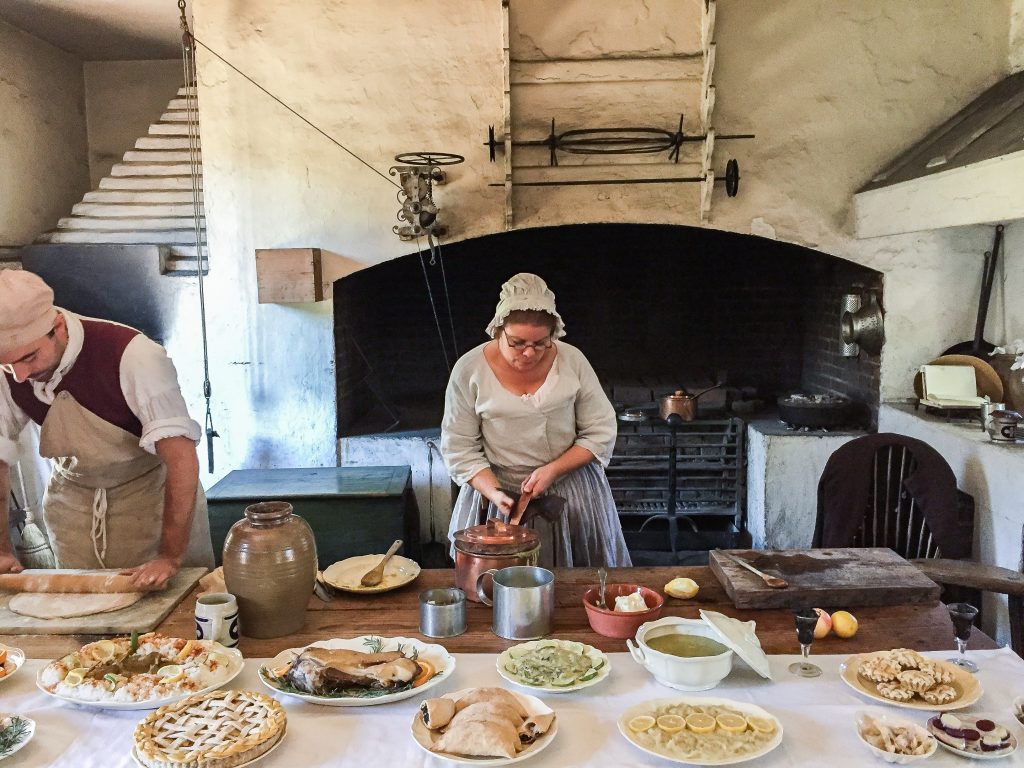 I could have taken this entire shelf home with me and put it in my kitchen.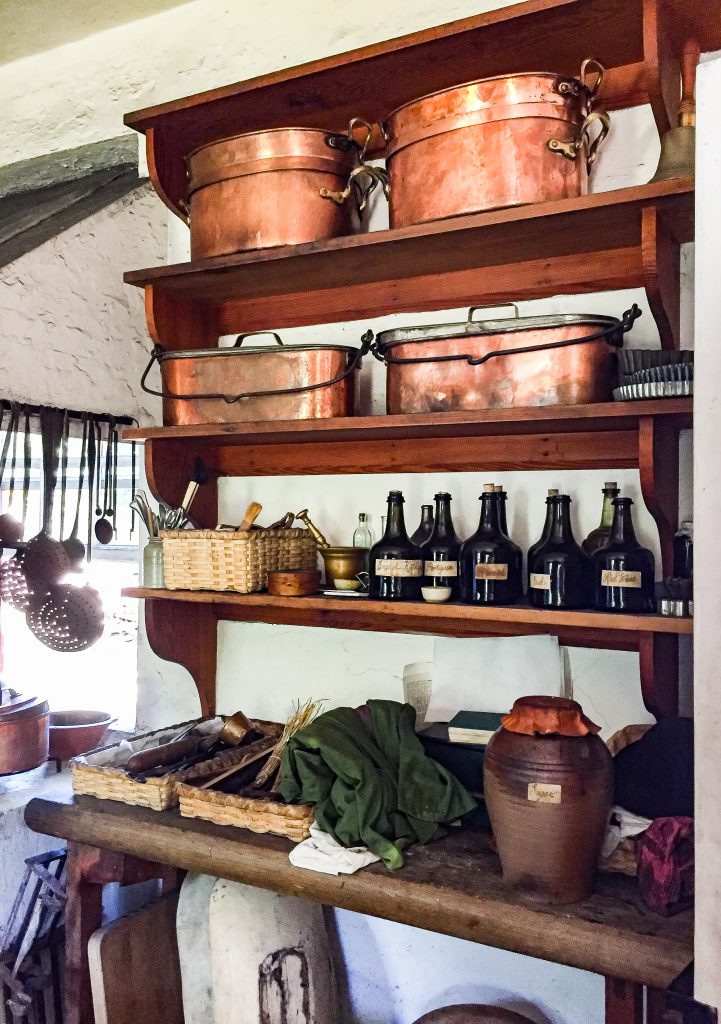 From here we headed out the door to the Palace Green toward the center of town.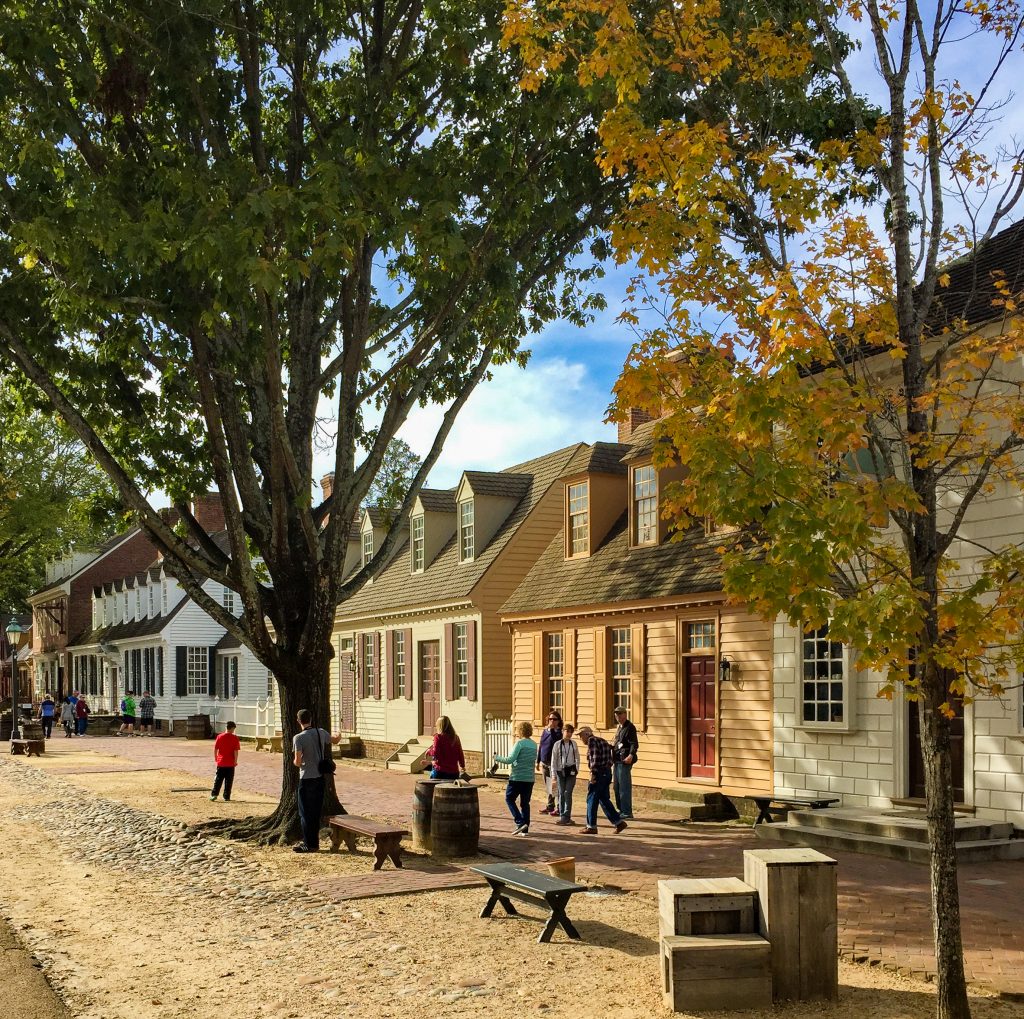 Even though it was mid-October when we visited, the leaves had barely begun to change. I was hoping for lots more fall color, but we didn't get lucky in that department.
It was still a gorgeous time of year to visit. The weather was perfection and we easily walked all over town with C in her stroller.
It was also great when she wanted to get out and run around because there were no cars allowed on the streets.  Only carriages and buggies. Just look out for all those steaming piles of horse poop!  Otherwise, it was the perfect spot to let a toddler run free without too much fear.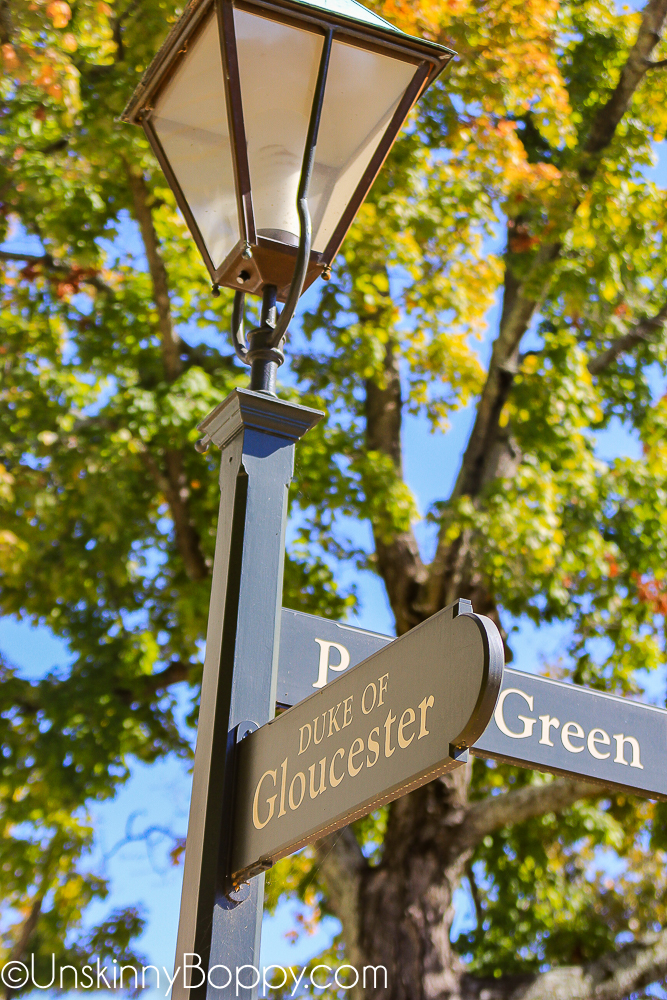 One of our favorite spots in the whole town was not very stroller friendly, though. It was the Print Shop and Book Bindery that was down a flight of steps behind one of the buildings on main street. There was a shady stream back there, too.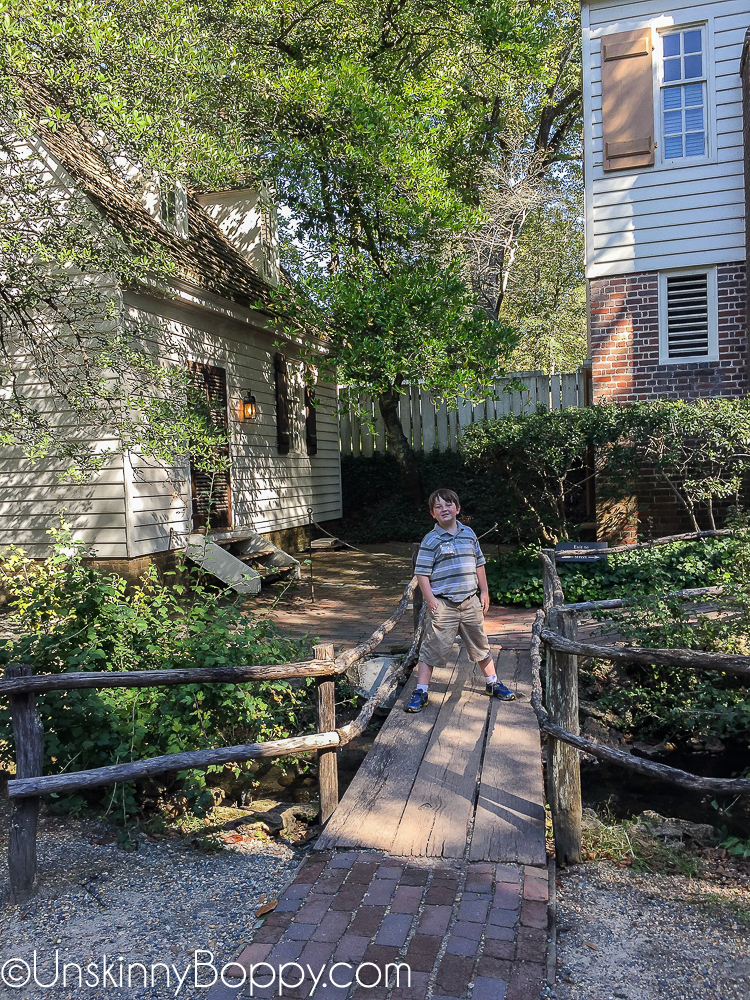 We got to see how books were bound together back in the day and some examples of the older books that were printed then. Interesting stuff!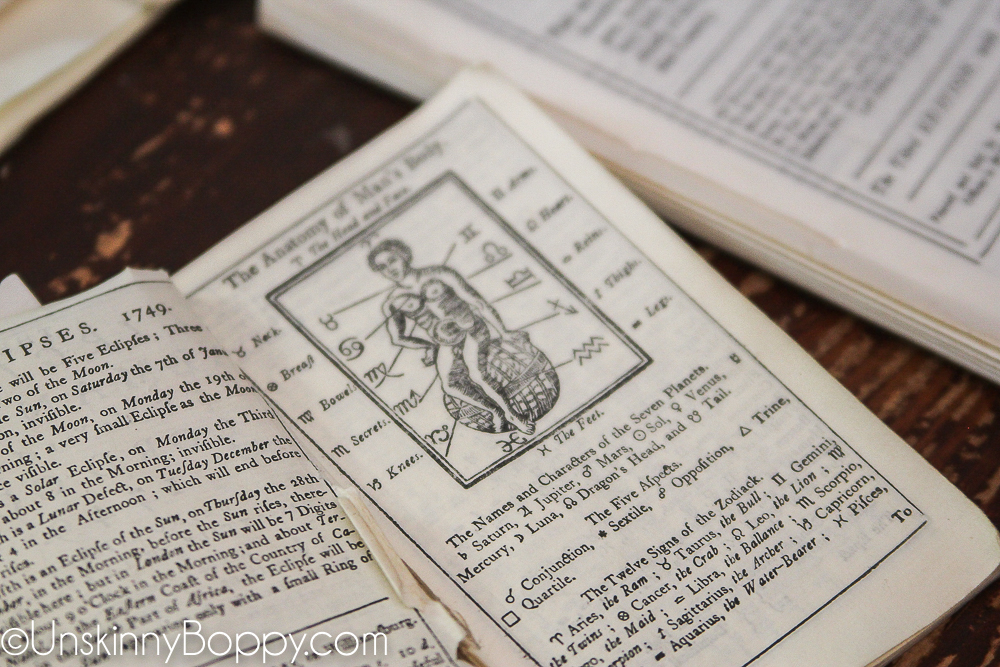 Across the way was the print stop. Be still my Jamie Fraser loving heart…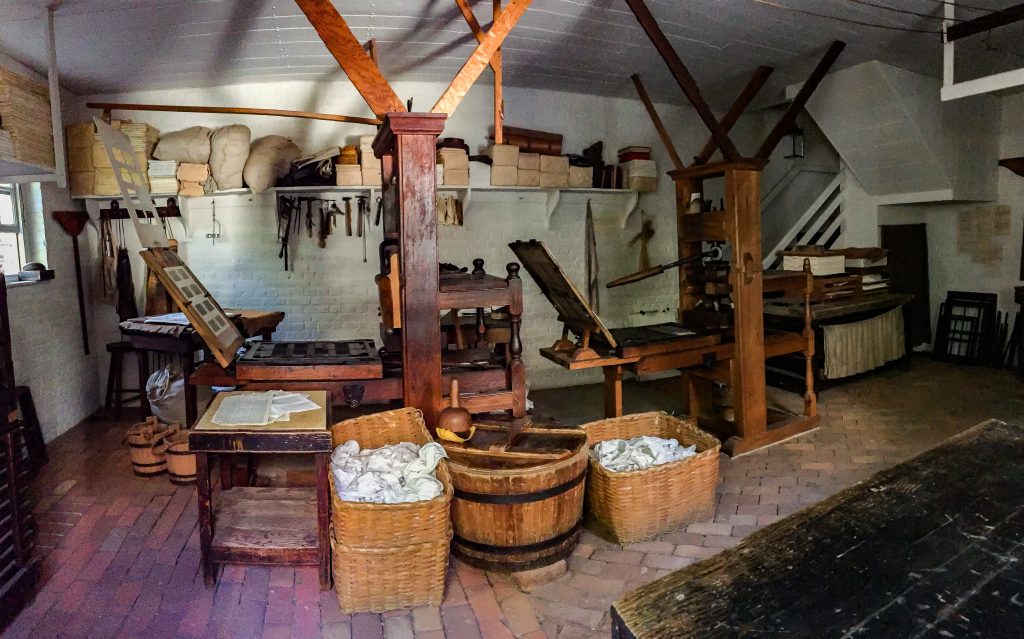 This was not A. Malcolm's place, unfortunately.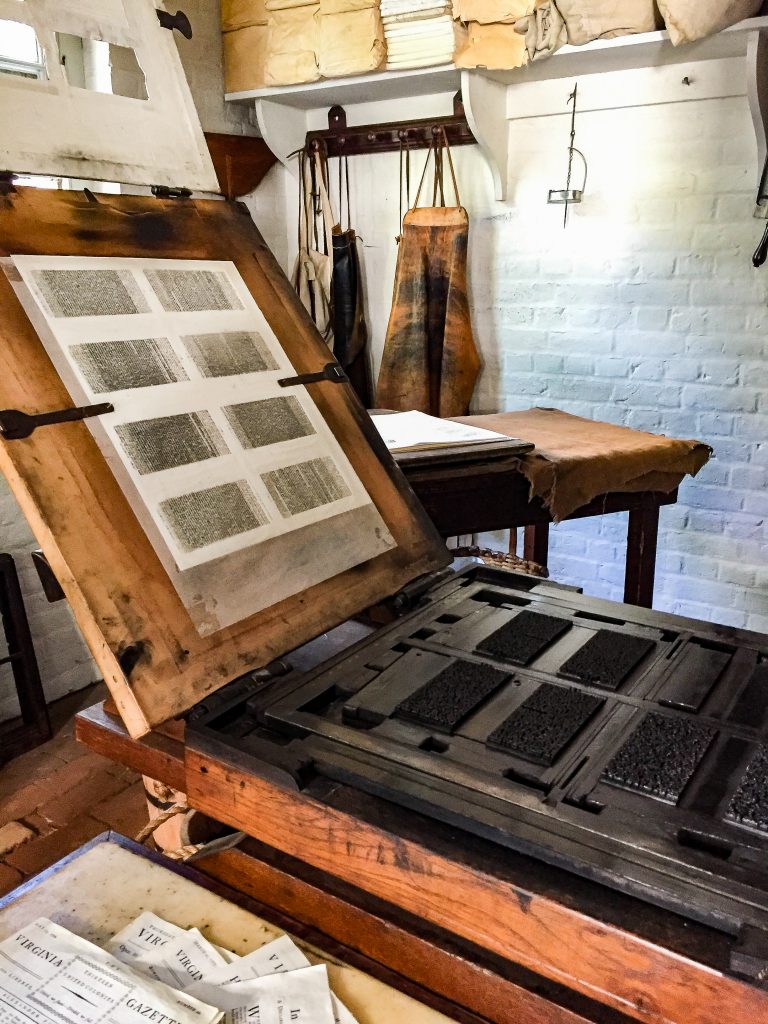 Instead Garrett got a lesson on how to fold paper into a boat and also got some pieces of wool to card.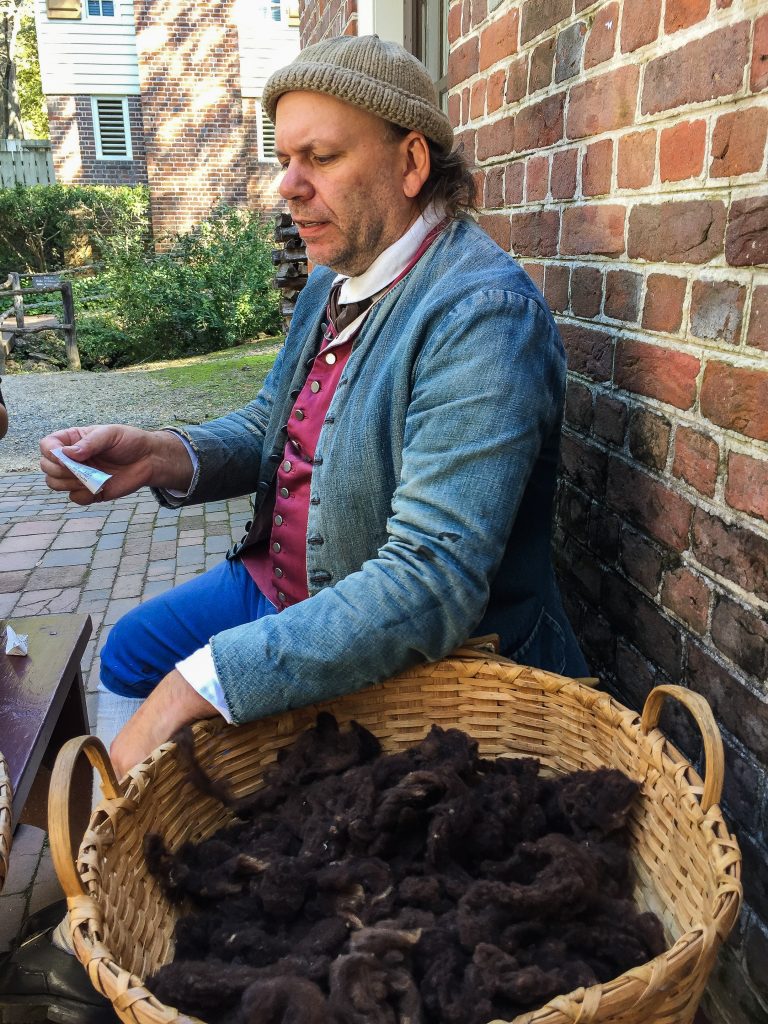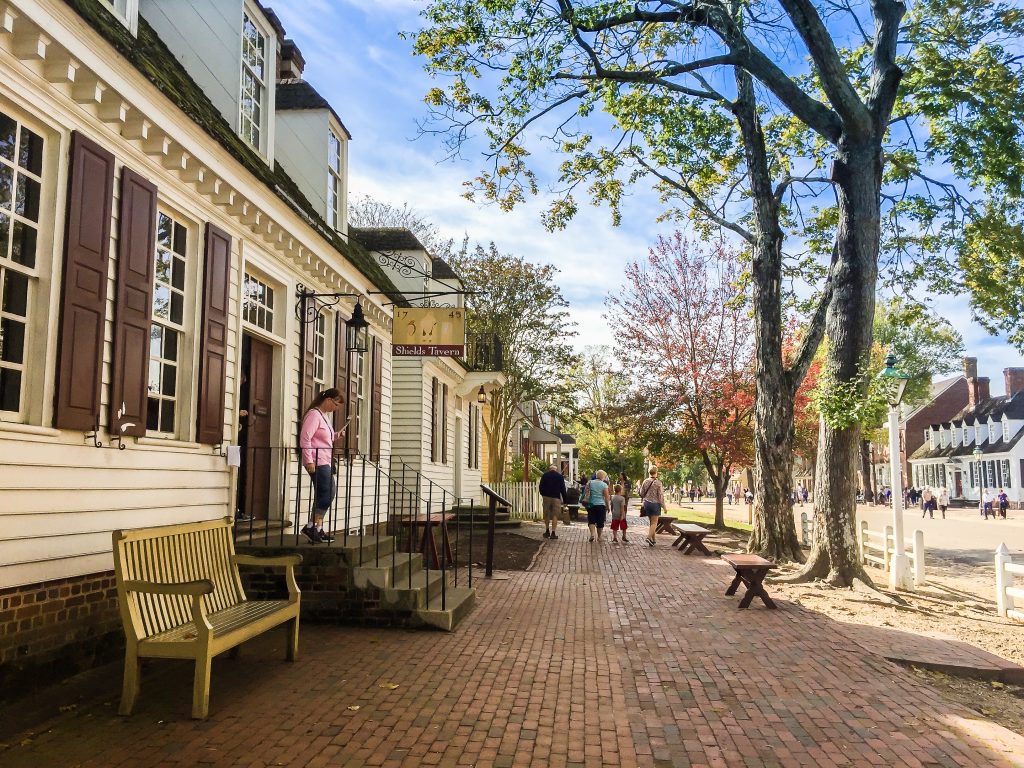 Back up on the street we made reservations for lunch at Chownings Tavern.  We got to eat old-fashioned meat pasties and enjoy a break from walking. They even had a kids menu and crayons, so that was great.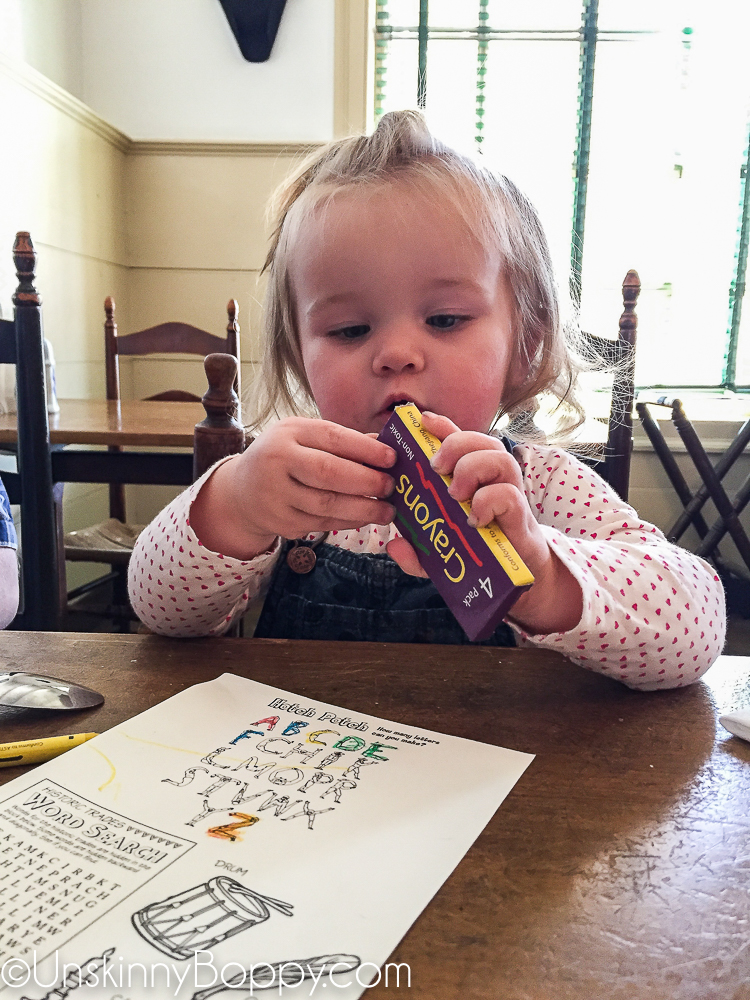 After lunch we kept going, wandering in and out of shops, stores, makers and bakers, exploring all we could see of this colonial village.
The blacksmith shop was hot and dark but fun to watch.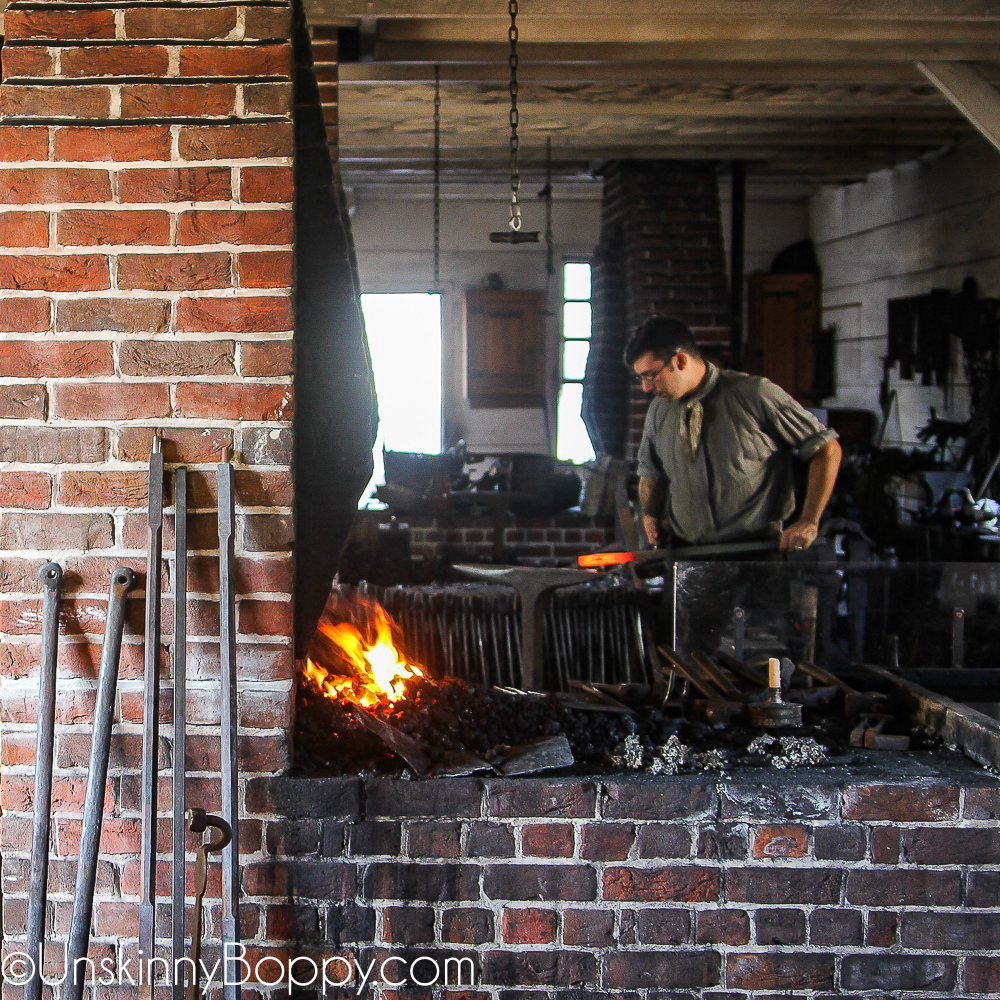 I was expecting more of an old-fashioned feel from the candy shop, and was kind of disappointed to see regular modern-day candies that you can get at your local gas station.
The shoe-maker was busy cutting leather and pounding out soles.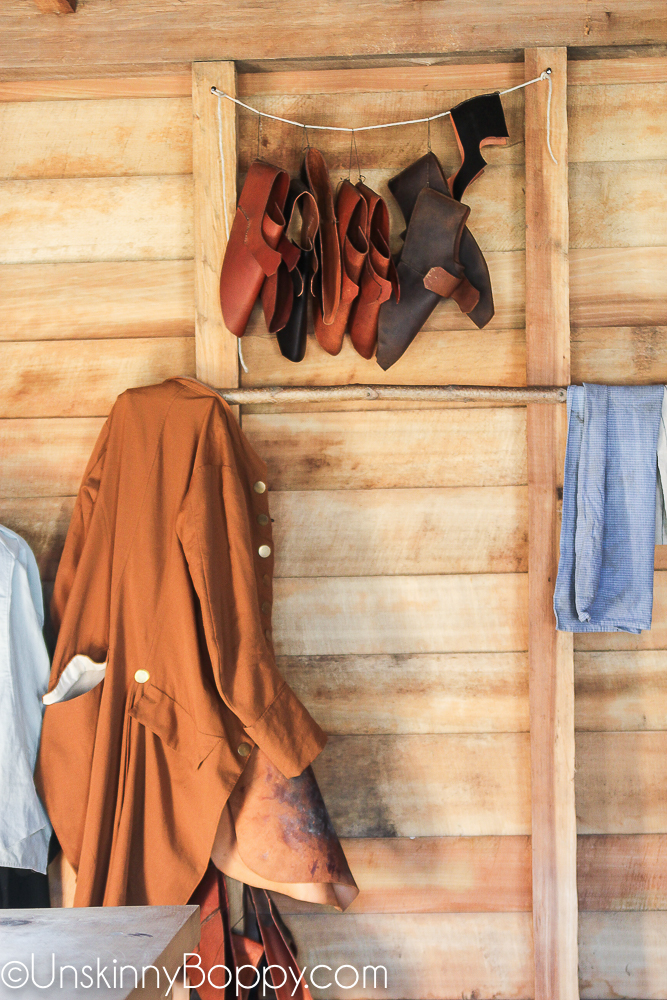 And everywhere we turned was another scenic spot for a photo op.  It was such a beautiful town.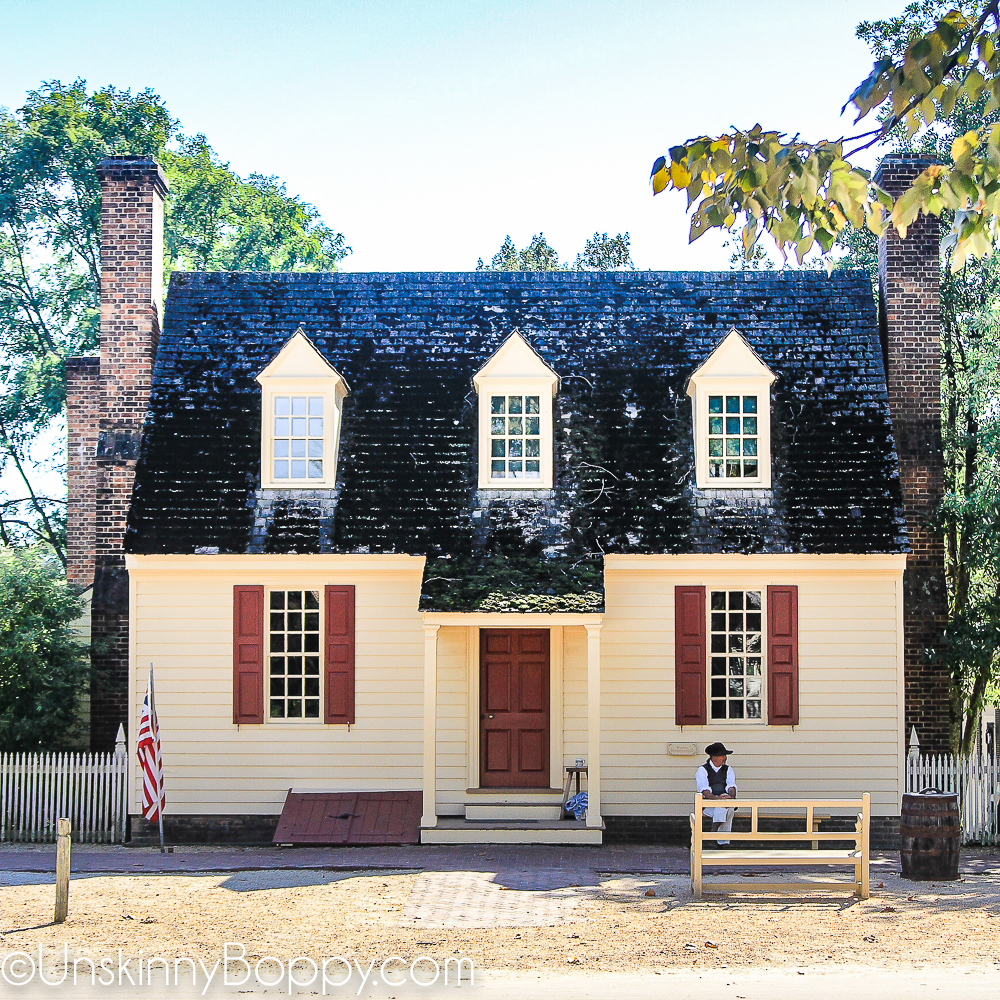 Everywhere you turned there was something cool to see or another event to attend. The calendar varies by day and time of year, but there is always something to see and do in town.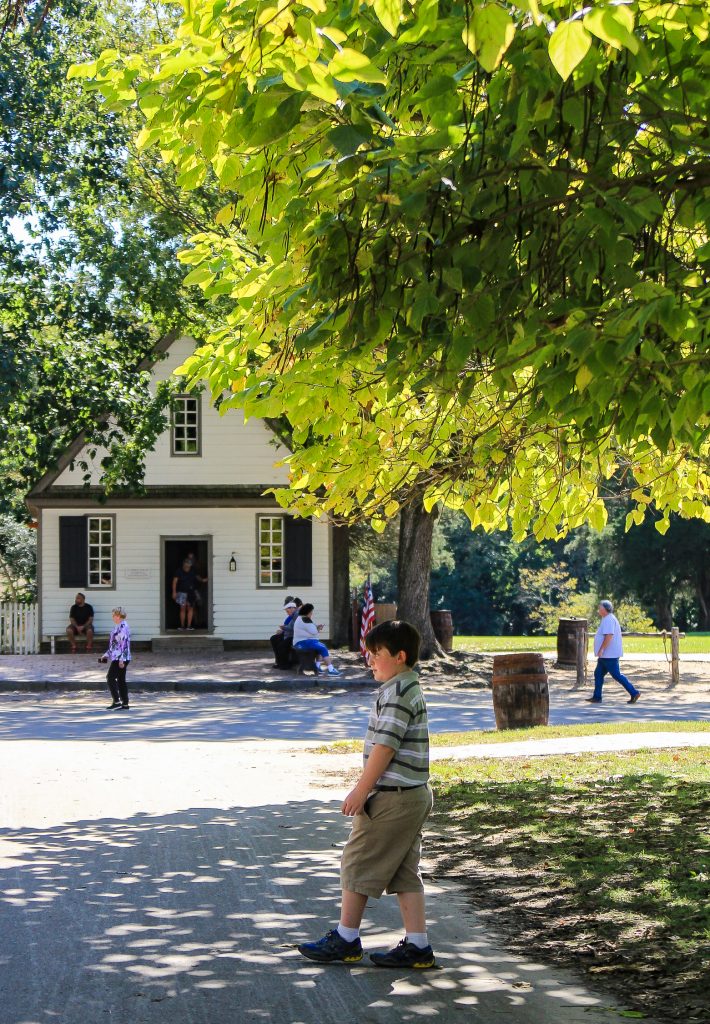 Finally in the afternoon we decided to take the kids back to the hotel and give Caroline a nap, so that concluded our Day one. It was such a great day! Both of the kids enjoyed it.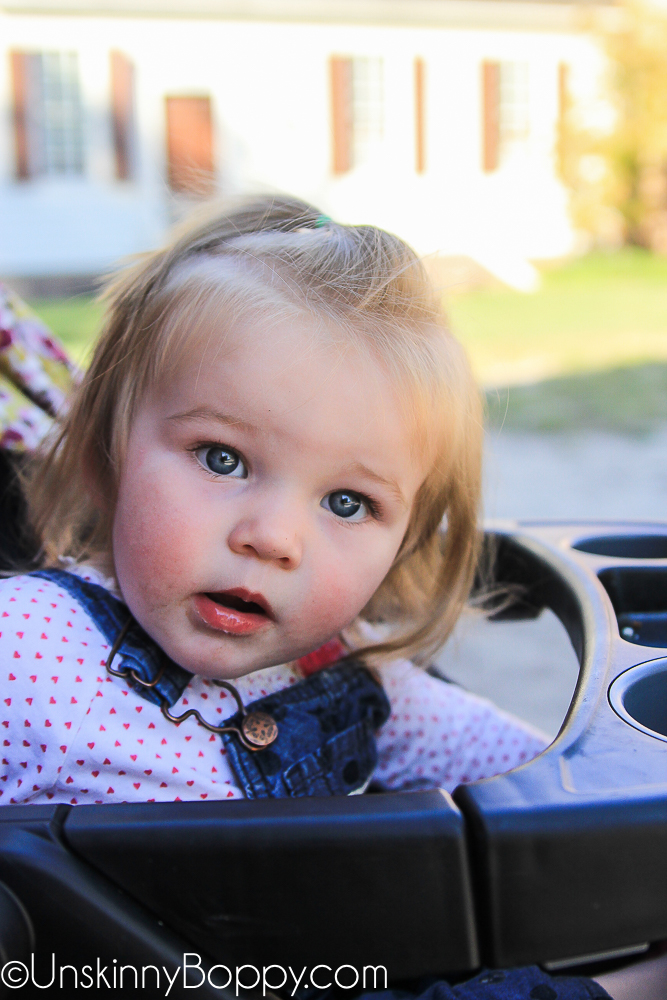 Since this post is super-picture heavy, I'll finish up our tour of Williamsburg and show you Jamestown colony tomorrow.
There was still a ton to see on this trip!
Click here to read part 2 of the vacation!

Save
Save
Save