Summertime is 99.9% complete, which means FALL is right around the corner! I am so excited to be sharing my fall decorating ideas with y'all today.
Fall has always been my most favorite season of the year.  September 1st rolls around and it's time to PUMPKIN SPICE ALL THE THINGS! Can I get an amen?
Today I'm joining a bunch of super talented bloggers and Kirkland's for a farmhouse fall home tour!  So, let's get started, shall we?
PS- be sure to stick around until the end because there is a BIG OL KIRKLAND'S GIVEAWAY for you to enter!
Welcome to my house!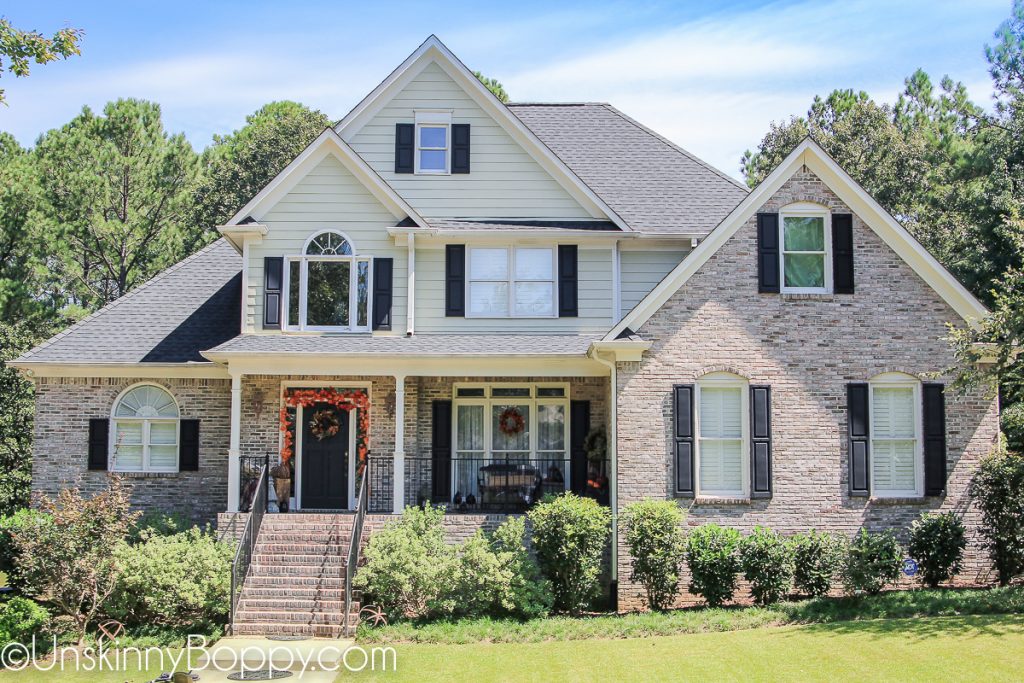 As per usual, it's still greener than Kermit's armpits here in central Alabama in early September.  We won't see actual fall color until late October or November.
I had to bring in some fake fall color, but that's ok.  That just means it will never go bad!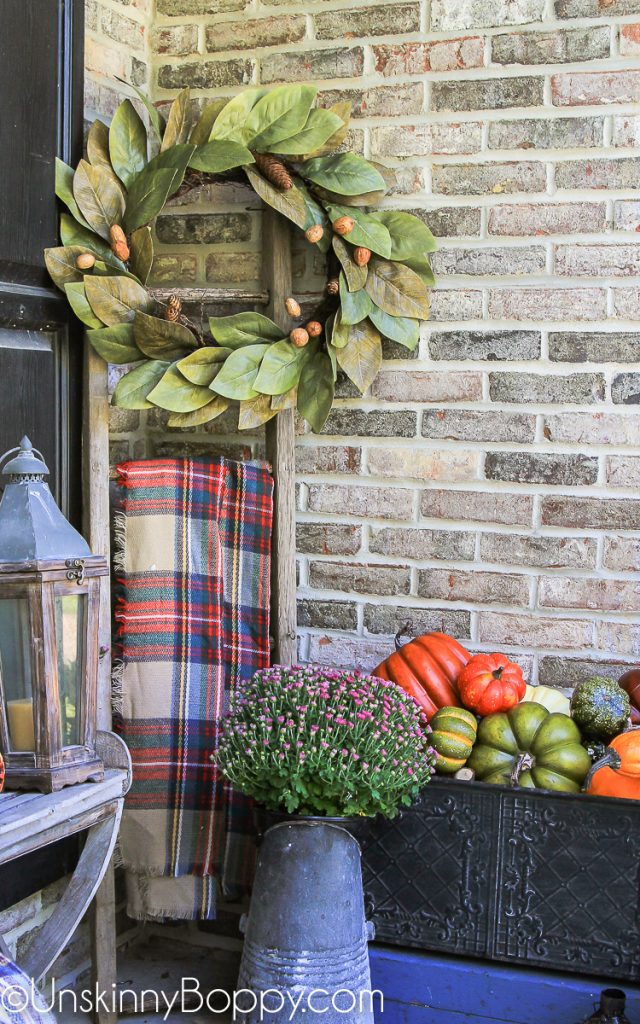 Nothing says fall like mix-n-match flannel patterns. Bring on the plaid! Kirkland's gave us a little gift card to go shopping for some new fall items for our home.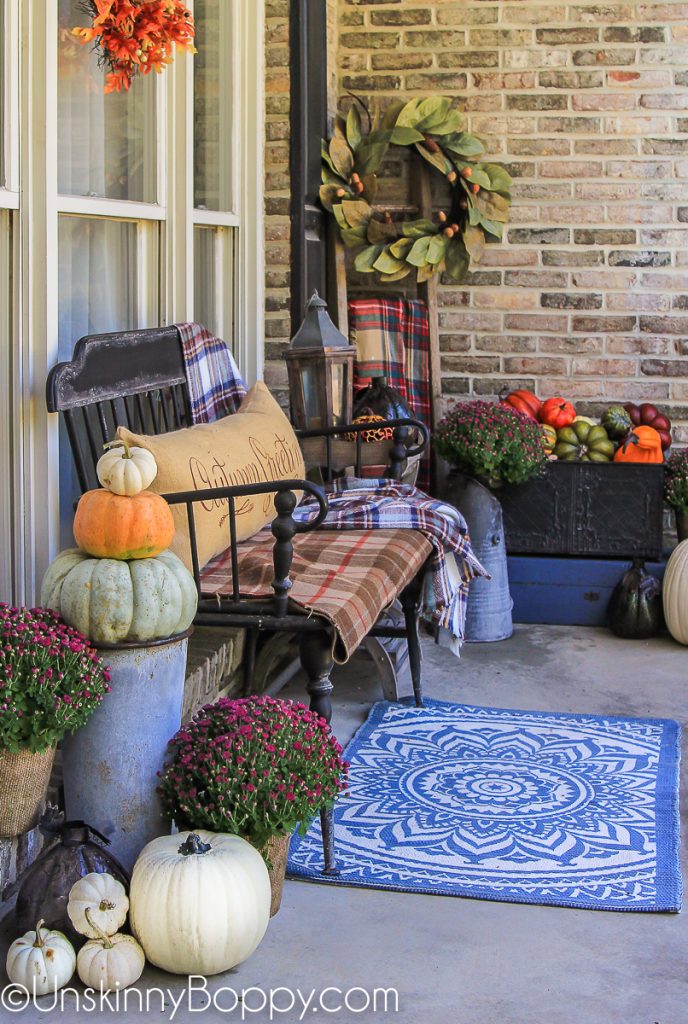 I picked up that gorgeous magnolia and walnut wreath and the "Autumn Greetings" burlap pillow for my porch.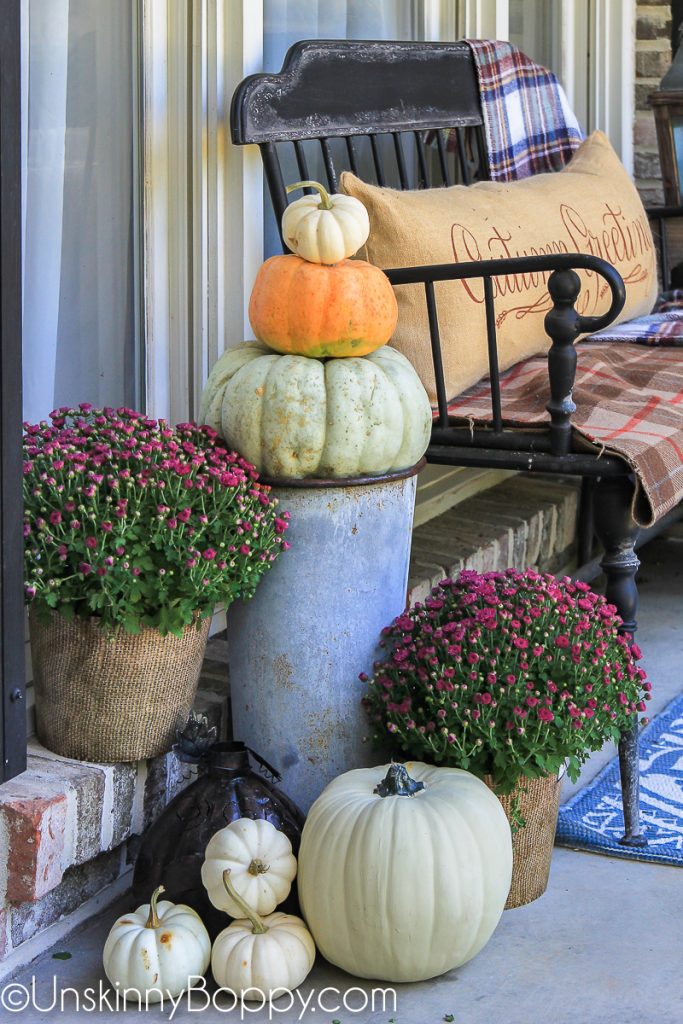 Over beside the front door I threw together this eclectic collection of birch wood on a barrel inside a metal orb with other rustic wooden junk. And more plaid. I had every intention of using that metal orb as my foyer chandelier but I've gotta find someone brave enough to scale my 2 story foyer to hang it.
So for now, it's strictly decor-ictly.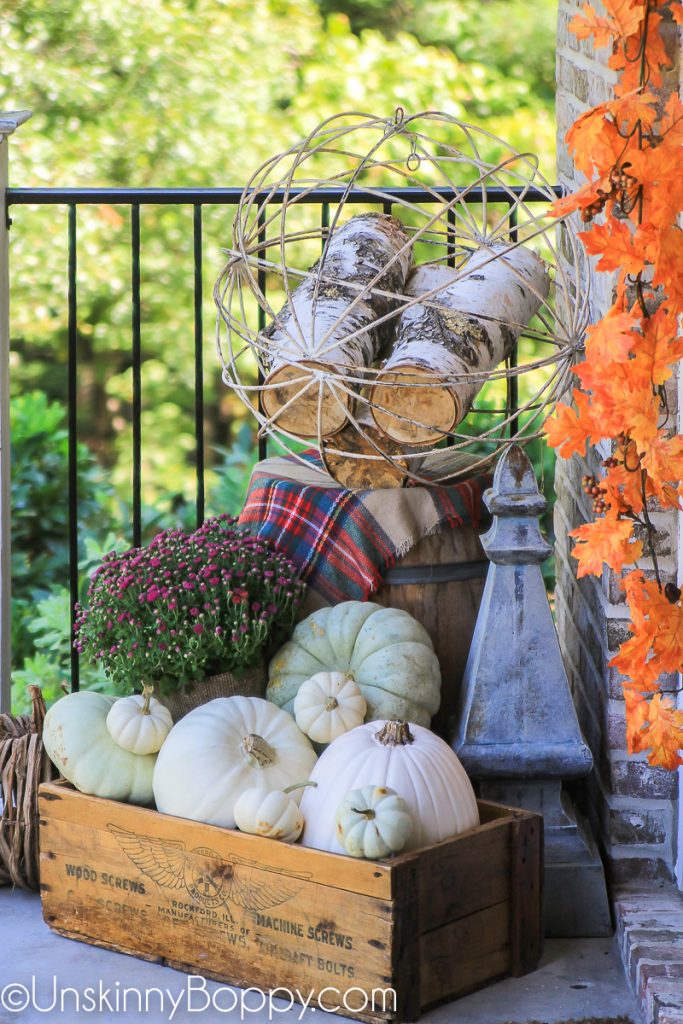 I'm hosting a bridal shower for my cousin here in a few weeks so I plan to add a sign to the wooden crate with their names on it. Since all the other decor was brown and grey it blended right in with the brick, so I found some fake leaf garlands in bright orange to help it out a bit.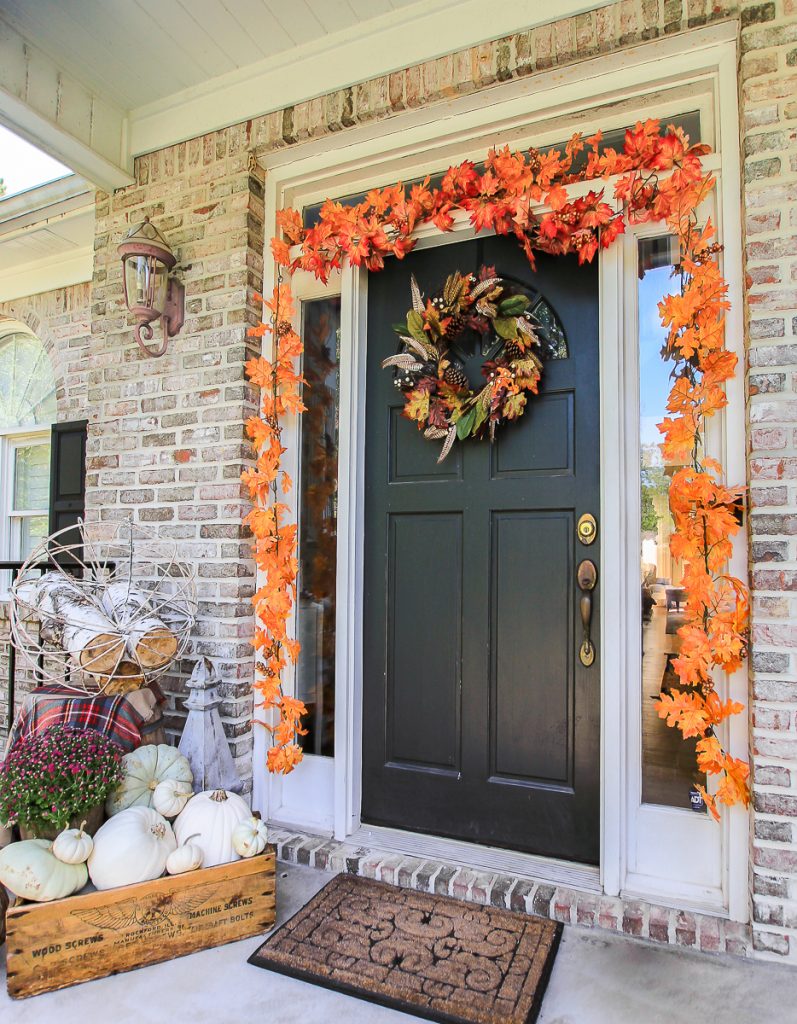 When you step inside the door, my trusty old apothecary cabinet is decorated exactly like it was in the spring. I love it so much I haven't changed it.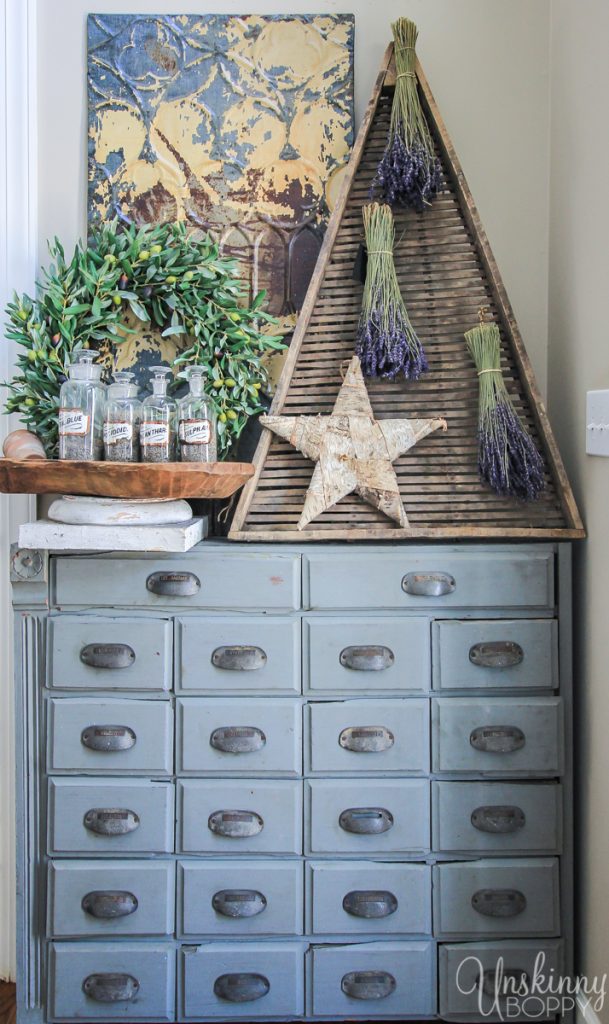 On the other side of the foyer is my fall printable.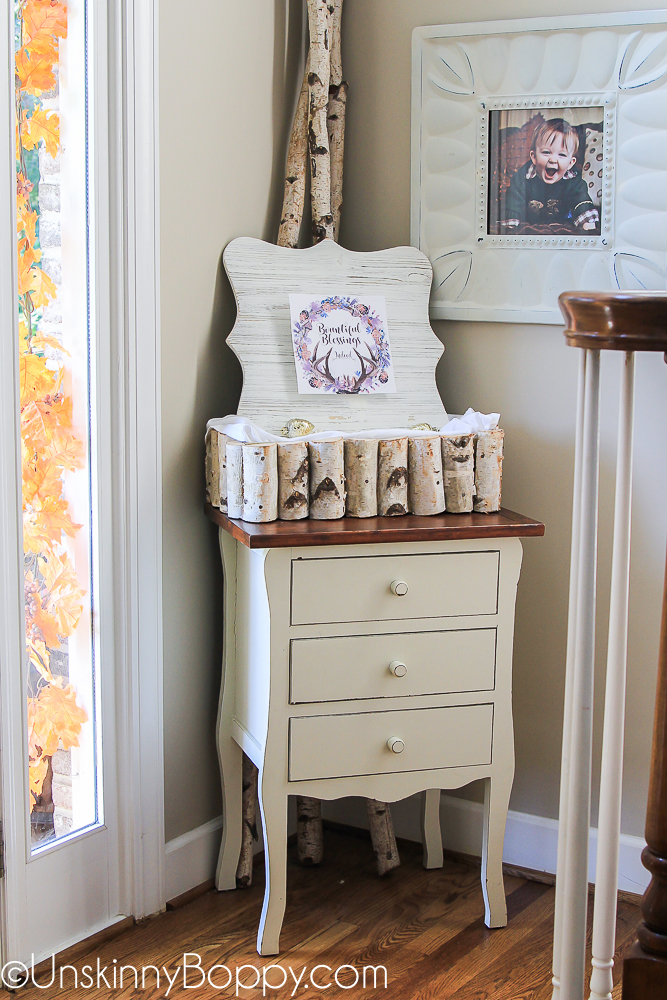 You can print this off for your home right here:
And straight ahead leads you to the living room and dining rooms.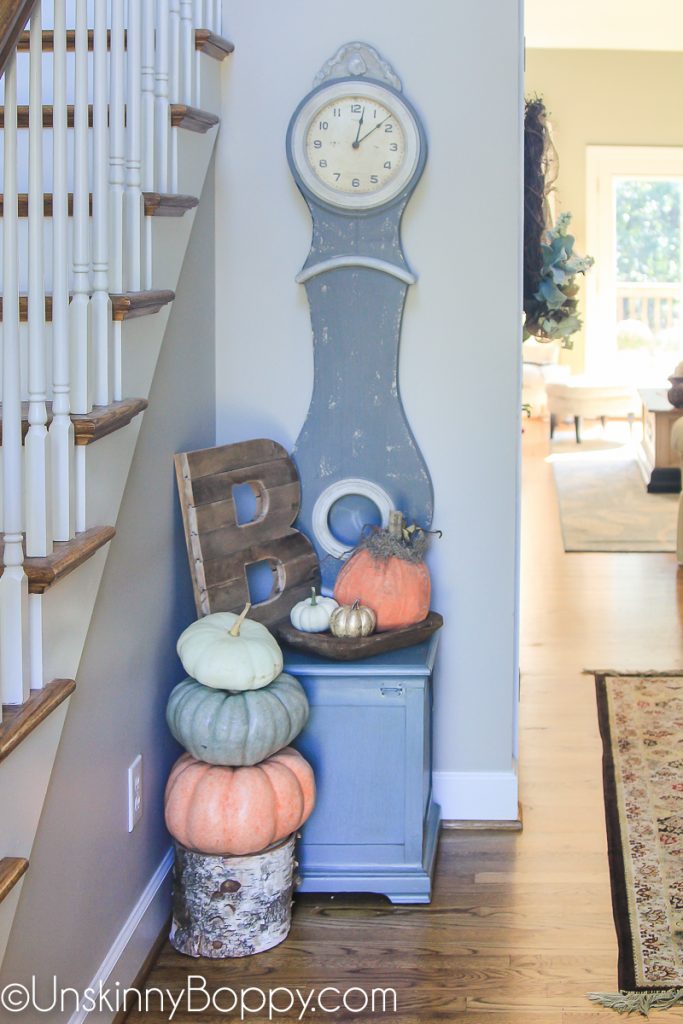 I posted a full dining room tour on Tuesday, but I'll sneak in a few more pics for you to see it in this home tour.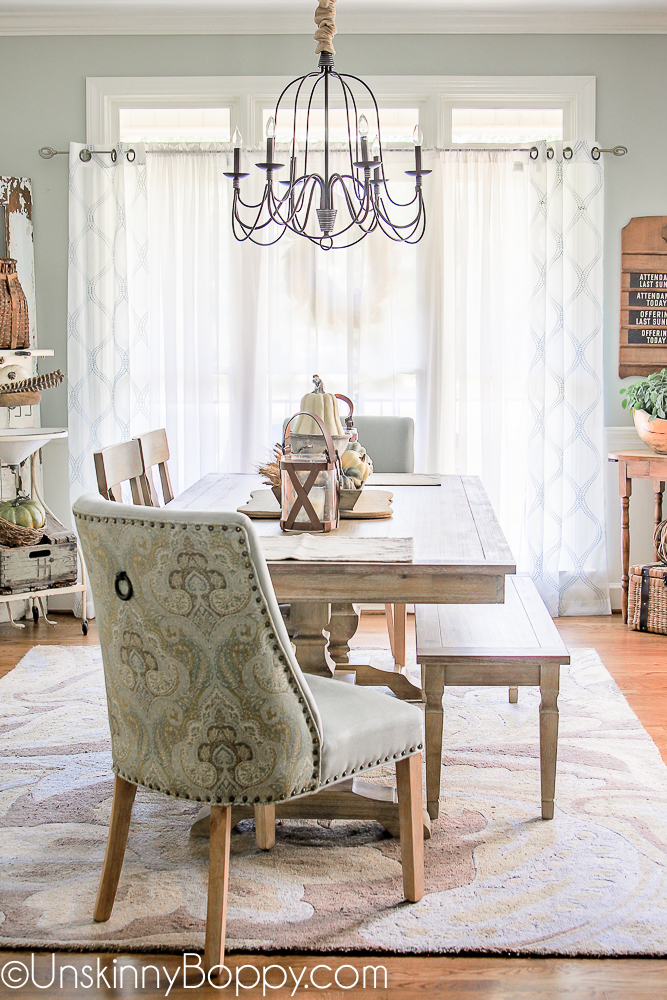 Since I plan on filling this table up with food for the shower I didn't put out any table settings. Just a centerpiece of golden natural pumpkins inside this wooden beaded handle tray.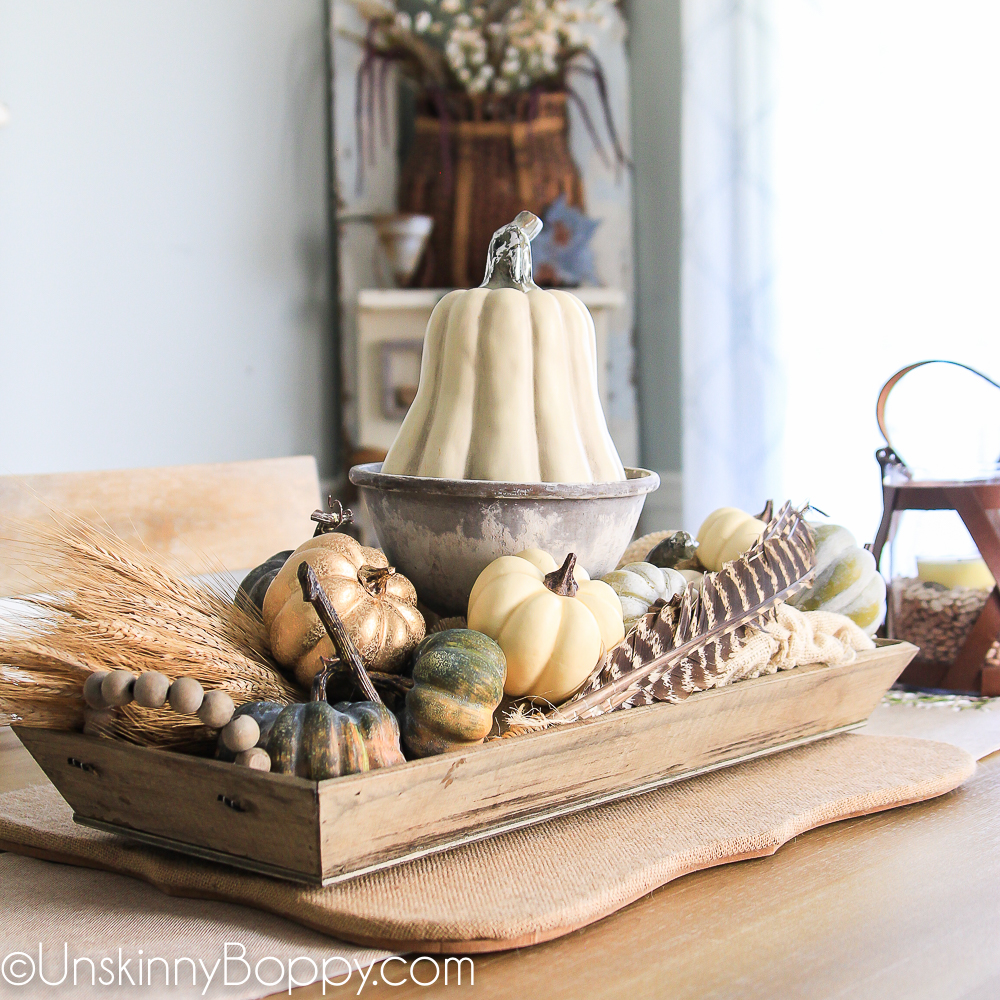 But, by far, my favorite part of the dining room are my new tin tile letters that spell out "BLESS".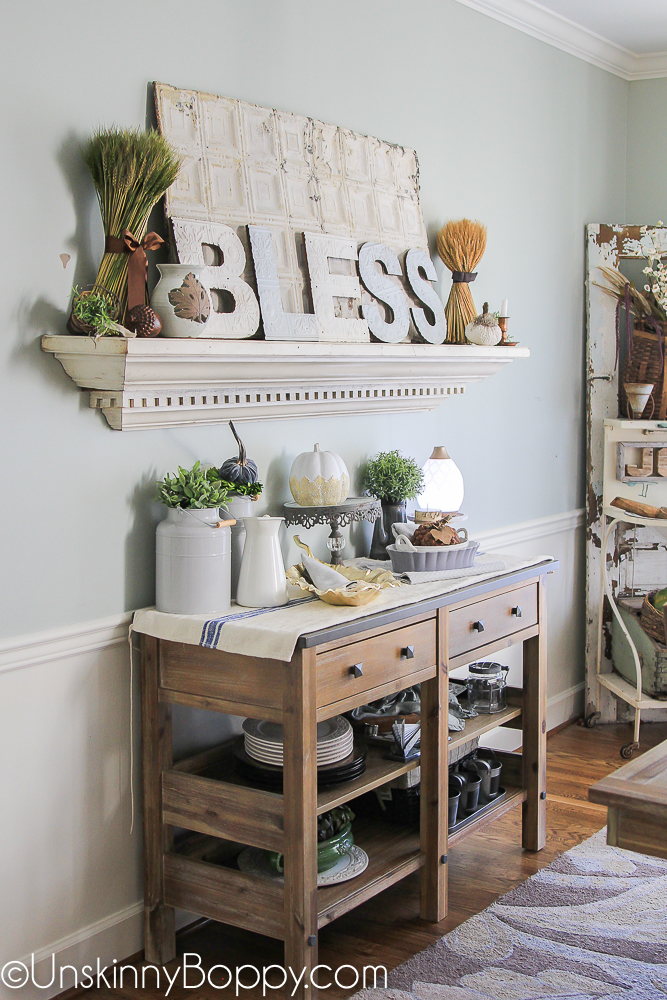 I have been obsessed with All Things Tin Tile for quite a while now, so I knew I had to have these letters when I saw them.
My dining room makes me SO happy all decked out for fall.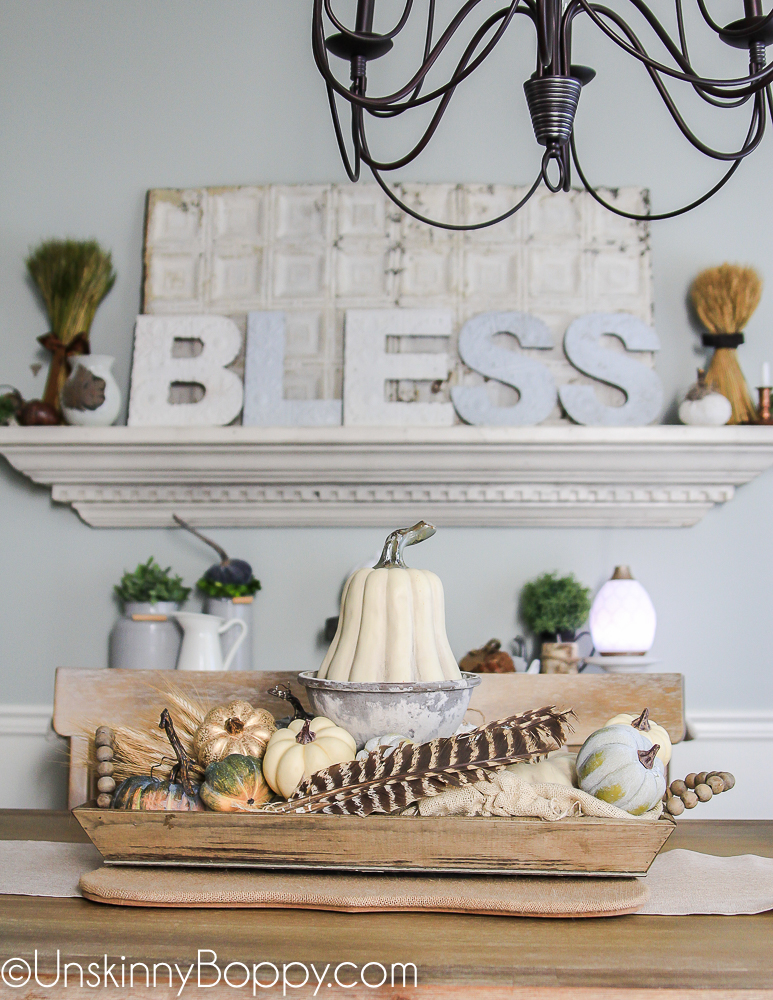 Some of my favorite junkity-junk over in one corner….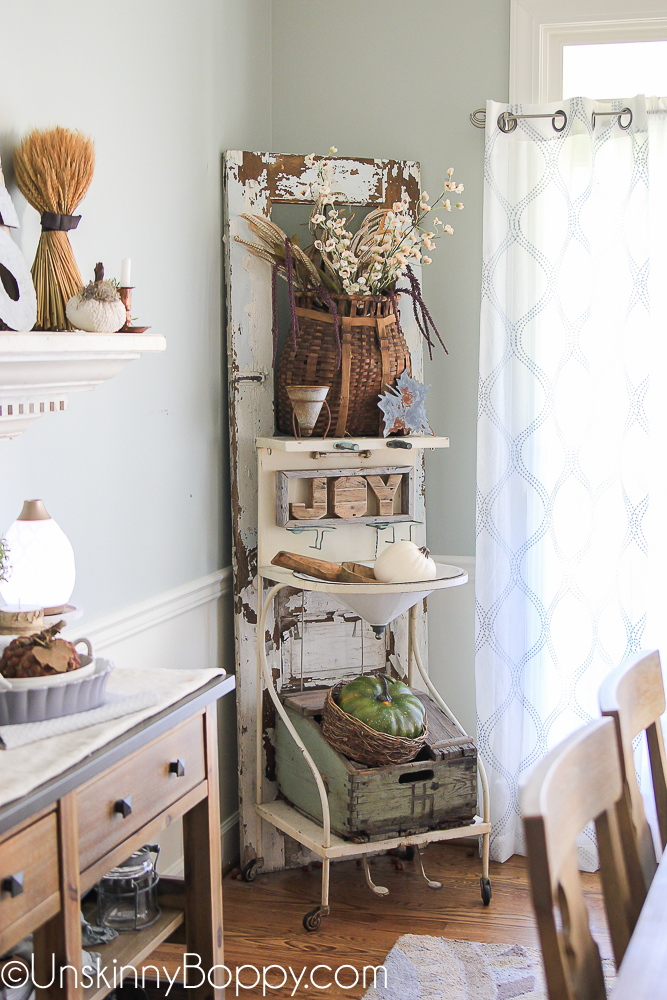 And a little more over in the other corner…  The monogrammed pumpkin was a Kirkland's purchase from a few years ago.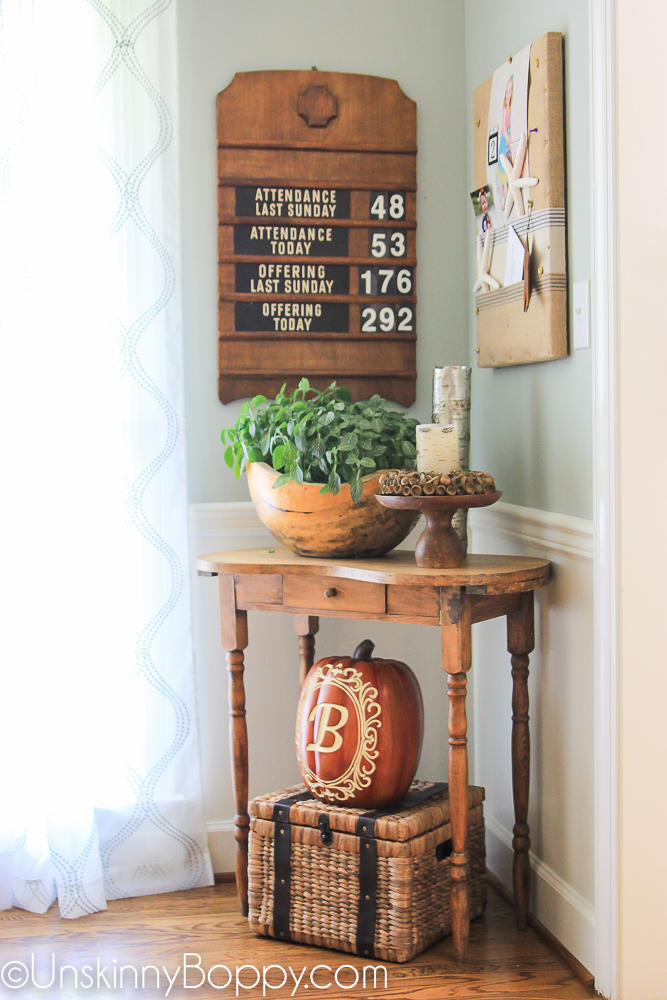 Over on the living room mantel there is even MORE tin tiles. See? Told you I was obsessed.  This one came from an antique store while we attended the Apple Festival in Ellijay, GA, circa 2005. This was the piece that kicked off my tin tile addiction.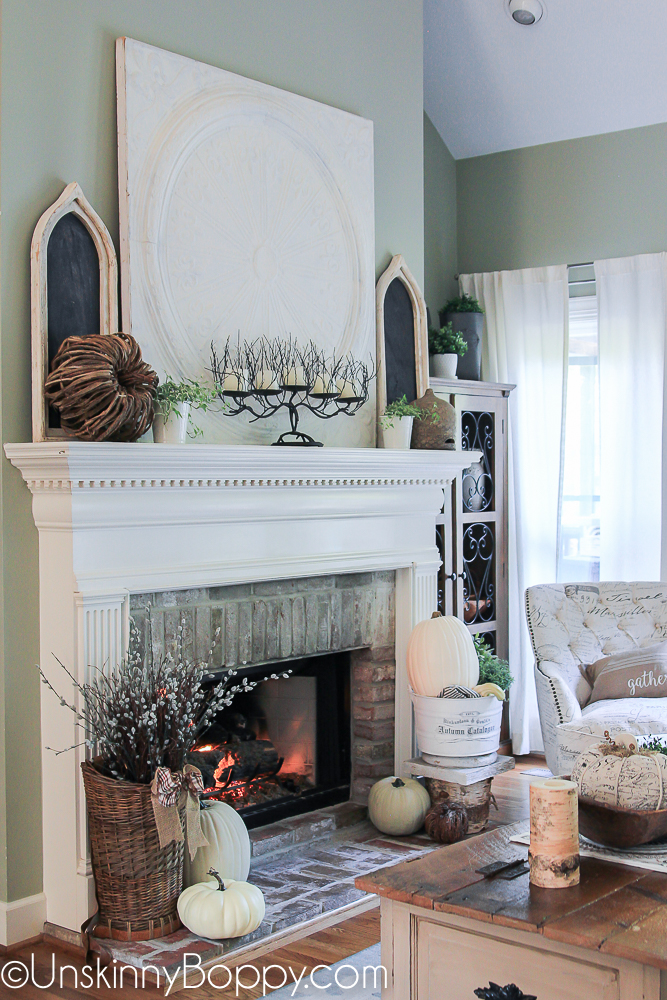 I'm digging the white and cream color scheme this year for fall.  It's classic and clean.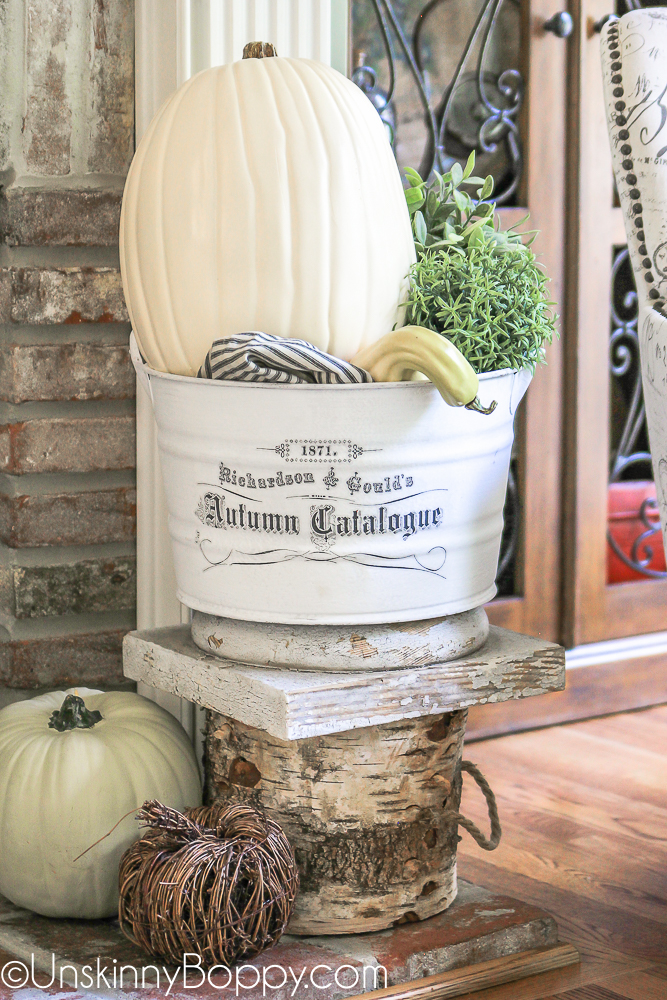 Throw in a few wicker and wood accents and I'm good to go.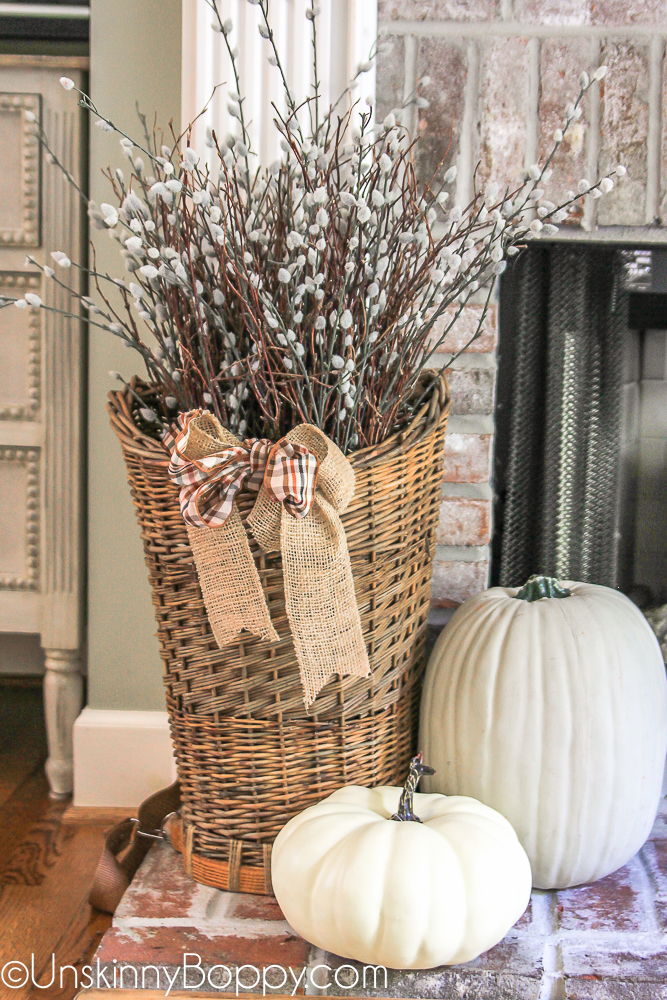 It's not a super decorated mantel, but I felt like keeping it simpler this year.  I'm happy with it.
I found this beautiful French-script chair from Costco, of all places.  It was on sale, along with the ottoman, for $170!!  I snatched that sucker up so fast. It's PERFECTION in this corner of my living room.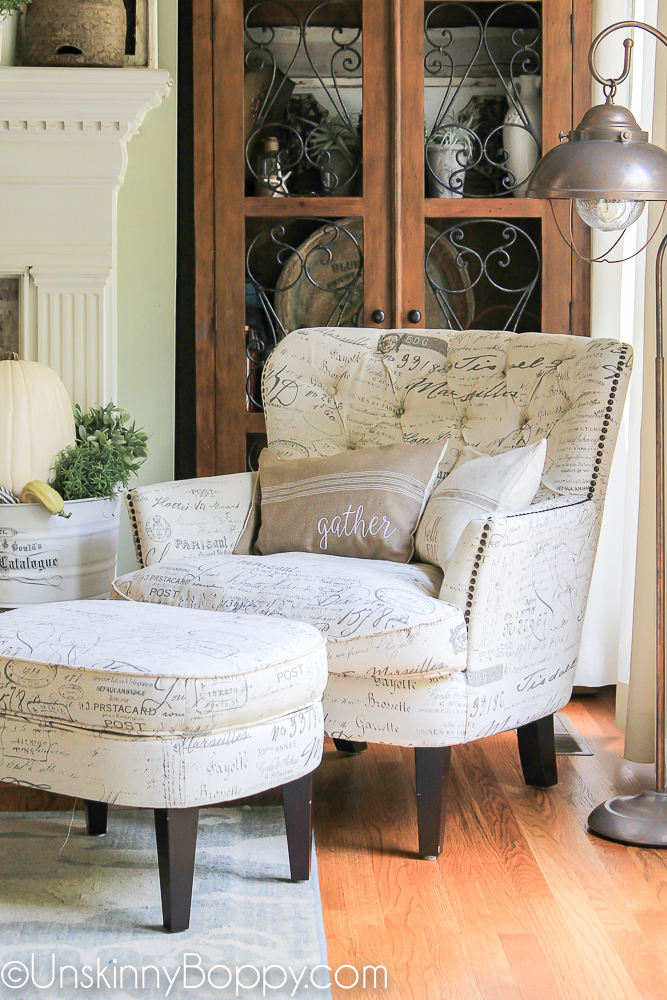 I even had a french-script pumpkin that matched it perfectly.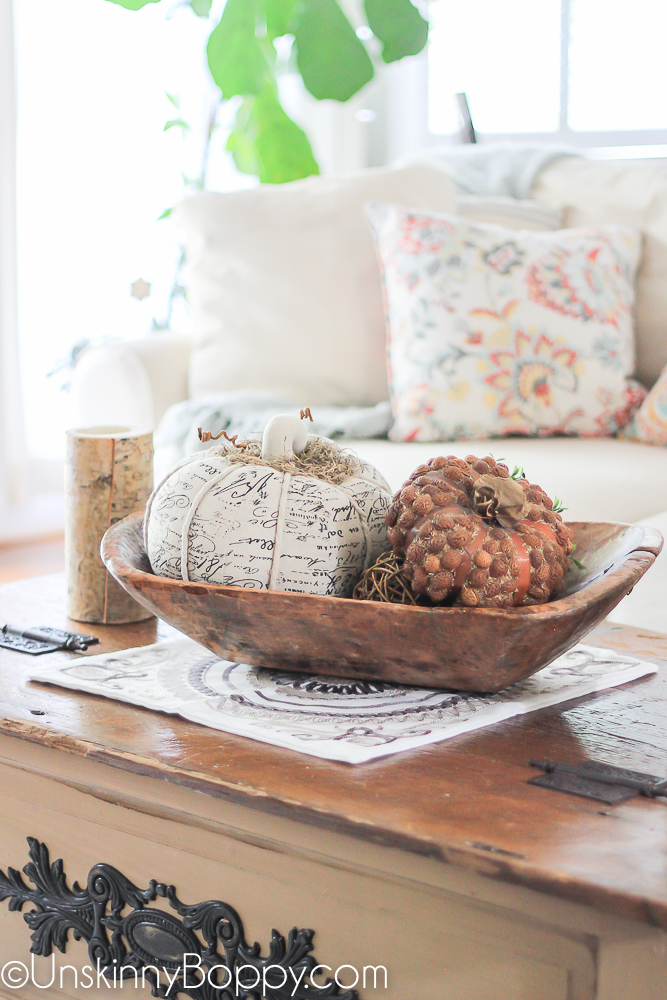 I got these GORGEOUS little pillow covers from my friend Lisa over at Farmhouse on Boone.  She made the "Gather" and "Hello Fall" pillows on a pretty grain sack cover.  I'm smitten.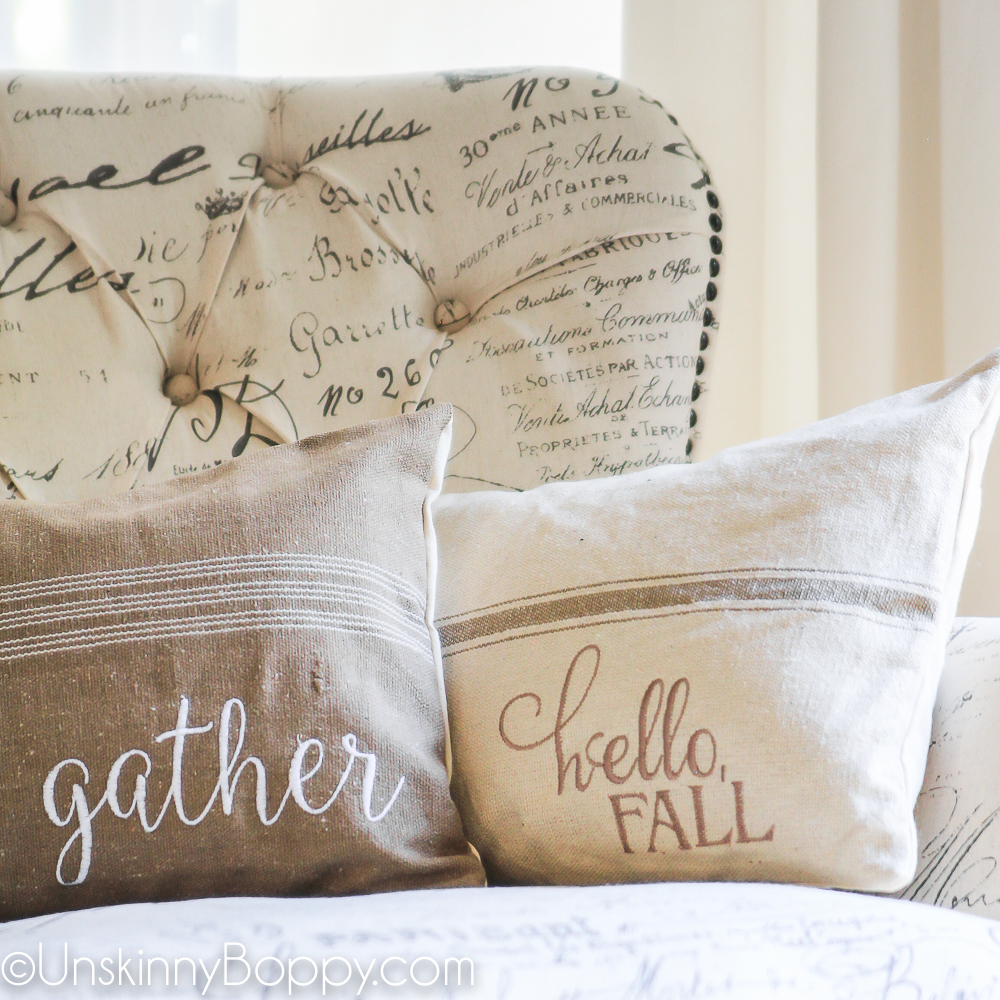 I don't decorate my bedroom for the season. Do you guys do that? It's never this clean, and usually there are piles of laundry strewn everywhere so why would I put a pile of pumpkins on top of that?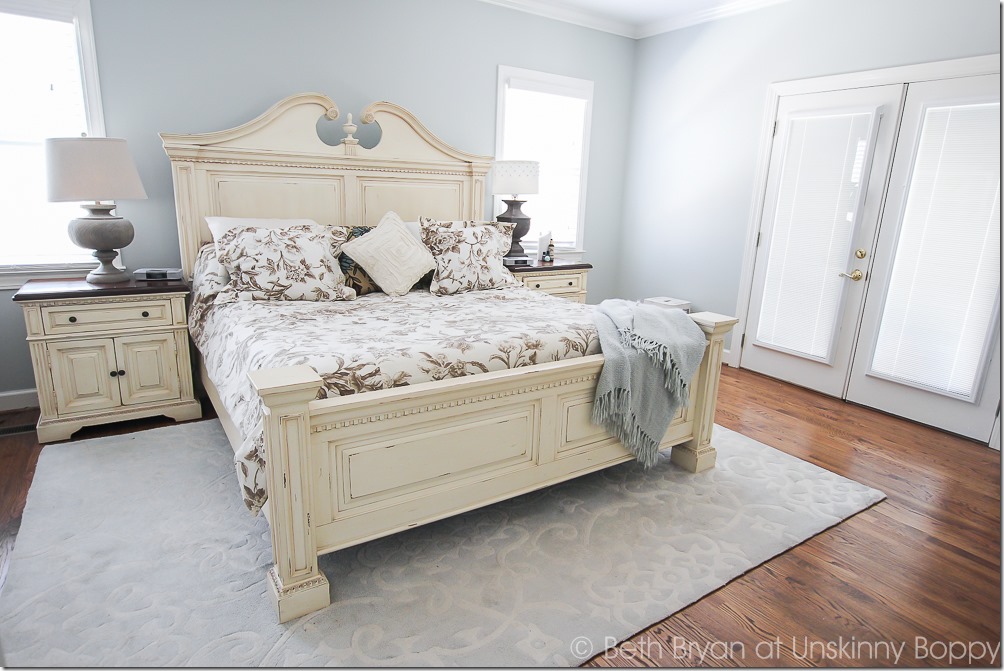 Lately I've been so drawn to YouTube videos of late 80s and early 90s Martha Stewart.
The warmth and color schemes of that era are starting to call my name. Maybe it's just the pendulum swinging the opposite direction from all this white on white farmhouse style that makes me look for something different. I
decided to give into the call of The 80s by adding plaids and brass and wood and wicker on a backdrop of hunter green to this corner of my bedroom. What do you think? I'm totally digging it. The farmhouse style wall organizer on the left came from Kirklands as well. It's the perfect quiet corner for Garrett to catch up on homework or for me to pay bills.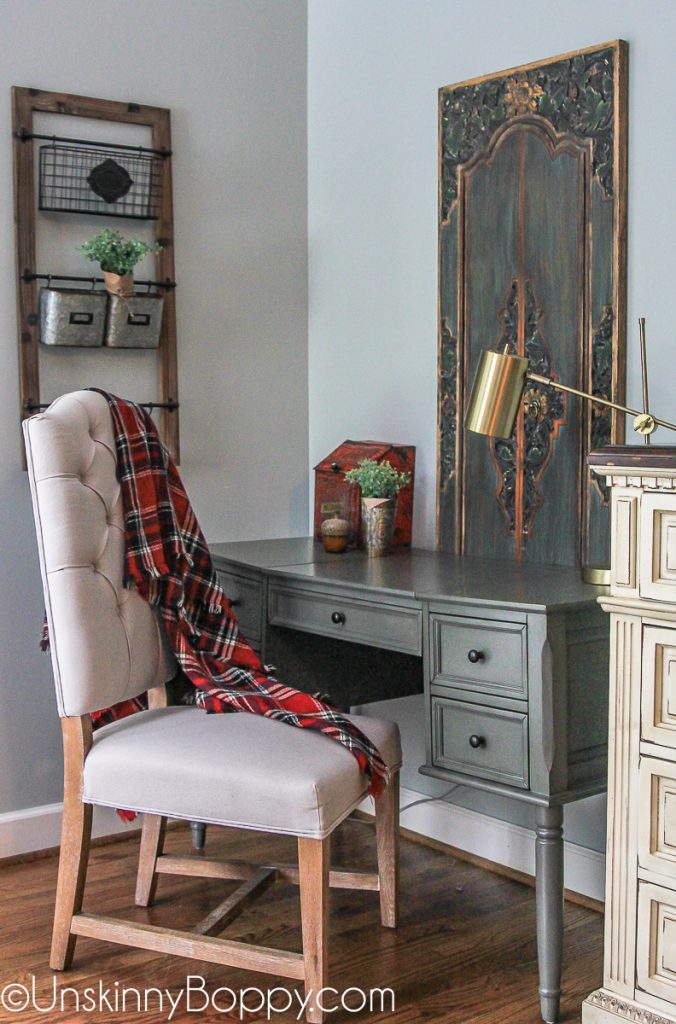 The kitchen table got decorated with another white pumpkin sitting in another magnolia wreath.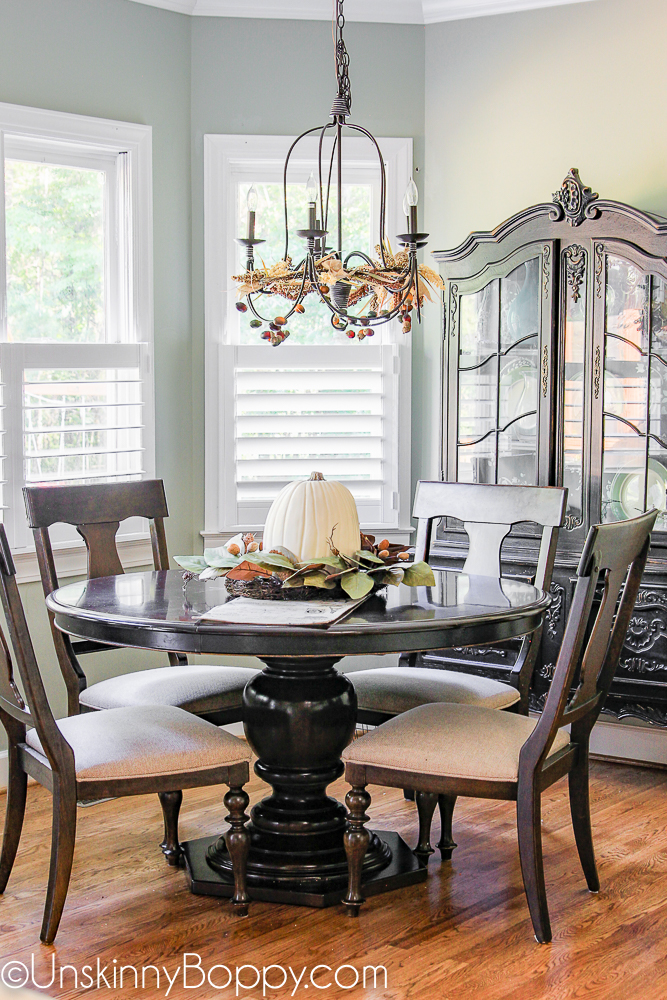 The ol' pumpkin-in-a-wreath trick is a super simple way to pretty up a table. Oh, and to complete the trifecta of french-scripted awesomeness, I found this table runner that matches my new chair and pumpkin. Perfecto.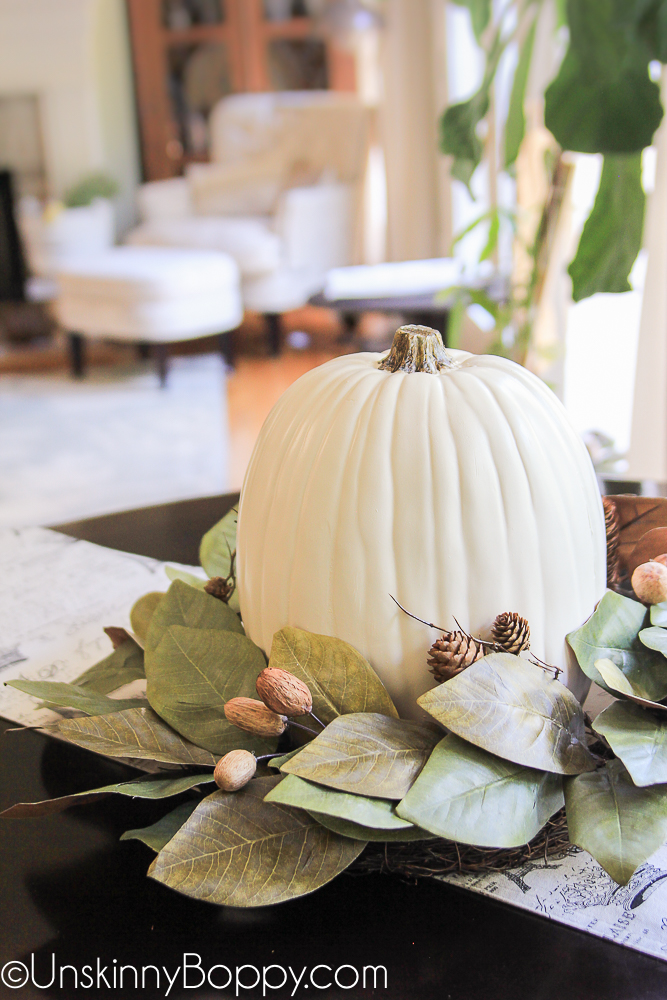 This was my first attempt at decorating a light fixture for the holidays, and I'm kinda digging it.  I wrapped some cheapo fall garland around the bottom and strung up fake acorns–or facorns, as I like to call them–from dental floss and draped them around the bottom. Really easy but it makes things even more fall-festive.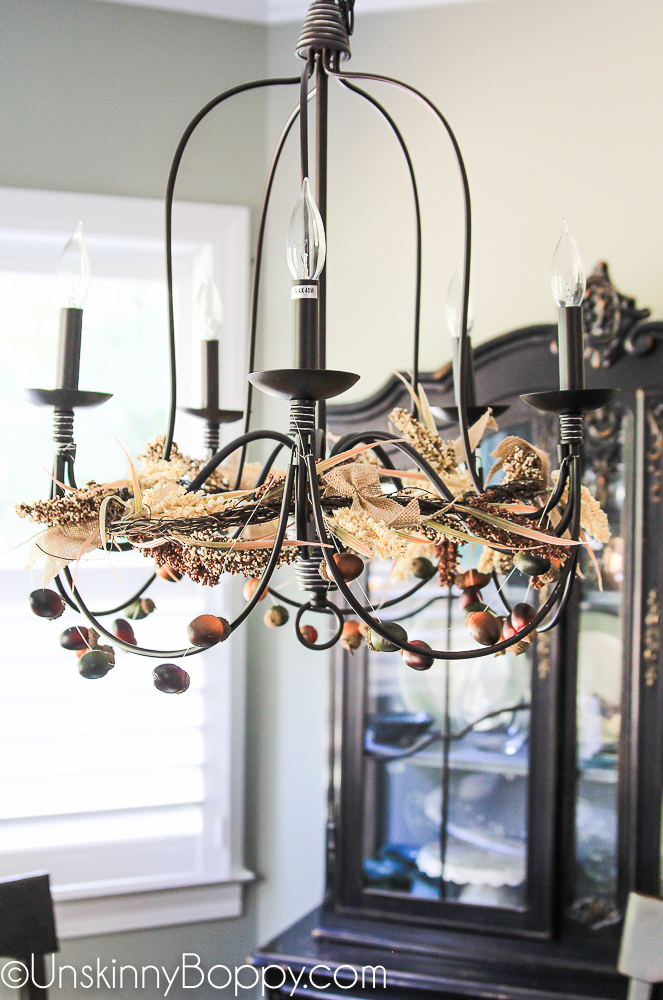 So, there ya go! I'm SO happy you joined me today for this fall home tour.  Now, let's get to the good part! As promised, Kirkland's is giving away a MAJOR prize to one of YOU. One lucky reader will receive a $1,500 gift card to spend at Kirklands!
You can enter the giveaway by entering your info in the Rafflecopter here:
Click here to follow me on Instagram to be entered in the giveaway!
To tour all the other amazing farmhouse style blogs on this tour, click on the links here!
Seeking Lavender Lane  Fat Hydrangea   Blue Sky at Home   My Creative Days
Little House of Four Making it in the Mountains   Wife in Progress
TUESDAY
Town and Country Living    Farmhouse on Boone  Flatcreek Farmhouse  Inspiration for Moms
On Sutton Place  Sincerely Marie Designs
WEDNESDAY
Noting Grace   Little Glass Jar   Sincerely Sara D   Shabby Fufu
Hunt and Host  The Honeycomb Home  Kendall Rayburn
THURSDAY
Christinas Adventures   My Life from Home   Worthing Court  She Holds Dearly
Unskinny Boppy  Hamby Home   Tidbits

FRIDAY
So Much Better with Age  Joy in Our Home   Little Home Reloved  Sand Dollar Lane
Twelve on Main  The Everyday Home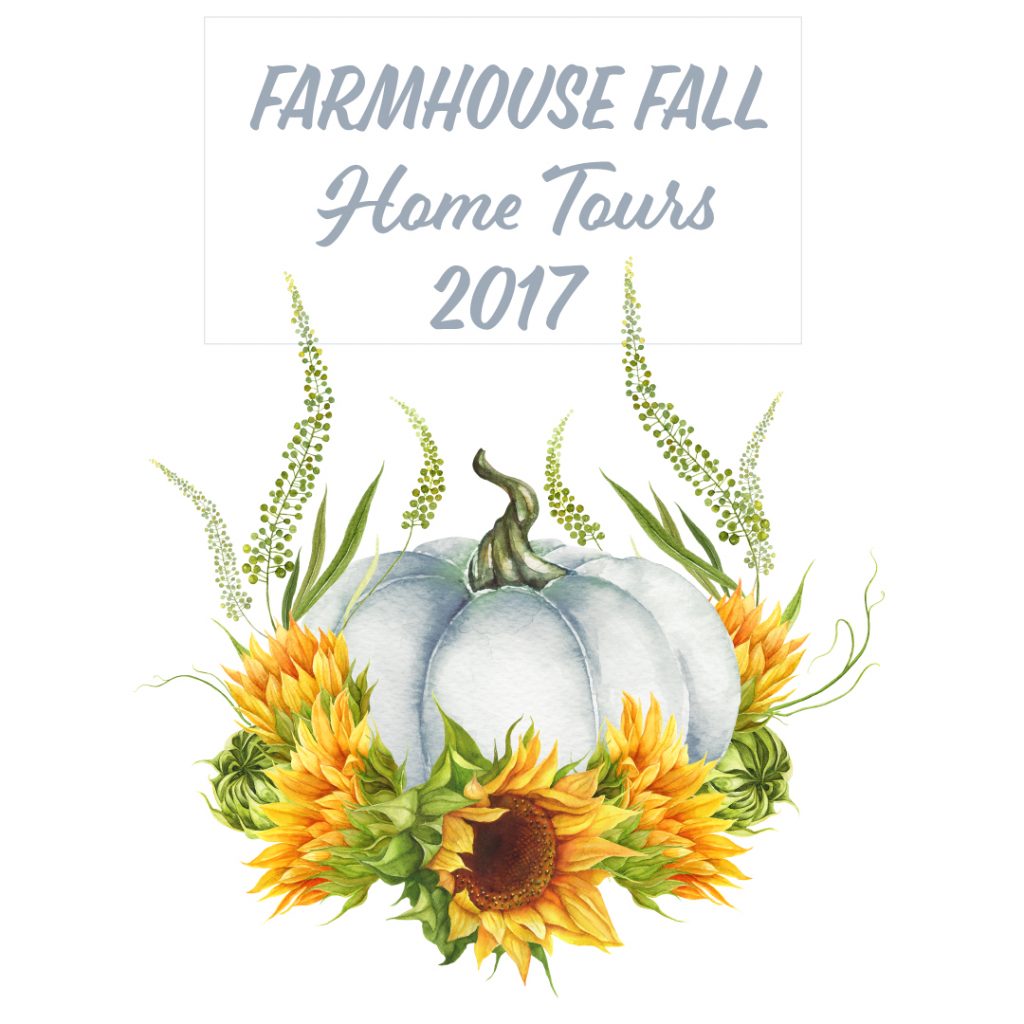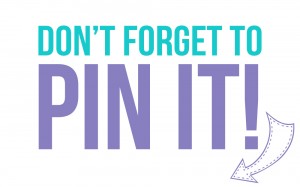 Save