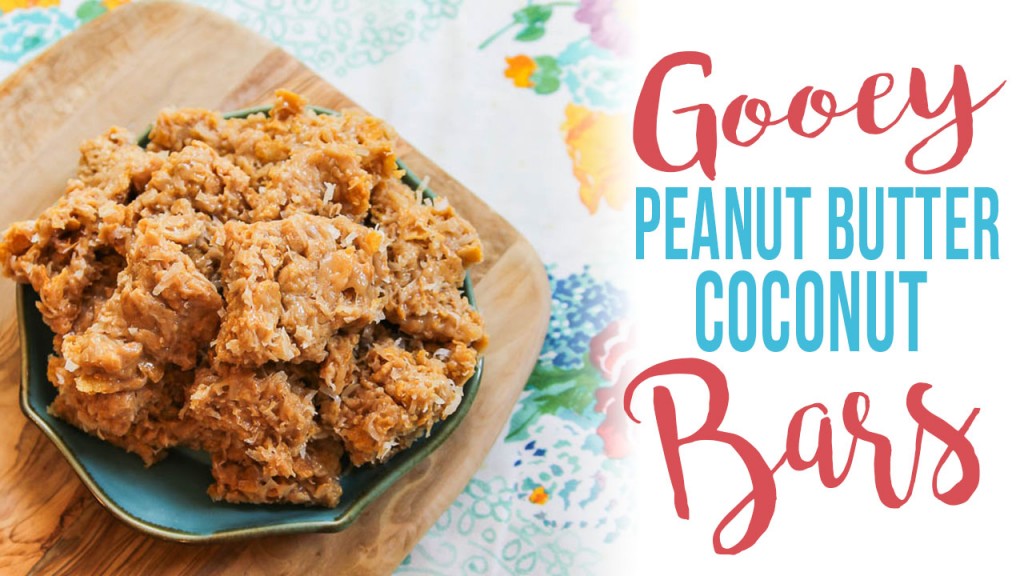 I've been making these peanut butter coconut squares since I was a little girl, which might explain why turned out so unskinny as an adult. What can I say? I'm a child of the 70's.
Ahhh, the 1970's. Those glorious years when moms were not scared of red food dye or HFCS or cigarette smoke or letting their toddlers ride with their faces pressed against the glass of a station wagon rear window. Our KoolAid pitchers were filled with cups of toxic sugar and our AquaNet ate holes in the Ozone layer.
Those were the days.
Moral of that story… if you're on a no-sugar diet you might just wanna skip on by this post.  If not, embrace your inner 1970's housewife and dig in!
I don't make them often, but when I do they are always a huge hit. With just six ingredients, this is a super-easy peanut butter candy to make at home for a special treat.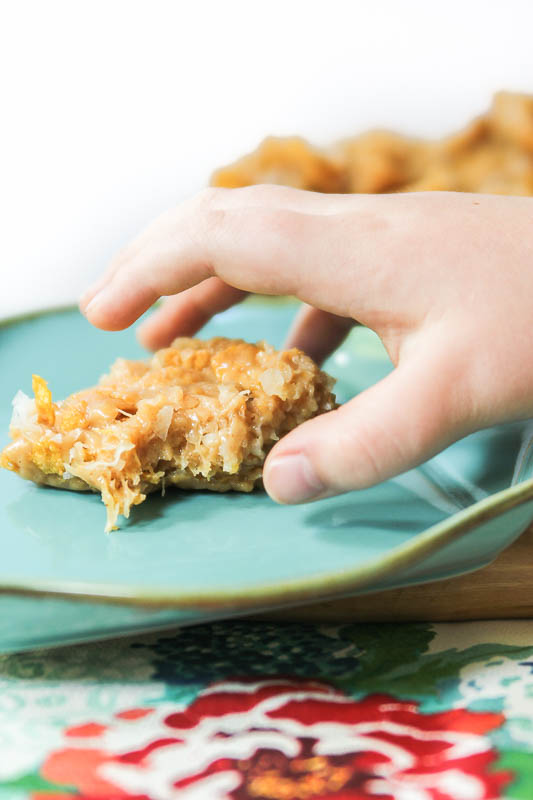 I've decided to jump head first into the "Tasty" video making craze, so here is my recipe video debut. I LOVED making this video and I hope you guys will enjoy it.
If you like to kick it old-school and actually read your recipes, here ya go:
Start with these simple ingredients:
4 cups Cornflakes
2 cups shredded coconut
1 cup white sugar
1 cup light corn syrup (yep, for real, another whole cup….)
1 tsp vanilla
1 cup peanut butter
Directions:
In a large mixing bowl combine the coconut and cornflakes. Mix well and set aside
Bring the sugar and corn syrup to a boil over medium heat, stirring constantly
Boil until the sugar reaches "soft ball" stage, which is 235 degrees Fahrenheit. I don't use a thermometer and instead drizzle a little into a cup of cold water. If it forms a soft ball, I know it's done.
Remove from heat and add the vanilla and peanut butter, Stir until smooth
Pour peanut butter mixture over cornflake/coconut mixture
Mix thoroughly and spread into a greased 9×11 baking dish
Cut into squares and prepare for a sugar rush like none other.
Don't say I didn't warn you.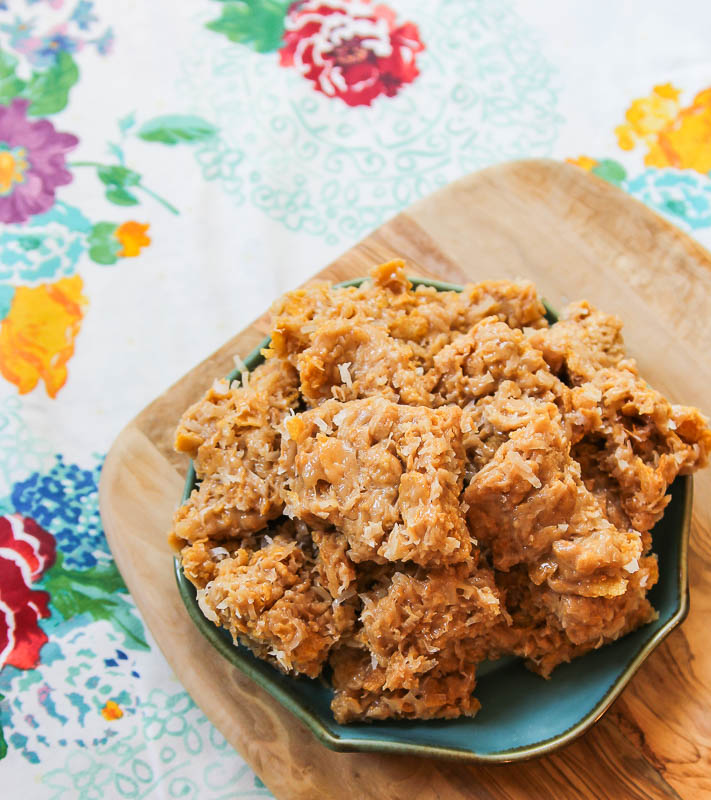 PS- this also makes great candy to give away at Christmas!
Or Thanksgiving!
Or any ol' random Wednesday.
Enjoy! And don't forget to PIN IT!