These Harry Potter Potion Recipes with Essential Oils exceed expectations so you can become a Potion Master at home! Today we are learning how to brew four simple recipes that all contain essential oils and other magical ingredients. Give these Harry Potter essential oil blends as Halloween treats, teacher gifts or birthday party favors to your favorite Muggles.
Did you know this year is the 20th anniversary of the release of the first Harry Potter book? If you have a Harry Potter fan in your house, I'm sure you've already discovered that.
My 9-year-old son, Garrett, is OBSESSED with all things HP. He is planning to dress up as Harry for Halloween, and we have not one but THREE Harry Potter-themed events to attend between now and October 31st.
Since we are in full-on Pottermania up in here, I thought I'd share some kid-friendly potions to conjure up for your little Harrys and Hermiones this Halloween.
Who's ready to get those cauldrons a-bubbling!? Advanced Potions Making class is officially in session.
Harry Potter Potion Recipes with Essential Oils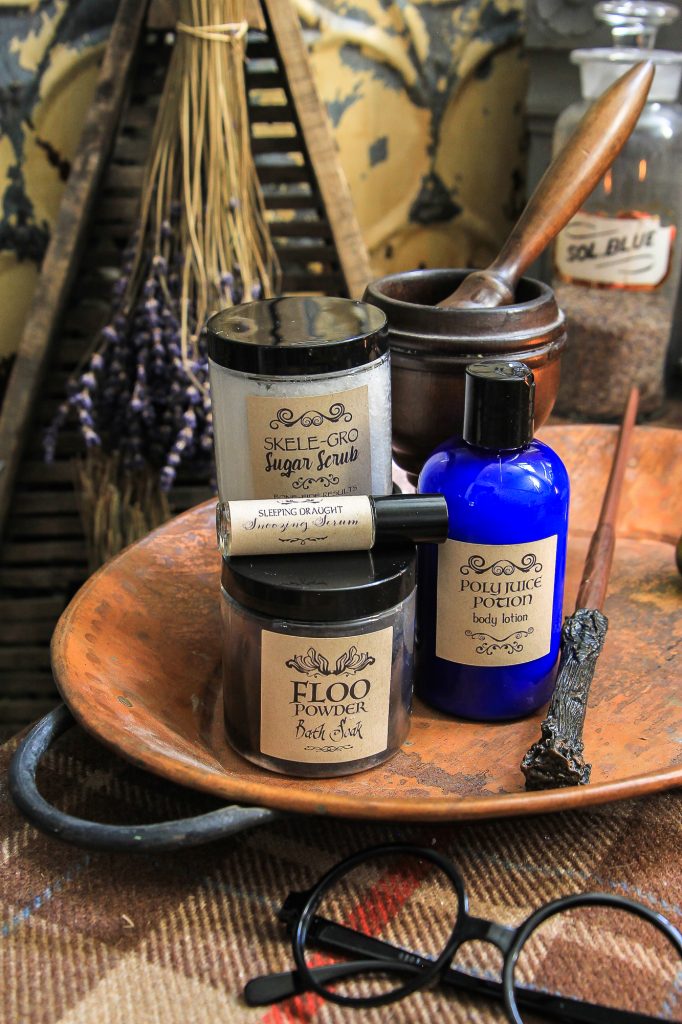 Supply List and Links to Custom Labels
Let's open our books and get started by watching this quick video….
Garrett helped me film this potion-brewing tutorial, so feel free to play a little game of "Guess whose hand it is." as you watch! Sometimes it's mine, other times it's his. Either way, it was a FUN day of filming at our house!
Here are the ingredients and directions for each potion recipe.
Sleeping Draught Snoozing Serum

Directions:
Add all essential oils to a 10 ml rollerball bottle. Fill to the top of the bottle with a carrier oil. We used sweet almond but you could use fractionated coconut or any carrier oil that is liquid at room temp.
How to use: Apply to wrists & back of neck when sleep is being evasive.
Just don't let Snape catch you snoozing in class.
---
Poly Juice Potion Body Lotion

Directions:
Combine all ingredients and microwave at 50% power until the coconut oil begins to melt. Whip all ingredients together in an electric Muggle mixer. Pour into an 8 oz bottle while still liquid and allow to cool to thicken up. If it thickens TOO much and you're not able to pour it like a lotion, add more carrier oil and re-whip as needed.
How to use: Apply liberally to epidermis as needed for a truly transformational experience.
Hermione tested and Half-Blood Prince approved.
---
Floo Powder Bath Soak

Directions:
Layer the epsom salt and activated charcoal in an 8 oz clear wide mouth jar. Add Raven essential oil to the top layer and add label.
How to use: Pour into hot bath and soak until your floo has flown the coop and you no longer feel like Moaning Myrtle. Also perfect after a long Quidditch practice.
You'll soon be saying "Floo Network, take me away." with this mentholated bath soak. Beware of the dreaded ring around the tub after use.
---
Skele-Gro Sugar Scrub

Directions:
Stir all ingredients together and store in an air-tight container.

How to use: Apply liberally to the epidermis in a circular motion. Rinse with a warm aguamenti charm.
---
Enjoy your potions class! You'll be a Potions Master who exceeds expectations in no time with these Harry Potter inspired bath and body concoctions. Dumbledore would be so proud!
I hope you guys love these fun ideas as much as we do. Have fun and stay safe this Halloween.

Love all things HP? Check out these posts!