Christmas 2017 is in the books, and I'm coming down from my holiday high by cleaning house, purging 7,000 old photos from my iphone and trying to find a place to squeeze all these new toys in the playroom. Seriously, look at all this stuff. Sanny Claus went a little overboard this year.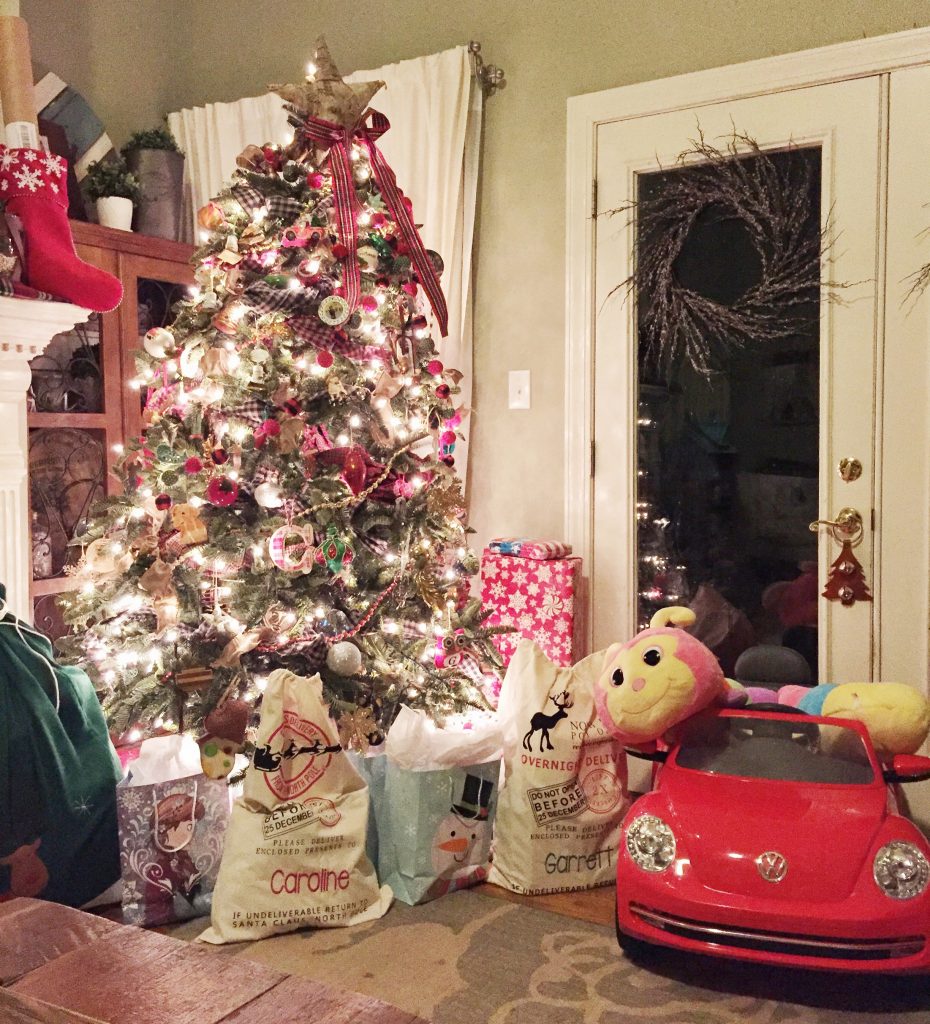 On Christmas eve we headed over to my in-laws house for brunch, where Garrett got a kayak to take down to their new lake house.  He was over the moon excited about this one, since he spent a lot of hours this summer floating around the lake in our neighborhood.  He loves being on the water just like his mama, so this was the perfect gift for him. Caroline was pretty excited about it, too.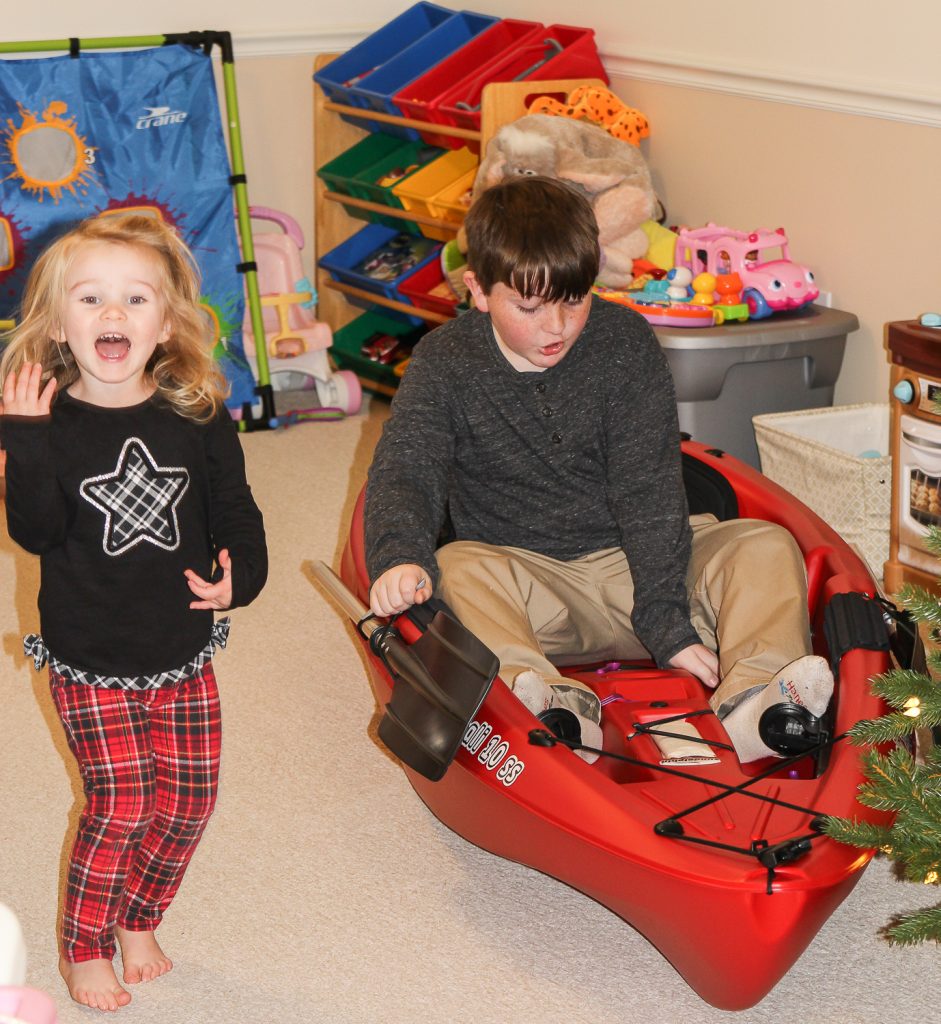 Of course she got a ton of gifts as well, but she was most excited about these tablets that turn her bathwater every color of the rainbow.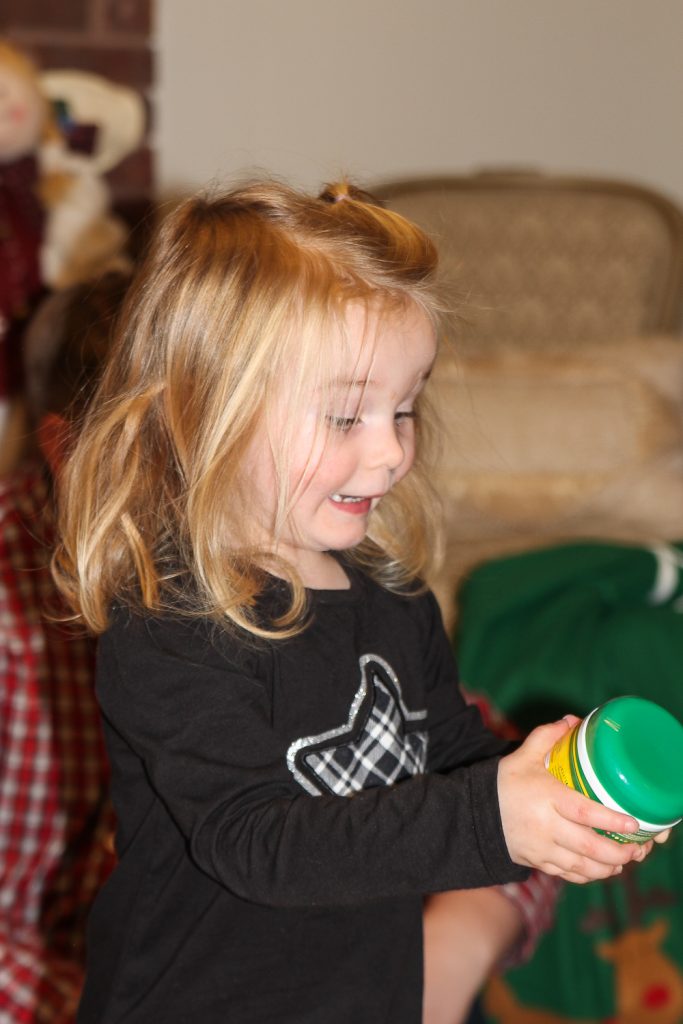 Christmas eve afternoon we smoked a brisket on the Big Green Egg and turned it into homemade barbecue. It was our first attempt at smoking a beef brisket and MAN was it delicious. Of course I forgot to take a single picture of it, but it sure was good. I marinated it in Dale's Sauce and a can of Coca-Cola.  Doesn't get much more southern than that. It was perfection.
That night we hosted a neighborhood cookie decorating party while we waited on Santa Claus to arrive on the firetruck.  Unfortunately Santa was running about an hour late and we all nearly froze to death, but we had a lot of fun drinking my homemade hot chocolate and getting sugared up on cookies and icing while we waited.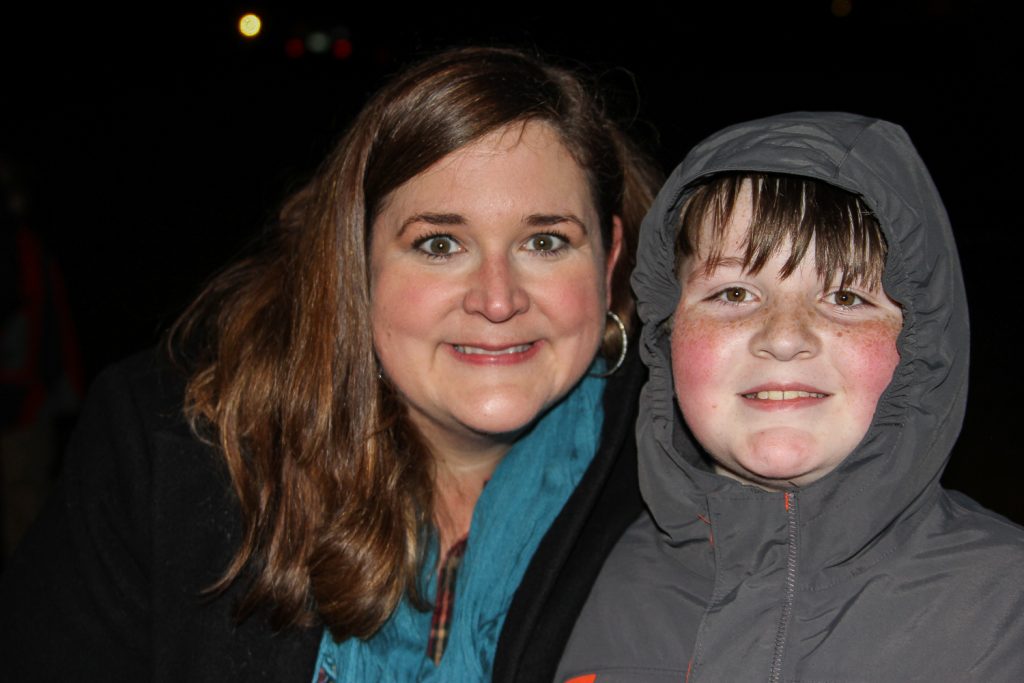 On Christmas morning, the kids woke up about 6:00, and I tried to video tape Caroline coming down the hallway to capture her eyes lighting up at all the presents that awaited.
Instead, Woodrow ran to the back door to be let outside and accidentally stepped on a toy, freaked out and got his nail hung in the air vent which promptly knocked over my fiddle leaf fig tree and scattered dirt all over the dining room.  After we got Woodrow outside to go potty and everything calmed down, we settled in to open gifts and eat breakfast.  Somehow I actually managed to capture this chaotic moment on video, so enjoy…
For breakfast, I made some Pillsbury cinnamon rolls in the shape of a Christmas tree.  My friend shared this idea from The Pinning Mama on facebook and I thought it was super cute. I left out the green food coloring, but they were still a huge hit.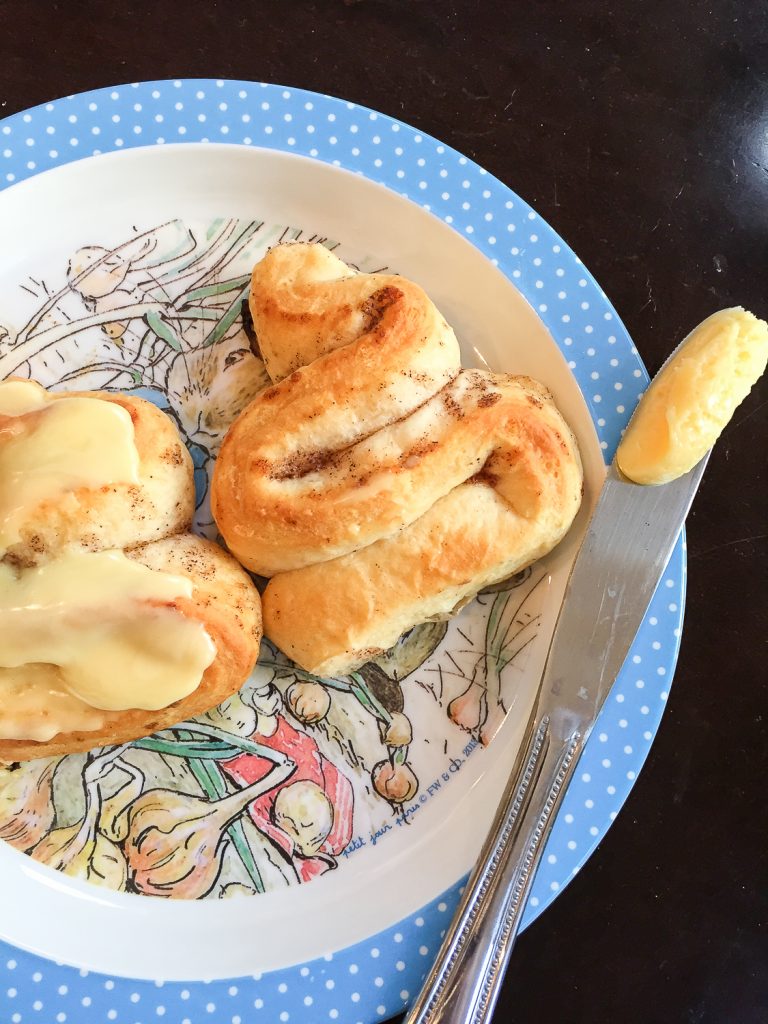 The kids racked UP in the gift department this year. Garrett got lots of outdoor boy toys.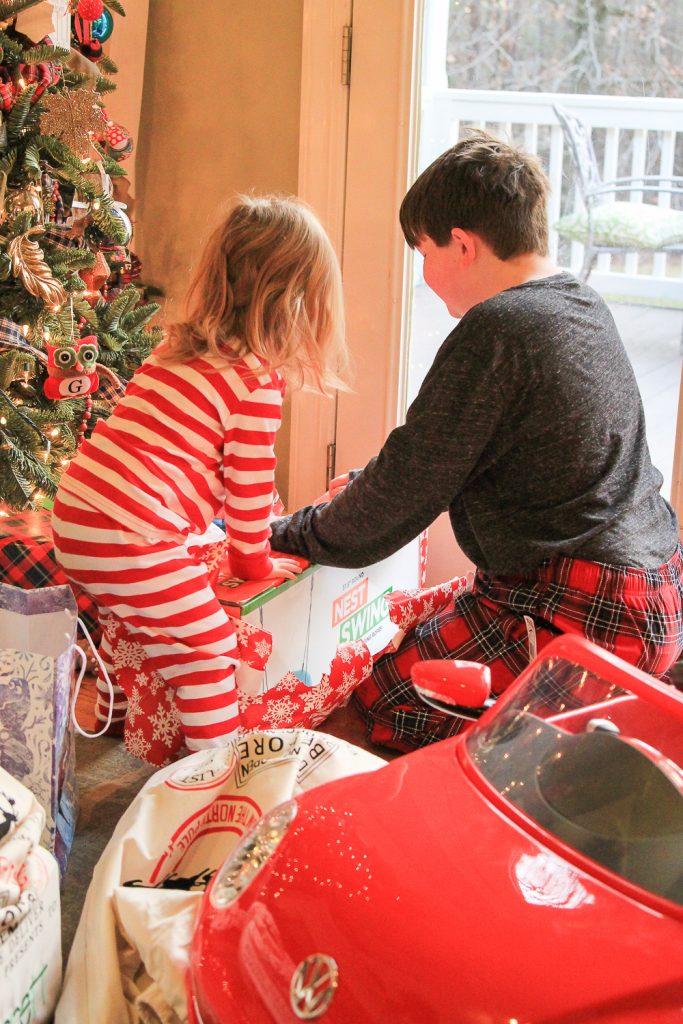 I swear this Frozen monstrocity is TALLER THAN HER CRIB. This was a last-minute purchase that Jeremy found on sale for way less than it originally cost.  She loves it.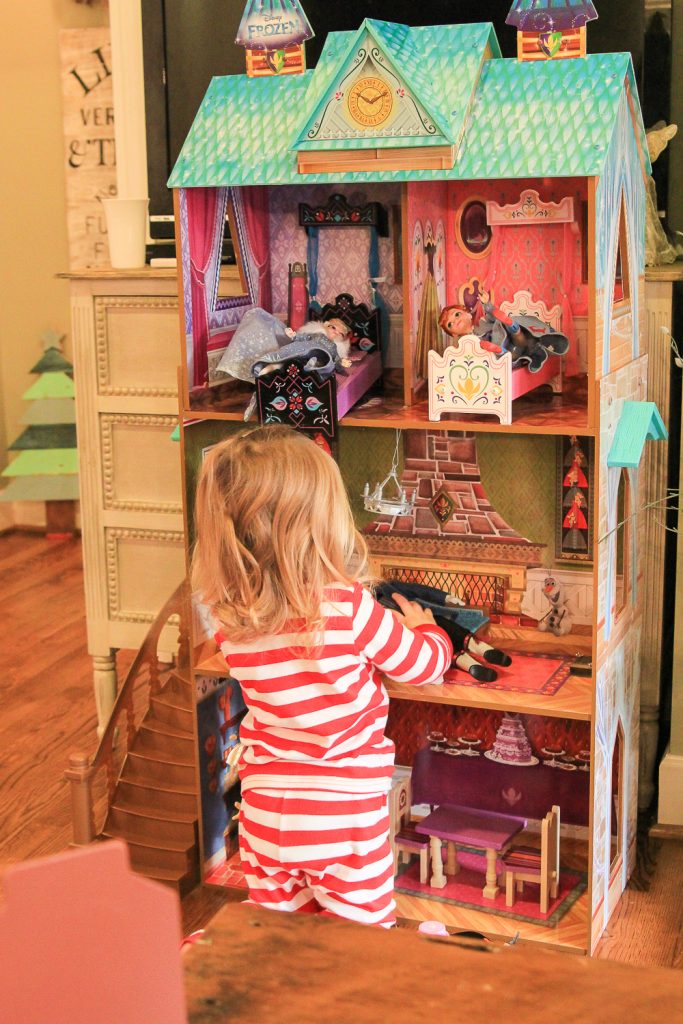 But the biggest gift of all? WE ARE GOING TO DISNEY WORLD.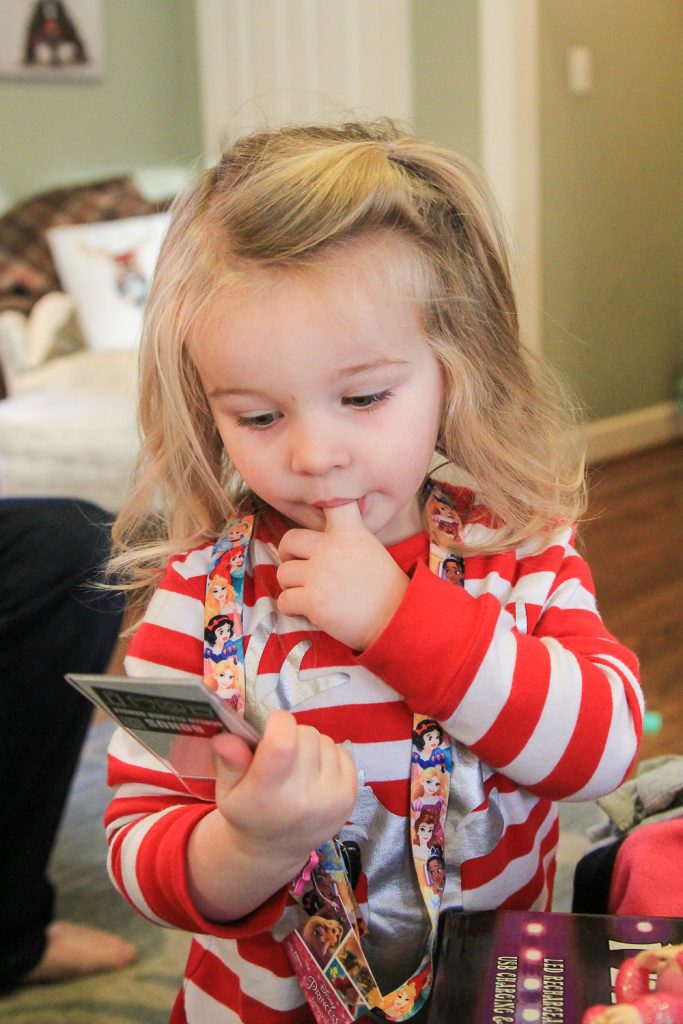 AND Universal Studios to see the Wizarding World of Harry Potter! WOOT!!
Garrett is OBSESSED with all things Harry Potter so for his Christmas/Birthday gift from us, we decided to get him a trip to Universal to see HP land in person.  We will go sometime in February, but G is wishing this was an ACTUAL time-turner so he could make it happen, like, today.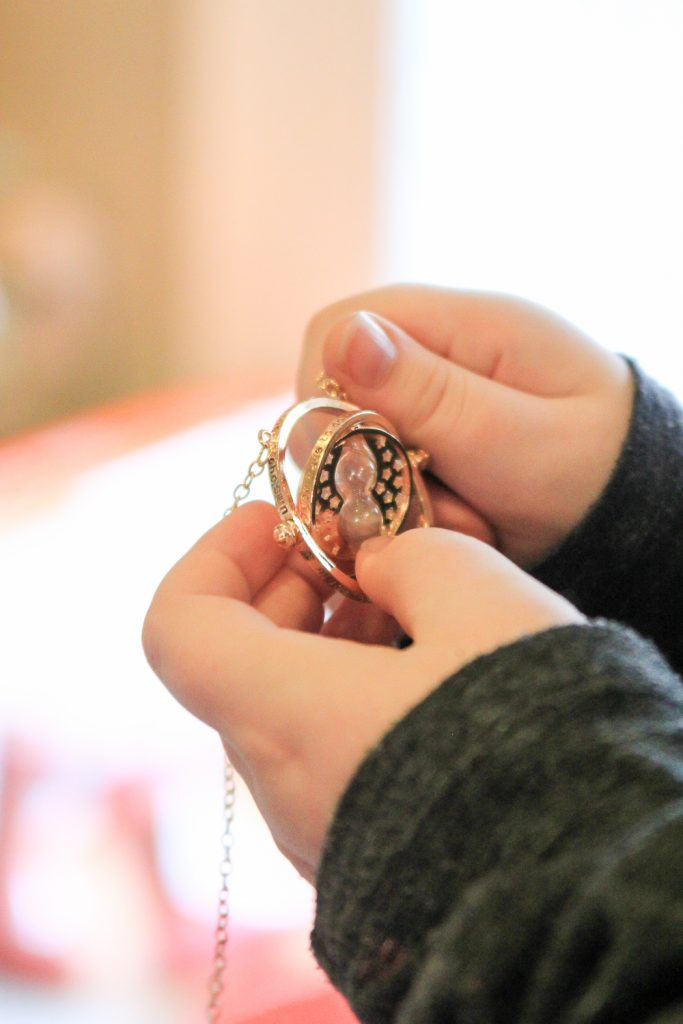 We celebrated this holiday a little different this year, and it was a nice refreshing change.  Our tradition has always been to go down to Jeremy's granny's house for lunch on Christmas day after we open our gifts that morning. This year Granny came to us, along with my inlaws and my dad, for lunch. My mom was super sick with a bad cough, so she stayed home.
My parents bought Garrett a go-kart that runs about 31 miles an hour, so Jeremy and my father-in-law cranked the governor down so it only runs about half that amount to start out.  He absolutely LOVES it and drives it like a champ right outta the gate. He went through an entire tank of gas on Christmas day alone.
Not to be outdone in the vehicular department, Caroline got a little red convertible VW beetle for Christmas.  She FREAKED over this car, and decided to try to drive it around the living room.  I have never heard so much screaming and giggling on Christmas morning over a gift. Here's a video so you can hear how excited she was…
She literally rode this thing until the battery ran out and cried for more.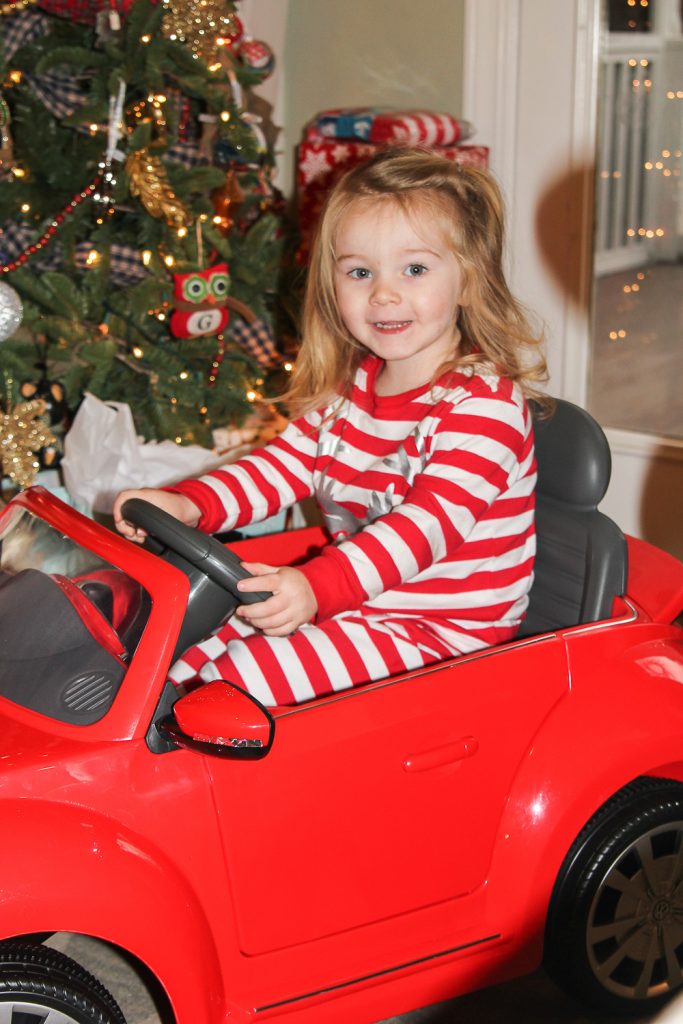 She needed a little bit more help in the steering department, which involved us following her up and down and all around our driveway and my parent's driveway next door to keep her out of the leaves or the lake.  We got our exercise in, for sure.
All in all, this was a Christmas for the record books.  We are so blessed and happy, and I hope your family is as well.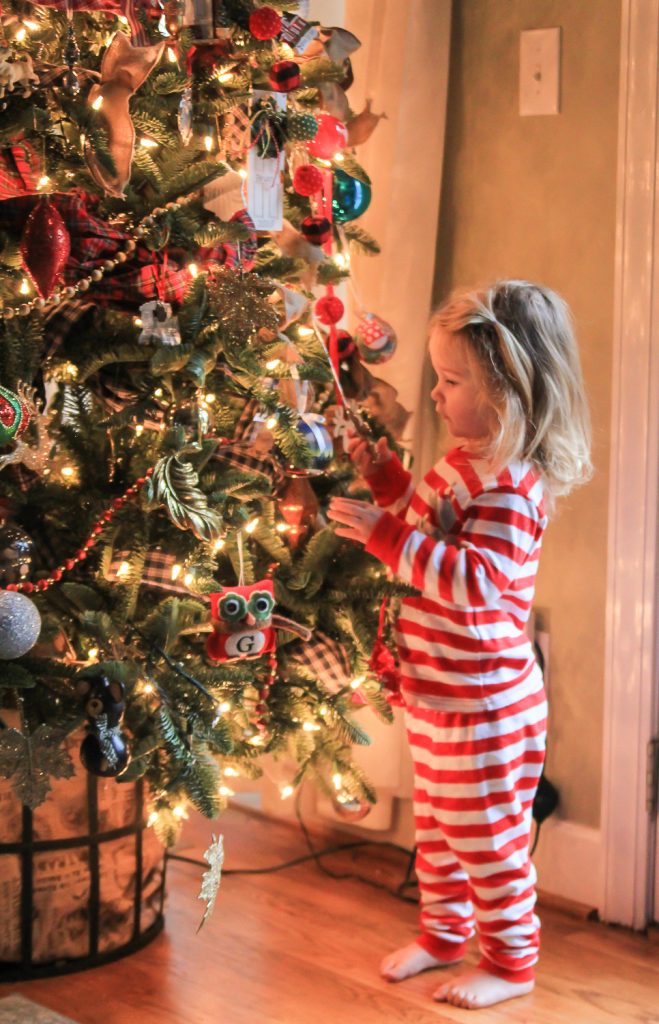 Merry Christmas to you all!
I hope you had a wonderful holiday and a very happy new year.