Caroline just visited Disney World for the first time ever! As a headstrong, two and a half-year-old toddler, I was worried she would be at a hard age to visit the theme parks, but she did great. This is our fifth trip to Disney as a family but our first as a family of four (and with a little GIRL, who wants to meet totally different characters than our son ever did.)
The best part about taking a toddler to Disney? They are TOTALLY FREE. Ages 2 and under get in free at Disney, so it cost us nothing for her to go in the parks, which was a HUGE cost savings.
If you're looking for more ways to save money on a Disney vacation, be sure to check out my other post: Creative Way to Save Money at Disney
Looking for a list of the best rides for little ones (and what to avoid?) Read my recommendations of The Best Rides for Kids Ages Five and Under at Disney.
Since this ain't our first rodeo, I was pretty well prepared with a list of things to pack for a Disney World vacation. Everything went really smoothly, so I wanted to share the list with you guys today in case you're planning a Disney World vacation with a toddler. I'll also include some of my best tricks for navigating the parks that I've learned along the way. Ready?
Here's my best advice!
Phone Apps to Download:
Before you leave the house, be ready to head off any meltdowns by downloading these fun Disney apps. These will keep the kids occupied while waiting in long lines.
My Disney Experience- This is the official Disney app where you can link up all of your tickets and Fast Pass information. Once you've used up your three Fast Passes for the day you can add more FP's (one at a time) all day long. This app makes it easy to add Fast Passes.
Life360– This app will pinpoint the location of anyone in your family down to the square foot, so if you get separated you can find each other again really easily.
Techy tip: Take a picture of your car's parking lot section and text it to someone else in case your phone dies so you can remember where you parked.
What to Pack to Take Inside the Disney Parks
A big stroller: One advantage of taking a toddler to Disney is having your own stroller. If you don't want to bring your own, you can rent them at the parks but we found it easier to take our own. We were able to pack all sorts of stuff inside a bag that stowed away under the seat without having to carry it everywhere. This is a huge advantage so use it while the kids are little. I was so glad Caroline's stroller offered good shade for her, as well. She was able to take a nap in it without the sun blazing in her eyes.
Mom tip: Tie a balloon to the handle so you can find it easier in the giant stroller parking lots.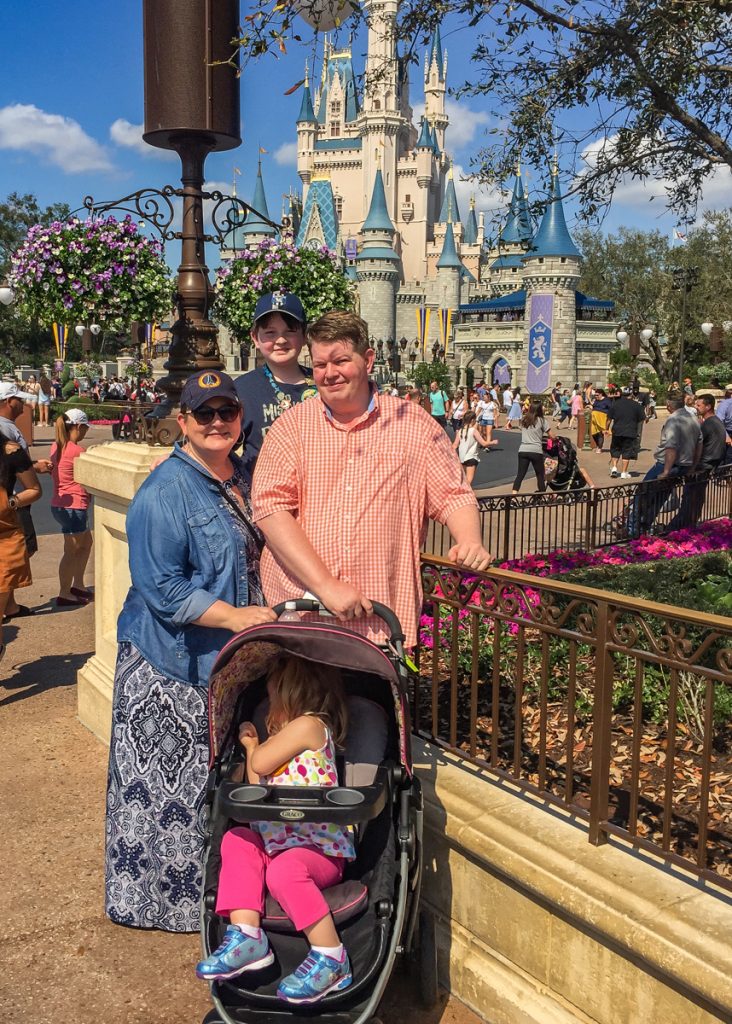 Good quality sunscreen: We use Blue Lizard Baby. It's safe and super effective against the hot Florida sun.
Phone battery backup charger: between photos, videos and app-playing while waiting in line, your phone battery is gonna drain fast. Take a backup charger and cords!
Crossbody wallet/purse: You want something lightweight but large enough to hold your cell phone, ID, credit cards, hotel keycards, money and most importantly–your Disney tickets (if you don't have a wristband). You'll need to swipe these at all your Fast Passes so keep them handy.
Disney Bandaids: Just in case of boo-boos.
Blister aids: You're gonna be walking about 20,000 steps per day. There will be blisters. Trust me.
Chafing gel: I'm just gonna leave this right here. You'll know if you need it or not. 😉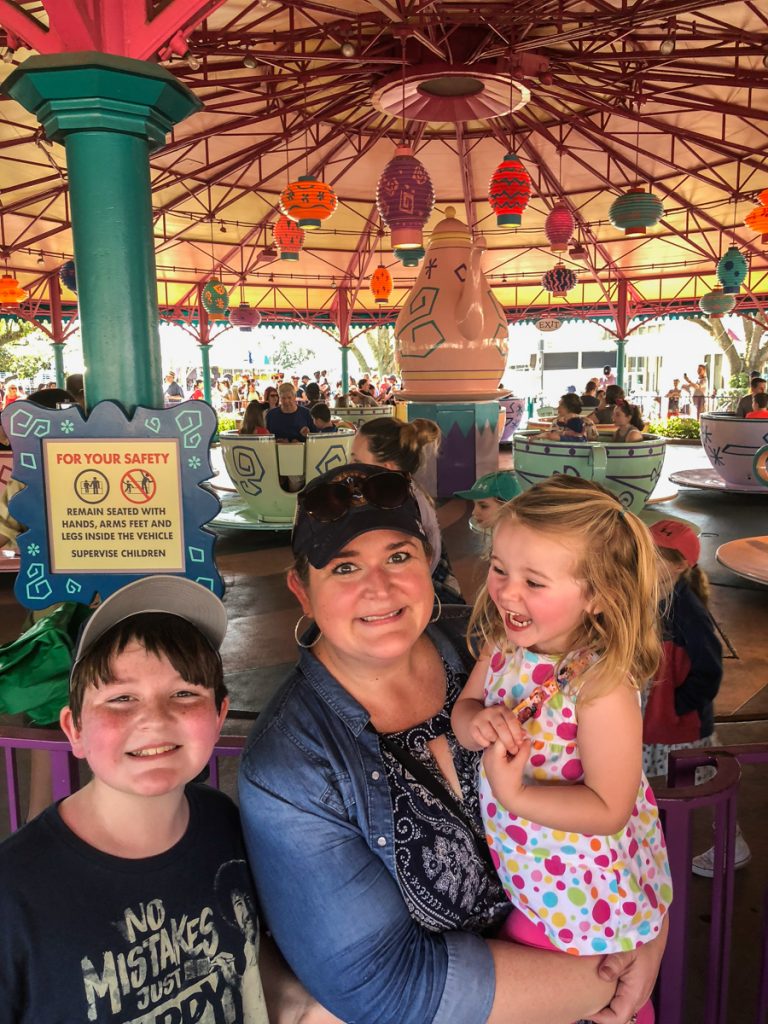 Spray bottle Misting fan + batteries: You can usually find these way cheap at Walmart than you will at Disney. They cost an arm and a leg at the parks so take one with you to save $$$$.
Hand sanitizer & Travel packs of Wet Ones: Disney might be the most magical place on Earth but it's also one of the germiest. You definitely need some hand sanitizer. Our little one still sucks on her finger pretty much non-stop, so I tried my best to keep her hands wiped down throughout the day. Luckily we made it through this vacation without any sickness, so that was great!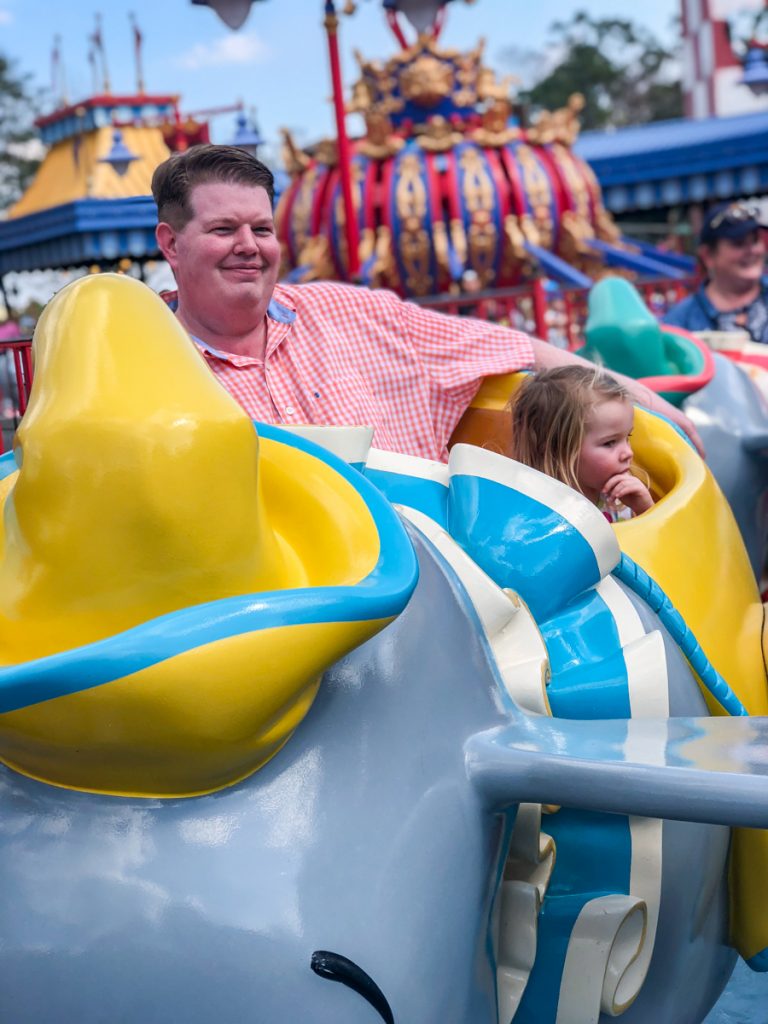 Snacks in a small soft-sided cooler or lunch box: Disney allows you to bring any food you want into the parks, so pack plenty of snacks. This is way better than spending $8.95 on a kids meal that might get thrown away. We froze water bottles overnight and packed them in the cooler to keep the snacks chilled.
A toddler leash: These things are lifesavers if you have an independent kid who likes to run instead of ride in the stroller. Caroline's leash is a pink owl that served double-duty as a stuffed animal lovey that helped her nap better in the stroller. Here is one shaped like Mickey Mouse ears! Fun! Don't be ashamed to leash your toddler. Nobody at Disney will judge you, trust me.  We are all in survival mode there. On a leash, your kid is safe and not screaming. That's all that matters.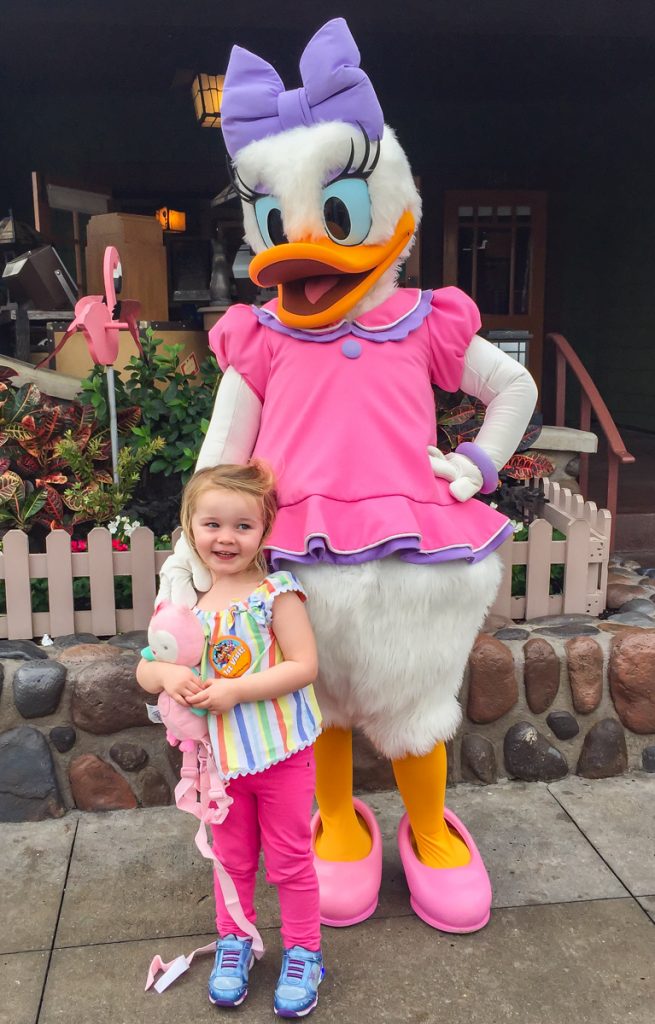 Diapers/baby wipes/change of clothes: This goes without saying if you have an infant or toddler still in diapers, just be sure to take enough to last all day long. The good news is… If you run out, there are Huggies Baby Care Centers inside every single Disney park. If you have a child in diapers you MUST know about these magical places because they are AMAZING. They offer an air-conditioned private place to sit and chill out on a hot summer day. They are also fully stocked with anything you might need as a nursing mother or toddler mom. There are rocking chairs in private nursing rooms and NICE changing tables.
Be sure to take advantage of these awesome places to sit and rest, for sure. Click here for a map to locate the Baby Care Centers in each park.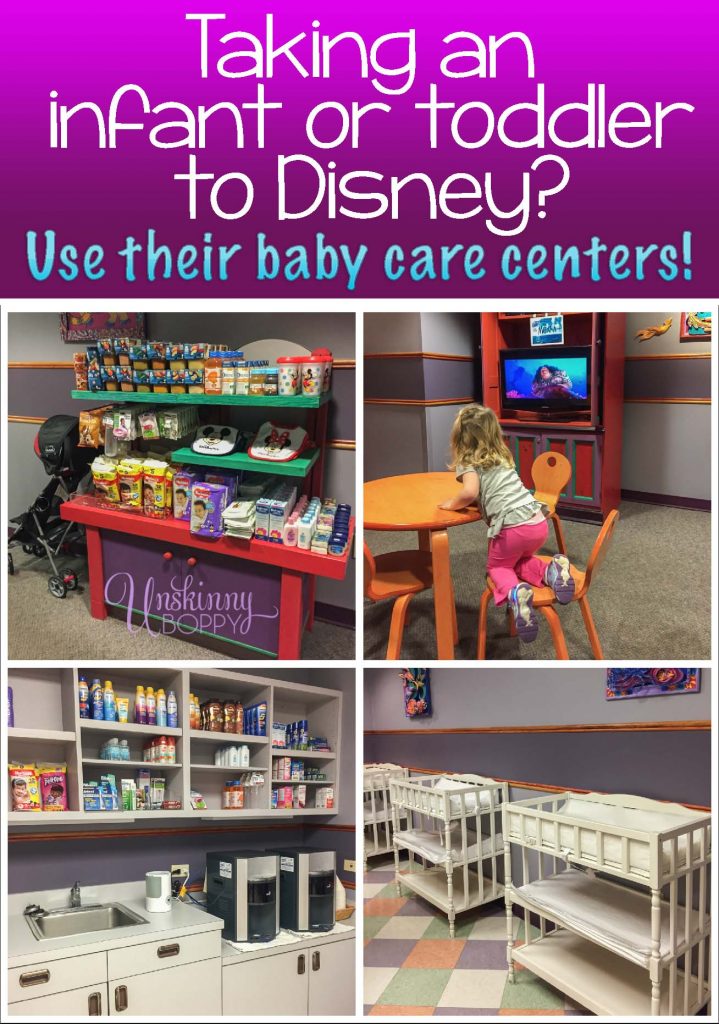 A backup plan: Now y'all please don't hate me for what I'm about to say ( and I know some of you will….) but as an out of shape, 40-year-old mom of a toddler, I decided to take The World's Best Nanny with us on this trip. Our amazing babysitter, Brittany, came with us to help us wrangle Caroline all through the airports and parks. She was totally a lifesaver for me on this trip, and I'm so thankful we were able to take her with us.  If you have an awesome nanny of your own, I definitely recommend taking her with you!  As a bonus perk, you'll have your own personal photographer to take pics of your family everywhere you go. 🙂 Brittany's iPhone had the Portrait settings in the camera and it took amazing pictures!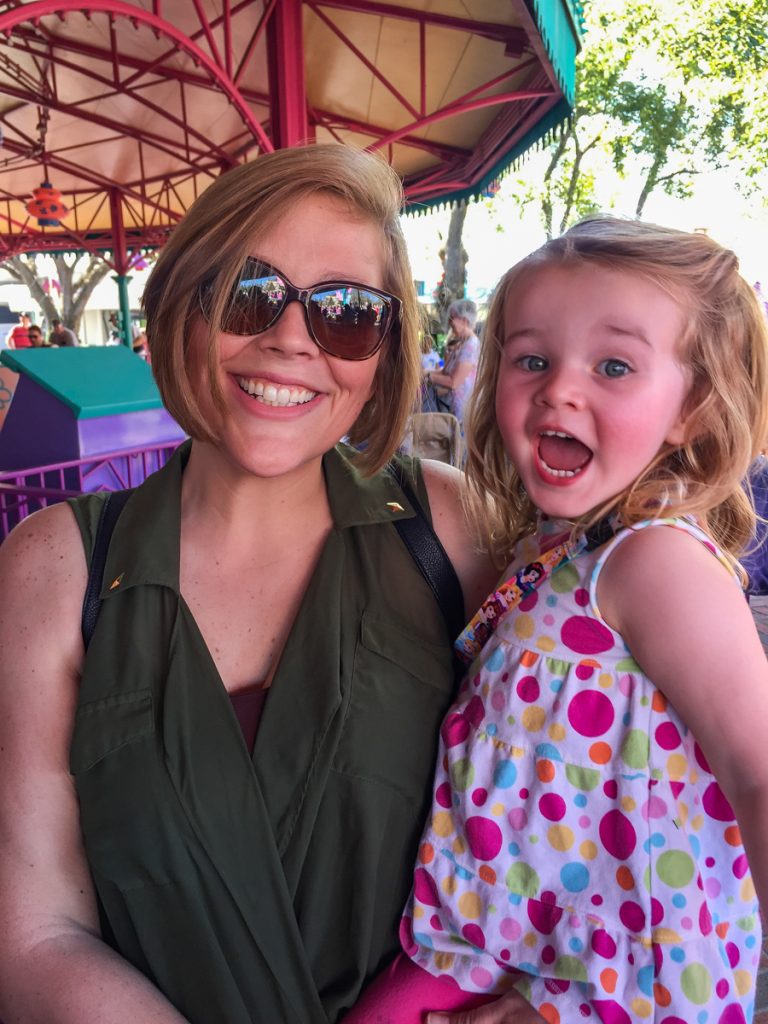 Plenty of patience: All of these things listed above will make your trip to Disney with a toddler easier, but BY FAR the most important thing to pack is a good attitude. Plenty of patience and grace for your little one will go further than anything else to make your trip fun and enjoyable for the whole family.
I know it's easy to push your kids hard on a vacation like this because you feel like you need to get your money's worth, but trust me when I say it's not worth it to push them past their limits. Things will go MUCH smoother if you sit back, relax and try to give the kids time to nap in the middle of the day.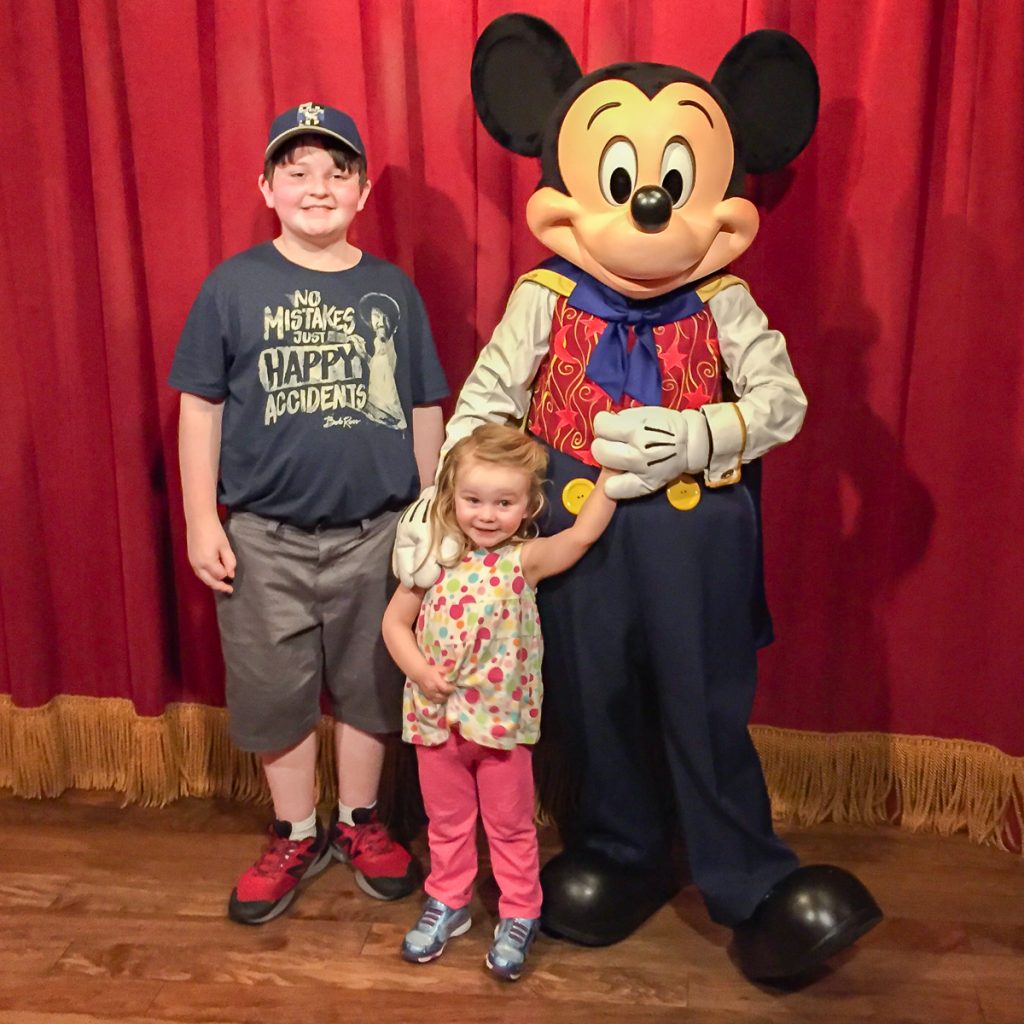 How to avoid toddler meltdowns at Disney:
Take that iconic photo in front of the castle at Magic Kingdom when you first walk through the gate while everyone is still happy.
Use at least one Fast Pass to get pictures with your favorite characters. We got lucky on this trip and found some short character lines but most of the time the lines are LONG to take character photos. Toddlers hate long lines, so a Fast Pass will ensure you get at least one good photo op. We were super impressed by Mickey Mouse at Town Square Theater because he actually talked to us and answered questions in Mickey's voice.  You could also plan a Character meal. We love breakfast at Chef Mickey's in the Contemporary. Also, Anna and Elsa at Norway in Epcot had no line, no waiting when we arrived and they spent a long time talking to Caroline. She LOVES Frozen so this was amazing.
Plan your fast passes back-to-back first thing in the morning so that you get all your rides in while the kids are still fresh. After you've used all your fast passes you can add more (one at a time) throughout the afternoon and evening.
Be sure to keep them fed and hydrated (and not too sugared up.)
Take them back to the room for a mid-day nap. This way they will be rested up and ready to go again later that evening.
Divide and conquer the parks. Think of Magic Kingdom as spokes on a wheel with Cinderella's castle being the center and the Railroad steam rain as the outer circle of the wheel. Try to do the entire right half of the wheel in the morning, (Tomorrowland and FantasyLand). Then at midday, get on the steam train at the station right behind Dumbo/The Barnstormer in Fantasyland and ride it back to the front gate to head home for a nap. When you come back to the park, you can hop on the steam train and take a ride it all the way around to the back of the park to pick up where you left off that morning or get off at Frontierland.  Head to Liberty Square, hit up Frontierland and Adventureland and then you'll have seen it all. This has been our routine for many years and it works great. You'll have to fold up the stroller to ride the train, but it's worth the hassle of not walking in circles through the whole park repeatedly. At Epcot, you can ride the boat across the lake with the same idea in mind.
If you're planning a trip to Walt Disney World, HAVE FUN!! We absolutely love Disney and cannot wait to go back again!
Have you done Disney with a toddler before?  Do you have any tips that I've miss here?  I'd love to hear them in the comments.
If you liked this post, be sure to read my other Walt Disney World Vacation Planning Posts: