UPDATED: The original post was written in March 2013 and updated in March 2018 with new rides and more girly info. Things change at Disney so hopefully this info will be relevant for you in 2020 and beyond! 🙂
---
If you are searching for fun things to do at Walt Disney World with a five year old, then you've come to the right place.  This post is CHOCK FULL of information about the best rides for the preschool/kindergarten crowd at Walt Disney World in Florida.
Let me start by saying that every family is different and every kid has different needs.   For example, I have a bad hip and as my blog name implies I am unskinny (aka overweight) so I go at a much slower pace compared to most.  I also have to consider whether I will fit comfortably on some of the rides.  Your Disney experience will likely be a lot different than mine, so you might disagree with my advice.
But, that's what is so great about Disney- there is something for everyone!  For all you out of shape parents of preschoolers/kindergarteners, this one is for you. Looking for advice for toddlers at Disney? This post is a must-read, also. 
In February 2013, we spent four days at Walt Disney World in February with my parents to celebrate Garrett's fifth birthday.  Instead of throwing a big party for 20 preschoolers, we decided to plan a trip to Disney World instead.  This was our third time to visit Disney with Garrett, but it was the first trip where we've taken him to all four parks.
I've always avoided Epcot (or as he called it, Apricot) with him up until this point, because there is just not much to appeal to the toddler crowd there. I'm glad we took him this year, because he really did enjoy it.
We were there the week of President's Day, when Kelly Ripa was filming the morning show at Magic Kingdom, and the crowds were at their absolute peak.   Let me say that over the years I've visited WDW in July, May, October and now February and this was one of the most crowded weeks that I've ever seen at the parks.  Wait times averaged 90 minutes or longer and Fast Passes that were handed out at mid-day weren't returning until after 7 or 8 pm at night.  It was crazy crowded!   On the plus side, the weather was perfect.  It started out cold but quickly warmed up to the 60's.  Perfection.
Since we could not possibly see everything, we tried to see the things that we knew he loved from past visits plus a few more new things.  Here is a list of our favorite attractions from each park and a few warnings about things you might NOT want to do:
1. When first you arrive, head straight up Main Street USA and take that iconic picture with Cinderella's castle in the background first thing, because you might not get the opportunity for a smile at the end of the day. Do it now and get it out of the way FIRST. Trust me on this.  Do not think "We will save it til the end" because that's when you come home with photos of your screaming kids pitching an epic meltdown o' exhaustion in front of Cindy's castle.
2. Once that pic is snapped, bear right into Tomorrowland.  The Buzz Lightyear Space Ranger Spin is one of our favorites and one of the first we like to do. It's a neon, glow-in-the-dark trip through outer space where you shoot at the evil Emperor Zurg and a bunch of aliens.  Garrett loves for me to spin the ship in circles in circles while he shoots.  Be sure to smile at the end- they are taking your photo.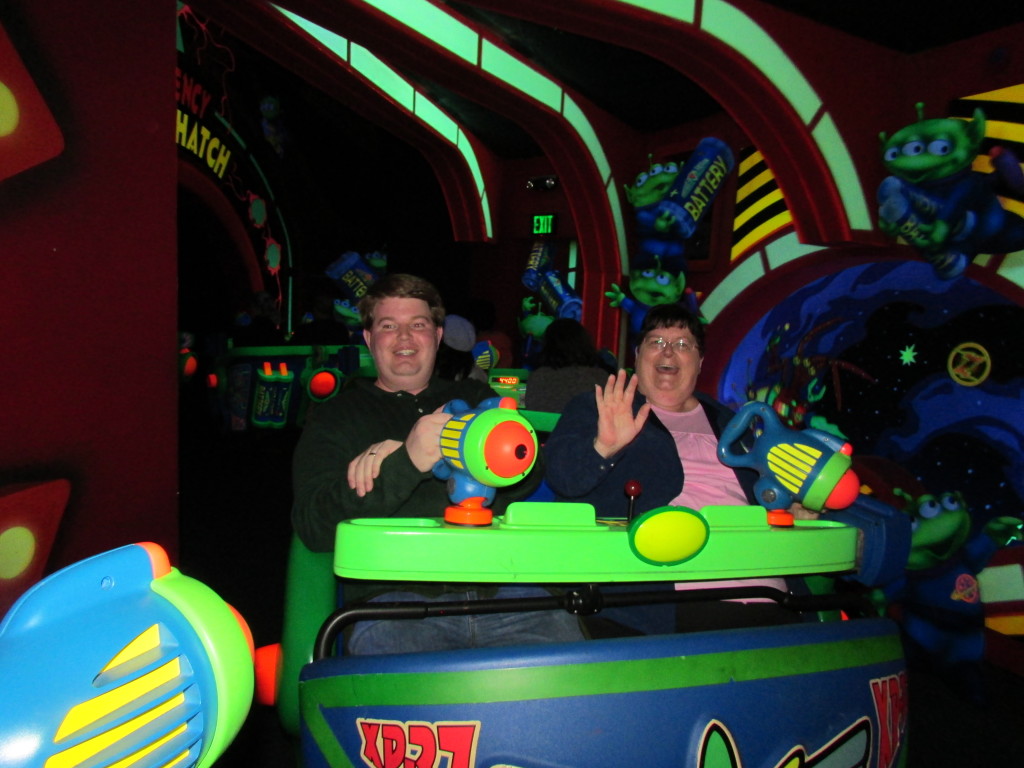 3. The Monsters, Inc Laugh Floor is right next door which is convenient even though it's not really a must-see for us.  It's good for some chuckles and it's a nice cool place to sit down and rest for a minute.  Garrett did laugh a few times, but I wouldn't say it was his favorite thing to do.  If you have a kid with a short attention span you might skip this and head for more action.
4. The Astro Orbiter is another fun carnival type ride in Tomorrowland.  You ride an elevator up to the platform and hop into a rocket ship that circles high above the park similar to Dumbo.  The difference is that it's kind of like sitting inside of an Olympic bobsled or a kayak, so you have to hoist yourself up and out of it when the ride ends.  If you have any trouble getting up off the ground unassisted you might have issues with this one.
The People Mover never has a long line but it's fun because it takes you behind the scenes of Space Mountain and The Buzz Lightyear ride. It's a nice, easy ride to do with toddlers but it's kind of boring if you don't want to waste your time. But this is honestly one of Garrett's favorite rides because it's a nice, calm, relaxing way to get out of the hustle and bustle for a minute.
There is a LOT  more to do in Tomorrowland, but those are our favorites.  The Tomorrowland Speedway looks fun, but it's easy to find a go-cart ride back home so we skip it.
From Tomorrowland we head over to Fantasyland.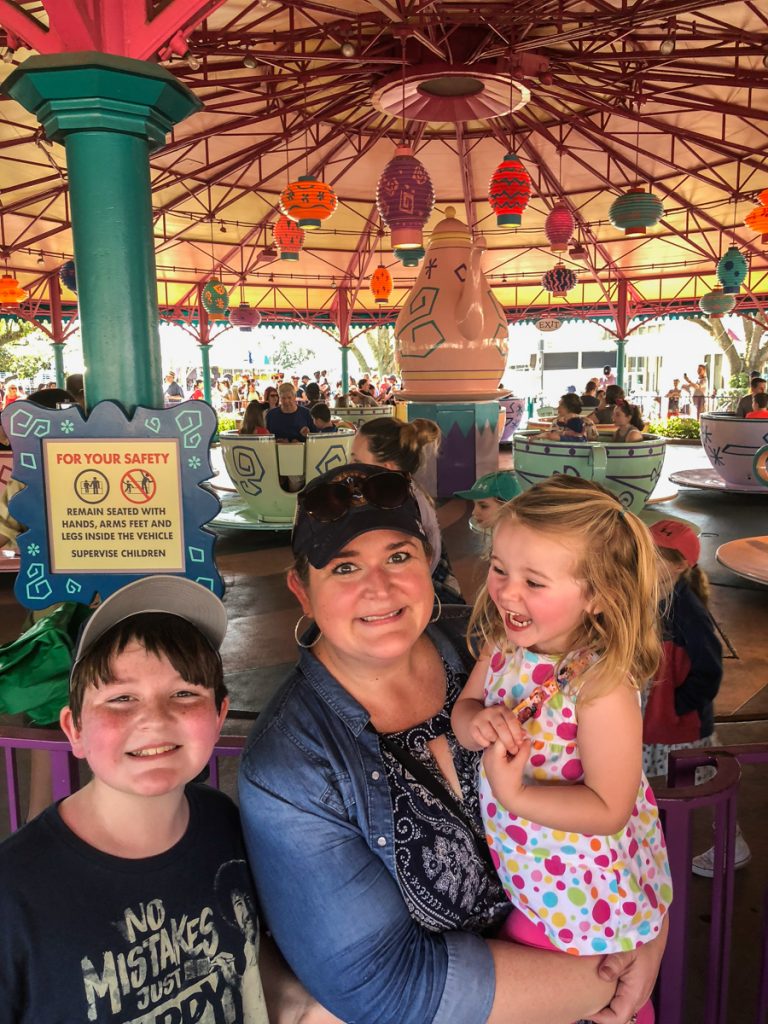 5.  The first things you see when you arrive in Fantasyland are the TEACUPS!  They are probably one of our most favorite rides just because they are such a classic, and we both love spinning around in circles.  My husband sits this one out because he can't handle spinny rides.
6. From there it's easy to head over to Dumbo, which is arguably the most recognized ride in the world.  Gotta ride Dumbo.  They've moved the original ride and added a second duplicate Dumbo beside it so the lines move faster.  They have also added an indoor circus/ playground area for those waiting in line.  Great distraction for the kids.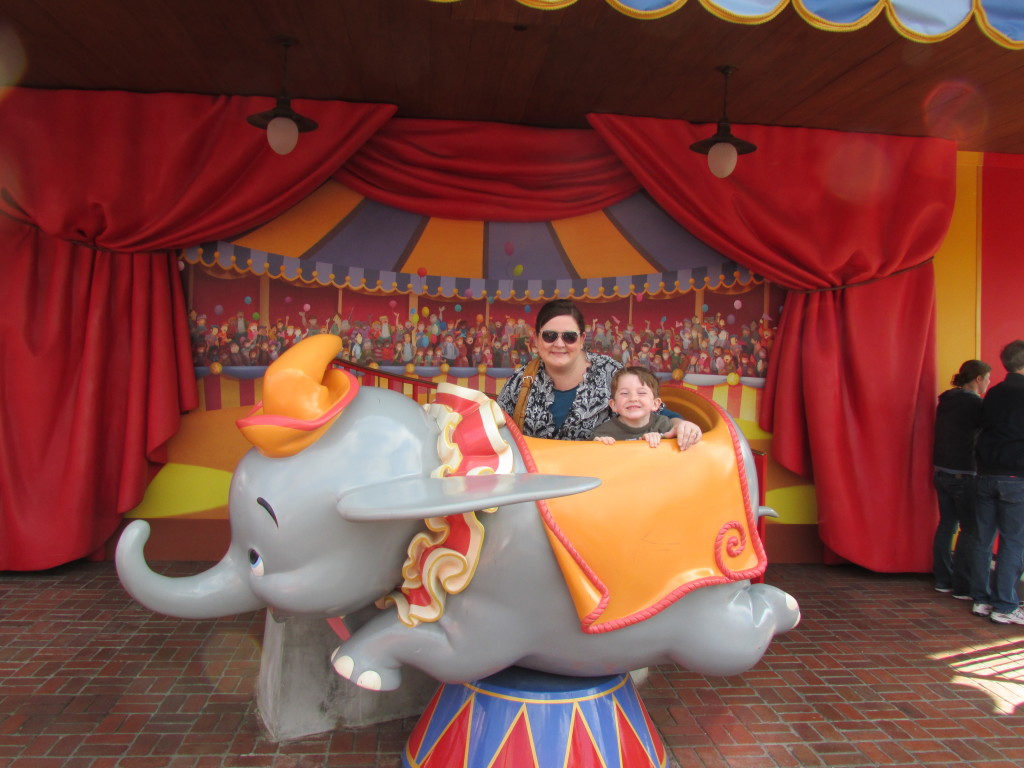 7. Pete's Silly Sideshow is a great place to hit up four characters in one place.  Goofy, Donald, Minnie and Daisy were there when we went through.
8.  If it's hot outside the Casey Jr. Splash N Soak Station would be perfect place to cool off and get wet.  It was about 40 degrees the day we were there, so that was a no-go.
9. Head back out toward the castle and ride The Many Adventures of Winnie the Pooh.  It's a super easy, non-scary and calm ride and there's also lots of fun things to keep kids busy while they wait in line.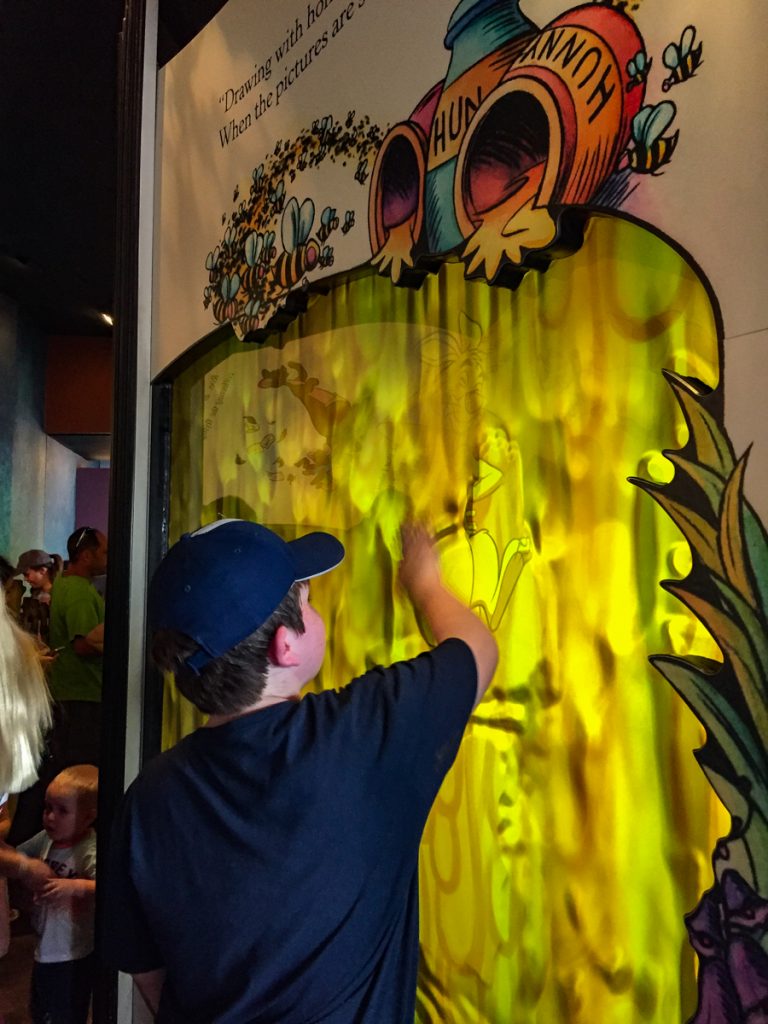 10. Continue around Fantasyland toward the carousel.  Gotta ride the carousel!
11.  Mickey's Philharmagic is basically a 3D cartoon on a big movie screen. We saw it when he was two years old, though, and he enjoyed it then.  We skipped it this time because Garrett was traumatized by "It's Tough To Be A Bug" 3D experience in Animal Kingdom and now has a permanent aversion to 3D glasses.
12. Peter Pan's Flight is one of Garrett's favorite rides. He loves the Tick Tock Croc snapping up Captain Hook at the end.
13. After two trips to Disney my husband refuses to ride "It's a Small World" again, but it's a fun, easy little ride that is another must-see classic if you've never done it before.  If you have done it before, feel free to skip it and save your sanity from that ear-worm.
14. Under the Sea: Journey of the Little Mermaid is a fun and easy ride that takes you "underwater" and plays all the best songs from the Little Mermaid. Definitely a fun ride for the littles who love oceans and Little Mermaid!
Don't miss the Fireworks show over the castle that night! They are spectacular! Over the years we've watched them from various parts of the park, but by far our best viewing spot was on the upper balcony of the train station at the main gate. There are rocking chairs up there, so you can sit and relax and have a perfect view of the castle straight up Main Street. It's a little bit further away, but it puts you right at the exit so you can get ahead of the monorail crowds after it ends.
Believe it or not, this is everything that we had time to see at Magic Kingdom in one day. The lines are just too long to do any more in a single day.   We spent a full day at this park and left when Garrett was too tired to go much further.  Your family probably travels further and faster than mine but that was our entire first day.
DAY 2
HOT TIP: Here is the best tip I can give you for seeing Magic Kingdom on different days of your trip– If you see only one half of the park one day and decide to go back another day, skip the crowds on Main Street and ride the railroad train around to where ever you left off on the last trip.  The train circles the park continuously and stops in Frontierland, Fantasyland and at the Main Gate, so you can hop on at the Main Gate and ride back to Frontierland or Fantasyland, then work your way around to the other parts of the park that you missed. Plus you get a fun train ride out of it instead of getting rammed in the Achilles heel by giant plastic strollers on Main Street.
In Adventureland, Frontierland and Liberty Square:
The Magic Carpets of Alladin is really fun- just like Dumbo but the camel spits water at you so there's a chance you'll get a little wet.
Swiss Family Treehouse is fun to explore, just be prepared to walk up a bunch of stairs. If you have bad knees you might wanna sit this one out.
Jungle Cruise: This one is pretty cheesy, but if you want to give your kids the memories that you had at Disney as a kid you might do this one for the nostalgia factor.  We don't waste time here because the Safari ride at Animal Kingdom is so much better.
Tom Sawyer Island: You ride a little pontoon boat across to the island where there are cool caves to explore and a wobbly barrel bridge to walk across. It's a good place to have a picnic since it's shady and never very crowded.
Pirates of the Caribbean: This is another one of those old rides that has been at Disney since forever but it's still a big hit. There is a little stomach-lurching drop in the dark but it's nothing too scary, just be aware if your kid is scared of "roller coasters".
Pirates Adventure- Treasures of the Seven Seas: if you have a Pirate-lover this is a fun little way to keep them entertained by going on a quest to collect Treasure finder cards.  I would only do this if you have an unlimited amount of time at Disney, though.
Haunted Mansion- The scariest part of this is the build-up of anticipation while standing in line to see "ghosts". It's not scary at all. Very much a Casper the Friendly ghost kind of vibe. I wouldn't put it at the top of my to-do list, though.
AK is one of our most favorite parks for Garrett.  He loves nature and being outside, so just the jungle-like feel of the park itself is fun to walk through and explore.  There are lots of zoo type attractions with birds, animals and plants that you can stroll around look at without  battling too many crowds.
1.  The best advice I've ever gotten about AK is to try to get a Fast Pass for the Kilimanjaro Safari ride right when the park opens.  The animals move around more in the morning, so the earlier you do this ride, the better.   The trouble with doing this is it totally throws off seeing the areas in order and you wind up walking more to back track and see other areas.  But, it's still good solid advice if you don't mind the back-tracking.
The safari ride is a must do for us at Disney. The last time we rode it we had two Rhinos get into a shoving match and one bumped right into the side of our bus.  I've never seen a bus driver throw off a headset and get on a radio so fast.  We didn't move, just sat there watching these two giant Rhinos square off at each other and get shoved around. It was AWESOME.  You never know what you're gonna get on that safari, but you can almost always count on a sleeping lion!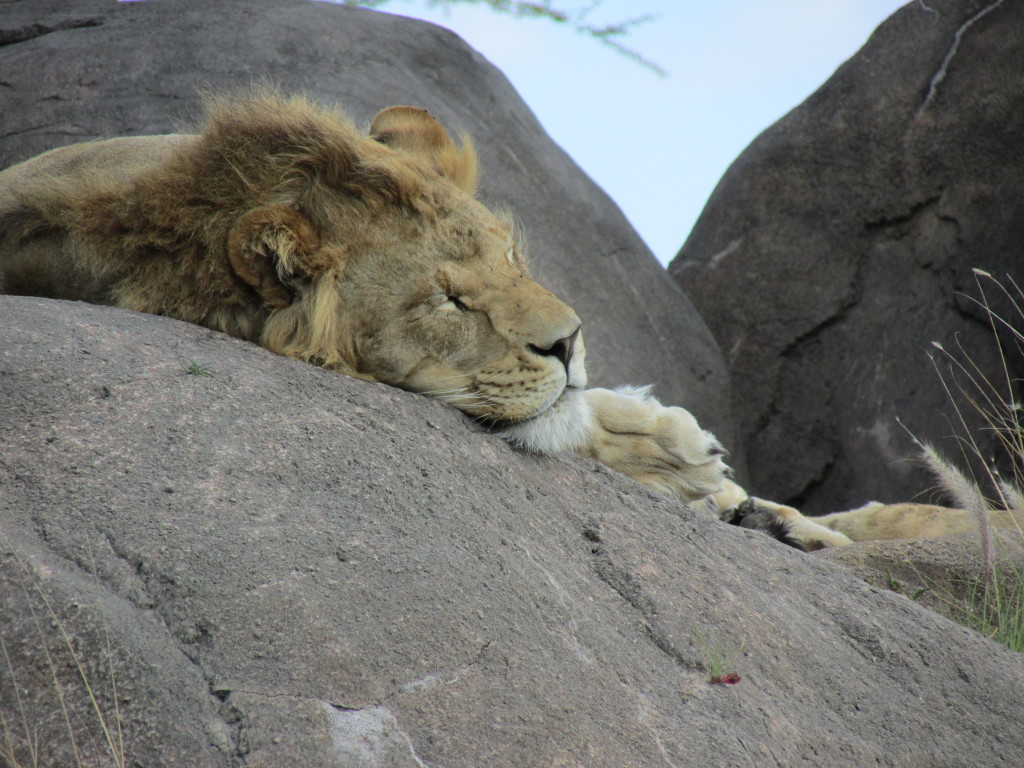 2. Festival of the Lion King in Camp Minnie-Mickey is an excellent show, and Garrett even got picked to circle the stage and dance during one part of it.  Then, Timon called him out from the stage and said "Great job! Especially YOU." and pointed at G and blew him a kiss.  It was so great, and you can watch the video of him dancing at Festival of the Lion King here.
3. In the back of Camp Minnie Mickey there are more good opportunities to hit a bunch of character photo opps all at once.  Mickey, Minnie, Goofy and Donald take pictures back here in their safari outfits.
4. There are Kid's Discovery Club stations at every land where the kids have to complete a quick activity and get their passport stamped.  G enjoyed all of them, and filling his card became a priority.
5.  It's Tough to Be a Bug is a 3D, interactive movie underneath the Tree of Life on Discovery Island.  Garrett has inherited my fear of bees and buzzing things, so I should have known this was probably not a good idea from the beginning.  The movie was cute, but then, when giant scary spiders dropped down out of the ceiling along with a blast of steam he nearly had a come-apart.  He tried to squeeze himself between the seat and my back and started yelling for me to get him out of there.  Needless to say, we won't be doing that one again when he's little.  Let the lifetime of arachnophobia begin…. Beware!  If your kids can't handle scary stuff at all, avoid at all costs.
6. Back in Africa, there are lots of things for the kids to do.  Garrett loves getting his face painted, so we usually do this at AK.  On this trip he got a Pluto face at AK and a tiger face at Epcot.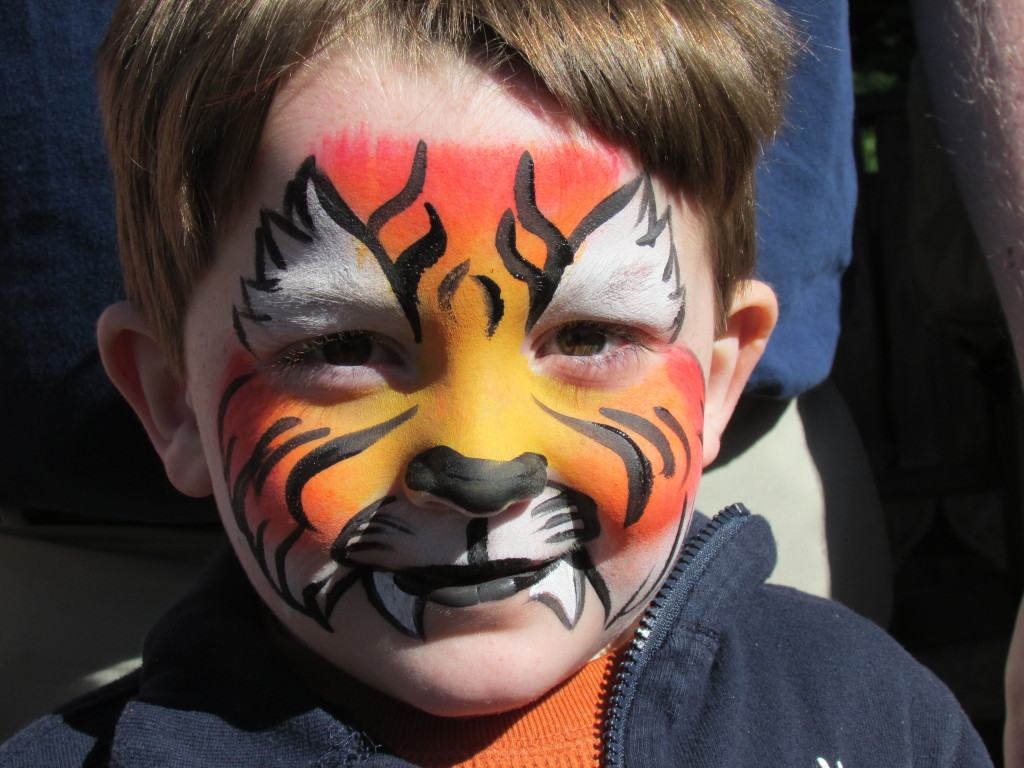 7. Rafiki's Planet Watch is a favorite place of Garrett's so we ride the train out there.  When you arrive you walk through the woods for a bit to a building and a huge petting zoo area.  The pigs, goats and sheep are able to run loose along with the kids, so prepare for that if you or your kid are on farm animal germ alert.  There is a bucket of bristle brushes by the entrance, so grab one of those and let the kids brush the animals and watch them play on a big shaded rope bridge area.  We got to watch a little program featuring a skunk and a porcupine and learn all about their defenses in the wild.  G loved feeling the porcupine quill at the end.
8. We typically skip Asia and head to Dinoland for the rest of the day at AK.  There is a huge carnival game area called Fossil Fun Games where you can purchase tickets to play the games  and win prizes.  Like everything at Disney, it's not cheap (especially on top of the ticket you've already paid for to get into the park) but it sure FUN. And unlike most rigged Carnival games, you actually win good prizes.  We spent a long time in here playing the carnival games with my parents and laughing whenever Garrett would win because he would get SO excited.  He  racked up on stuffed animals and prizes.
9. Finding Nemo, the Musical was a beautiful theater production that kept the kids and adults both entertained.  Well, except for my dad who slept through the entire thing.  But the rest of us loved it.  It's a play that's acted out with real people using character puppets from Nemo.  It's hard to explain, but I was very impressed by it.  It was just beautiful, and so creative the way they retold the story of Nemo in a 30 minute stage show.
10.  The Boneyard is a tricky one.  The kids LOVE it.  The parents?  Not so much.  Unless you are a totally free-range parent who has never had any paranoid delusions about your child being kidnapped in a crowd, this place is bound to cause you some anxiety.  It's essentially a giant playground, but the chances of losing sight of your kid inside this place are pretty much 100%. The slides start at one  part of the playground and come out in a totally different area. They can climb inside treehouse like mazes and not come out for 5-10 minutes.  It's pretty much a helicopter parent's worse nightmare.  Be prepared, and avoid at all costs if you're one of those parents who cannot handle losing sight of your child in a crowded place.  The bad thing is, there is a really cool dino-dig at the back of this place where Garrett could spend hours digging for bones, but you have to get through the giant maze of playground temptation to get there.
11. Triceratop spin is just like Dumbo, but with dinosaurs.
Now let's talk about Epcot and Hollywood Studios!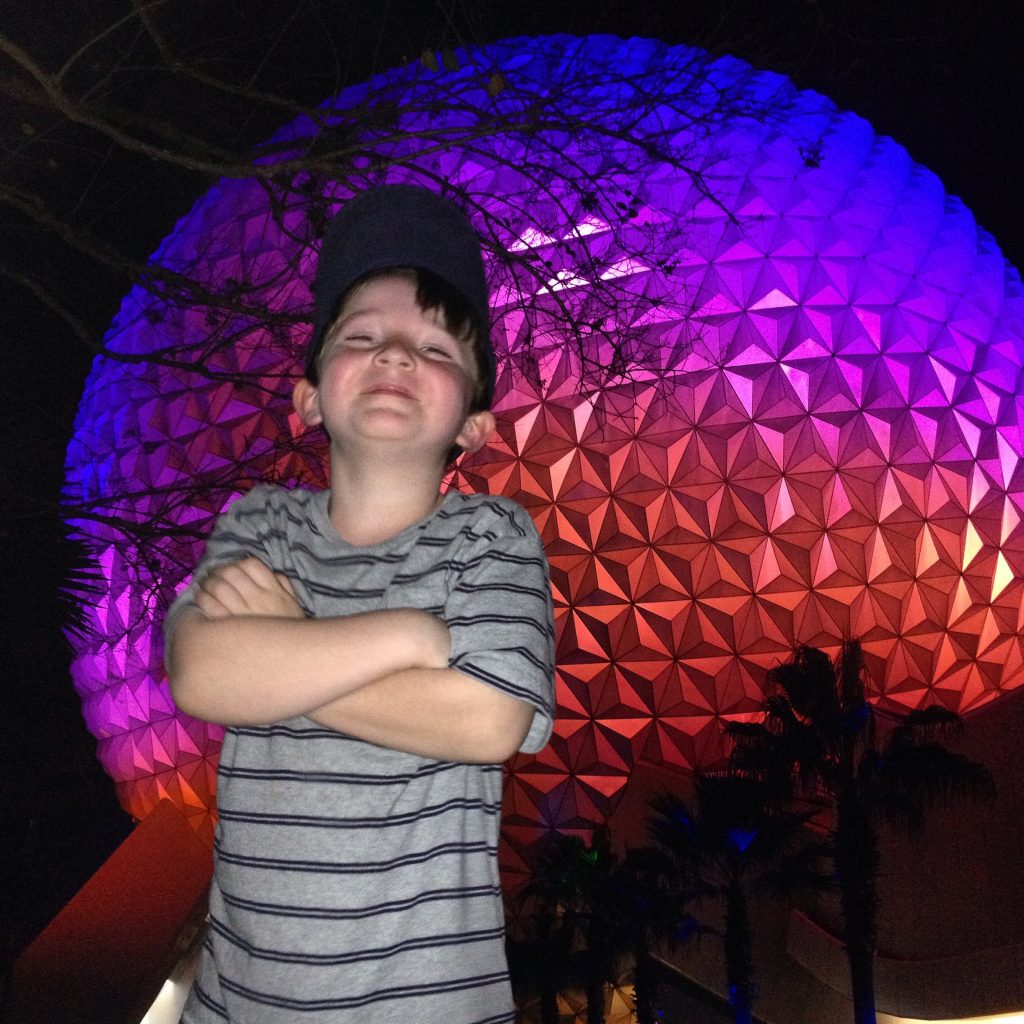 Epcot is a really big place without a very high concentration of fun stuff for little kids, so be prepared.   As long as you know that going in, you should be fine.   I wish we had time to do the Spaceship Earth and Ellen's Energy Adventure.  I think Garrett would have enjoyed them but we just ran out of energy before we got back around the lake to any energy adventures.  Next time we will hit those first.
1. The Seas with Nemo and Friends is arguably the best thing Epcot has going for the preschool crowd.  The clamshell ride is fun, but Turtle Talk with Crush is hilarious.  The audience gets to ask Crush questions and interact with a real "live" Crush on the screen.  It's a must do. Then you can spend time looking through the reefs at the aquarium.
2. The Circle of Life is another film that Garrett enjoyed.  It teaches kids about environmental problems and how we all must work together in the Circle of Life.
3. Journey into Imagination with Figment was a cute ride that talks about the 5 senses and science stuff.  Imagineworks interactive play areas was very cool.  Garrett loved the musical leap pad place and making music with his hands.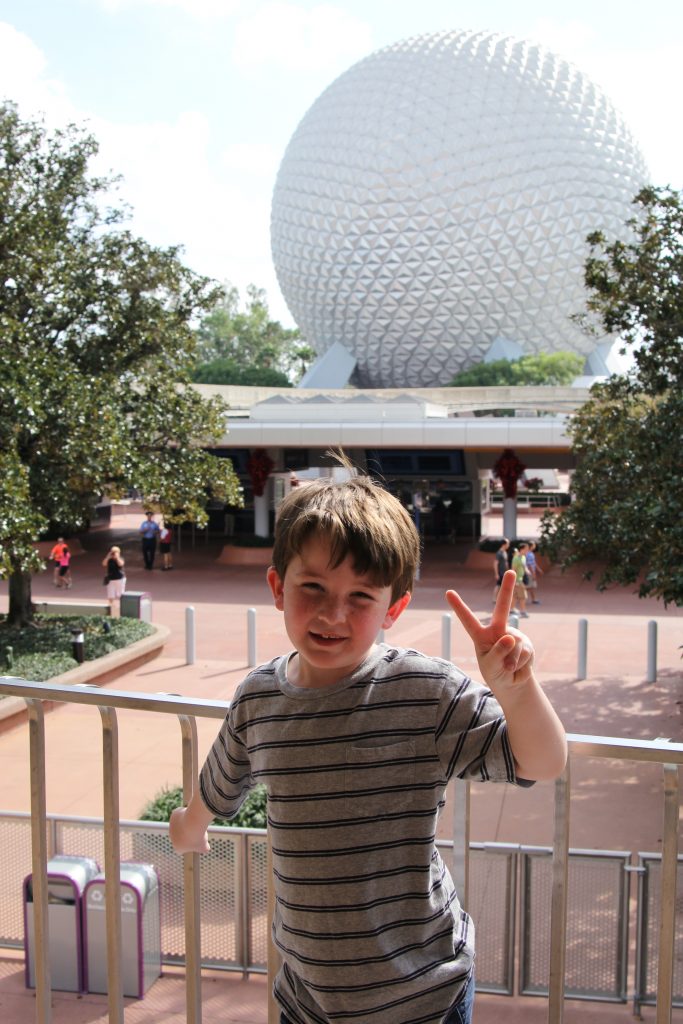 4. One of Garrett's most favorite things about Epcot was the Agent P's World Showcase Adventure with Perry the Playpus from Phineas and Ferb. You check in at the main station by the fountain and get your assignment on a portable phone, then you head off into the countries on a big scavenger hunt to help save the country from evil Dr. Doofensmirtz.  You can choose about 10 different countries to save, including Mexico, Norway, Japan, England and a few more.   It takes about 20-30 minutes per country to finish a mission, so be ready to dedicate a lot of time per country helping your kid figure out all the clues.  It's a good way to keep them entertained, though, if you can let one parent do that while the other browses the shops.  Be advised that you HAVE to finish one country's mission before it lets you move to another.  Don't leave that country without completing the mission or you'll have to go all the way back and do it.
5. Hit up the Kidcot stations. Each country has a coloring stop where the kids can sit and color a fan.  There are people working at each country's Kidcot station to sign and stamp their fans.  Garrett got his name written in Arabic in Morocco and Japanese in Japan.  Canada drew a maple leaf and other countries gave stamps.  It was good entertainment and incentive to keep going around the lake to the next country to see what they would do.
6. Canada has a great 360 degree movie that feels like you're flying across Canada from coast to coast.  G enjoyed the scenery and feeling like he was flying.  China has another 360 Circlevision film if you enjoy that one.
7. If you have a Frozen fan, BE SURE to go meet Anna and Elsa at Norway in Epcot. The lines were very short when we were there in 2018 and they spent at least 10 minutes talking to Caroline. It was amazing since she loves these two Disney characters the MOST.
1. Have breakfast with Handy Manny, Special Agent Oso, Little Einsteins and Dora at Hollywood and Vine restaurant.  Make reservations well ahead of time, but this is one of the cheaper of the character meals that we found.
2. Disney Junior- Live on Stage is a fun show for the smaller kids featuring Little Einsteins, Jake and the Neverland Pirates and Mickey Mouse Clubhouse.  Be aware that you much sit on the floor for this show, so if you get dead leg after sitting on the floor for 20 minutes you might want to just stand at the back.
3. The Magic of Disney Animation has a short presentation inside a theater where you watch how characters are created.  Garrett met Winnie the Pooh inside this area and loved playing with the giant touch screens near Winnie.  In an age of iPads, though, it's tough to sit and watch your kid color a picture on a 1990's model touch screen.  But, he loved it…
4.  By far, our favorite ride at HS (and in all of the parks, possibly) was the Toy Story Midway Mania ride.  You put on 3D glasses and ride through a carnival midway where you shoot at carnival games on the screen.  It was lots of fun, and Garrett said this was his favorite ride in the whole place!
5. Frozen Sing-a-Long: Let it go and sing all your favorite Frozen songs with Anna and Elsa! My husband suffered through this (to hear him tell it) with our little one while I took the older kid to a bigger roller coaster.  Enter at your own earworm risk.
6. Muppet Vision 3D is a fun little movie theater experience.  Nice and easy and silly.  Perfect for the 5 year old crowd and a great spot to sit and cool off from the sweltering Florida sun.
7. You'll find Lightning McQueen and Mater at the back by the entrance to the Stunt show.  Great photo op there!
We only spent a half day at Hollywood Studios and headed back to Magic Kingdom for fireworks at night.  There is a lot more to do for older kids here, but not a huge amount for the smaller kids.  I'm sure we missed a lot of fun stuff, but we will see it when he gets older, I'm sure.
Even with a four day park-hopper pass there was no way for us to see and do everything Disney had to offer.  I also have a strict rule about Disney that we have followed every time we have visited the park. Wanna hear it?
Here is my #1 rule of visiting Disney with a small child:
Never push your child past his breaking point for the sake of "fun". 
That's rule number one, Jack.  I know how much stress my kids can handle. I know when they are getting tired, and I know when a meltdown is imminent.  No matter how much you feel like you need to get your money's worth at the Disney Parks, it's never worth pushing your child so hard to see everything that you squeeze all of the joy out of the trip.
Disney is a super stressful, overstimulating place.  I've witnessed more screaming children and unhappy parents at Disney Parks than any other place on Earth.  Schedules are thrown out the window, crowds are overbearing, and waiting in lines to go anywhere (including leaving!) is no fun for anybody.
Try to remember that it's supposed to be fun, and don't ruin an entire family vacation by pushing your kids to their breaking point.  Plan plenty of breaks in the schedule.  Or, take unplanned breaks and just let your kid run around like a crazy person for a minute.  Nobody will judge.   Take some time around mid-afternoon to go back to the hotel room, rest, and let your kids decompress for a while before going back to the park at night for fireworks.  It will make your trip so much easier to not push your family to see EVERYTHING that Disney has to offer.  It's pretty much impossible, anyway, unless you stay for several weeks.  Save up and come back when they are older.  It will still be there waiting for you, I promise.
What are your kids favorite things to do at Disney?  Share them in the comments!  I'd love to hear if you agree or disagree with my ride choices for preschoolers!
If you liked this post, be sure to read my other Walt Disney World Vacation Related Posts: