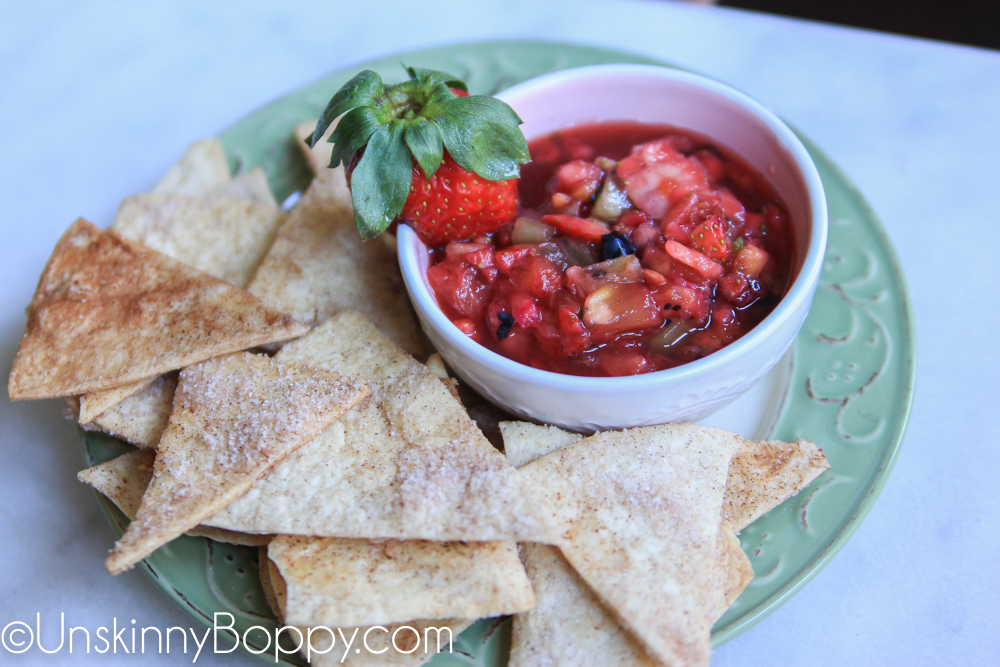 The last Bunco night I attended had a Mexican theme, so I decided to whip up some strawberry salsa and churro chips for the ladies to snack on before the dice-rolling began.
I've made this recipe a few times over the years and it's always a HUGE hit at parties. If you don't feel like making your own churro chips, you could just buy a bag of Stacy's Cinnamon Sugar Pita chips, but there is something about these crunchy homemade cinnamon wedges that makes for an extra special treat for a party.
Or, if you have a kid like mine who would list churros from the Costco concession stand as one of their Top Five Favorite Foods, these are a quick and easy substitute for a special treat.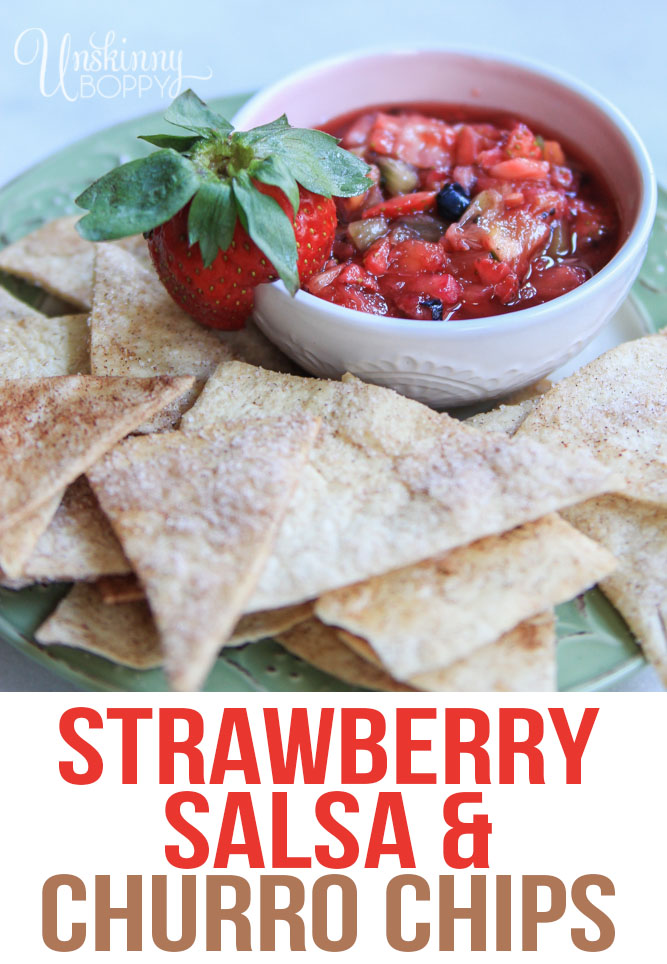 So, let's gather up the ingredients and get this cinnamon train a-rolling.
Strawberry Salsa with Churro Cinnamon Chips
A simple summer side dish that will be the hit of any party- Strawberry salsa with a hint of heat from the jalapenos combined with a sweet cinnamon churro chip.
Ingredients
Strawberry Salsa
1

pint

strawberries

sliced

1

pint

blueberries

1/2

cup

pineapple

tidbits

2

whole

kiwi

peeled

1

whole

lime

1/2

jalapeno pepper

(optional for heat)

2

TBSP

Strawberry Jam
Churro Chips
12

12" flour tortillas

1/2

cup

white granulated sugar

1

TBSP

ground cinnamon

Cooking Spray
Instructions
Slice the strawberries, blueberries, pineapple and kiwi into small pieces.

Mix fruit together in a bowl

Microwave jam and stir into fruit

Add a large squeeze of lime juice

Add diced jalapeno to taste

Using a pizza cutter, cut flour tortillas into wedges

Add sugar and cinnamon to a zip-top bag and shake to mix.

Spray tortillas with cooking spray and add to ziptop bag with sugar mixture

Shake the tortillas around inside the bag until fully coated with cinna-sugar mixture.

Spread evenly onto a large cookie sheet

Bake at 350 degrees for 12-15 minutes, then let cool completely to harden the chips.

Store in an airtight container.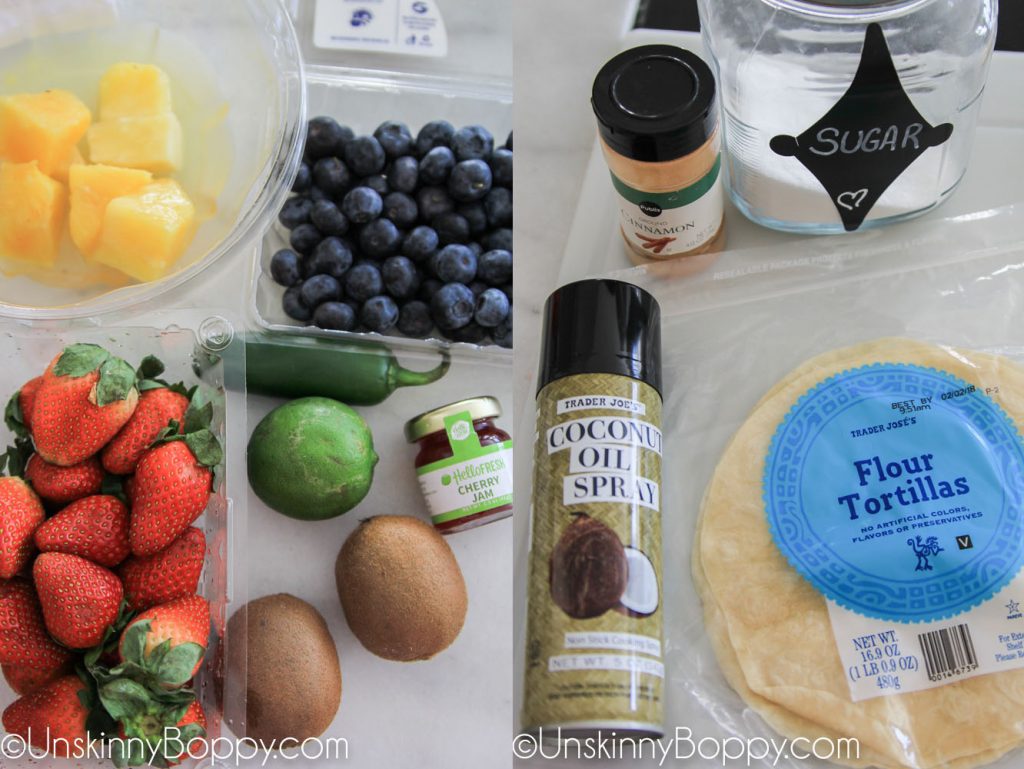 Ingredients:
1 pint strawberries, sliced
1 pint blueberries
1/2 cup pineapple
2 kiwi, peeled and sliced
1 lime
1 Tablespoon jalapeno pepper, diced
Cherry or strawberry jam (optional)
Package of 12″ Flour tortillas
1/2 cup white granulated sugar
1 tablespoon ground cinnamon
Cooking spray (I used Trader Joes coconut oil spray)
Directions:
Wash all the produce thoroughly. Remove the green tops from the strawberries and peel the kiwi.
Slice the strawberries. I love to use my Pampered Chef egg slicer for this task.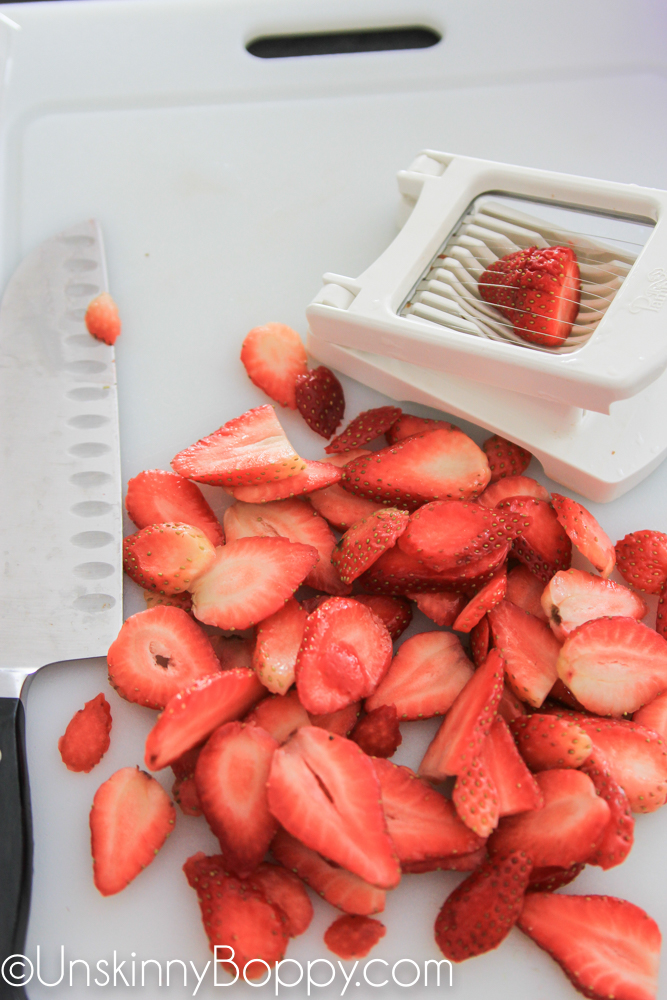 Once the strawberries are sliced I give them another rough chop just to get them in smaller salsa-ish pieces.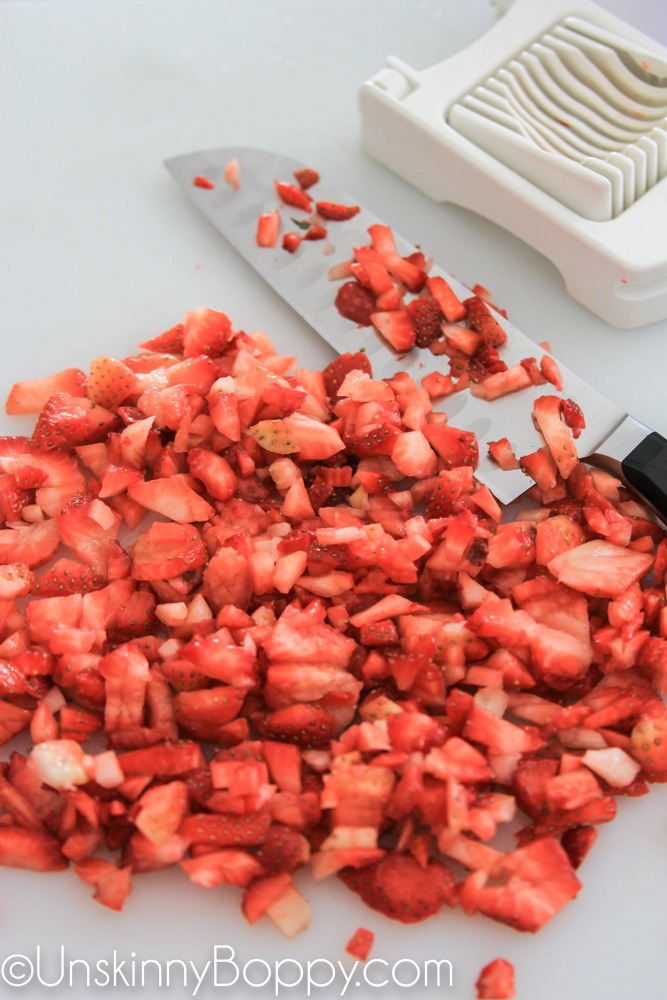 Repeat with the rest of the fruits. Put all the fruits in a big bowl together and mix well.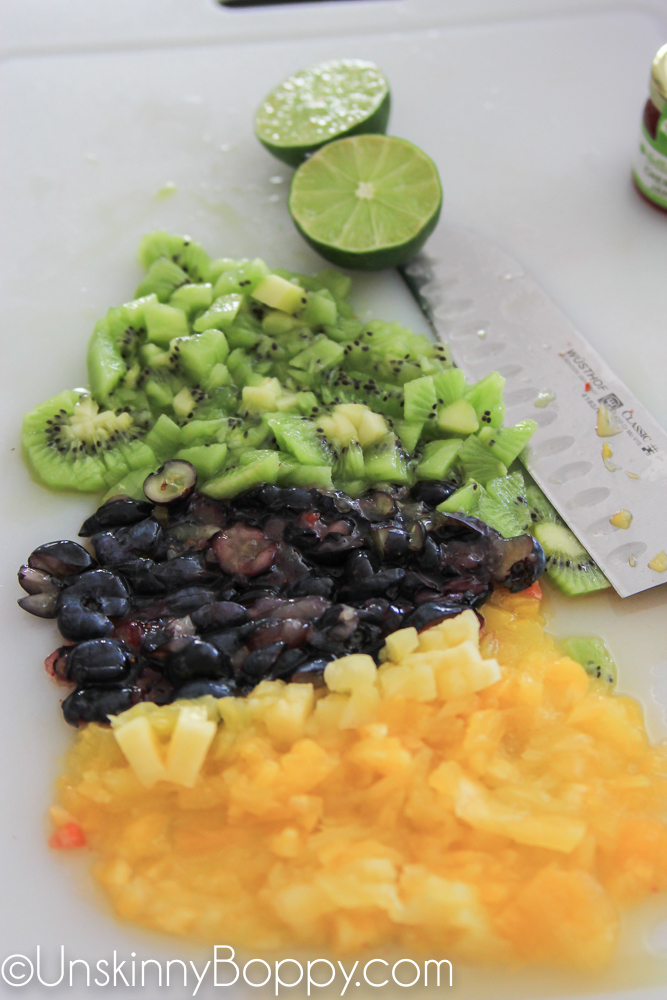 Give a big squeeze of lime juice over the top of all the fruit.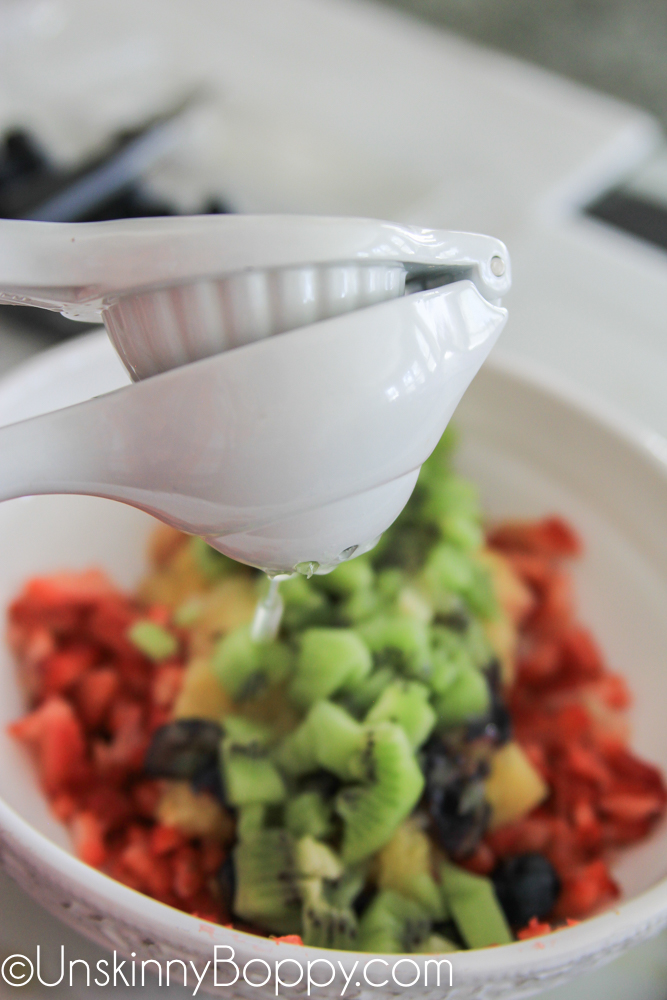 Microwave a few tablespoons of cherry or strawberry jam in a glass bowl for about 20 seconds. Stir into the salsa mixture for added sweetness and juice. If you don't have any jam you can sprinkle in a few tablespoons of sugar and it will have a similar effect.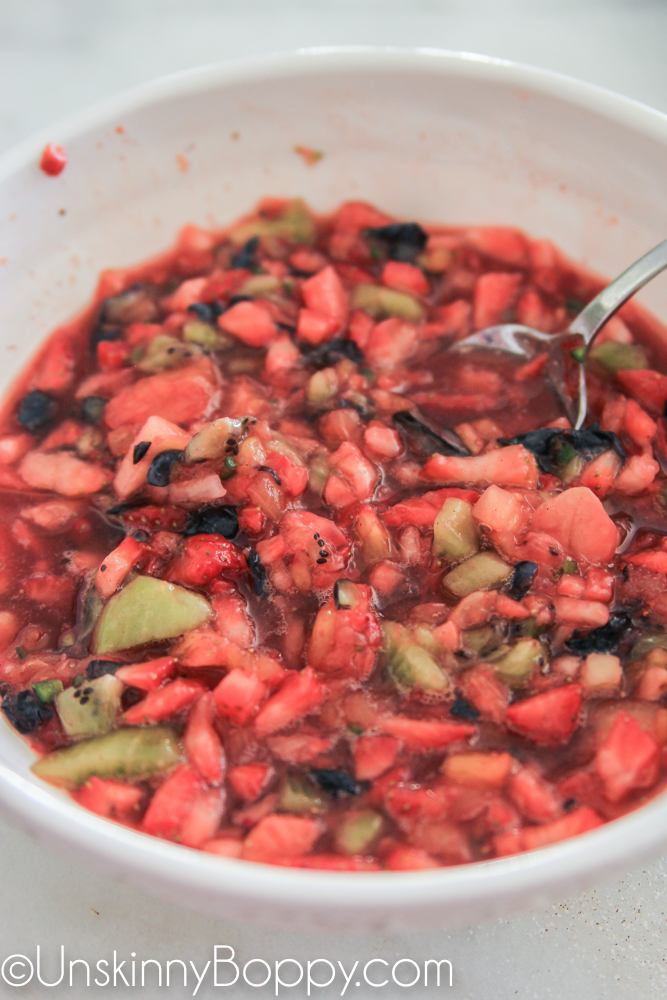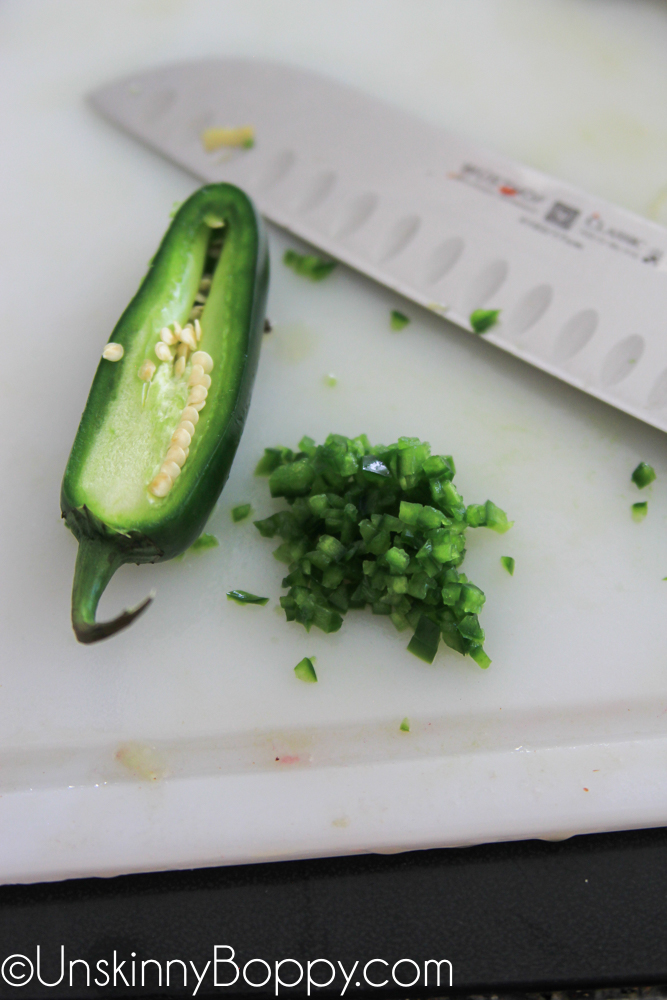 Chop up half a jalapeno into a very fine dice. Do not get any seeds in the mixture. Add as much or as little jalapeno as you'd like. This is a personal preference on how much heat you want to add to the salsa. I don't like my foods to be very spicy so I added about 1 Tablespoon of diced jalapeno.
(Note: Do not touch your eyes or touch any other sensitive areas of your body after you've chopped a jalapeno. Don't ask me how I know. Just trust me on this.)
Now let's make the churro chips! Take a stack of flour tortillas and cut them into strips or wedges using a pizza cutter.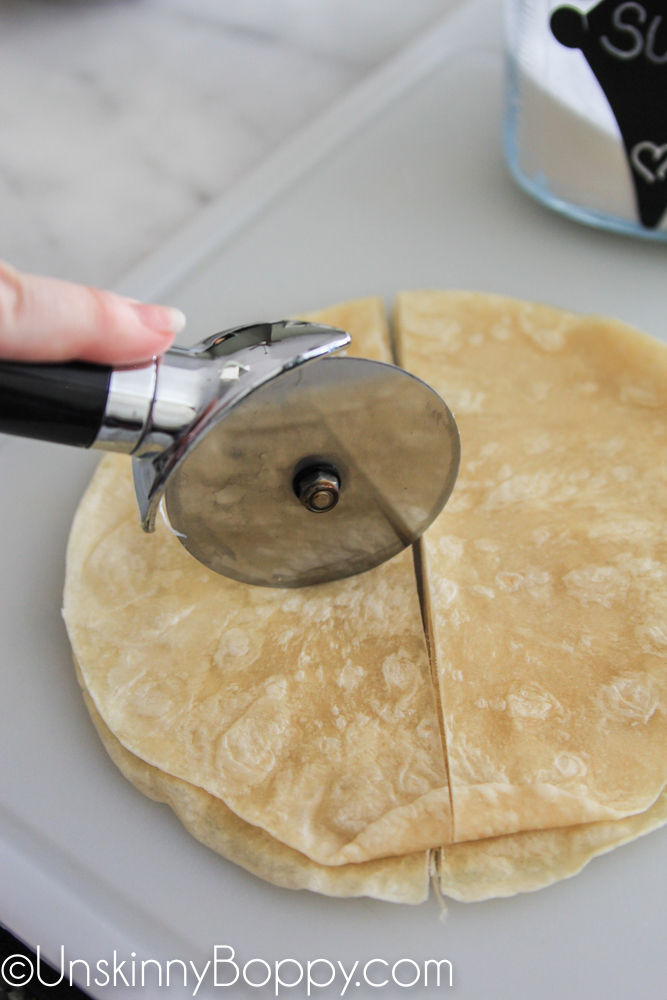 One bag of tortillas will make quite a few chips!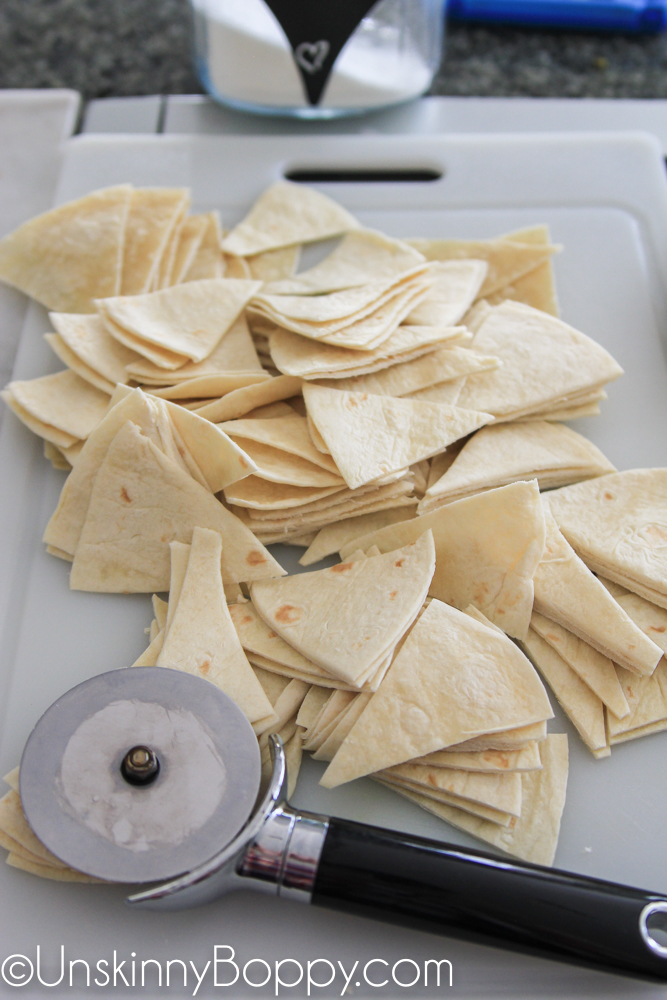 Mix together cinnamon and sugar in a small bowl.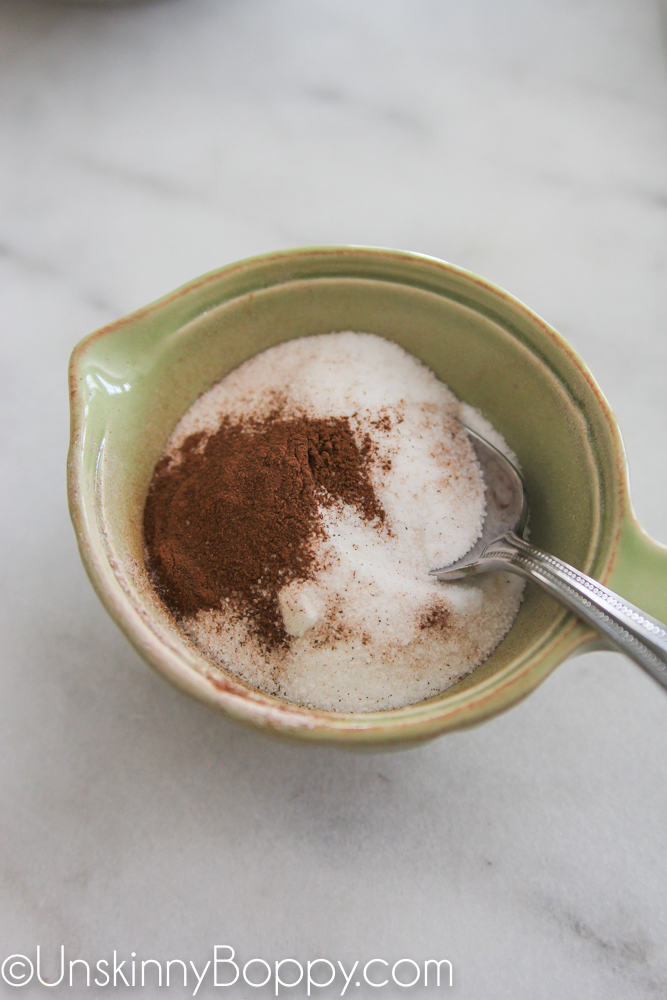 Spread the chips out in an even layer and spray them with cooking spray.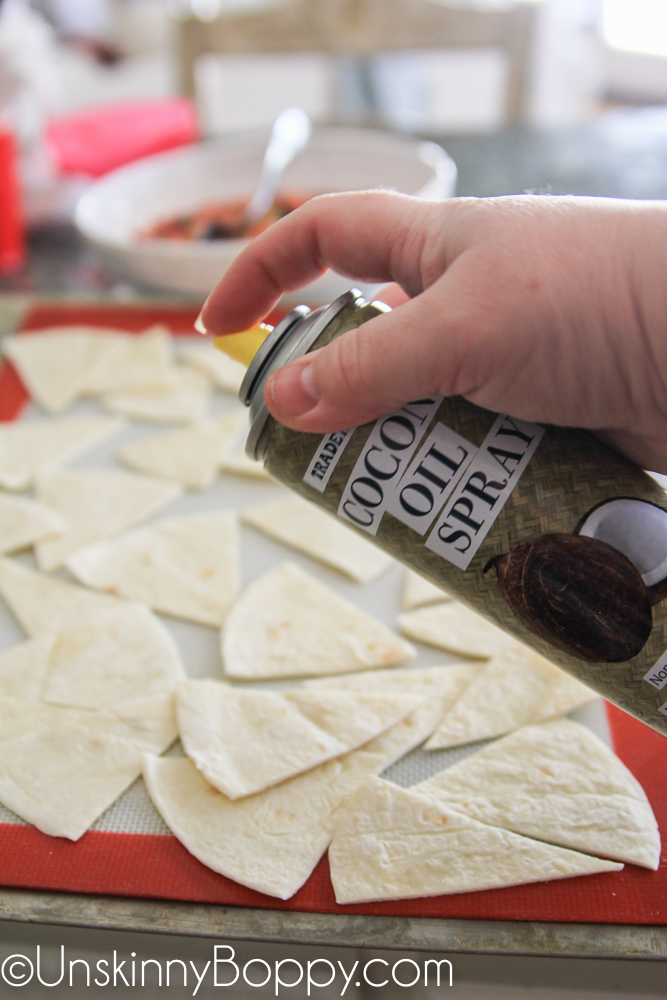 Add the cinnamon sugar mixture to a zip-top bag and add a few tortilla chips.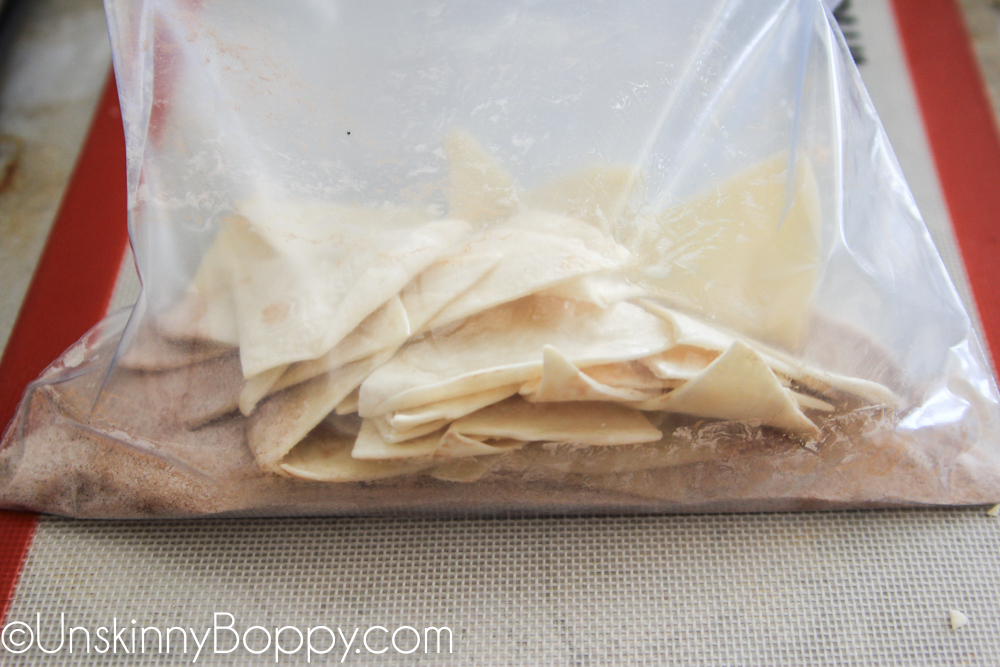 Zip up the bag and shake, shake, shake! This will coat the chips evenly in the cinna-sugar mixture.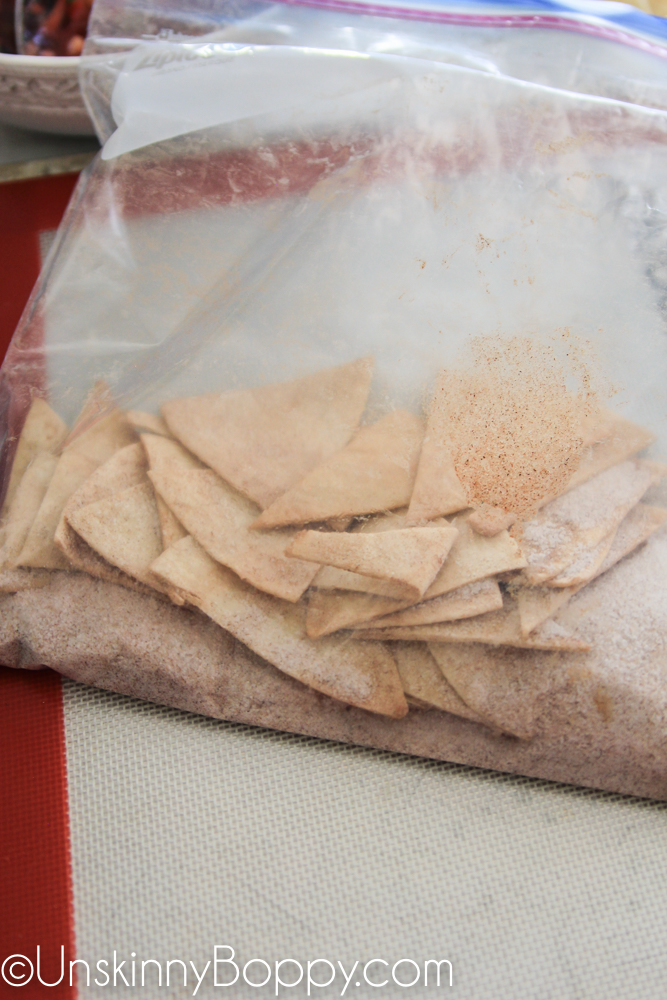 Spread the chips out onto a cookie sheet and bake at 350 degrees for 12-15 minutes. Let cool for about 5 minutes to harden up.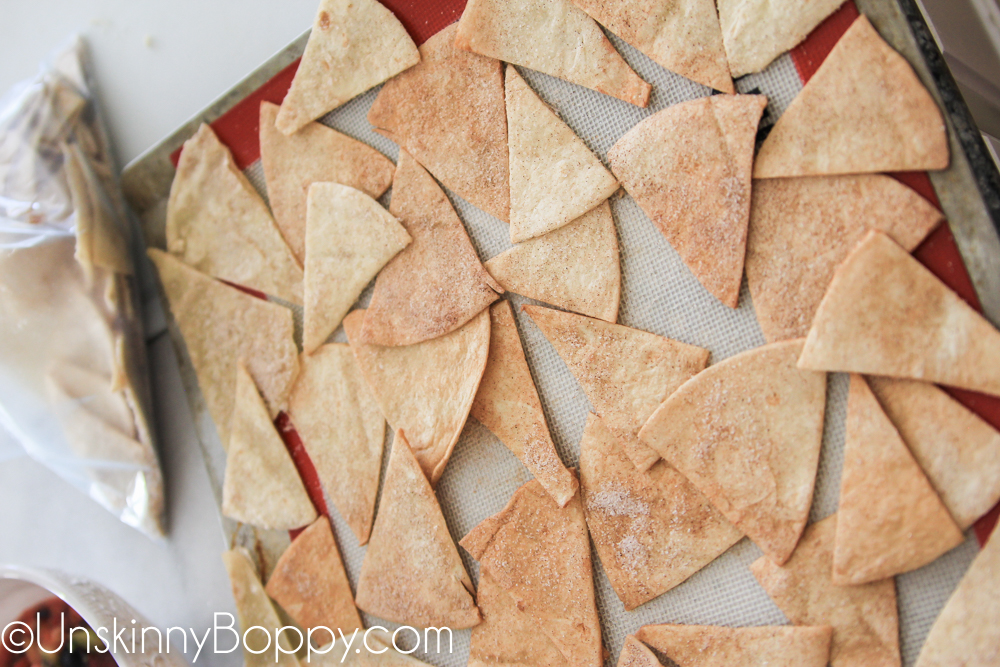 You can serve the chips and salsa immediately or store in separate airtight containers for a few days.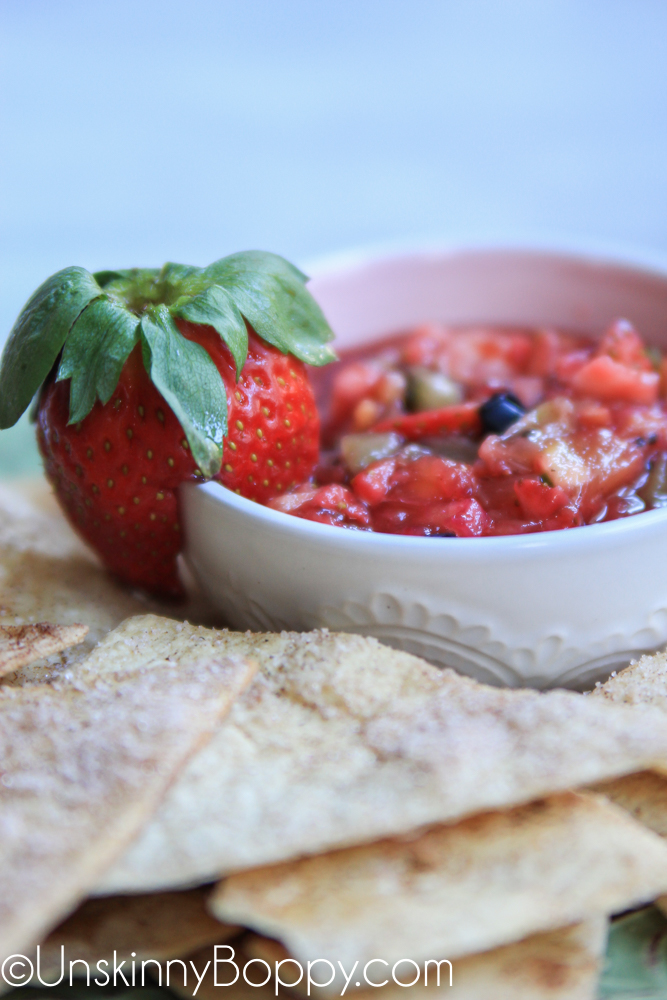 Give this recipe a whirl for your next party and let me know how fast these chips fly out of the bowl. It will probably make your head spin!
Enjoy, y'all!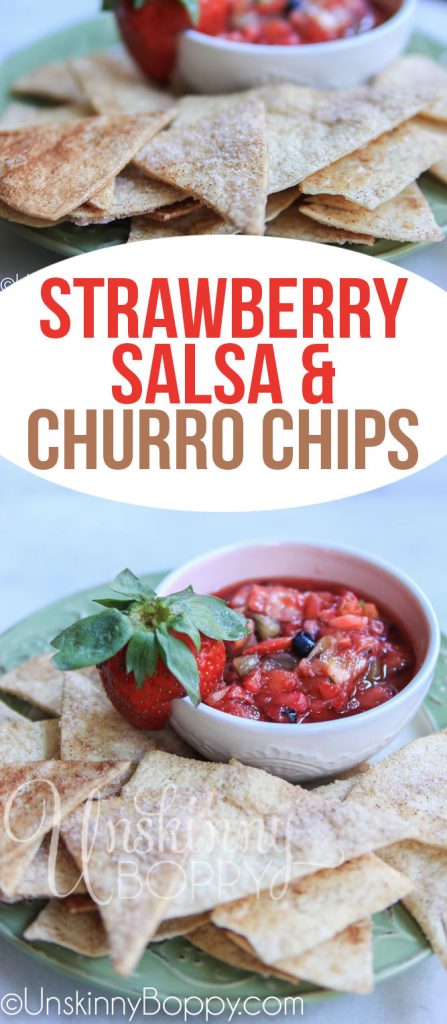 Don't forget to Pin it for later!
If you liked this recipe, check out my recipe for Chuy's Creamy Jalapeno Dip Copycat Recipe!