Hey guys! It's time for June's "Meet The Blogger" series where I have one of my blog friends guest post for me while I post over on their site.
This month I'm SUPER excited to introduce you to Lisa of Farmhouse on Boone! Lisa and I share a love of farmhouse style decorating and front porch swings. Her beautiful home makes me want to paint mine all-white and toss out any scrap of clutter. And she can sew some really awesome stuff! I am honored to have two of her fall pillow covers that I absolutely LURVE. After you finish her post here, please head over to Lisa's blog to see pics of my pillows and read my post about five easy ways to add farmhouse style to your home. See y'all over there! 🙂 ~Beth
---
These five steps to simple farmhouse curb appeal are perfect to add a little slow living charm to any exterior.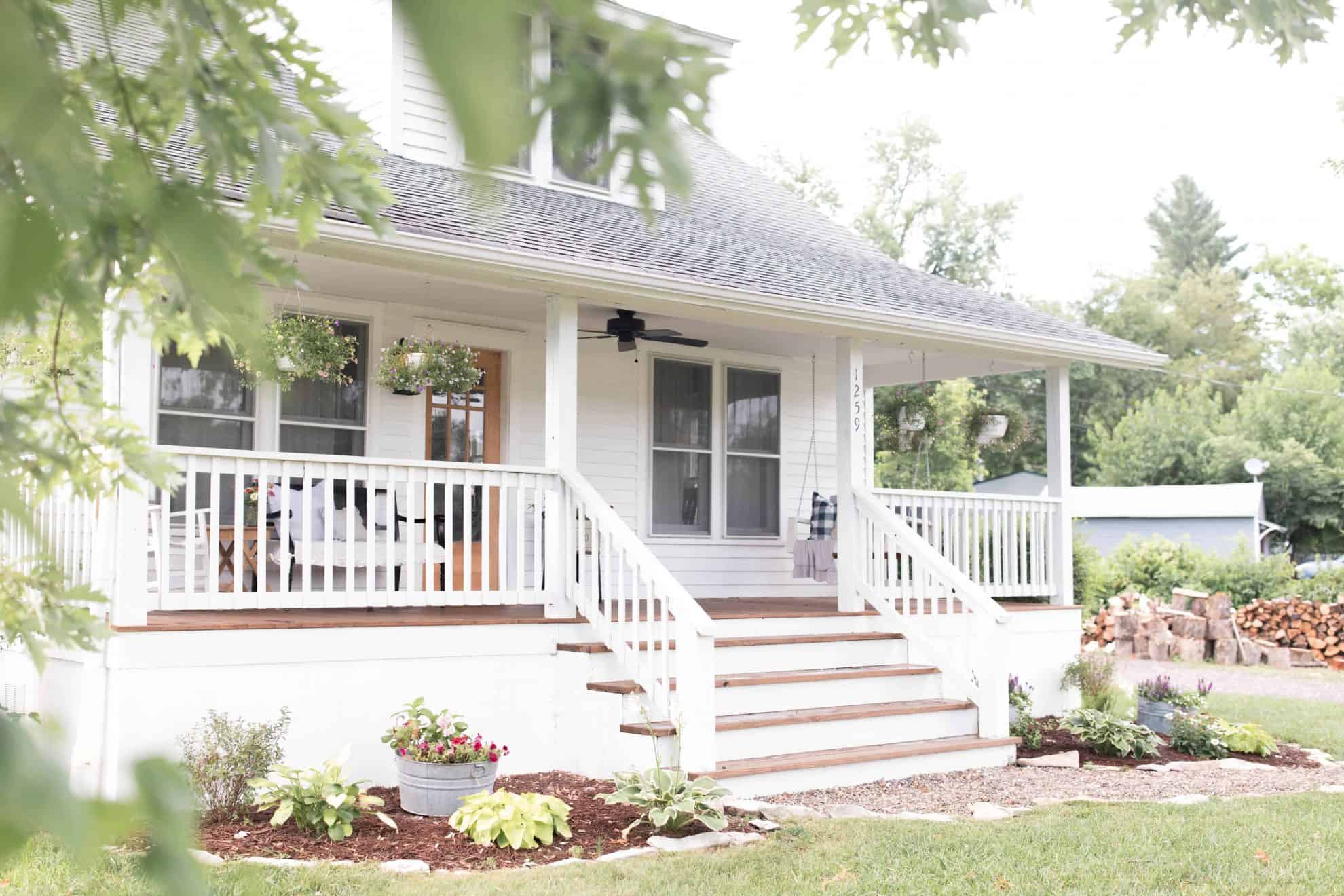 Hello, readers of Unskinny Boppy! My name is Lisa and I have been blogging over at Farmhouse on Boone for right around two and a half years. I love to invite my readers into our simple lifestyle, sharing from scratch recipes, natural living and our handmade home. I love to bake sourdough bread, sew slipcovers and spend time with my five babies.
My style is pretty simple and minimal, with a lot of neutral colors, natural textures and so. much. linen.
Last summer we did a complete overhaul on the exterior of our 1922 Craftsmen Bungalow. We tore off the rotting railings and floor boards, and ripped up the shabby landscaping.
The goal was to give the outside of our home the same farmhouse charm that we already brought to the interior over the last ten years.
We wrapped the concrete steps in wood, added slatted white railings, and built a breezy farmhouse porch swing. My husband meticulously stripped three layers of paint from our antique door.  (Tell me why someone in the last 50 years decided to paint it purple?!)
To update our old cracking sidewalk, without having to break it up and start again, we lined it with creek rocks and filled it in with pebbles.
We breathed new life into this old farmhouse of ours.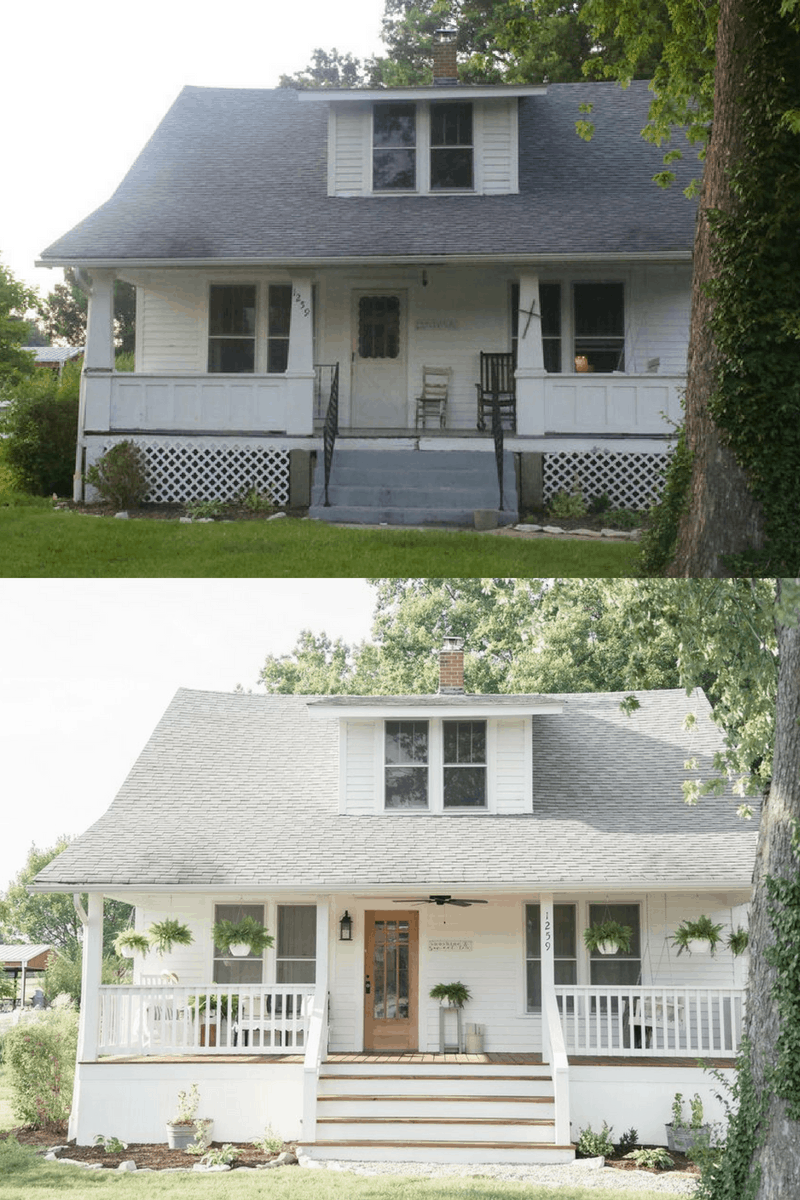 Doing a complete exterior renovation is a lot of work, but you can add farmhouse curb appeal to your home no matter the condition with a few simple elements.
Five Steps to Simple Farmhouse Curb Appeal
Add a porch swing.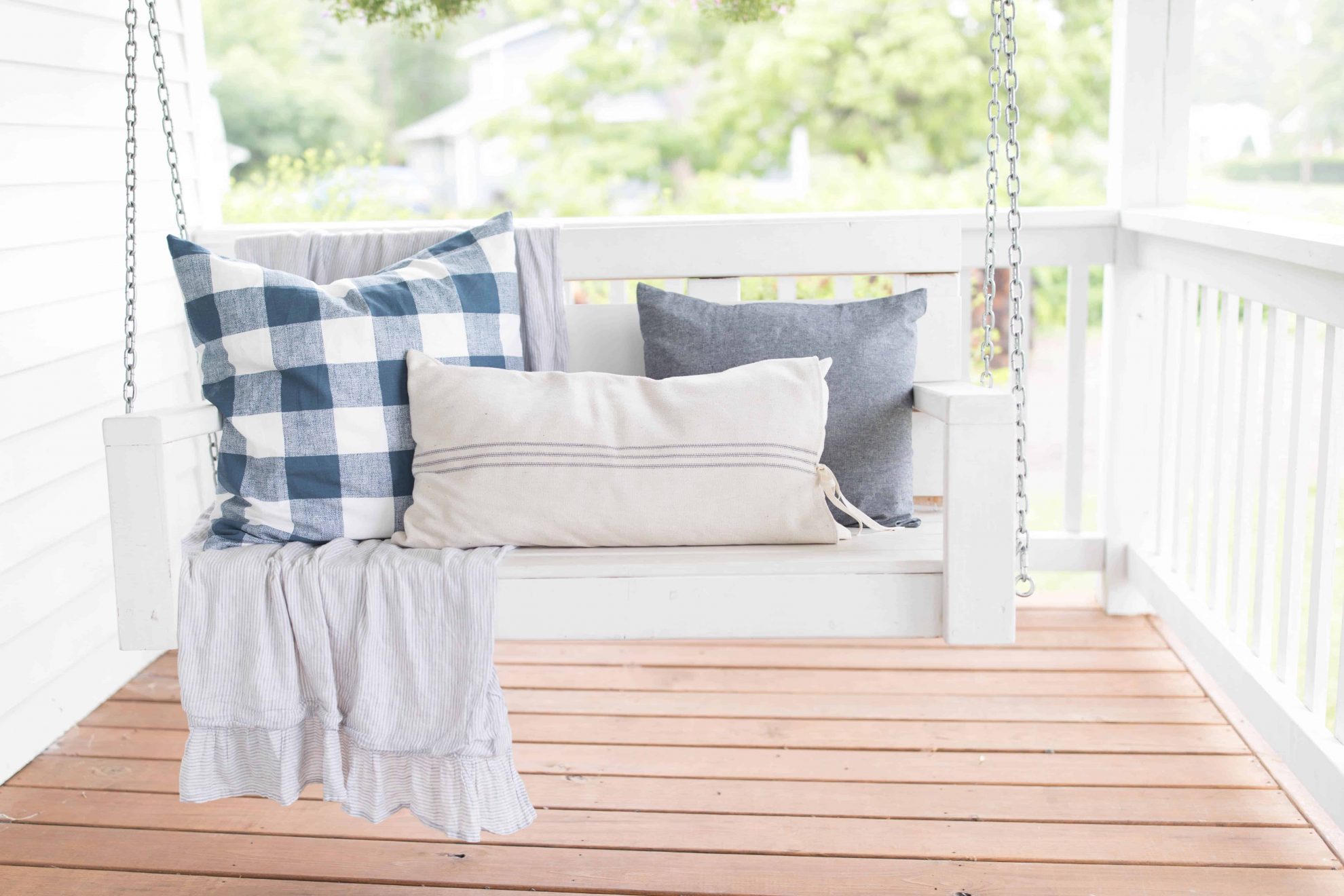 What says slow, simple living more than a white porch swing on a lazy summer evening?
Well, except for maybe a glass of iced tea sitting on a little table next to the swing, and friends gathered all around.
We built the porch swing for our farmhouse font porch with these DIY plans from Ana White and Shanty 2 Chic.
2. Plant flowers and herbs in galvanized buckets.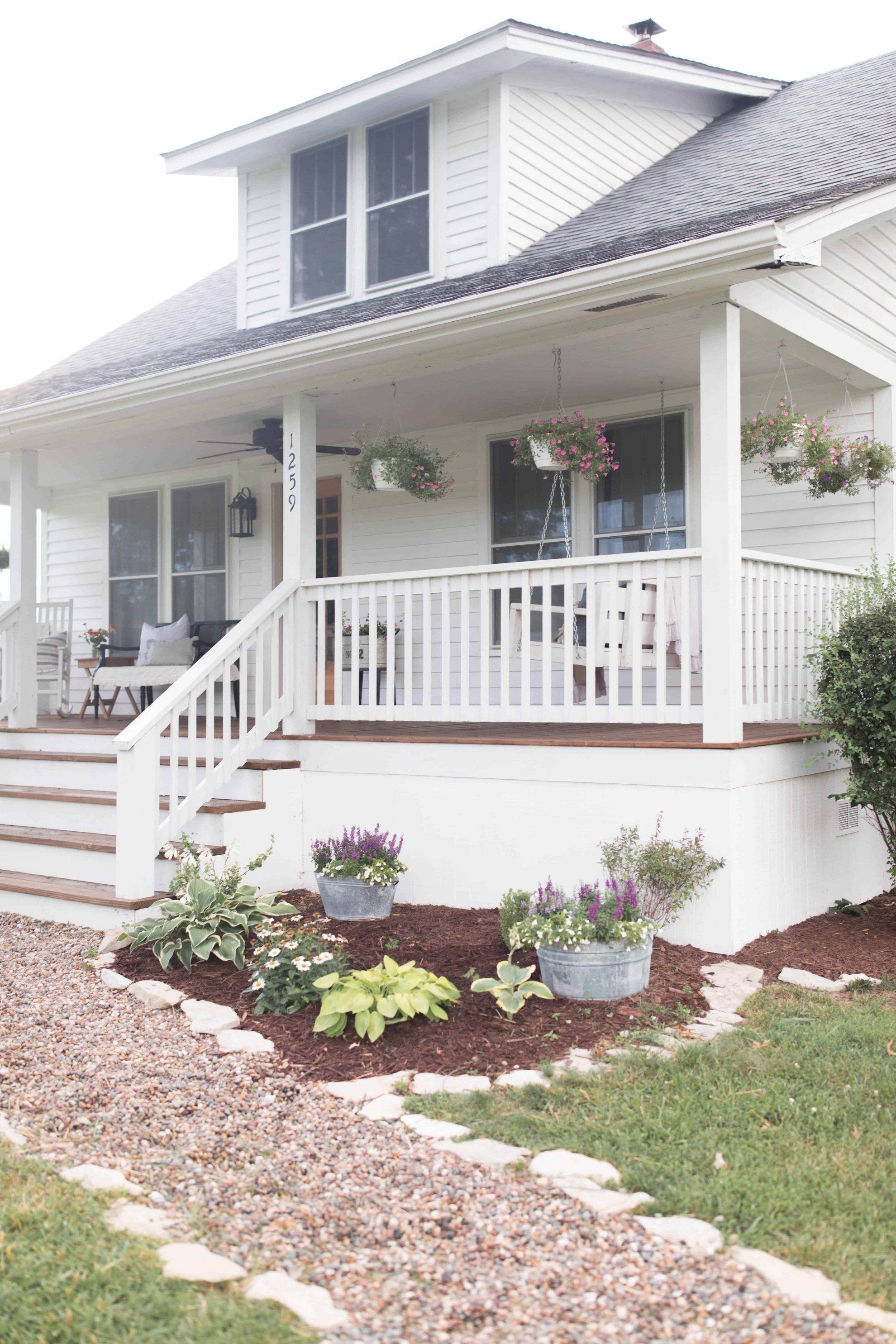 You can easily find them at garage sales, antique stores and thrift shops.
They add height to the landscaping and look pretty stuffed full of petunias and lavender. They can also serve you well as a container herb garden. Basil, rosemary and oregano can fill them out nicely, or look pretty as added greenery next to flowers.
We lined our front flower beds with creek rocks that we found on my parent's property. Pretty, cheap and unfussy.
3. Add comfortable and casual soft goods.
AKA pillows, throw blankets and slipcovers. Neutral colors, like navy, gray and white give that easygoing vibe.
Linen is my go to fabric choice for pillow covers and throw blankets. It has a loose weave, excellent drape and the fabric gets softer with each washing.  Nothing says farmhouse simplicity like flax linen.
I like to add in stripes for some subtle pattern.
Make your own with my easy to follow video tutorials
DIY Grain Sack and Ticking Stripe Pillows
Simple Buffalo Check Pillow Covers
Have an old bench that needs a little help? Sew a slipcover with painter's drop cloth to spruce it up a bit and give it farmhouse style.
How to Sew a Slipcover for a Wooden Bench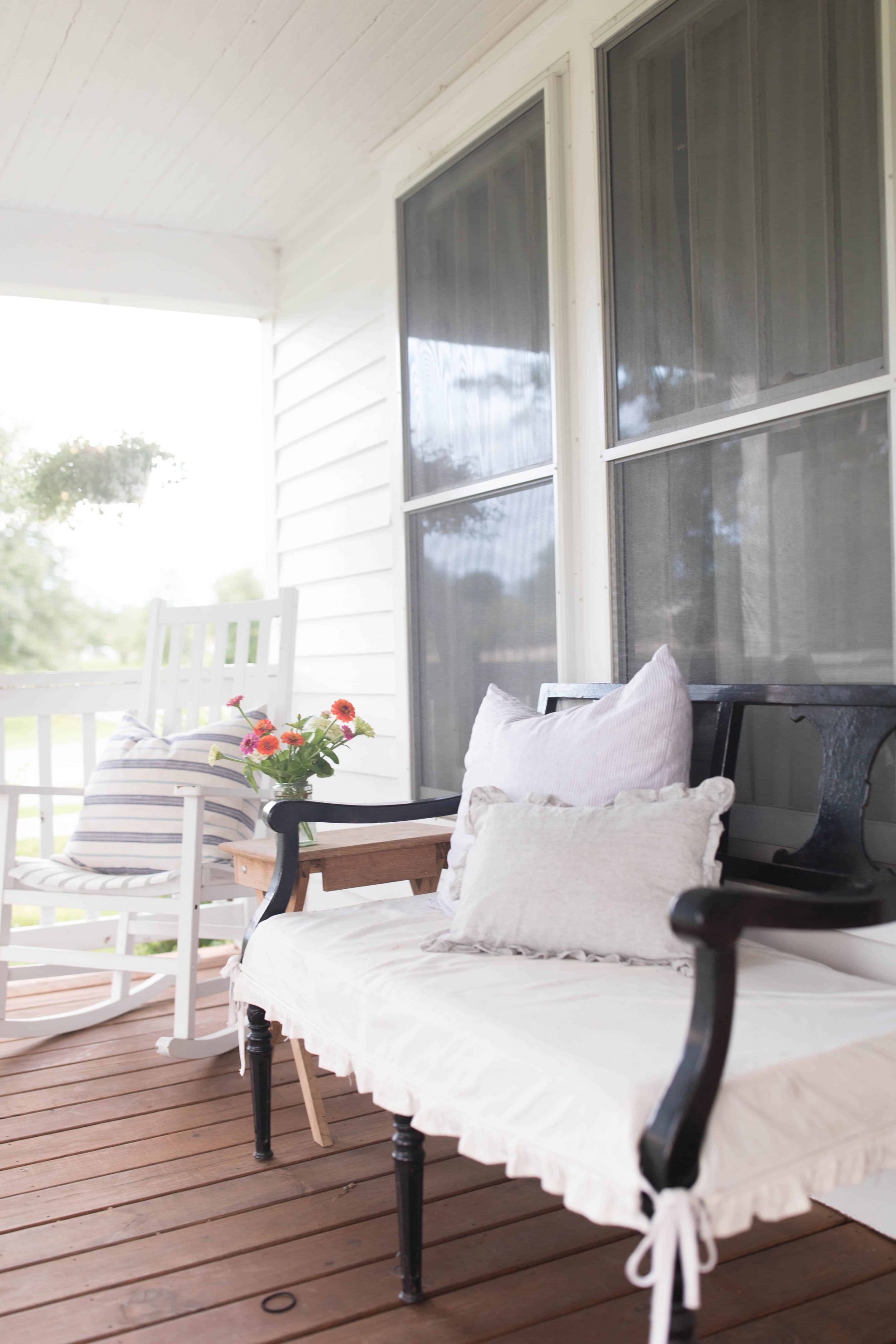 4. Add a rocking chair.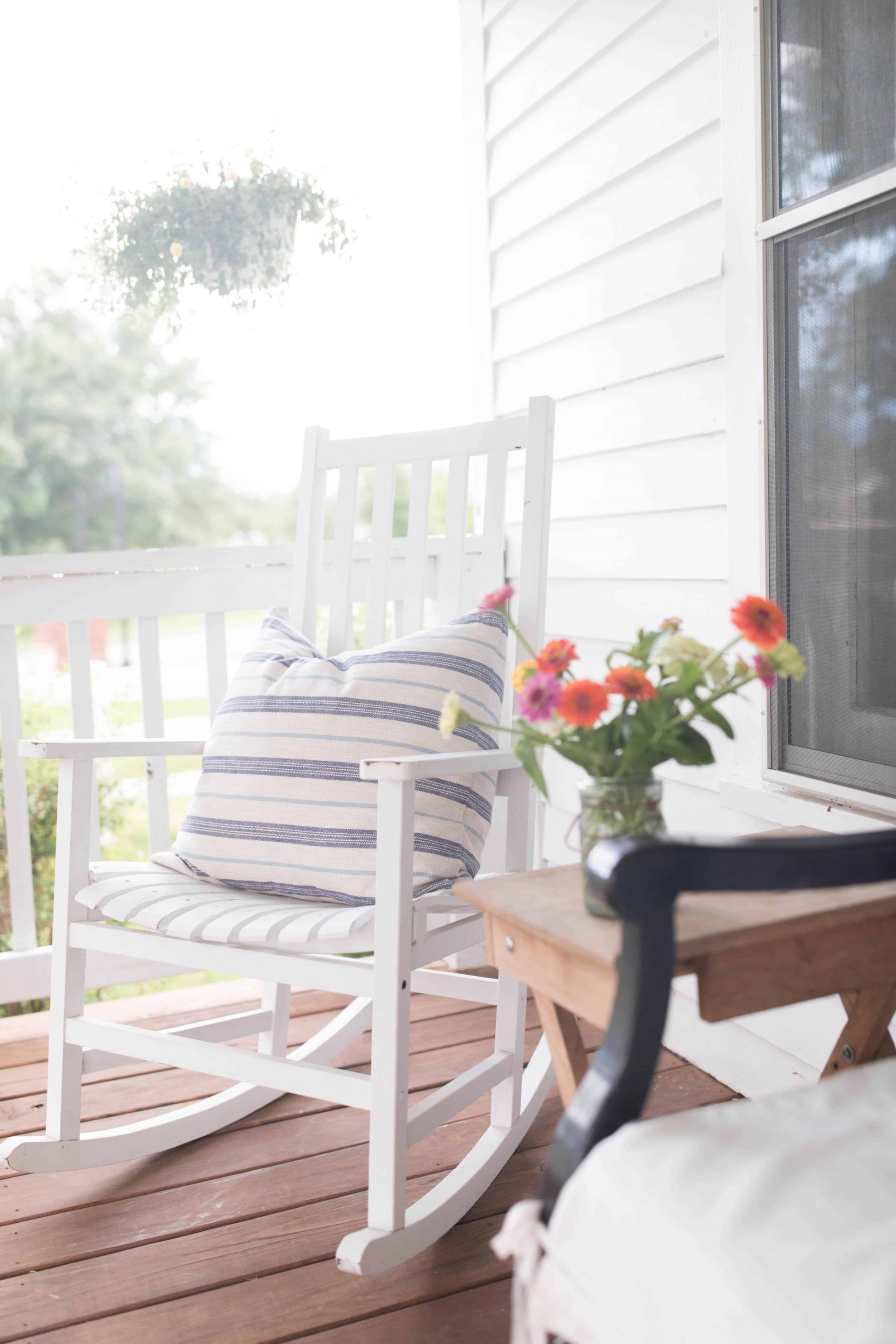 More seating means more guests to share the simple moments in life.
We found our rocking chair at a garage sale for $5. It was in rough shape, but looked great after a few coats of white chalk paint.
5. Add a natural wreath.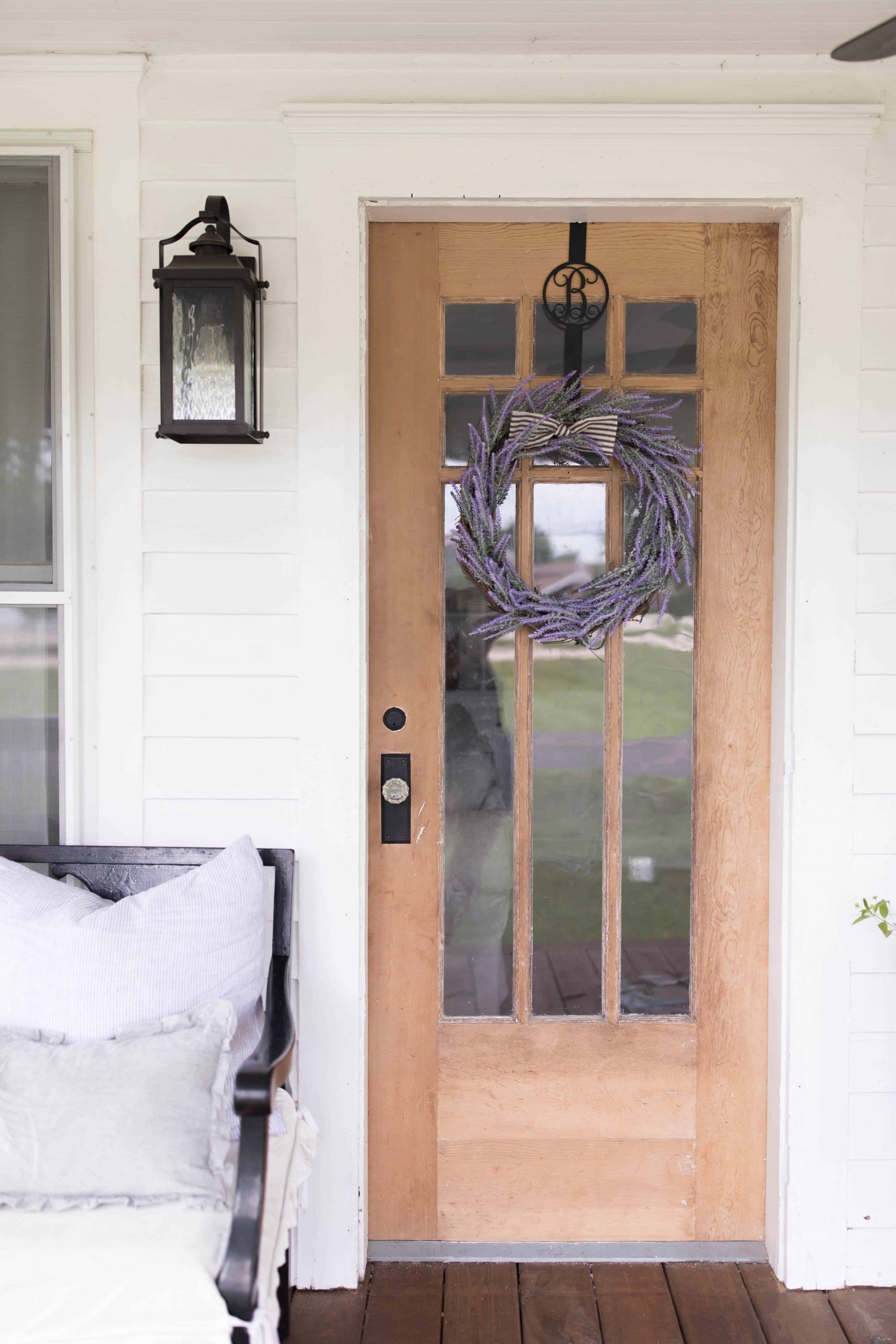 Casual wreaths, made from natural things, like, boxwood, lavender, cedar or forsythia add simple farmhouse charm. Keep it laid back and effortless.
To me farmhouse style is blurring the lines between outside and inside. I like to decorate for the seasons by bringing in items from nature. Pine cones and greenery in the winter, tulips in spring and lavender in the summer.
Follow these five steps to add farmhouse curb appeal to your own home!
Follow along with farmhouse on Boone
I'm so appreciative that Beth had me over to share my tips for adding farmhouse curb appeal.
Now I would love to invite you over to check out my blog, Farmhouse on Boone. I share two new posts and videos every week all about food from scratch, natural living, our handmade home and simple lifestyle on Boone Street.
I also create videos for my Farmhouse on Boone Youtube Channel. It would be wonderful to see you over there in our simple living community!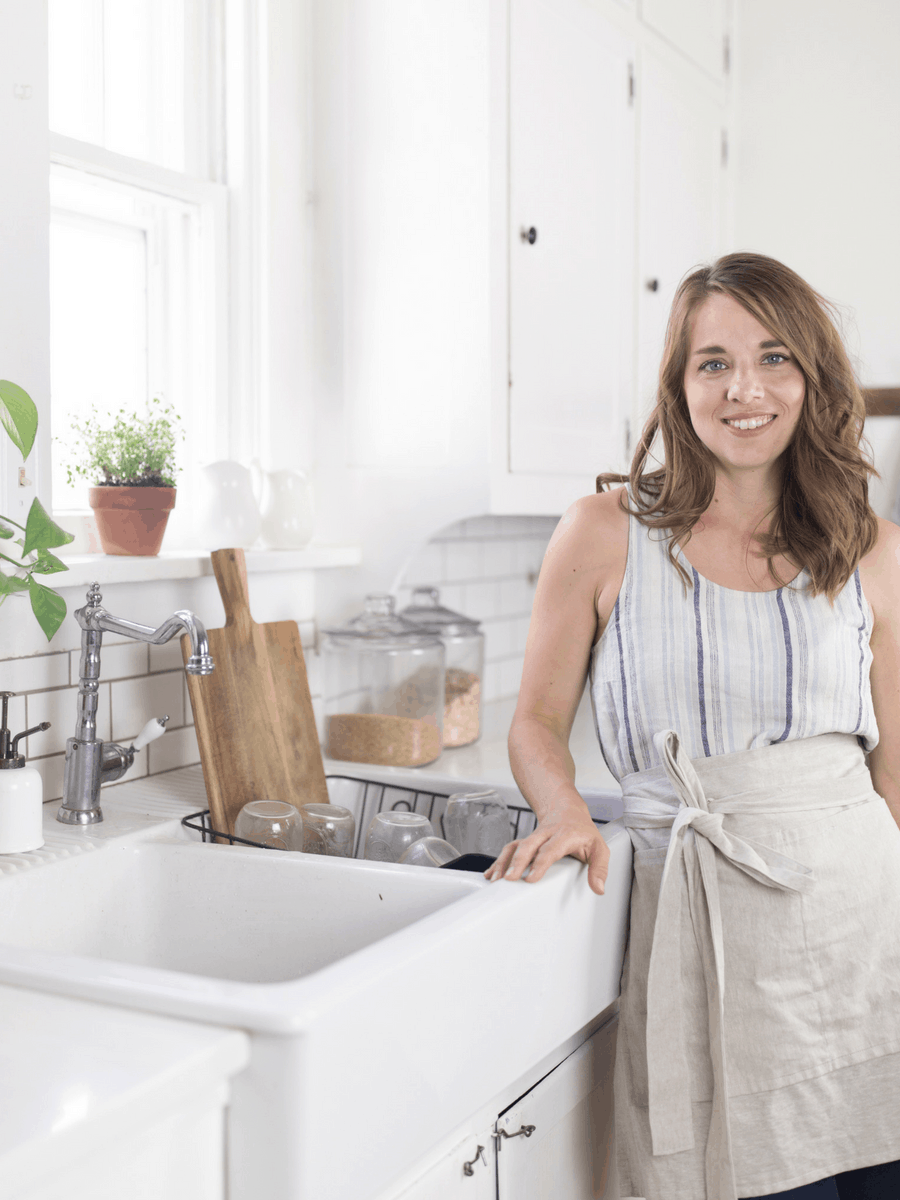 -Lisa Bass Farmhouse on Boone
Pin it for later