In just a few weeks, a whole bunch of my friends will be sending their babies off to college for the first time.
It's been over 20 years since I lived in a dorm, but I can still remember making that drive down to start my freshman year with a carload of clothes, a tropical fish themed comforter set and about forty-leven framed photographs, which I carefully spaced all around the windowsill like a shrine to my boyfriend at the time. I had never met my roommate and didn't know a single soul on campus.
I had a giant bag-phone in my front seat and my Daddy's Texaco credit card in my wallet in case of emergencies. Lucky for me, my local Texaco happened to also house a Pizza Hut carryout, so a whole lot of my late night 'emergencies' went toward six-packs of Bud Light and Pizza Hut cheesesticks. Don't tell my Daddy, mmkay?
Yep, those were exciting times and there's no way on God's green earth I'd ever go back and relive it. 😉
I'm pretty sure today's teens have Snapchat instead of windowsill shrines, but they still want to decorate their dorm rooms to fit their personal style, right?
A few years ago, my friend Troya helped her daughter decorate her first dorm room and gave me some great tips on ways to make it feel like home. Today I thought I'd share some of those ideas along with pictures of her daughter's beautiful DIY dorm room.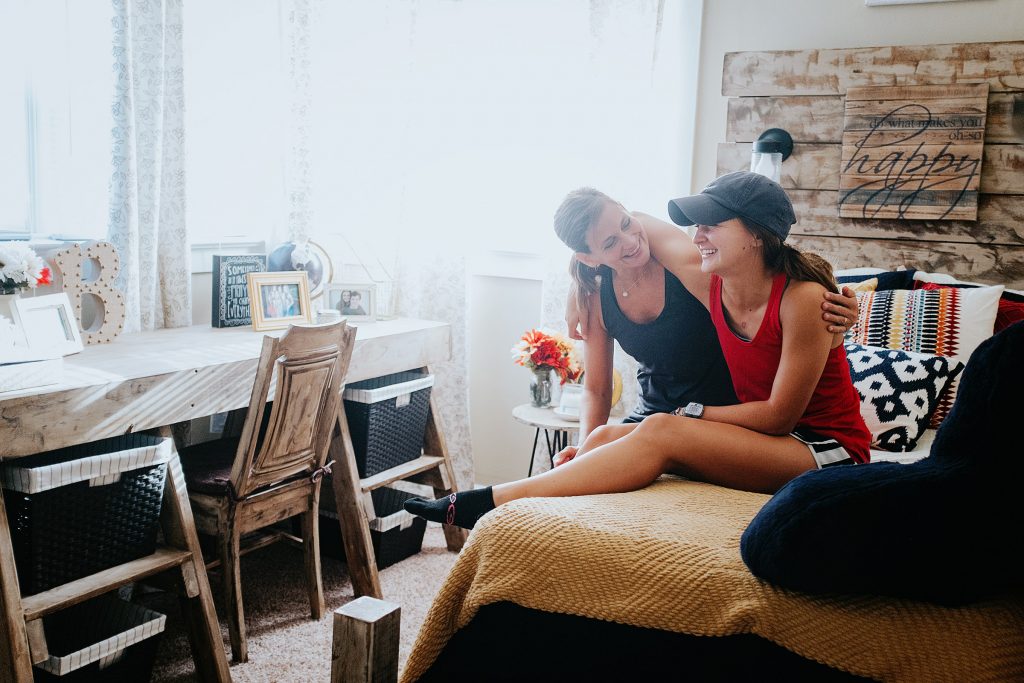 Raise it Up
Most dorm rooms come with extra-long twin beds, but it's up to you to make them look pretty.
If you're moving into a house or apartment and need to buy your own bed, definitely get an 18″ Smartbase raised bed frame to get some additional storage space under the bed. You can store all sorts of stuff underneath these suckers in under-bed storage containers without sacrificing a lick of floor space.
Be the Headboard of the Class
Troya created this amazing barn wood headboard using pieces of weathered wood attached to a frame. If this seems too complicated for you, try a lightweight version such as Stikwood to create a similar effect.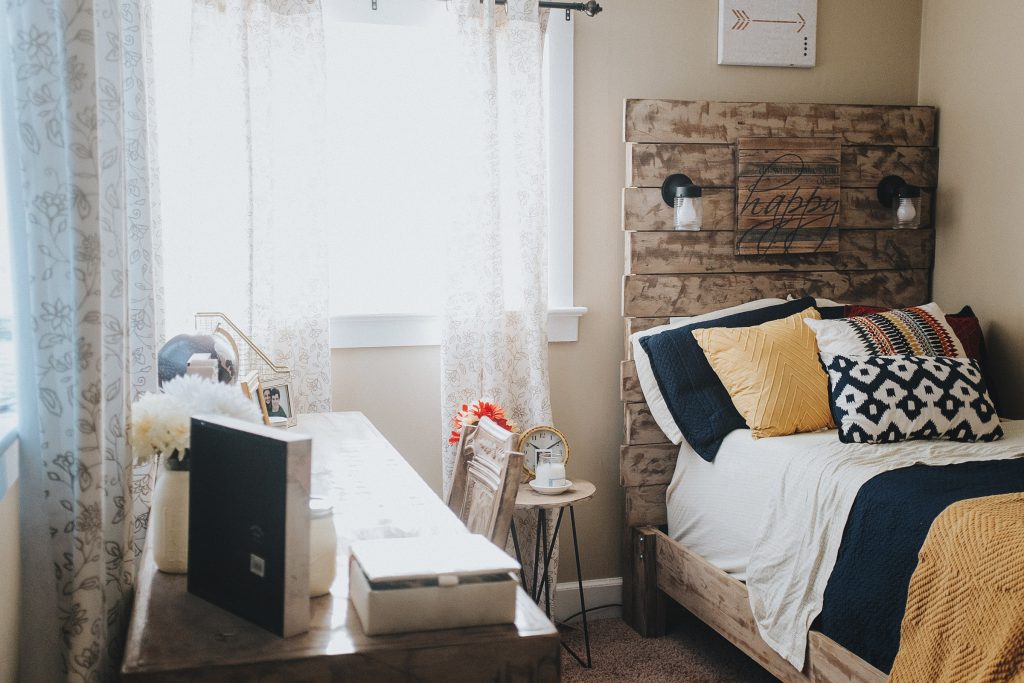 Bonus points if you add caged wire wall sconces for those late night study sessions.
Speaking of studying…
A functional desk space is crucial for any dorm room. Use a set of pretty matching baskets to store basic school and office supplies if your desk doesn't have extra drawer space. Baskets are also a good place to store your kitchen and bath items, such as extra toiletries or dishes and cutlery.
Don't forget the caffeine for all those late night cram sessions. If your dorm allows mini-Keurigs, you could even set up a small coffee station with mugs, K-cups, hot chocolate and bottles of water.
Make it Personal
If you're feeling crafty, make this monogram initial using burlap, upholstery tacks and a wooden letter. Find your wooden initial monogram and use a few coats of Mod-Podge to secure the burlap. Not feeling crafty? Buy one instead! I'm digging this marquee lighted letter.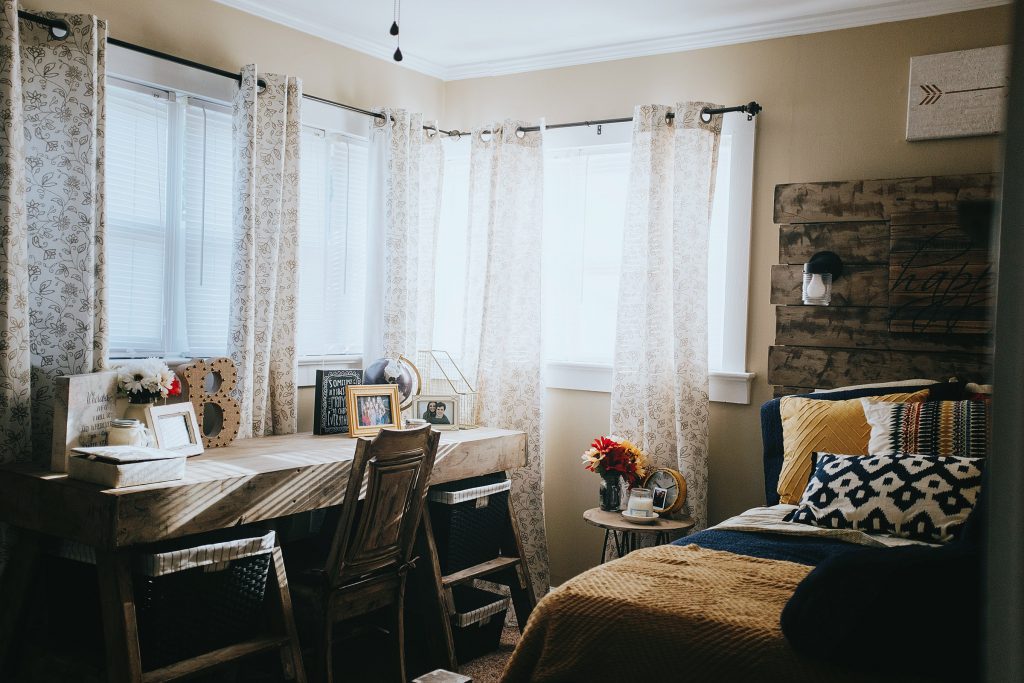 Curtains make a room feel softer and more 'home-y' so be sure to hang some pretty ones if you are allowed. If you are not used to bright parking lot lights outside your window, find some blackout curtains (these are also great for mid-day power naps between classes).
Get Comfy
There's no reason to sacrifice comfort just because you're in communal living. Bedding is probably the most important part of dorm room decor, since there's not much room for other furniture besides the bed. For longevity's sake, consider getting a snuggly duvet insert with a pretty duvet cover that can easily be removed and taken home to wash.
To save money, search for a good deal on your favorite brand-name bedding on sale. All the stores start running back-to-school sales around mid-July, so be on the lookout for a good deal at Pottery Barn, Anthro or Wayfair. 
Consider the Closet Space
Hangers aren't provided, so bring as many as you'll need, and remember, you're not bringing your entire wardrobe to school with you! To save space, pack for the season that the semester falls in and leave the rest at home.  Many schools won't allow you to nail or screw anything to the walls, but over-the-door storage options can serve multiple purposes to hold shoes, accessories and jewelry and still have a spot to hang your towel up to dry.
I hope this post gives you some ideas on what to search for when decorating your dorm room this fall. I'll say an extra prayer for all of you whose little birdies are leaving the nest for the first time.
And just know that if you start seeing a whole bunch of $10 charges on your Texaco credit card, there's a good chance those are going toward six-packs of Bud Light and Pizza Hut cheesesticks, but don't tell 'em that you know that, mmkay?
Did you ever decorate your dorm room? Tell me your college confessions in the comments!
Don't worry. Your secrets are safe with me. 😉