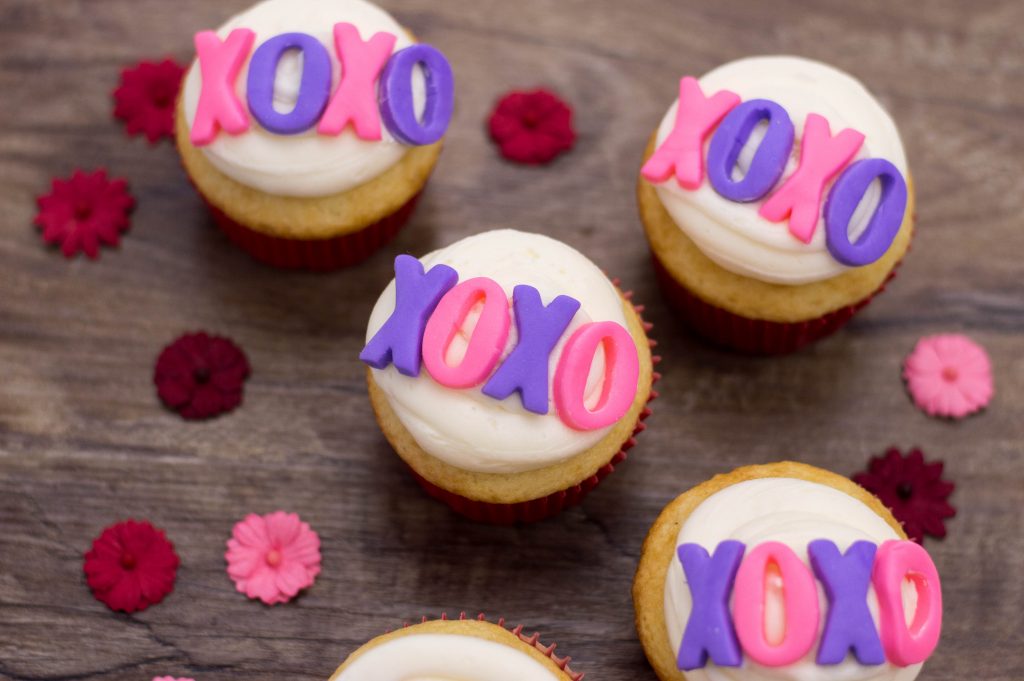 If you've ever wondered what true love was like…it's pretty similar to taking a giant bite out of these XOXO cupcakes. Seriously. They are so good. Your taste buds and your tummy will LOVE them.
Just in time for Valentine's Day, these cupcakes are certain to steal the show. Topped with the letters X and O, your sweetie will know how much you care when you hand them one (or two) of these delicious desserts.
Perfect for a homemade treat or great to make and take to class parties. Trust me…you'll want to make a batch of your own to enjoy in peace.
PS. While these are XOXO cupcakes are great for Valentine's Day, you can seriously bake and eat these whenever you want. Perk of being an adult, right??
XOXO Cupcakes
Ingredients
Vanilla cake mix + ingredients to make them

2 sticks butter, softened

4 cups confectioners' sugar

3-4 tbsp milk

3-4 oz. pink fondant

3-4 oz. purple fondant

X-shaped cookie cutter

O-shaped cookie cutter
Instructions
Prepare and bake your cupcakes according to the mix's directions. Most cake mixes yield 2 dozen cupcakes.


Cool your cupcakes before decorating.

To begin the decorating process, make your buttercream. In a large bowl and using an electric mixer, beat together your butter, confectioners' sugar and milk. Start on low and gradually increase to high.

Once the buttercream is smooth, scoop into a frosting bag and pipe out a dollop of icing on each cupcake.

Roll out each fondant color so that it's about ¼ of an inch thick. Using your cookie cutters, cut out 12 X's of each color and 12 O's of each color.

Place the fondant shapes on each cupcake, alternating colors. Serve and enjoy!