These Keto salmon patties are so delicious and so simple! You'll love the taste and ease!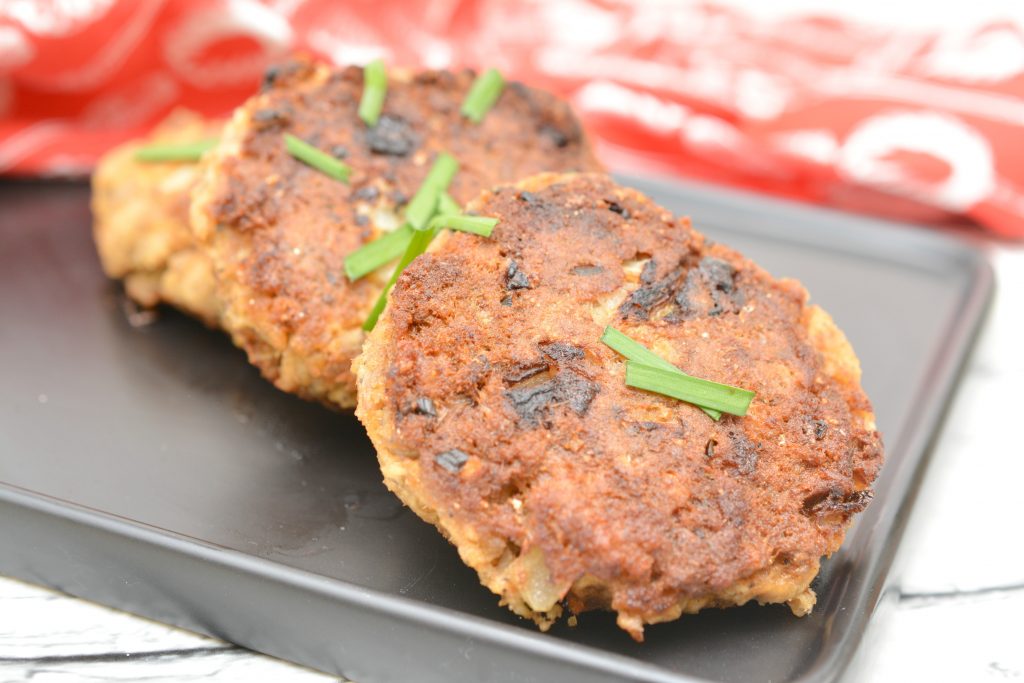 Delicious Keto Salmon Patties
I'm always on the hunt for keto-friendly foods. When I first made this Keto salmon patty recipe, I was hooked. Not only was it crazy simple, but the flavor is actually really, really good as well. The crisp outer coating goes perfectly with the delicious middle and I have a feeling you're going to agree.
Not only are my taste buds happy, but it's kid-approved as well! And when you're filling your body with delicious salmon, living the Keto lifestyle is seriously so much fun!
The next time you're craving something seafood, these Keto salmon patties need to be on your radar!
How to make Keto Salmon Patties
Ingredients to make low carb salmon patties
2 (14.75 oz.) Cans Pink Salmon

 

1 Egg beaten

 

1 Small onion finely chopped

 

2 tbsp. Fresh chopped chives

 

½ c. Pork rind finely crushed

 

2 tsp. Worcestershire sauce

 

1 tsp. Garlic powder

 

Salt and pepper to taste

 

1 tbsp. Olive oil

 

2 tbsp. Unsalted butter

 
Directions to make keto salmon patties
Start by draining two cans of pink salmon completely. Once drained,  empty out the salmon into a large mixing bowl.  
Next, add in 1 small chopped onion and 1 beaten egg.  
Take and mix in ½ cup of pork rinds that are finely crushed and 2 tablespoons of fresh chopped chives.  
Next, add in 2 teaspoons of Worcestershire sauce. Follow this by adding in 1 teaspoon of garlic powder. (also any salt and pepper that you want)
Get ready to get your hands dirty! Wash your hands and then use them to mix together all of the ingredients well.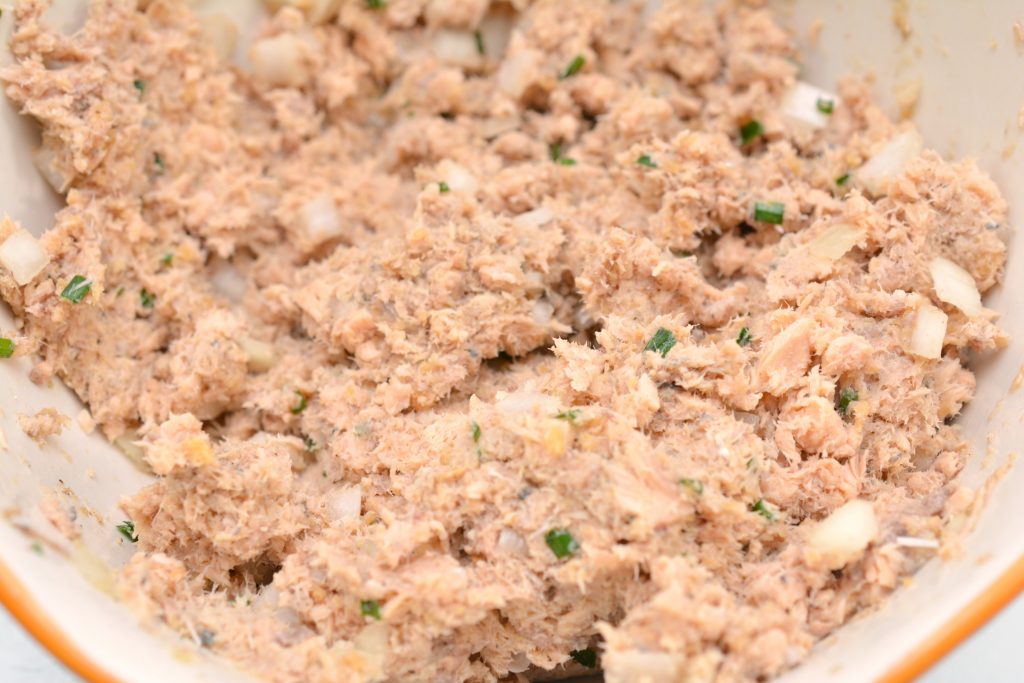 Next, make 8 patties from the mixture.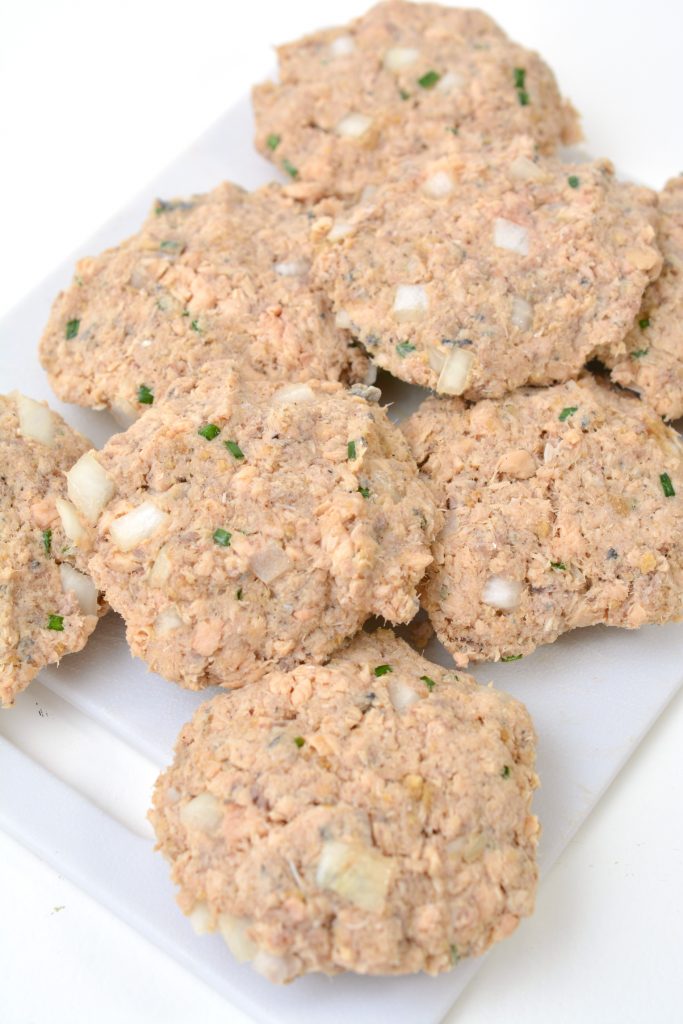 Once the patties are made, heat 1 tablespoon of olive oil and 2 tablespoons of unsalted butter in a skillet over medium heat.  
When the skillet is nice and hot, place in your salmon patties carefully. They should be in a single layer and not too close together. (they won't all fit in one skillet)
Cook the salmon patties for 5-7 minutes on each side, making sure to brown and sear each side well to ensure they're done.
Once they are done, remove and let them drain on a paper towel for a minute or two.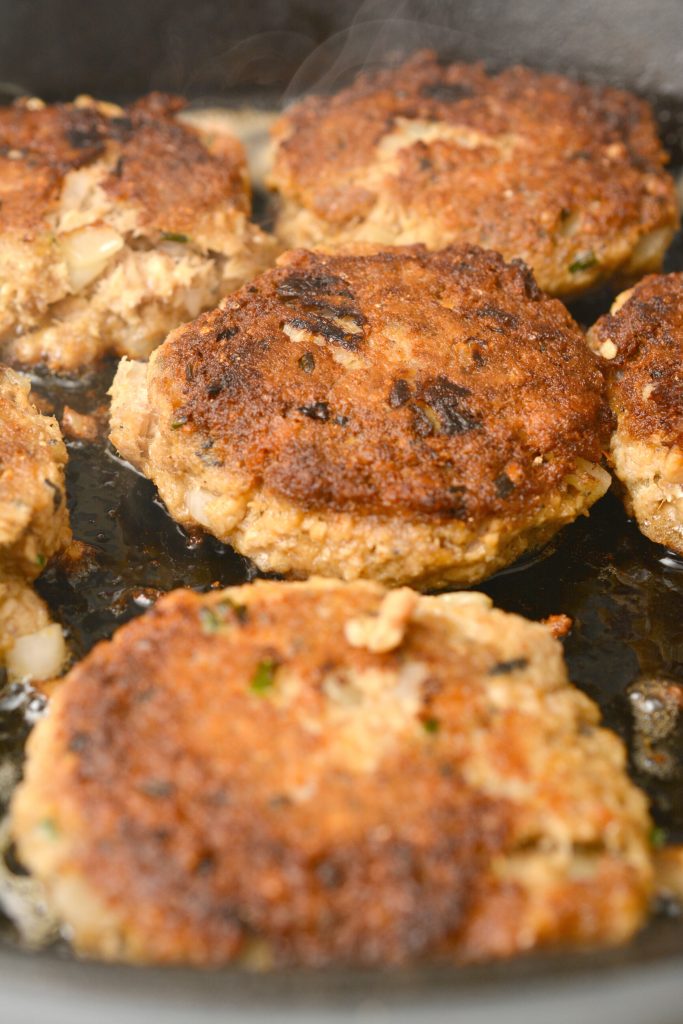 Top with your favorite toppings and enjoy!