This relaxing Lavender Chamomile Foot Soak is just what your toes need after a long days work!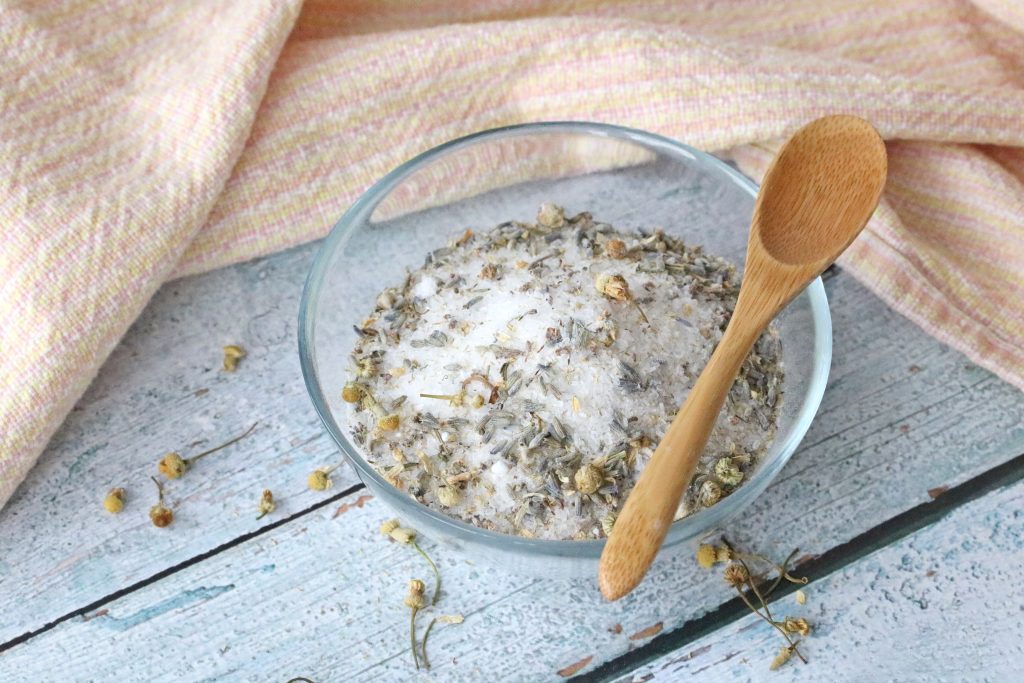 Relaxing Lavender Chamomile Foot Soak
I love a good foot soak. But honestly, I have a hard time finding one that I just love right off the shelf. I've tried a lot throughout my years, but I kept feeling as though I was coming up empty handed time and time again.
That was when I decided that it was time to make my own homemade foot soak, and I am so, so happy that I did! I can't say enough about this relaxing Lavender Chamomile Foot Soak! It's gentle on your skin, makes your toes feel soft as butter and smells absolutely amazing as well!
Both lavender and chamomile have long been proven to be super calming, relaxing and help you to fall asleep fast.  After a long day, the lavender + chamomile combo is SUPER relaxing and helps the stress drain right out of your body.
If you're looking for a super simple DIY foot soak, you're going to fall in love with this simple recipe!
Ingredients to make homemade Lavender Chamomile Foot Soak
¾ cups Epsom salts
¼ cup baking soda
1/8 cup dried lavender
1/8 cup dried chamomile

  (or 4-6 drops German chamomile essential oil)
How to make a DIY foot soak
Start by measuring out all the ingredients list above.
Next, add the ingredients to a small bowl and stir until mixed.
Once mixed, evenly portion scoops of the mixture into one large jar or two. (if you want to gift one to someone else, split it between two!)
How to use a homemade foot soak
Pour the contents of the jar into a large, warm bath. Allow time for the salts to fully dissolve before putting your feet into it. Once the salt is dissolved, dip in those toes and feet and soak them for 10-15 minutes!  (If you don't want to fill the tub full, a small bucket of warm water will do the trick as well!)
Enjoy!