One day last November I was standing in my kitchen cooking dinner when my husband showed me a picture of a real estate listing on his phone. "Look at this." was all he said.
I grabbed his phone, and this is what I saw…
After about .002 seconds of glancing through the real estate pictures of a little A-frame house for sale on my most favorite lake in the whole world, I was in.
"SOLD." I said, with complete conviction.
I didn't even have to see the place in person, I knew that I wanted it immediately.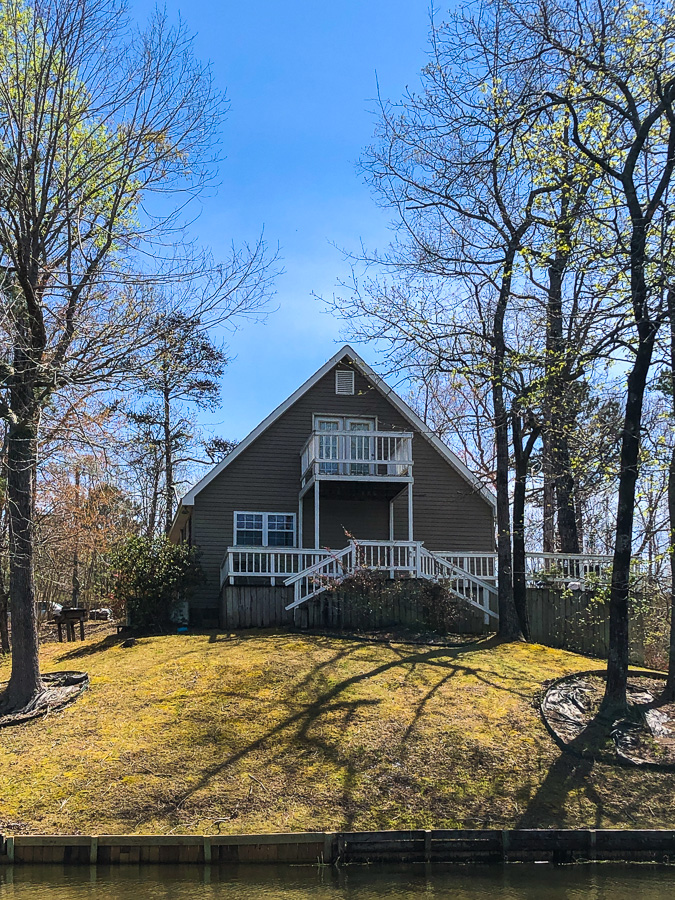 And that's the story of how we bought a lake house.
The end.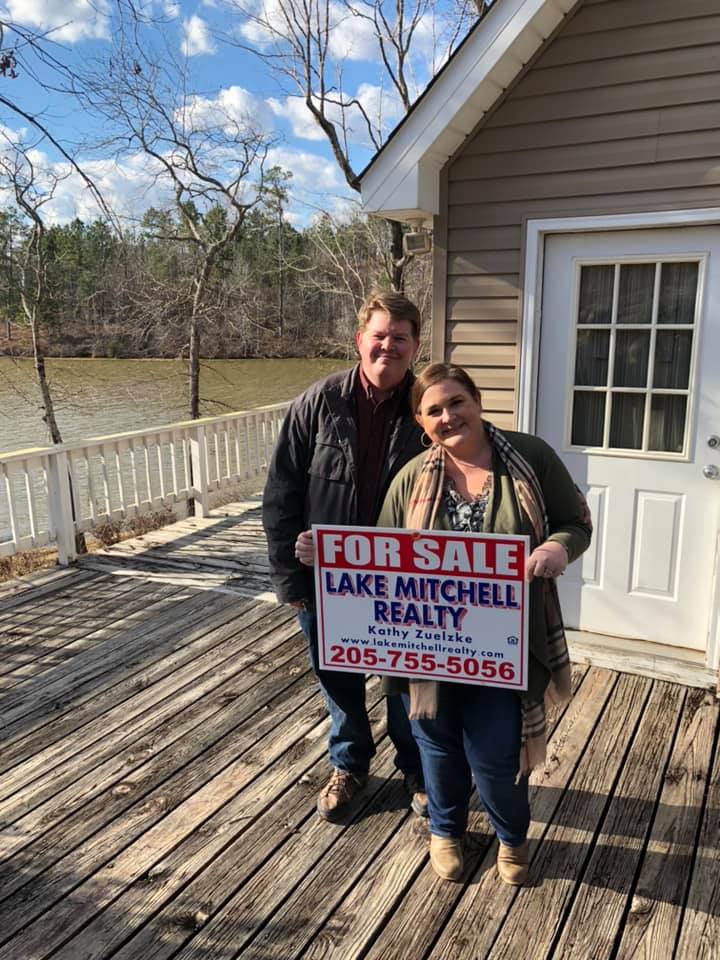 Just kidding!
Y'all know I'm way more long-winded than that.
So, we had not even been discussing the possibility of buying a lake house. Long ago in a life far, far away we had once owned a small cabin on this same lake, but we sold it when back in 2010-ish when Garrett was a toddler.
It's always been one of those "Someday dreams" but it was NOWHERE on my radar at this point in our lives. But, my husband just happened to take a peek at the realtor's website just as this one was put on the market. It was priced right for us to buy as a vacation home, and the size was perfect for our little family.
So, we scheduled an appointment to go down and look at it. After just one look around, we put in an offer and officially became owners of this cute little gingerbread house earlier this year.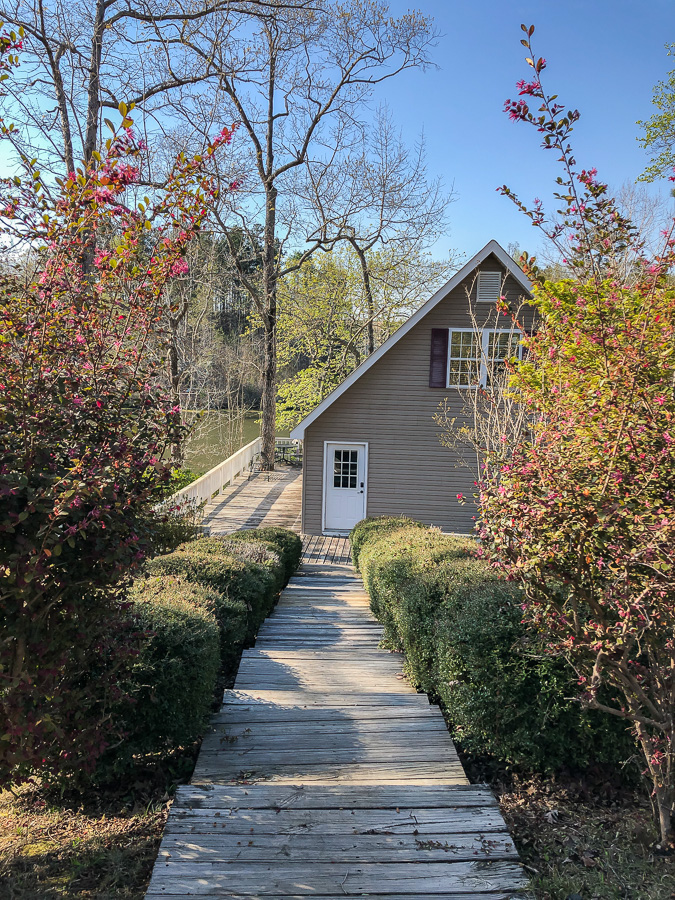 We are calling it Gingerbread Point for obvious reasons- it looks just like a little gingerbread house and it sits out on a point surrounded on three sides by water.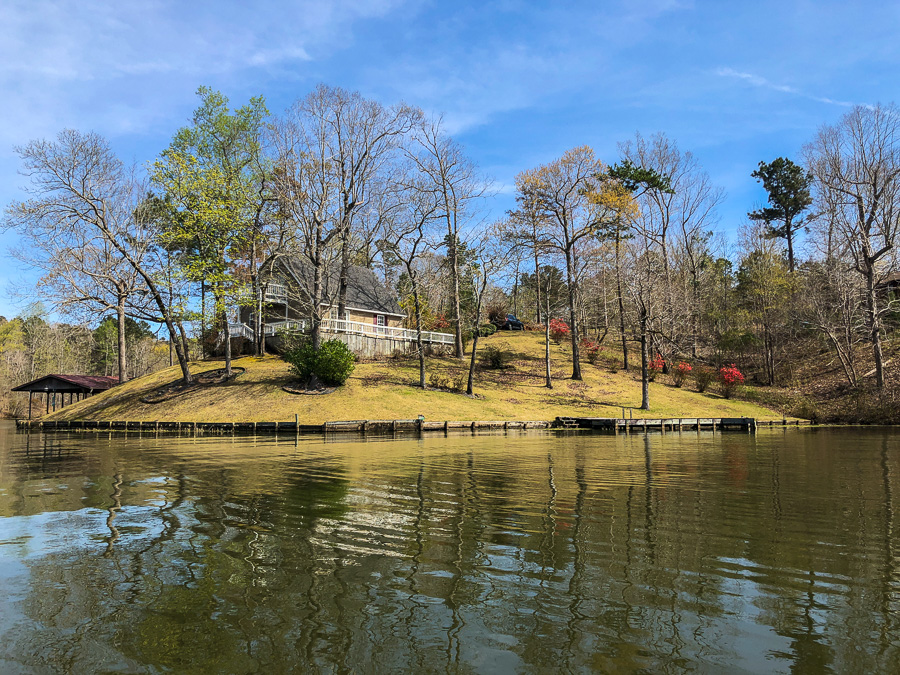 We spent our first night down there last weekend, and it was like waking up in a dream. The fog burning off the lake–revealing this gorgeous view of the Coosa River– was magical.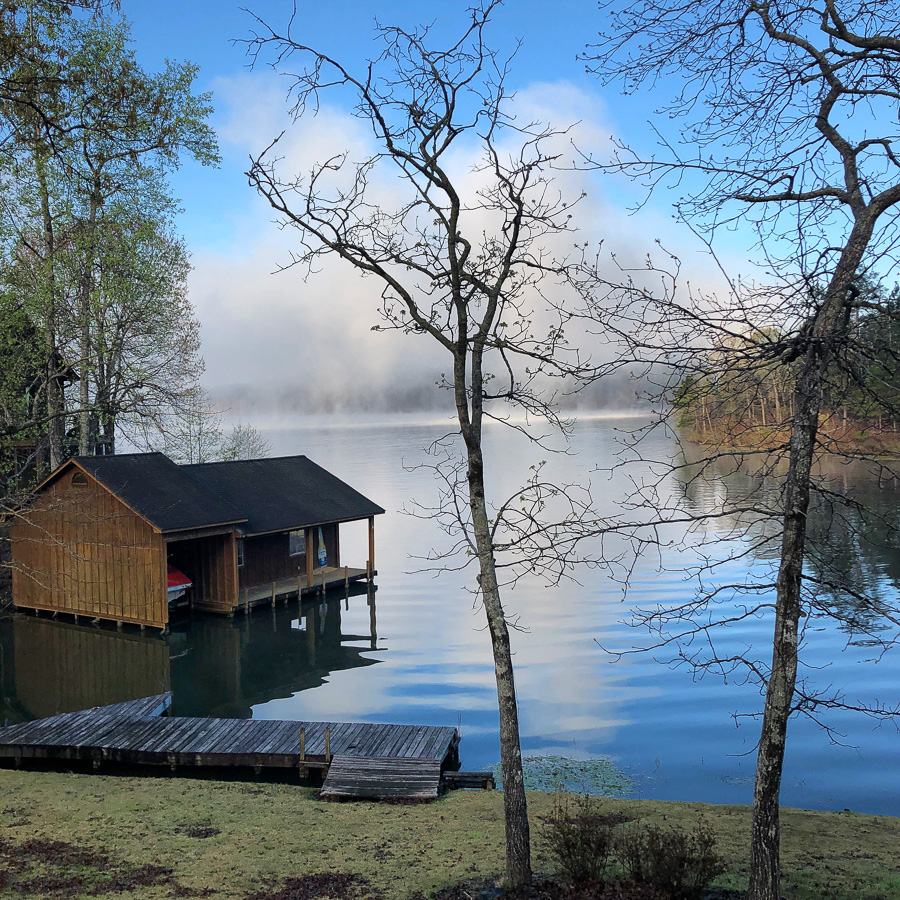 I can see the water from almost every window.
There's a sturdy two-stall boathouse big enough to fit any boats we would ever want to own. It's so peaceful and private, and we haven't been down there yet without seeing some kind of wildlife- deer and wild turkeys and even a bald eagle soaring overhead.
The front yard is steep, but it's mostly covered in moss so I don't plan on having to mow it.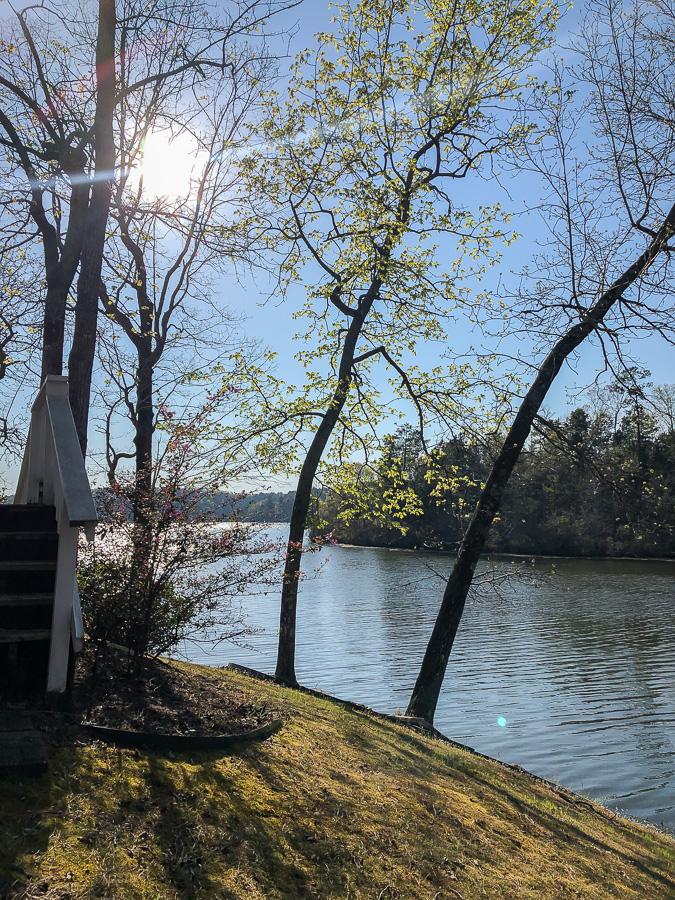 There is a gentle slope down to the water on the left side of the house, and the previous owners have planted the whole property with zoysia grass, pink azaleas, boxwoods, and huge gardenia bushes.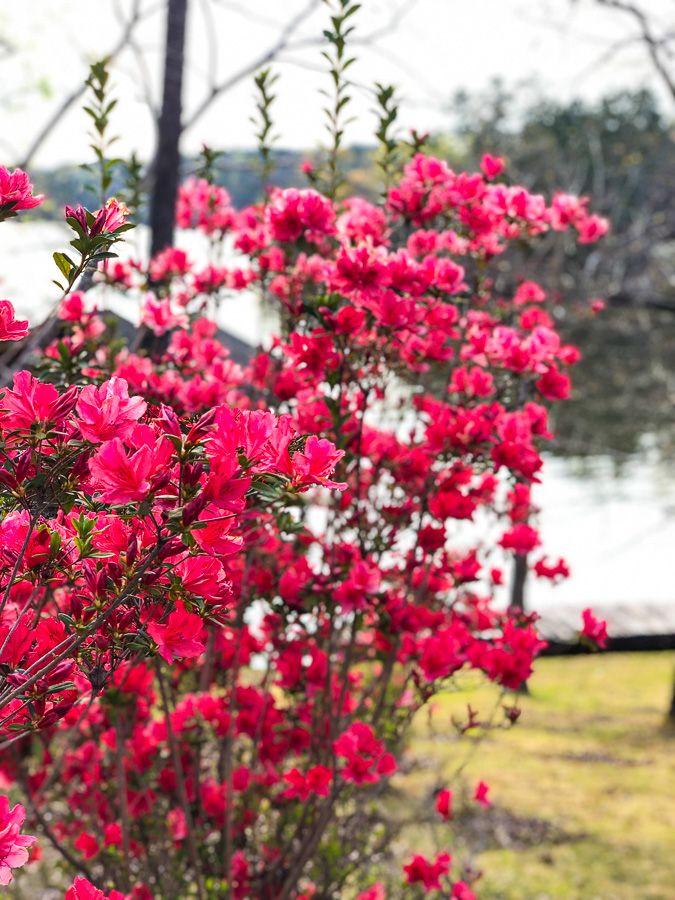 There's even a sprinkler system that pumps water from the lake to water everything.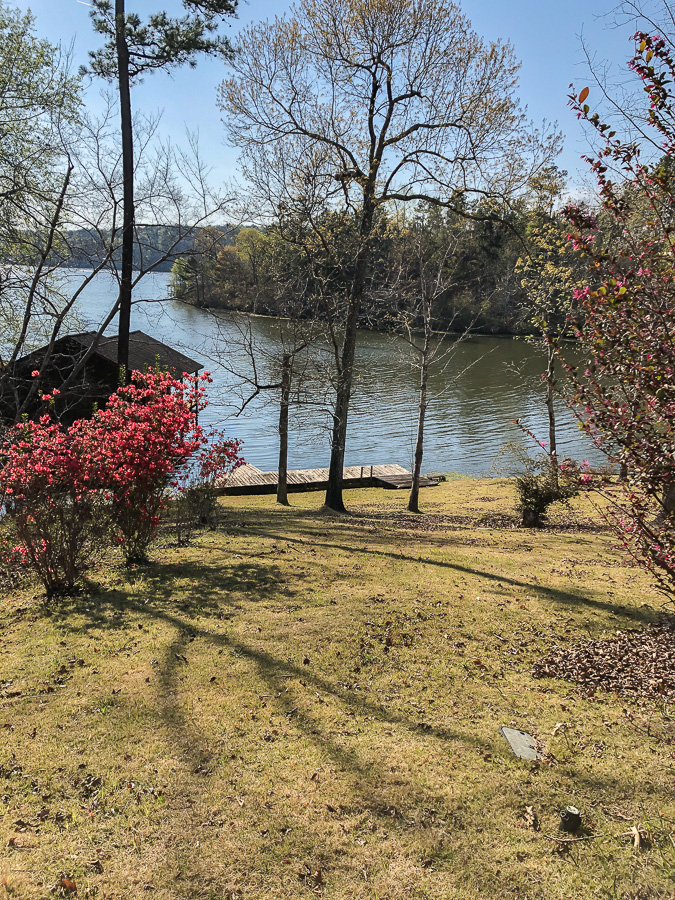 There are well-established crepe myrtles lining the driveway and a BEAUTIFUL Japanese maple tree that was flaming red in fall colors on the first day that we saw it.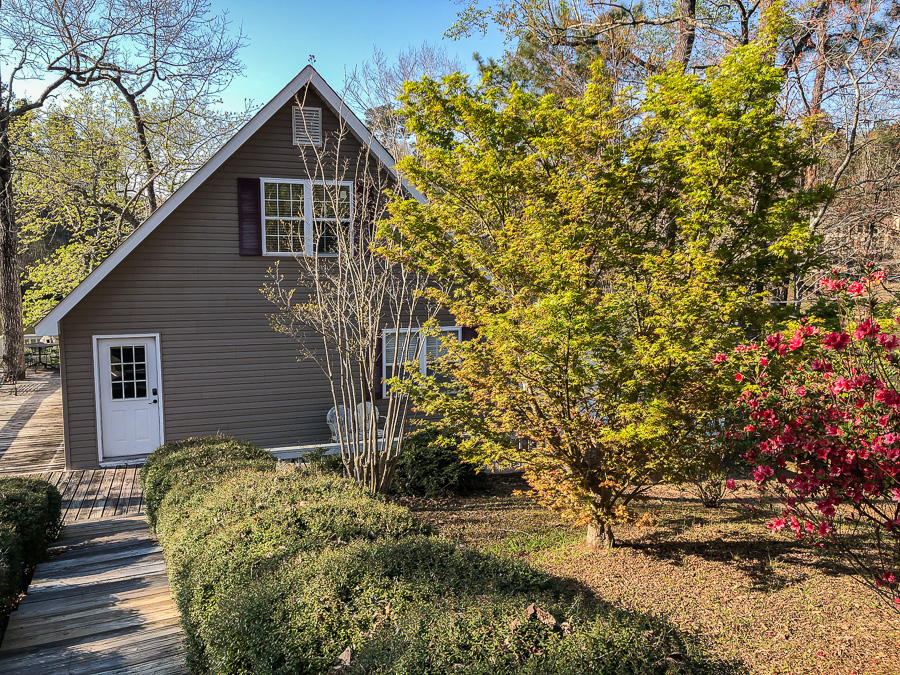 This gorgeous maple tree was a serious selling point for me.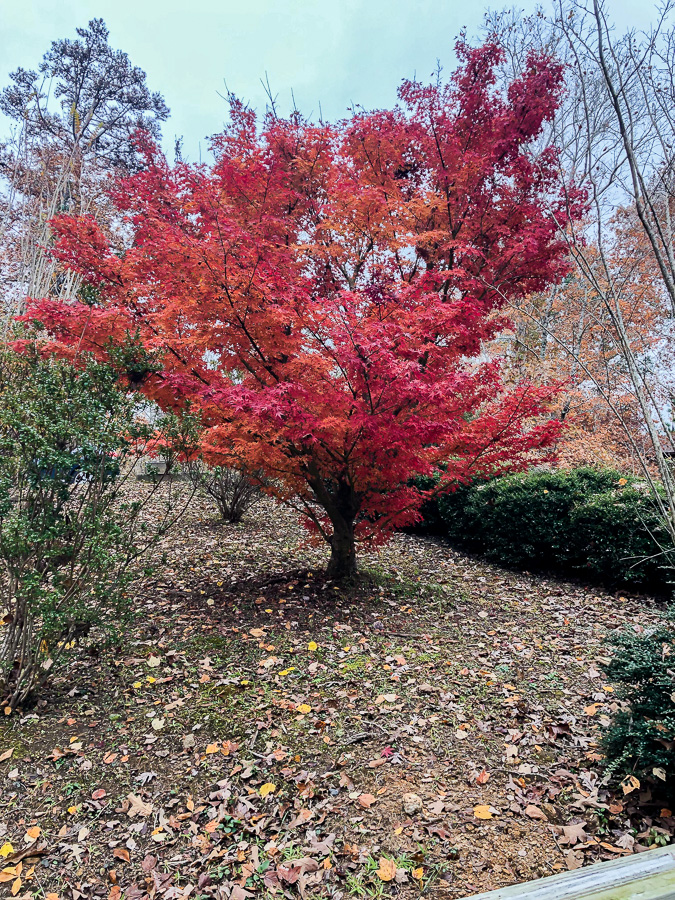 There is a huge wrap-around deck that will be great for entertaining once it is sturdy enough. Currently, it needs some major attention so we have been tip-toeing around out there until we can replace all the deck boards and bring those railings up to code.
My husband's foot has already gone through one board on this deck.  I sure don't feel like breaking a hip at this point in my life, so new deck boards are at the tippy-TOP of the to-do list.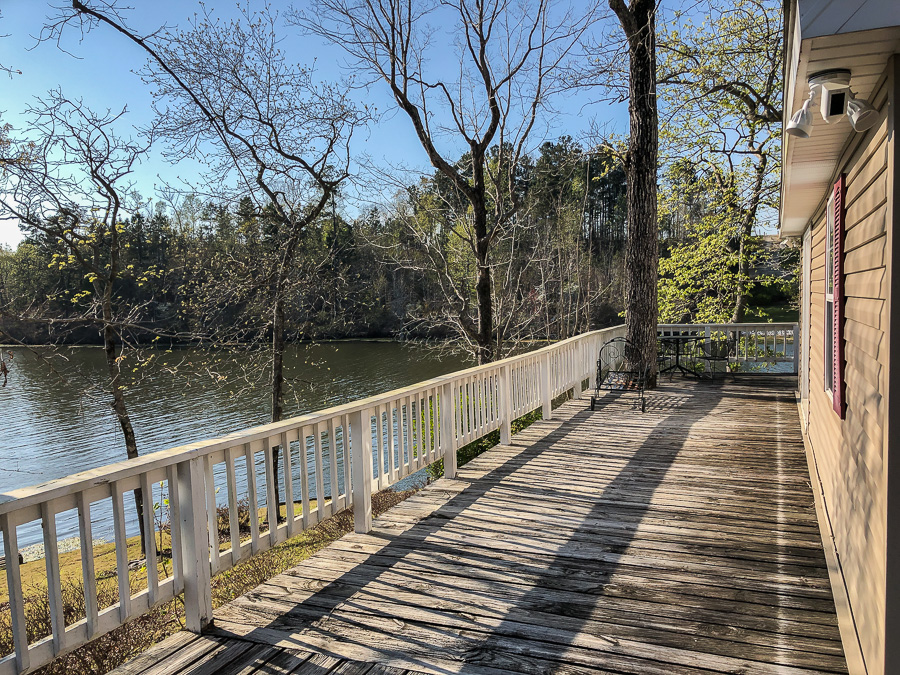 Pretty much nothing in this house was built to code, it seems, but we can make the most necessary repairs over time. The master bedroom is upstairs with double doors leading out onto a little balcony. Eventually, I'd love to expand this balcony a little bit, but it works for now.  When you wake up in the morning and look outside, it's like sitting in a tree house.
Gah, I love it.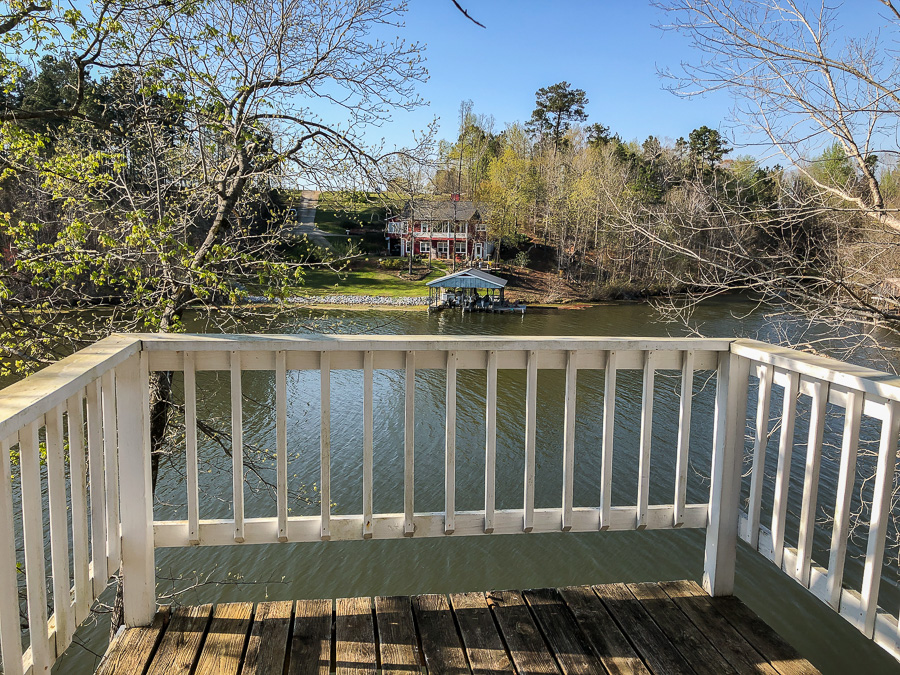 Let's head inside and take the tour! I have some big plans for this little house.
The front door opens into a two-story foyer and turned staircase that is BEGGING me to build in a bench of some kind. That big space has potential, and I just have to figure out what it needs the most.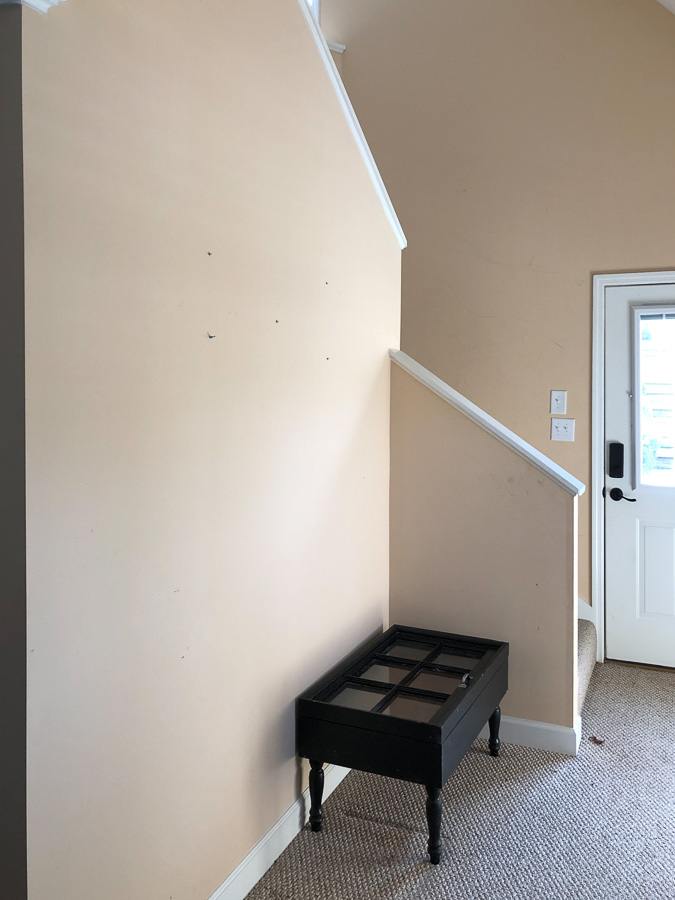 Straight ahead is the living room, with double doors going onto the deck and a gas fireplace with a huge mantel. I'm thinking some kind of built-in bookcases would look good over in that corner where the tv is. We have never even turned on that tv so I'm pretty sure it could go away completely and we wouldn't miss it.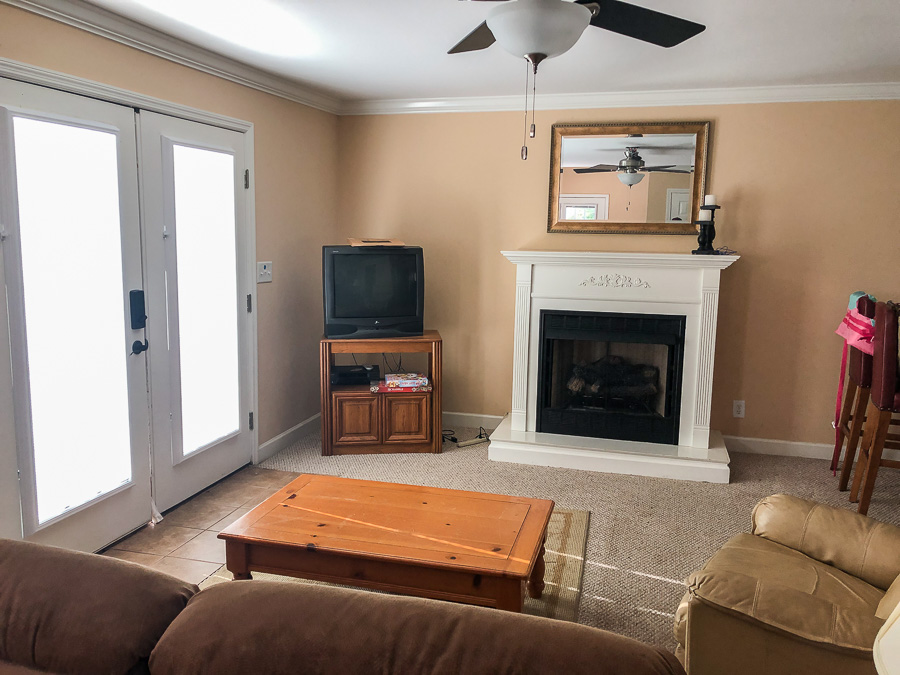 To the right of the living room is a full kitchen with a breakfast bar for the kids. Here's Caroline blogging about her first visit. 😉  PS- Lake hair don't care.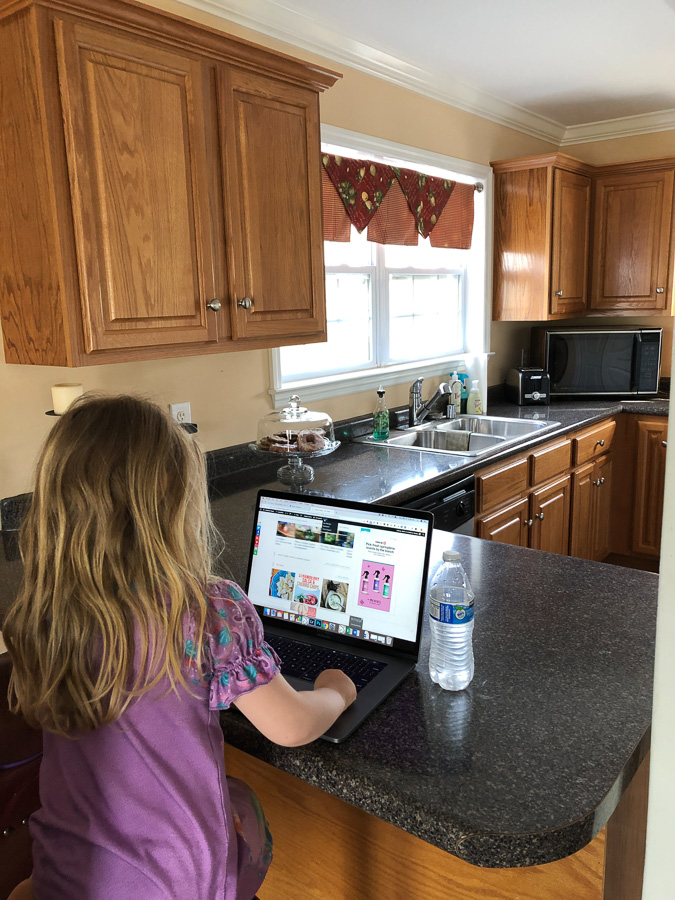 This kitchen has everything we need including a full-size fridge that you cannot see in this picture.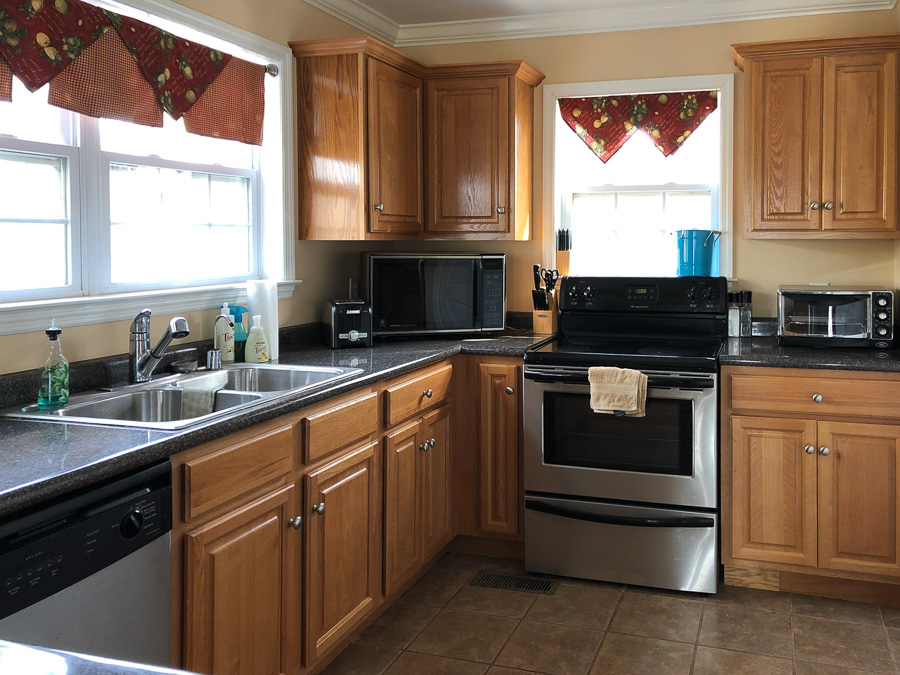 There's also a full-size washer and dryer inside that closet with the bi-fold doors, along with a water heater (and CITY water!! WOOHOO. Another huge selling point.)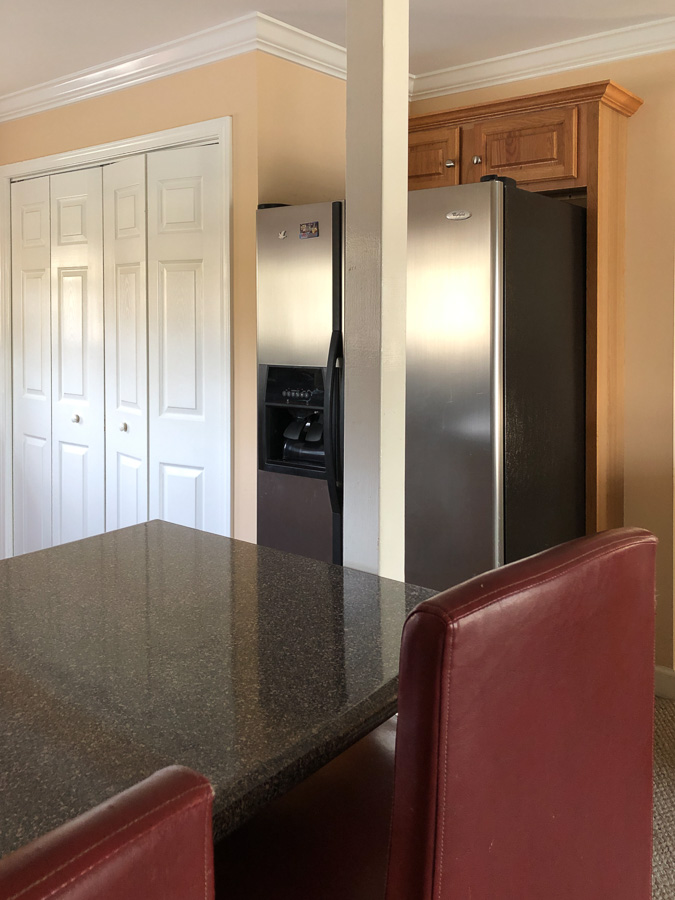 There are two bedrooms-one up and one down, as well as a sleeping loft area with a king size bed. Here is the Master bedroom. We scored a Sleep Number bed for just $300 and I legit slept better here than I do at home most nights.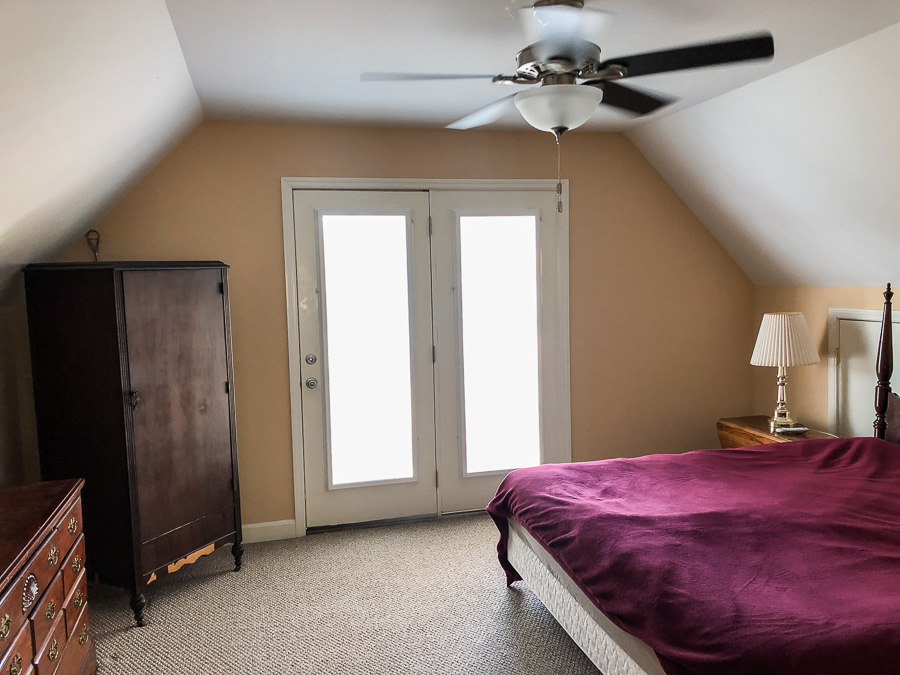 Garrett has claimed the other bedroom for himself, which leaves the loft for Caroline.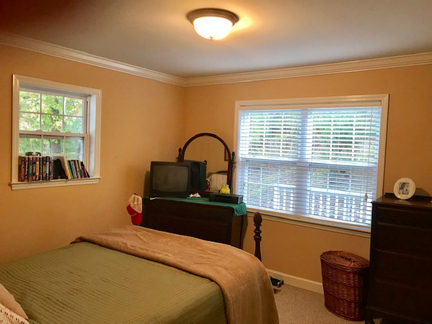 Right now, the loft holds yet another King size bed, so there's plenty of sleeping space in here.
In my dreams, we will eventually make this space similar to Liz's bedroom over at Love Grows Wild: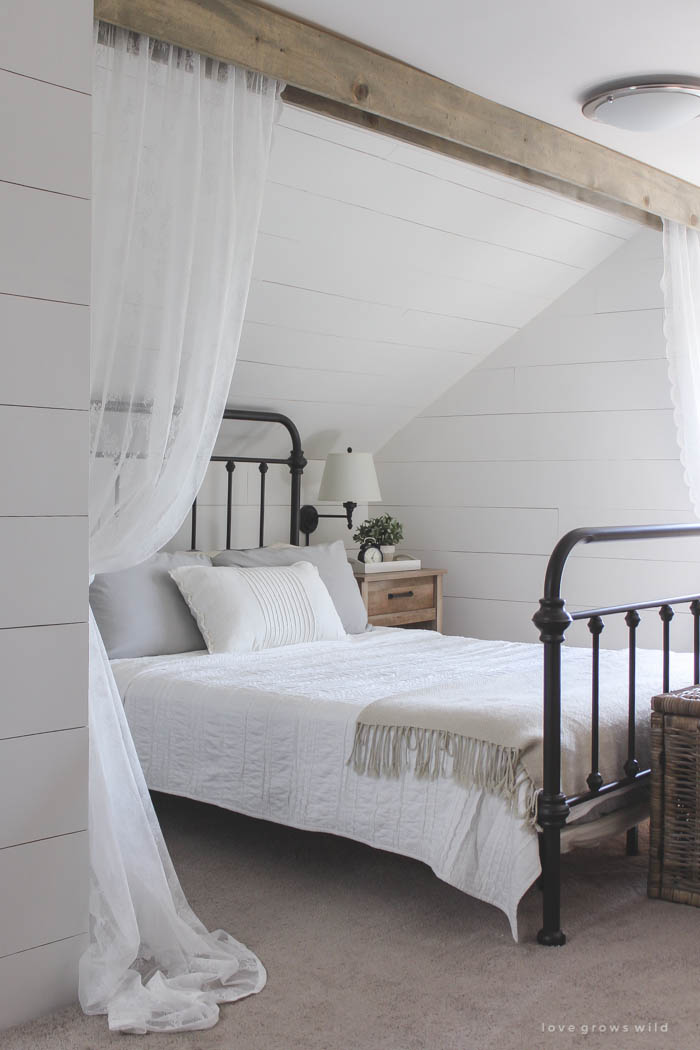 I fell in love with her faux wood beam/curtain idea as soon as I saw it. It seems pretty doable, so I'm going to put it on my wishlist even if it takes me 7 years to get around to it. By that point Caroline will be able to help me nail the faux wooden beams herself.
For now, though, she is LOVING the lake life. My fearless little girl loves to splash at the water's edge and go fishing with her mama. She is a girl after my own heart, and I cannot wait to watch her grow up being a little river rat like I was at her age.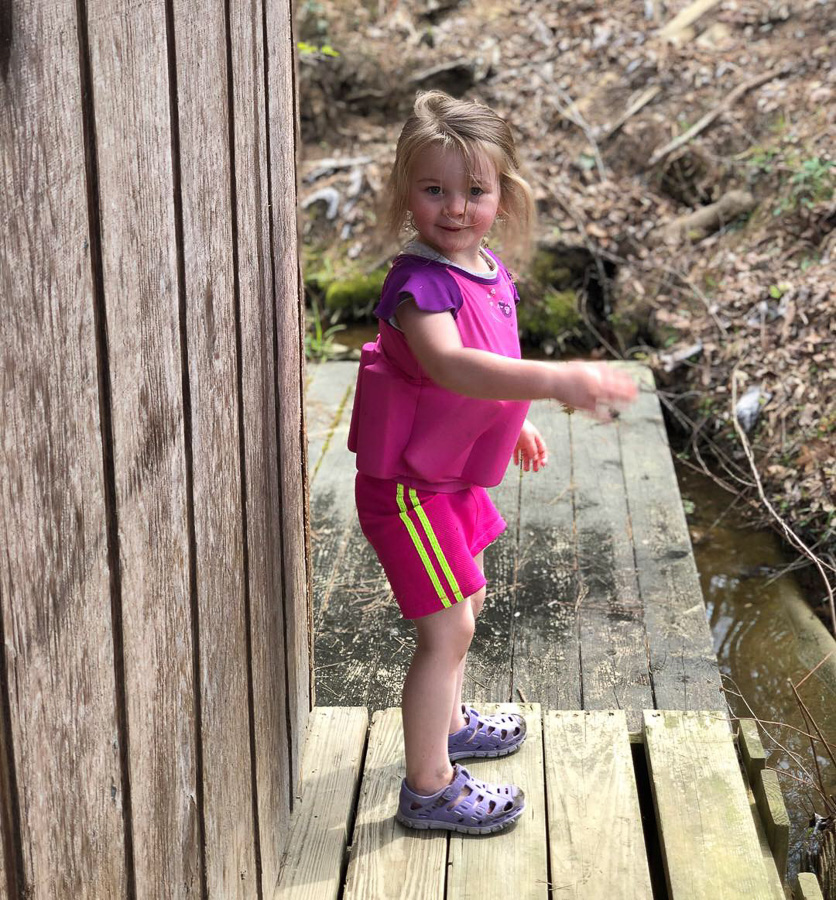 The absolute best part of this house is not the house at all, but the memories that we have already made with the kids.  Garrett and Caroline both LOVE riding in the boat and beg me to go faster whenever I take them out in it. That look of pure joy on their faces is worth every single penny that we have spent on this little house so far.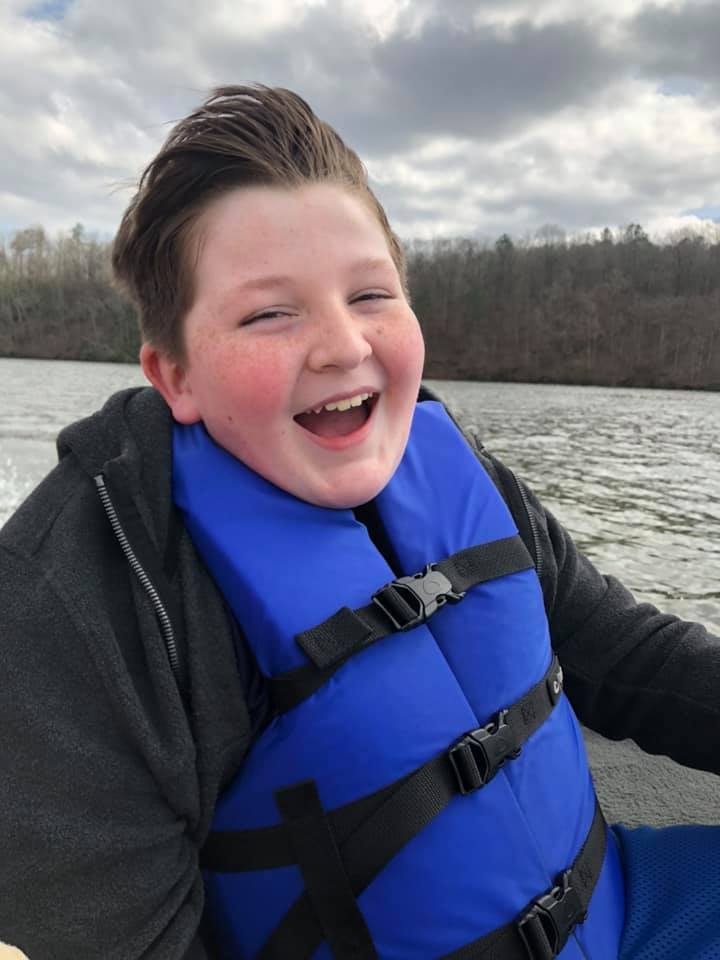 But the thought of spending our free time at this peaceful getaway makes me SO incredibly happy.  Our lives have truly turned upside down in the past year, so having this lake house gives us a place to all come back together, put down our phones and just have fun as a family.
And that, my friends, is pretty dang priceless.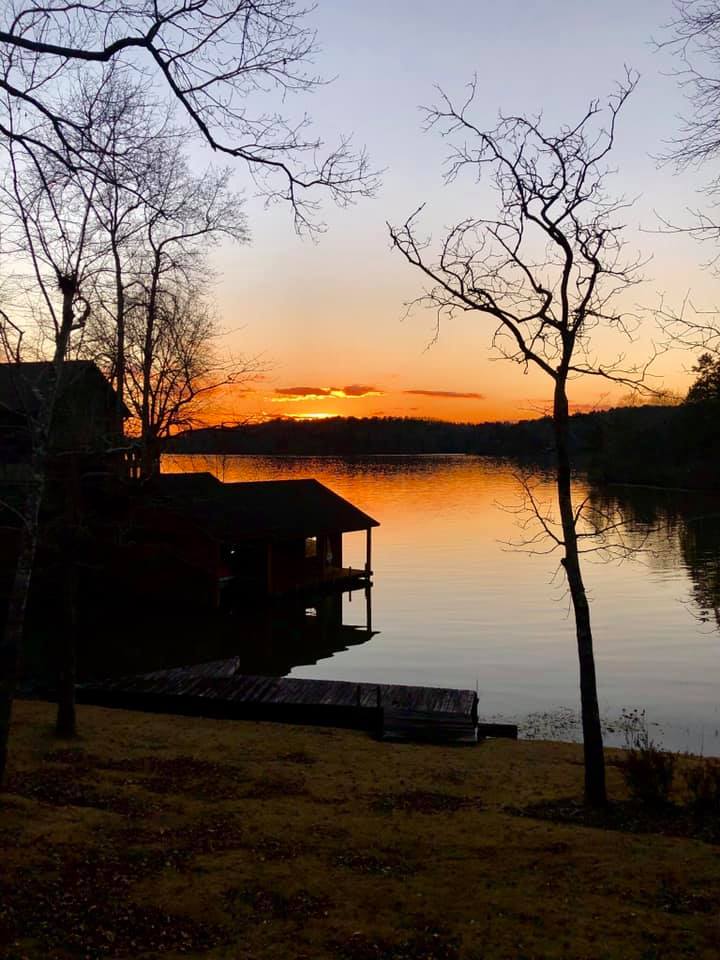 So THAT is the actual story of how we bought a lake house.
God-willing and the creek don't rise, I'll be sharing all of our updates to this little Gingerbread house as we make them so you guys can see the house progress. So far it's been not-fun stuff like adding ceiling fans and new blinds and replacing the deadbolts with key pads and adding Ring floodlight cams so we can keep an eye on things from afar.  Maybe I'll blog about that stuff and maybe I won't, but I will definitely share the pretty decorative stuff!
And here's a little secret I'll share with you today…
One day I hope to rent this house out as an AirBNB so that all of you can come and experience this peaceful place as well! That dream will definitely have to wait until we can get the deck replaced and enjoy it ourselves for a while first, but it's definitely on the radar. When that happens you all will be the first to know!
I really do miss blogging and I hope this house will help me get my mojo back. I miss all of you and your comments and love. I hope you are all doing great!
Sending my love,
Beth