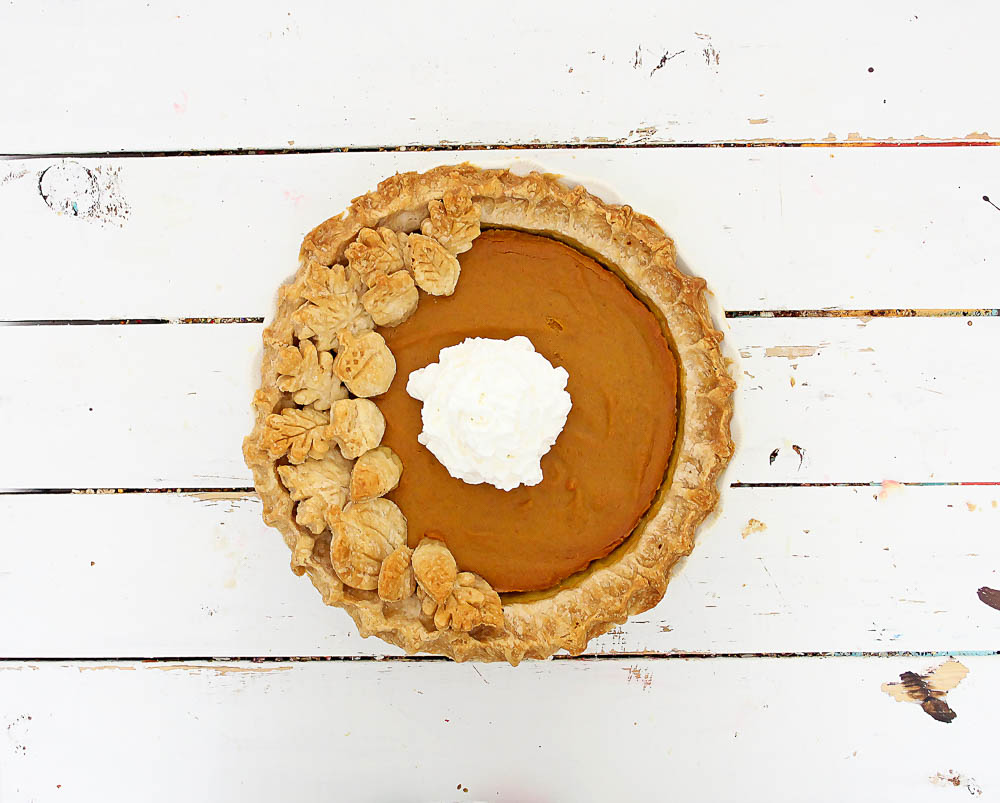 Looking for a simple pumpkin pie recipe but feeling overwhelmed by all the super-hard recipes out there? This easy recipe uses a storebought pie crust so it saves time and still results in a beautiful semi-homemade pumpkin pie, perfect for Thanksgiving dessert!
Beautiful Pumpkin Pie Recipe (Semi-homemade)
This pie is absolutely delicious at any time of the year but everyone knows Pumpkin Pie is made for Thanksgiving dinner.  Since it uses a storebought crust it's an easy pie to make and bakes up beautifully. 
Equipment
Glass Pie Pan

Large mixing bowl

Parchment paper

Rolling Pin

Aluminum foil

Fall pie crust cutters

Whisk or Mixer
Ingredients
FOR THE PIE FILLING:

15

ounce

can of plain pumpkin

1

cup

sugar

2

teaspoons

cinnamon

1/4

teaspoon

salt

2

large eggs

1 1/2

cups

half n half

1

can

Whipped Cream

FOR THE CRUST AND LEAVES:

1

box

Pillsbury Refrigerated Pie Crusts (2 count)
Instructions
Preheat oven to 425 degrees Fahrenheit.

Unbox the refrigerated crusts and unroll one onto a large piece of lightly floured piece of parchment paper.

Starting in the center, use your rolling pin to make the crust a bit bigger than it is out of the box. You'll want about to roll your crust about three or four inches bigger than your pie pan. Don't roll the entire length of the crust but roll from the center out to the edge of each side of the crust to prevent tearing. Use a bit more flour if it sticks to the pin.

Once the crust is rolled out, gently fold it over your rolling pin and place it into your pie pan so that it covers the pan completely. Gently press it into the pan using your fingers, then crimp the edges using the excess dough.

In a large mixing bowl, beat the canned pumpkin, sugar, cinnamon, and salt, and mix until all ingredients are blended.

Add the eggs and half and half, mixing until filling is completely blended.

Pour filling into prepared pie crust, and bake at 425 for 15 minutes to start. If the edges get too brown, cover the edges only with aluminum foil.

Reduce the oven temperature to 350 degrees, and bake for another 45 minutes, or until a knife inserted in the center comes out clean.

When the pie is done, remove from oven to a wire rack to cool for about 2 hours.

While the pie is cooling, make the decorative leaves and acorns from the other pie crust in the box. Simple press the cutter down onto the crust, and then push the leaf, or acorn out with the little button on top, onto a parchment-lined cookie sheet, until you have as many as you want.

Bake the decorative leaves and acorns at 350 for about 10 – 12 minutes, or until golden in color. These burn really fast, so you have to watch them while in the oven.

Tip: Brush melted butter onto the leaves or acorns after they come out of the oven for a nice finish.

Once the pie and decorations have cooled completely, assemble the decorative leaves and acorns onto the pie using small dabs of whipped cream to hold it all together. Serve with more whipped cream in the center if you like.

The Pie Filling recipe makes one 9 inch pie – double the recipe for 2 pies, triple it for 3, etc.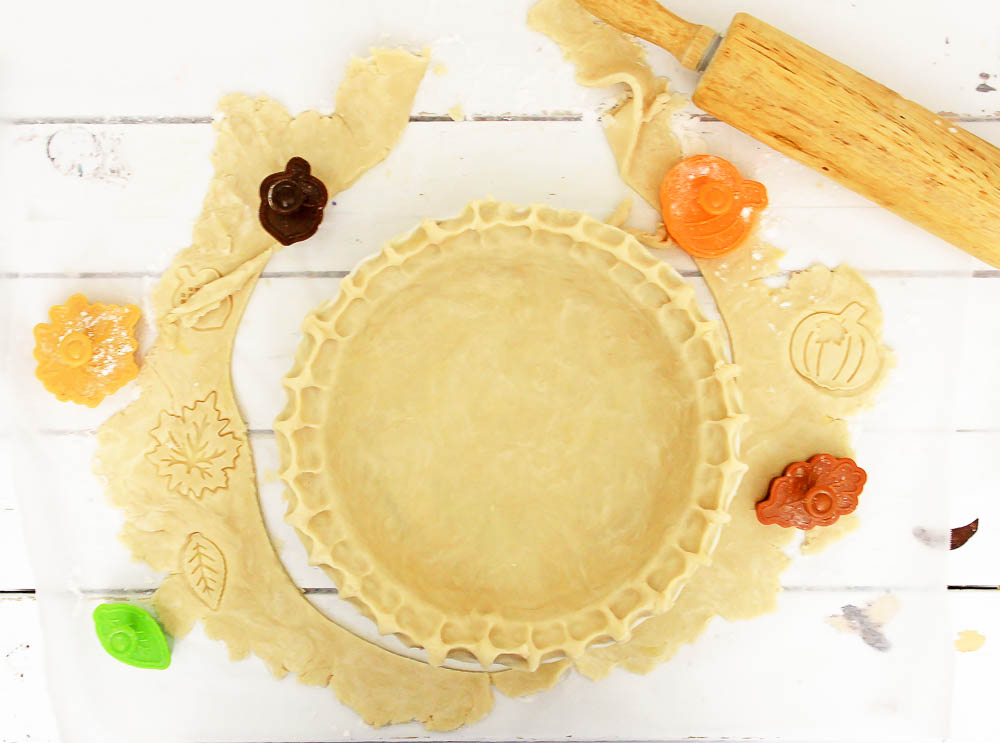 Making a homemade pumpkin pie from scratch is not "easy as pie". It's hard to get a perfectly flaky crust for a pie, so I have no issues using a Pillsbury refrigerated crust for my pie recipes. They are almost fool-proof and save you SO much time and effort. You can still create beautiful leaves and acorns for your pie decor using the boxed crusts, too!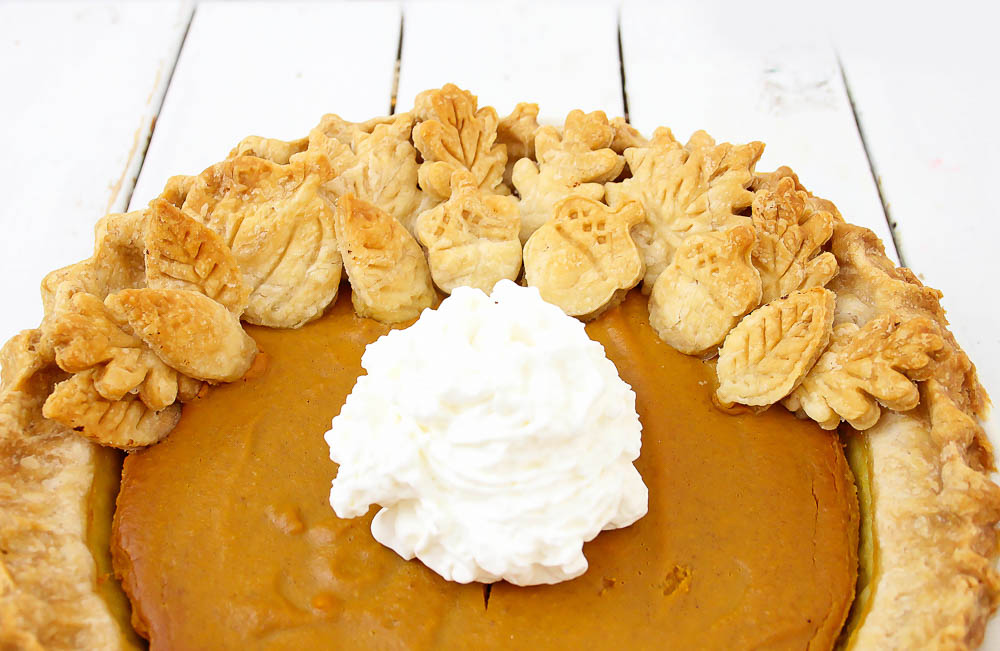 So go ahead and be a "Cheater, Cheater, Pumpkin Eater" for this dessert! I won't tell anyone if you won't!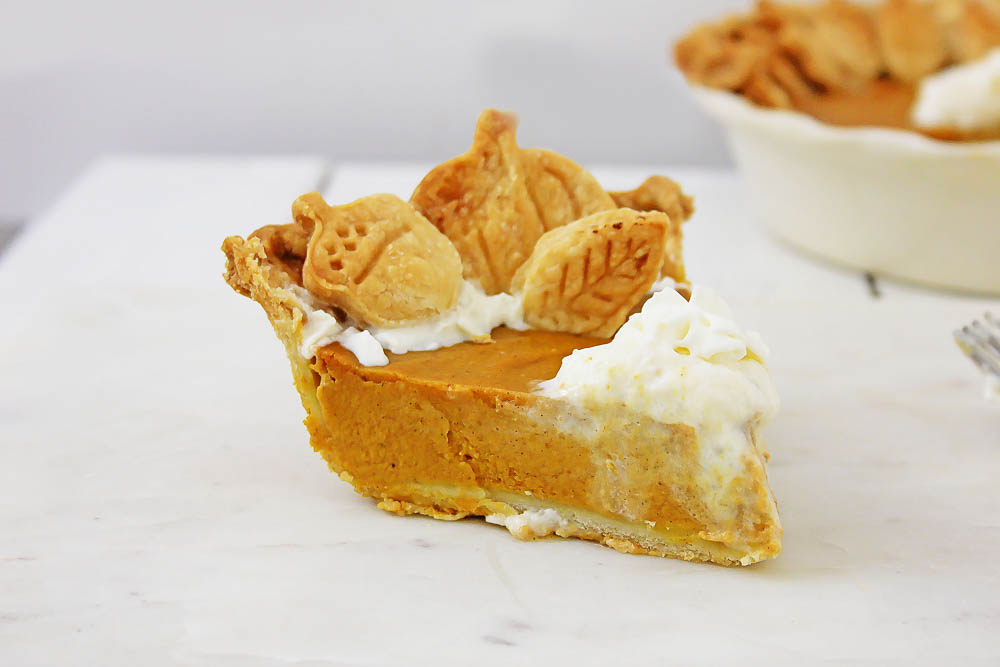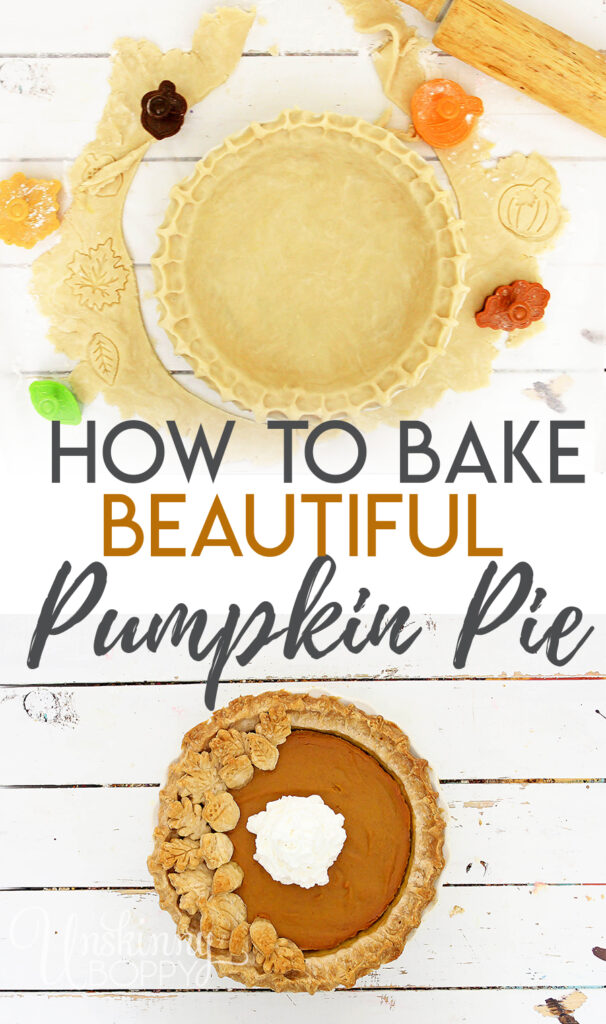 ---
Need to get better organized for Thanksgiving? Download your FREE Printable Thanksgiving Planner here: