We took Garrett to our local National Night Out, which is a program that encourages citizens to get out and mingle with local law enforcement in a fun environment. Kids get to tour the insides of all the vehicles and turn on the sirens. Great fun! Unfortunately, it was HOT AS BLAZES that afternoon. We were sweating in the late afternoon sun, but G had a blast anyway. Since his favorite word these days is "CUCK!" which is Garrettese for "TRUCK!" we knew he would enjoy this.
I see a fire truck, a big red yellow shiny fire truck…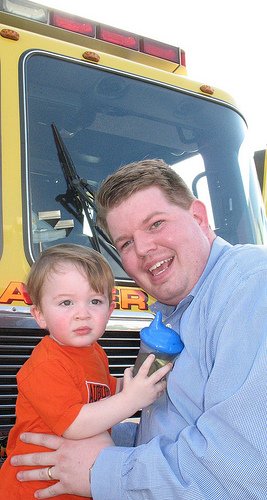 And look! It looks like Oobi showed up for the event!
Garrett and Oobi drove the fire truck.
G loved it so much he kicked Oobi to the curb, threw his sippy cup at J and put two hands on the wheel. No doubt that he would have put the pedal to the metal if his feet could reach the floor.
Grampoo stood behind the FBI battering ram.
While Garrett hid out in the S.W.A.T. Team van.
Then he toured the lifesaver helicopter.
When he sat in the ambulance he put on a stethoscope and tried to find a heartbeat on the football magnet. I think it was in V-Fib, though. (like how I remembered that word from Greys Anatomy?)
I hate to tell you guys this, but the football magnet flatlined on the way to the hospital.
We went to see the Sheriff's boat and a few other big mammy jammy vehicles that looked like tanks. I didn't get any pics of those, though.
Next up was the K-9 unit who looked just like Gus! But this Gus was much more well behaved than our Gus. And he was wearing a gold medallion so Woodrow would have been all 'bout it, 'bout it.
Then we headed over to the police car where Garrett tried to catch some speeders in the Target parking lot.
I'm hoping this is the only time he sees the inside of one of these cars.
If you have one of these type of events in your neighborhood, you should definitely go check it out! The kids LOVED it.