I love hosta. Don't you?
Garrett calls them "pasta" and I don't correct him. Unfortunately one day his girlfriend will have to correct him when he tells her that pasta grows on plants, but in the mean time I think it's hilarious.
Some months ago I planted these big, robust "Sum and Substance" hosta/pasta plants along the edge of my driveway, taking care to keep them close enough to the electric fence line that my dogs could bark away any critters that might try to make a salad bar out of them. I learned earlier this year that planting hosta in these woods is an effort in futility. The ones I planted around my mailbox were munched just a few days after arrival. The deer spy them and make a beeline when nobody is watching. I do have a few around my backyard that have survived, but I also have a certain 100 lb loud mouth named Gus who tends to bark like crazy at anything that moves at 3 am. Since I like to be asleep at 3 am, we started shutting the dogs inside the pool gate at night.
And guess what happened while the loud-mouths were asleep on the patio instead of out on nightly patrol?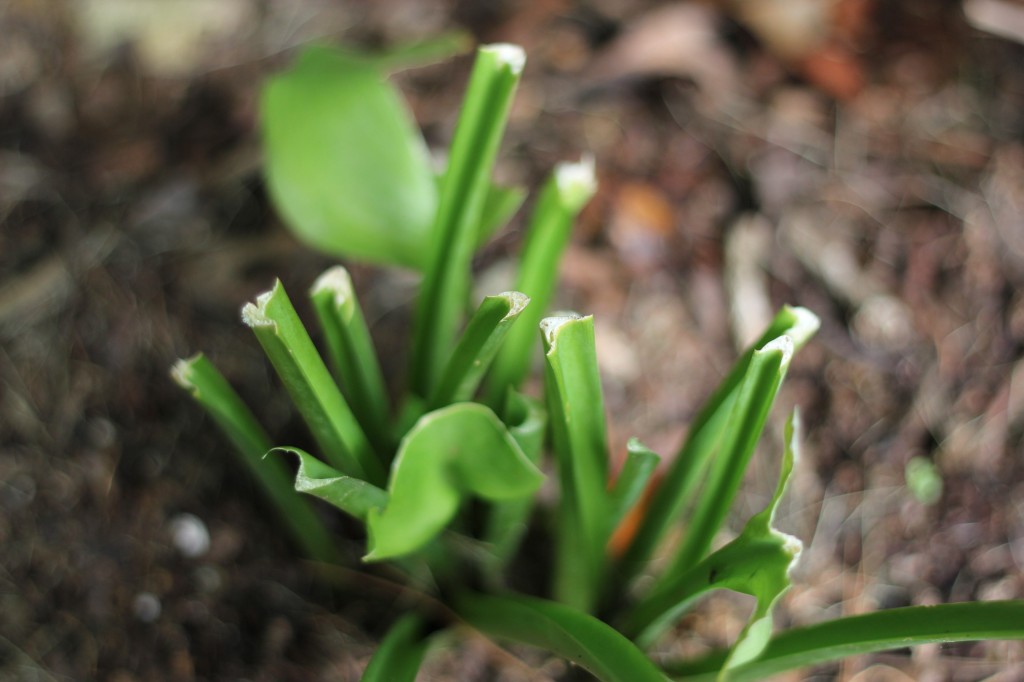 Yep.
I assumed that planting them this close to the house (more specifically–the DOG'S house-) would deter the skiddish deer.
I was wrong. One down, three to go.
Here is my Ode to the Sum and Substance.
There once was a beautiful hosta
that grew leaves more delicious than pasta.
Along came the deers
with teeth like pinking sheers
And now another plant is lost-a.
I'm not even gonna tell you how much that big plant cost-a. Hopefully it will grow back next year.