Let's all give a warm welcome to the newest addition to my laundry room, this awesome Dash and Albert aqua striped rug runner.  I've had my eye on a rug like this for years, and finally I found The One.  He is perfect for my new aqua laundry room.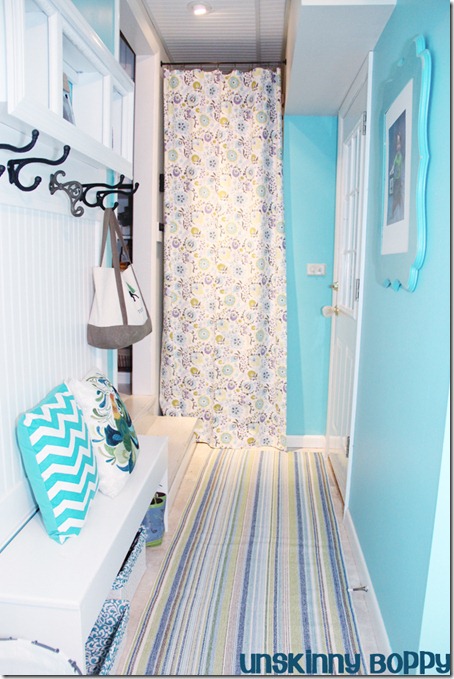 He's 30" wide and 8 feet long and looks like he was custom made for the hallway leading to my laundry.  I purchased him brand new from Ebay, and the seller had all different sizes available.  This rug is SO similar to the one in my inspiration photo, and I just love it so much. 
Actually I believe this one is way prettier than the one from my inspiration photo. 
What do you think? Here is my inspiration:
Now I know that my laundry room can't hold a candle to that window-filled room o' perfection shown above so just compare the rugs, please!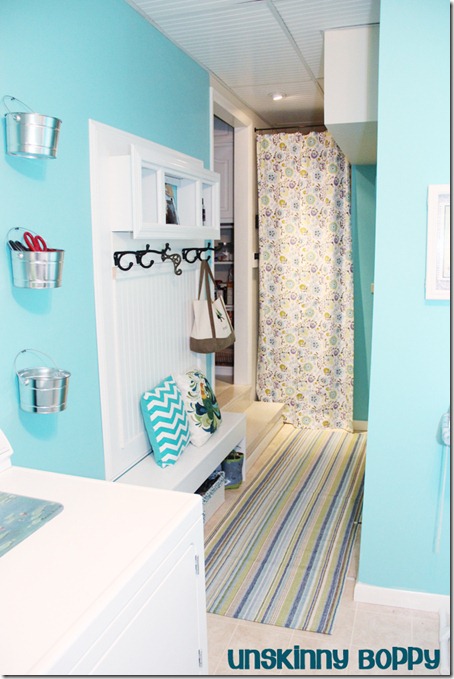 Also, you might notice another new addition to the bench–the aqua chevron pillow.  I scored it at Hobby Lobby last week when I went in searching for chevron picture frames.   I couldn't resist, so he came home with me.  But after joining in a big Hometalk flame-free confessional twitter chat last night (search hashtag #askhometalk if you want to see the posts) I found out that the majority of design gals on there think the chevron craze is on it's way out. 
So I figured I'd better blog about this sucker before the chevron train leaves the station.  Well, I've gotta run…  I still have two chevron picture frames to hang and enjoy for a minute before I take them down and repaint them with the next new thing!

PS- Just kidding! My official stance is if you love something, keep it in your house as long as it makes you happy.
I may have Silver Sage paint until I'm 79.