Last week I got a second chance to take on the potters wheel at Earthborn Studio in Leeds.  Last time it put a whoopin on me, but this time I feel like I redeemed myself!  The fabulous Rachel at Grasping for Objectivity hosted another great workshop for Alabama Bloggers at Earthborn Studios, which happens to be owned by her Aunt, Tena Payne.  Tena's work is so incredible.  I gave a full description of her bio in the post from the first time we visited her studio.
Since that time, Tena and Earthborn has been picked up by Willow House and should be for sale through their catalogs soon.  You can also purchase online in her store.
Here are the lovely ladies who shared this experience with me this time.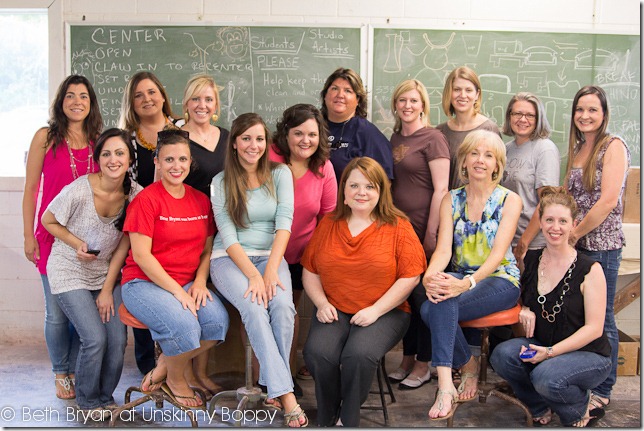 (Front, Left to Right: Maree, Laura Kate, Alicia, Jamie, Rhoda, Lora Lynn.  Back, l-r: Kelli, Me, Krista, Katherine, Kim, Steph, Brandi, Amy, and Rachel.)
Here is Tena in her element, pushing and pulling that clay with her strong potters hands.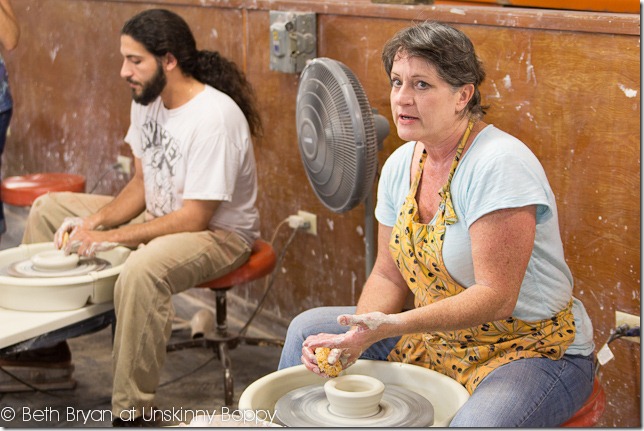 Watching Tena work is to witness a master.  She's awesome.  No better word for her. Her laid back style makes learning so easy.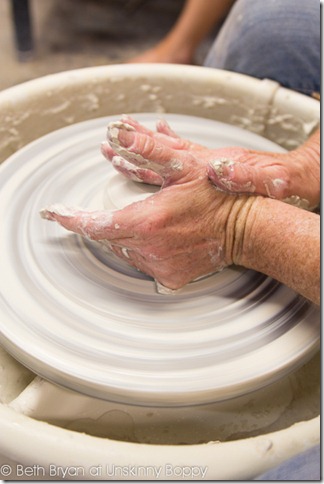 Her assistant, Nabeel helped to keep us all on track all night.  We needed to be kept on track, but he handled it like a pro!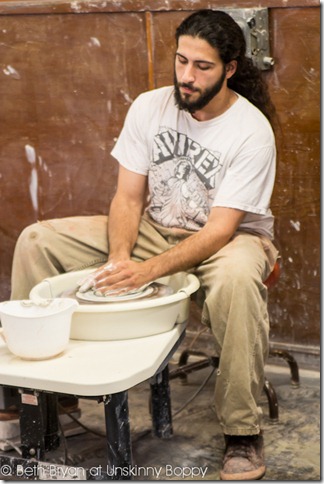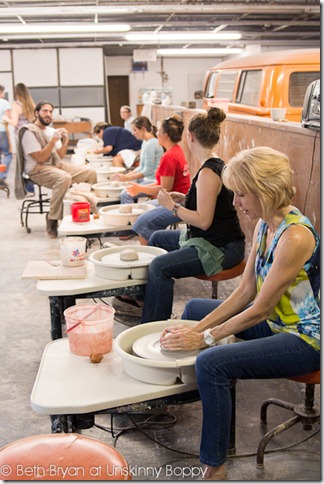 Here is Kelli from Restore Interiors with our pinch pots. It was a lot easier pinching than throwing, but we all felt like we had been in a thumb wrestling tournament by the end of the night.  Want strong hands? Start throwing clay!  My thumb is still tired!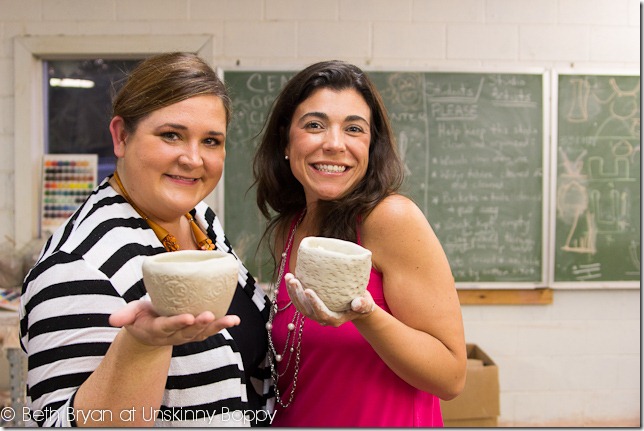 But we all pushed through to the end and got those pots pinched.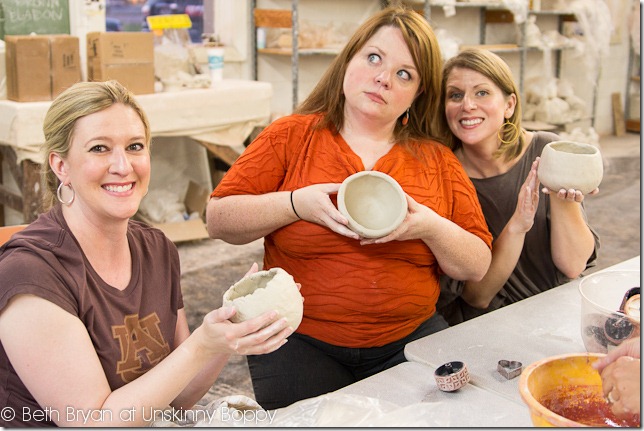 The wheel was easier for me this time.  It was a little like riding a bicycle… it all came back to me.  I got this pot up all by myself, only to have it get too top heavy and sling over to the side.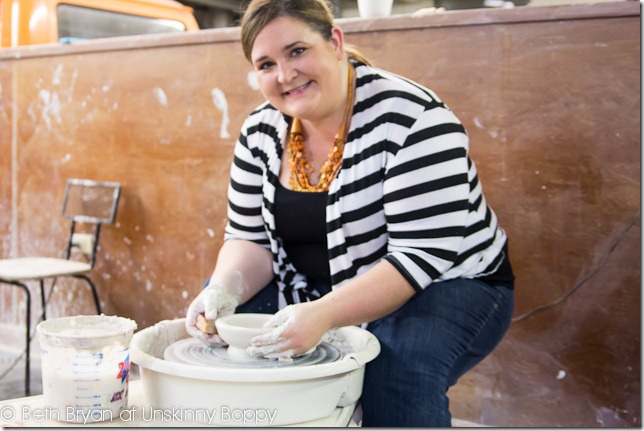 Thankfully Nabeel came to my rescue and I was able to make a whole new pot that was the highest one of the night!  I was very proud! It looks like a flowerpot to me, so it's gonna hold some pretty little flowers when I get it back.   You can see all of our pots here-  don't they look great?  It's so fun watching the pots form beneath your hands.  Nothing quite like it.
If you are in the Birmingham area I really hope you will go check this place out!  They offer girls
1. Six Week Classes: Once a week, 2 hour long classes for six weeks – $165. This includes unlimited studio practice time.
2. Girls Night Out – 2 hours long; $35 per person with a minimum of 6 people in the party.
If you mention my blog, you'll get a $15 supply fee discount!  Woot!
And guess what?  Tena was so generous to give all of us bloggers a huge prize to come home with us and one to give away to YOU!
Here is the Earthborn Pottery square dinner plate you could win.  Isn't it beautiful?  It's a speckled blue color with darker edges.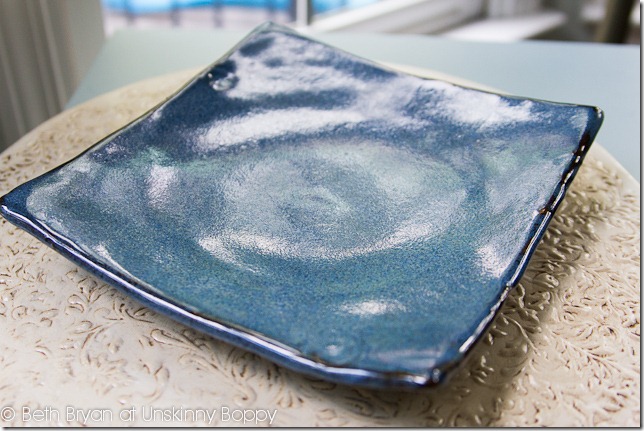 The back has been signed and carries the official Earthborn seal.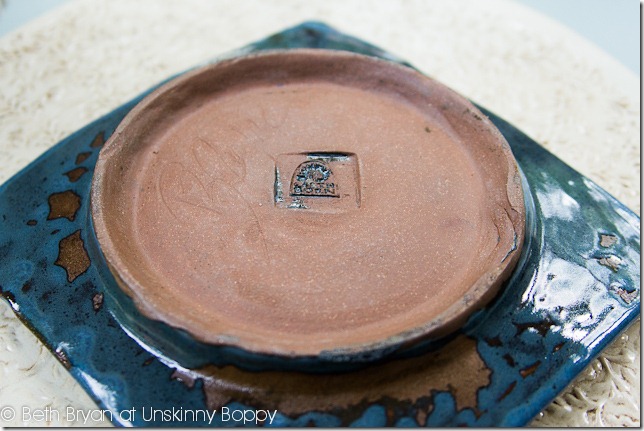 And the perfectly imperfect edges are not going to chip or crack very easily.  Tena's dishes are made to withstand some high traffic chowing, so they are very food safe.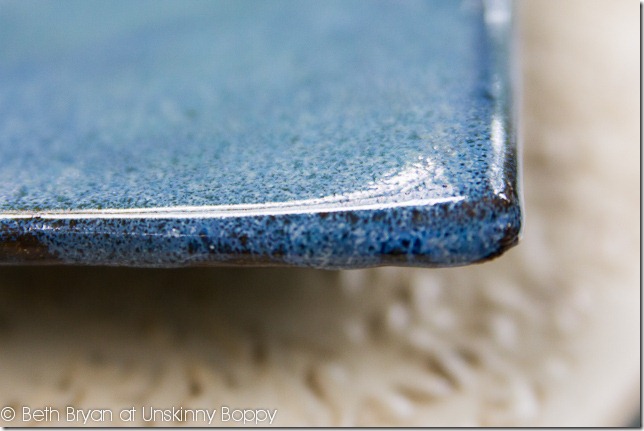 Just enter any of the options on the Rafflecopter below to be entered to win!
---
Just so ya know, in exchange for this blog post  I was given a free night to play at Earthborn Studios and came home with two incredible pieces of their pottery – one for me and one for a reader!  All opinions are my own, and I wanna go back ASAP!