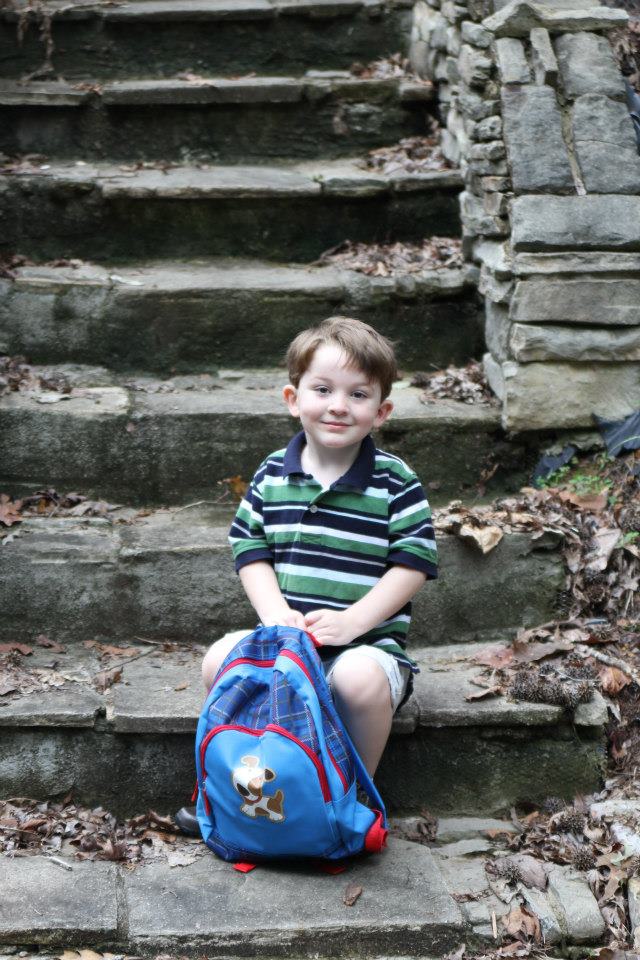 Garrett's first day of preschool was today, but this day was different. This was his last first day of school at the preschool where he has attended since he was six months old. This is our last year there before the big public school K-word begins next year. Dropoff was a little bit touchy, but he held it together pretty well. All the other kids were totally fine at drop-off. Just kiss and go. But not my Garrett. Somewhere along the way I've created a mama's boy who doesn't like to be away from me for very long, unless he is at my mom's house playing Poptropica and eating unending streams of junk food getting loved on by Grandma. When he has to separate from me to go back to school, the tears flow no matter how comfortable he is with a place. I can remember exactly what he is feeling, since I was a mama's girl myself. I started Kindergarten when I was four years old, and the story that my dad loves to tell is how I cried and cried at drop-off on my first day. He told me that if I didn't stop crying I was going to get a spanking (gotta love the good old corporal punishment days when it was cool to spank your kids in public places…). I kept crying and yelled "JUST SPANK ME AND TAKE ME HOME!" I do remember that day in my little 4 year old life. I'm not sure if I remember it because my dad loved to recollect it often over the years or if it was just that traumatic for me, but it's vivid in my memory. I also remember that I went outside to play on the playground that day and got stuck on top of the jungle gym. I've been terrified of heights ever since.
So, with all that in mind, I tried to keep today as stress- free as possible for G. I keep telling him it's totally normal to feel this way and reassure him that it will get easier with time. I also explained to him that the feeling he has is not fear, but it's called being nervous or anxious. He grasps the concept of different emotions, but it still doesn't make it any easier when he just wants to pitch a fit because he's not in control of the situation.
The summer has been a long one, since Alabama changed the back-to-school rules and pushed everyone back nearly a month on their start schedule. We are more in line now with the way it was when I was growing up- starting school after Labor Day. I don't mind the late start date, but there have been a lot of transitions this past month to keep him occupied since I didn't have as much childcare as normal. We had a lot of "Bring Your Son To Work Days", which resulted in a few funny facebook posts out my window into the lounge area where he hangs out.
Here's a classic one: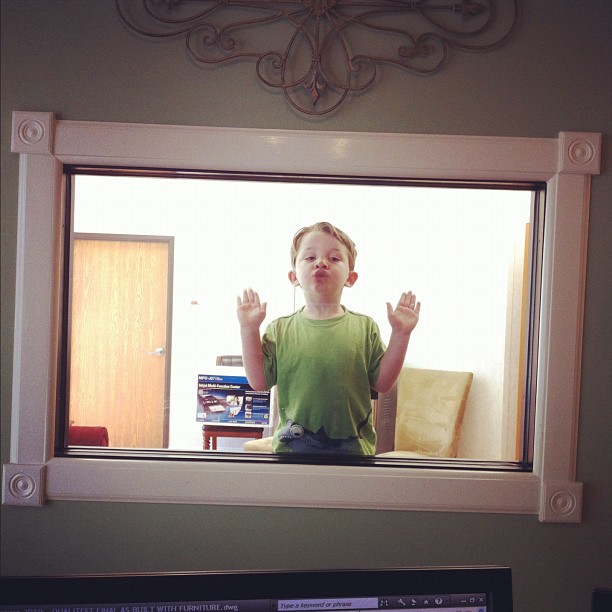 And another from a different day….
I like to call this one "Jazz Hands".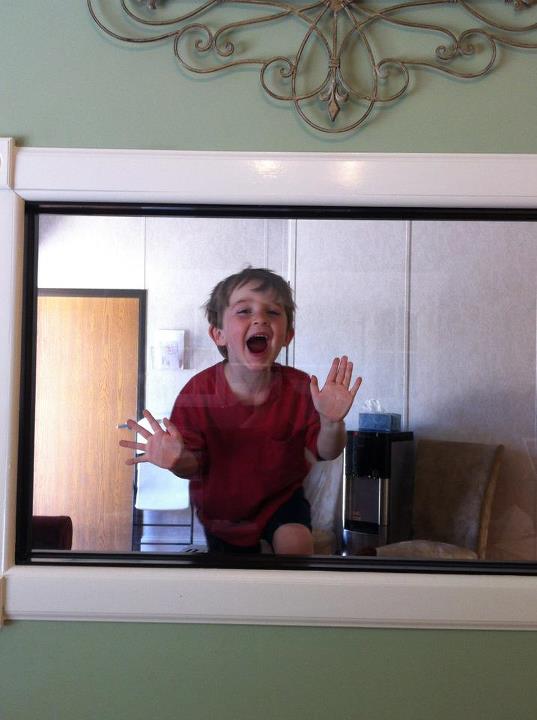 Yeah, like I said, it's been a long fun summer!