Yesterday I opened my mouth and a sappy, sentimental post about my childhood Thanksgiving memories fell out.  A lot of you shared your stories about your favorite Thanksgiving memories growing up, and they ALL made me cry and smile all at the same time.  That's not a pretty combo.
 I love you guys!
 As promised, here is my table all set, ready and waiting for the big Turkey day!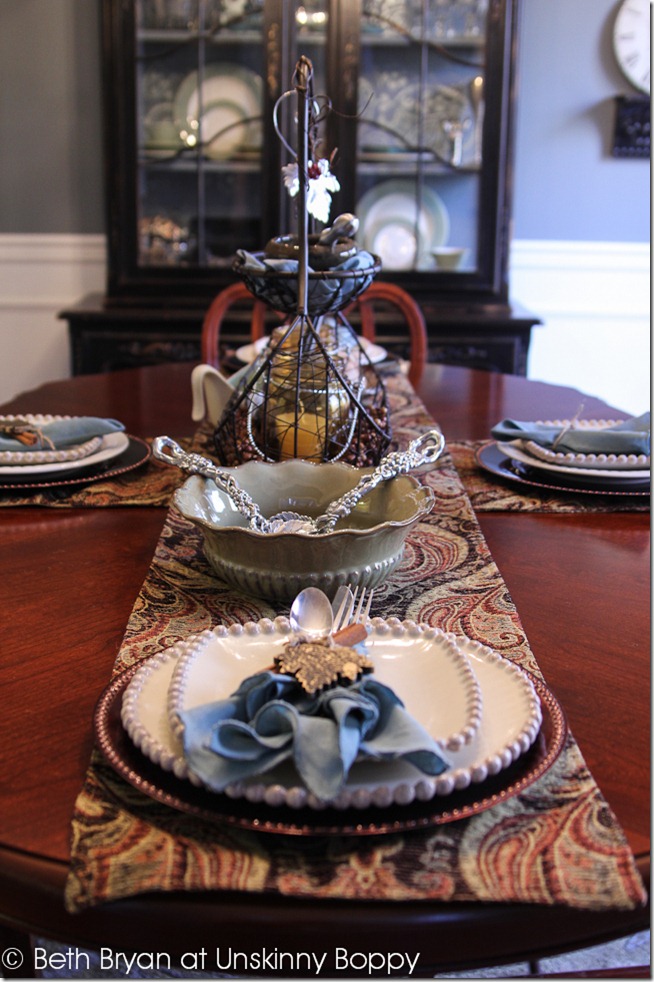 I used two swirly Kirkland's table runners in a "t" shape to create place settings.  I just doubled up the one on the bottom so that it's shorter than the one running the length of the table.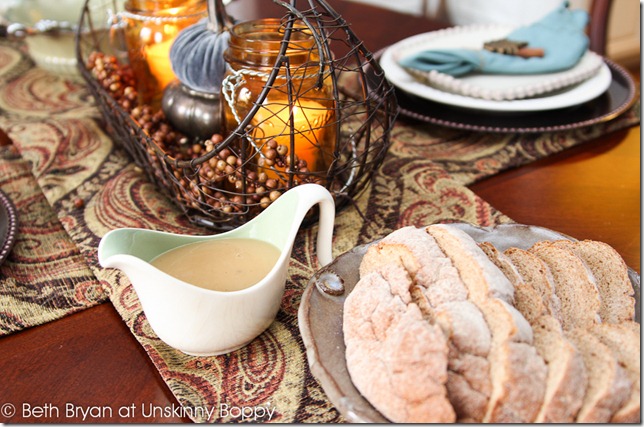 The pretty bronze chargers came from Kirkland's, along with the napkins.   The beaded plates and silverware are my own.  Told you I wasn't a polished silver kinda girl.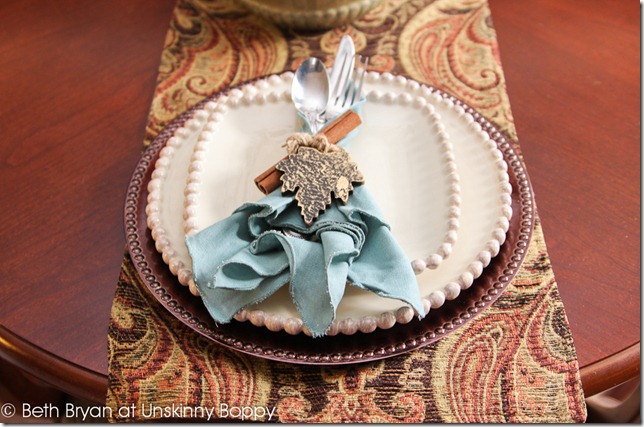 I DIY'ed the napkin rings using these strands of oak leaf fajingle jangle. I don't know the official term for these things.  Fajingle jangle sounds good, though, so we're going with it. I just cut the "O" part off, slipped it around the napkin, then tied one of the loose oak leaves around the O and stuck a cinnamon stick inside.  Easy peasy.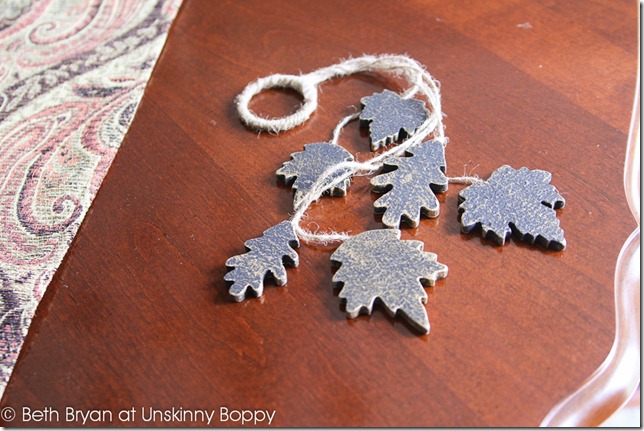 The double tiered turkey / basket became a centerpiece.   I can still see that turkey shape in here, even if you do think I'm crazy. I should just add a beard and some feathers and call it a day. Instead I added a little extra bit of vines and my honeymoon souvenir oak leaf.  Speaking of honeymoons… did y'all know that I love Thanksgiving dinner so much that I served it at my wedding reception?  True story.  Carving station, mashed potatoes, mac-n-cheese and all! You can see me chowing down on it here.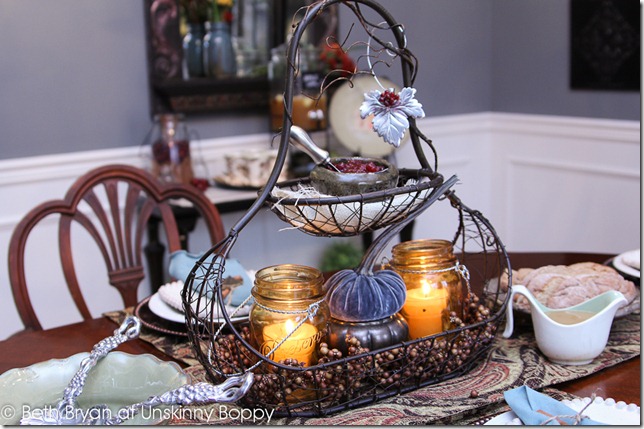 The cranberry sauce gets it's own perch in the turkey penthouse suite.   OH, and you see that bowl the sauce is inside?  I totally made that with my own two hands during my Earthborn Pottery girls night.  I LOVE my pinch pot!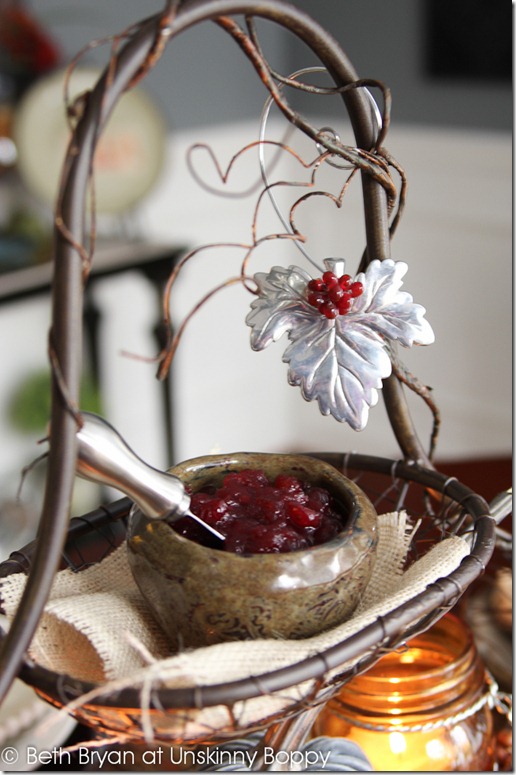 I was excited to find these two golden mason jars to hold candles on the table.  They have the wire hangers on them, so I can use them in the future outside on my patio ladder chandelier.  In fact, the mason jars on my ladder lantern were originally from Kirkland's!  These are great for hanging- no wire twisting required.   I used my little blue velvet pumpkin that I found at Bella Rustica on top of an old tarnished sugar bowl that resembles a pumpkin.  Then I cut a branch of fake berries up and tossed them around the edges.  Simple and easy.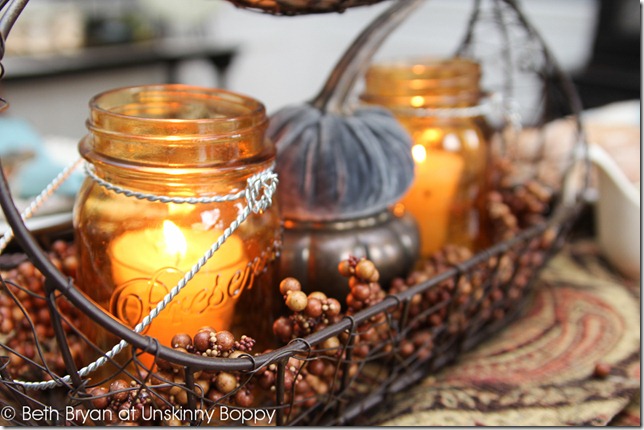 Remember the beverage dispenser?  It found a spot right on my sideboard, just like I envisioned.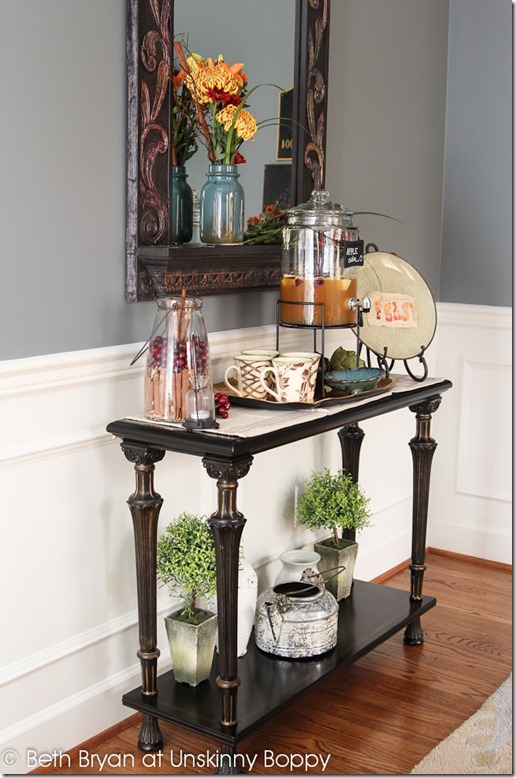 Fill'er up with apple cider from the grocery store and float a few cut up apples and cranberries inside, and you've got yourself a fancy drank!   I put another piece of my Earthborn pottery underneath it to catch any inevitable drips.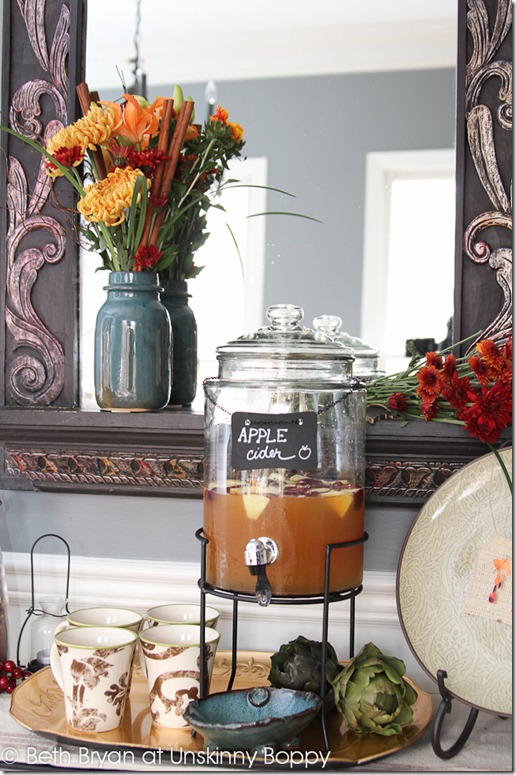 The gold platter that it's sitting on came from Kirkland's, along with the plate stand and the blue ceramic mason jar holding flowers.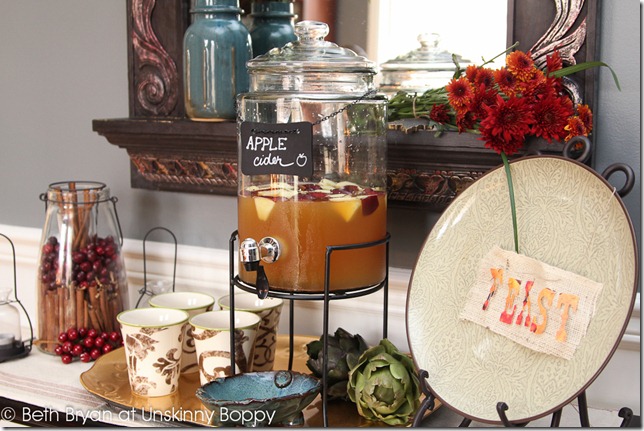 And here is my milk jug inspired vase that I bought at Kirkland's.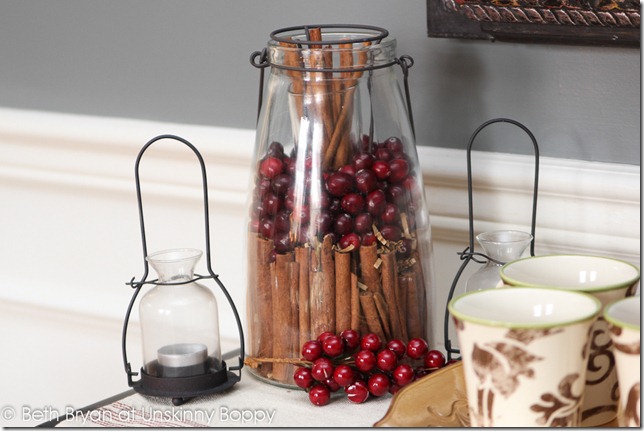 To create this I lined cinnamon sticks around the edges and held them in place with gift basket filler, then added a bag of cranberries on top, and more cinnamon sticks inside the candle holder part. Make sure you get cinnamon sticks that are for FOOD USE if you are going to put them out for people to add to their drinks. Don't want to poison Great Aunt Bertha on Thanksgiving…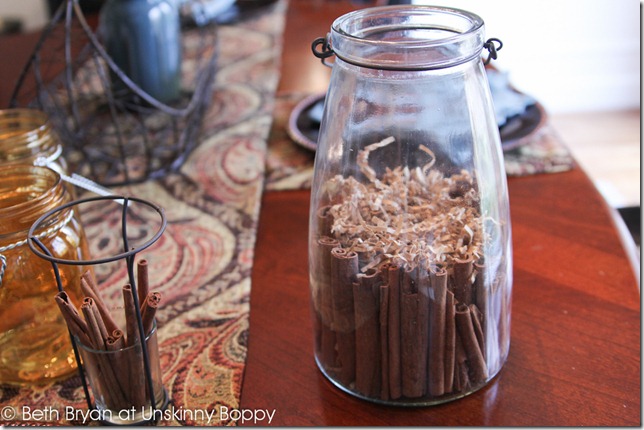 I am SO thankful to Kirkland's for helping me set a beautiful Thanksgiving table.  I know that my family will be fighting over who get's to sit at the fancy table vs the folding table. 
Wanna know the best part? I was able to get 20% MORE than what they gave me because I hit the jackpot on their Spin to Win iPhone app.  How awesome is that??
So, to help you set your next Thanksgiving table, Kirkland's has asked me to give away a $100 gift card to one lucky reader!  Follow the instructions in the rafflecopter below to be entered.  Winner will be announced Monday, November 19th!  Good luck everyone, and HAPPY THANKSGIVING!
---
I received compensation for my Plate Your Style blog post. Kirkland's partnered with several bloggers like me to raise brand awareness in the month of November. All purchases and content are on my own accord and reflect my personal opinion and style. Kirkland's blogger outreach policies abide by the WOMMA Ethics Code, FTC guidelines and social media engagement recommendations. For official Kirkland's giveaway rules, click here.