Yesterday I turned 35 years old.
Up until this point in my life, I have always felt like I was just a pretend adult.  But not anymore.  Now I feel like I've crossed some imaginary threshold into real adulthood.  But that doesn't mean I can't still have fun!  I am recovering from a weekend of annual excess with my best girlfriends from around the country. This year we ventured down to my favorite spot in the whole world—Seaside, Florida.  Before I tell you about the trip and the good times let me first give you a tour of this dreamy home!
My incredibly generous husband gave me THE best birthday gift ever by renting this amazing house for us to stay in the lake district of Watercolor.  Watercolor is a planned community with unbelievably gorgeous houses that all look like they are straight out of a magazine.  For ten women who all met on an interior decorating internet forum, this house was a dream come true.
Our house was located at 39 Blue Stem. Thankfully we arrived before anyone else so I was able to snap these pictures of it while it was still clean and pristine before 10 women arrived and scattered clothes, shoes, beer bottles and breast pumps all over every square inch of it.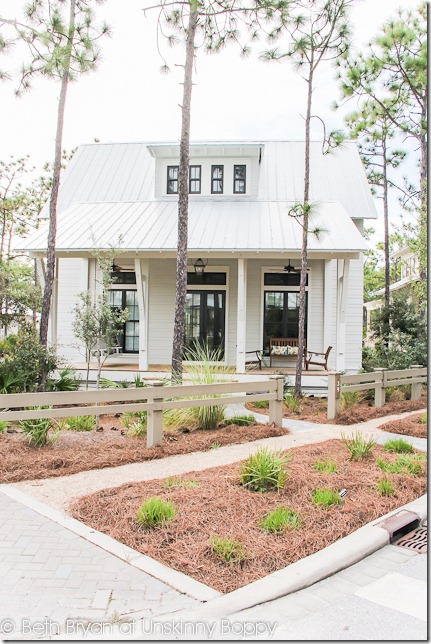 Parking was in the back of the house, so when you entered the huge screened in back porch this is how you were greeted.  Fireplace, gorgeous windows, pops of red.  Heaven in a porch.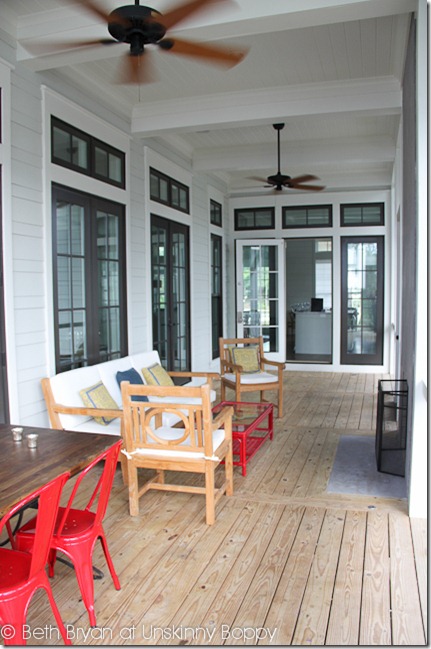 The bronze windows paired with white.  So beautiful.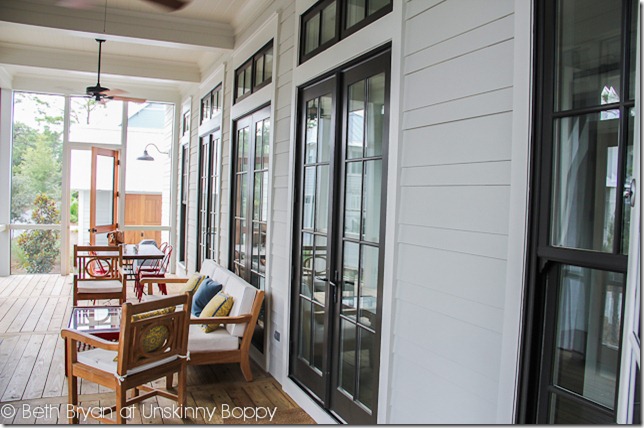 Then you stepped inside and were greeted by this….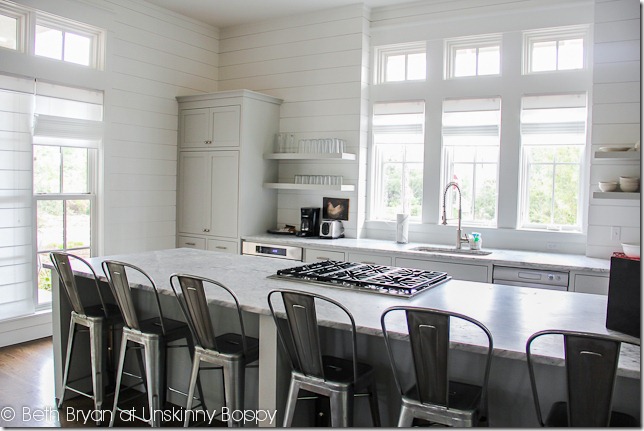 The kitchen / dining / living area was one big open space that was perfect for entertaining and hanging out together.  That island was easily five feet wide and fifteen feet long.
Check out this ten seater rustic wooden dining table!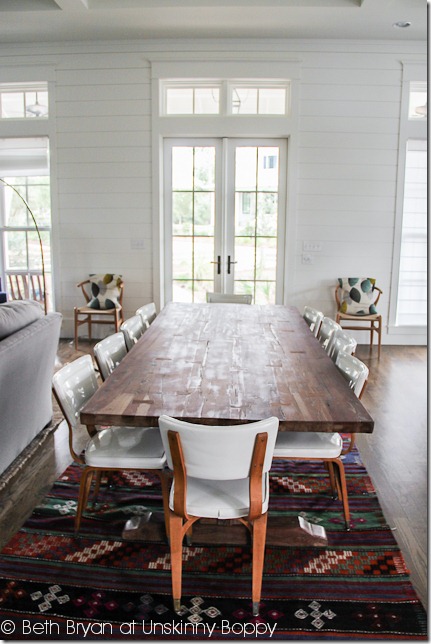 Oh how I lusted after this table.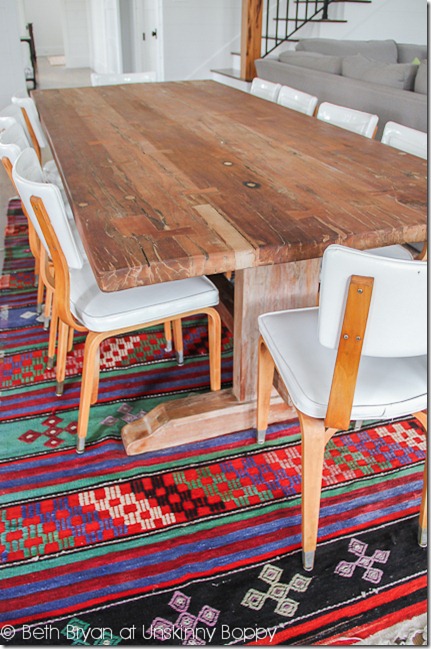 We ate big family style brunch together each day a la Jersey Shore Sunday dinners.  It was perfection.
Thanks to my friend Allison for letting me steal a few of her pictures.  The kitchen…. I just don't even have enough acronyms. White plank siding walls, open shelving, pristine grey/blue cabinetry, marble countertops, stainless appliances, and they even had my favorite Duralex picardie tumblers stacked oh-so-perfectly in giant window filled spaces…. Ahhhhh….
The pictures speak for themselves.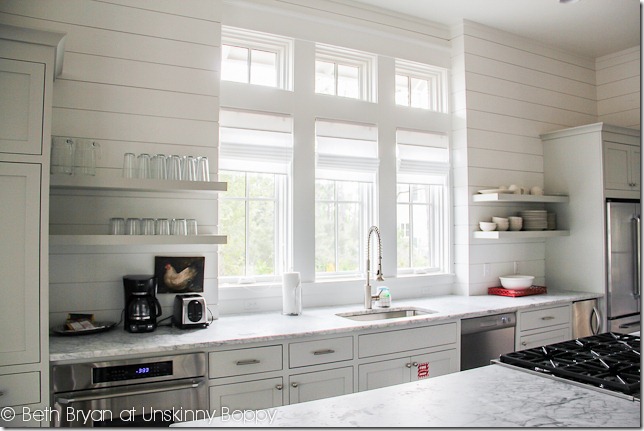 The house was the epitome of eclectic.  Modern yet rustic, mid century yet contemporary, beachy yet urban.  Simply freaking amazing is what it was!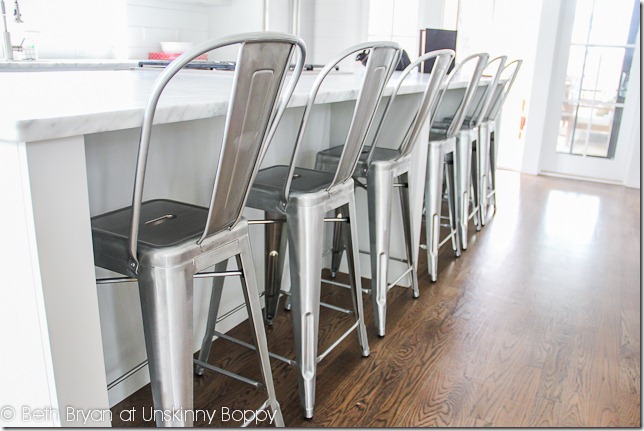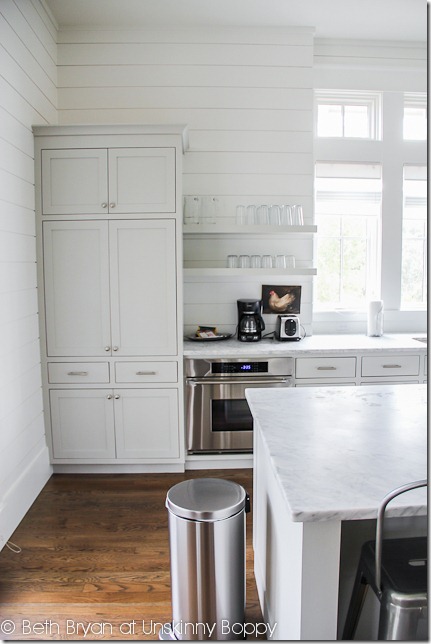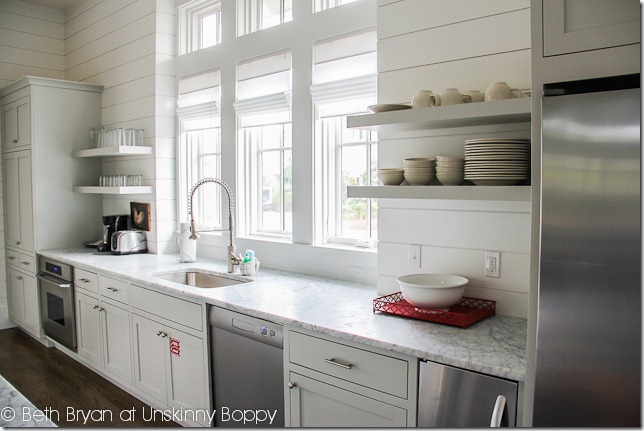 This giant sink had the quietest garbage disposal on the planet.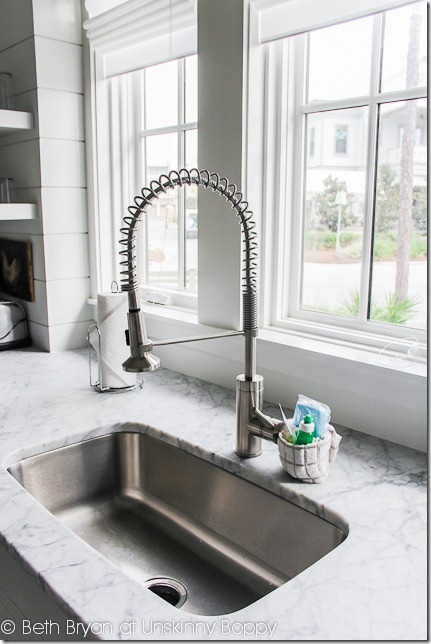 The ice maker saw a ton of action as did the huge refrigerator.  We packed that sucker full!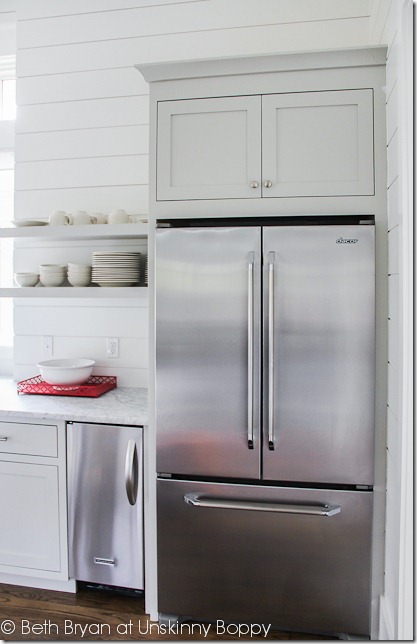 This is what happens when 10 women buy food separately for a 4 day weekend. We all bought the same thing!  Whoops!  Next time we will plan ONE menu together and stick to it.  Shew…  And this didn't even include all the wine inside the wine cooler!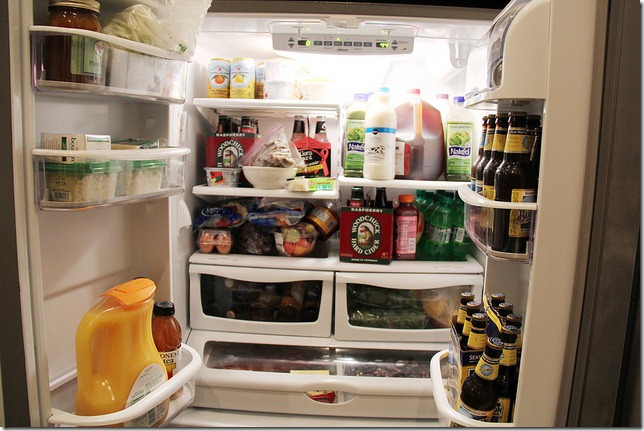 The gas stovetop was a dream to cook on.  Eggs scrambled in a flash and marshmallows roasted in mere seconds.  Ert.werse.erhmerzing.  I miss cooking with gas.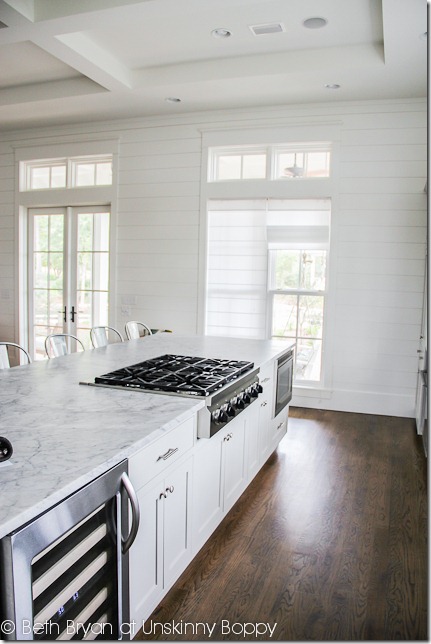 The living room.  Spectacular.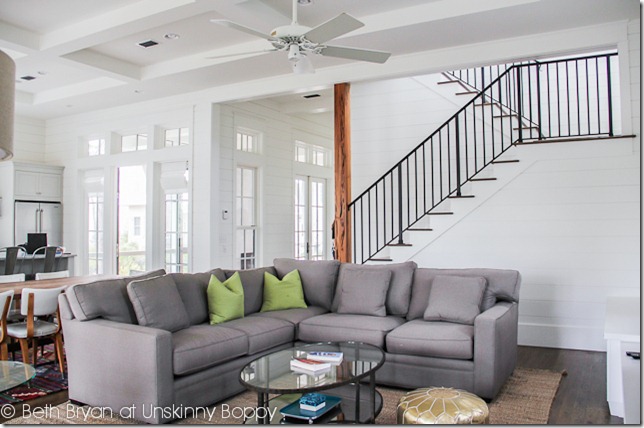 Vaulted, coffered ceiling.  Woah.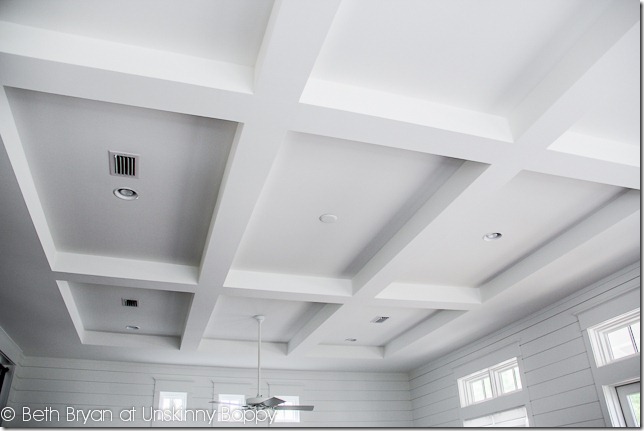 We decided that the hallway alone was nicer than anything in any of our houses.  Best Hallway Of the Century.  I wish I could have been a fly on the wall when this hallway was conceived.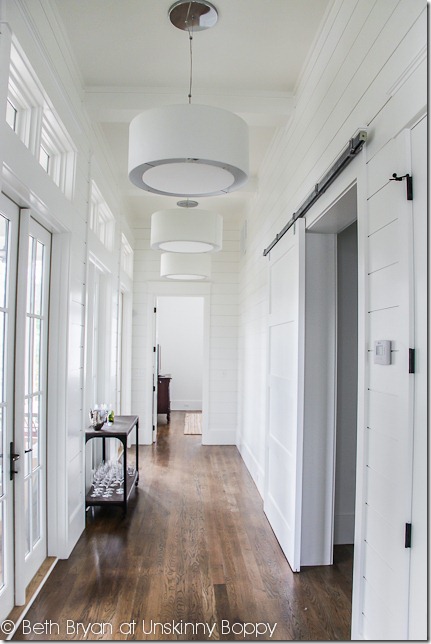 The designers must have thought "Why have just one amazing light fixtures when you can have three?  Oh, and throw in a sliding barn door so no one has to look at the half bath and laundry/mud room.  Why the heck not."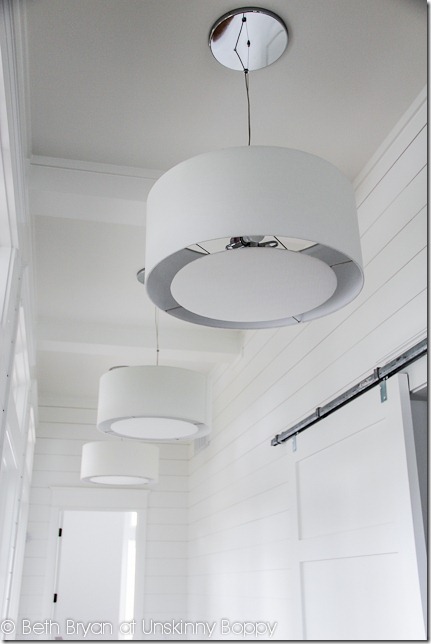 The half bath.  Can you believe this place????  The wallpaper had a sheen that was decadent and over the top and just unbelievably beautiful.  I swoon.  I die.  I couldn't figure out how to flush the fancy toilet.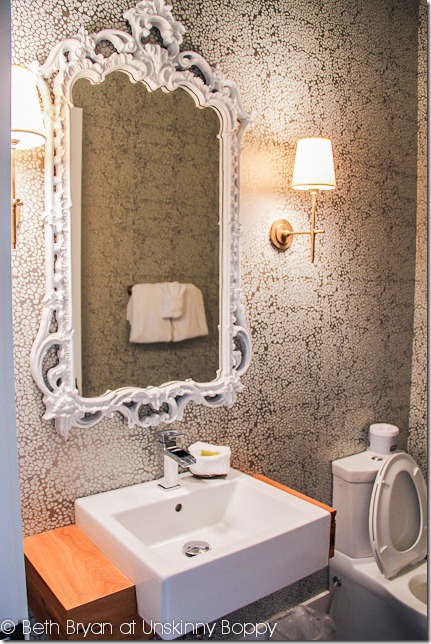 Here is the downstairs king size master bedrooms where I slept.  There was another one upstairs!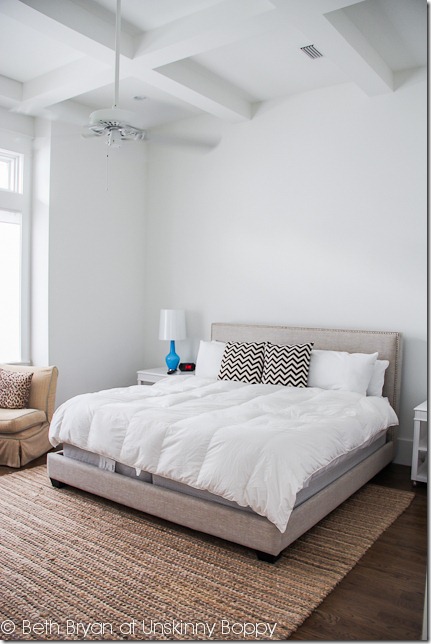 And the master bathroom.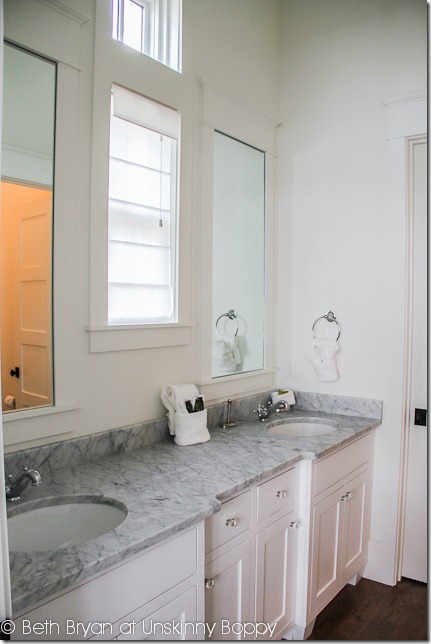 That single rustic wooden beam was so perfect in the sea of white.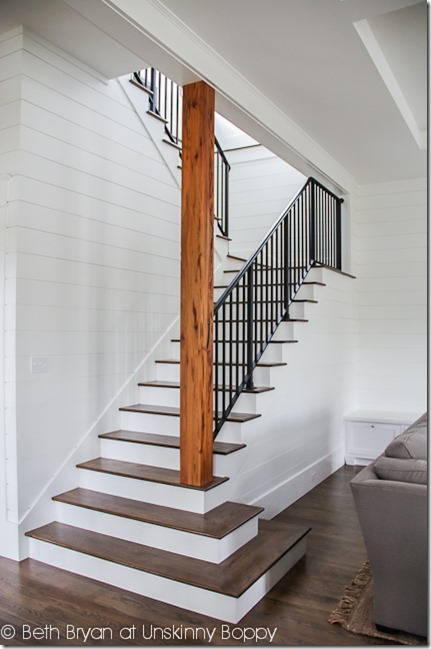 Upstairs there was a loft area with bunk beds.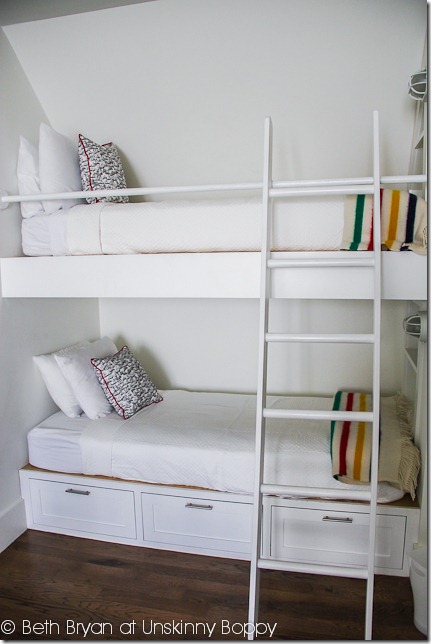 And a small gathering area.  I'm gonna let the pics do the talking on most of the upstairs.  Guest rooms were all light, bright and happy with pops of bright colors against the white walls.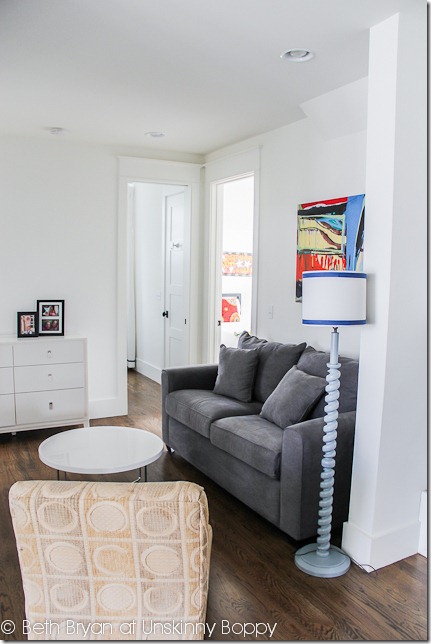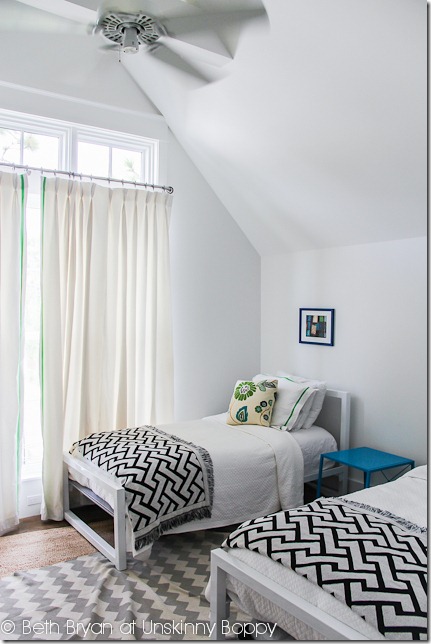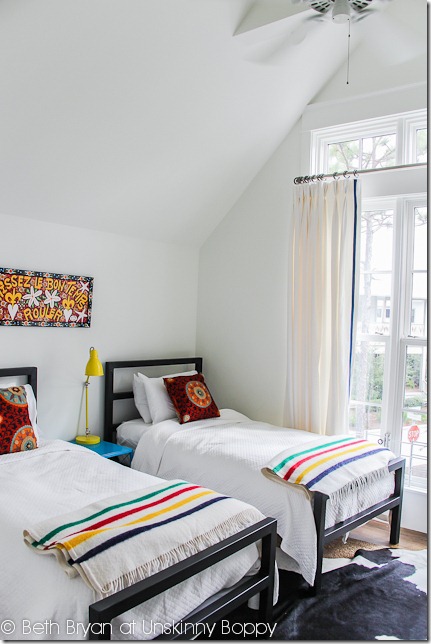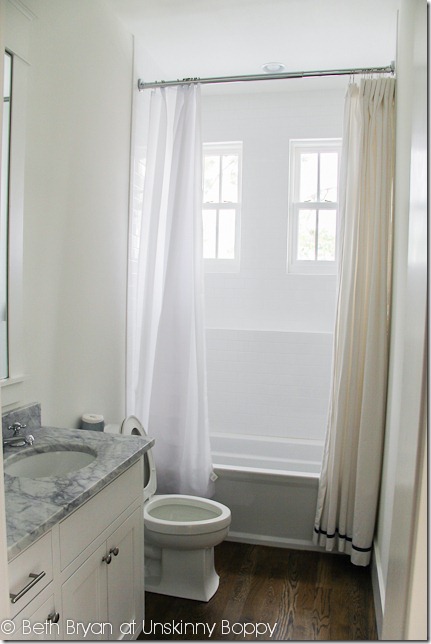 Here is the second king size master bedroom upstairs.
This picture pretty much sums up the way we felt about this house all weekend.  Pure and unadulterated giddyness.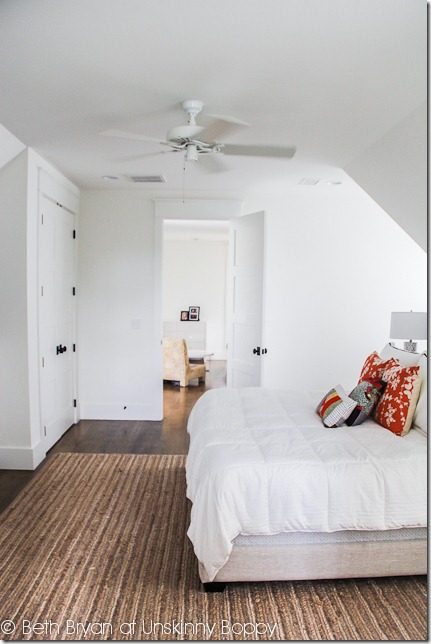 We all decided that this house could never be a place that we could live with our messy kids (hello, white walls smeared with peanut butter!) but for a vacation away from the kids?  This place was total heaven on earth.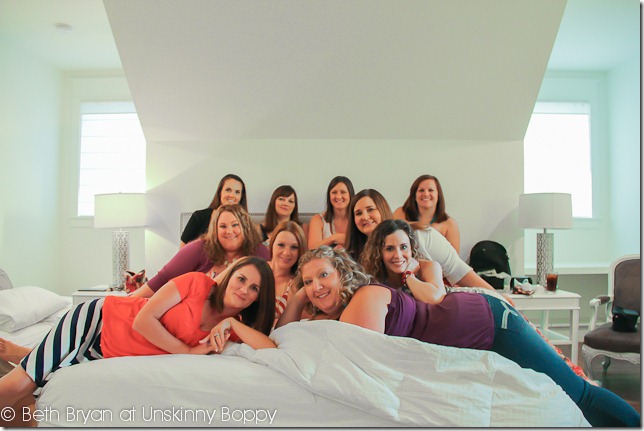 Best girls weekend retreat ever. Thank you SO much to my husband for this gift.  I couldn't ask for more.
If you're looking for the house plans for this gorgeous beach home, you can click here to purchase the plans (or pin it for later!)