Hey guys!
Hope y'all had a great Thanksgiving! This week I've been up to my ears in leftovers and Christmas decorations. It looks like a holiday decoration tsunami hit my living room, leaving a trail of ornaments and evergreen sprigs in it's wake. I'm trying to sort through everything and figure out what will get displayed and what will go back up to the attic. Part of me wants to have a rustic burlap-bedazzled Christmas again, but another part of me wants to go back to a more whimsical, fun and funky theme. I'm teetering on the fence and just cannot decide. Maybe somewhere in the middle between rustic and whimsical? How 'bout we will call it rustical? 
While I decide about that, let me say that I am SO VERY EXCITED to announce some upcoming events here on the blog. Get your pen ready because you are going to want to mark your calender for these parties!
First off, let's get ready to jingle!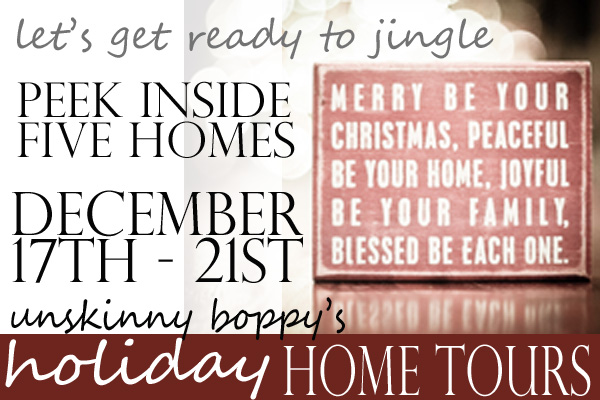 I have asked five fabulous decorating geniuses to open their homes to you the week before Christmas here on my blog!  Here is the line-up of Guest Posts:
Monday the 17th will feature Cynthia Weber
Tuesday the 18th will be Tara Lowery
Wednesday the 19th we'll see Kristin from My Uncommon Slice of Suburbia
Thursday the 20th will be Jennifer Carroll from Celebrating Everyday Life
And finally, the big FINALE… Friday the 21st will feature Karianne from Thistlewood Farms beautiful Kentucky farmhouse.
I cannot WAIT to see what all of these ladies have in store for us here the week before Christmas.  It's going to be so much fun!
Next, write down the date for this Heirloom Recipe Collection Link party that I'm co-hosting with some other talented ladies on December the 10th. We are all assembling recipes that have been handed down to us from our grandmas.  I'll be sharing my granny's peanut butter fudge recipe in all it's fattening glory.  You don't wanna miss it.  There will be a link party for you to join up your recipes with us on December the 10th!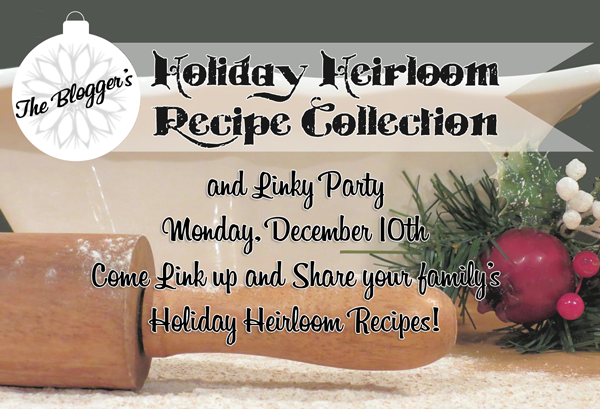 ANDPLUSALSO, This year I am OVERJOYED to have been asked by Jennifer Rizzo to be a part of her incredible 2012 Virtual Holiday House Walk! AHHHHH!!!! SO EXCITED!
Check out this schedule of all-star design bloggers who will be virtually opening their homes to you beginning Monday, December the 3rd at Jenn's place.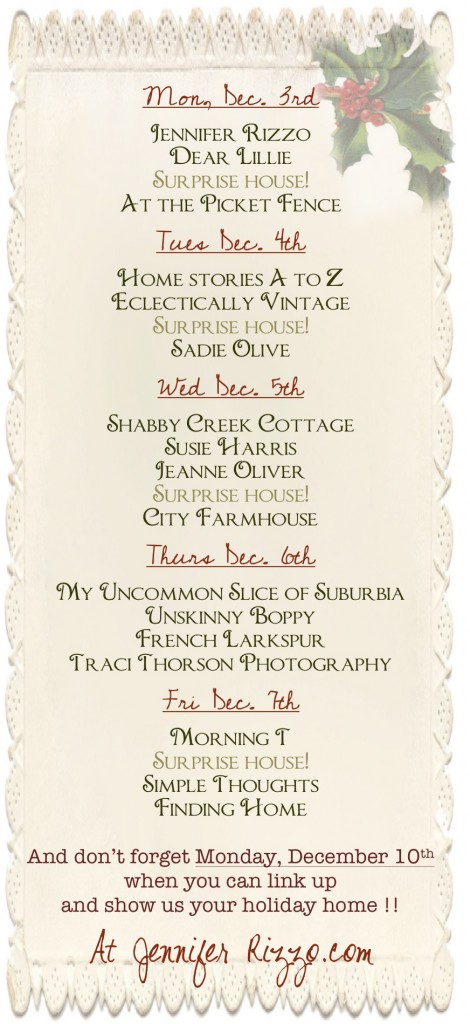 From each blogger's tour you'll be able to jump over to the next virtual tour and continue the parade of homes every day until December the 7th. Then on Monday, December the 10th you will be able to link up YOUR holiday home decorations at JenniferRizzo.com. So, so fun!   If you need decorating ideas now, go peruse Jenn's 2011 Holiday House Walk. It's like a treasure trove of holiday decorating ideas! I am just truly honored to have been asked to be a part of her line-up. I cannot WAIT to see everyone's houses all decked out for the Holidays.
I've gotta admit that I'm feeling a little bit intimidated by this list of amazing talent and beautiful homes that Jenn has lined up for the tour.
Like… if this was The Masters of Holiday Tours then I am the Happy Gilmore. 
If this is the beauty pageant of blog houses then I am the Honey Boo Boo. 
I feel like I will stick out like a sore thumb in this crowd of talent.   Just promise me that you'll come over with your solo cups and show me some support, ok?  Maybe some of you can write "U-N-S-K-I-N-N-Y" on your bellies and stand on the sidelines cheering?  At the very least I might need someone from the crowd to yell "WORK IT, SMOOCHIE!" for me. 
Just a little bit of moral support from my peeps is all I'm asking here, ok? I need y'all to be representin'.
Don't forget your beer dispensing hats, foam fingers and "Dolla makes me Holla" screenprinted tees!