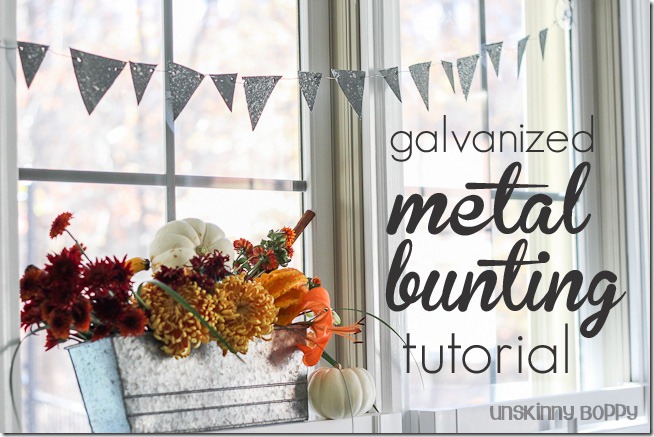 Ever since we took a trip to Pennsylvania Dutch country in October, I've had it in my mind to recreate this galvanized metal bunting that I saw draped on a store display in one of the Amish shops.  Here is the photo I took that day of their bunting.  I love the look of galvanized metal mixed in with rustic decor, and bunting is super popular right now.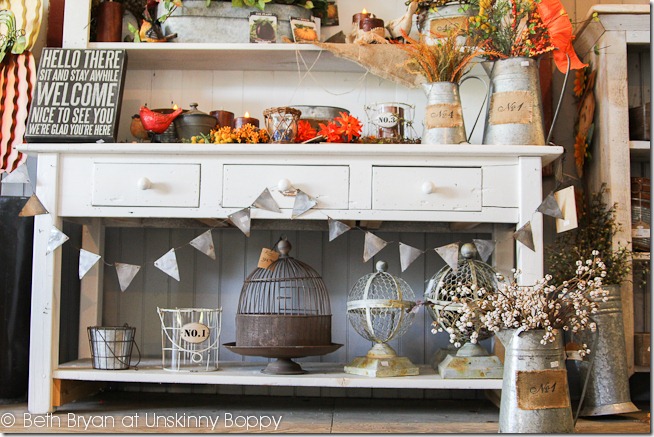 I should have just purchased it when I found it, but for some reason I had a hard time pulling the trigger on a lot of things on that trip. I immediately knew I could DIY it, plus I didn't want my baggage to get flagged by the airlines for setting off the metal detector with razor sharp teeth looking objects inside.
 Trouble is, when I took on the challenge in my mind to DIY it, I never really anticipated how hard it would be to find sheets of galvanized metal that would be easy to cut and string up.  I searched high and low throughout many big box stores, and each time I turned up empty handed. I own tin snips, but they are so hard to manage that I didn't want to use any metal that required using them.  I considered using the inside of cut up Coke cans, but they just curled up and wouldn't keep their shape. Plus they were too shiny and not very galvanized looking.  I got frustrated and gave up, until the idea popped into my head one day to search for galvanized spray paint.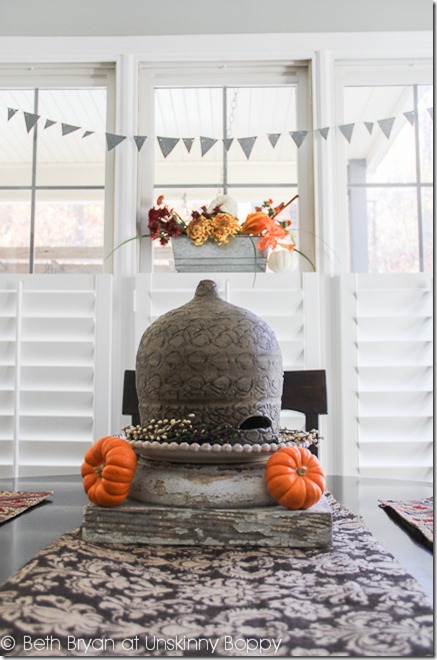 And there it was, shining like a beacon of light down from the heavens.   My hero in a can. 
Then about the same time I discovered a metal flashing material in the roofing department that was SUPER CHEAP and easy to cut with a pair of old scissors.  Make sure you use old scissors, because they will never be the same again after this project. Along with that I bought a little bit of copper wire to string the bunting.  You'll also need a bottle of water.  Here are all the supplies: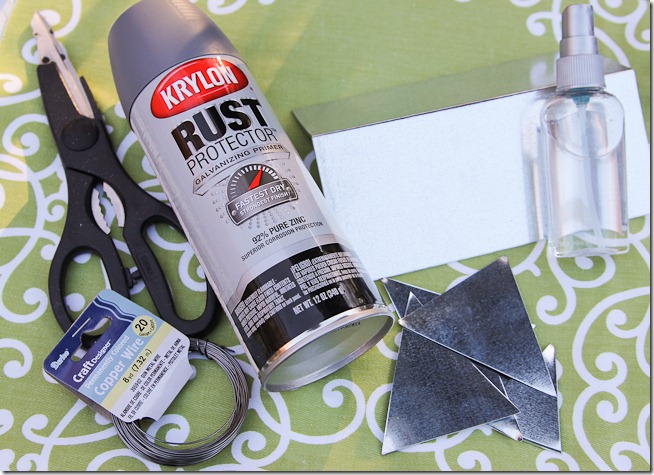 I also had a happy little accident that might require you to use some of this Brushed Metallic Caramel Latte.  You're also gonna need some gloves because it got a little messy on me. .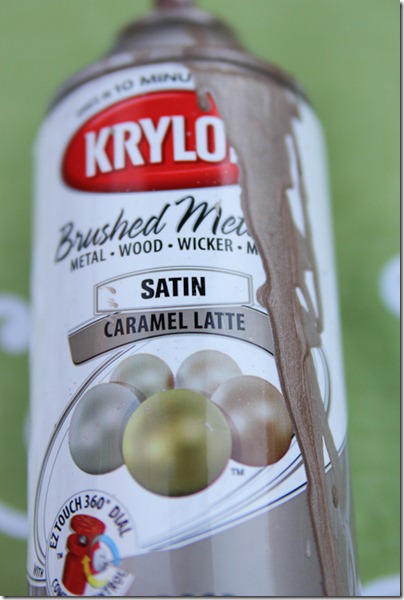 Before you start this project, PLEASE know that there is a great potential for slicing open a body part, so please be EXTREMELY careful when cutting the flashing.  It does cut easily, but just use caution because this stuff is sharp.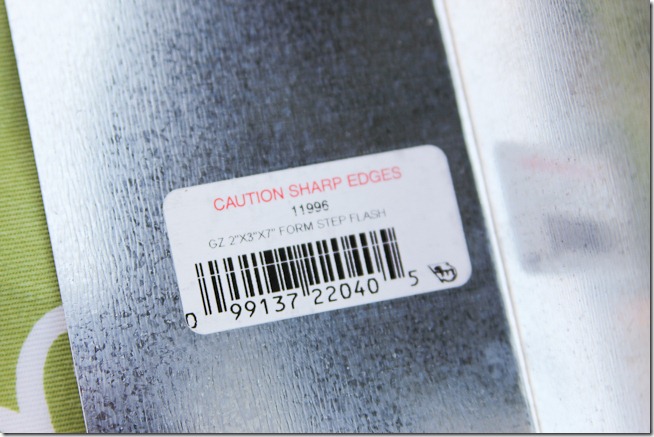 So I cut the flashing into triangles with my scissors that didn't matter.  I didn't measure, just eyeballed it since there is nothing about this project that calls for perfection.  Then I gave each wedge a spritz of plain old water.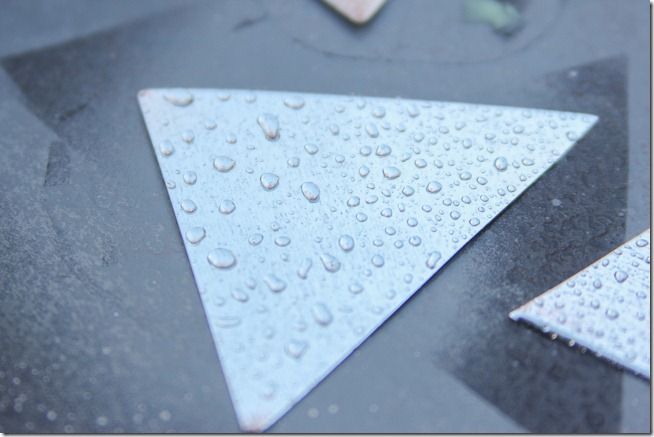 I know you might be wondering why I did this, but I discovered that if I didn't do this step the spray paint didn't have any texture (or "spangle" as I discovered in my Google searches) like normal galvanized stuff has.  I wanted it to look like actual galvanized steel, not just battleship grey tortilla chips.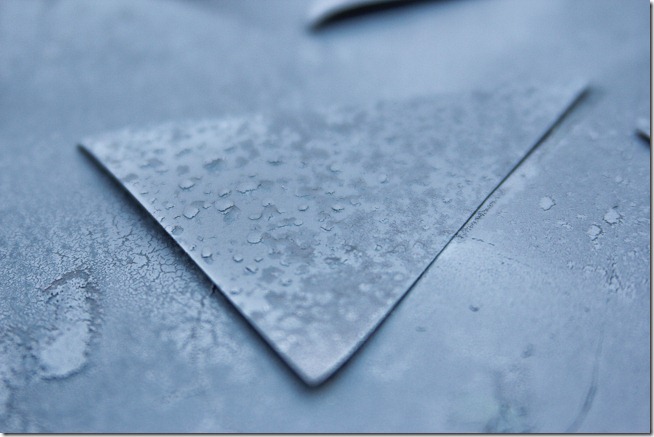 You can see how it looked after two coats of water/ paint combo.  Looking good!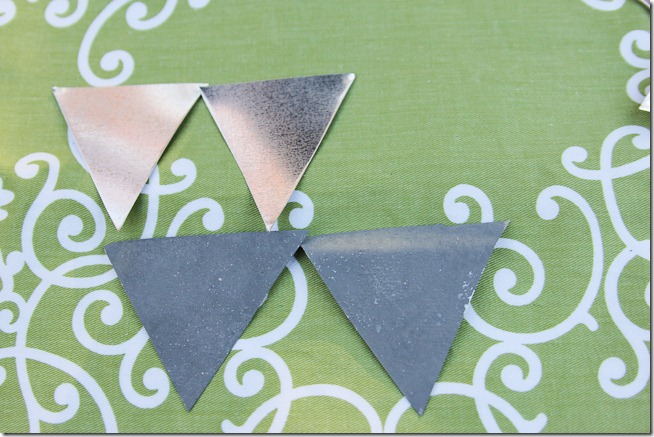 But, I thought it needed a little more dimension, so this is where the happy accident came through.  I was testing out the brushed metallic paint for a different project when a little overspray  got on one of my wet battleship grey tortilla chips.  And BOOM.  There was my old galvanized look!  So I gave each one another squirt of water and then a tiny squirt of Brushed Metallic Caramel Latte and that sealed the deal. I had created faux galvanized metal. Well, semi-faux since it really is made of zinc. 
 I took a hammer and nail and punched a hole in the corners of each triangle, then strung them up on the copper wire in a big/small formation.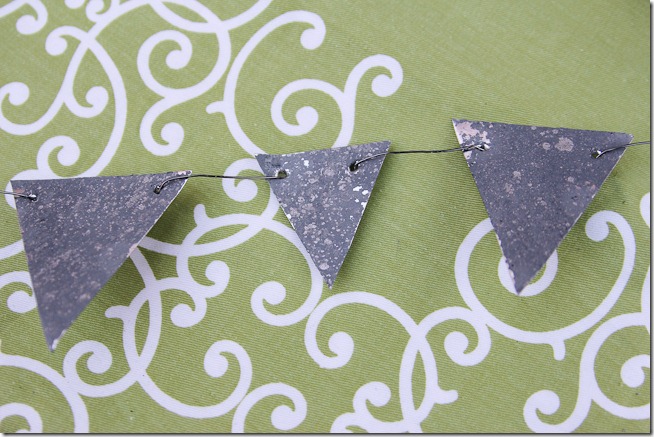 I made a string of bunting about six feet wide, and used two suction cup hooks to attach it to my kitchen window.  I wanted to hang it somewhere high so my kid wouldn't be tempted to tug on it.  Extremely sharp, remember?  Keep out of reach of kids and pets. For real.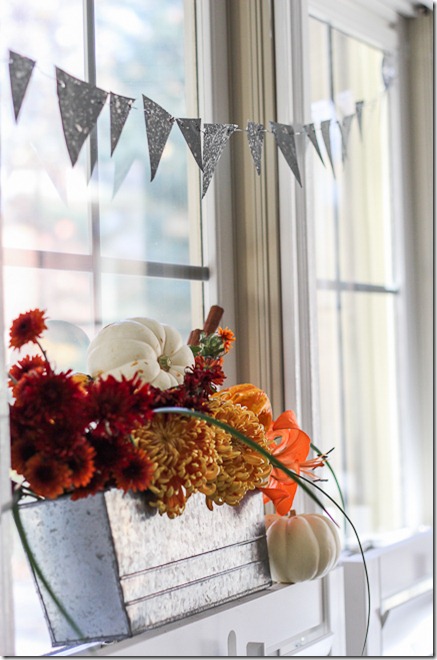 Since I am hosting Thanksgiving at my house I had to create a nice rustic tablescape to go with it, right?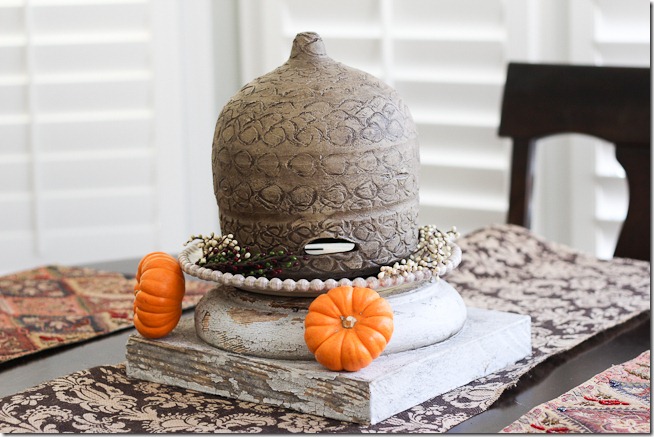 I had found this old chippy column base at Southern Accents Architectural Antiques, so I put that on top of some pretty brown damask burlap I found at a fabric store.  On top of that went a beaded edged plate and some tiny Jack-be-Little pumpkins.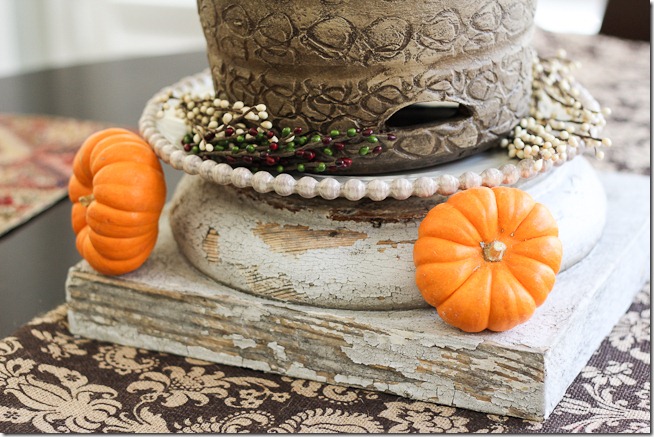 To top off the whole thing, I added the bee hive pottery that I scored at The Country Living Fair in Atlanta.  The man who sold this to me told me it was made by the same man who used to make face pots in North Georgia.  There is no signature, so I don't know if he was pulling my leg or not, but I like to think it's true.  Either way, I still love my clay beehive.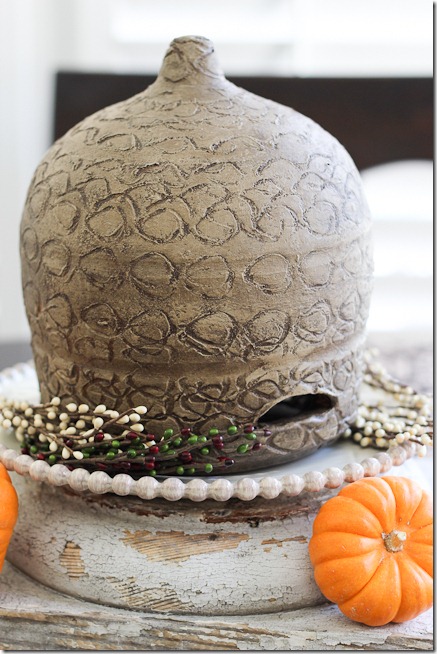 Between the metal bunting and the chippy, rustic table centerpiece, I'm all ready for Thanksgiving at my house!  Bring on the turkey and dressing!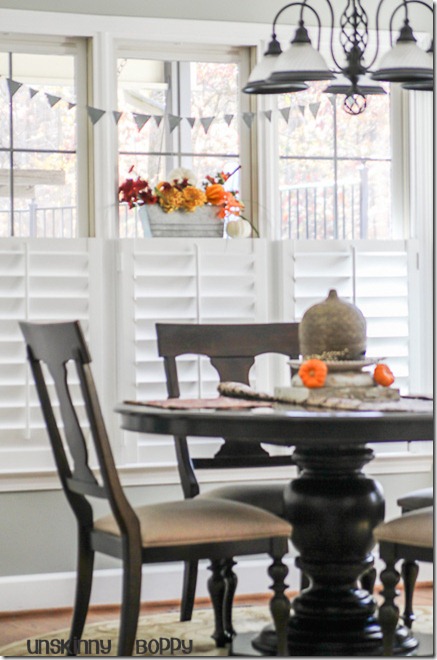 Happy Thanksgiving everyone!  Don't forget to count your many blessings this year!
Also don't forget that there is still time to enter the Make it Gr8 in 8 contest where you can submit your fast fix tips and win some great prizes! I am linking this up to Krylon Projects in a Can website where you can find lots of great inspiration for your holiday project using spray paint.   You can also find this and many awesome spray paint project ideas on my Krylon Craft Pinterest board.  Just in case you cannot get enough spray paint ideas, be sure to check out these amazing projects that my friends Kelly, Heather and Jenn have created as well! 
Heather At The Picket Fence, Kelly at Electically Vintage and Miss Jenn Rizzo are some amazingly creative ladies!
---
I received compensation for my  photographs and the Krylon spray paint project inside this post.  I'm thankful to be partnered with Krylon yet again for another fun spray paint project. All opinions are 100% mine.
I'm linking this post to NewlyWoodwards Dare to DIY, Wow Us Wednesdays at Savvy Southern Style and Uncommonly Yours Link Party