In case you don't know this about me, I've been blogging for a very long time.  I started this blog in 2005, so that's what?  Eight years of blogging? Which means I am like the Dick Clark of the blog world. Positively ancient, but deceptively young looking.  Everyone assumes my blog is new, but I've been around these parts a long, long time.
In all those years of being a blog writer, I have never considered myself to be anything more than a glorified Hobby Blogger.  After all, my blog began as a personal journal, then became a mommy blog and now has morphed into a DIY/ Home Design blog.  I feel like that sixth year college Senior who keeps changing his major but mainly just wants to go on Spring Break without any Google Analytics Guilt Trips.  During that eight years of being a Hobby Blogger I have read a lot more blog posts than I have written, and have been inspired by countless bloggers. Some of my favorites that regularly inspired me are The Lettered Cottage, The Nester, The DIY Showoff, Centsational Girl, Young House Love, and Bower Power, just to name drop a few.  
As it turns out, every single one of those blogs has a common denominator.  Can you guess what it is?  Here is a hint…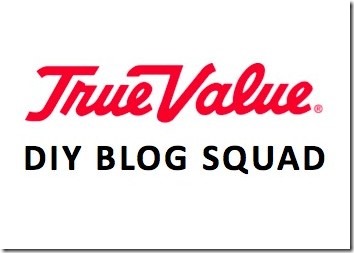 THEN GUESS WHAT HAPPENED Y'ALL?  
True Value asked ME, the Sixth Year Senior Slacker Blogger, to join the 2013-2014 True Value DIY Blog Squad!!  Lemme tell ya… this girl right here was MEGA EXCITED when that opportunity landed in my inbox. I became even more excited when I sent the email to my husband and he, Mr. Even Keel, also became excited FOR me. After all these years of devouring the past Blog Squad posts with love and admiration, now I get to BE a member of the Blog Squad?
To make things even better, here is a list of my fellow 2013-2014 Blog Squad Members:
Excuse me while I fall out on the ground.  I have got to step up my DIYing game!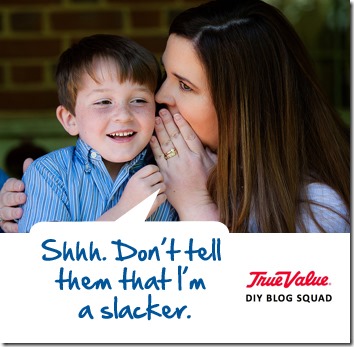 Oh, what an outstanding line up!!  I'm so thankful to True Value for asking me to join this elite group!  To say that I'm honored really is an understatement, because my hobby blog mentality won't allow me to rank my blog up there with all the people who are linked up above.  But, I keep pinching myself and finding out that it's for real!  And I can promise that it's going to be SUCH a fun year of DIY projects around here.  J and I have been brainstorming ideas for what projects need to be done first that we think you'll enjoy. 
I think this calls for a celebration, how about you?   I'd love it if you would join us for a fun Twitter party tonight along with the moderators, @TrueValue and @ResourcefulMom.  Be sure to follow them both on Twitter (oh, and me, too! @BethBryan), along with the hashtag #TrueValueOfDIY to join in the party. 
Festivities kick off tonight (Tuesday, July 23rd) starting at 8:00 pm until 9:00 EST.  There will be great prizes given away, including SIX (12345…SIX!) True Value gift cards to be given away simply for joining in and answering the questions that the moderators ask!  If you've never participated in a Twitter party, you can learn more about how to party at this blog.
If you'd like to RSVP for the party and possibly gain some new followers on Twitter, be sure to enter your name and handle over at ResourcefulMommy.com.
I hope I'll see you all there later tonight!  Can't wait!
---
I was one of the bloggers selected by True Value to work on the DIY Squad. I have been compensated for my time commitment to the program as well as writing about my experience. I have also been compensated for the materials needed for my DIY project. However, my opinions are entirely my own and I have not been paid to publish positive comments. This post wasn't even part of the contract, but I'm so stinking excited to share my news that I had to shout it out from the rooftops!  WOOHOO!