Since I was asked to be a part of the 2013 True Value DIY Blog Squad, I've had the pleasure of visiting three different True Value stores.  In every single one, my experience has been the same.  When I walk through the doors and begin browsing the aisles, a friendly face comes over to greet me and say hello, then asks if there is anything they can help me find.  Every store is independently owned, so they carry different items, yet every single one oozes with home town pride and friendliness that is a rare treasure to find in a retail outlet these days.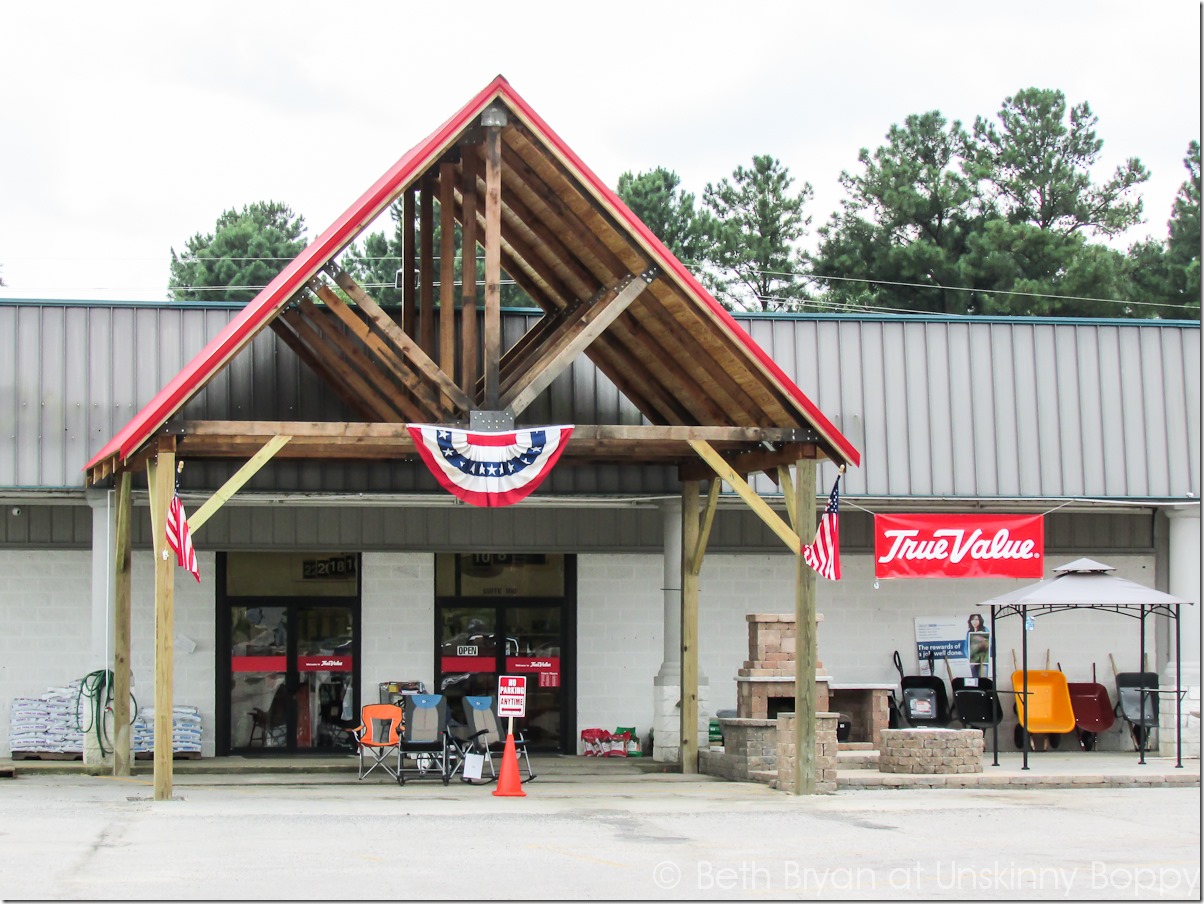 I often listen to the Martha Stewart XM radio show where people call in asking for advice, and Martha's advice is always to find a local hardware store—NOT a big box store—but a small town hardware store with experienced people working inside who are willing to give accurate and helpful advice on what tools are right for which job.  Every True Value location I've visited is the epitome of this description, and the knowledge they provide to their communities is invaluable.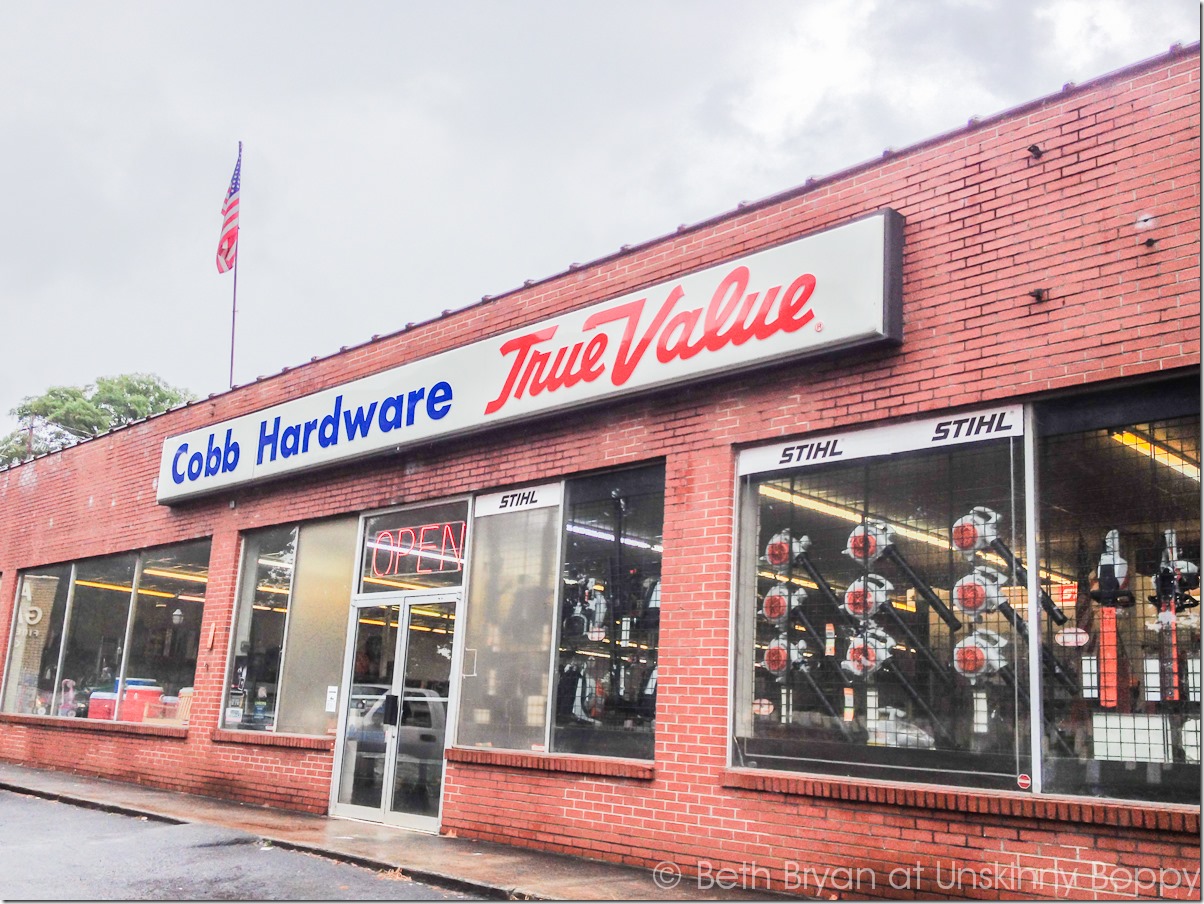 One of my favorite True Value stores so far is the Cobb Hardware True Value store in Marietta, Georgia.  This store has been serving the people of Cobb County since 1932.  It stands in a red brick storefront along a quiet street, overlooking a hillside of military grave markers inside the Marietta National Cemetery.  The cemetery's history is intriguing by itself, as the original markers date back to the Civil War when Sherman marched on Atlanta.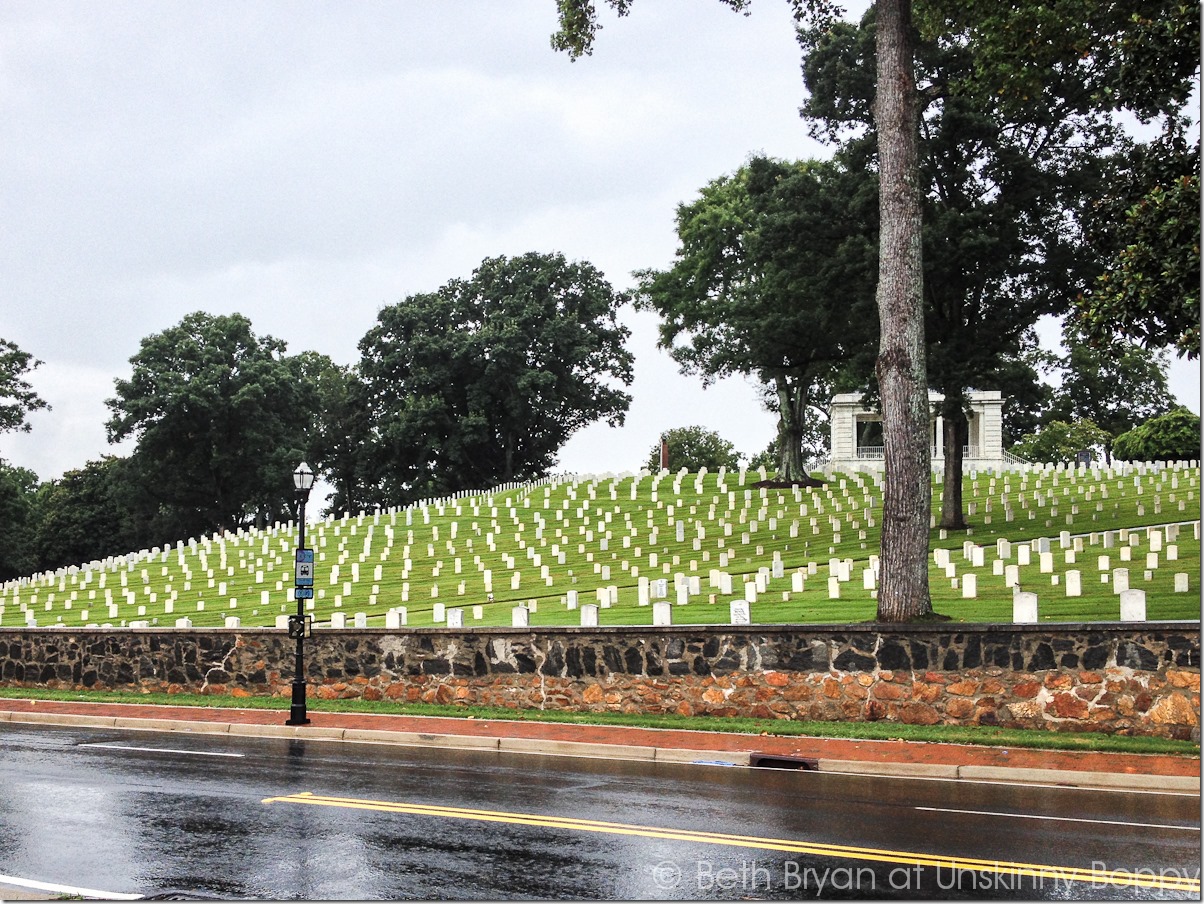 Inside the store, I discovered treasures like these gorgeous potbellied wood stoves that looked straight out of a Little House on the Prairie schoolhouse.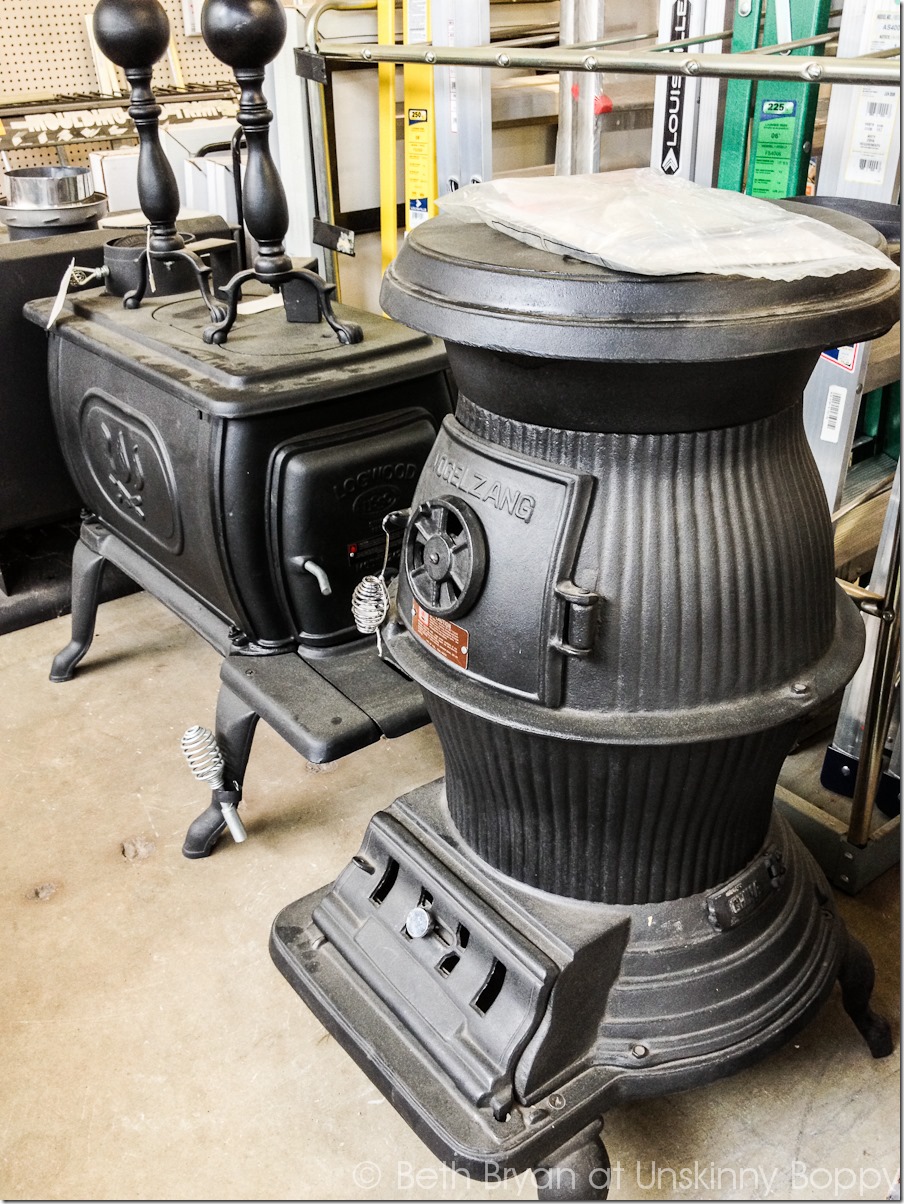 And bins where nails and screws of all shapes and sizes could be purchased by the pound.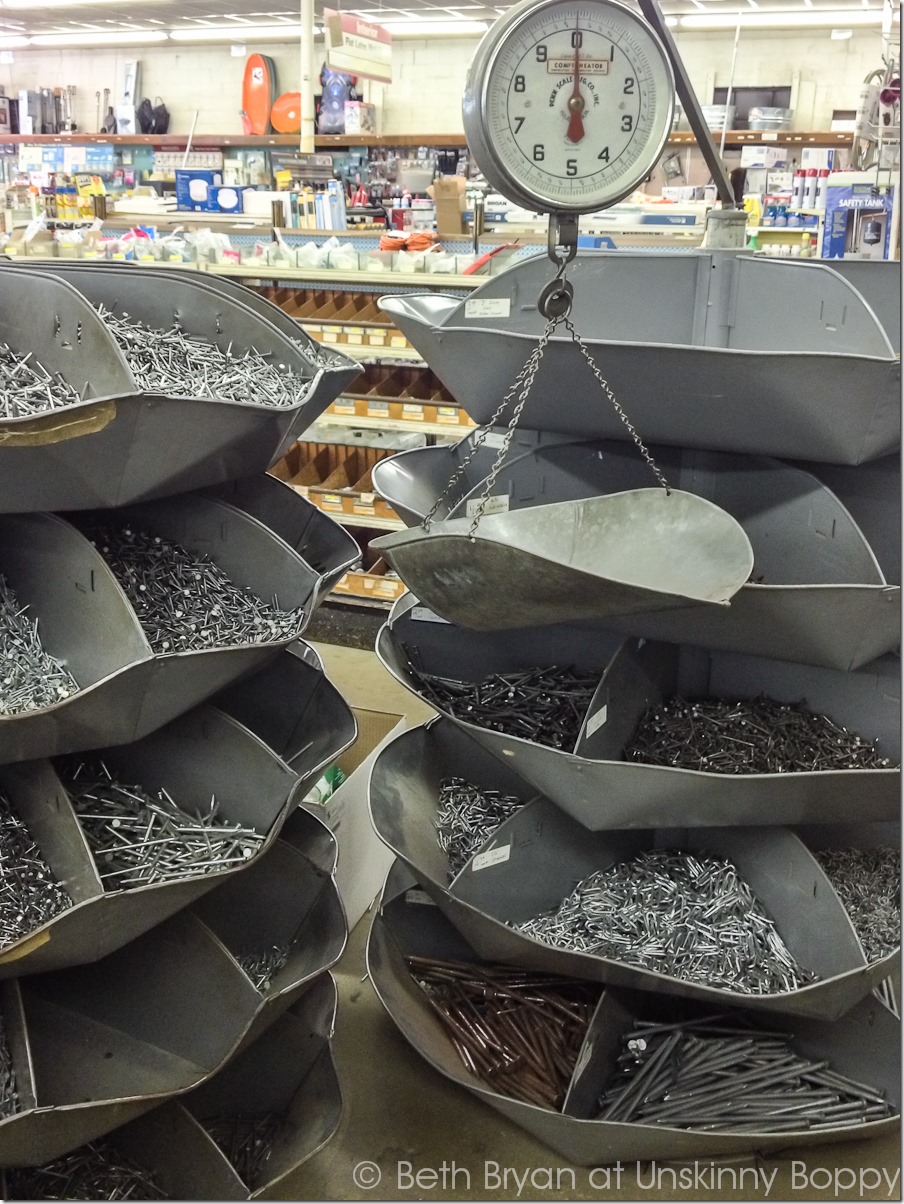 I was excited to find galvanized steel buckets in a variety of sizes, perfect for future projects.  As I went to check out, the store owner joked that it would be smarter for me to get a new roof on my house than to keep buying buckets to catch the drips.  I laughed and explained what I was planning to do with them.  When I asked if I could take their picture to put on a website for True Value Blog Squad they enthusiastically agreed.  I am so honored to be working with a company that understands the meaning of keeping small town America alive.  As a product of small town America myself, it makes me especially proud to be a part of True Value's DIY Squad.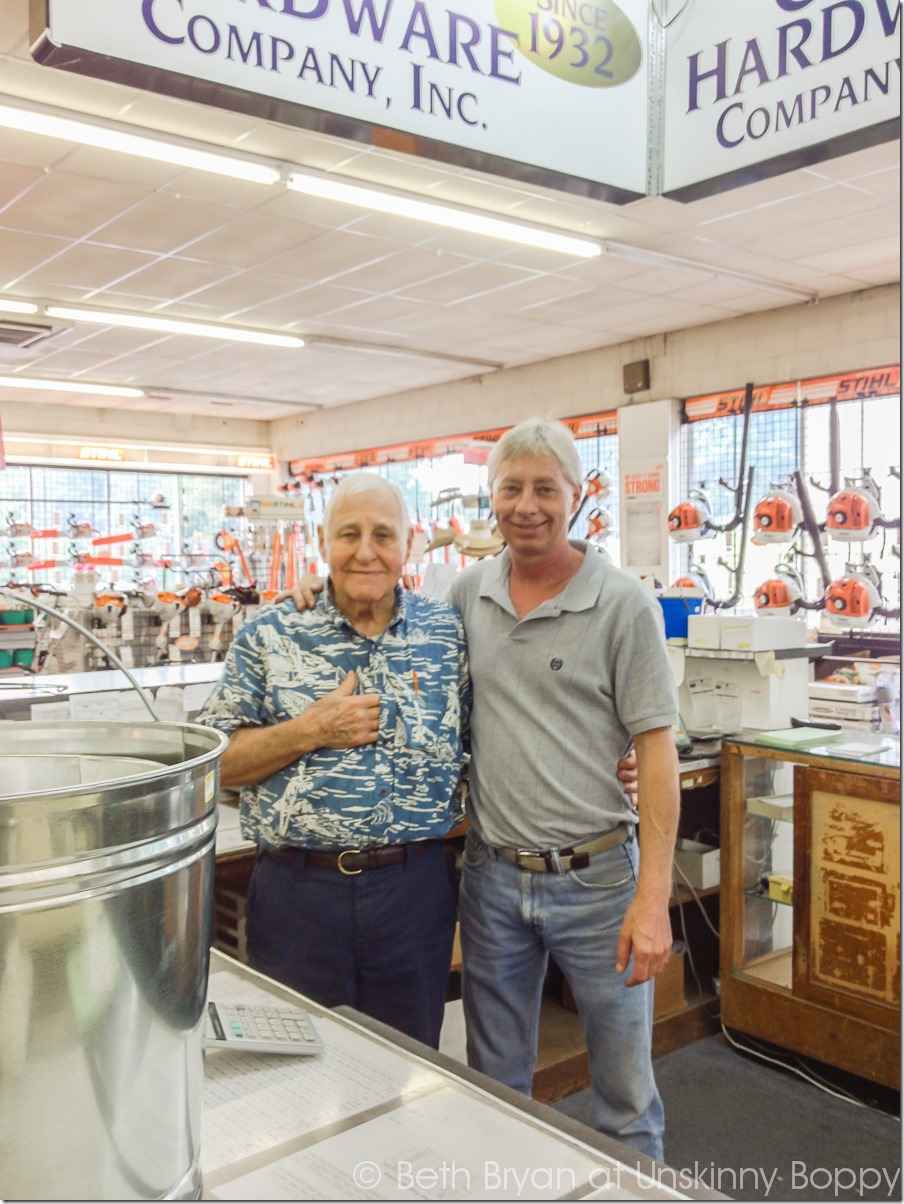 I love heading to my local hardware store to find the supplies necessary to repair the furniture or heirloom pieces that I already own rather than buying something new.  And if I discover that my piece cannot be repaired, I would much rather buy a piece of architectural salvage or a junk store items that brings its own piece of history to my home.
After watching this video about restoring family heirlooms I was inspired to restore a family heirloom of my own. Over the years I've inherited several pieces of furniture from my grandparents on both sides of my family.  My dining room chairs are from my grandmother's house in Kentucky, along with this giant dollhouse that I was given right after she passed away in 1993.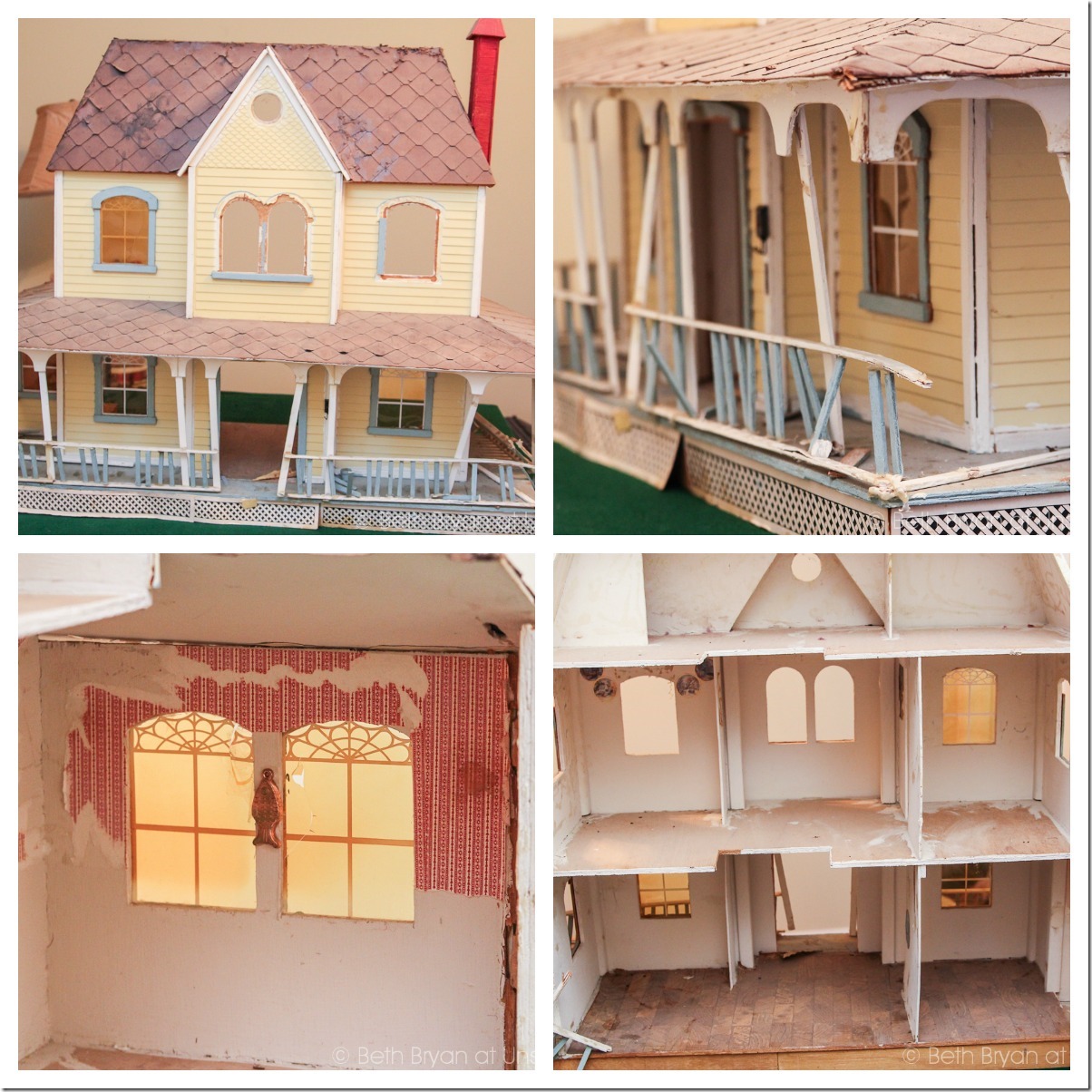 As a child I was completely enthralled by this dollhouse, spending hours playing with the tiny furniture and dolls.  When I inherited it at age 15, though, playing with dolls was the last thing on my mind.  So for the last 20 years, this dollhouse has been sitting in my basement, collecting dust.  Since 1993 I've been planning a full restoration, and this weekend I finally made it a priority thanks to that inspiring video!  I enlisted Garrett to help me give it a thorough cleaning, a front porch demolition and a new coat of paint.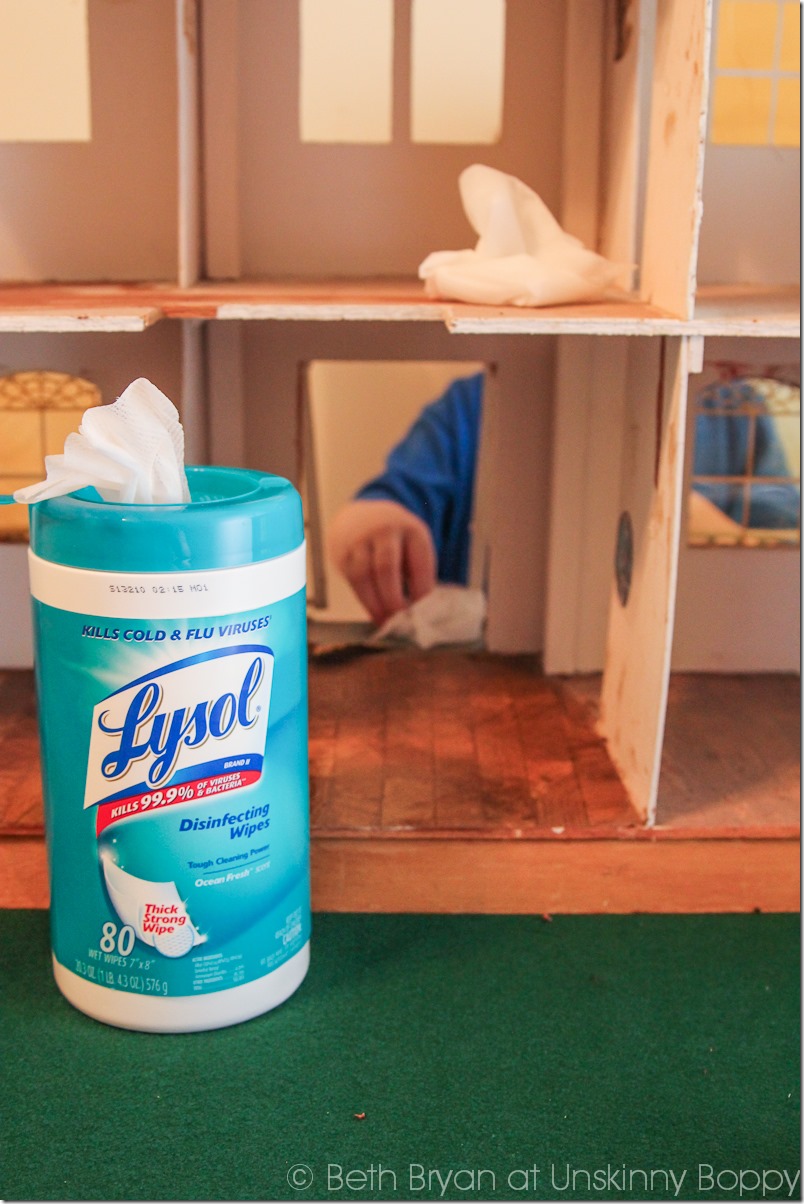 He is also helping me sort through all the furniture that has been packed up for twenty years.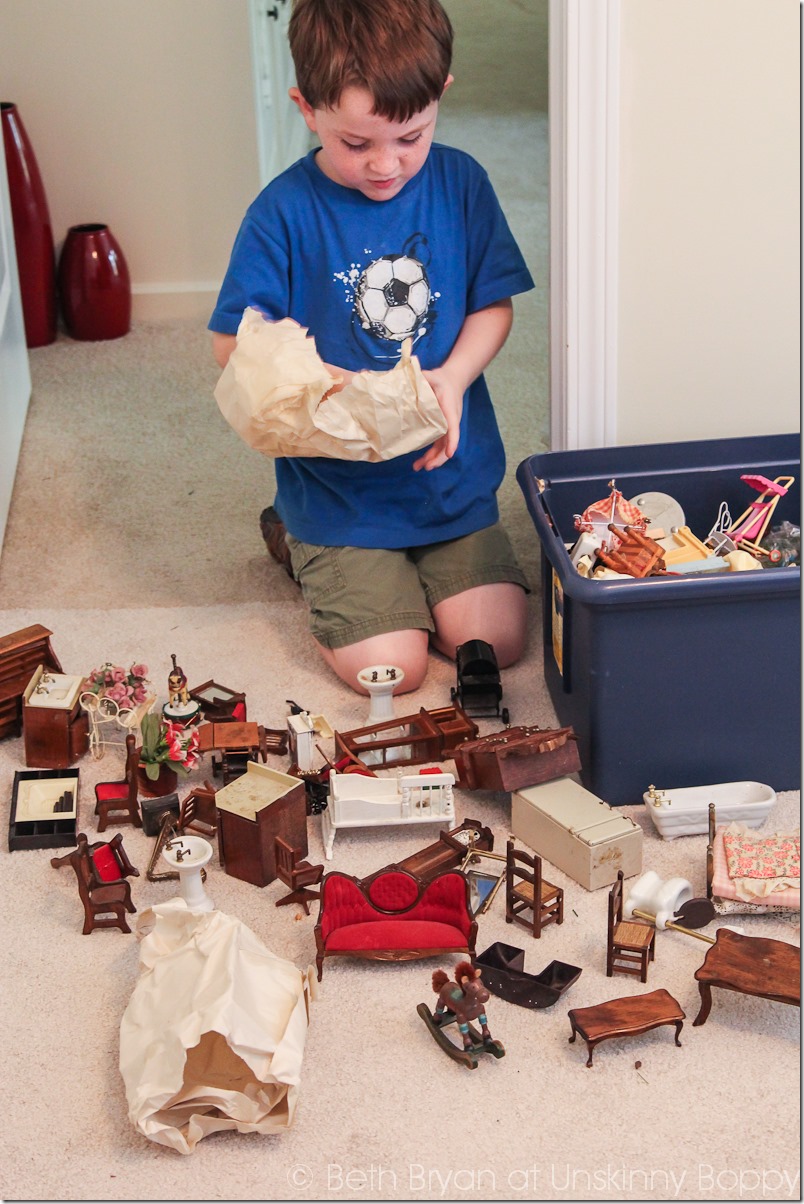 When we removed the front porch I discovered that my Grandma had even put her last name (and my maiden name) right under the mailbox on the front porch.  I had never even noticed those four little letters on the dollhouse before, but I'm going to great lengths to preserve the name on the dollhouse as I preserve it so it will be there for the next generation.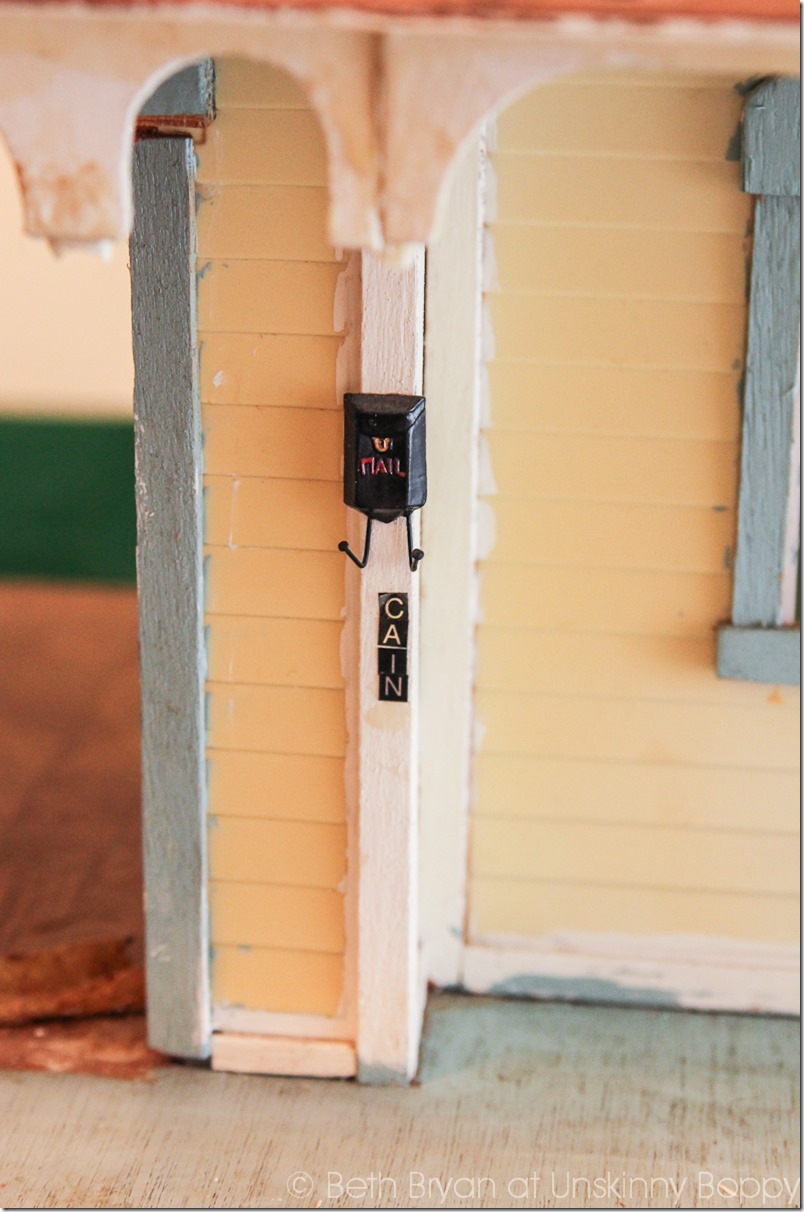 I'm looking forward to sharing this family heirloom with Garrett, and hopefully one day grandchildren of my own who come to visit will spend hours playing with the tiny furniture and dolls.  The thought of restoring this dollhouse to one day be passed down to my grandchildren brings tears to my eyes.  So thank you, True Value, for inspiring me to start this project!  Let the renovations begin!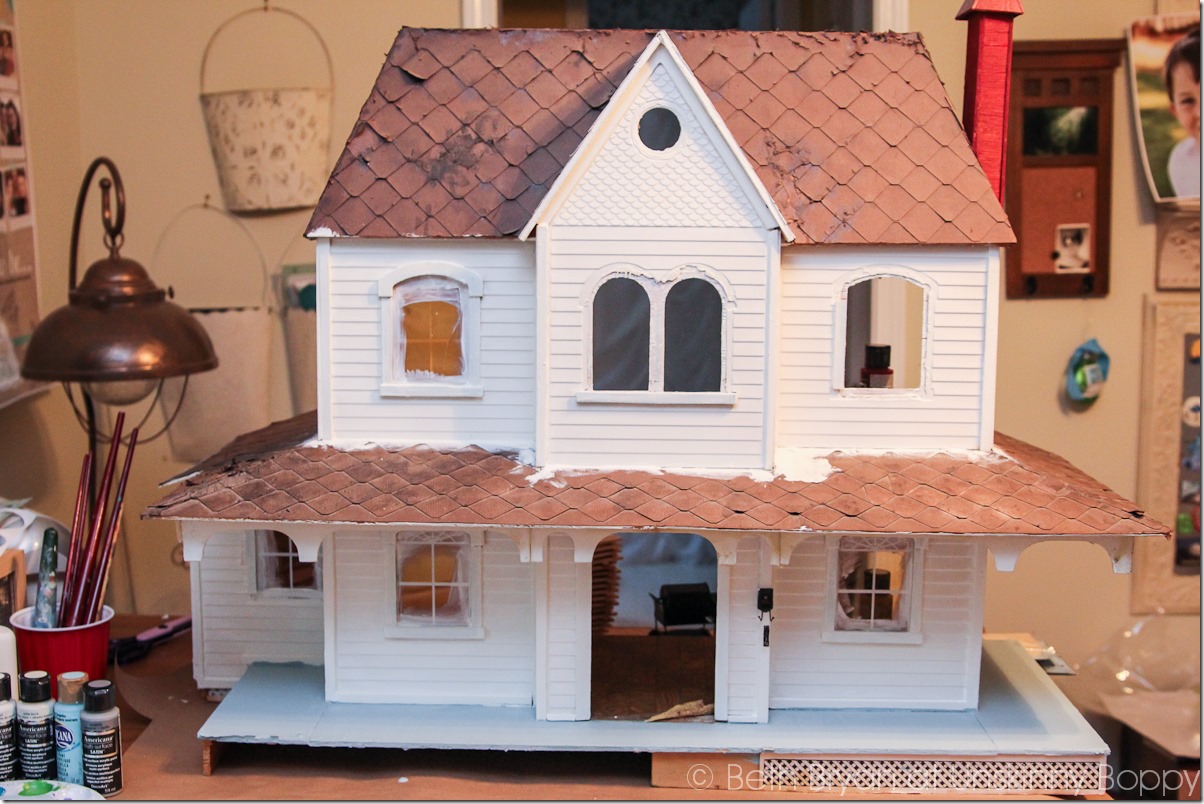 I urge you to watch this heirloom restoration video and try to make it through it without a lump in your throat, then tell me about your favorite family heirloom in the comment section below.
What are your favorite family treasures in need of restoration?
---
I was one of the bloggers selected by True Value to work on the DIY Squad. I have been compensated for my time commitment to the program as well as writing about my experience. I have also been compensated for the materials needed for my DIY project. However, my opinions are entirely my own and I have not been paid to publish positive comments.