A few weeks back I showed y'all the beginning stages of my guest bathroom makeover with a DIY monogrammed roller shade.  As of right now, that same bathroom looks nothing like this anymore.  We are in the middle of a full blown wallpaper removal and the bathroom looks like a rabid cat has been shredding the walls.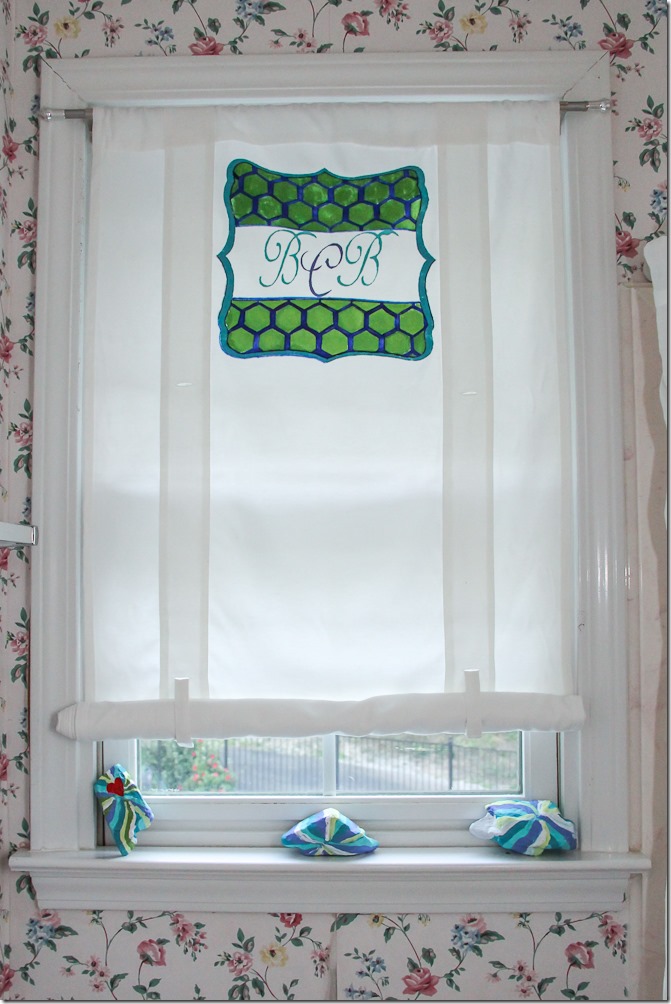 Instead of showing you that, today I'm gonna show you how I made that curtain up there and we will just pretend that the room still looks semi-decent… mmkay? Since my bathroom desperately needed a curtain and this one fit perfectly, I decided to snazz it up a little bit with some stencils and paint.  My friends at DecoArt were kind enough to send me out a box full of their new  Americana Multi-Surface Satin paints and stencils, so I set to work putting them to good use.  You can see how I organized all this paint in my last post!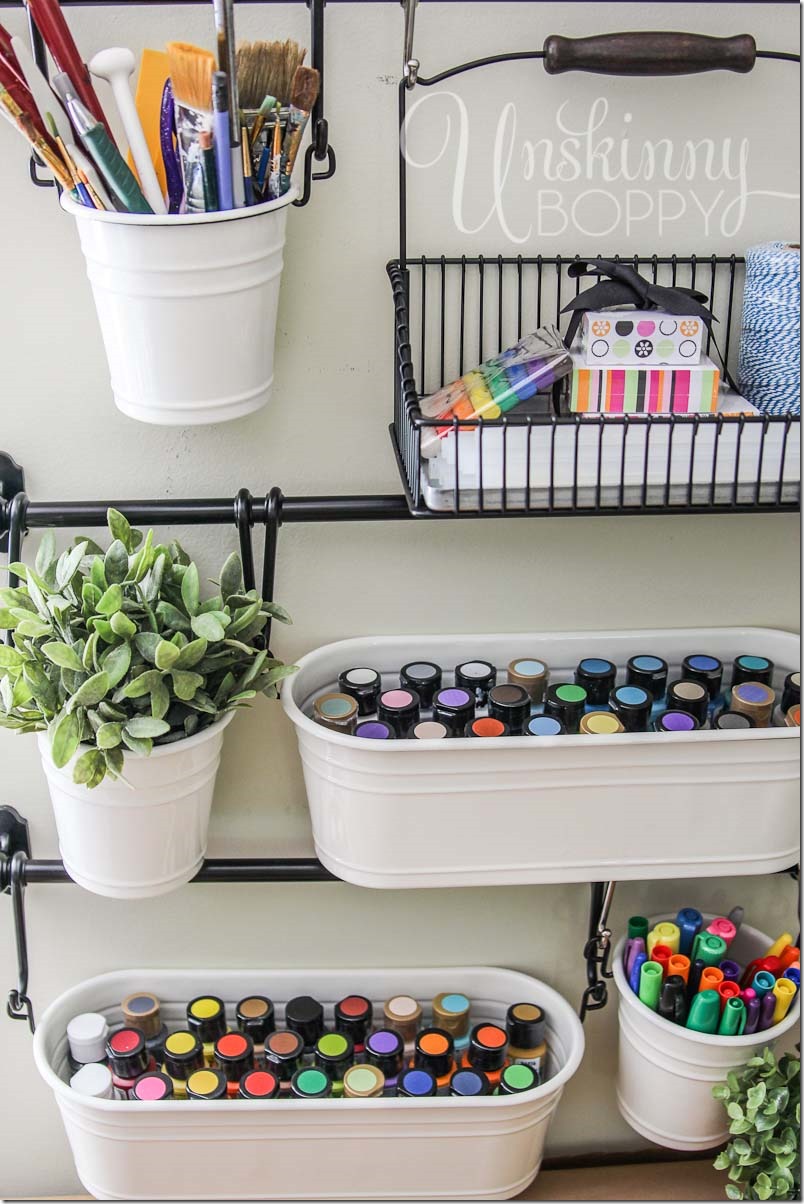 I taped down this border stencil, then painted the border with the Coastal Waters color. I just tapped the paint on with a regular paint brush- no special tools required.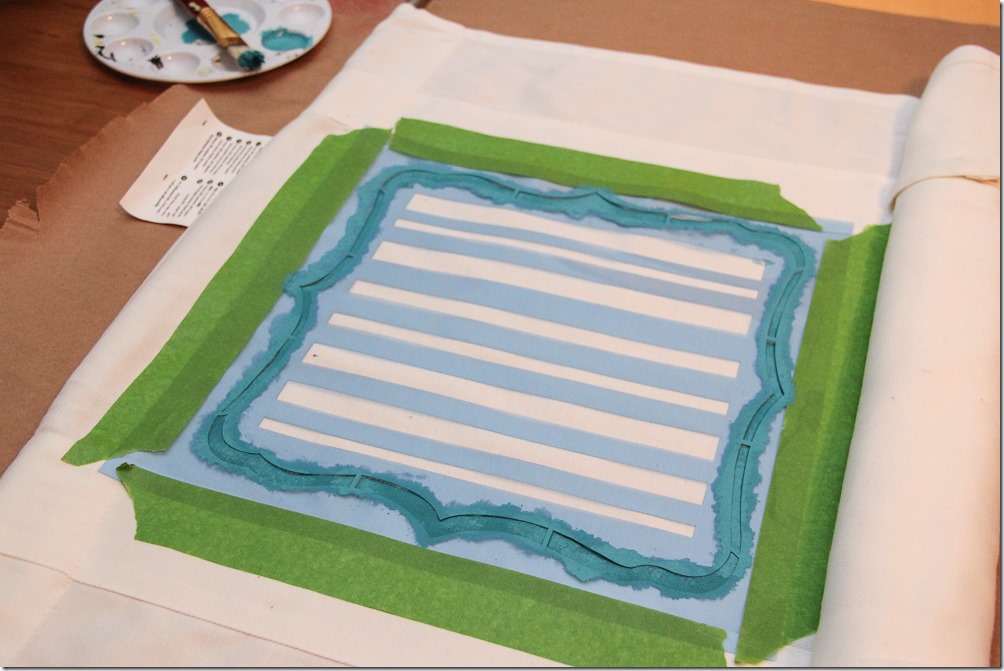 I wanted to keep the monogram centered, so I measured the width of the border, then divided by two to see where the center of my middle letter should fall.  My calculator told me 5.325, so on my ruler I tried to get the top of the "C" to land between the 5" and 5.5" mark.  Once I got that lined up I layered the other stencil on just to see how it was going to look.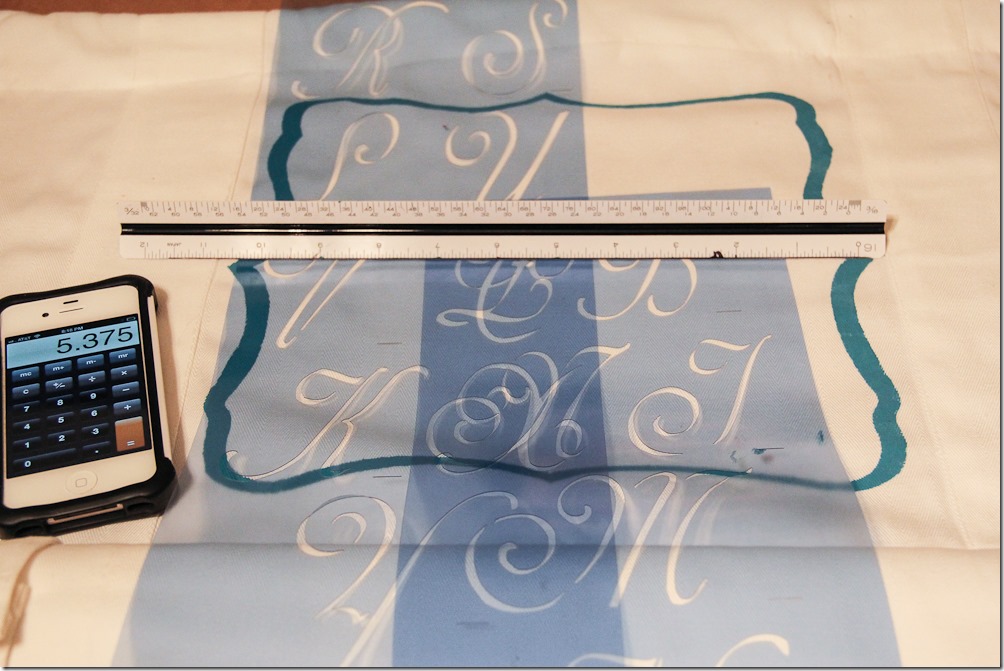 The "C" is painted with the Iris color.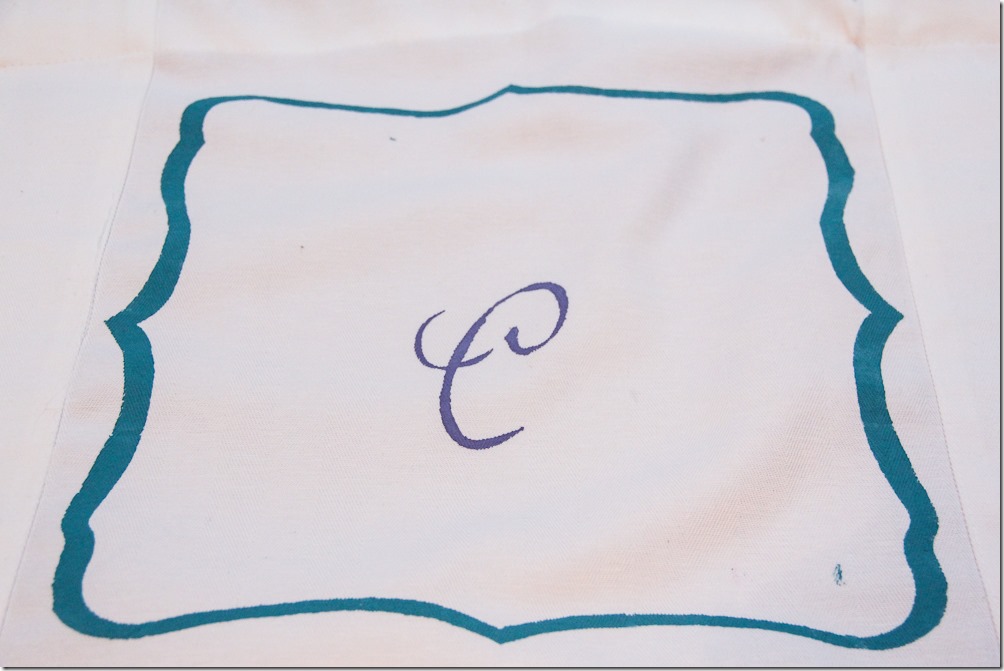 I eyeballed the two "B's" on either side of the middle letter and painted them with Turquoise Waters.
Next I taped down the "Busy Bee" Americana Stencil and painted the honeycomb shape in apple green. My edges needed a little cleaning up, so I took a blue marker and colored in the middle to give a nice crisp edge to the honeycomb shape.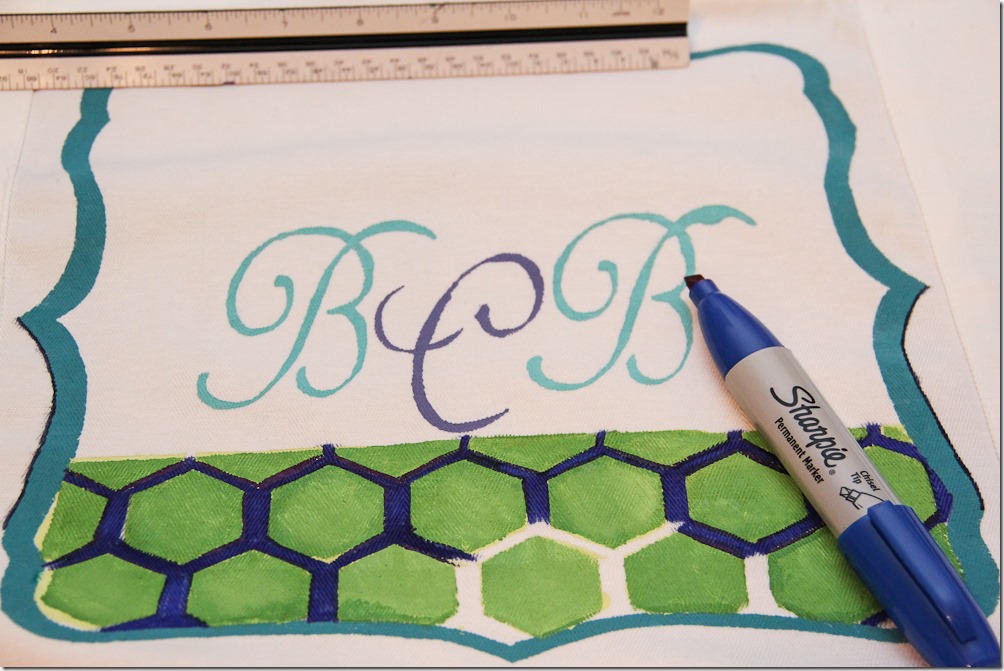 After that I used a fabric marker and a ruler to draw a straight line across the top and bottom to define the edges better.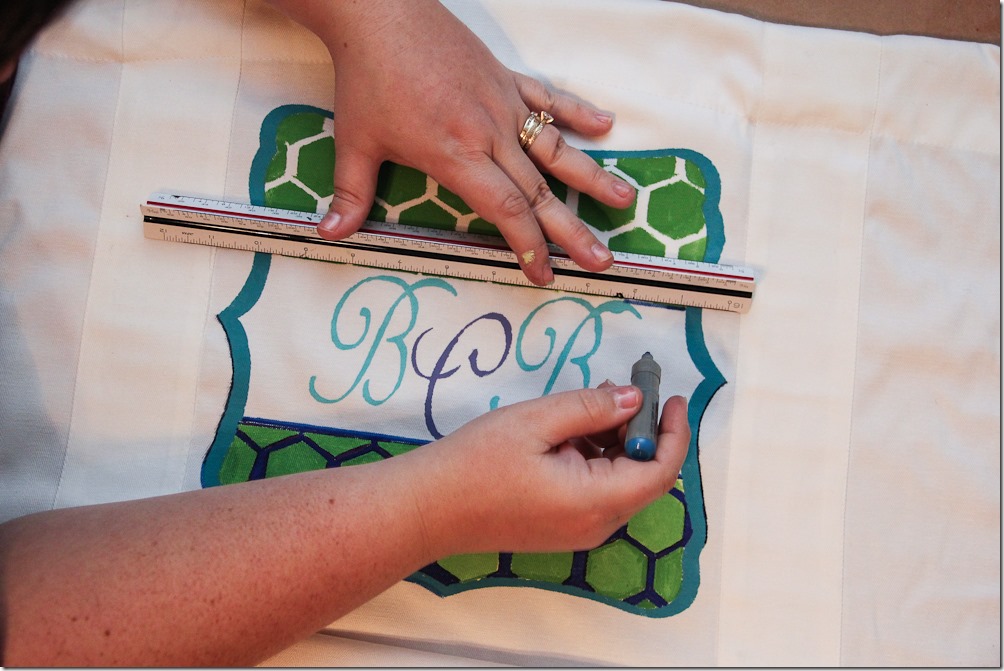 I found that the Sharpie did fine on the fabric as long as it was surrounded by paint, but it bled really heavily otherwise, hence the fabric marker for the outside borders.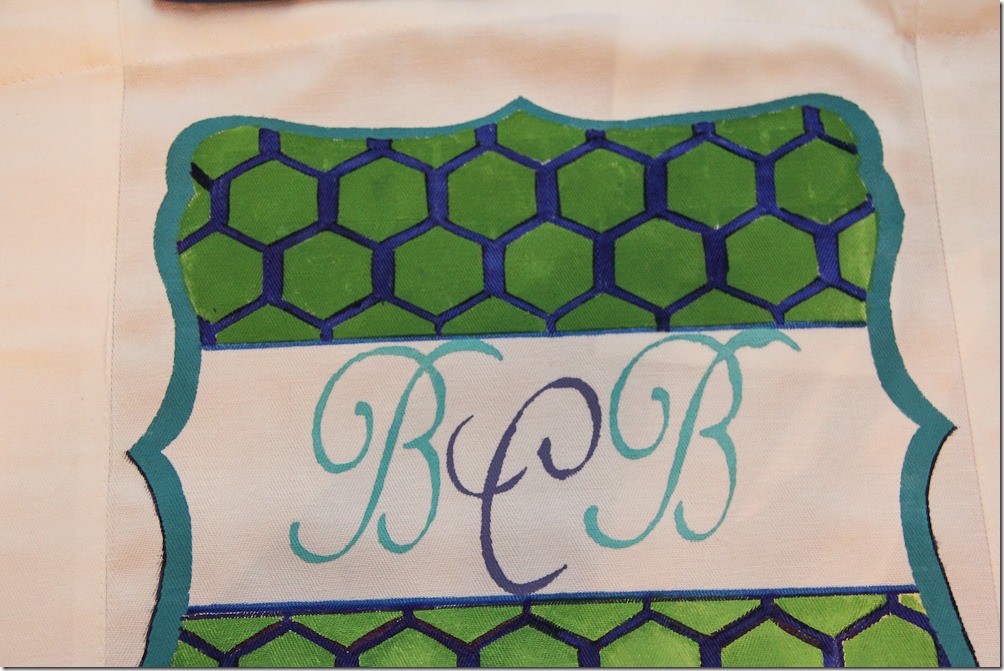 And there you go!  That was it.  Super simple but highly impactful.  I love the color scheme and plan to incorporate it throughout the rest of the bathroom once that rabid cat gets finished shredding all the wallpaper!  I'll keep you updated.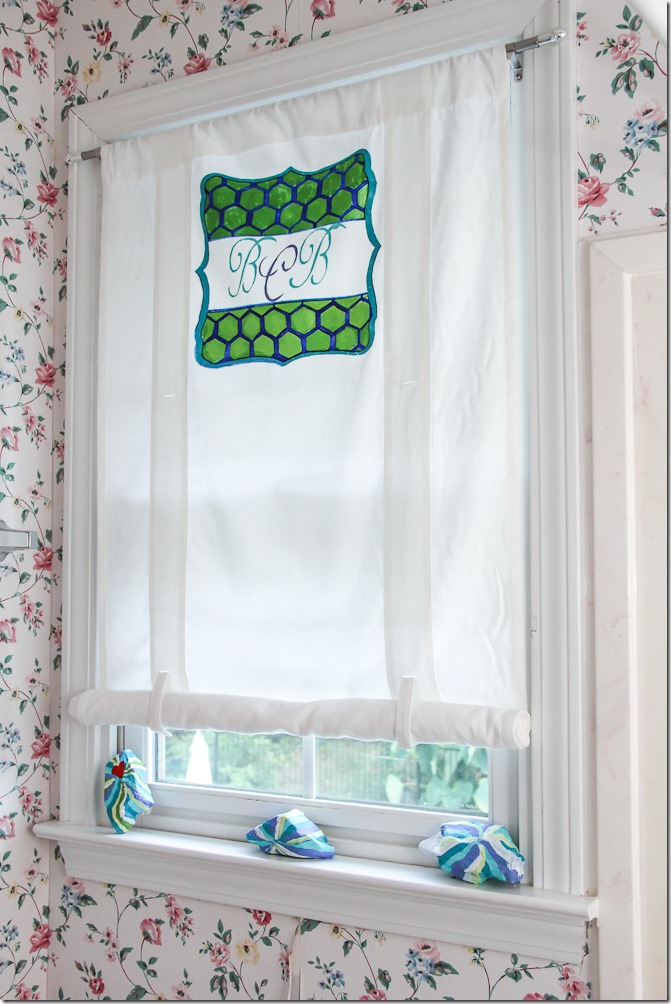 See those pretty striped things in the windowsill?  Those would be big rocks that Garrett and I painted to match the curtain!  One of the rocks is in the shape of Alabama, so I added a heart right over our part of the state. I'm telling y'all…. the project possibilities are endless with this paint.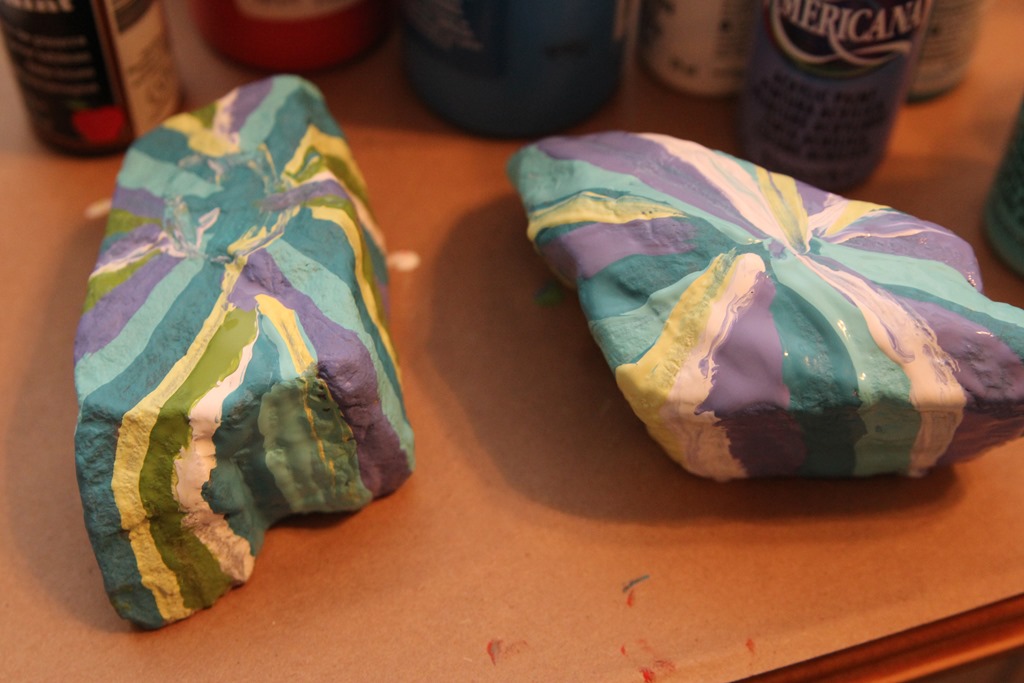 If you're interested in trying this new multisurface satin paint, DecoArt is offering a great rebate right now!  Americana Multi-Surface Satins are available for purchase at Michaels, A.C. Moore, Hobby Lobby, and other fine craft retailers. Here are the details: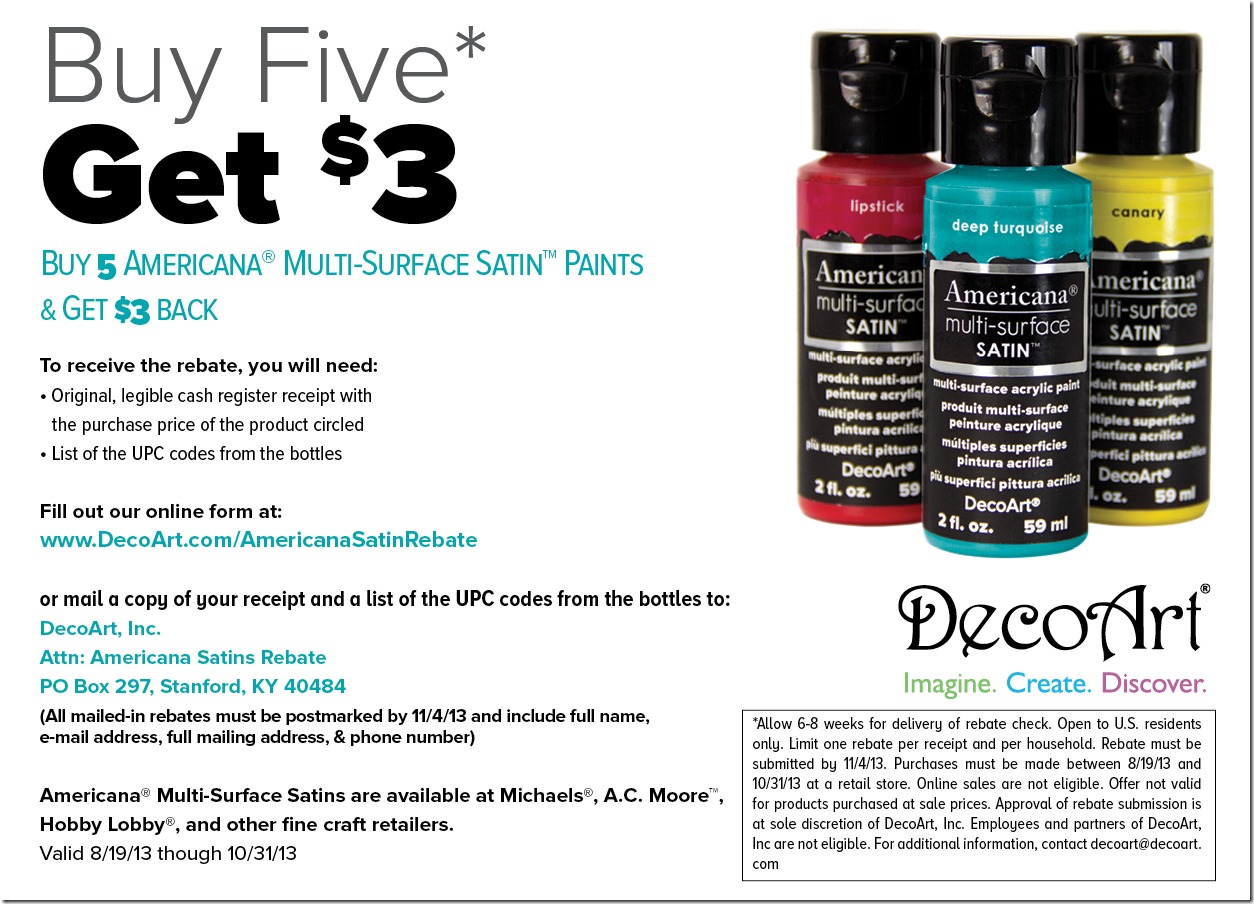 ---
Decoart sent me free product for this post, but I was not compensated for this review.  All opinions about painted rocks and rabid cats are my own, just like always.