Ever wondered how to remove wallpaper like a professional?  Today I'm sharing all the tips and tricks I learned for the quickest and easiest ways to  strip wallpaper. Remember when I told you about both of my upstairs bathrooms that were covered in 1990's "Home Alone" throwback wallpaper and dying for a makeover?  Well, today I'm going to show you what we did to totally transform Garrett's bathroom from dated and boring to totally fun and fresh!
Here is the Before and After of his bathroom makeover (don't you love a good before and after photo? I sure do!)

After many years of sitting on my to-do list waiting patiently for me to get around to it, the wallpaper finally came down with some help from my friends at True Value.  When I was in the store last time, I picked up some wallpaper removal tools, including a Zinsser Paper Scraper, a Zinsser Paper Tiger, and Dif gel wallpaper remover.  I already had an empty water bottle, a putty knife/paint scraper and a razor blade, but I wish I had this angled razor tool to get into some of the harder to reach areas.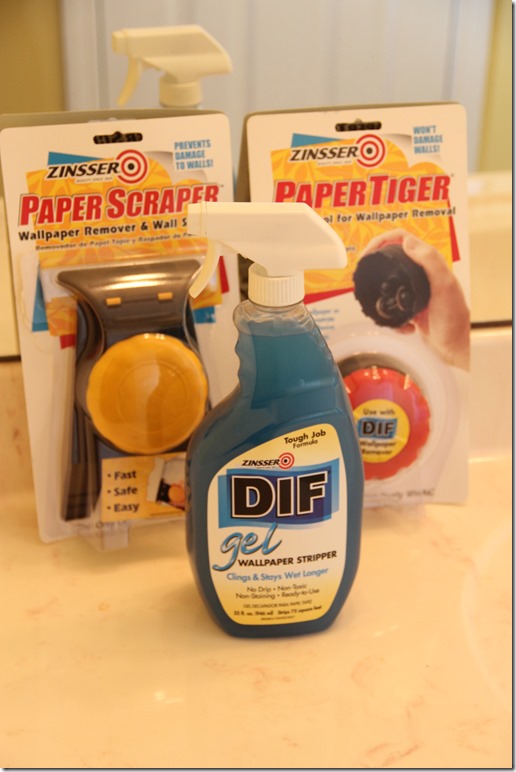 Here is what the bathroom looked like before I started the process.  Lots of navy/burgundy/hunter green stripes and borders.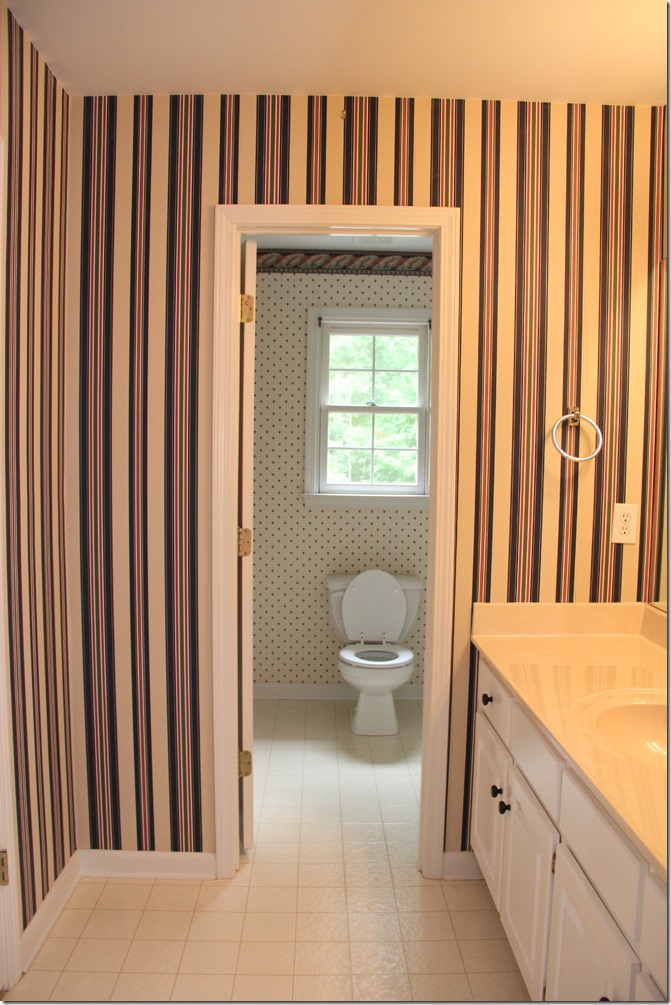 And here is what the bathroom looks like today!!  What a difference, right?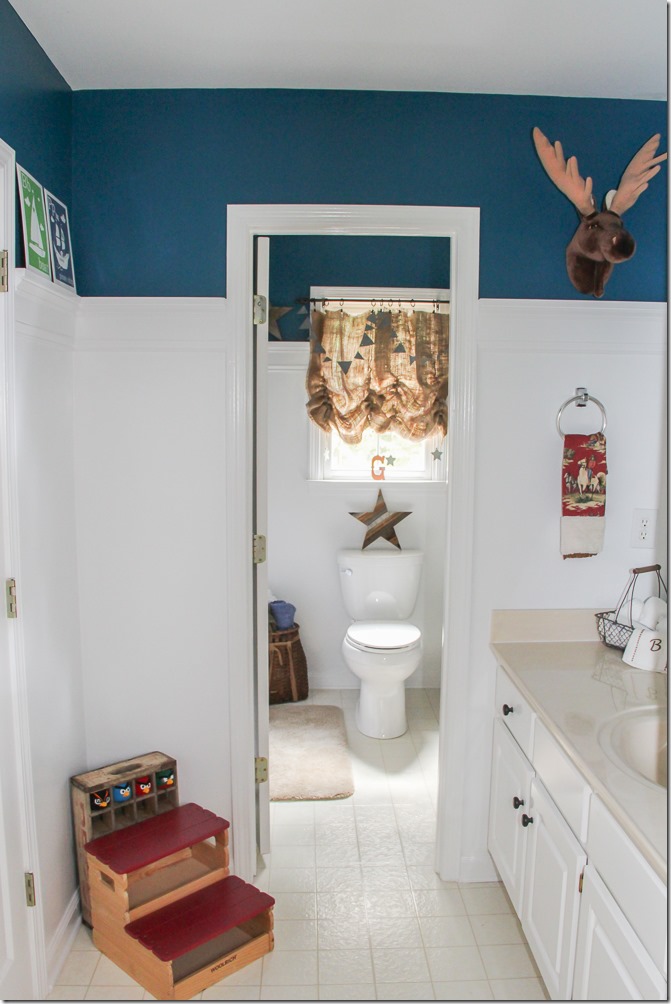 I am ecstatic with the way it turned out, but it took a whole lot of effort to get to this point. The wallpaper in this room was THICK.   Apparently the people who built this house originally spared no expense when it came to wallpaper, but unfortunately they pasted it directly onto the bare sheetrock without any primer underneath.  This was a nightmare for us, because we had to first strip off the top layer of paper, then attack the glued layer underneath.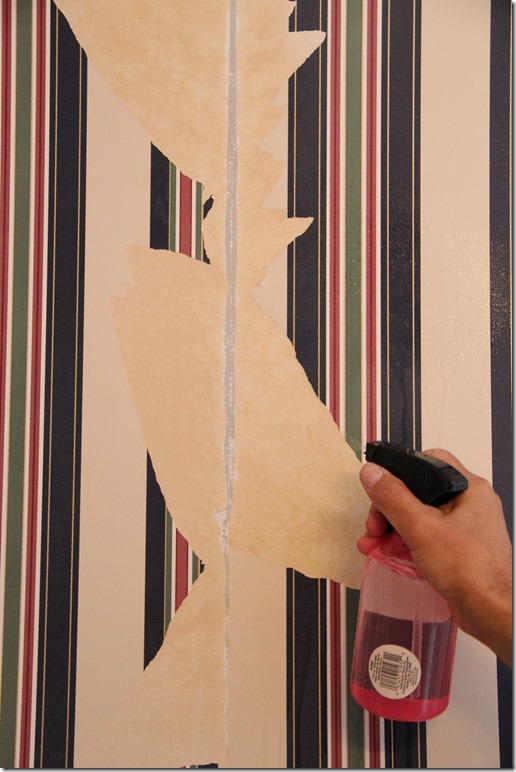 The first thing we did was find a seam and rip the edges off as much as we could.  Then we sprayed heavy amounts of water on the glue layer.  This softened up the paper and allowed us to start scraping it with the paper scraper.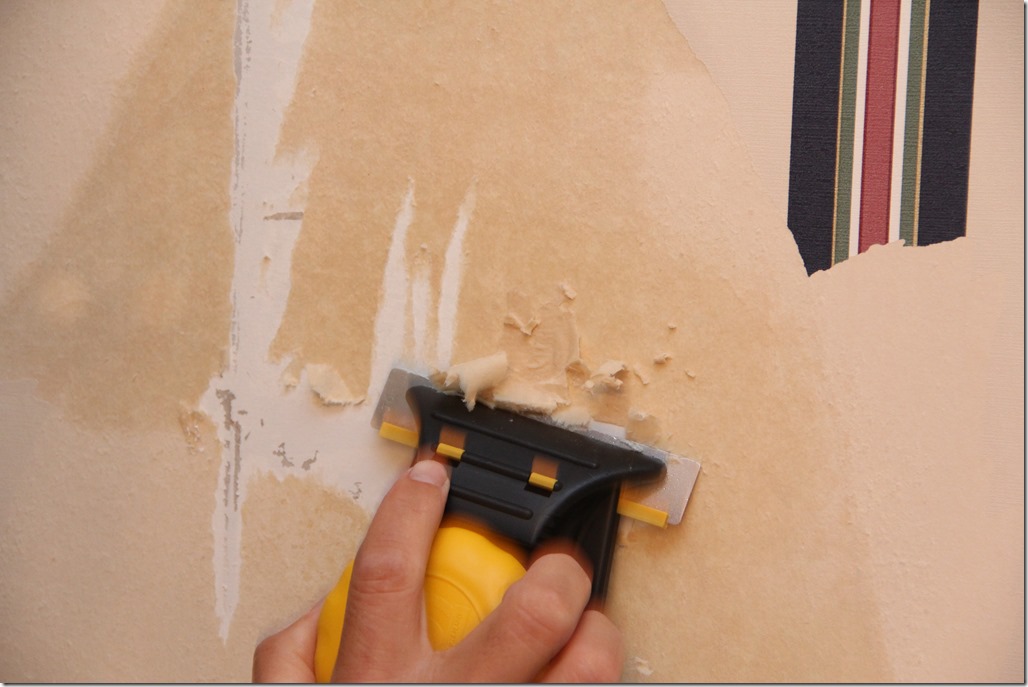 Some areas were stuck so firmly that we had to get out the razor blade and peel it up millimeter by millimeter.  This was painstaking work, even in a small bathroom area.  I'm not going to lie, wallpaper removal is not for the faint of heart.  It's a lot of soaking and scraping and soaking and scraping.  What a tedious process. I've heard rumors that there are wallpapers out in the world that are able to be removed with one great big "RIIIIIIP"…  We did not get that lucky.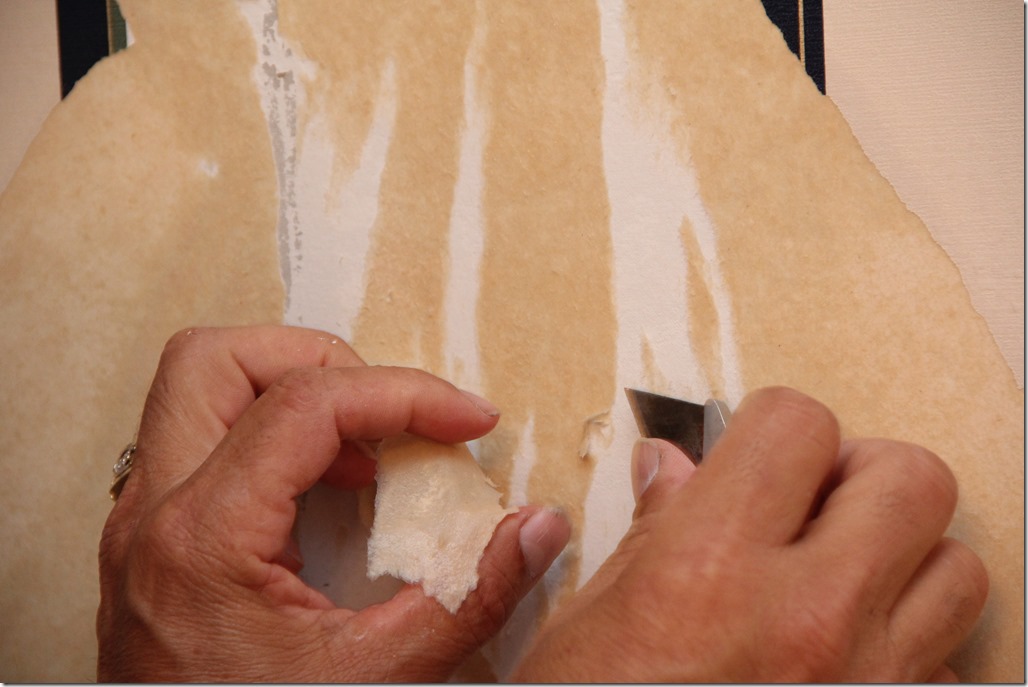 So that is when we broke out the Paper Tiger.  This tool is excellent if you have wallpaper like mine that is super thick and hard to penetrate with water or the gel remover.  It basically shreds the paper and allows moisture to seep in behind the paper so it can release from the wall.  The downside of this method is that it also can shred your drywall, which creates more of a mess for you to clean up and patch later.  In an ideal world, all wallpaper would come off in one big strip, but that is obviously not the case, so this tool helps when you are working with really stubborn paper.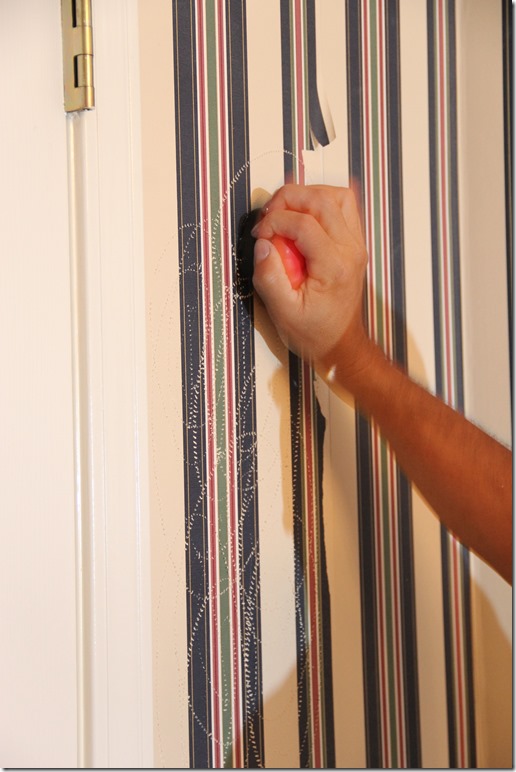 See how it allowed me to get water and the Dif gel back there so that I could remove it in bigger pieces than thumbnail sized?  Whew, I felt accomplished when I would get a big piece off at once!  I learned that if I kept moving my paint scraper back and forth in a line while pulling down slightly with my other hand I got good results, like this.  Remember to keep that paper wet at all times!  Wet paper comes off MUCH easier than dry!  Do not be afraid to get that sheetrock wet.  It won't hurt it at all, and it will help make your removal process go so much faster.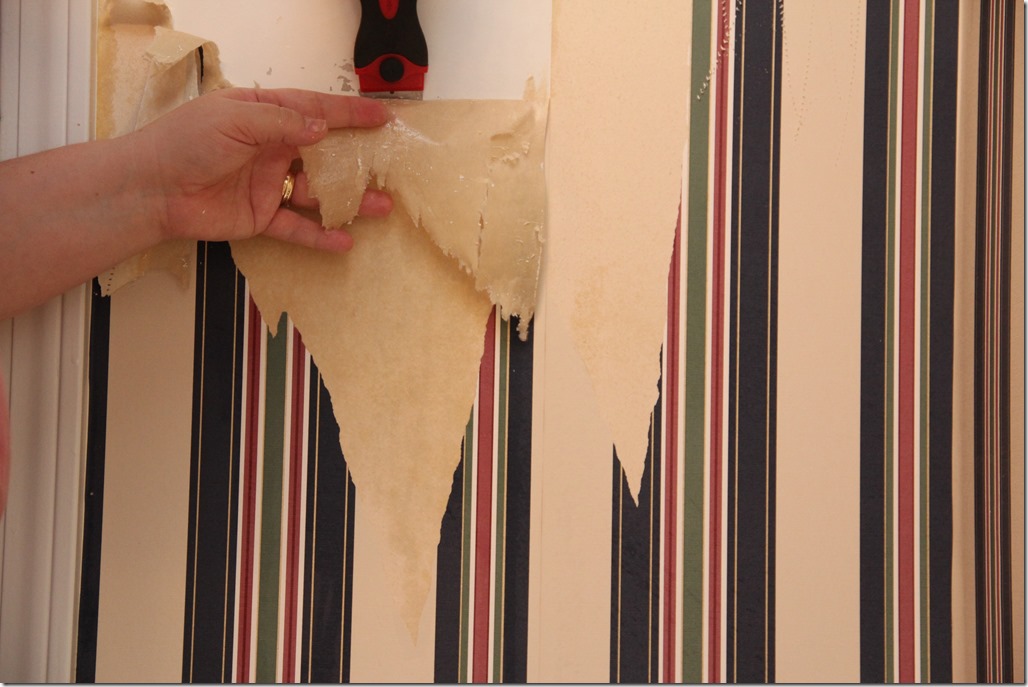 Here was some progress after a days work.  I'm not gonna lie… the bathroom sat there like this for a long time before any more work got done.  This is a great project to start when you are feeling introspective and have a whole lot of time on your hands to sit and think and strip tiny shreds of paper off the wall.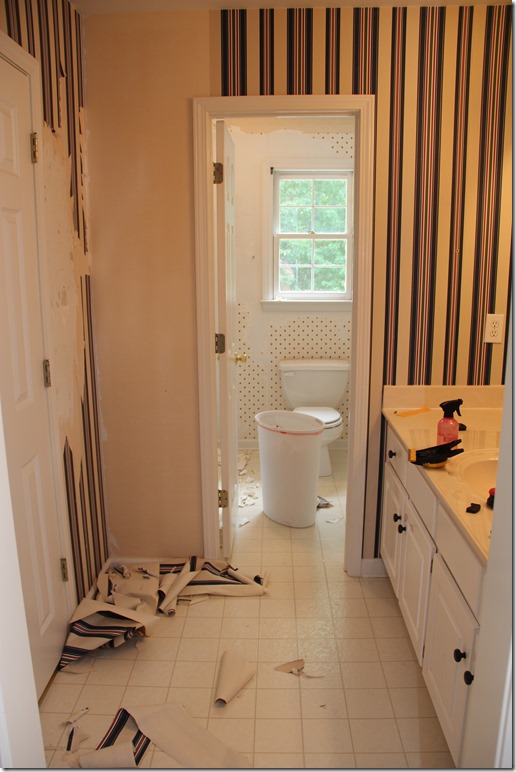 Finally we saw more progress!  Look, nearly a whole wall is bare!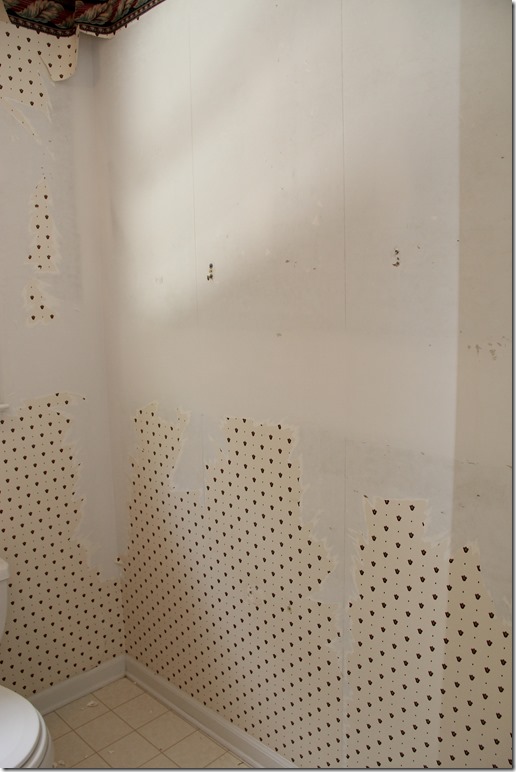 I won't bore you with the details of every square inch of removal, but eventually after a few weeks of repetitive soaking, scratching, scraping and stripping the bathrooms came to look like this:
Ahhhhh… it was looking nicer and cleaner already! Next step was to patch any holes with drywall repair material (aka sheetrock mud). The right tools to spread the patch are essential, and I like this one stop shop 7 piece drywall repair kit that True Value offers at a great price.
When you are mixing up your sheetrock mud, keep in mind that it needs to be the consistency of thick pancake batter.  Liquid and runny but just a bit stiff. Slather the mud on any deep holes and try to maintain a super smooth finish with the taping knife.  The more wrinkles and lumps you leave in it while it's wet, the more sanding you'll have to do later.  Let the drywall patch dry overnight, and longer if it's humid outside.   You will need to sand this down to a smooth finish before any painting begins. After the wall was sanded smooth 100%, next up came a basecoat primer.  We used this brown tinted primer because it is what we had on hand. It won't matter either way because it's going to be painted over anyway.  To create the ledge around the top of the room, we used 6″ speedbase turned upside down with a 1×2 on top and a piece of quarter round to trip out between the 1×2 and the speedbase.  Cue lots of hammering and calking as you go into this last leg of the project.  A nail gun or a brad nailer make this part go SO much faster.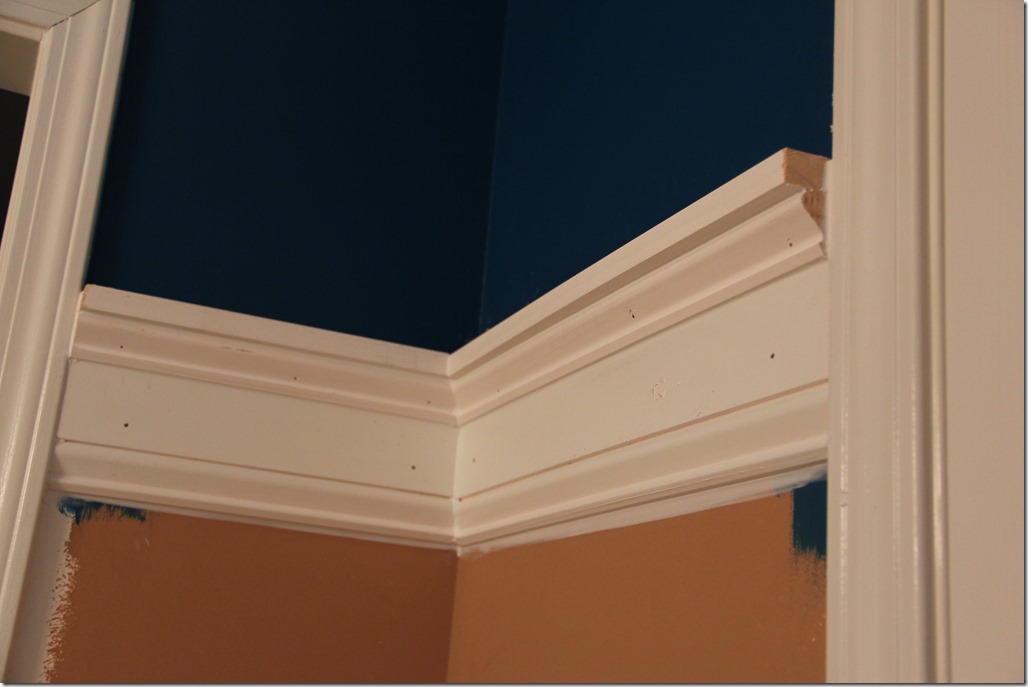 I didn't worry about rounding off the edges where they stuck out past the door frames.  I figured it wouldn't matter once it all got painted white.  And I was right! The paint we chose for the trim and walls below the trim was a high gloss latex enamel paint in bright white.  It holds up to water stains well, but it also shows every flaw in the wall, so be prepared for this paint to show a lot of imperfections if you didn't get your wall smooth enough during the sanding process! 
So, are you ready to see more before and after photos?  Here you go:
Here is the sink area before: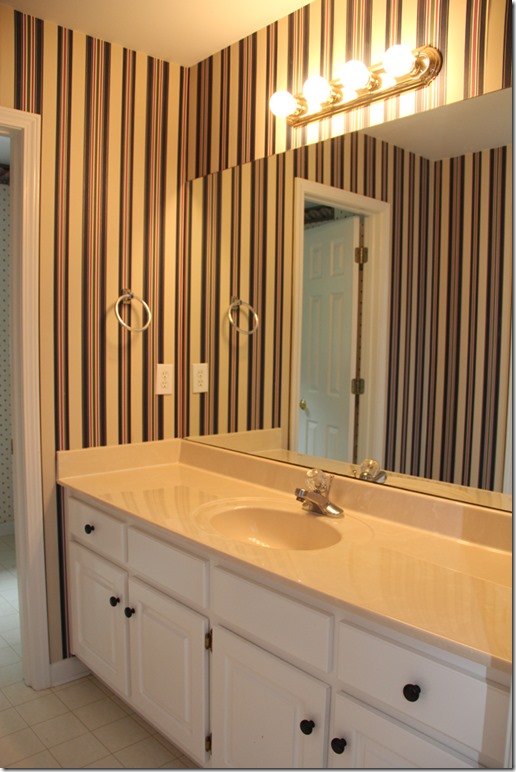 And here is the sink after!  I spray painted the brass light fixture a grass green color. Love the way it pops against the blue and white paint!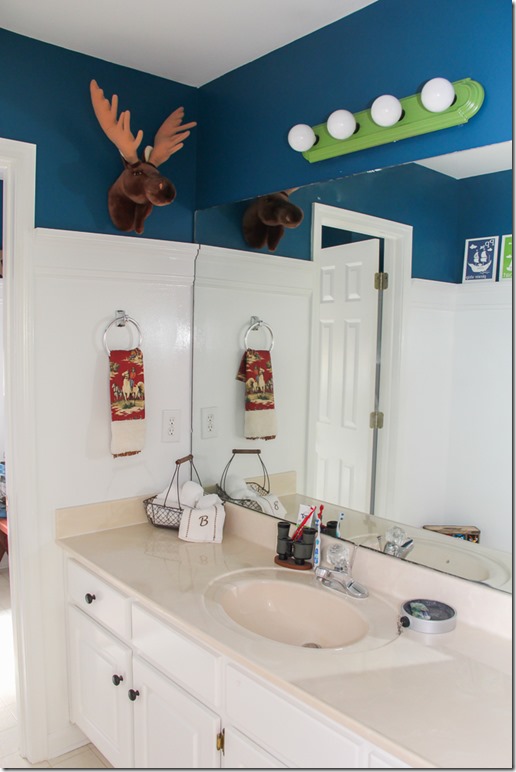 I've had the stuffed moose and bear heads since before Garrett was born, but they always scared him when they hung in his bedroom. I'm hoping he will do better with them in the bathroom. Out of sight, out of mind.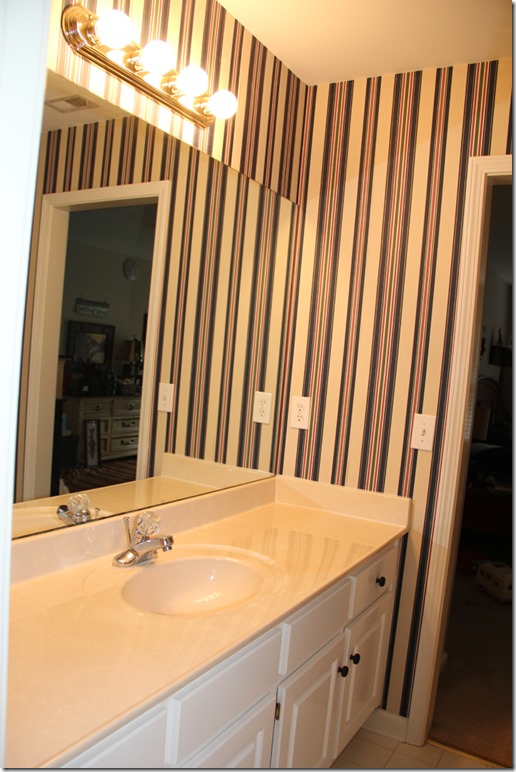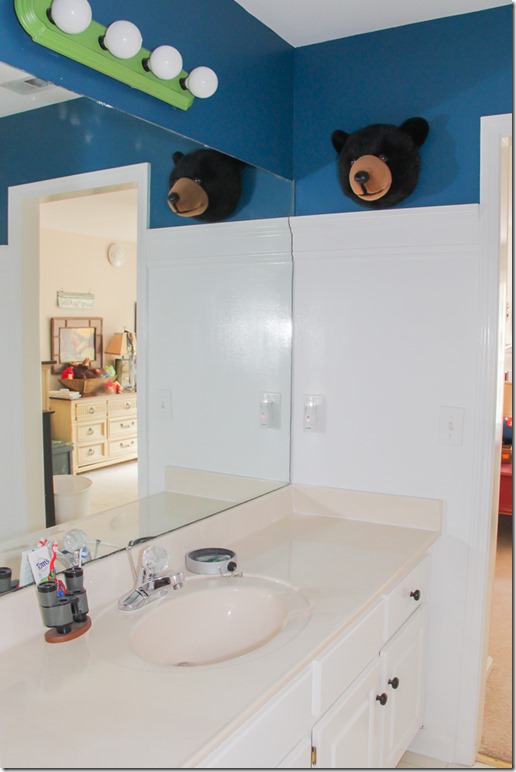 Here is the wall behind the sinks.  I absolutely LOVE that blue color!  I let Garrett pick it out himself from any of our paint fans, and he chose a great one!  The color is SW 6496 Oceanside. I think I'm going to let this kid choose all of my paint colors from here on out.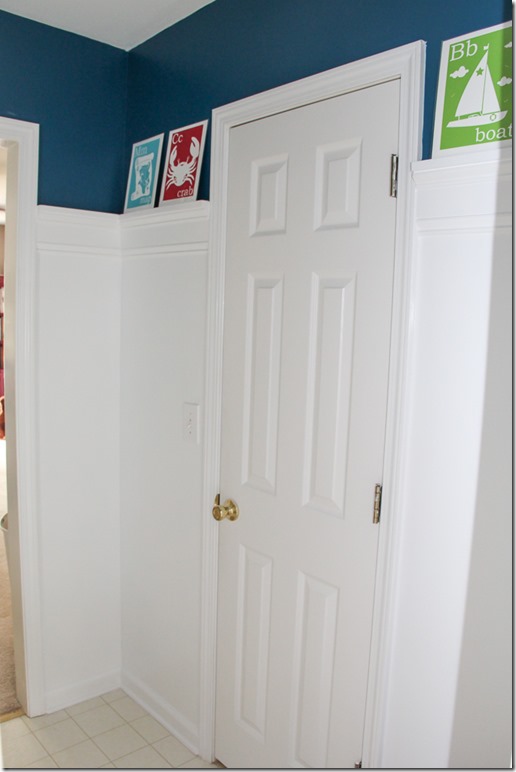 Be sure to check out my next post to find out all the details on where I purchased the decorative items for the bathroom, including this awesome vintage Ford truck tailgate and beautiful rustic towel rack! There is even a story behind the bench… stay tuned!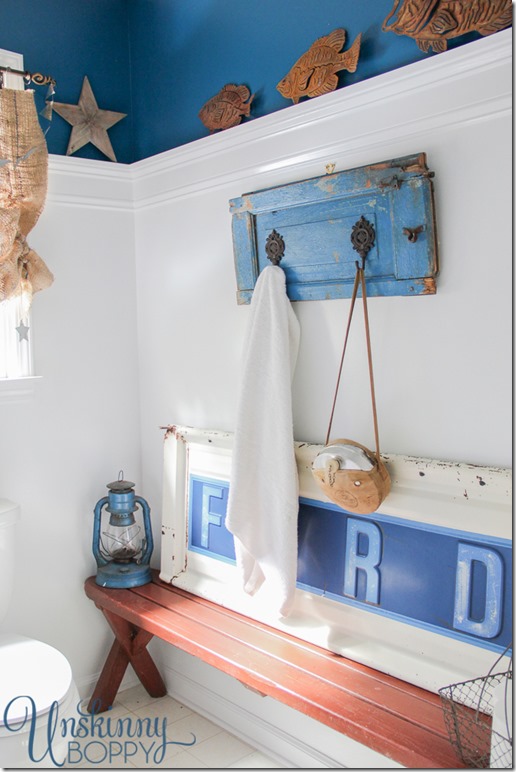 For more wallpaper removal and DIY tips, visit StartRightStartHere.com or follow True Value on Facebook and Pinterest.
---
I was one of the bloggers selected by True Value to work on the DIY Squad.  I have been compensated for my time commitment to the program as well as writing about my experience.  I have also been compensated for the materials needed for my DIY project. However, my opinions are entirely my own and I have not been paid to publish positive comments.