Today I have the honor of wrapping up the week of Thankful at Home blog tours that have been hosted by 25 amazing bloggers this past week.  It's been such a fun blog hop reading what everyone is thankful for this year.  I'm grateful to be a part of such a gracious blogging community where we can all lean in and hear stories of all of our rich Thanksgiving traditions.  I wrote about my childhood Thanksgiving memories last year when I hosted my first Thanksgiving.  
Since I've already shown you my Fall home tour this year, I thought I would take this opportunity to tell you about one of my most favorite traditions of Fall. I like to call it "Trespass Around the Neighborhood and Take Pictures Day"!  When the fall leaves are at their absolute peak color, Garrett and I go for a long walk around the neighborhood together.  With my camera in hand, I spend a lot of time trying to get him to pose in front of the prettiest trees, and he spends a lot of time ignoring me and rooting up acorns.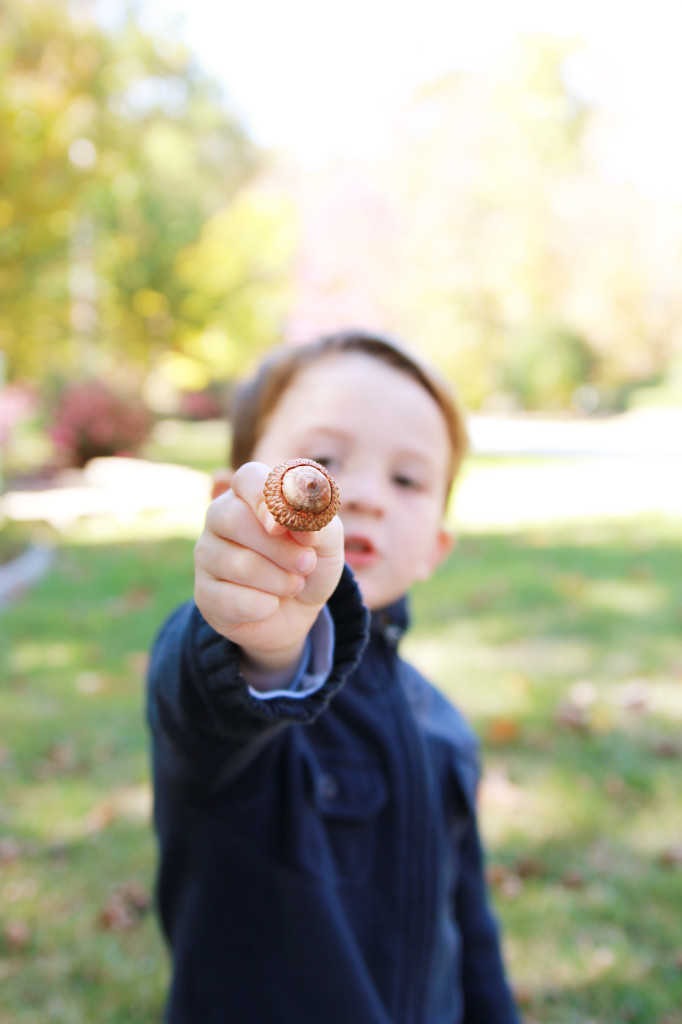 We started this tradition when we purchased our home back in 2010.  G was just two years old at the time, but he rode this little red radio flyer tricycle everywhere that year.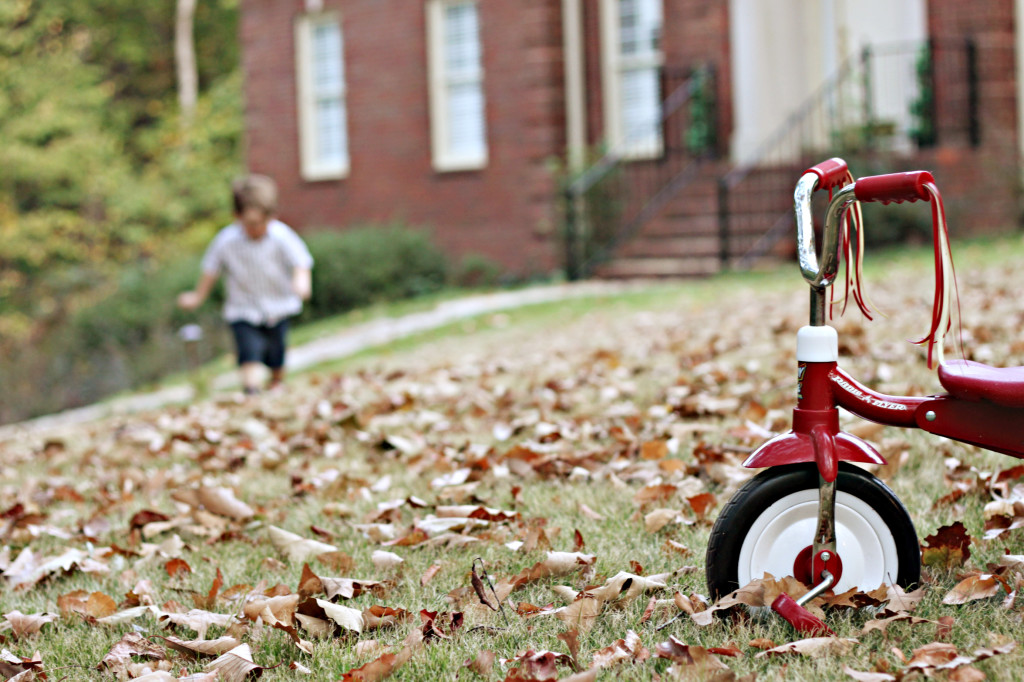 My dad gave him this trike as a birthday gift, and it was an instant hit.  He rode the rubber off the tires of this little red tricycle, scooting it with his feet until he learned how to pedal it.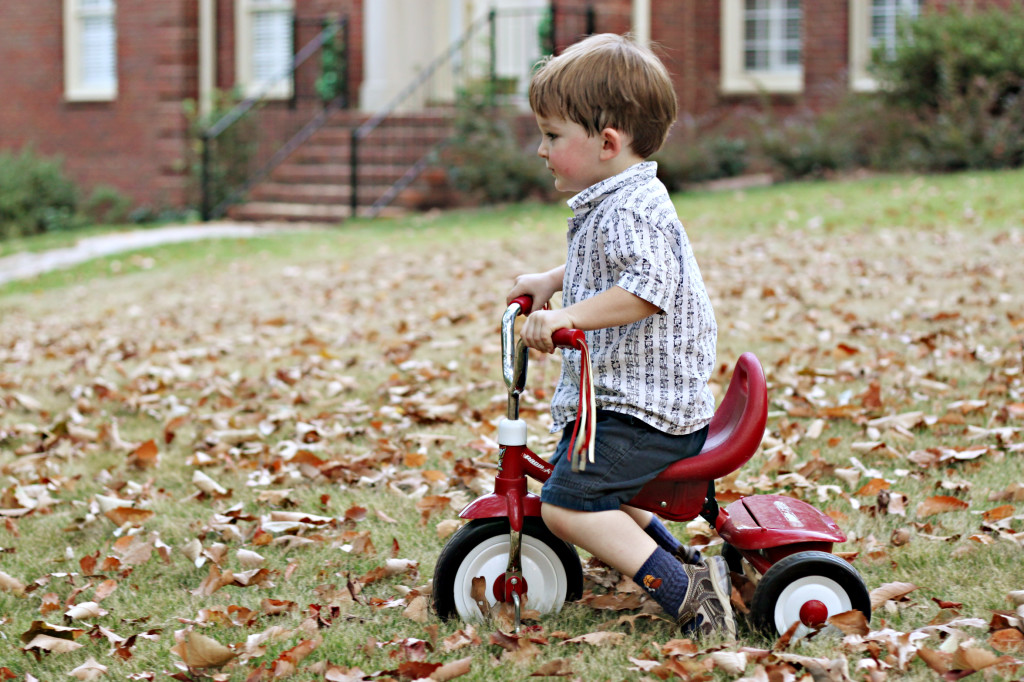 During our very first Fall photo shoot I snapped this picture of him riding his trike up the road, which turned into one of my most favorite photos of him of all time.  This photo shoot even inspired a blog cartoon titled "Adventures at the Mailbox".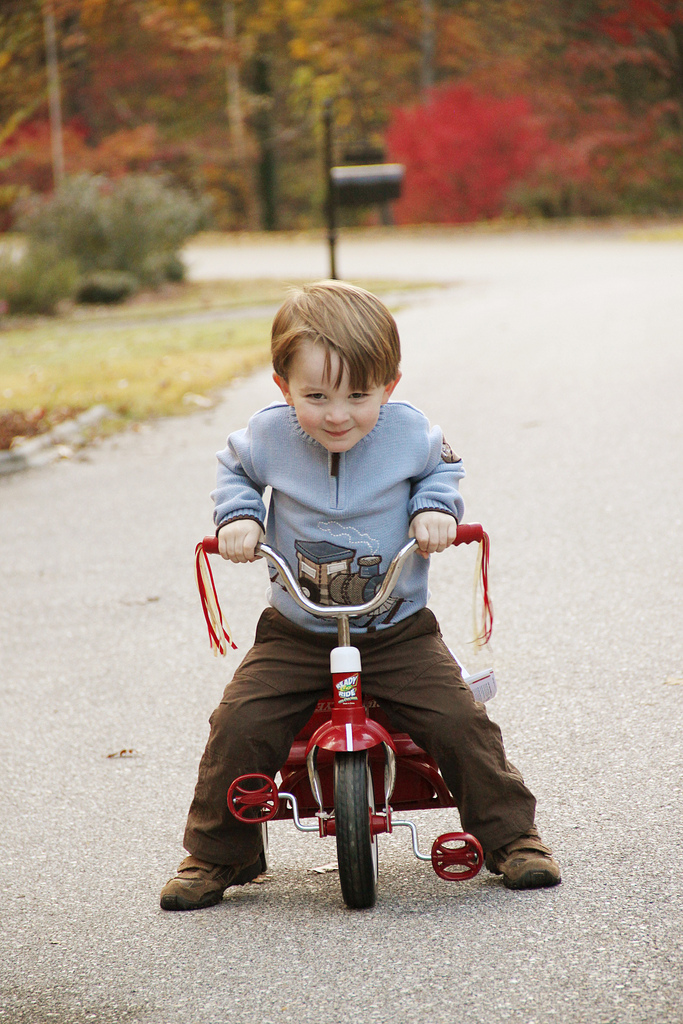 The fall leaves in the background and that mischievous twinkle in his eye makes my heart melt.  From that moment forward I knew that we had to make documenting the changing of the leaves an annual tradition.  He was such a sweet little fellow back then, and to watch him change with each passing year's photos is such a blessing.   It's also a great time for me to stop and reflect on just how fast my son  is growing from this sweet two year old baby boy in 2010….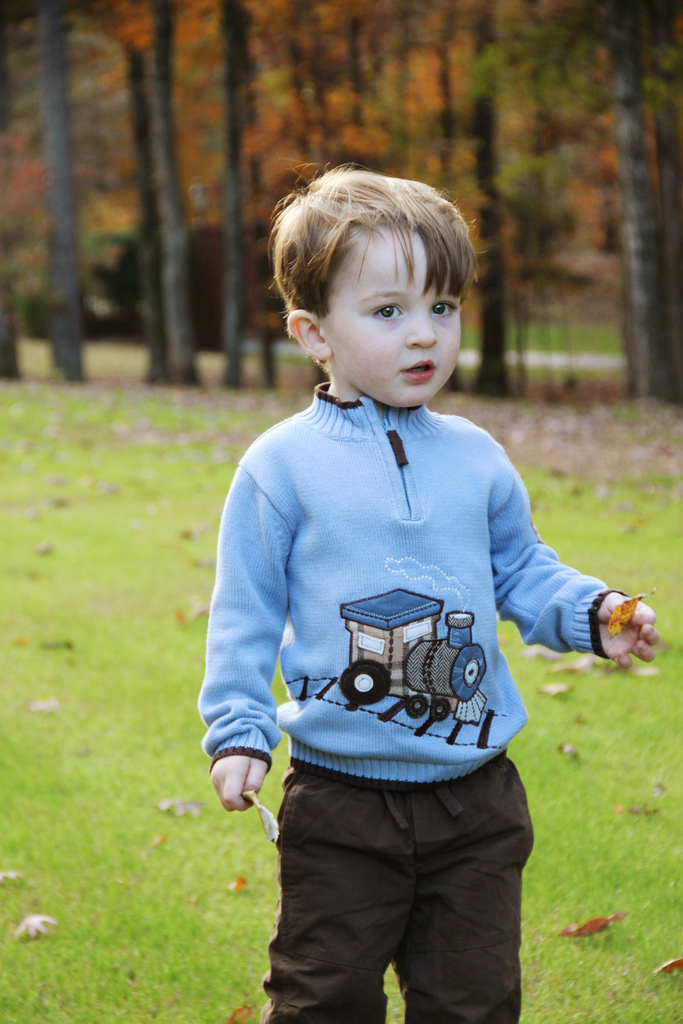 To this rambunctious three year old in 2011… (Getting a decent photo that year seemed impossible, but my patience was finally rewarded.  All you mothers of three year old kids feel my pain, I'm sure. )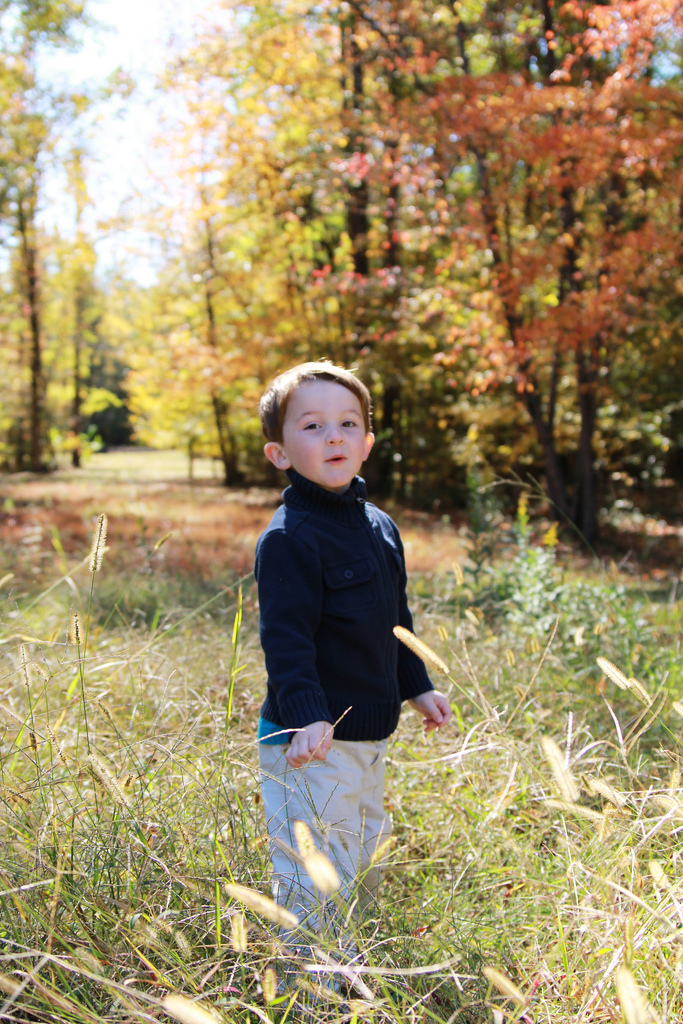 To this freckle faced leaf peeper in 2012….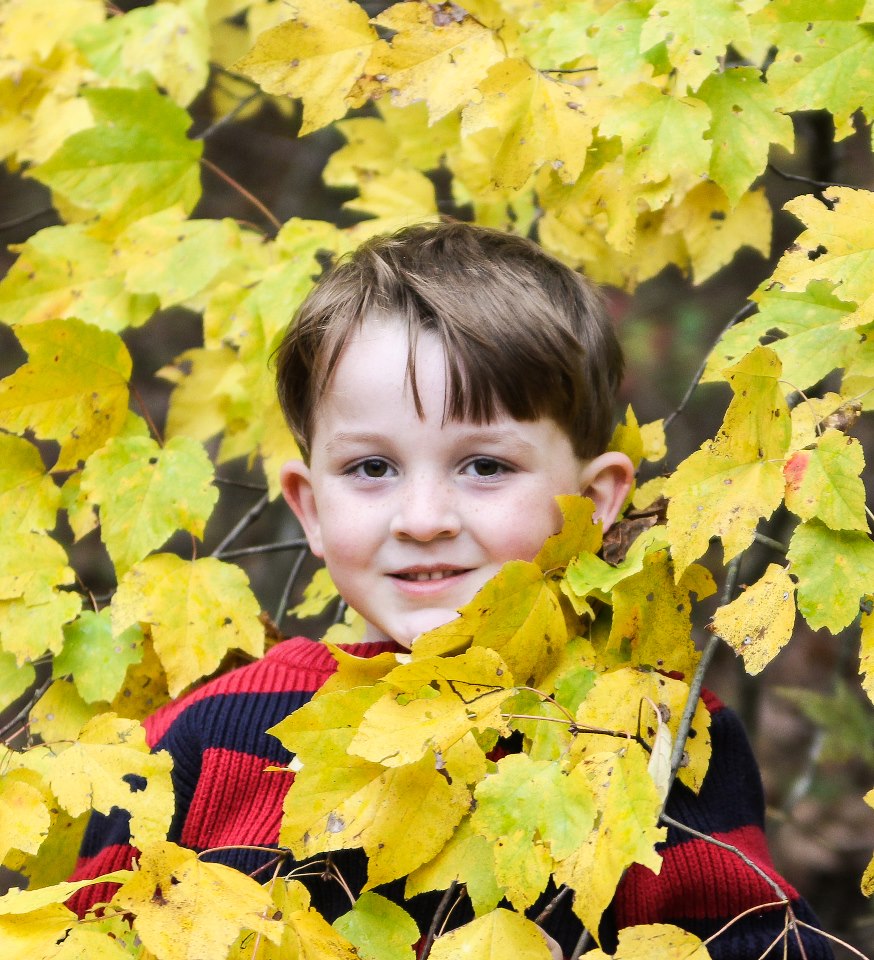 And now to this handsome charming five year old in 2013.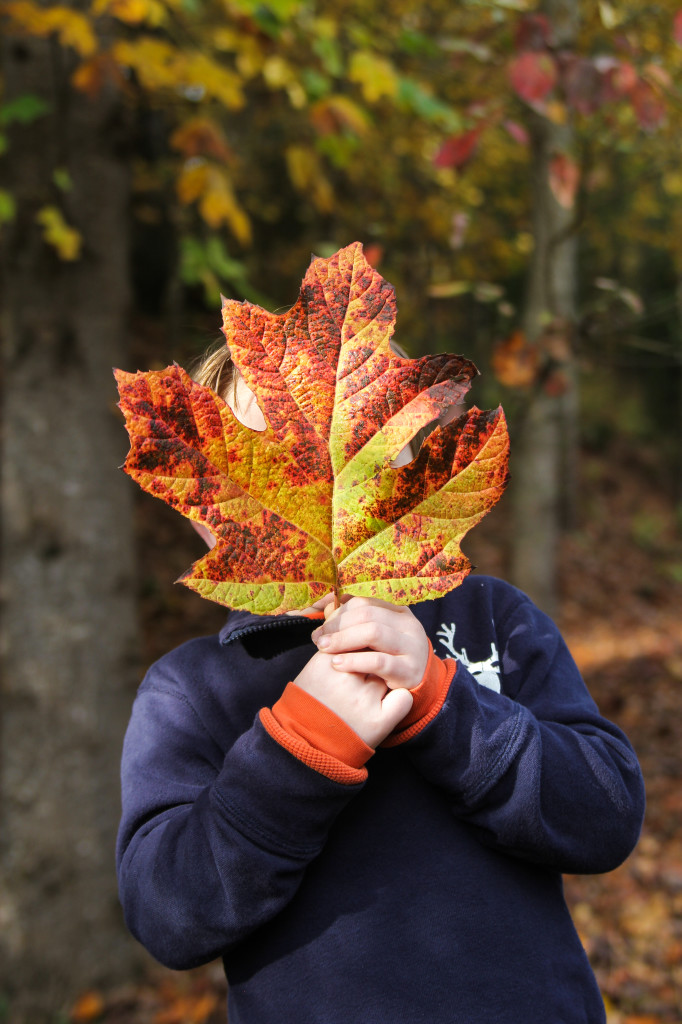 Oh wait, let's see the kid behind the leaf! There's my boy.  Growing like a weed and getting funnier by the minute.  He cracks me up on a regular basis.  I'm so, SO thankful to call him my son.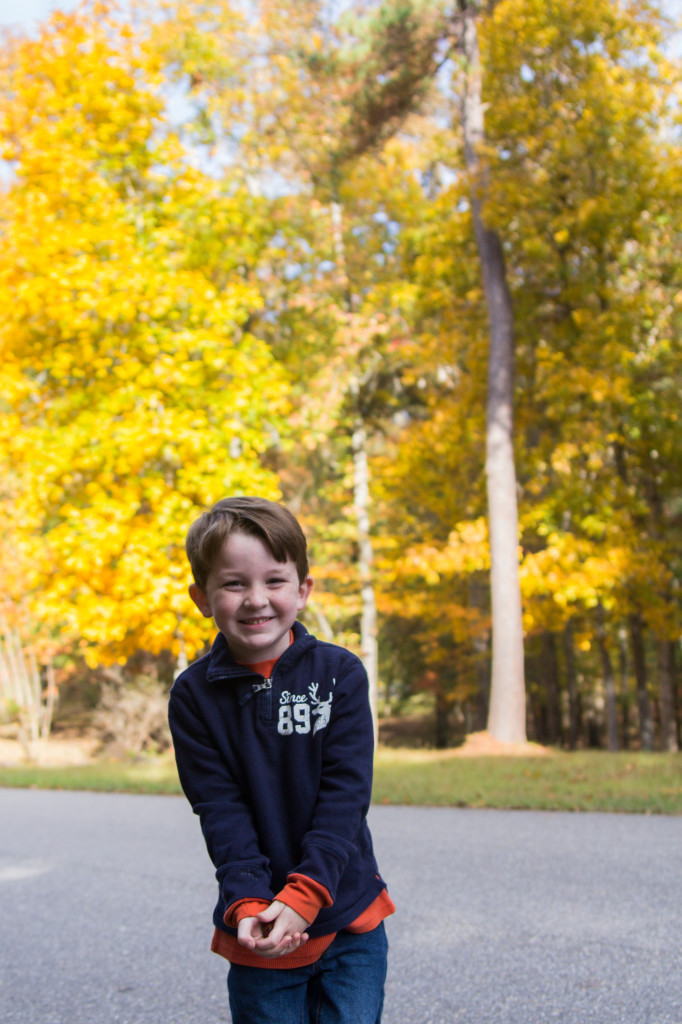 Not only am I thankful for this tradition of documenting the fall leaves changing in our neighborhood each year, I'm also thankful to have a neighborhood this spectacular to serve as the stunning backdrop to my photo sessions.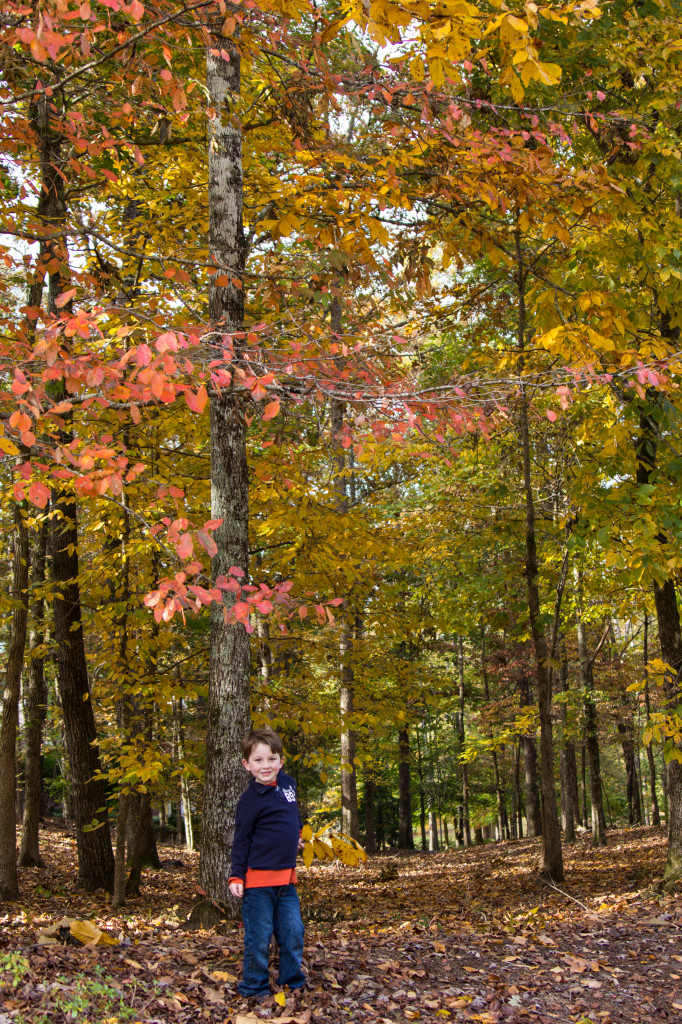 Even though we've been here four Falls already, there are still days when I drive up to my house and cannot believe that it's really mine.   I look around at the beautiful piece of Earth that God has granted us to reside in for a while, and I whisper prayers of thankfulness.  I am beyond blessed to be able to call it my home.  I treasure these early years of Garrett's life in this house, and I hope one day he looks back on these blog entries with fond childhood memories.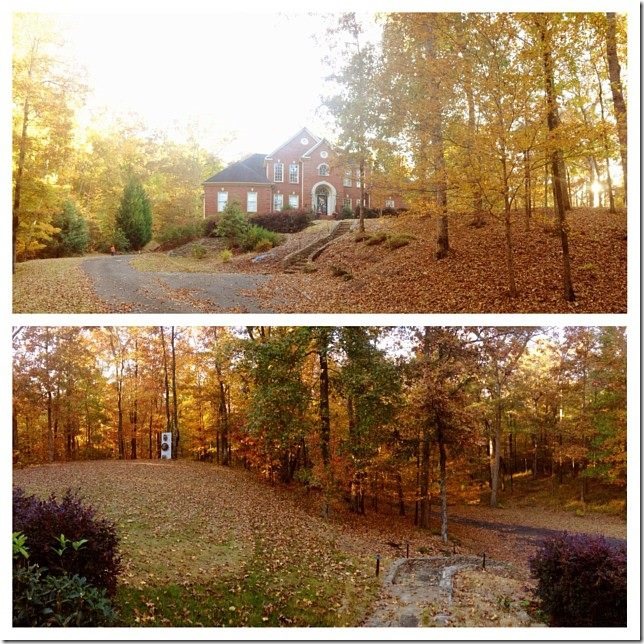 I'm thankful for my home, and I'm thankful for all of you awesome readers who come to my blog to read about it.  I hope it continues to be a place for us to gather and inspire one another. Get out there with your cameras and start shooting those fall leaves each year.  It's so fun to go back year after year and see which trees are what color.   I like to keep a little journal with the date that the leaves are at peek to see if I can find any rhyme or reason to their timing.  So far, it's anytime between late October to Thanksgiving for peak leaf season here in central Alabama. 
Please be sure to visit all of the wonderful blogs on the Thankful at Home tour this week to see their gorgeous Thanksgiving and Holiday projects.
Be super blessed, friends!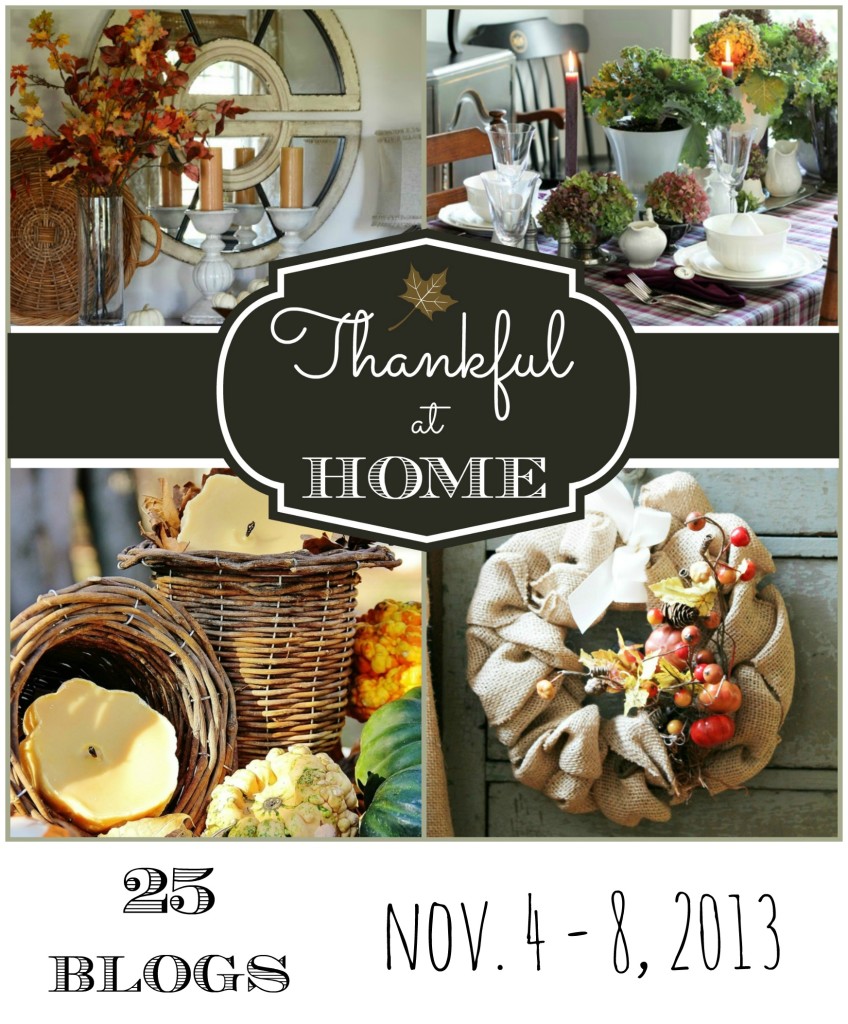 Monday:
Savvy Southern Style
Finding Home
Lilacs & Longhorns
The Inspired Room
The Crafty Woman
Tuesday:
Stone Gable
Debbiedoos
What Meegan Makes
Maison de Pax
Confessions of a Plate Addict
Wednesday:
Thistlewood Farm
Eclectically Vintage
My Soulful Home
Cedar Hill Farmhouse
Southern Hospitality
Thursday:
The Lilypad Cottage
A Little Claireification
Fresh Idea Studio
Pennywise
The Rustic Pig
Friday:
Housepitality Designs
Mom4Real
Country Design Style
The Everyday Home
Unskinny Boppy