Looking for the perfect gift to give a new mom? Assemble a Breastfeeding Survival Kit that she can keep next to her rocking chair.  This is a lifesaving gift for anyone with a newborn baby at home!
My cousin Jackie gave birth to a gorgeous little girl last Thursday named Harper Grace.  She came into the world at 9:19 pm on Thursday while I happened to be out running errands, so I immediately texted her dad and asked him what Jackie wanted to eat since she'd been laboring all day without any food.  I got to the hospital at 10 pm with some fourth meal and was able to spend some time snuggling with this new sweetie pie until around midnight.
She is SUCH a beauty!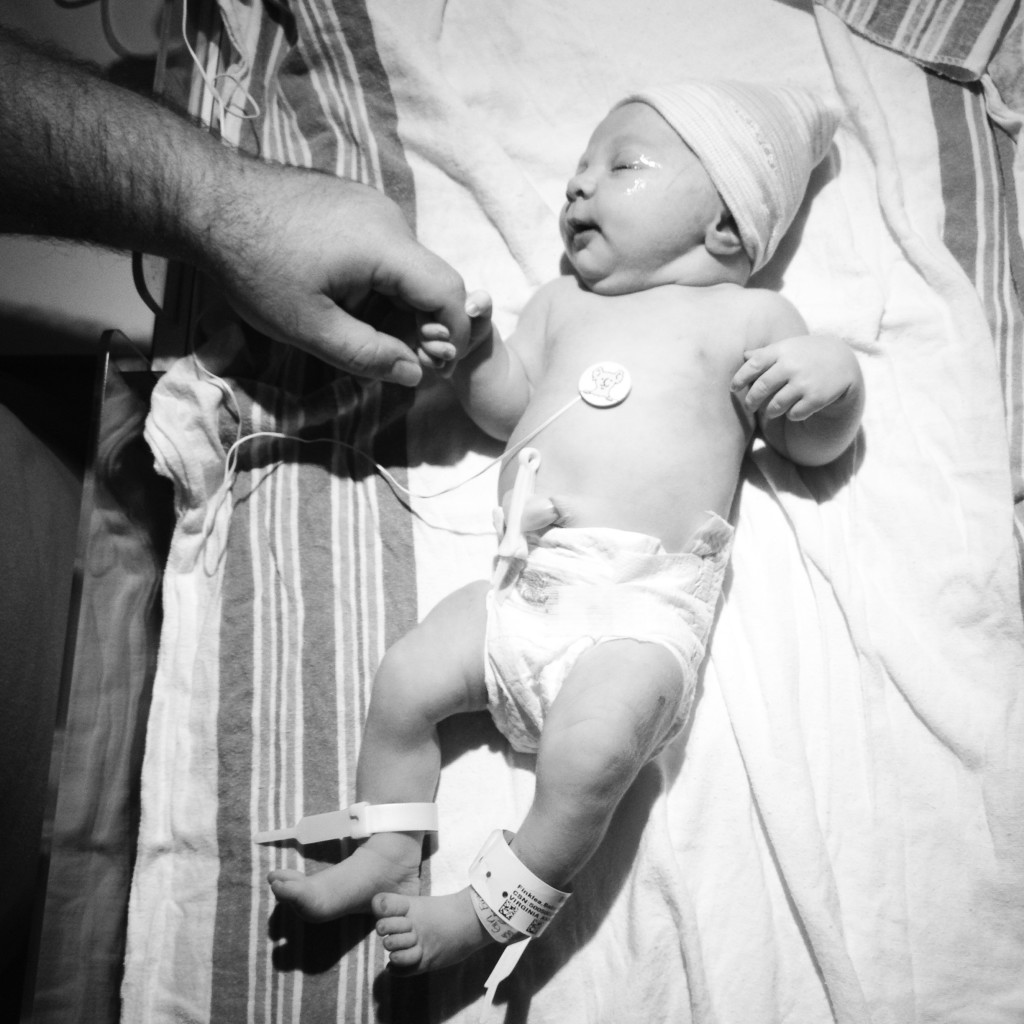 Since Jackie is a very low-maintenance kind of girl (she reminds me a lot of myself, actually) I knew that she would not be one to want to be waited on hand and foot when she got home from the hospital.  I decided to make her a breastfeeding snack station basket to help her survive those first few weeks that she will be camped out on the couch holding her new little bundle of joy.  There is not much too this gift, just head to Target and fill up a basket with snacks for a new nursing mom to keep by her rocking chair.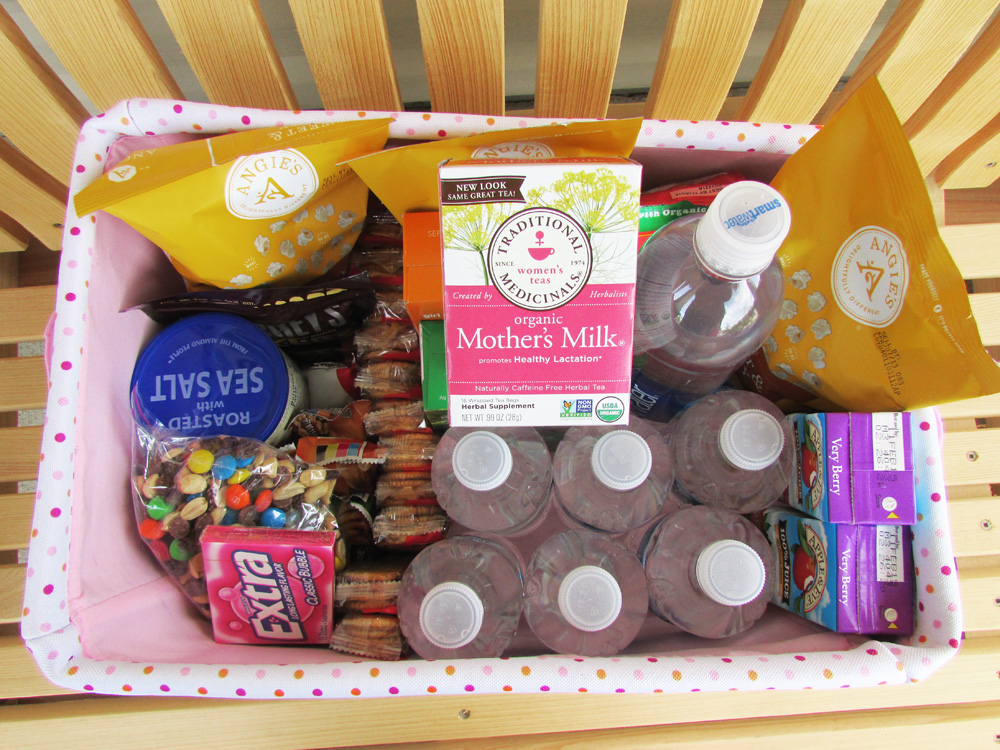 I made a basket similar to this for my sister when she gave birth to my niece eleven years ago, and she gave me one when I gave birth to Garrett six years ago.  I wouldn't call this a breastfeeding survival kit, per se, because there are a whole lot more items that breastfeeding moms need to keep on hand.  This is more of a breastfeeding mini-bar minus the tiny bottles of alcohol…
Although that is a thought….
I kid!
Here are the items I put in Jackie's kit.
Bottled water
Angie's Kettle Corn
Packs of peanut butter crackers
Trail Mix
Girl Scout cookies (thin mints and do-si-dos, to be exact)
Chocolate covered almonds
Roasted salted almonds
Assorted Nature Valley Granola Bars
KIND bars
Annie's Cheddar Bunnies
Chewing gum or hard candies
Apple and Eve Juice boxes
Traditional Medicinal's Mother's Milk  Tea
I found the pink polka dot soft sided basket at Target. She can use it later for Harper's room. Your gift basket might look different, depending on the tastebuds of the recipient.  Maybe you could include some non-food items like a bunch of books or a stack of  gossip magazines.  Basically think of all the things you'd want on a long road trip and fill-er-up.  Since breastfeeding made me thirstier than a camel with a deflated hump, water is a must-have to keep at hand.  If you're worried about chemicals and junk you might want to do a glass jar instead of plastic.  It's up to you!  Fill it up with whatever you think is appropriate.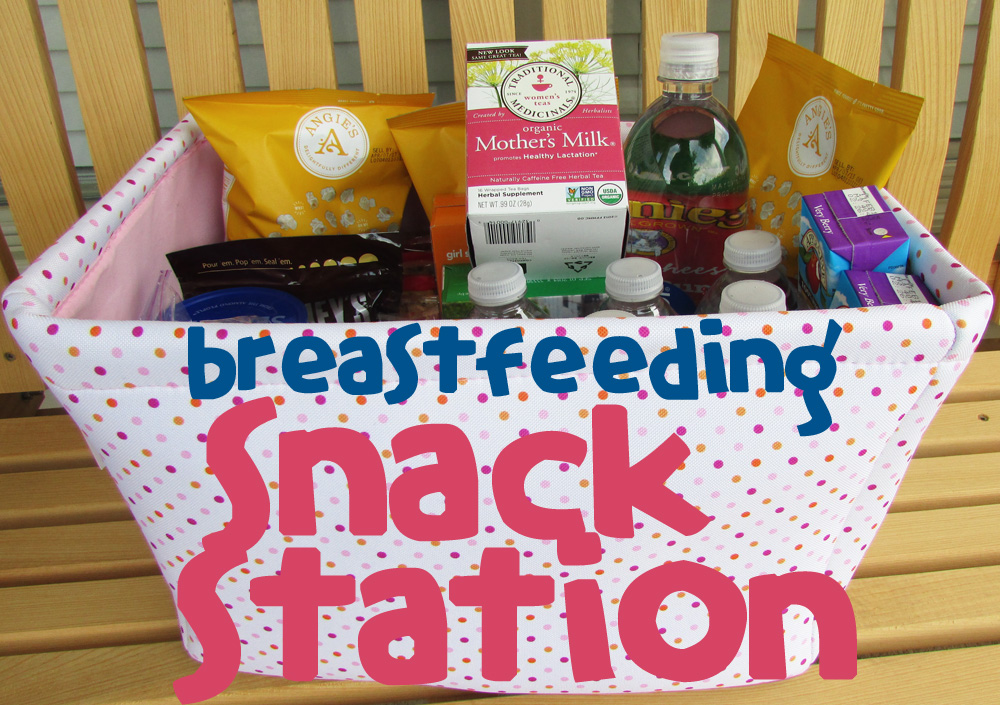 In fact, you tell me– what would you want inside your breastfeeding mini-bar?
When I was feeding Garrett all I wanted to eat were bran muffins and breakfast foods.
Although the tiny bottles of alcohol would have really helped me get through those 3:00 am feedings.
I kid! I'm a kidder!