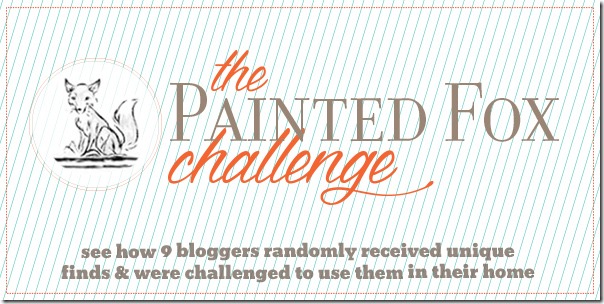 Today we're going to do something FUN.  I was challenged to receive a mysterious item from the Painted Fox, an online store specializing in fabulous farmhouse décor and vintage treasures.  The challenge is to go head-to-head with 8 other bloggers to see who can use their mystery items the best way in their home.   The previous stop on this blog challenge tour was over at Live.Laugh.Rowe, so let me first say "Hey!" to everyone visiting from Kelly's blog!  I just love that girl. I've been an admirer of her blog for many years.
So, here is the mystery item I received from Painted Fox —a gorgeous wood and tin three tiered stand that delivered to my house in a giant box that I ripped into like a kid at Christmas time.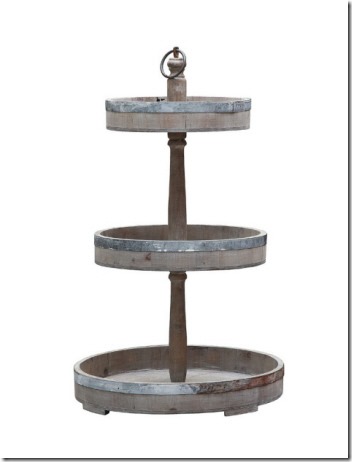 The metal ring band around each tier reminds me of my whisky barrel flower pots outside, so you know I instantly fell in love, right?  It is really tall– 26 3/4″ high to be exact– which felt too tall to sit on my kitchen countertops comfortably.  Bummer, because that was my first thought.  I will admit that I was kind of stumped by this item for a few weeks until one day the idea appeared in my head like a vision…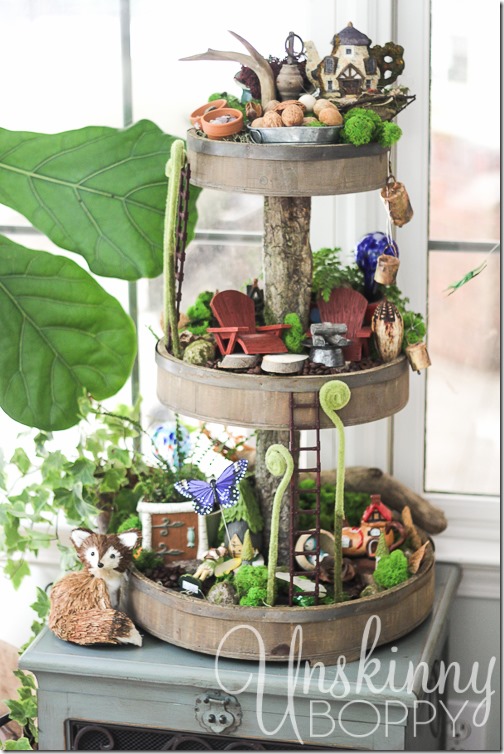 And just like that, the Fairy Garden High-Rise Apartments and Condominiums was under construction.  I enlisted the help of my six year old son to help me gather supplies to transform it from a stack of empty wooden circles into a woodland wonderland with live plants trailing down the sides.  We started our search at a local garden center, which has the biggest collection of fairy garden ideas I've ever seen.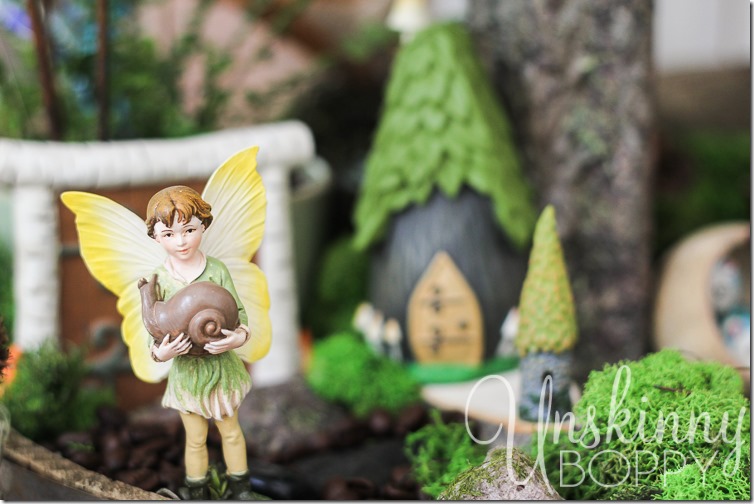 We picked out this little boy fairy who happens to reminds me a whole lot of my Garrett when he's in need of a haircut.  Plus he would totally cradle a snail like that even if he were just a few inches high.  The boy has no fear of creepy-crawlies at all.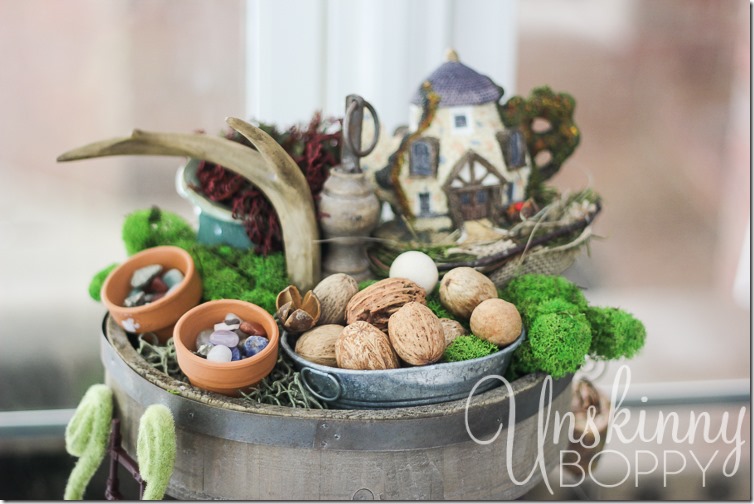 I wanted it to be more of a boyish fairy garden, so we tried to stick with greens and browns and overall woodsy-type things. (No pink or purple allowed!)  But fake deer antlers and tons of reindeer moss?  Definitely allowed.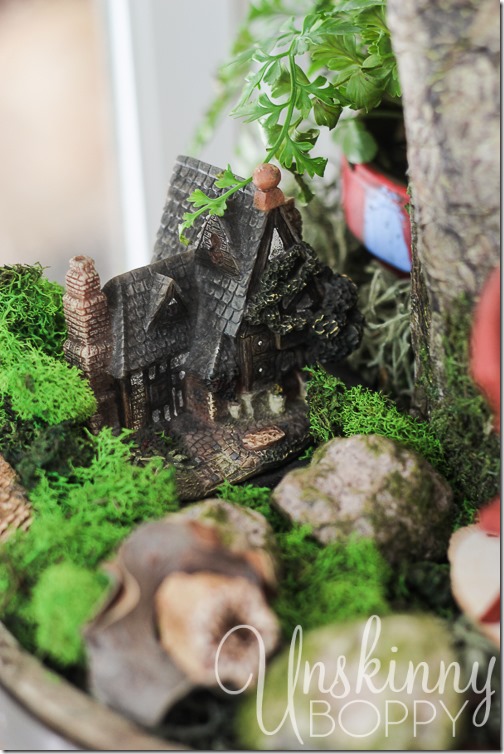 We lucked up and found a few little ceramic houses (even one in the shape of a teapot!) at a yard sale for less than a dollar a piece.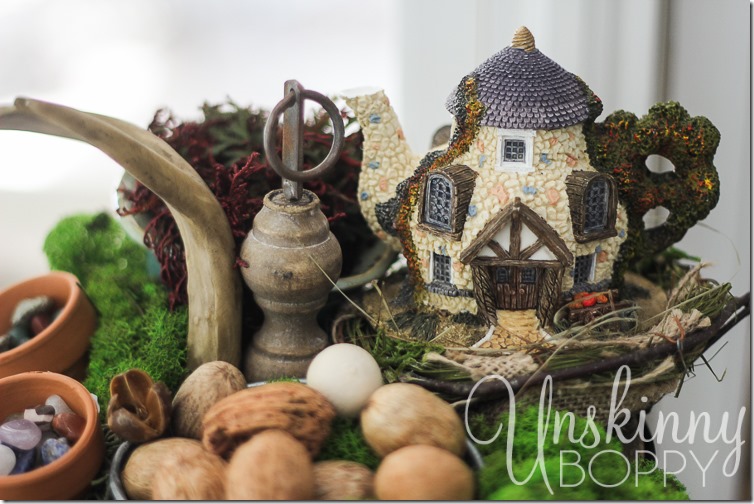 At that same yard sale I also found a tiny house for the old fairy woman who lives in a shoe and has so many fairy children she doesn't know what to do….so she got them some pet hedgehogs to guard them in a gourd out front… Ferocious hedgehogs, they are.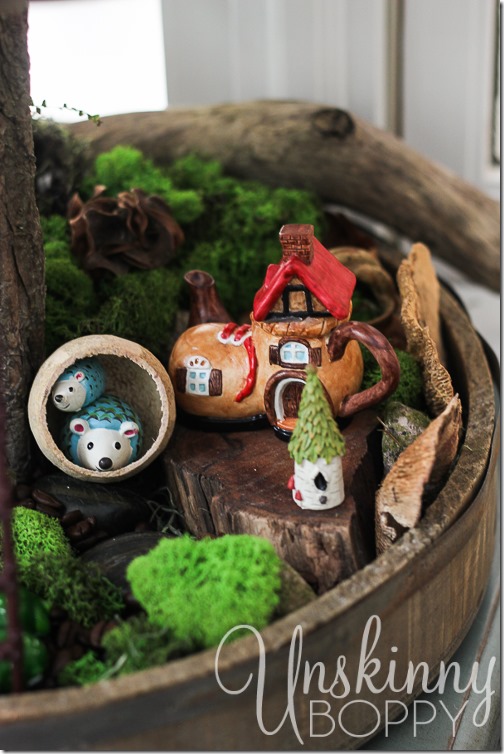 If you're planning to construct your own fairy garden, remember that yard sales, estate sales and thrift stores are treasure troves of tiny trinkety things that you can score for really cheap.  I'm talking like .25 cents each kind of cheap!
Since the good folks at Painted Fox  gave me this tiered stand, I couldn't resist buying this little brown painted fox cub in their honor…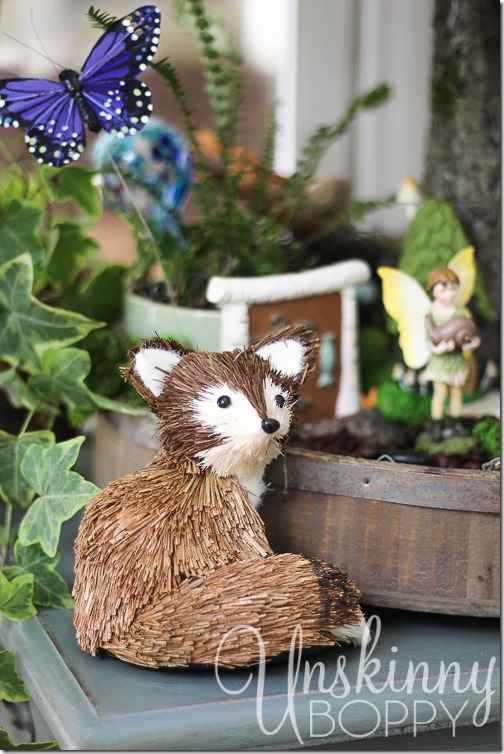 He's pretty cute, eh?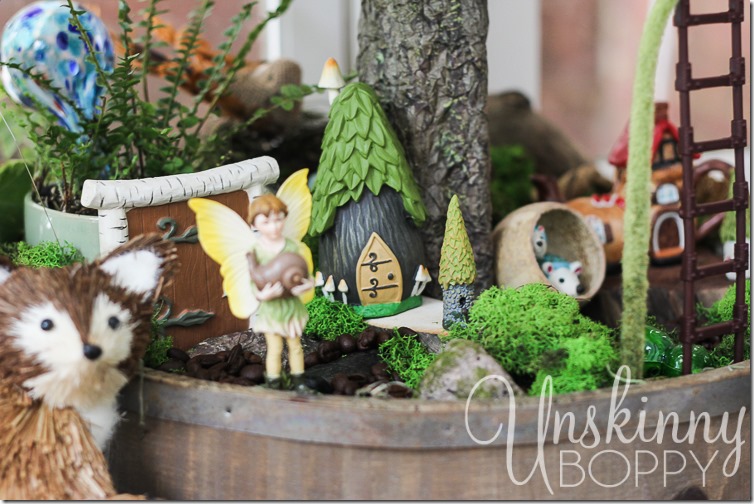 My son donated the ladders from one of his ninja castles so that all the convalescent fairies could have a way to climb up to each levels if they were suffering any wing damage.  Very thoughtful but not very ADA compliant.  I'm hoping there won't be any trollish building inspectors on this condo jobsite.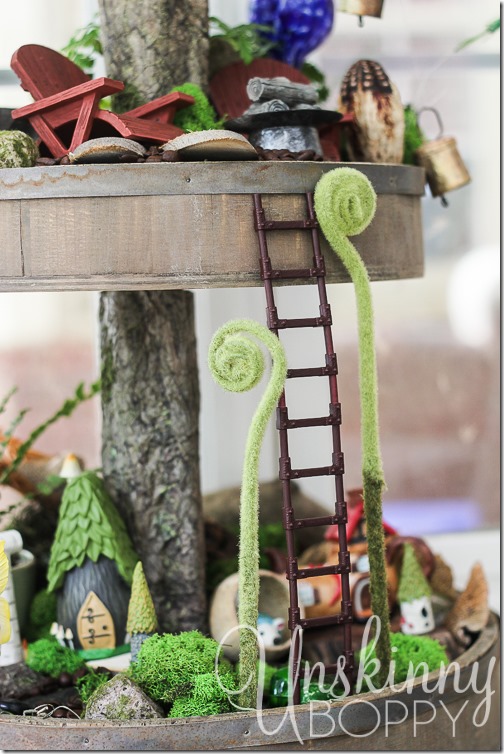 Seriously, though, my son and I had THE BEST time assembling this fairy garden together.  There are so many little hidden details scattered throughout, which is of course is what makes a fairy garden so much fun.  We found this little burlap bird sitting in a nest with tiny robin blue eggs in the Christmas ornament section of the store.  Perfect.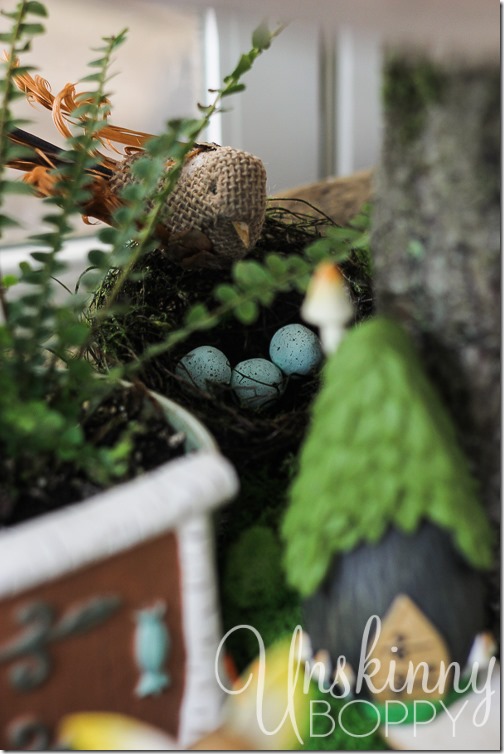 Garrett loved this firepit and adirondack chairs because they reminded him of the firepit at his grandma's house, so we had to get those, of course.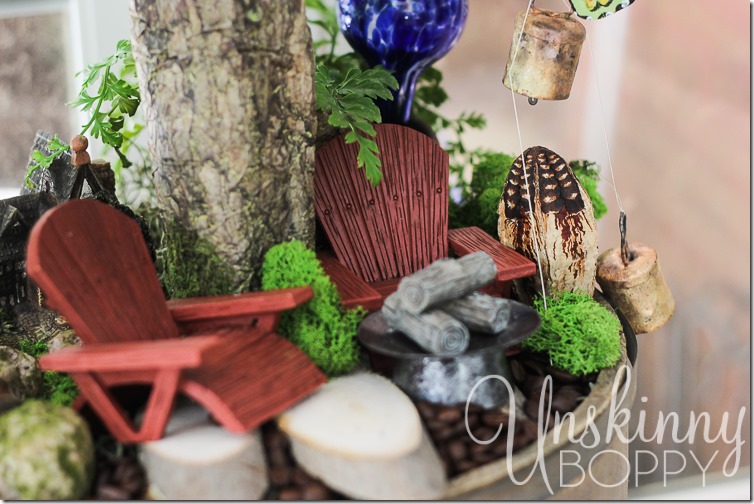 He had a bag of stones leftover from a gold panning session at a local cave tour, so we filled those fairy coffers to the brim with gold and jewels.  And the happy rock found a new home, as well.  I bought a bag of potpourri to scatter around and fill in the rest of the gaps with nuts, morel mushrooms and bits of bark.  As an added bonus, they smell like vanilla!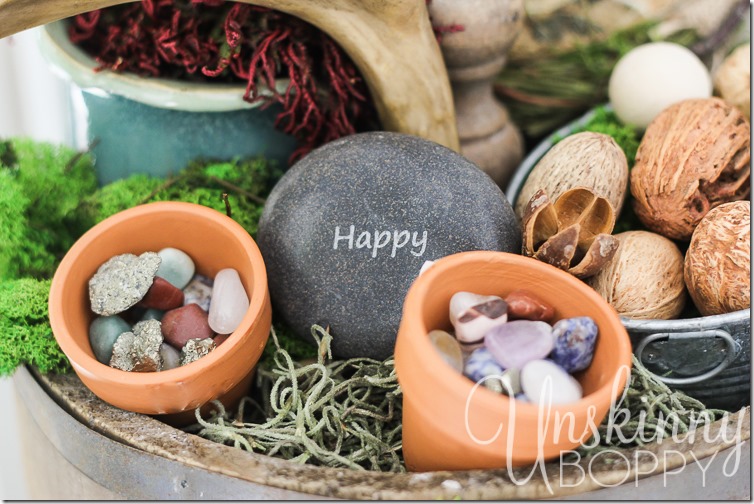 I am so excited with the way this turned out, and I hope it's given you some fun ideas for your own project with your kids or grandkids, as well.  I'm a big believer in fostering imagination through playtime, and fairy garden construction always fits that bill perfectly. 
Just never forget these three important things when it comes to creating your own magical world with your little ones: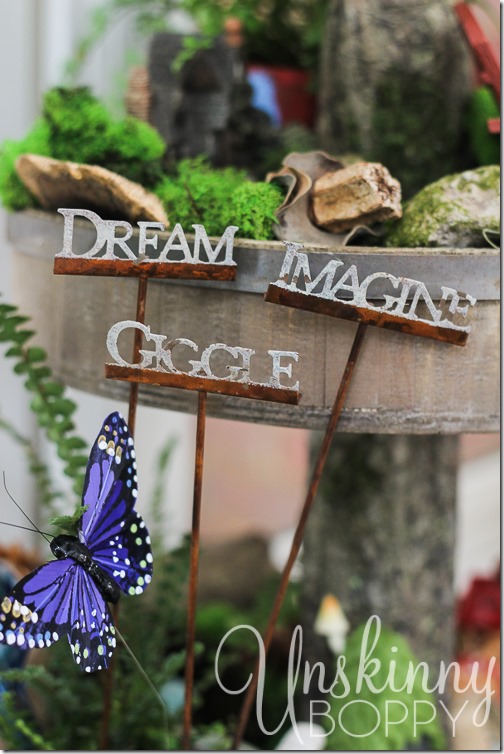 Dream. Giggle. Imagine.  Then giggle some more.
Always!!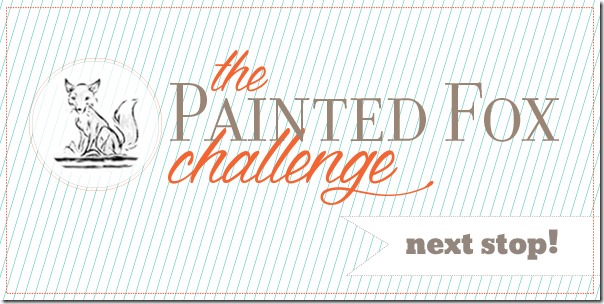 Hope you have lots of fun visiting the rest of blogs on the Painted Fox Challenge Tour today!  Next up on the tour is Jessica over at Four Generations Under One Roof!  I cannot wait to see what Jess did with her treasures.  Head on over there to her blog and take a look!
And be sure to stop by the Painted Fox to see all of their vintage wares.  I could literally buy every single thing they have for sale.  I love it ALL!
If you want to see all eight blogs participating in the challenge today, go visit them here and tell them I said hello!
Funky Junk Interiors  
The Handmade Home 
Finding Home
My Sweet Savannah
Live.Laugh.Rowe
Unskinny Boppy 
Four Generations Under One Roof
Refresh Restyle
In My Own Style
If you need more ideas for fairy gardens, be sure to check out all my other fairy garden posts right here!
Disclaimer: I was given a free three tiered stand from Painted Fox for this post.  All opinions about ferocious hedgehogs and trollish building inspectors are my very own.