Who else has developed an obsession with all these super cute fairy garden ideas you see pinned all over Pinterest?  I cannot get enough of them! When I recently stepped inside Myers Plants and Pottery and saw all their amazing fairy garden ideas, I was literally blown away.  I asked the owner if I could take photos, and he kindly said yes, so here you go!  Take a tour of some of the cutest little fairy gardens you ever did see!
I love the little white house center of this fairy garden.  Reminds me of the saltboxes that are scattered across the New England countryside. The Mondo grass tucked in the side looks great, too.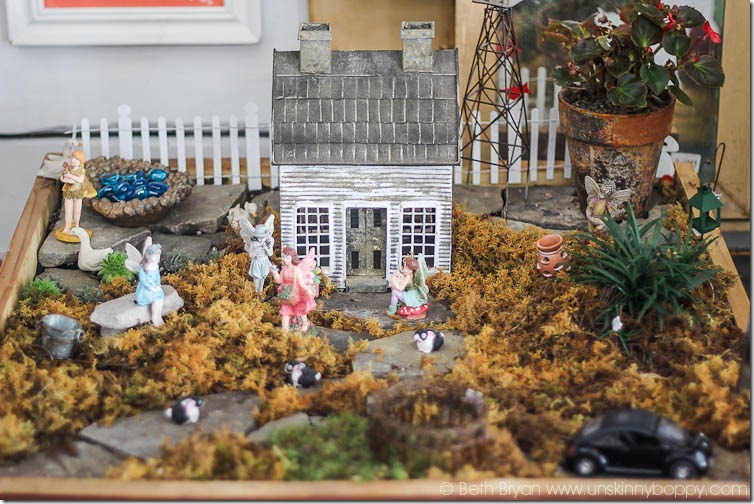 Who else is read for Halloween?  Here is a simple but cute ghostly graveyard of a fairy garden with candy corn lamp posts and witches legs sticking out of the ground.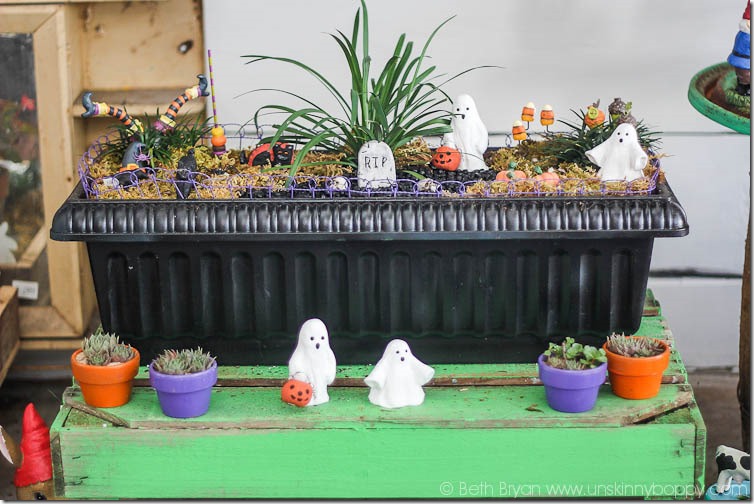 I'm pretty sure I could make those cute pumpkins and ghosts out of some polymer clay.  What do you think?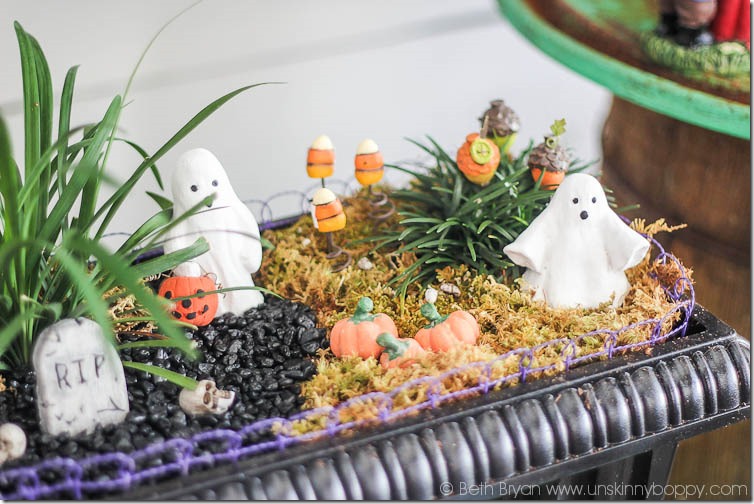 I'm really not sure what this orange container used to be, but it sure is cute holding this tiny fairy girl under an arbor.  I am smitten with the way the tiny plants are climbing up and around the white picket fence.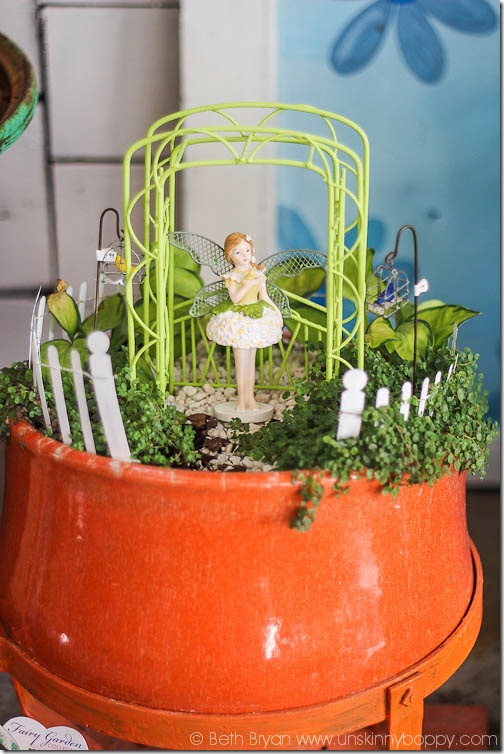 This seaside themed fairy garden is absolutely a hit in my book.  Tiny seashells make up the sand, and blue glass rocks make the water.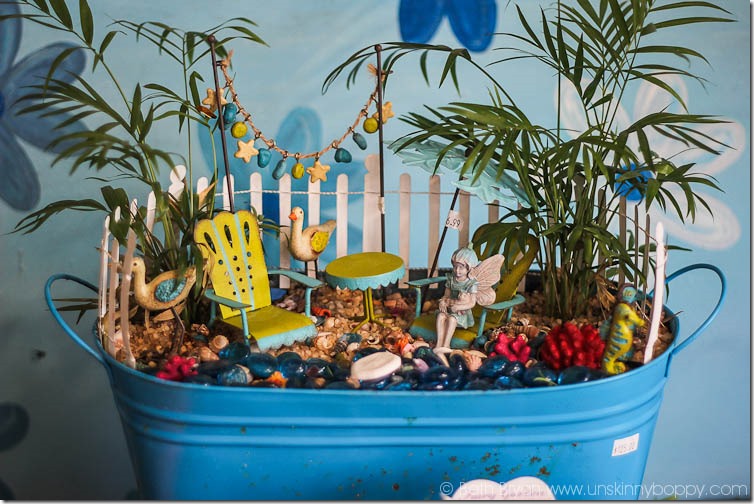 That bunting made of seashells is wayyyyy too cute, and I am dying over those metal lawn chairs and the blue umbrella!  Look at the pink coral! So cute!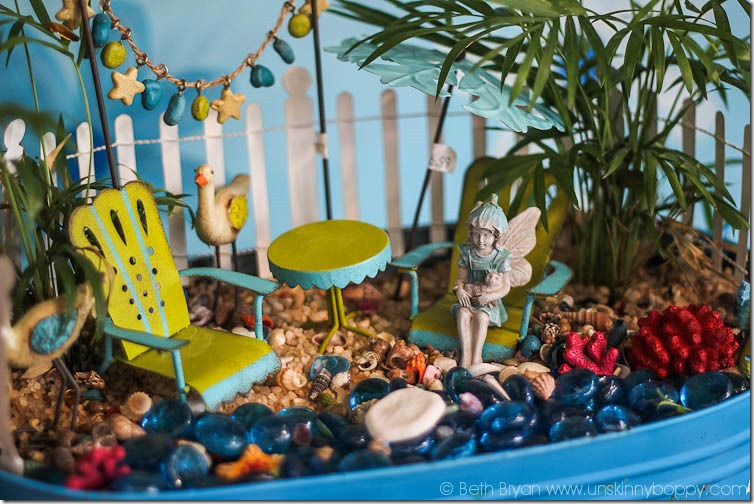 Here is a serene little white windmill with pigs and sheep and even a donkey out front.  Love the tiny fairy bicycle tucked away in the back, too.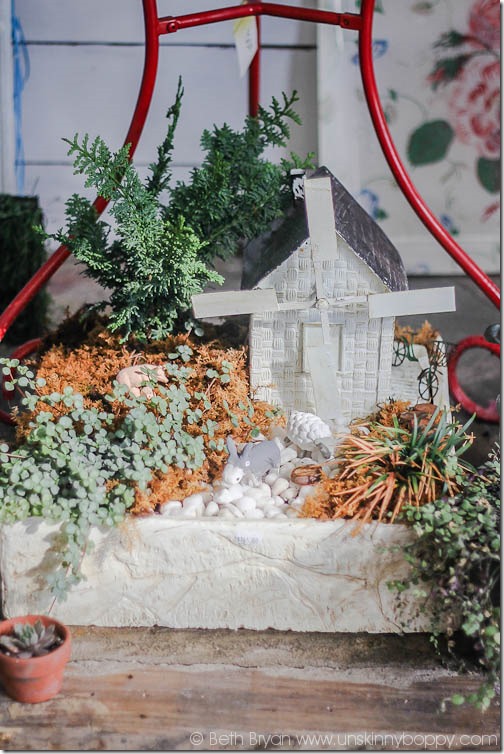 This bucket is just big enough for some tiny evergreen plants and a beehive with little bees headed out in search of fairy flowers, no doubt.  What I love the most is the oval tin fairy garden sign on the front.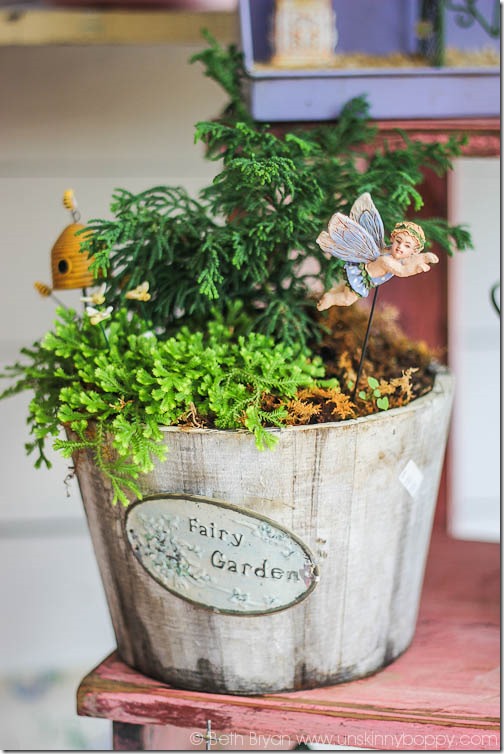 These fairies live under a patch of wild purple and green clover, and what looks to be a clematis vine climbing out the back.  But that patch of hens and chicks overflowing in the front is a hit in my book.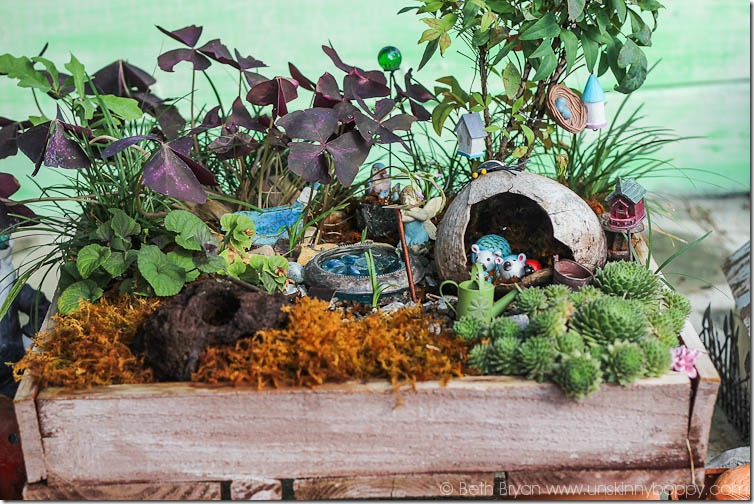 I love the depth of this little garden, with a mama and baby hedgehogs hiding away with a lady bug inside this cracked gourd.  The birds nest in the tree.. the rake and watering can up front, and the little silver "pool" where the fairy is kneeling in the background.  All perfection.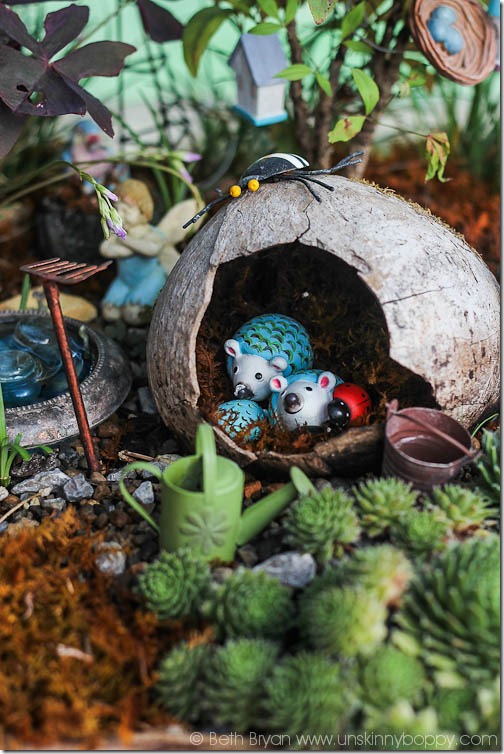 Out of all the gardens they have for sale, this one might be my very favorite.  That dusty roofing material and all the blue accents were calling my name.  This one is pretty huge, though, so you'd need a dedicated area for it!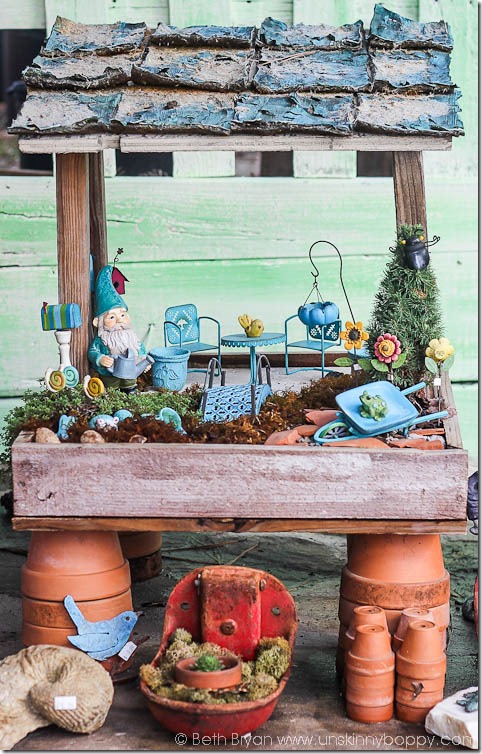 There was so much to see inside this one I had a hard time taking it all in.
That blue striped mailbox with matching snails and gnome are pretty doggone amazing.  Y'all know I love me some aqua blue, so this was right up my alley.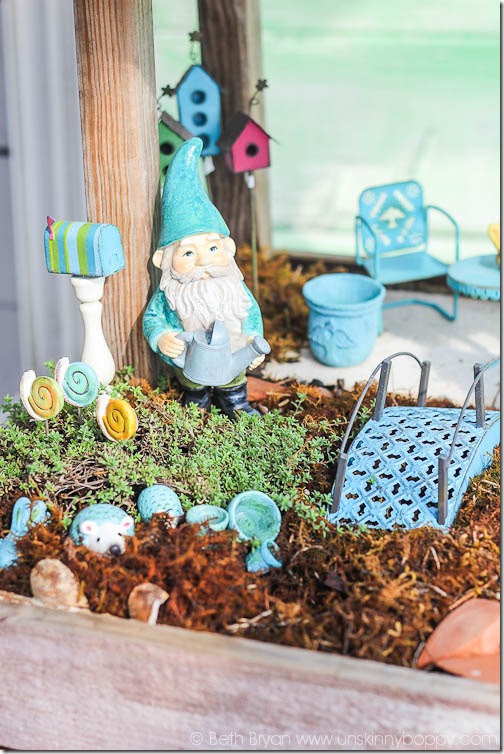 If you wanted to get back to nature, this little bunny pot might be more your speed.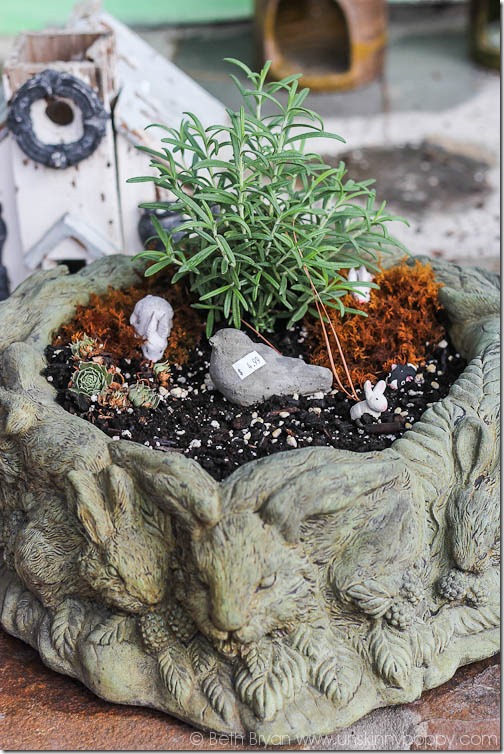 Or maybe this rusty little pot with a red bike and a cute snail above the entrance…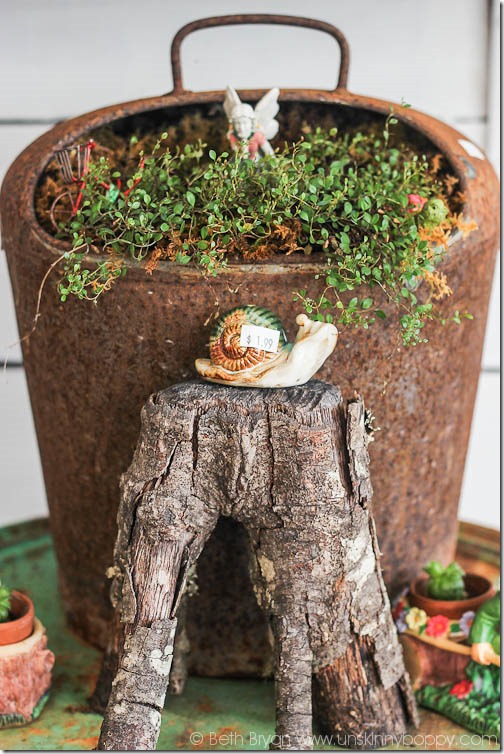 But if you want bright, bold and fun, how about this red horseshoe with a yellow door and a "LOL" on the top?  The red lamp posts are perfect and that stepping stone path makes you wonder what exactly that gnome is guarding behind that door.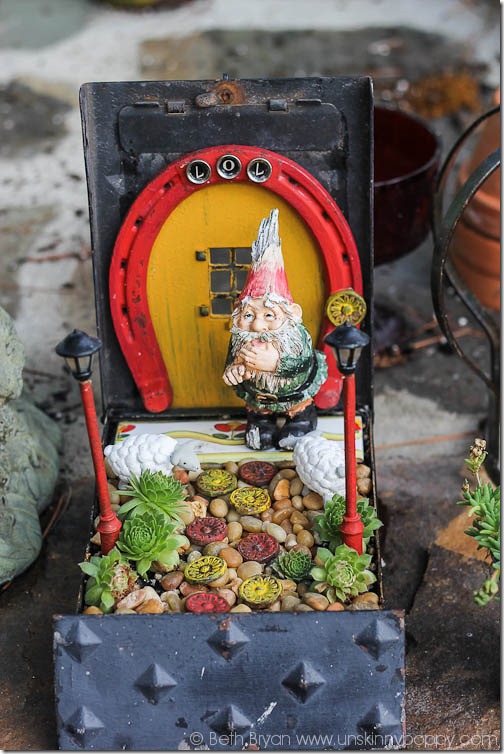 A giant rusty crow guards the gates of this fairy garden inside a broken terracotta pot. I think I NEED that cute cart back there with the scrolly sides.  Also love the English ivy spilling over the sides.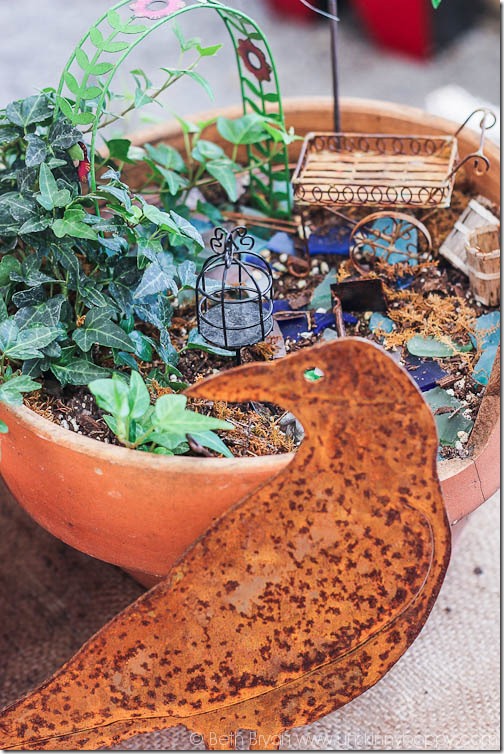 There are so many ideas for beautiful fairy gardens inside this store I cannot even begin to describe them all, so I'm so thankful that the owner let me share photos of all the creativity! 
The good news is that they can also ship across country, so if any of these fairy gardens strike your fancy be sure to give Stuart at Myers Plants and Pottery a call and tell them that I sent you!  This is not a sponsored post, and I'm not being paid a dime to post this, but I'd love for these cute fairies to find homes.
They also carry a HUGE selection of plants, pumpkins, metal and ironwork and pottery.  My big blue pots beside my pool came from Myers.  I love this store!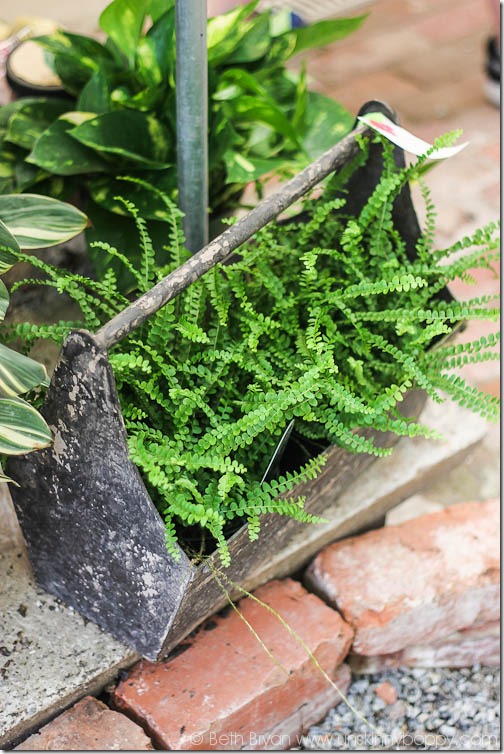 If you like these, be sure to go explore my mom's epic fairy garden!